Korean Ground Beef Stir Fry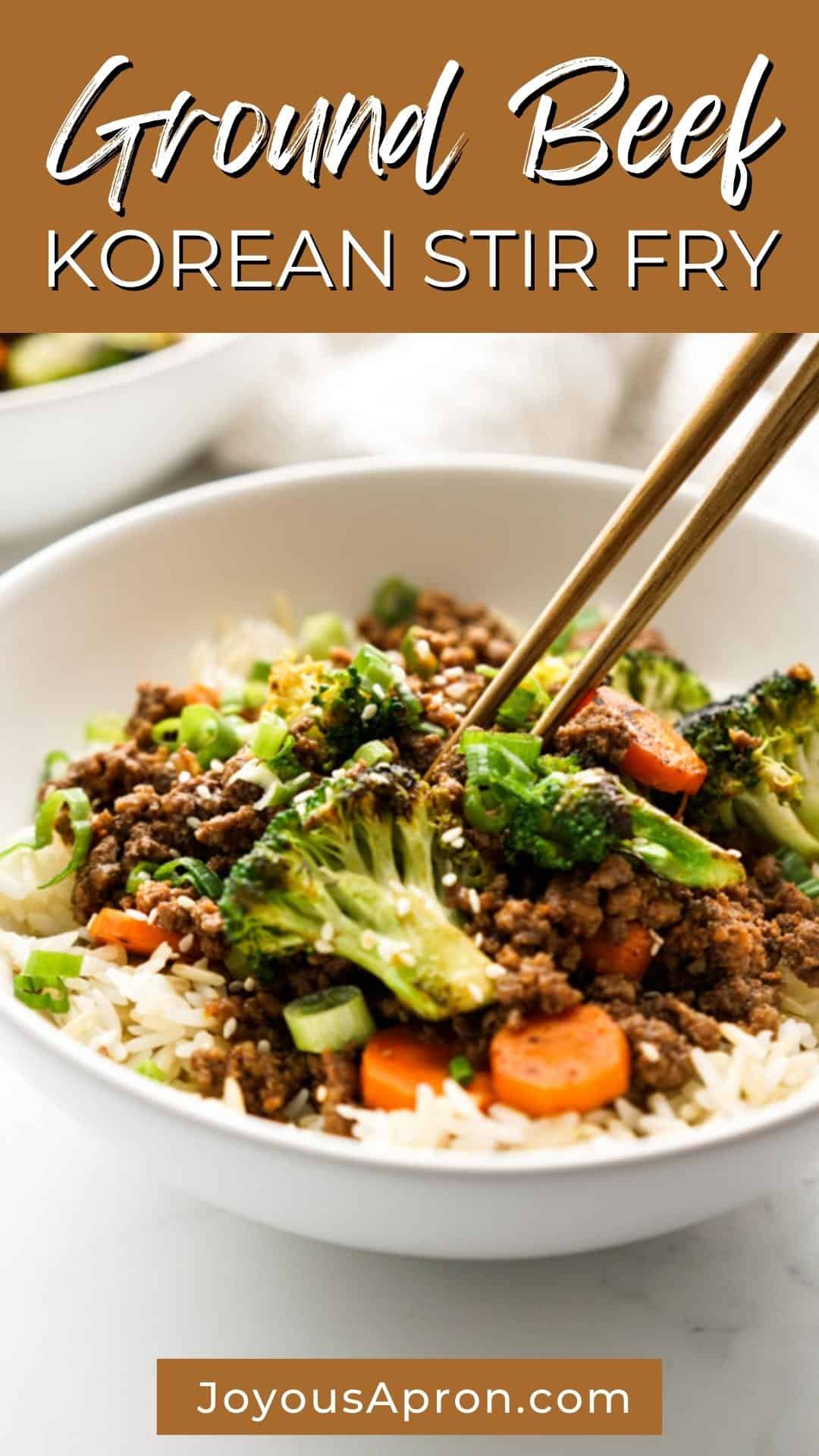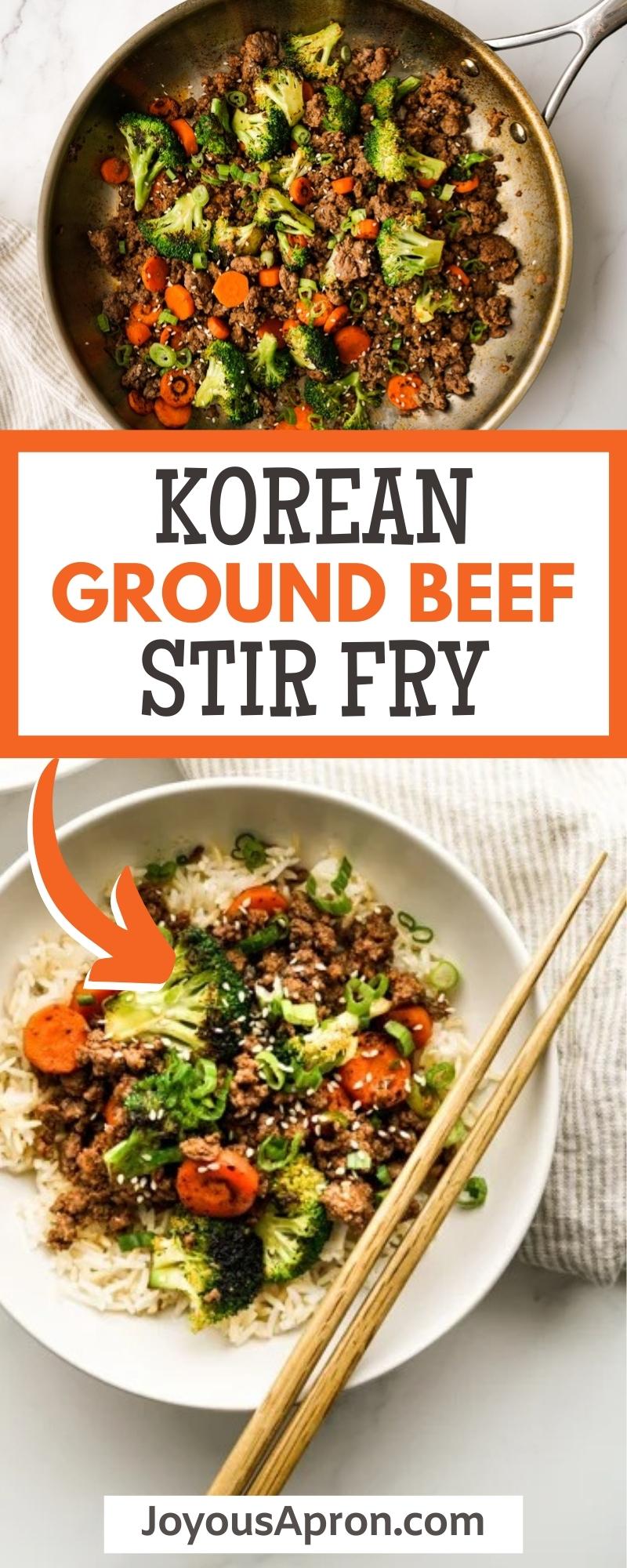 I am loving this 20-minute Ground Beef Stir Fry! Using Korean inspired-seasoning such as Gochujang and soy sauce, juicy ground beef is tossed in a flavorful sauce, garlic, broccoli and carrots.
Serve it over white or brown rice, this makes for a quick and fantastic dinner on busy evenings!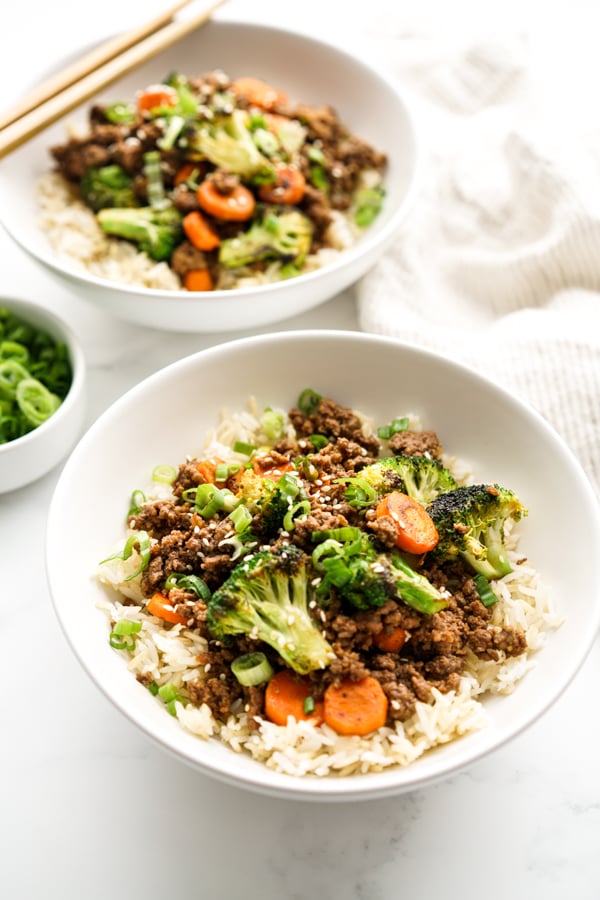 Ground Beef Stir Fry
Ground beef is such a versatile and budget-friendly ingredient.
After having so many yummy stir fry recipes on the blog (check out Chicken and Asparagus Stir Fry, Teriyaki Chicken Stir Fry, Shrimp Stir Fry, Mongolian Beef Noodles, Beef and Broccoli Stir Fry!), I want to share a stir fry recipe using ground beef because it's such a common item most of us have at hand, and ground beef is so easy to make a quick meal.
In addition to ground beef, I want to incorporate a delicious sauce (key to an awesome stir fry), some crunchy veggies (for the texture, for health reasons…)
Korean flavors are some of my favorite. They are bold, powerful and contain delicious notes of sweet, savory and zesty.
This Ground Beef Stir Fry will incorporate delicious Korean seasonings and spices that will probably remind you of flavors from classic Korean dishes such as my Bulgogi (Korean BBQ Beef).
It is light, flavorful, with lots of delicious textures, and perfect served over white or brown rice for a delicious and easy meal!
Ingredients Notes
This Korean Ground Beef Stir Fry calls for easy-to-find ingredients. You should be able to get all of this from most mainstream grocery store (some of it in the Asian aisle!).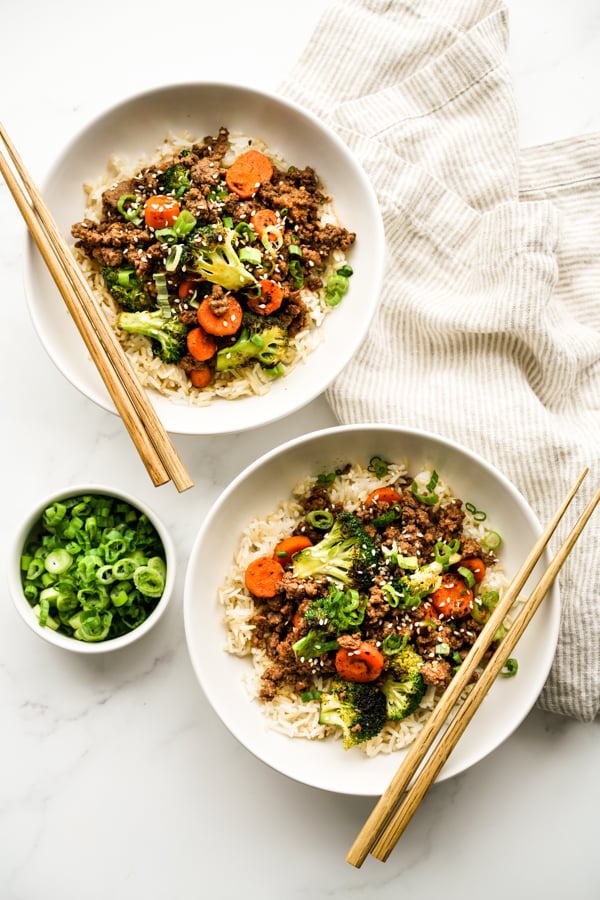 Ground Beef – I like to use 90% lean beef, or even leaner if you can find them. We don't want a lot of fat in this recipe and lean meat tastes the best in this Korean Ground Beef Stir Fry, or any Ground Beef Stir Fry really. Because we are using lean ground beef, the trick is to not overcook it so that it stays juicy and moist (more on that later).
Gochujang – this is a Korean red pepper paste, or red chili paste. It is the secret ingredient for the sauce that brings about complicated delicious Korean flavors. It does pack some heat, so reduce it if you prefer this dish milder. If you really don't want to use this, you can omit it completely and substitute with soy sauce. This dish will taste different without it and you will lose a lot of amazing flavors that cannot be achieved by soy sauce alone.
Minced garlic cloves – do not substitute with garlic powder, it doesn't taste the same!
Sesame oil – gives it an umami nutty flavor.
Brown sugar – a little sweetness to balance out the savory, tangy and spicy
Broccoli – cut it into smaller florets so that it is cooked easily
Carrots – I like to slice them into coin-shaped but you can cut it up however you like. Avoid large pieces so that it is cooked through easily.
Step-by-step Instructions
Stir fry is a quick way to prepare your meals and I want to walk you through how I make this Korean Ground Beef Stir Fry, and provide you with some tips and tricks,
It is quick, but there is a little art to it. With a little practice, it really gets easier and even better.
Step 1: Prepare Korean stir fry sauce
In a small bowl, bring all the sauce ingredient together. We want to do this before starting the stir fry process to:
combine the sauce and blend all the flavors together
stir fry process is quick, so it's easier to have one thing to pour into the pan versus measuring and pouring a bunch of sauces.
Step 2: Stir Fry Vegetables
I like to heat up my frying pan and stir fry my vegetables first.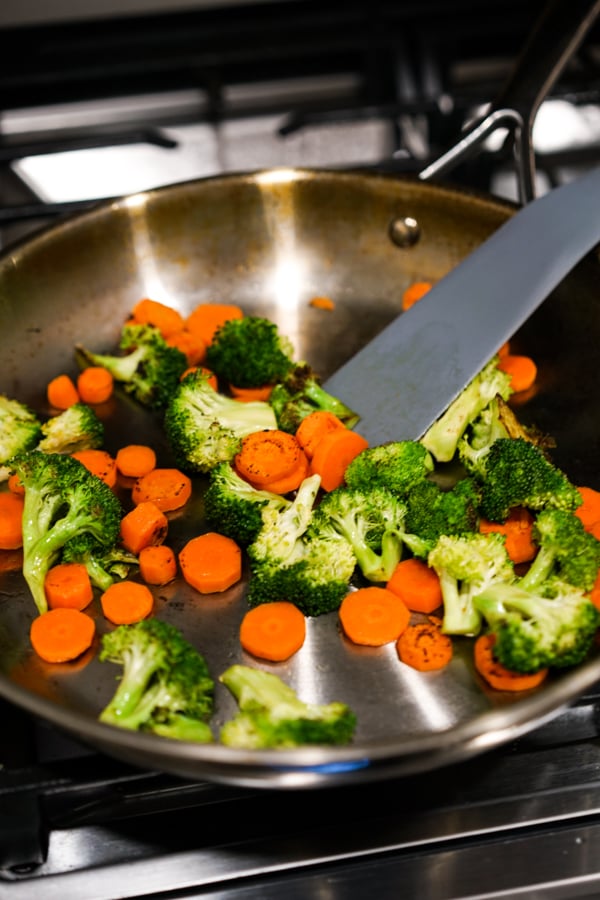 Drizzle some oil on the pan so veggies don't stick to it, wait till pan is hot, and stir fry broccoli and carrots until they turn a bright color and are softer (but still crunchy).
Do not overcook veggies to avoid becoming soggy.
Step 3: Stir fry ground beef
Next, remove vegetables from the skillet, and bring in the ground beef.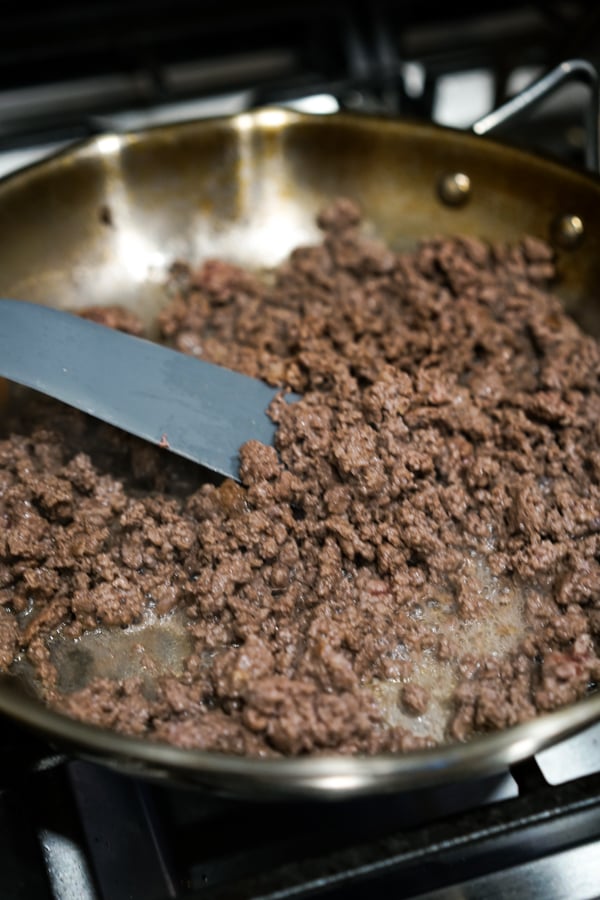 We are cooking ground beef and vegetables separately because they take different amount of time to cook, and we want to ensure they are both cooked just right (not over or undercooked).
Also avoid overcooking ground beef because overcooked ground beef is tough and dry.
Step 4: Bring everything together
Once most of the ground beef is no longer pink, immediately add veggies back into the skillet, and also the stir fry sauce.
Give everything a good stir so that ground beef and veggies are well coated in sauce.
This should take around a minute or so – not very long. Once everything is combine, and beef is no longer pink, remove skillet from heat promptly.
Ground beef should be juicy and coated in sauce (but the dish shouldn't be overly soupy).
Broccoli and carrots should be crunchy and some sauce clinging onto it as well.
Step 5: Garnish and serve
Garnish stir fry with some sliced green onions and sesame seeds. Other potential garnishes: fried garlic, fried onions, crushed up seaweed, or cilantro.
My favorite way to serve Korean Ground Beef Stir Fry is over white or brown rice. If you are not familiar with making plain rice, this recipe will show you how to make rice on the stovetop.
Rice will soak up some of the juices from the ground beef, broccoli and carrots, and its fairly neutral flavor will complement the bold, flavorful Ground Beef Stir Fry with vegetables.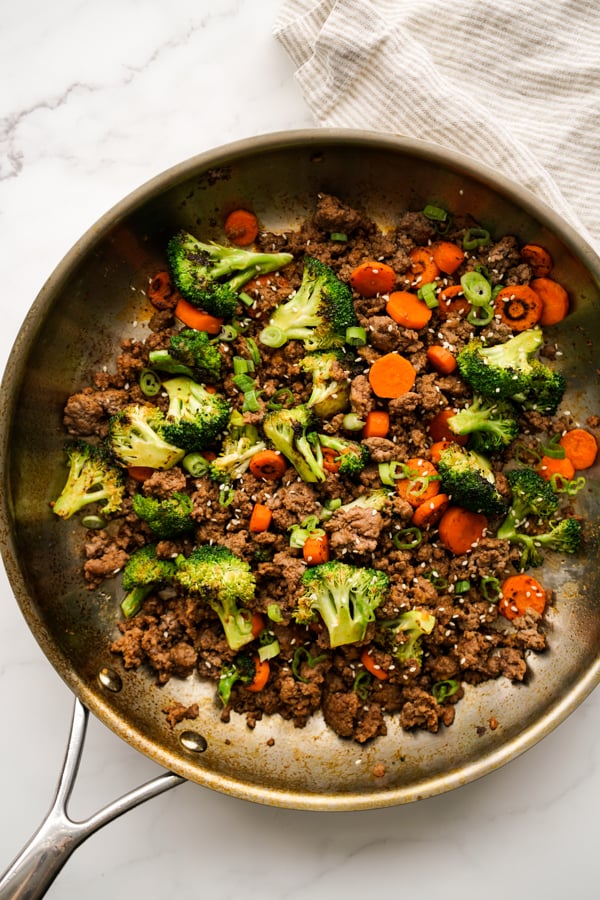 Stir Fry Tips
A couple of notes to help you take the recipe from good to excellent!
Use a large enough skillet so that it's easier to stir the items around which helps everything cook more evenly.
Make sure skillet is heated and fairly hot (medium high to high heat) when stir frying.
Process goes fast, so lay everything out next to the stove before stir frying, and keep stirring continuously to make sure everything cooks evenly.
Do not overcook ground beef and veggies! Since it's cooked under fairly high heat, they will cook quickly so remove from heat promptly once cooked. Overcooked veggies are soggy and overcooked ground beef is dry and tough…in other words, not very yummy!
Substitution and Variation
Here are other ingredients you can use to make Korean Ground Beef Stir Fry:
Ground beef: use any other ground meat such as ground chicken, turkey, pork etc.
Broccoli and carrots: other vegetables such as bell peppers, green beans, snap pies, bak choy works great in this too. Try to cut the vegetables in a way where they cook for around the same amount of time. This will make stir frying them together easier.
Gochujang: use less if you like it less spicy. You can completely omit it and substitute with the same amount of soy sauce but the taste will be differently (flavors less complex).
Make Ahead and Storage
Korean Ground Beef Stir Fry is SUCH a great recipe to make ahead as meal prep, or store as leftovers.
It keeps well, it reheats well in the microwave, it tastes just as good after a few days. In fact, ground beef and veggies would have soaked in more of the flavors from the sauce after a few days, thus making the dish every more flavorful.
To store Korean Ground Beef Stir Fry, keep in air tight container in the refrigerator for up to 4 days.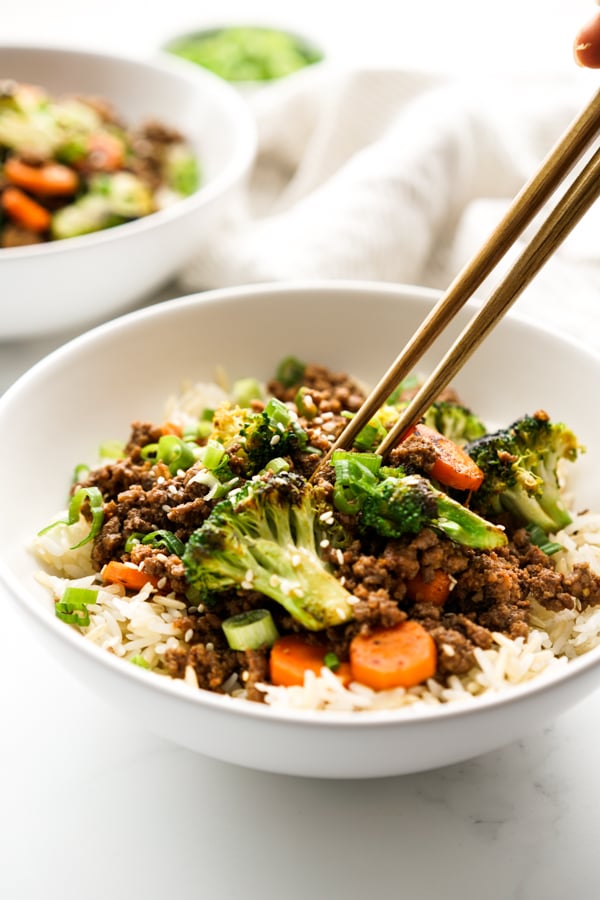 DID YOU ENJOY THIS RECIPE? Please comment below and give us a 5-star rating! This will help others find this recipe on Google and Pinterest. We very much appreciate your help! 🤍
More Delicious Stir Fry!
Check out more stir fry recipes on the blog!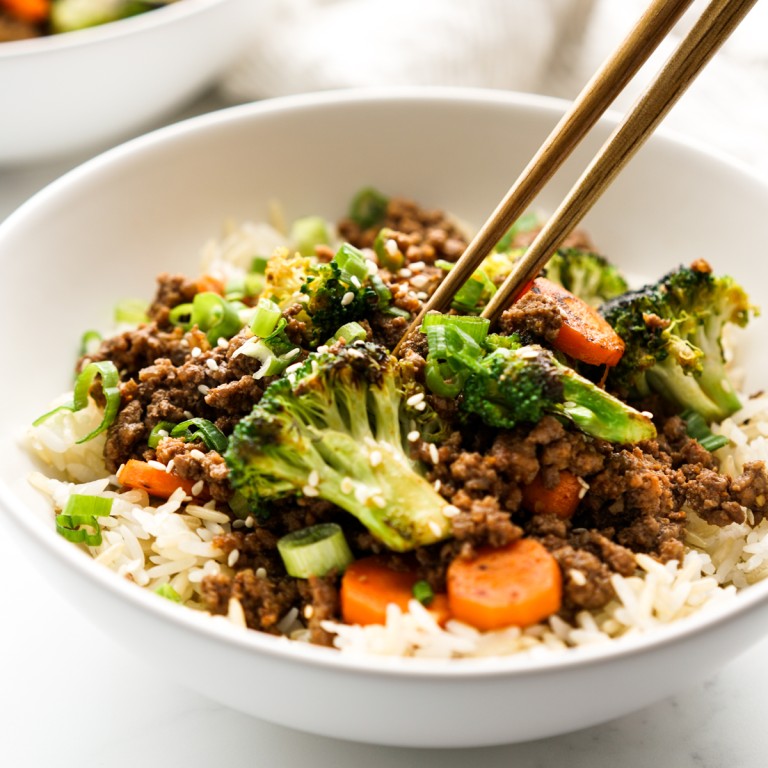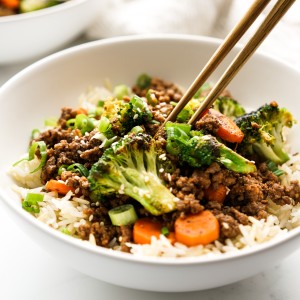 Korean Ground Beef Stir Fry
Easy Ground Beef Stir Fry recipe for a quick and yummy dinner! Ground lean beef, broccoli, carrots, garlic tossed in a bold-flavored zesty, savory and sweet Korean inspired sauce.
Print
Pin
Ingredients
1

lbs

ground beef

2

cup

broccoli florets

2

stalks

carrots

peeled, sliced

4

cloves

garlic

minced

1/2

tsp

vegetable oil

2

tbsp

green onions

chopped

1

tsp

sesame seeds
Korean Stir Fry Sauce
3

tbsp

soy sauce

2

tsp

Gochujang

adjust according to spice level

1

tbsp

brown sugar

2

tsp

rice vinegar

1

tbsp

sesame oil

1/2

cup

water

1

tsp

cornstarch
Instructions
Bring all ingredients for Korean Stir Fry Sauce into a small bowl. Whisk to combine.

Heat large frying pan to medium high/high heat. Add vegetable oil. Once pan is heated, add broccoli florets and carrots. Stir continuously until they turned darker green/darker orange – this will take a few minutes. Remove veggies promptly from skillet and set aside. Do not overcook – they should still be crunchy.

Add ground beef to skillet. Break it apart into small pieces. Cook until most of the beef are no longer pink (some should still be pink). Immediately add garlic, broccoli, carrots and stir fry sauce to pan.

Stir continuously so that ground beef and vegetables are coated in sauce. Once ground beef is completely cooked, remove from heat promptly.

Garnish with green onions and sesame seeds. Serve over rice. Enjoy!
Notes
Do not overcook ground beef and vegetables. Overcooked ground beef will be dry and tough, and overcooked vegetables will be soggy. Stir frying process goes quick so make sure to stir continuously so that item cooked evenly, and remove items from heat promptly once it is cooked.
Nutrition
Calories:
372
kcal
|
Carbohydrates:
9
g
|
Protein:
23
g
|
Fat:
27
g
|
Saturated Fat:
9
g
|
Polyunsaturated Fat:
3
g
|
Monounsaturated Fat:
12
g
|
Trans Fat:
1
g
|
Cholesterol:
81
mg
|
Sodium:
849
mg
|
Potassium:
516
mg
|
Fiber:
2
g
|
Sugar:
4
g
|
Vitamin A:
402
IU
|
Vitamin C:
43
mg
|
Calcium:
61
mg
|
Iron:
3
mg