Chinese Barbecue Pork (Char Siu) and Bok Choy Rice Bowl
Chinese Barbecue Pork, also known as Char Siu, is this gorgeously fire-roasted slab of pork with a sweet, salty, sticky glaze of goodness. Its flavors are distinctive, yet very friendly to a wide range of tastebuds.
Today we are taking a traditional Chinese meat dish, adding some veggies, and making Chinese Barbecue Pokiest (Char Siu) and Bok Choy Rice Bowl.
Hello – Bowl of my dreams.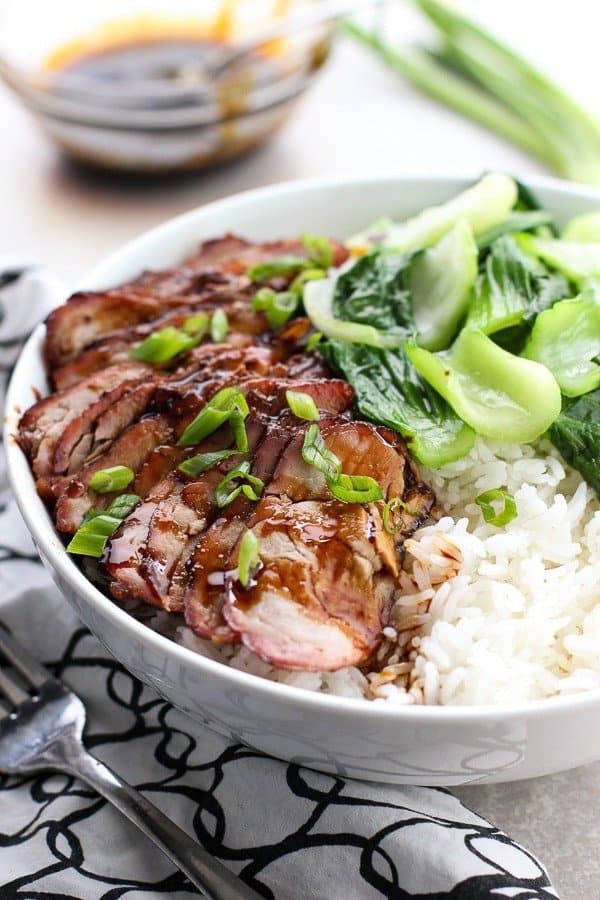 If you love to grill, also check out these Asian/Asian inspired grilling favorites of mine: Teriyaki Chicken Skewers, Vietnamese Noodle Bowl with Grilled Pork, and Beef Bulgogi (Korean BBQ Beef).
Let's start by talking about each component of the dish – Chinese Barbecue Pork, the sauce, Bok Choy (or vegetable of your choice), and steamed rice.
Then we combine them, eat (!!), put away leftovers for "meal prep", and then, the fun part…improvise.
The foodie in me just did a happy dance. But first…
How to make Chinese Barbecue Pork (Char Siu)
When we moved to south of the Austin area, I came to realize that on a regular day, with Austin traffic (translation: severe gridlock everywhere, all the time), it is a long way for me to get to my beloved Char Siu to scratch my cravings for authentic Chinese food.
So I turned to my other solution – make it at home. We have tried multiple versions of Char Siu, and this is our household's favorite thus far.
The marinate for the Chinese Barbecue Pork is a beautiful concoction of a handful of ingredients – my suggestion is to not skip any of them if you can. Ingredients are *drumroll please* –hoisin sauce, soy sauce, sweet soy sauce (kicap manis), oyster sauce (or oyster flavored sauce), brown sugar, honey, five spice powder, sesame oil, and vegetable oil. )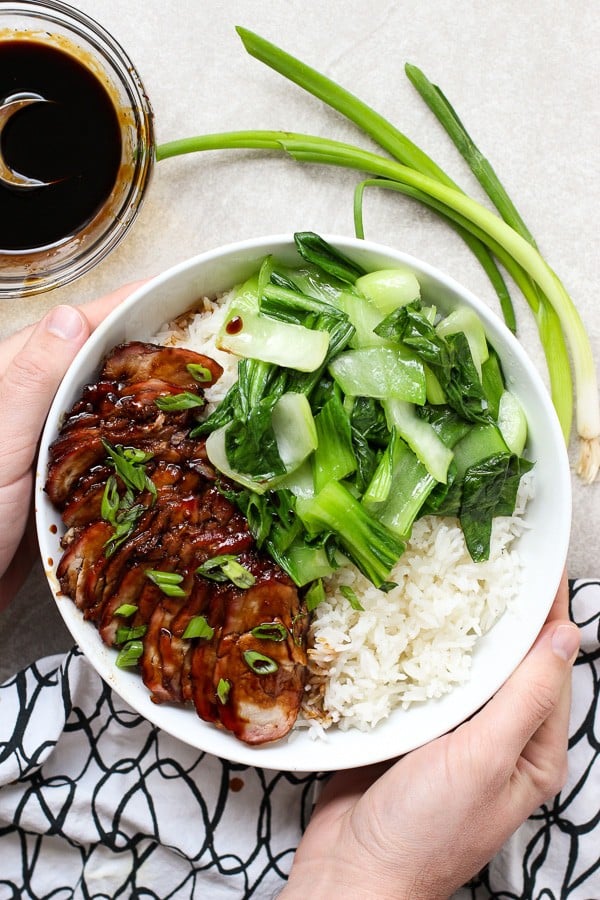 Do not be intimidated by the ingredients! They are flavors you have tasted many times in Asian restaurants. You just didn't know you've had it before!
These days, you can find most, if not almost all of the ingredients at a regular grocery store in the U.S. The trickiest one to obtain is probably sweet soy sauce (kicap manis).
This is a thick, sweet sauce that is used widely in Malaysian and Indonesian dishes. You can find it here online.
Pork shoulder is the more traditional piece of meat used for Char Siu. You can also use pork tenderloin. Pictured here is pork tenderloin. I use both equally frequently.
Marinate pork in these ingredients for overnight in the refrigerator. Then throw the meaty beauty onto a charcoal grill.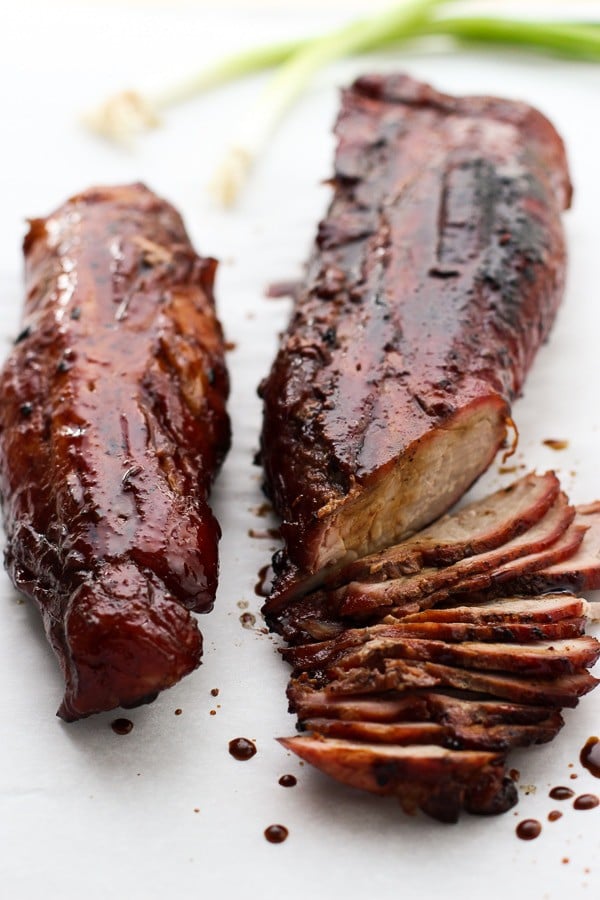 When grilling, place pork tenderloins to the side of the burning coals to get indirect heat on it – this will prevent the pork from being heavily burnt since it is glazed with a delicious (but easily burnt) layer of sweet marinate.
It is, however, totally normal for the meat will be slightly charred.When pork is on the grill, turn the pork every 20 minutes, and brush additional sauce onto tenderloin every time you do so.
Once internal temperature reaches 165 degrees F, the pork is done. Remember to check the temperature on multiple spots on the tenderloin.
As a point of reference, our charcoal grill was at 220 degrees F (on a cold 40-degree day outside), and we cooked the pork for 80-90 minutes, with many flips and brushing of marinate during that period.
Remember, you are cooking the meat slowly. This will produce a more tender piece of meat, and also, it will prevent the sugary marinate that is coating the meat from burning.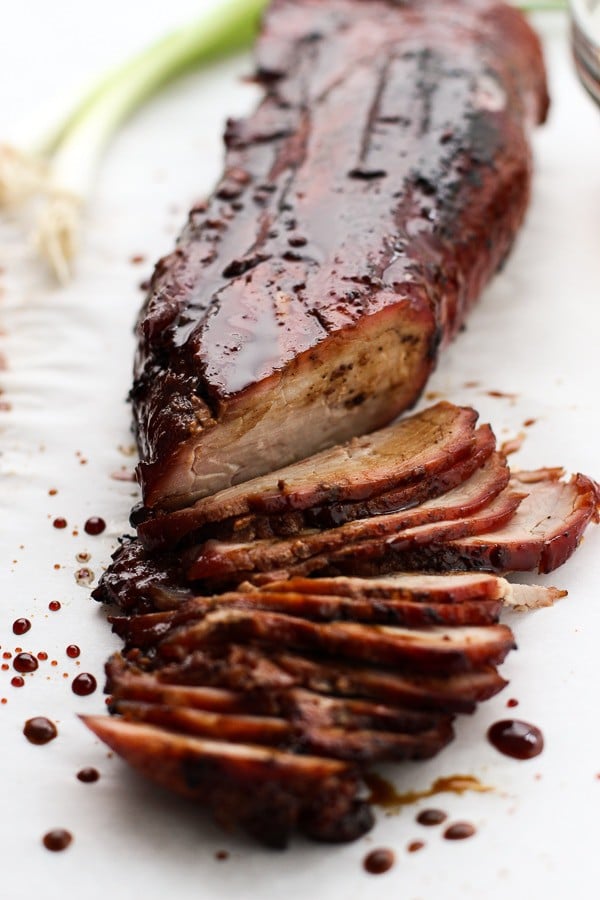 If you do not have a charcoal grill, this can be done in the oven as well but it does not have the distinctive smoky flavor you get from cooking the pork over coals.
When working with an oven, heat it at 350-375 degrees F, cook for 30-40 minutes, or until pork reaches an internal temperature of 165 degrees F.
Flip and brush marinate on the pork a few times throughout the cook time. You can also try broiling it at the end for a few minutes to caramelize the meat.
How to make Char Siu Sauce
Because rice bowls are much less lovely without sauce.
While waiting for the barbecue pork to cook, put together the sauce, which is consisted of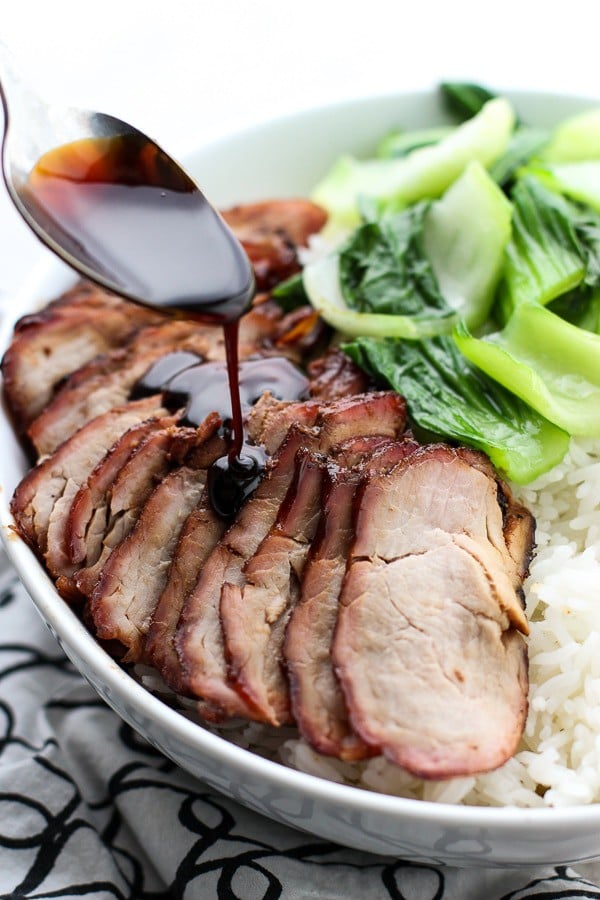 Friends, the sauce is a MUST. It is divine beyond words.
Bok Choy
I am using Baby Bok Choy for this recipe. It is basically a smaller, cuter version of Bok Choy. Peel each stem out from the bunch, and wash Bok Choy thoroughly. Zoom in closer and you will see dirt clinging onto the unwashed Bok Choy in the picture. Thank you fancy camera 🙂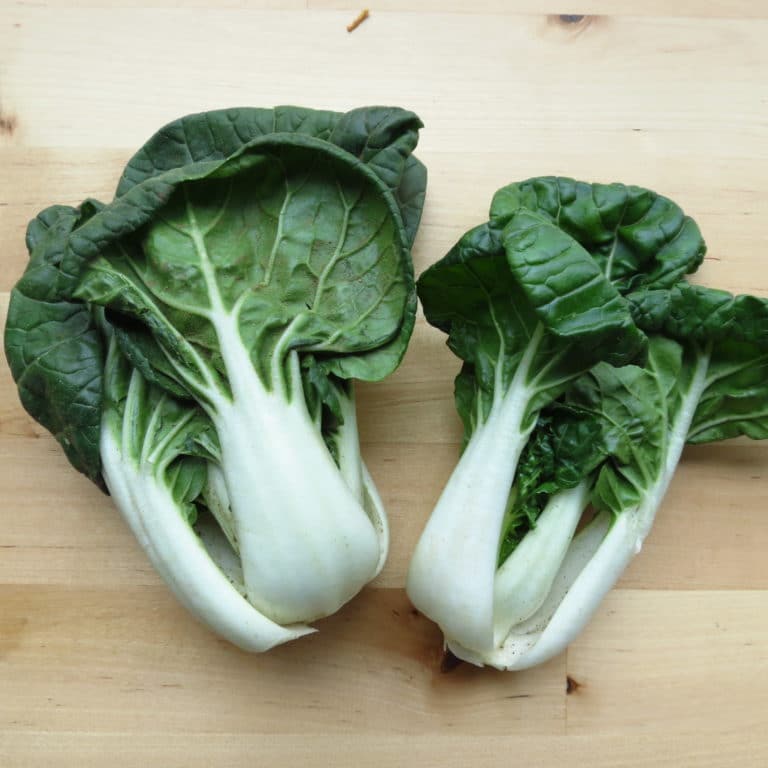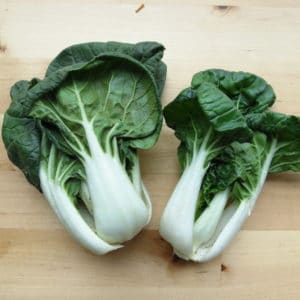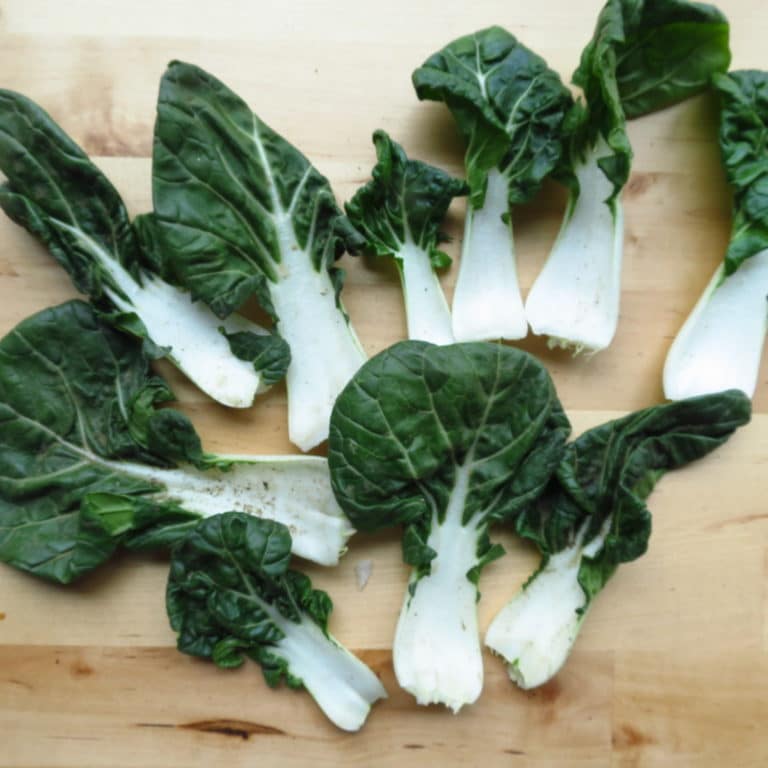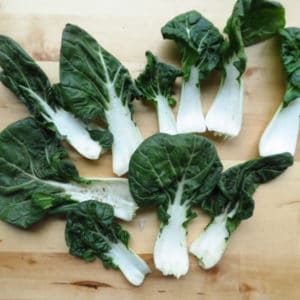 We will be blanching the Bok Choy, which means adding them into hot boiling water for a very short amount of time (30-60 seconds) and removing them promptly.
Be very careful to not over-cook these vegetables as the leafy portion will be wilted if over-cooked.
Wilted leaves = sad veggies = bad-tasting veggies
It is also important to drain all excess water.
Create a mixture of sesame oil and oyster sauce (1:1 ratio), add to vegetable to taste, and mix well. If desired, fry up some garlic in oil (do not burn garlic) and add to veggies. That adds additional flavor but it is not necessary.
There are other Chinese leafy greens will work just as well, and are cooked similarly, e.g. Chinese broccoli (Gai Lan), Choy Sum, etc.
Additionally, other vegetables such as broccoli and green beans can be used also, but they will require a slightly longer blanching time.
Steamed Rice
I used Jasmine Rice for this recipe, and used my handy dandy rice cooker to make rice (2 cup rice, 2 1/2 cups water).
If you don't have a rice cooker, cook it over the stove top (2 cups rice, 3 1/2 cups water) for 20 minutes.
Combine and Feast
A.k.a. my favorite part…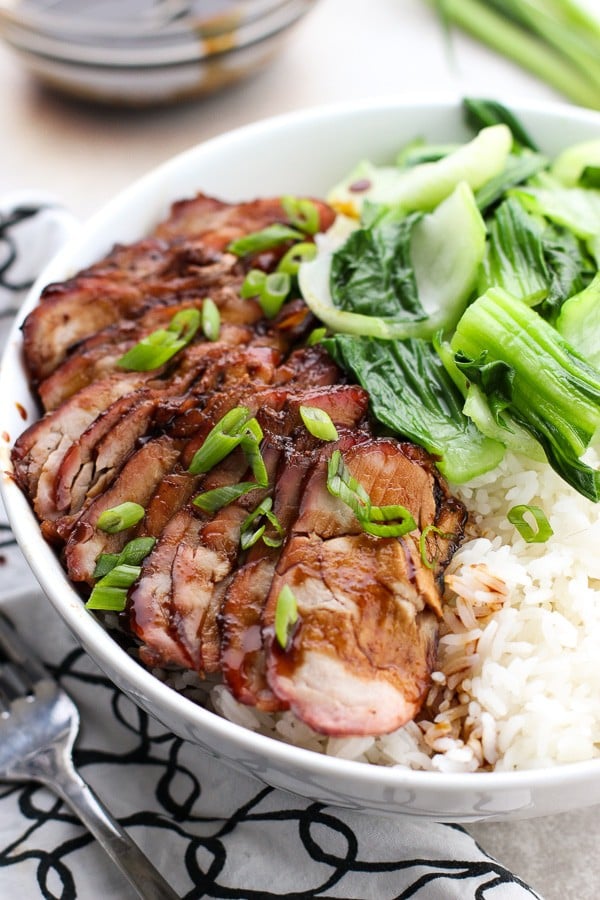 What to do with leftover Chinese Barbecue Pork?
Fret not, for I have solutions for you…
Add to ramen noodles – Add some protein (or even veggies) to your ramen noodle packets. Barbecue pork is an excellent add
Add to other noodles – Wan tan noodles, egg noodles, rice noodles…
Use as a sandwich meat – Eat it with white/wheat bread, steamed buns, create your very own version of Banh Mi…hmm?
Ingredient for egg foo yong – Egg Omelette with Chinese spices, filled with shrimp, onions, barbecue pork, or anything you have on hand really. I eat mine dipped in chili sauce…delicious
So many possibilities!
I have to admit we made four pounds of Chinese Barbecue Pork in my attempt to write this recipe up and also feed my hubby, sister who was visiting, and me. We still have a ton in the fridge, and loving every bite of it!
DID YOU ENJOY THIS RECIPE? Please comment below and give us a 5-star rating! This will help others find this recipe on Google and Pinterest. We very much appreciate your help! 🤍
More Asian Recipes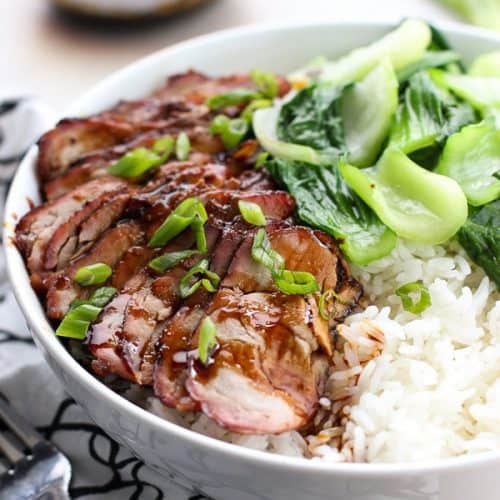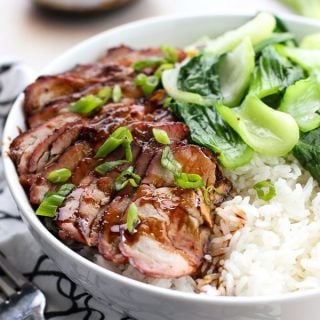 Chinese Barbecue Pork (Char Siu) and Bok Choy Rice Bowl
A classic and authentic Chinese dish! Fragrant steamed jasmine rice topped with sweet and salty glazed fire-roasted slices of Chinese Barbecue Pork and Baby Bok Choy. Drizzle with sweet sauce. Delicious and also great for meal preps.
Print
Pin
Ingredients
Chinese Barbecue Pork (Char Siu)
~2

lbs

pork tenderloin

3

tbsp

hoisin sauce

2

tbsp

sweet soy sauce (kicap manis)

3

tbsp

honey

3

tbsp

brown sugar

1

tbsp

oyster sauce

1

tbsp

sesame oil

1

tsp

soy sauce

1/2

tsp

five spice powder
Sauce
1/4

cup

sweet soy sauce

2

tsp

soy sauce

1

tsp

hoisin sauce

1

tbsp

brown sugar

1/4

cup

water
Bok Choy
Several bunches of

baby bok choy

A few

tsp

sesame oil

to taste

A few

tsp

oyster sauce

to taste
Instructions
Chinese Barbecue Pork (Char Siu)
In a bowl, combine hoisin sauce, sweet soy sauce, soy sauce, oyster sauce, honey, brown sugar, sesame oil, and five spice powder.

Place pork tenderloin(s) into a zip lock bag, add sauce to zip lock bag. Refrigerate and marinate for 8 hours or more.

Fire up charcoal grill. Place pork tenderloins to the side of the burning coals so that it will be exposed to the heat indirectly. Save the marinate.

Turn pork over every 20 minutes and brush additional marinate onto tenderloin after every flip. This is how to get a layer of sticky glaze on the pork. Once internal temperature reaches 165 degrees F on multiple spots on the tenderloin, pork is done.

Slice tenderloin into thin slices
Sauce
Bring all the sauce ingredients to boil, and then lower heat and cook for an additional 2-4 minutes, or until desired thickness.
Bok Choy
Peel baby bok choy into individual stalks and wash to remove all the dirt on vegetable. Cut bok choy into small pieces.

Heat up pot with water. Once water is boiled, add bok choy. Cook for 30-60 seconds and remove promptly. Pat dry bok choy.

In a small ramekin, combine sesame oil and oyster sauce in a 1:1 ratio. Use amount to taste. As a reference point, for two bunches of baby bok choy I used 1 tsp of each. A little goes a long way.

Add mixture to bok choy and mix well.
Steamed Rice
If steaming rice in rice cooker, follow instruction and rice to water ratio on rice cooker manual.

If steaming rice using a pot, add 3 1/2 cups of water to pot and bring to boil. Once boiled, add 2 cups of rice and close lid (use a pot with a good-fitting lid). Cook for 20 minutes – do not lift lid.

When done, stir and fluff rice with a spatula.
Combine!
Transfer and divide rice, Chinese Barbecue Pork, Bok Choy into bowls. Pour sauce onto pork and rice. Serve and enjoy!
Notes
This post was originally published on December 29, 2017, and revised on January 8, 2019.
Nutrition
Calories:
576
kcal
|
Carbohydrates:
85
g
|
Protein:
36
g
|
Fat:
8
g
|
Saturated Fat:
2
g
|
Polyunsaturated Fat:
2
g
|
Monounsaturated Fat:
3
g
|
Trans Fat:
1
g
|
Cholesterol:
99
mg
|
Sodium:
756
mg
|
Potassium:
704
mg
|
Fiber:
1
g
|
Sugar:
30
g
|
Vitamin A:
5
IU
|
Vitamin C:
1
mg
|
Calcium:
40
mg
|
Iron:
2
mg