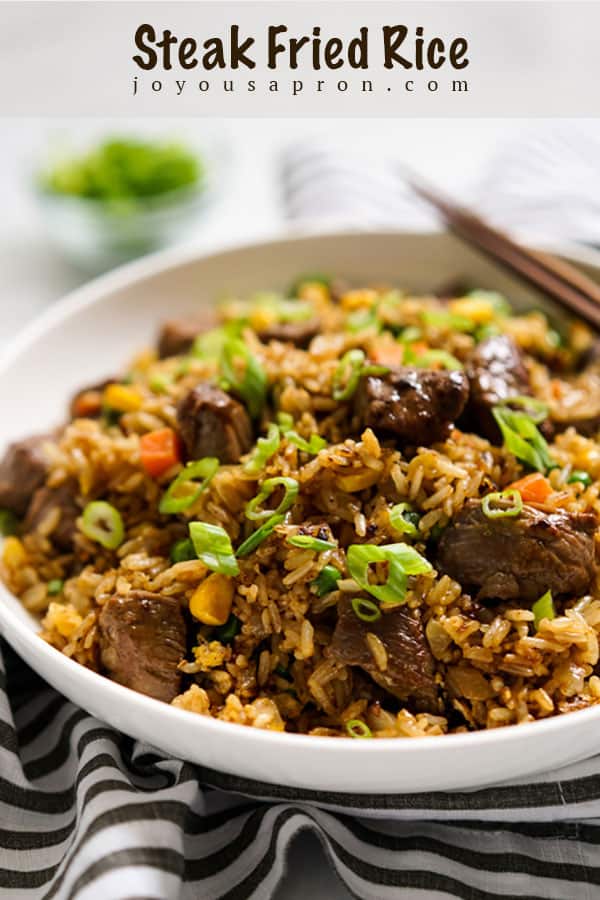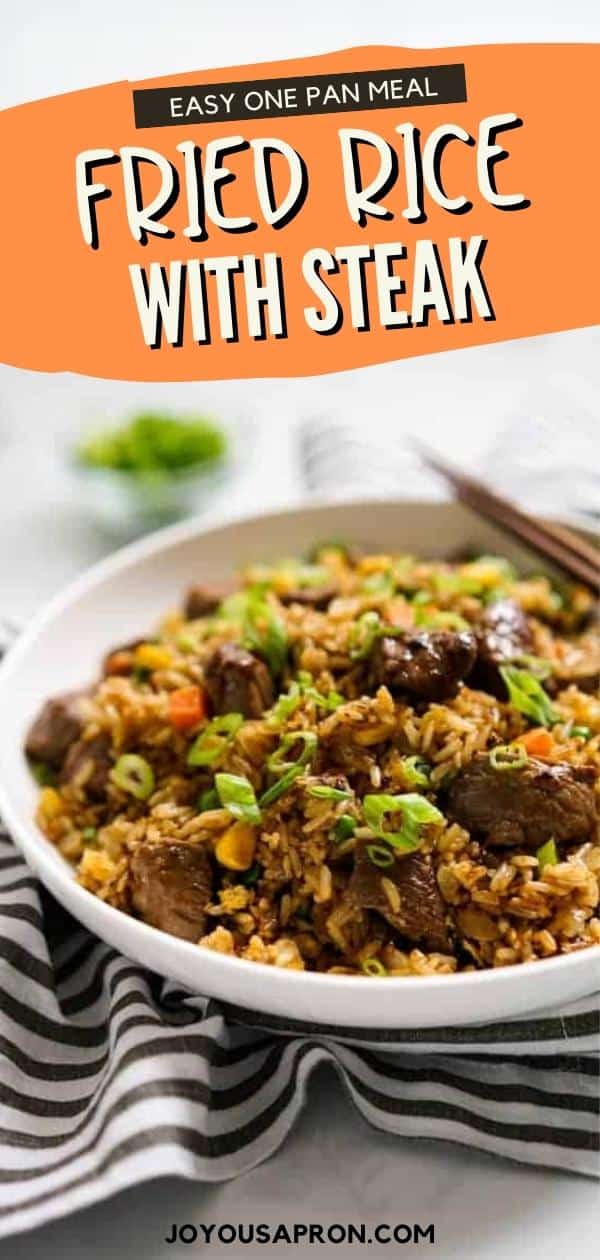 Feast your eyes on an amazing, easy-to-make, full-of-flavor, DELICIOUS Steak Fried Rice, combining rice, juicy pieces of beef, mixed veggies and egg in a truly flavorful yet simple sauce.
Ah fried rice. The staple, throw-it-together, clean-out-your-refrigerator food that most of us who grew up in many parts of Asia know way too well. However, throw-it-together doesn't mean it cannot be scrumptiously delicious.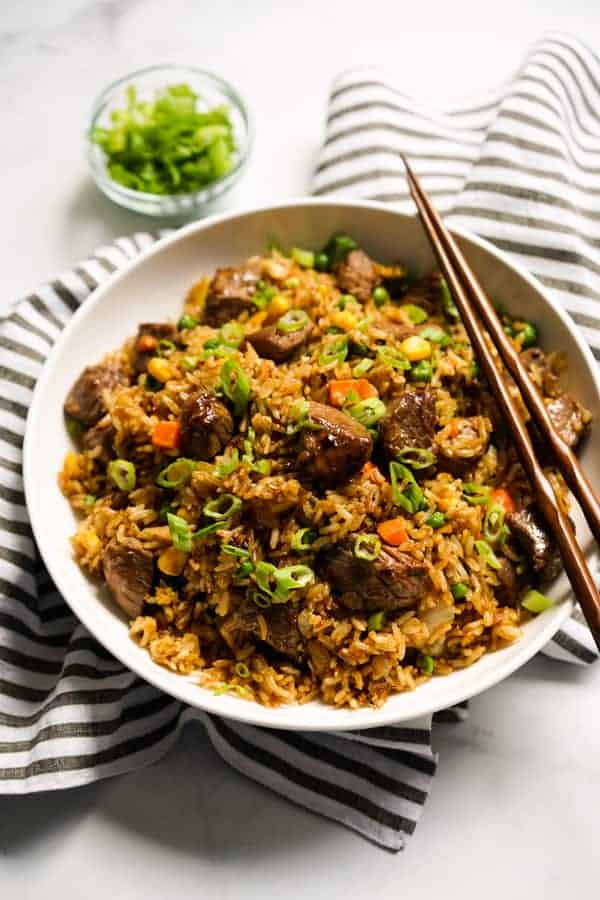 With this Steak Fried Rice recipe, I make it not because I have leftovers in the fridge, but because I love it so dang much I HAVE TO HAVE IT.
See, I had a love-hate relationship with fried rice for the longest time, until I discovered the difference between good fried rice vs. bad fried rice, and learned how to make GOOD fried rice.
Tips for making fried rice
Two things you need to know when making this Steak Fried Rice. Or fried rice in general. It will bump your fried rice-ability up a few notches. TRUST ME.
Cook in hot wok or skillet. No low-heat, no simmering. HOT HOT HOT is how we do this.
Day-old rice is preferred. Cook with day-old rice because they are dryer, not soggy, and gives your fried rice the perfect texture.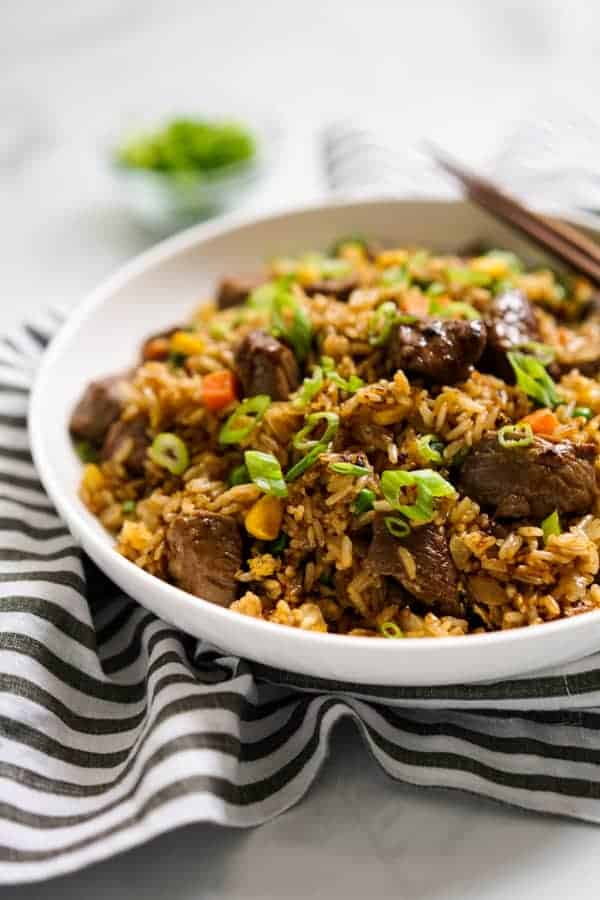 Fried rice begins with cooked rice. As mentioned, day-old rice is preferred. I am one of those people who almost always have leftover rice in the fridge, because whenever I cook plain white rice I make a large batch and save leftovers.
However, if you really, really crave for fried rice and do not have day-old rice at hand, it is okay, use that freshly cooked rice. Don't give up your fried rice dreams just because you don't have day-old rice.
While day-old rice is perfect for fried rice, I am also all about practicality. In addition, there are many other great things going about the recipe (sauce, steak, the right stir frying technique, SAUCE) that will make up for it.
What appliances are needed to make Fried Rice?
This Steak Fried Rice recipe is best cooked in a wok or a large skillet that heats up and retains heats very well. Using a large enough skillet or wok is important because you want to be able to freely move the items around. Not being able to do so will undercook some items and overcook others.
If you are looking for a good wok, I use this wok, along with this turner for years. The wok is also non-stick, which makes both the cooking and cleaning up a breeze. The turner is slightly bendable, and can withstand up to 600 degrees F, which is perfect for when you need to cook items on high heat.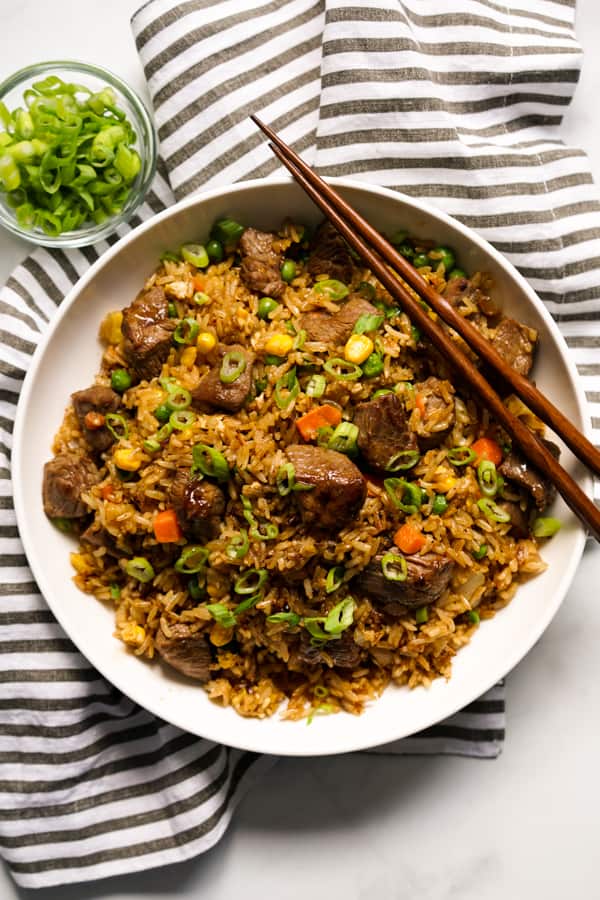 How to make Steak Fried Rice
Mix together my special sauce, which I deem superior. But I'm letting you in on the secret. 😉 It consists of:
soy sauce
oyster sauce
sesame oil
white (or black) pepper powder
Keepin' it simple, but rest assured it is truly flavorful.
Cut steak into 1-inch cubes, and then pour half of the sauce you prepared to steak to marinate for 30 minutes. Save the other half of the sauce for when you cook the fried rice.
Then mince garlic and onions, and get the rest of the ingredients ready – frozen mixed vegetables (peas, carrots and corn), marinated steak, the rest of the sauce, egg, and cooked rice. Also, use a large spoon to fluff the rice to remove clumps.
For stir fry, always prep your ingredients, because the actual cooking happens so fast you want to have all your ingredients ready to go and at a reachable distance once you heat up that wok or skillet.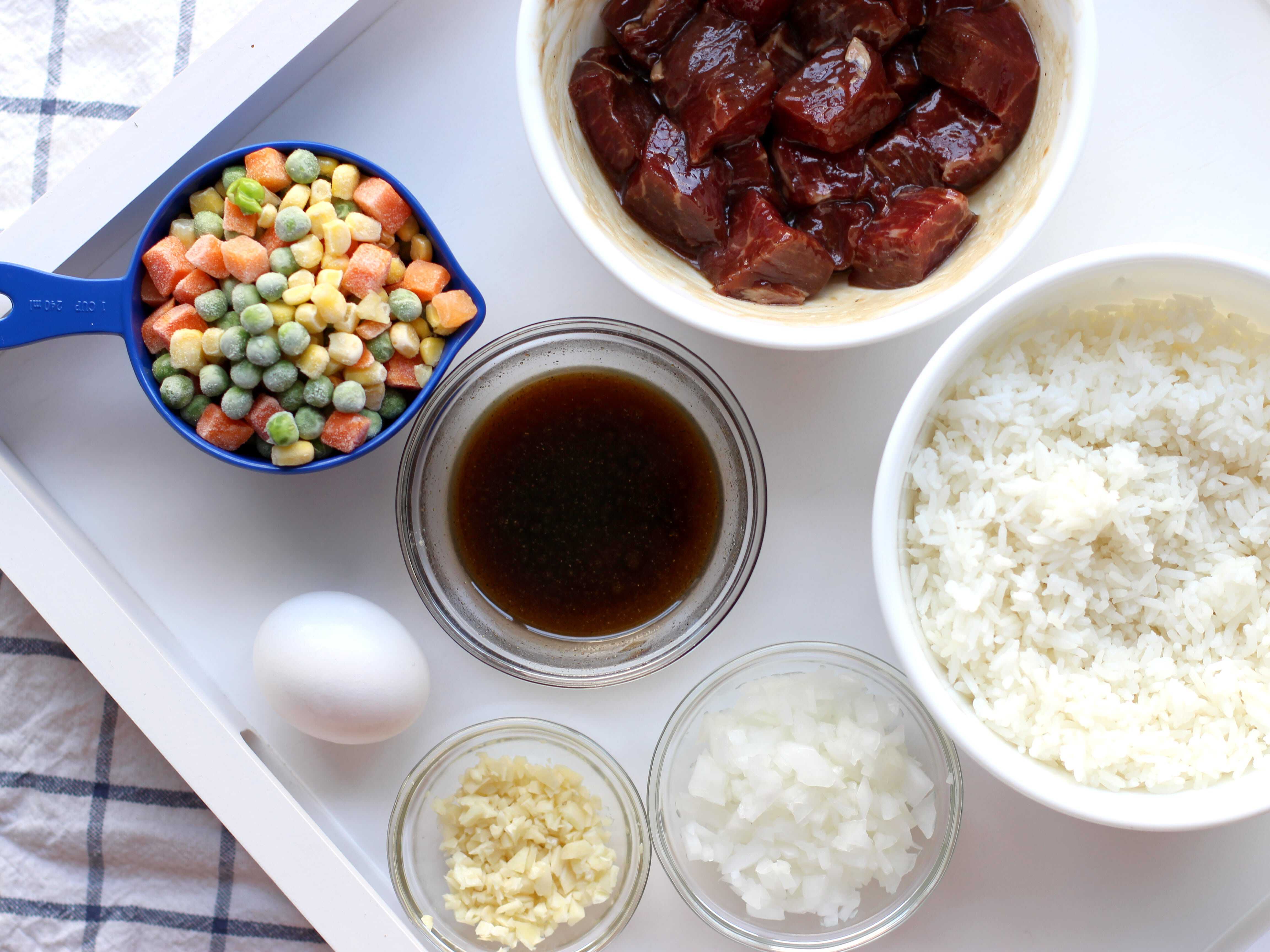 When you have everything ready, add vegetable oil to wok or skillet and heat it up on high.
When wok or skillet is heated up, add steak pieces and stir fry for a few minutes until they are cooked to your liking (medium rare, medium etc). If you have your wok or skillet on high heat, it shouldn't take more than a few minutes or else you might be overcooking your steak.
Note that we will be cooking the steak again a little more at the end. Remove steak pieces from wok, and set aside.
Add additional vegetable oil, and let the wok or skillet heat up under high heat. Add garlic and onions, stir continuously, and cook for 30-60 seconds, or until onions turn slightly golden brown. After that, rice goes in next. Cook rice for a minute or so, also stir continuously.
Next, add mix vegetables, then the sauce, and bring the cooked steak pieces back into the wok. Stir continuously and combine everything together.
I like to add an egg to the fried rice to enhance the texture of the fried rice. To do so, push fried rice to one side of the wok and break an egg directly onto wok or skillet where there is no fried rice.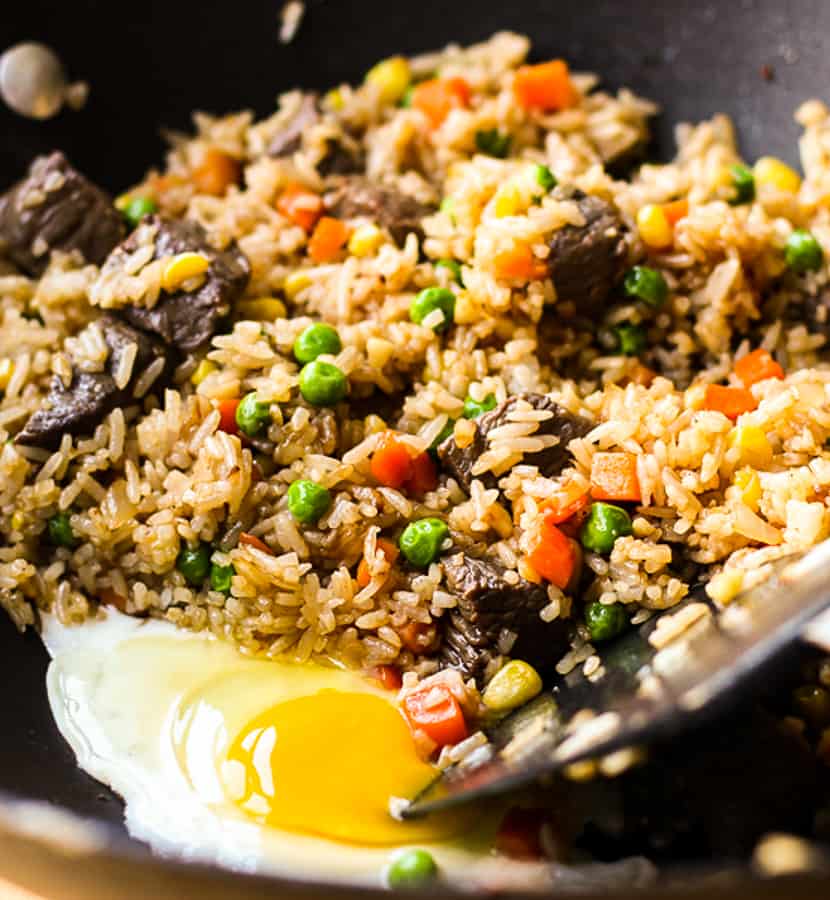 Use your turner to break the yolk and mesh the egg slightly, then cover the still-runny/slightly raw egg with the rice. Let it stand for a few seconds, then stir to combine the egg pieces and the rice for a minute or so.
Remove promptly from heat. Avoid overcooking.
And there you go! Steak Fried Rice. Oh yum yum YUM!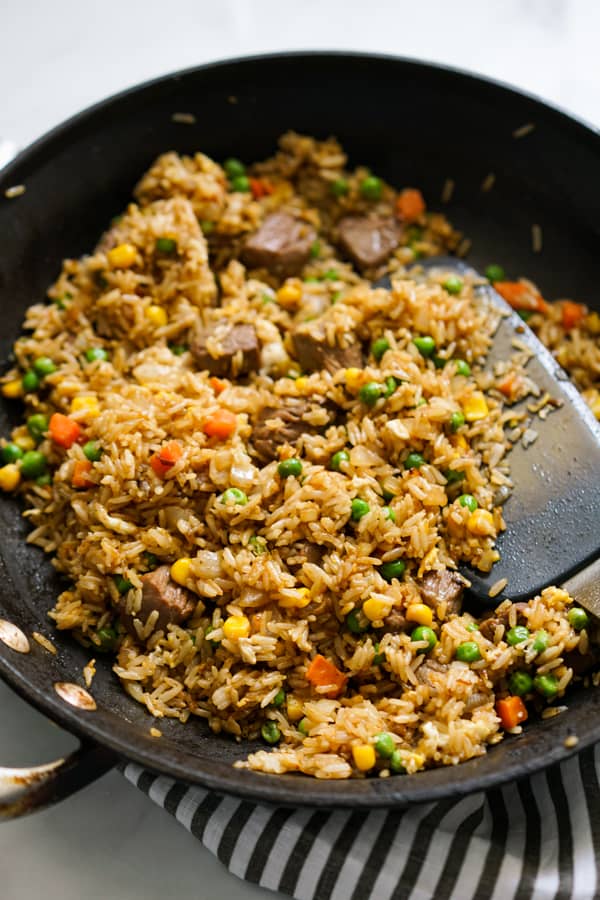 Garnish Steak Fried Rice with some thinly sliced scallions if you'd like, then take a bite into this delicious creation. It will knock your socks off.
The steak is cooked perfectly; there is actually great flavor in the rice; and I love the slight crunch from the carrots, peas and corn.
SO DANG GOOD.
Variations
Use the recipe as a guidance and feel free to switch up the ingredients if you are feeling the creative bug:
Use white or brown rice, or another type of rice (basmati, long grain etc). Jasmine is a common rice used in Asia but it is not the only one that works for this recipe
Use other veggies…or any veggies you have in your fridge.
Use another protein – chicken, shrimp, tofu etc.
Feel free to omit the egg
Add chili or sriracha to spice it up!
A few other notes
If doubling the recipe, I recommend cooking this in two batches. Having too many items in the wok or skillet without room to move it around can overcook some items and undercook others.
To store leftovers, keep in an airtight container and store in refrigerator for up to 3-4 days. You can freeze and store as well.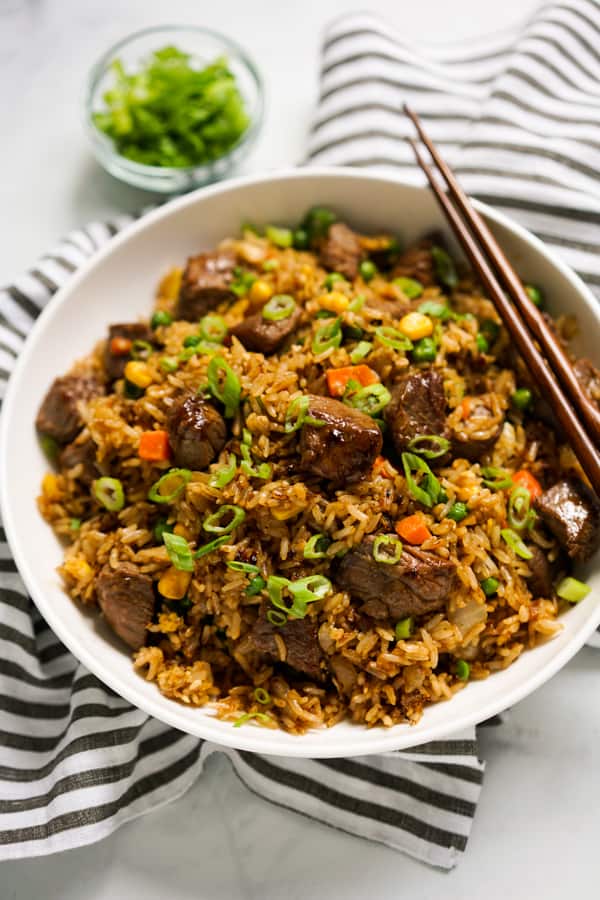 Steak Fried Rice is one of my go-to, easy meal, especially when I have plenty of leftover rice in the fridge. Once you have cooked rice ready to go, it takes 20 minutes to get dinner on the table. WOWZA. It's that simple!
Try it, and once and for all, say goodbye to greasy Chinese takeout! 😉
DID YOU ENJOY THIS RECIPE? Please comment below and give us a 5-star rating! This will help others find this recipe on Google and Pinterest. We very much appreciate your help! 🤍
Other Chinese takeout recipes on the blog!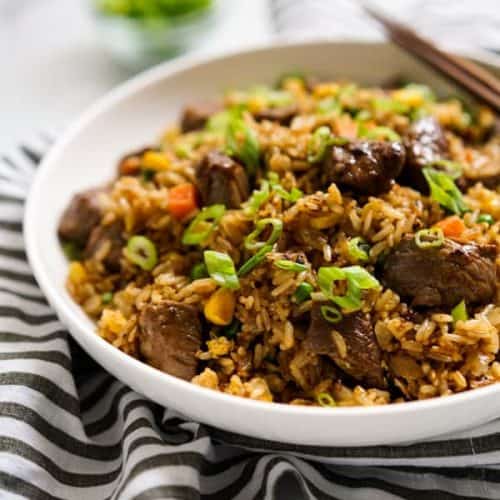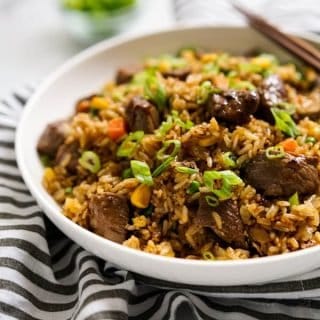 Steak Fried Rice
This fried rice recipe is full of flavor and combines juicy, marinated steak pieces, rice and veggies. An easy and yummy one pan meal!
Print
Pin
Ingredients
1/2

lbs

sirloin steak

2

tbsp

soy sauce

2

tbsp

oyster (flavored) sauce

2

tsp

sesame oil

1

tbsp

garlic

minced

3

tbsp

onions

diced

1/2

tsp

white or black pepper

3

cups

cooked jasmine rice

1

cup

frozen mixed vegetables (peas, corn, carrots)

1

egg

vegetable oil

scallions

sliced
Instructions
Prepare sauce by combining oyster (flavor) sauce, soy sauce, sesame oil, and white or black pepper in a small bowl.

Cube steak into 1-inch cubes. Add half of the sauce prepared to steak cubes, and save the other half for later. Mixed sauce with steak. Set aside and marinate for ~30 minutes.

Mince garlic and dice onion. Fluff cooked rice to remove clumps. Set all ingredients needed for stir fry by stove – egg, mixed vegetables, rice, garlic, onion, marinated steak, and sauce.

Add vegetable oil to wok or skillet and heat on high heat. When wok/skillet is heated, add steaks to wok/skillet and cook for 2-4 minutes, or to desired doneness. Avoid over-cooking. Remove and set aside.

Add vegetable oil to wok/skillet again and heat on high heat. When wok/skillet is heated, add minced garlic and onion, stir continuously, cook for 30-60 seconds or until onions turn slightly golden brown. Add rice to wok, stir continuously, cook for 1-2 minutes. Add mixed vegetables, stir, cook for 1 minute. Add sauce that you set side earlier and the rest of the steak, stir and cook for another minute.

Push fried rice to one side of the wok, and crack an egg directly to the wok/skillet (where there is no fried rice). Break the yolk and mesh up egg using turner/spatula. Then cover the slightly raw egg with the fried rice (pile the rice on top of the still-runny egg). Let it sit for a few seconds, then stir to combine egg with rice. Cook for a minute.

Remove fried rice from heat. Garnish with scallions (if desire).
Notes
Note that all measurement, including cup measurement for cooked rice, is based on US measurement.
Nutrition
Calories:
455
kcal
|
Carbohydrates:
57
g
|
Protein:
26
g
|
Fat:
13
g
|
Saturated Fat:
6
g
|
Cholesterol:
101
mg
|
Sodium:
1093
mg
|
Potassium:
503
mg
|
Fiber:
3
g
|
Sugar:
1
g
|
Vitamin A:
3180
IU
|
Vitamin C:
8
mg
|
Calcium:
69
mg
|
Iron:
3
mg