Current situation: dreaming of not turning on the oven, but so desperately want dessert. Enter: No Bake Cheesecake Bites.
These No Bake Cheese Cake Bites, or sometimes called No Bake Cheesecake Bars are creamy and sweet, and sits on top of a crumbly graham cracker crust. The topping is sweet and tangy strawberry sauce, along with a thin slice of fresh strawberries.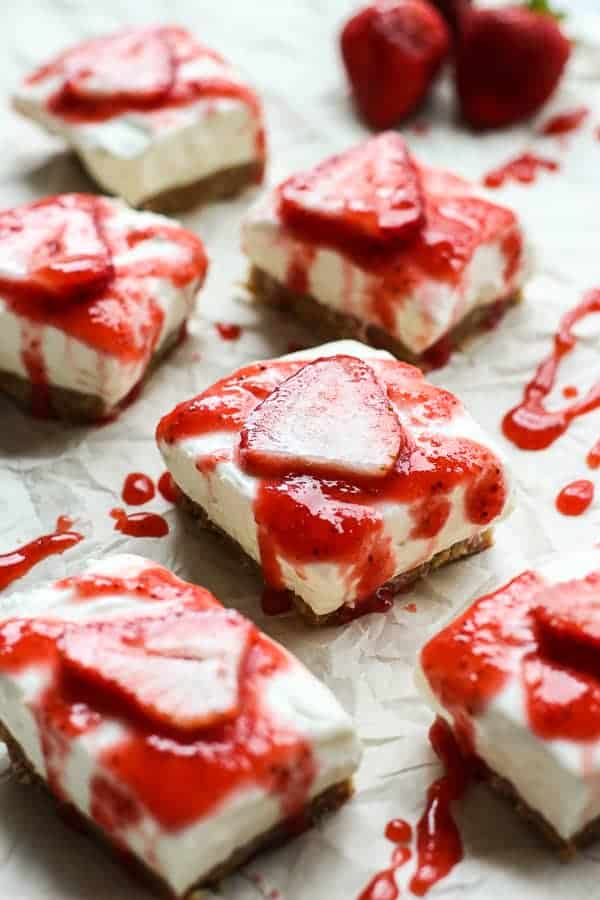 Cheesecake Bites – No Baking Necessary!
It's easy to guess why I love these No Bake Cheesecake Bites.
It's cheesecake, but with much less work to make it happen!
Now listen, sometimes I really do want to put in the effort and make a whole cheesecake. I can never quite resist my Italian Ricotta Cheesecake recipe, which is truly the cheesecake of all cheesecakes.
But sometimes, like today, I just don't want to turn on that hot oven. But yet I want to make a tasty cheesecake. And these No Bake Cheesecake Bites fulfill that and so much more.
There's really nothing complicated about this cheesecake recipe. There's no cooking involved, but the only thing you'll need is a little bit of time.
Since we are not baking it, no bake cheesecake bars will need to be refrigerated in order to solidify, and it will take about 6-8 hours for it to properly solidify in the refrigerator. So plan ahead to give yourself ample time!
Our no bake cheesecake bites are made with creamy cheese, and is rich, creamy and tangy from hints of lemon flavors.
It sits on top of a crust made with sweet graham crackers so you should expect bites of crumbly, crunchy goodness.
My favorite topping for these no bake cheesecake bites are strawberry sauce and strawberries to give it a fresh fruity flavor which contrasts the creaminess really well.
You can also top no bake cheesecake bars with other toppings such as chocolate sauce, caramel, other fruit toppings, or just enjoy it plain!
Ingredients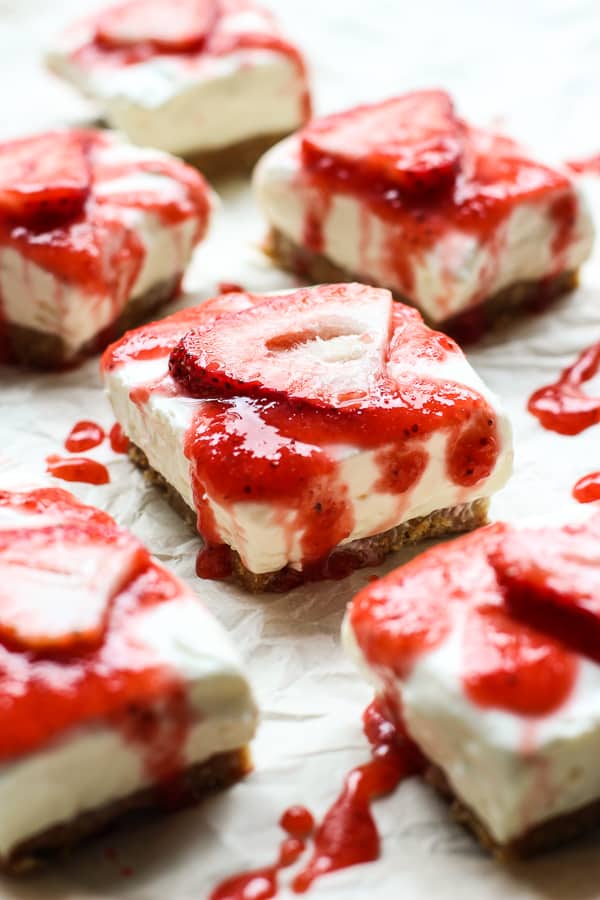 As for ingredients, you will need these to make no bake cheesecake bites:
Cheesecake:
cream cheese – make sure it is softened before combining with the other ingredients.
heavy whipping cream – also known as heavy cream, this is a high fat content dairy product consisting of about 30-40% fat. This will give these no bake cheesecake bars rich and creamy texture.
lemon juice – use freshly squeeze if possible, providing a nice tangy flavor to cream cheese.
granulated sugar
confectionary sugar
vanilla extract – use pure vanilla extract for best taste
Crust:
graham crackers – crushed into fine pieces
brown sugar – complements the graham crackers really well and bring some additional sweetness to the crust of the no bake cheesecake bites.
unsalted butter – used to glue the crust together, while providing a moist buttery flavor.
Strawberry Topping
fresh strawberries – frozen strawberries work too. Pat dry to remove moisture.
granulated sugar
How to make No Bake Cheesecake Bites
It's hard to say no to these No Bake Cheesecake Bites with a crumbly graham cracker crust. They are easy to put together and taste just like the cheesecakes that you bake in the oven.
To make it, bring graham crackers to a large zip lock bag and crush it until they are fine. You can use a wooden spoon, the flat part of a meat tenderizer, or something heavy to pound it.
Press graham cracker onto a 8′ x 8′ baking dish that is lined with parchment paper (for easy removal of your no bake cheesecake bars later on)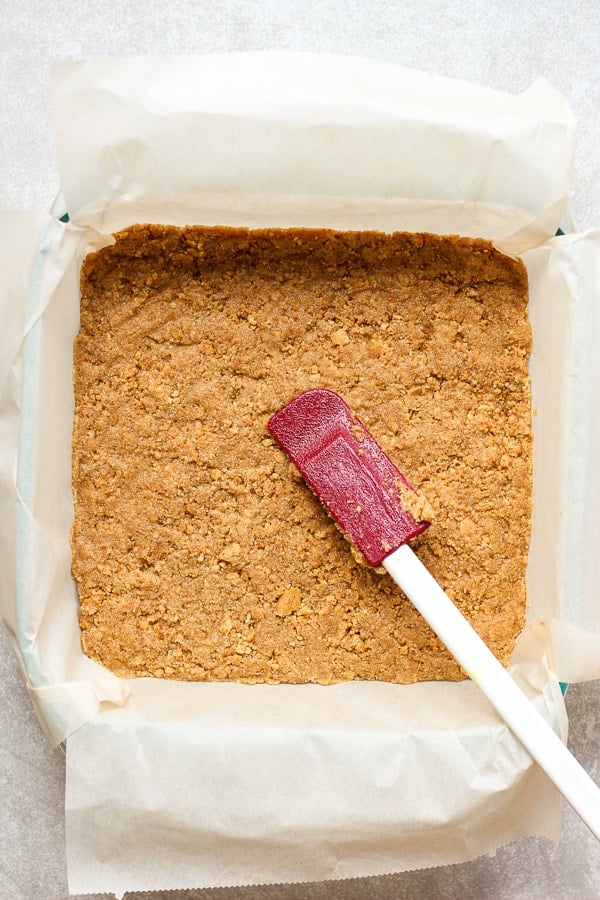 Next, bring together the cheesecake filling by combining softened cream cheese, heavy cream, granulated sugar, confectionary sugar, lemon juice and vanilla extract.
The easiest way to enjoy everything incorporates well and the texture is nice and smooth is to use an electric hand mixer or stand mixer to whisk the cheesecake filling until smooth.
Then spread cheesecake filing on top of the graham cracker crust.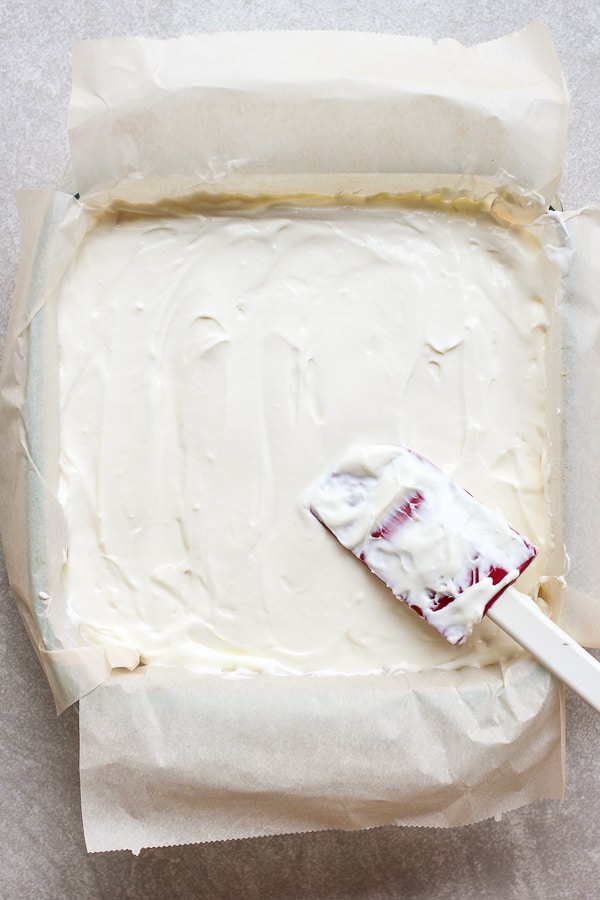 The only thing you need to plan ahead for: start the prep work ahead of time because it does take a good 6-8 hours to just sit in the refrigerator so that the cream cheese mixture will firm up.
In fact, the closer to the 8 hours you can get it to sit in the refrigerator, the better.
Then you take them out and very carefully cut these no bake cheesecake bars into smaller pieces.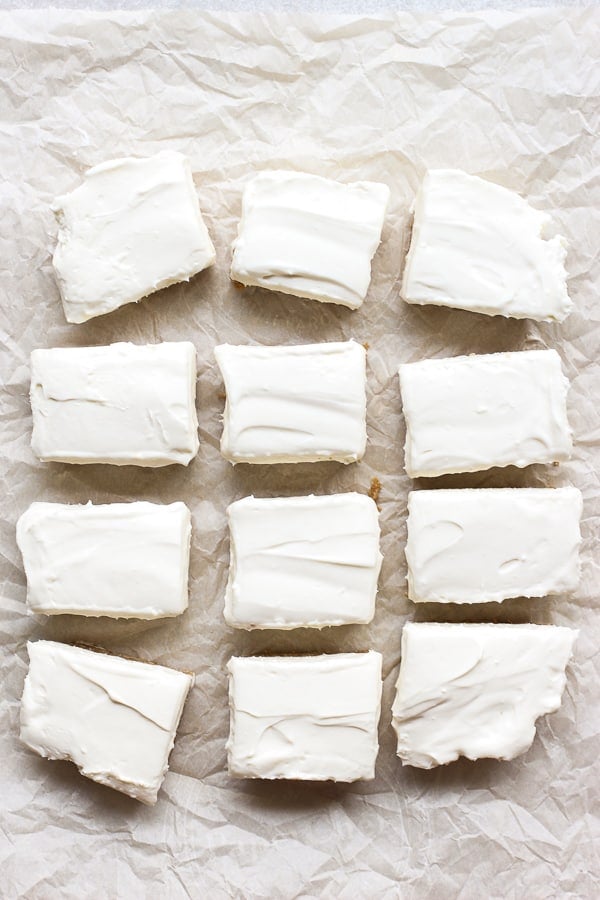 Small is probably relative. Let's just say it's small enough to do portion control, but also large enough to get your cheesecake fix.
Last but not least, top these lovely no bake cheesecake bites with the toppings of your choices:
strawberries + strawberry sauce (our current choice 🙂 )
raspberries + raspberry sauce
blueberries + blueberry sauce
chocolate sauce and/or chocolate chips
caramel
The best part is, none of these sauces require any cooking as well!
One bite into these no bake cheesecake bites, and you'll find the tangy sweet strawberry sauce compliments the creamy cheesecake filling. And that graham cracker crust is perfectly crumbly and sweet.
Ahhhh so yum, so lovely, so perfect!
We love these beautiful no bake cheesecake bites so very much!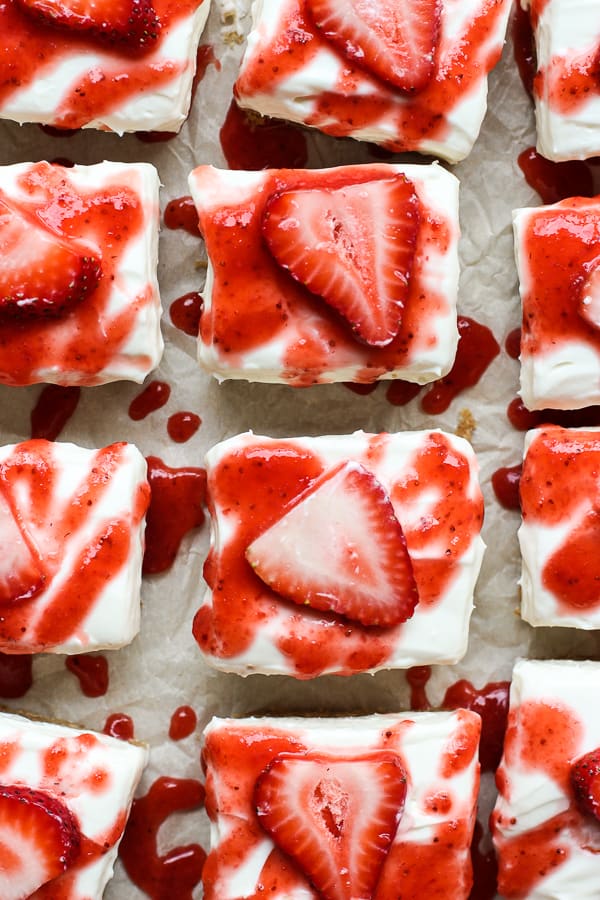 Make Ahead and Storage Instructions
If you are going to a potluck, cookout, or backyard party…bring these No Bake Cheesecake Bites to these gatherings and your people will love you for it.
If you are making these no bake cheesecake bites ahead of time, avoid adding strawberry sauce and strawberries to it until ready to serve.
The sauce usually spreads in a weird way after sitting for a while, so do not add it too far ahead in advance for the sake of the presentation.
Since there's a lot of dairy, always storage leftover no bake cheesecake bites in an airtight container in the refrigerator.
Frequently Asked Questions
Can I use half and half instead of heavy cream?
I highly recommend using heavy cream to make cure cheesecake solidify properly.
Can cheesecake be frozen?
Yes! You can definitely freeze these no bake cheesecake bars. However, I recommend freezing it before topping strawberry sauce and strawberries on it. You can also freeze strawberry sauce separately.
DID YOU ENJOY THIS RECIPE? Please comment below and give us a 5-star rating! This will help others find this recipe on Google and Pinterest. We very much appreciate your help! 🤍
Other Summer Treats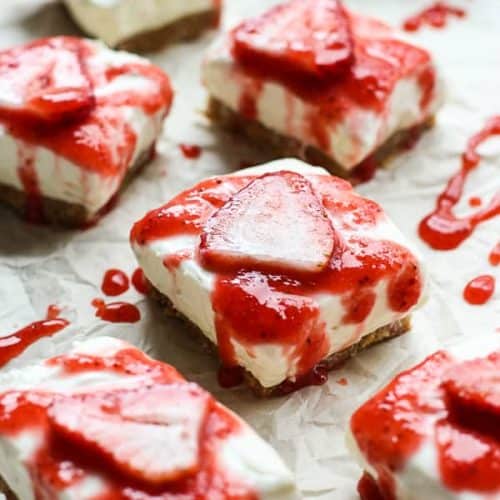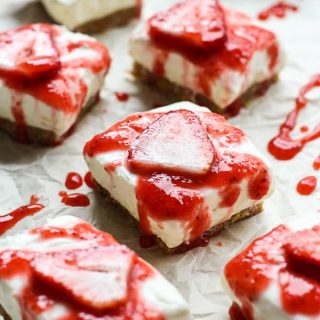 No Bake Cheesecake Bites
A fun no bake summer dessert! Creamy velvety cheesecake sitting on a crumbly graham cracker crust. Drizzled with strawberry sauce and topped with strawberries.
Print
Pin
Ingredients
Cheesecake mixture
16

ounce

cream cheese

softened

2/3

cup

heavy whipping cream

1/3

cup

granulated sugar

1/4

cup

confectioner sugar

2

tbsp

lemon juice

1/2

tsp

vanilla extract
Graham Cracker Crust
1 1/2

cups

graham crackers

crushed

1/4

cup

brown sugar

1

stick

unsalted butter
No Cook Strawberry Sauce
8

oz

fresh strawberries

1/8-1/4

cup

granulated sugar

1/8

cup

water
Other
1/2

cup

fresh strawberries

sliced
Instructions
Crush graham crackers. Melt unsalted butter in the microwave. Combine "graham cracker crust" ingredients in a bowl and mixture well.

Line parchment paper on a 8" x 8" square casserole dish. Bring graham cracker mixture to casserole, spread evenly and gently press mixture with a spatula to form the crust.

In a large bowl, combine all the cheesecake mixture ingredients. Using an elextric mixture, whisk until soft peaks are formed.

Bring cream cheese mixture to graham cracker crust and spread it out evenly

Cover and refridgerate for 6-8 hours. 8 hours is prefered.

Using a blender, blend all the ingredients under strawberry sauce. Adjust sugar accordingly. If strawberry is sweet, use less sugar.

Remove cheesecake from refridgerator and cut them into 12 pieces. Cheesecake should be slightly firmer, but it will still be slightly jiggly.

Slice strawberries and top them on each cheesecake bite. Then drizzle with strawberry sauce.
Nutrition
Calories:
474
kcal
|
Carbohydrates:
36
g
|
Protein:
5
g
|
Fat:
36
g
|
Saturated Fat:
20
g
|
Polyunsaturated Fat:
1
g
|
Monounsaturated Fat:
9
g
|
Trans Fat:
1
g
|
Cholesterol:
107
mg
|
Sodium:
271
mg
|
Potassium:
175
mg
|
Fiber:
1
g
|
Sugar:
26
g
|
Vitamin A:
1254
IU
|
Vitamin C:
21
mg
|
Calcium:
87
mg
|
Iron:
1
mg