Spicy Baked Korean Chicken Wings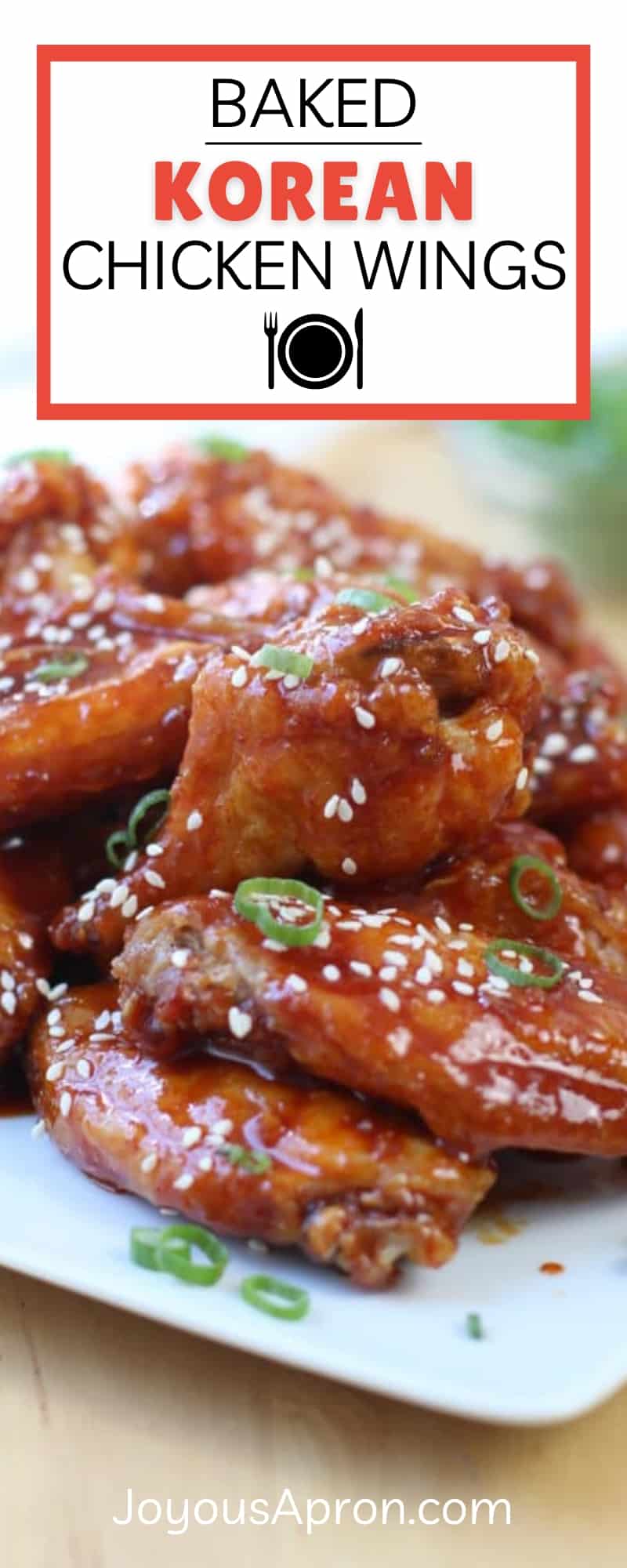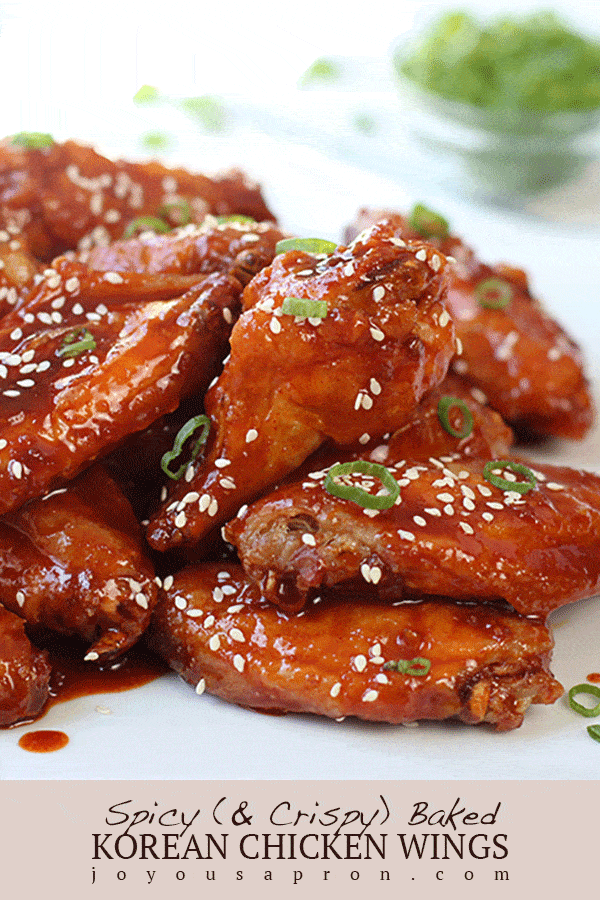 Gotta have these Spicy Baked Korean Chicken Wings! There's something crazy addictive about chicken wings smothered with a bold-flavored sticky, zesty Korean inspired sauce made with Gochujang. It is crispy on the outside, juicy on the insides, and never lacking in flavor!
And the best part is, these chicken wings are baked, not fried. And yes – still as crispy!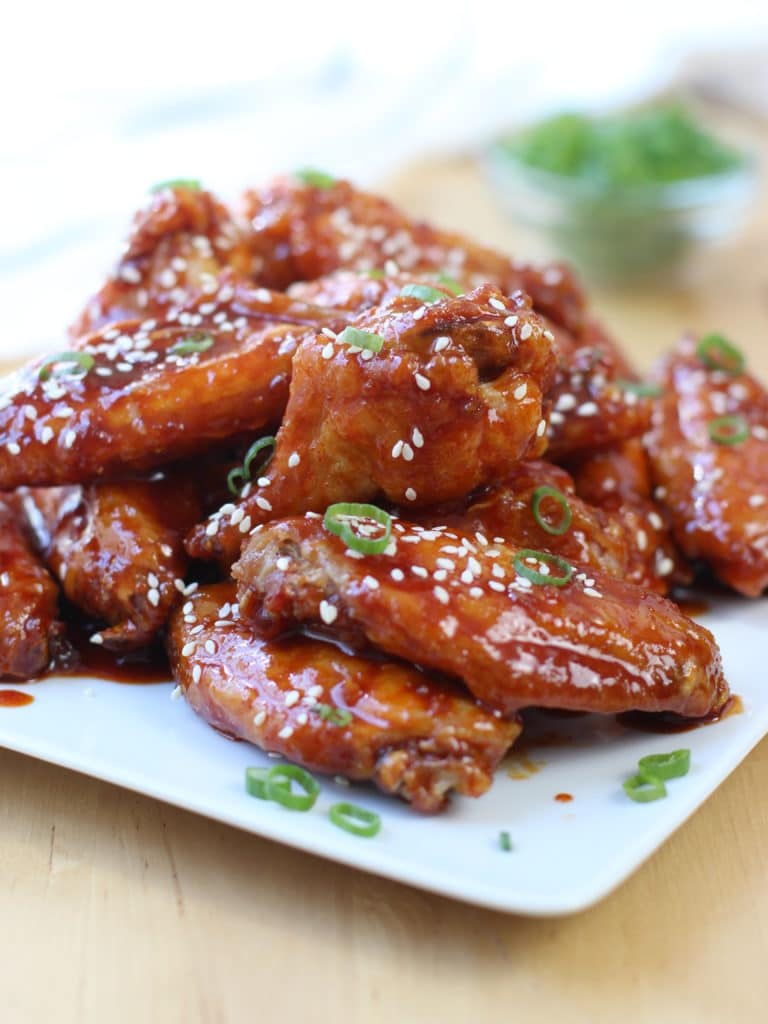 Get ready to fall in love, and become addicted, to these delicious Baked Korean Chicken Wings!
Love baked chicken wings? Don't forget to also check out my BBQ Baked Chicken Wings and Baked Garlic Parmesan Chicken Wings!
Baked Korean Chicken Wings
These delicious Baked Korean Chicken Wings are inspired by the famous Korean fried chicken, which are known for their super crispy texture and coatings of bold flavored sauces.
Instead of frying these chicken wings, I decided to bake them to make them a tad bit healthier, then coated in a sauce created using the classic Korean red pepper paste, Gochujang.
The product is some super delicious Baked Korean Chicken Wings.
AND I CANNOT STOP EATING THEM!
How to make Crispy Baked Wings
I have always wanted to make baked wings with the same level of crispiness as the deep fried versions, because I don't want to clog my arteries, and also, let's face it, cleaning up splattered grease is no fun.
After some research and some trial and error, we found ourselves a winner, a.k.a. some kickbutt crispy baked wings.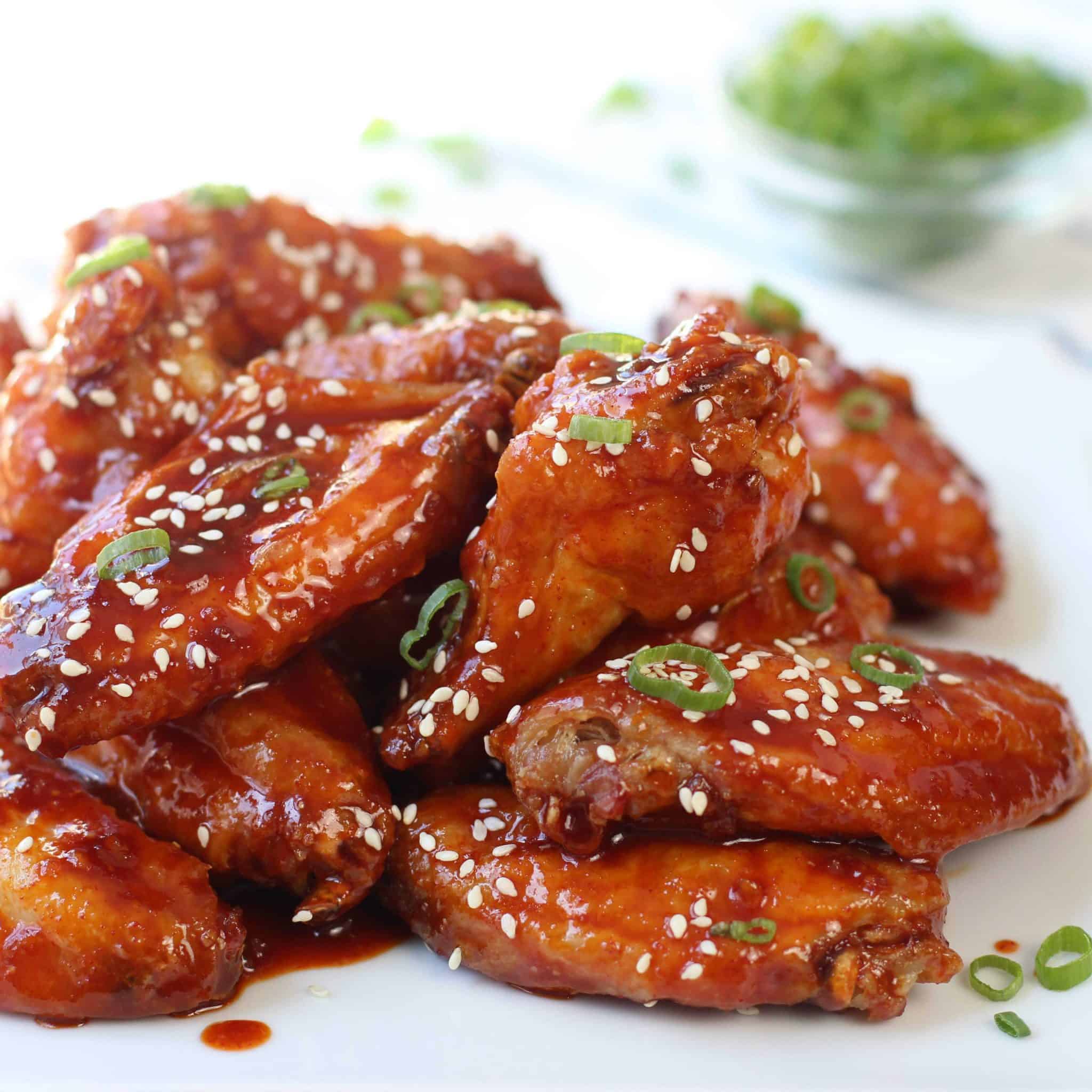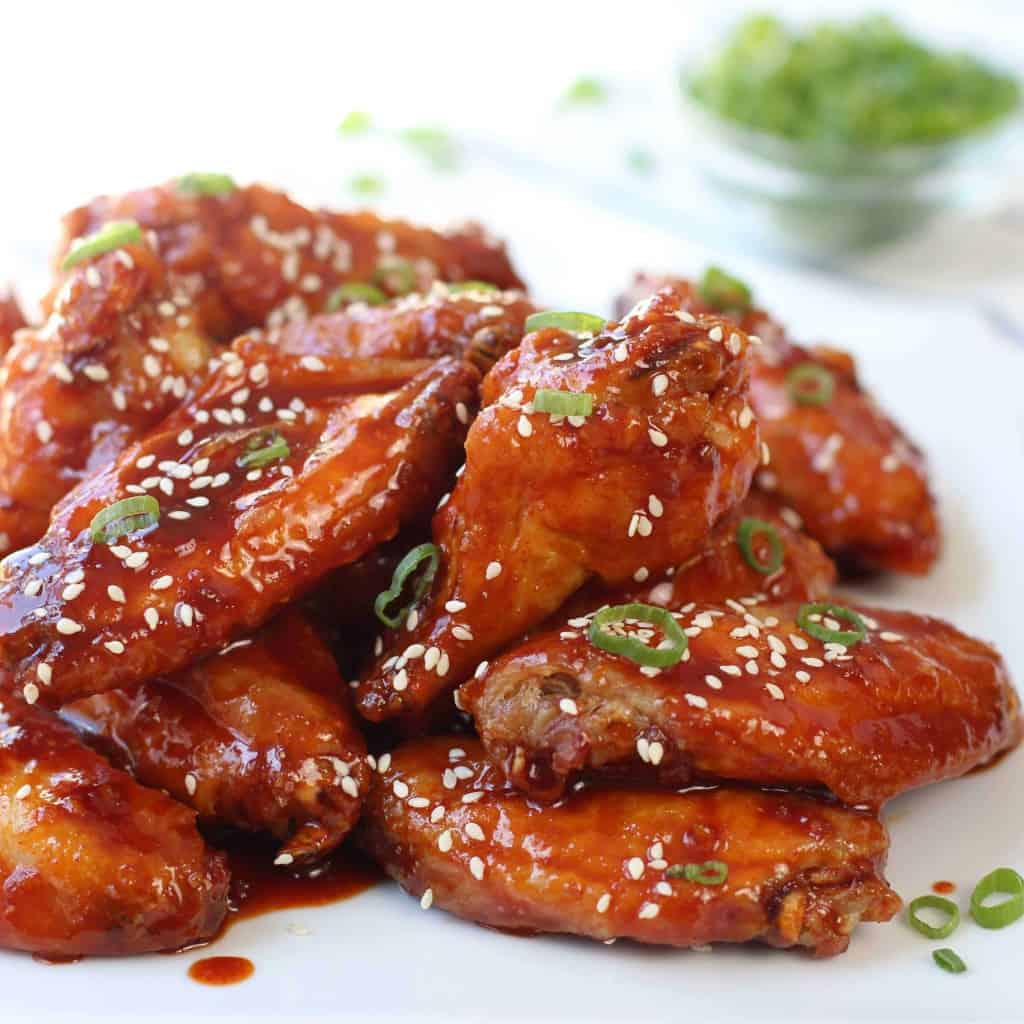 Just like a lot of things in life, I turned to Google for this one.
According to many bloggers, foodies, and recipe developers, there is a secret to making baked wings super crispy, and all this is thanks to Cook's Country's genius find.
The secret is this: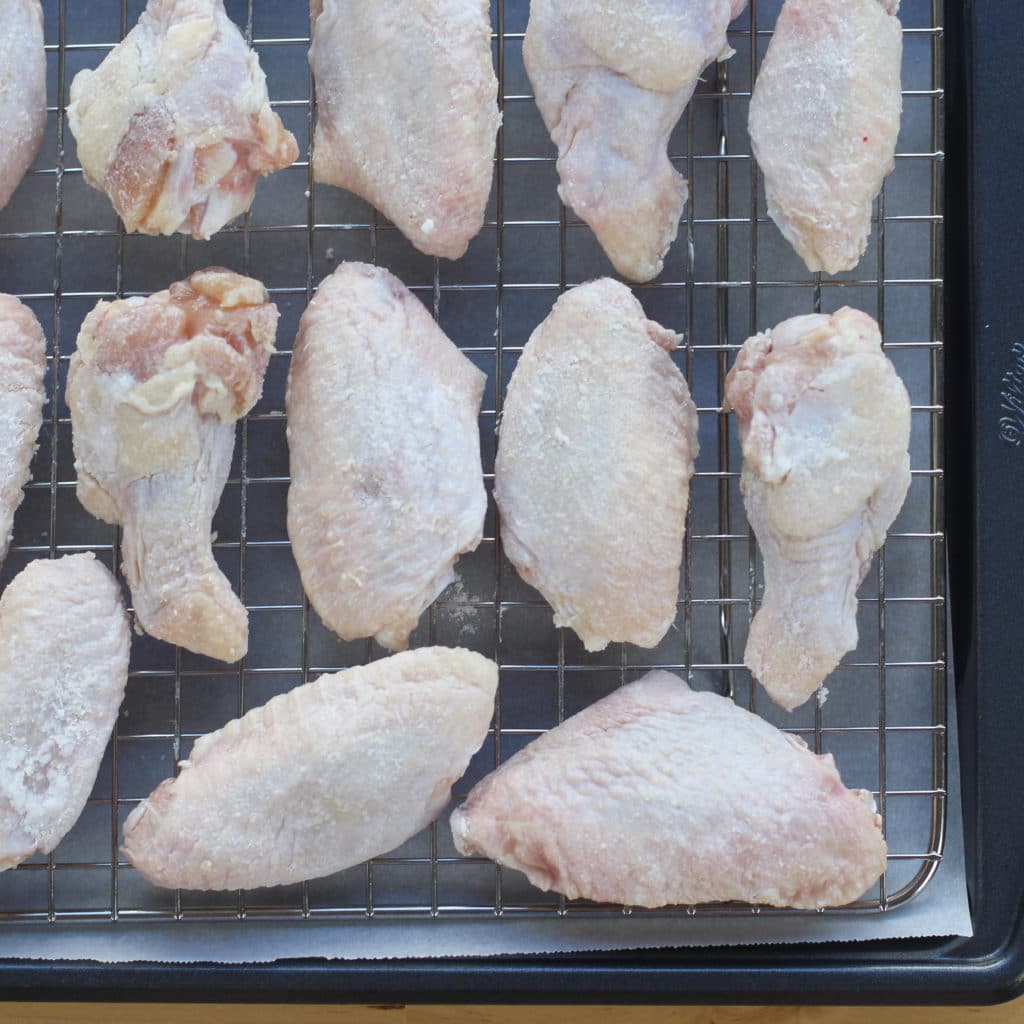 And boy, did it work.
This is what you get – CRISPY, as CRISPY as deep fried Chicken wings, without the grease.
At first, I couldn't believe it myself.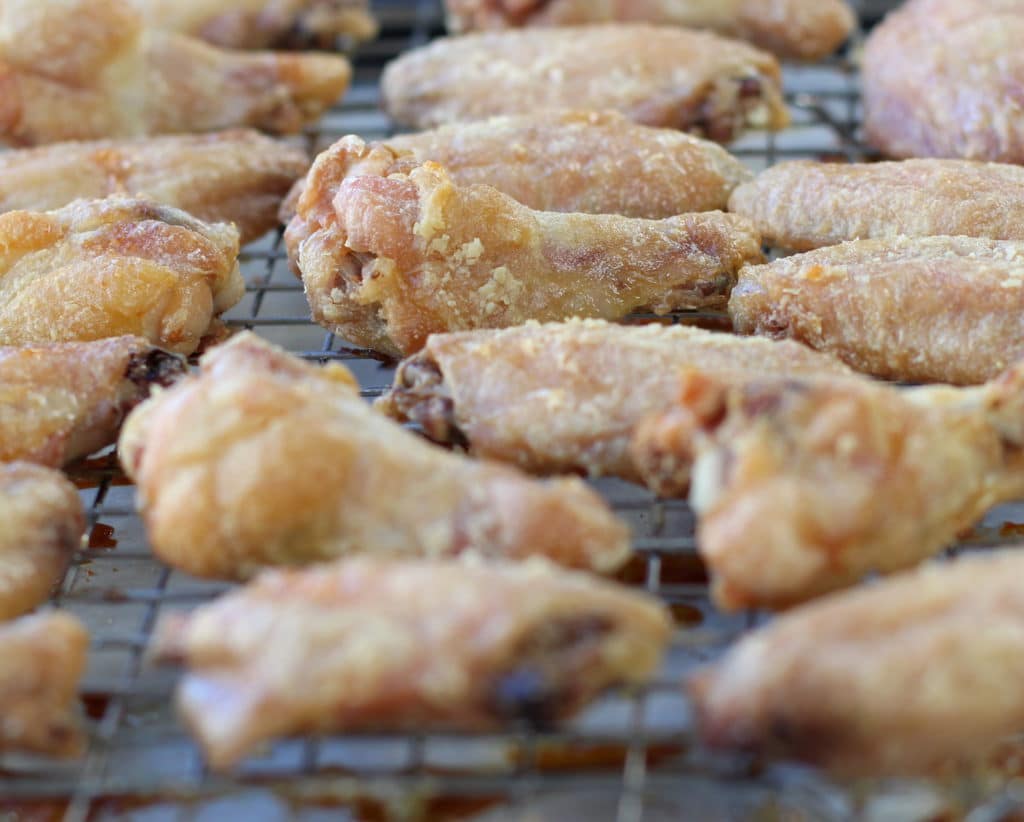 And then I took a bite, and I was CONVINCED.
How to make the Spicy Korean Sauce
WAIT! We are not done yet!
A solid sauce takes this Baked Korean Chicken Wings to the next level.
And I have to say, I'm kinda obsessed with this delicious sauce…
This Korean Spicy Sauce that we will be smothering all over our beloved baked chicken wings has a kick to it, is a little bit of sweet, a little bit of salty, and mouthful of flavor.
Here's what you will need to make it:
Bring all the ingredients together and cook it in a pot until everything dissolved, and sauce is smooth and thick.
Stir continuously to avoid burning at the bottom of the pot.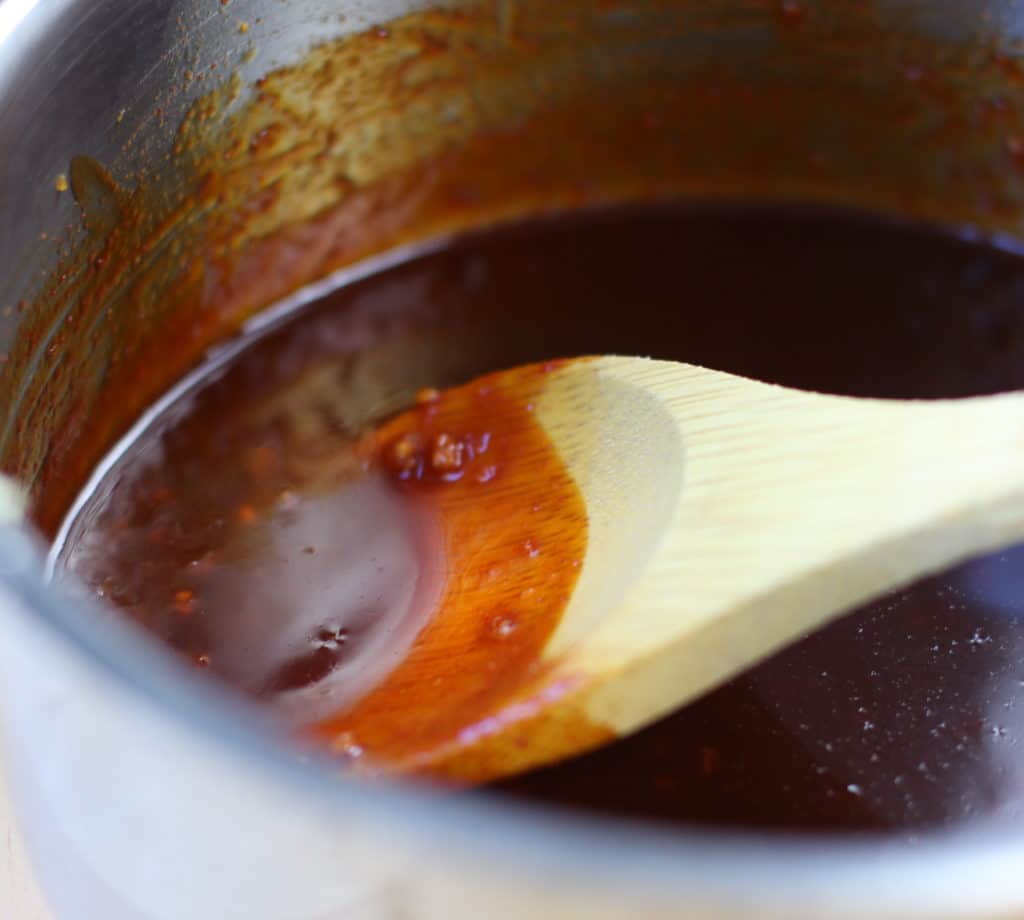 Sauce will be very flavorful, and a little bit does go a very long way!
When the chicken wings are done, bring it to a large bowl and pour sauce all over.
Toss to coat!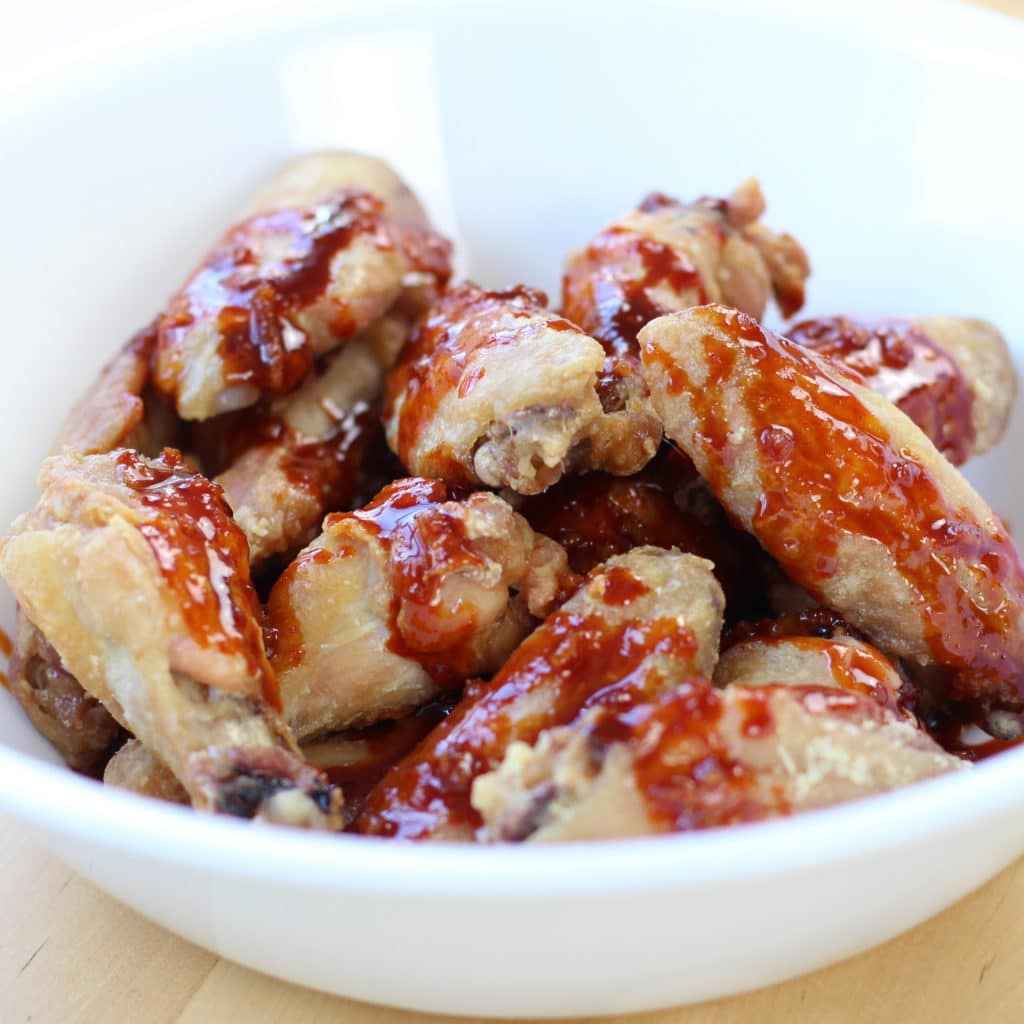 I like to sprinkle chicken wings with sesame seeds and/or chopped green onions before serving, although it is completely optional as it will not change the flavor of the wings.
And that's it! Spicy, delicious Baked Korean Chicken Wings.
If you love bold-flavors you will LOVE this!
How to serve Spicy Baked Korean Chicken Wings
My favorite way to eat Baked Korean Chicken Wings is with plain white rice. I absolutely love it when the rice soaks up all the delicious flavors of the sauce.
Along with rice, I also like to serve it with fresh carrots and cucumber, because the crunch and the freshness of the veggies pairs well with it.
These Baked Korean Chicken Wings also makes the best appetizers for game day, Superbowl Sunday and March Madness watch parties, etc.
Pair them with my Easy Cheesy Potato Wedges and you are all set! It's a nice change-of-pace from classic bbq wings or buffalo wings.
Tips and Tricks
Here are a few things to note when making these Spicy Baked Korean Chicken Wings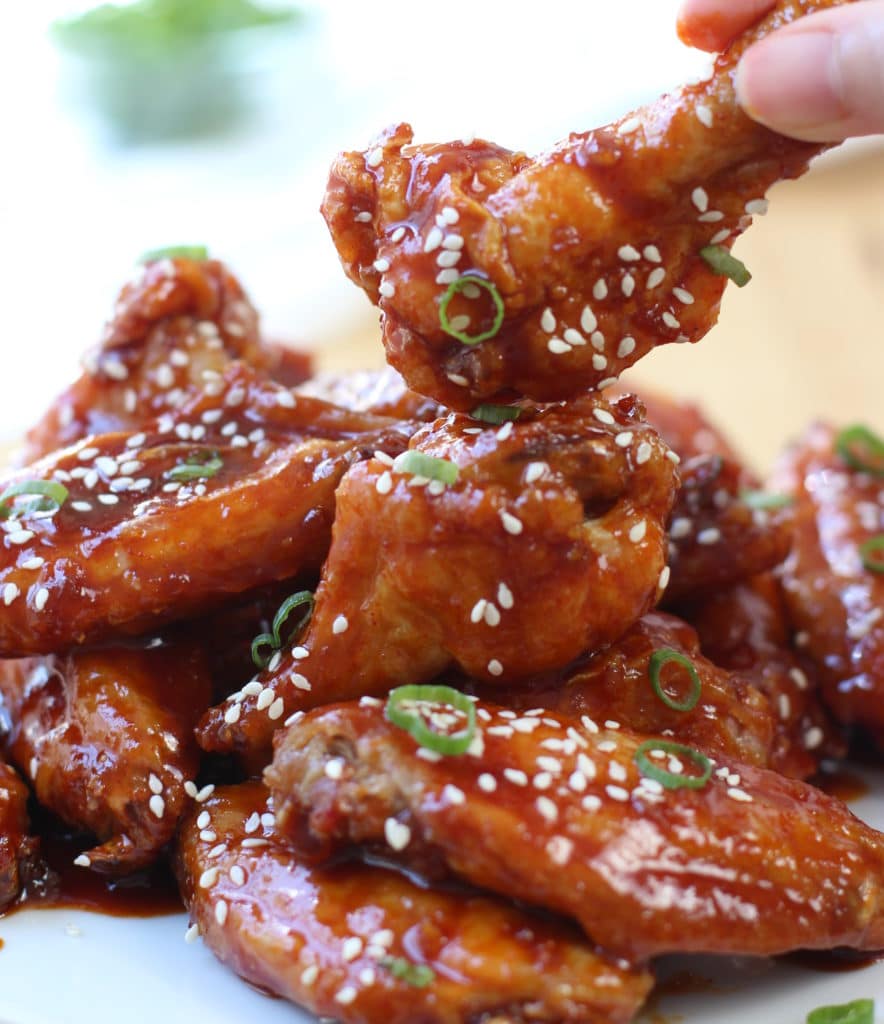 Storage and Reheating
The best way to store this is to store chicken and sauce separately, and then when reheating, reheat chicken in the oven so that it will be crispy again.
You can totally store chicken with the sauce coated on it but it will be harder to get it to crisp up like it was.
If reheating in microwave, chicken wings will no longer be crispy.
Give it a try and enjoy!
These Baked Chicken Wings recipe is legit, you guys.
Glorious, heavenly, lip-smackingly good.
So there you go. Spicy Baked Korean Chicken Wings. Prepared to be wowed!
DID YOU ENJOY THIS RECIPE? Please comment below and give us a 5-star rating! This will help others find this recipe on Google and Pinterest. We very much appreciate your help! 🤍
More Asian Recipes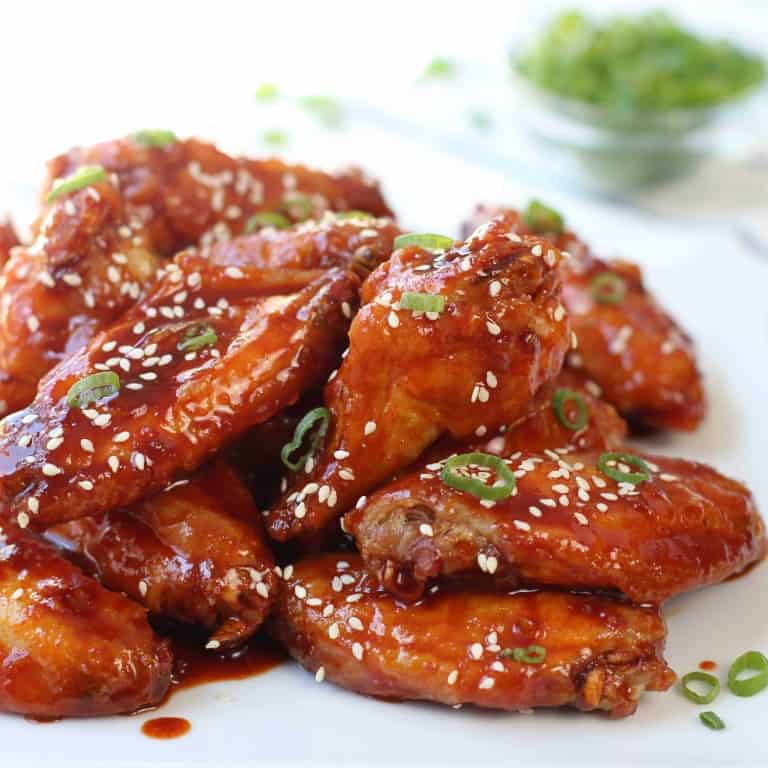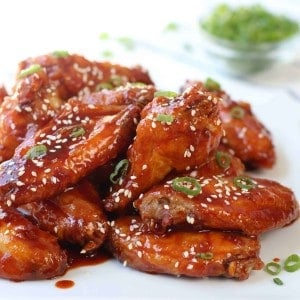 Spicy Korean Baked Chicken Wings
Super crispy BAKED wings smothered with a spicy, sweet, salty, extra flavorful Korean spicy sauce. Addictive, delicious, not difficult at all! Serve with rice for dinner, or a great appetizer for game day!
Print
Pin
Ingredients
2

lbs

chicken wings (drumettes and wingettes)

1

tbsp

baking powder

more if needed

1/4

cup

gochujang sauce

1/4

cup

soy sauce

1/4

cup

sugar

3-4

cloves

garlic

minced

1

tsp

minced ginger

packed

2

tsp

rice wine

2

tbsp

water

chopped green onions

optional

sesame seeds

optional
Instructions
Pre-heat oven to 250 degrees F.

Pat dry defrosted drumettes and wingettes and coat with baking powder. Set drumettes and wingettes on a baking rack that is placed on top of a baking sheet. Use aluminum foil or parchment paper to line baking sheet (underneath baking rack) to catch drippings for easier cleaning.

Bake in oven for 30 minutes on the lower middle rack.

Move oven rack to upper middle. Bring oven temperature to 425 degrees F and continue baking for another 25 minutes.

Remove from oven and flip chicken drumettes and wingettes over. Bake for another 20-25 minutes. Check at 20 minutes to see if chicken is done.

In a small pot, combine gochujang sauce, soy sauce, sugar, minced garlic, minced ginger, rice wine and water. Turn stove on to medium heat and bring to boil. Once it reaches a boil, turn to medium low and continue cooking and stirring for 3-5 minutes.

Bring baked drumettes and wingettes to a large bowl, add sauce, and toss to combine.

Garnish with chopped green onions and sesame seeds (optional).

Serve with plain white rice and enjoy!
Nutrition
Calories:
474
kcal
|
Carbohydrates:
27
g
|
Protein:
33
g
|
Fat:
26
g
|
Saturated Fat:
7
g
|
Polyunsaturated Fat:
6
g
|
Monounsaturated Fat:
10
g
|
Trans Fat:
1
g
|
Cholesterol:
126
mg
|
Sodium:
1629
mg
|
Potassium:
397
mg
|
Fiber:
1
g
|
Sugar:
19
g
|
Vitamin A:
286
IU
|
Vitamin C:
6
mg
|
Calcium:
269
mg
|
Iron:
3
mg