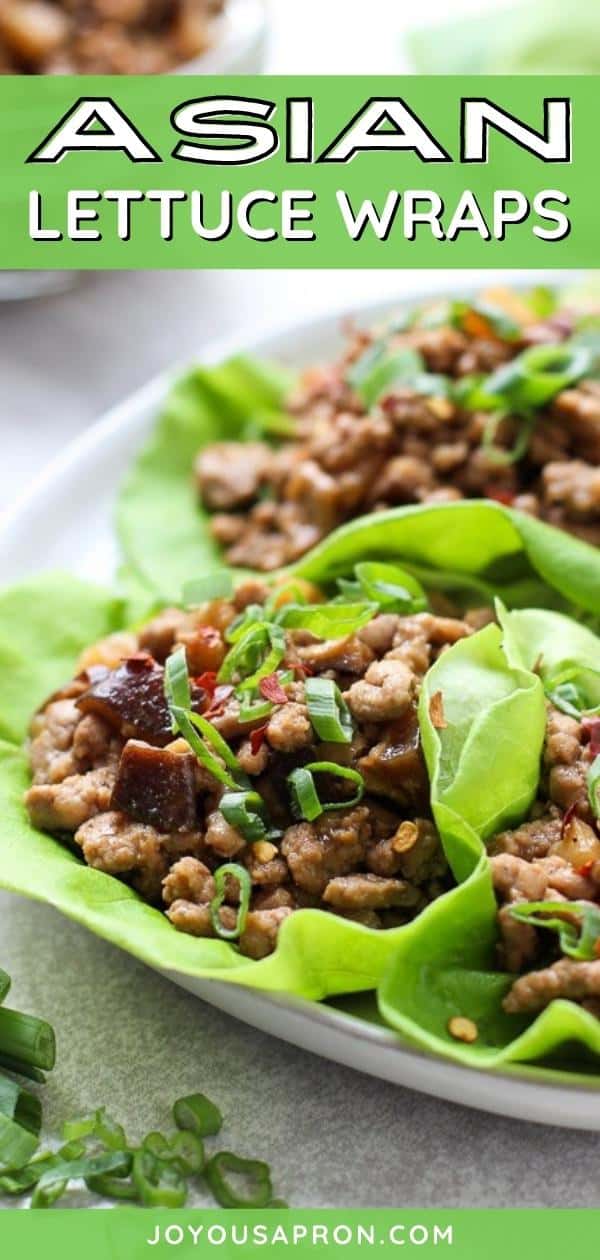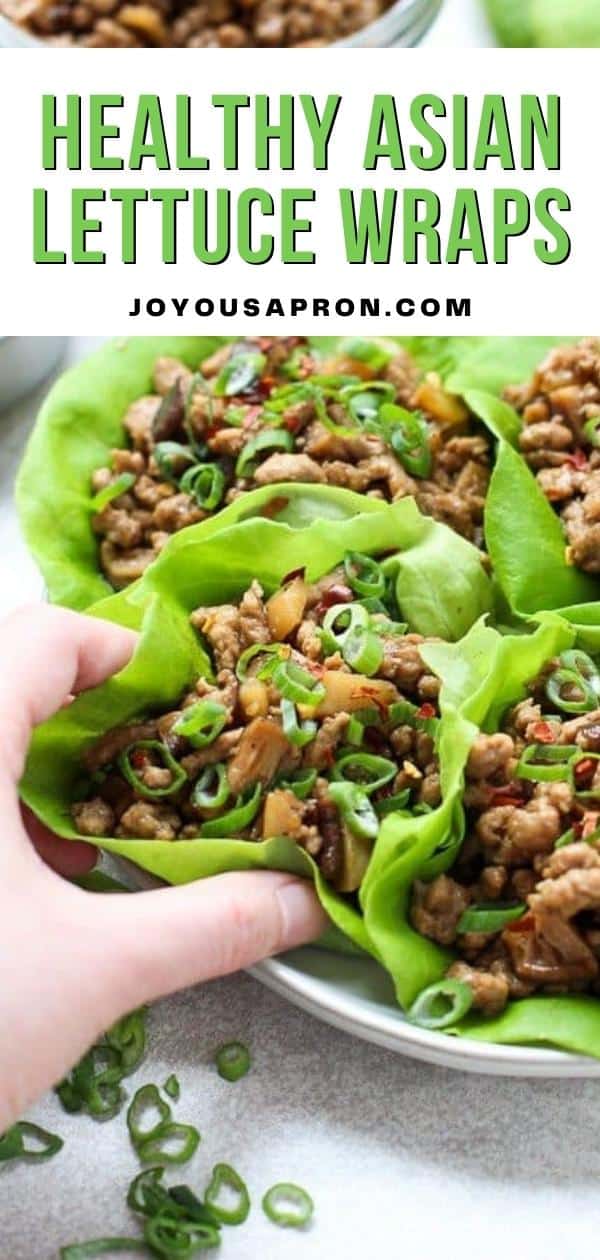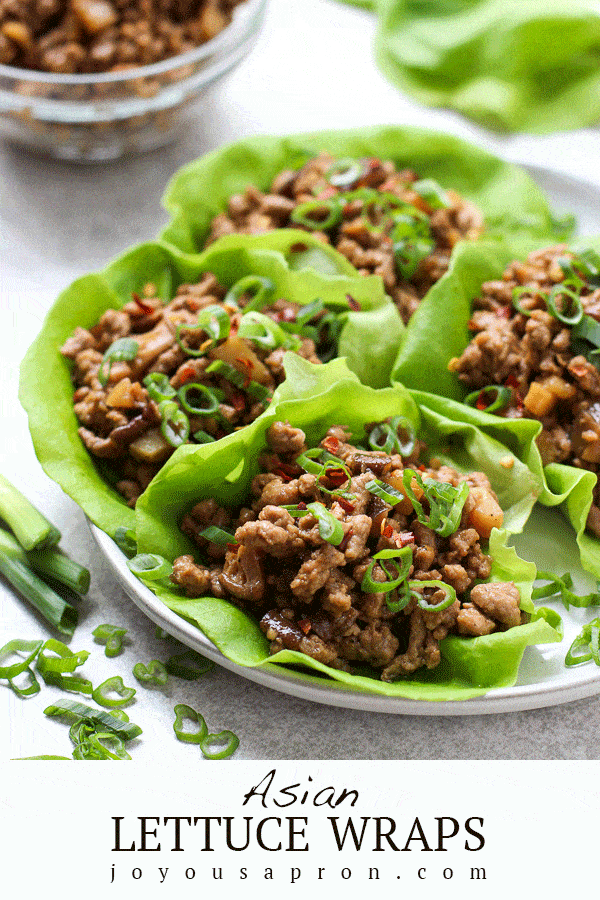 Say hello to these yummy and easy Asian Lettuce Wraps!
Asian Lettuce Wraps are fun appetizers where flavorful ground pork (or ground chicken) is wrapped around fresh, crunchy leafy greens.
They are low-carb, delicious, and can be eaten as a light main course or lunch as well.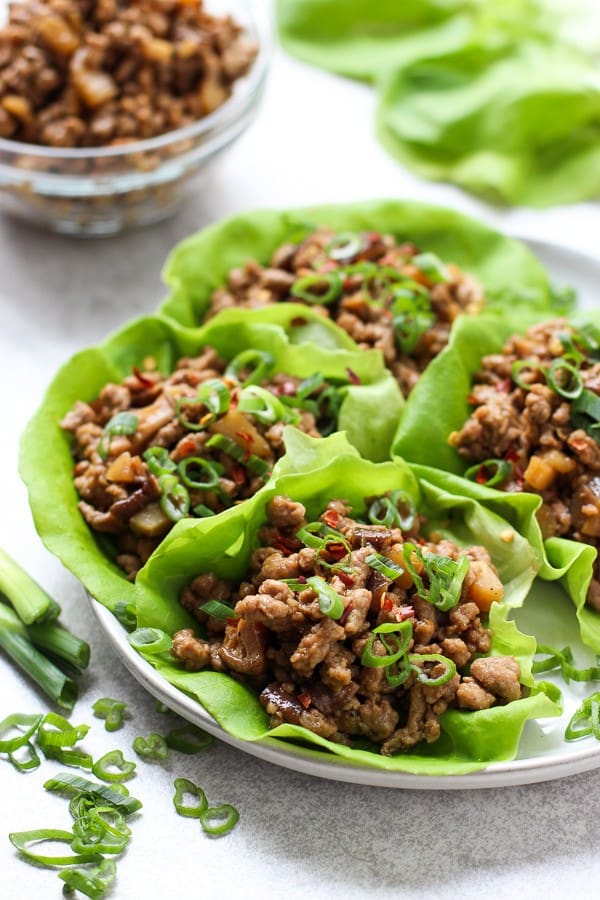 Love Asian food? Don't forget to also check out some of my other favorites: Beef Bulgogi (Korean BBQ Beef), Tom Yum Fried Noodles, General Tso Shrimp and Miso Noodle Soup.
Easy and Healthy Lettuce Wraps
Spring is around the corner, I can feel it. Living in Austin, Texas, winter isn't really a thing. I say that because I used to live in Ohio. Even when I lived in Tennessee I can claim winter as a thing. But Austin, Texas? Winter is really not a thing. 😉
But even though winter may not be a real thing, I am still glad that the "colder" weather is going bye-bye, and Spring is showing its signs. I know that because we spent this past weekend mowing the grass and removing weeds from our lawn that are springing everywhere.
After those three long hours cleaning up our yard, I am proclaiming that, at least for me, SPRING IS HERE.
I was looking back at old posts of mine, and realized I felt the exact same way around this time last year. I am starting to crave for Spring-like food. Easy, fresh, lighter, delicious Spring-like food.
This is coming from the girl who spent the first nineteen years of her life in a tropical country, where spring, summer, autumn, AND winter is not a thing. Well, maybe summer is in fact a thing. Summer ALL YEAR LONG is the thing.
But back then, I didn't even know there was such thing as Spring-like food. All foods – soups, stews, salads, greens, were pretty much eaten all year round in hot, humid 85-100 degree whether.
Funny how we start associating foods to the seasons when there is a seasonal change. It does make the food-making and food-eating process more fun, and I do love the anticipating a new set of foods.
All that to say, I have totally adapted to the seasonal food scene, and cannot wait for Spring food.
I appreciate you handing around to hear my musings about the weather and seasonal foods and me mowing my lawn. 🙂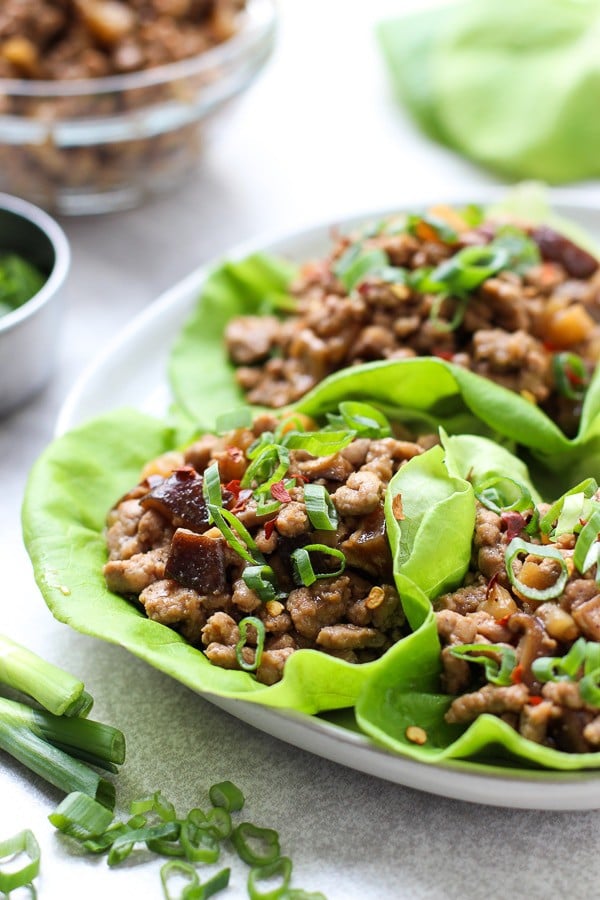 Consider these Asian Lettuce Wraps a peak into Spring and all that is blossoming and blooming and pretty and LESS COLD.
Ingredients
My first exposure to Asian Lettuce Wraps is at PF Chang's. It is a popular menu item at the famous Chinese American chain that can be found all over the United States.
This is not a true copycat of the PF Chang's version, because it has been a loooong time since I have had their lettuce wraps. I do think this tastes slightly different.
But dare I say this? I think it is better. I like the sweet, savory umami flavor that this recipe produces. This recipes calls for lean ground pork, but feel free to use ground chicken or ground turkey if you prefer.
I do think ground pork produces a richer, deeper flavor than chicken and turkey, but the sauce is so flavorful you cannot go wrong with whichever protein you use.
In the ground pork filling, we are also adding shiitake mushrooms and water chestnuts to add to the texture and flavors. I used canned water chestnuts, and drained all the liquid because dicing up the water chestnuts.
If you bought dried shiitake mushrooms, you will have to soak them in warm water for 10-15 minutes until they become soft.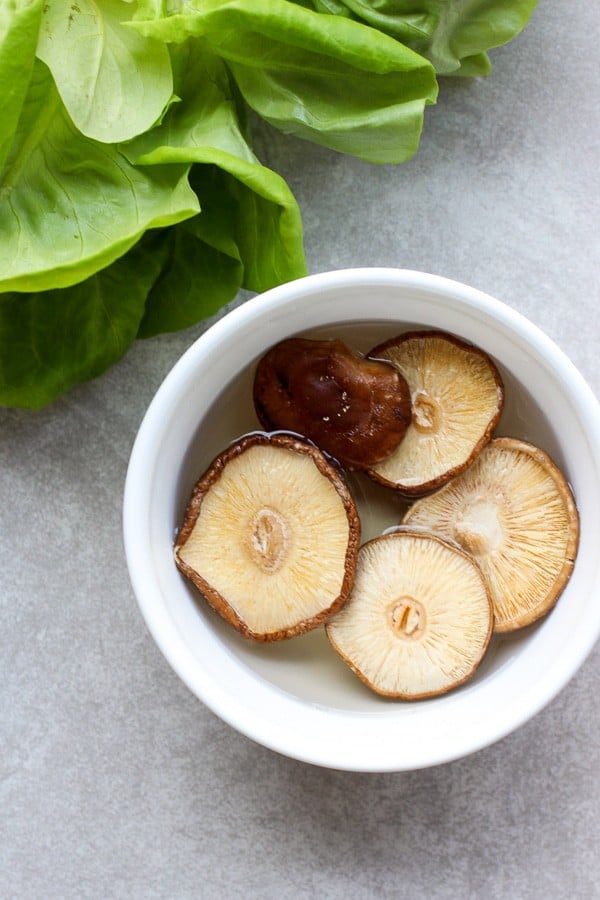 And of course the sauce. The sauce is a thicker sauce that clings to the meats, mushrooms and water chestnuts. Our goal is to not produce runny sauce. That is why cornstarch is involved to thicken it.
Along with cornstarch, it calls for fairly easily-found ingredients. You can find them in the Asian aisle in most grocery stores. They are soy sauce, oyster (flavored) sauce, rice wine, sesame oil, sugar, ginger powder, garlic, onions, water and dark soy sauce (optional).
Even if you don't like oyster (I don't), don't be afraid of oyster (flavored) sauce. It is very common in many Asian/Chinese dishes – in fact you most likely had it if you had Chinese food!
Dark soy sauce is optional if you cannot find it. It adds an extra depth in flavor, and also darkens the color of the meat, but if you cannot find it, it is totally okay to omit. My guess is this is also most likely the hardest ingredient to find in a regular store.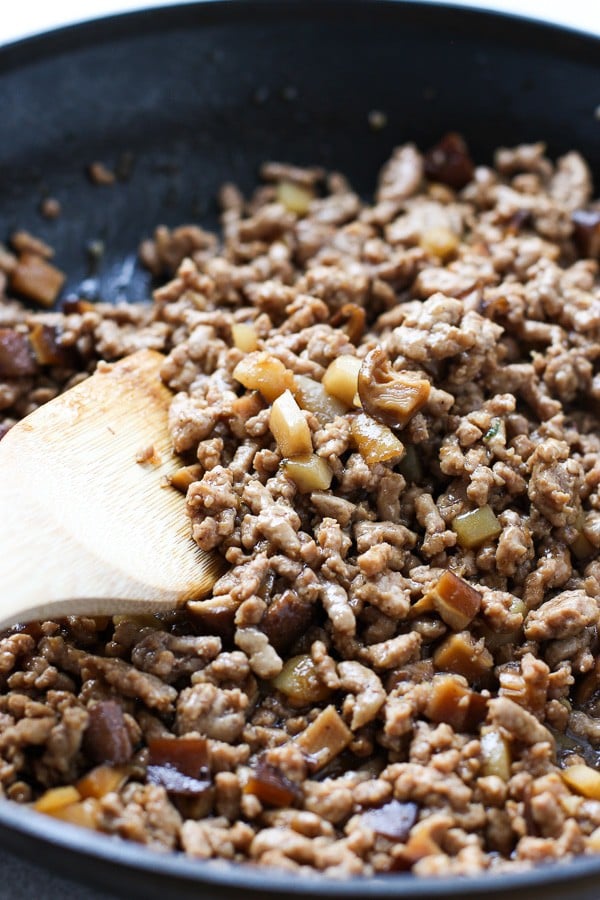 How to make Asian Lettuce Wraps
In addition to the ingredients mentioned, you will need a large skillet. I typically like using non-stick skillets because they are easier to handle.
Before sautéing the ingredients, I like to combine all the ingredients for the sauce in a bowl. This way the cornstarch is fully dissolved and all the sauce ingredients are combined well before adding it to the skillet.
Then let the sautéing begin! It really is as simple as that, and the sautéing process goes very quickly as well. Once that is done, add the filling to the lettuce. I like buying either butter lettuce or romaine for this.
Last and certainly not least, garnish with green onions. Feel free to add some red pepper flakes if you like a little kick to your Asian Lettuce Wraps.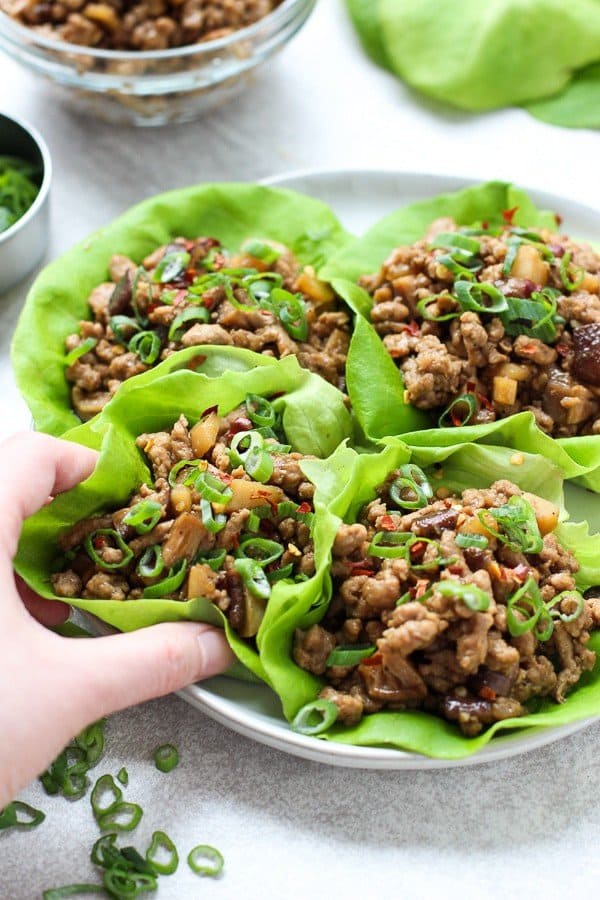 And to the most fun part – EATING. Grab one of these, or multiple. Because it is hard to stop at one. And enjoy!
How to store leftovers
If there are leftovers, store the meat filling separately from the lettuce in the refrigerator for up to 3-4 days. Storing them separately will prevent lettuce from becoming soggy. These keep very well as leftovers!
More Asian/ Asian-inspired Recipes
DID YOU ENJOY THIS RECIPE? Please comment below and give us a 5-star rating! This will help others find this recipe on Google and Pinterest. We very much appreciate your help! 🤍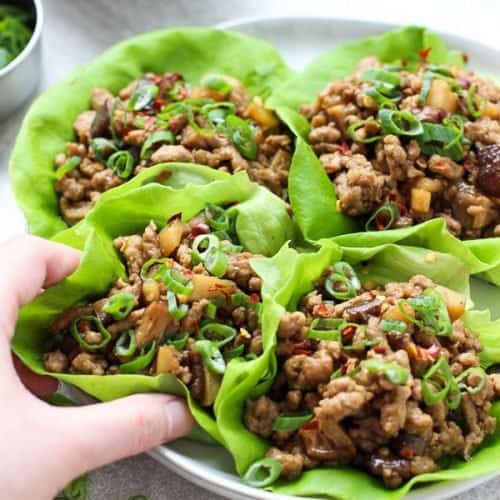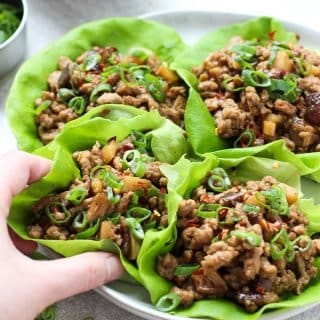 Asian Lettuce Wraps
An easy, healthy and low-carb Asian inspired appetizer or light meal for lunch or dinner. Flavorful ground pork or chicken tossed with shiitake mushrooms and water chestnuts in a savory sweet sauce, wrapped around crunchy lettuce. Super simple and yummy!
Print
Pin
Ingredients
1

lbs

lean ground pork

or ground chicken/turkey

2-3

tbsp

white onions

minced

3-4

cloves

garlic

minced

1/2

cup

shiitake mushrooms

1/2

cup

water chestnuts

canned

vegetable oil

salt and pepper

to taste

butter lettuce or romain lettuce
Sauce
1 1/2

tbsp

soy sauce

2

tbsp

oyster sauce

2

tsp

rice wine

1

tbsp

sesame oil

1

tbsp

sugar

1/4

tsp

ground ginger

1

tsp

corn starch

2

tbsp

water

1/2

tsp

dark soy sauce

optional
Garnish
green onions

sliced

red pepper flakes

optional
Instructions
If you are using dried shiitake mushrooms, soak them in warm water for 10-15 minutes, or until they are soft. Then cut them into small pieces.

Drain water from canned water chestnuts and dice water chestnuts into small pieces. Mince onions and garlic. Slice green onions.

Combine all the sauce ingredients in a small bowl and mix well.

Add vegetable oil to a large skillet and heat skillet. Add garlic and onions. Sauté briefly until fragrant – do not brown or burn garlic and onions. Quickly add ground pork and break pork into small pieces. Season with a few pinched of salt and pepper.

Once pork is cooked and no longer pink-ish, add shiitake mushrooms, water chestnuts, and sauce. Stir to combine and bring to a boil.

Cook for another 1-2 minutes, or until liquid thickens. Remove from heat.

Fill lettuce with pork filling. Garnish with green onions and red pepper flakes (optional). Serve and enjoy!
Nutrition
Calories:
415
kcal
|
Carbohydrates:
12
g
|
Protein:
21
g
|
Fat:
31
g
|
Saturated Fat:
12
g
|
Cholesterol:
82
mg
|
Sodium:
1026
mg
|
Potassium:
497
mg
|
Fiber:
2
g
|
Sugar:
5
g
|
Vitamin A:
104
IU
|
Vitamin C:
3
mg
|
Calcium:
31
mg
|
Iron:
2
mg