This post may contain Amazon or other affiliate links. As an Amazon Associate I earn from qualifying purchases at no additional cost to you.
Pad See Ew Noodles is one of our favorite Thai dishes. Flat rice noodles stir fried in a savory soy-based sauce with a hint of sweetness, tossed with some greens and an egg. We have a deep love for Pad See Ew in our household, so I took on a challenge – make the Pad See Ew magic happen in our kitchen.
AND IT SURE HAPPENED. Let's just say this Pad See Ew recipe is so legit, so MIND-BLOWINGLY GOOD, that it might be a long time before we will be ordering it at restaurants again!
What appliances are needed to make Pad See Ew?
Believe it or not, Pad See Ew is actually fairly simple to make. I highly recommend using a wok for this. However, if you do not have a wok, a large non-skillet that can withstand high heat will be your next best thing.
A large skillet enables the noodles to move around freely when stir frying (so that it cooks evenly). Rice noodles are super sticky so a non-stick surface will make your life easier.
How to make Pad See Ew Noodles?
Just like any other stir fry, prep your ingredients, because the actual stir frying process goes fast, and you want to make sure you have everything at arm's length once you heat up that wok.
Two things you should do ahead of time (at least 30-45 minutes prior to cooking) – marinate the meat and soak the rice noodles.
We are using beef for this recipe but feel free to use chicken, pork, shrimp, or another protein. You will not need as long of a marinate time if using the other proteins.
First, put together the sauce, which is a combination of (regular) soy sauce, oyster sauce, fish sauce, dark soy sauce and sugar, and mix well. Bring 2 tablespoon of the sauce to the sliced beef (we use sirloin) and let it sit for ~30 minutes. You can marinate for longer if you have the time.
As for the noodles, I am using wide flat rice noodles sticks (dry version) because they are easier to handle than the fresh ones. This is basically wider rice noodles than the ones used for Pad Thai. Soak the noodles in warm water for ~30 minutes (or see the package instruction for soak time, as it may vary).
At the end of the soak time, make sure the noodles are separated (not clump together) before cooking. You can use fresh noodles, and it will most likely need to be softened and separated too. Follow package instruction on how to do so.
The authentic version of Pad See Ew uses Chinese broccoli (gai lan), which is also one of my favorite Chinese greens.
Growing up, my whole family loves this and eats it often. Chinese broccoli really goes well with this dish, and you should try to use that. However, if you really cannot find Chinese broccoli, I find that broccoli is the next best thing.
Cut up the vegetables. If you are using Chinese broccoli, thinly slice the stalks as it will take a long time to cook if it is not thinly sliced. If the stalk is very large and bulky, slicing the stalk slightly slanted will help (see picture below).
Next, a small but incredibly powerful spice, garlic, is an important part of this dish. Mince the garlic, lots of them! I highly encourage you to use fresh garlic. Definitely do not substitute for garlic powder.
Line all the ingredients next to the stove before you start cooking, as the process will go really fast, and you want your ingredients at arm's reach! Meat, rice noodles (drained), sauce, garlic, Chinese broccoli, eggs, and vegetable oil.
Add vegetable oil to wok, and heat up wok under high heat. Once the wok is heated up, add all the beef, stir fry until it is done, then remove promptly and set aside.
Next, I highly recommend cooking one serving at a time, because this will enable the noodles to move around freely in the wok, and they taste so much better that way.
Again, get the wok to high heat, add vegetable oil and garlic. Stir fry for 30 seconds or so, then add Chinese broccoli. Stir fry till Chinese broccoli turn darker green. Do not overcook – vegetable will look wilted if overcooked. Next, add rice noodles and sauce. Constantly move it around (it's called stir fry for a reason!), then add the cooked beef to it.
Immediately after that, move everything to one side of the wok and crack an egg to the other side.
Break the yolk and let the egg cook for a few seconds, then move all the noodles onto the slightly runny egg. Let it sit for a few more seconds, stir the noodles around to mix the egg into it, then remove promptly. Do not overcook or the rice noodles will turn soggy!
Phew – I feel like stir frying is this fast process that happens in a blink of an eye. If you take too long you will overcook it, but at the same time you want to make sure everything is cooked. It's a balancing act, and one that takes practice to perfect it. But when you do, it's so yummy and rewarding!
So keep practicing and you will get there! It definitely took me a little while to perfect my stir fry. 🙂
And here it is, the gorgeous, delicious end product.
I love the chewy texture of the rice noodles, combined with crunchy veggies and tender slices of beef. The sauce is savory, with hints of sweetness, and has a slight punch from the fish sauce, which I love. What can I say – I love me some Pad See Ew Noodles!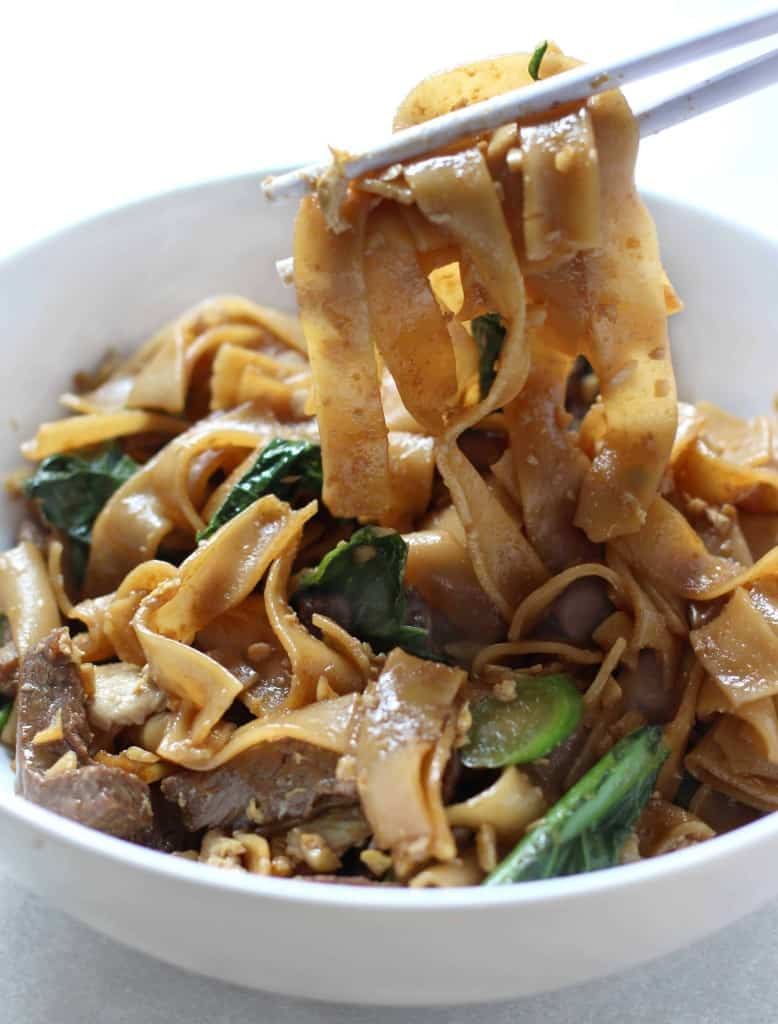 Make this Pad See Ew today right in the comforts of your own kitchen! It is completely doable, and taste so darn good!
Stir Fry Tips and Other Thai recipes
If you need additional stir fry tips, check out my article – 8 Tips to a Great Stir Fry!
Love Thai food? Check out these popular Thai-inspired recipes!
If you make this recipe, comment below and let me know what you think! Also, don't forget to take a picture and tag me on Instagram, because I WANNA SEE!!