Beef and Broccoli Stir Fry
Beef and Broccoli Stir Fry is the classic dish you can find at just about any Chinese restaurants! Well loved by many, and understandably so, it combines crunchy broccoli with silky juicy slices of steak in a savory sweet soy based sauce…
If you are looking for a quick and yummy dinner recipe, this is it!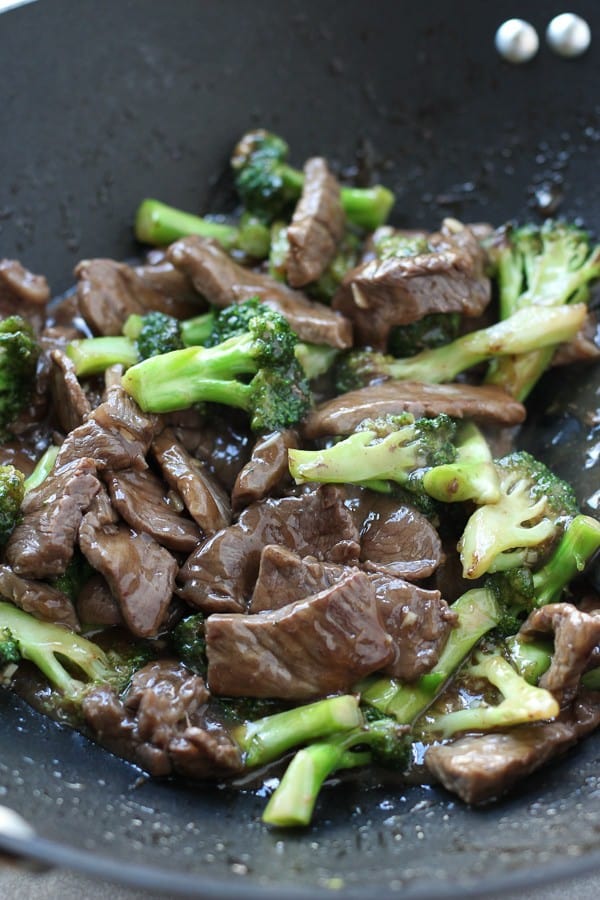 Check out other Asian beef recipes on the blog! Beef Bulgogi (Korean BBQ Beef), Steak Fried Rice, Stir Fry Beef with Ginger and Scallions are some of my other favorites!
My Beef and Broccoli Stir Fry Story
I was nine-years-old when I had my first Beef and Broccoli Stir Fry at Panda Express. We were living in Malaysia at the time and visiting the United States. I don't remember where in the U.S. we were, but I remember staring at all the choices, and back then I was intrigued by anything beef, so I ordered Beef and Broccoli Stir Fry.
GOSH DID I LOVED IT. In fact, I loved it so much I remember going back to Malaysia and bragging about this amazing Beef and Broccoli Stir Fry dish at Panda Express to friends and family. Totally had a thing for Beef and Broccoli Stir Fry from the beginning.
Fast forward to today, I make Beef and Broccoli Stir Fry right in the comforts of my own kitchen. And dare I say, I actually like mine much better. YES. MUCH BETTER. Better than takeout AND Chinese restaurants. I'll choose this recipe any day! That is why I am sharing this with you. You need it in your life!
There are multiple reasons why I say this is so much better.
I created a beautiful sauce that has actual depth and complexity in its flavor, thanks to bring-on-the-flavor-ingredients such as soy sauce, oyster (flavored) sauce, sugar, rice wine, sesame oil, and fresh garlic. It is divine and perfect and everything you need to nip those stir fry cravings. You'll have to trust me until you try it for yourself. 😉
I use good quality beef (I like using sirloin for stir fry), cut the beef cross-grain, thinly slice the beef, slice them up in somewhat similar sizes, and try my very best to never ever overcook the beef. Why do I provide you with all these details?
These details may sound nit-picky but they are truly easy to implement and most importantly, it makes a difference in how the meat comes out, and consequently makes this stir fry ALL THAT AMAZING. The meat truly is the star of this dish – treat it well!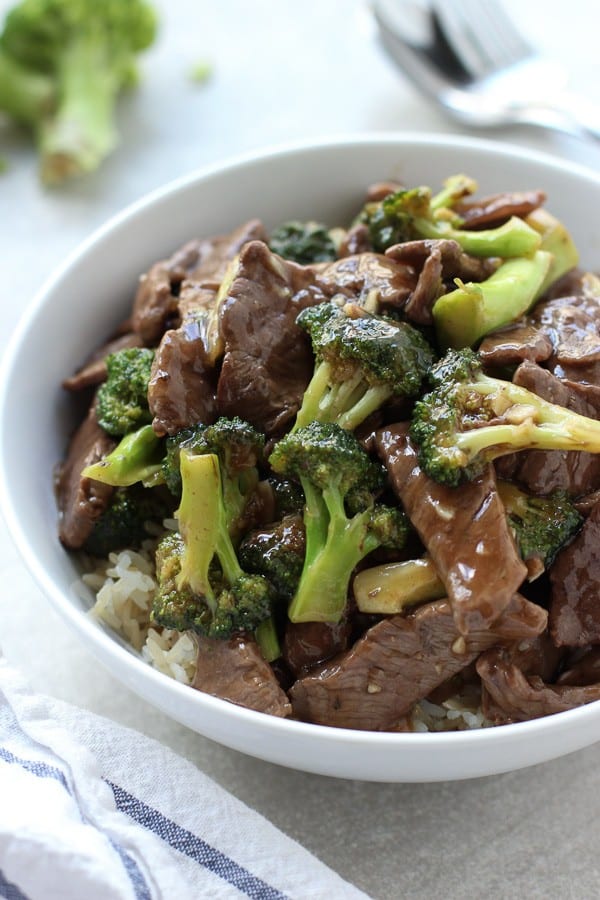 Stir Fry Tips
Let's take a minute and talk Stir Fry. There are many, what I call, universal stir fry tips. One of them is this – use a wok or a large skillet that can withstand and retain heat well. This will take your stir fry from good to great. Trust me. This is the wok I make all my stir fry in, and I love love love it!
If you are not using non-stick, make sure to very generously grease your wok or skillet so the items do not stick to the pan!
A wok is nice because it has room to move your ingredients around freely. If you don't have a wok, use a large skillet. By using a large skillet, we can avoid overcrowding the wok and will have room to move the ingredients around – this enables the items to cook evenly, instead of some being overcooked and others undercooked.
The stir frying process happens pretty quickly, so prep all your ingredients and bring it next to the stove so it is within arm's reach. Dish out stir fry promptly when done cooking to avoid overcooking the items.
If you are doubling the recipe, I highly recommend cooking in two batches. Again, this is to avoid over-crowding the wok or skillet.
For more stir fry tips, check out this post I wrote about 8 Tips to a Great Stir Fry! It's the one stop shop to make all your stir fry dreams come true.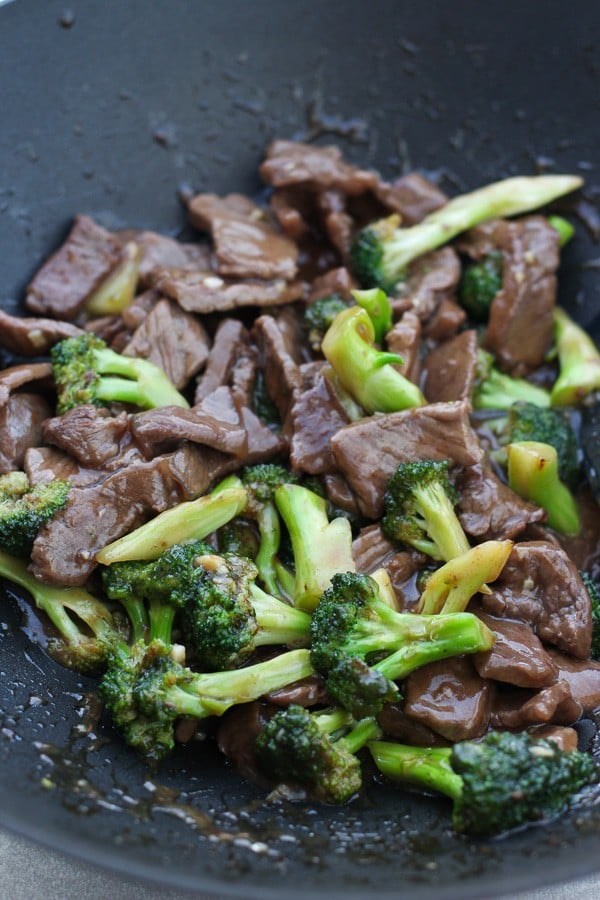 This Beef and Broccoli Stir Fry is perfect for eating at home on busy weeknights because it takes 25 minutes from start to finish. As the weather turns cooler, casseroles, soups and stews are not the only thing I start making more of. I want a good, solid stir fry. The cooler temperature also makes heating up that wok in the kitchen a lot more pleasant!
You can substitude broccoli with another veggie such as green beans, asparagus, or even Chinese greens such as Chinese broccoli (gai lan) or bok choy. Definitely recommend serving with white or brown rice.
The rice will soak up the yummy sauce from the stir fry and just thinking about it is making me DROOL.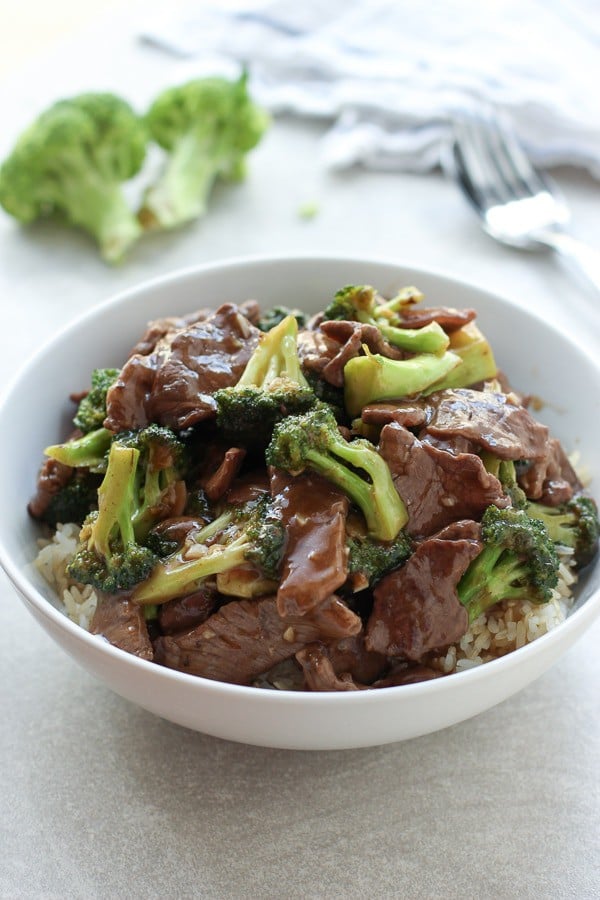 My favorite part? Check out that sticky sauce clinging onto the beef and broccoli. Okay now – SIGN ME UP FOR THIS YUM THING.
More Asian Recipes
Want More Easy Dinner Recipes?
My friend Denise compiled a whole list of yummy easy dinners in her blog post 78 Best Easy Dinner Ideas. Check it out for more quick and simple dinner inspo!
DID YOU ENJOY THIS RECIPE? Please comment below and give us a 5-star rating! This will help others find this recipe on Google and Pinterest. We very much appreciate your help! 🤍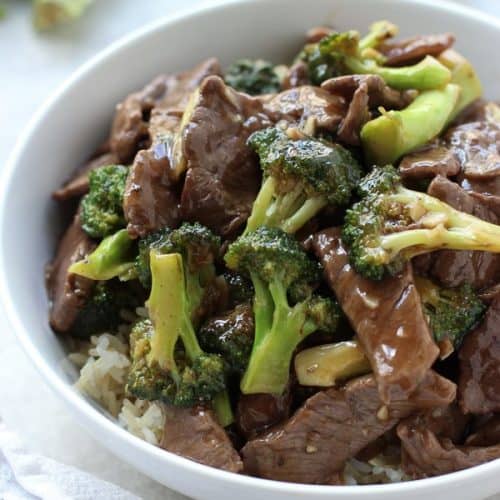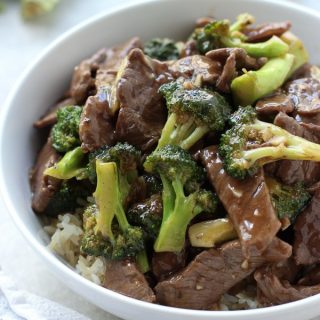 Beef and Broccoli Stir Fry
This Beef and Broccoli Stir Fry recipe is super easy (25 minutes only!) and crazy good! Tender slices of beef and crunchy broccoli tossed in a flavorful, gorgeous soy-based sauce! Make it today and skip takeout!
Print
Pin
Ingredients
1

lbs

sirloin beef

sliced

1

head

broccoli

2-3 cups broccoli florets

3-4

cloves

garlic

minced

vegetable oil
Stir Fry Sauce
3

tbsp

oyster (flavored) sauce

1

tbsp

soy sauce

1

tbsp

rice wine

1/2

tbsp

sesame oil

1

tbsp

sugar

1

tbsp

cornstarch

1

tbsp

water
Instructions
Thinly slice beef sirloin cross-grain. Make sure they are all about the same size. Slice broccoli head into florets. Mince fresh garlic.

In a bowl, combine all the ingredients under 'stir fry sauce' and mix well to combine. Make sure corn starch is completely dissolved.

Heat wok under high heat and add some vegetable oil to wok. Once oil is heated, add broccoli florets to wok and stir fry (move broccoli around) until it turns a darker green, or until almost done (does not have to cook completely as we will be cooking them again). Remove broccoli florets from wok and set aside.

Add more vegetable oil to wok. Once oil is heated, add minced garlic and beef sirloin to wok. Stir and move beef around every 10 seconds or so. Once beef is almost cook (takes only a few minutes), add broccoli florets back into the wok, then add sauce to the wok.

Stir everything around to combine. Once sauce is bubbly and all items are cook, remove promptly from heat. Avoid overcooking beef. The stir frying process goes quickly – step 3-5 should follow each other fairly quickly.
Nutrition
Calories:
324
kcal
|
Carbohydrates:
23
g
|
Protein:
39
g
|
Fat:
8
g
|
Saturated Fat:
2
g
|
Polyunsaturated Fat:
1
g
|
Monounsaturated Fat:
3
g
|
Cholesterol:
83
mg
|
Sodium:
983
mg
|
Potassium:
1186
mg
|
Fiber:
5
g
|
Sugar:
8
g
|
Vitamin A:
1263
IU
|
Vitamin C:
182
mg
|
Calcium:
138
mg
|
Iron:
4
mg