This post may contain Amazon or other affiliate links. As an Amazon Associate I earn from qualifying purchases at no additional cost to you.
BEHOLD. Vermicelli noodles topped with chargrilled pork, crunchy veggies, lime and peanuts. A healthy and light meal bursting with freshness and packed with so much yum! Vietnamese Noodle Bowl is the epitome of great flavor and texture.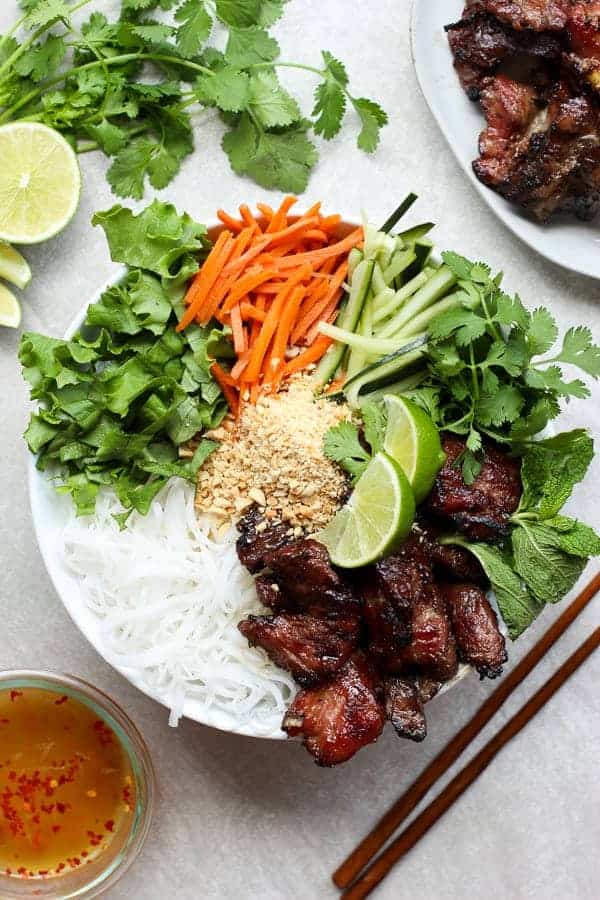 To all my foodie people: this is a must-have summer dish in the foodie world.
I have been testing this recipe out over the last couple of months. A few weeks ago, I finally got it perfected, and I am so excited to share this with you. Like for real GIDDY excited.
I wanted to create something that is simple enough for everyday people to make (i.e. most of us who are not professional chefs but still want to make/eat good food at home), yet complex enough to capture the beauty, authenticity and complexity of this beautiful concoction. And to do it justice.
Because this noodle dish is a GORGEOUS blending of flavors and textures. One of the absolute best.
So fire up that grill (or pan fry it because that works too), grab some Vietnamese Egg Rolls should you choose to (talk about a pairing made in foodie heaven), and get ready to put together this yummy bowl of goodness.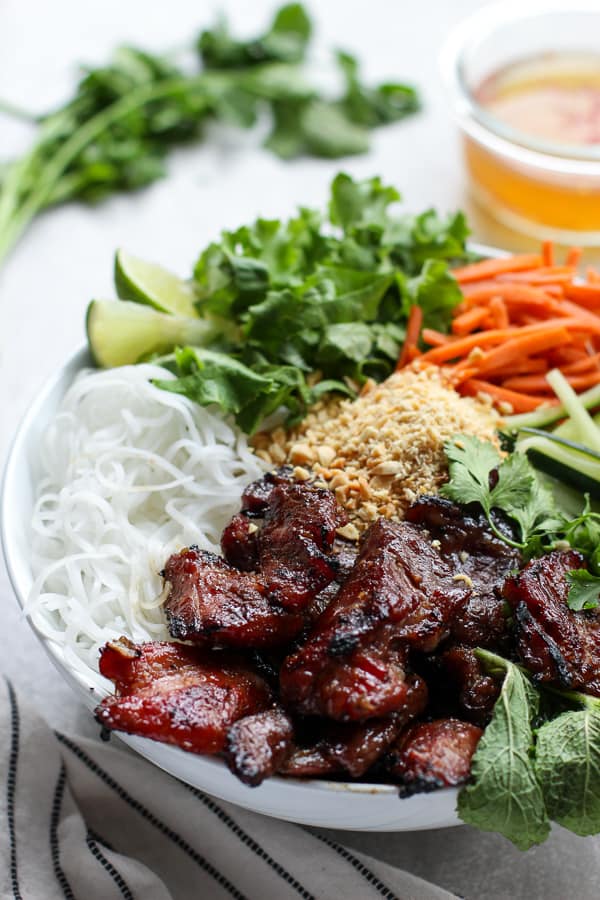 What type of noodles to use?
Thin vermicelli rice noodles are used for this recipe. You should be able to find this at Asian grocery stores, and some mainstream stores in the Asian section. Here is an affiliate link for it if you want to get it online.
These are noodles used for Pho (Vietnamese noodle soup). They are also similar to noodles used for Pad Thai and Pad See Ew, but are thinner in shape. Pad Thai and Pad See Ew use thicker rice noodles.
Do note that they are different from mung bean thread noodles. Bean Thread noodles are usually clear and transparent when cooked.
How to make Vietnamese Noodle Bowl?
There are a few components to this dish, but don't let it intimidate you because once you break it down it's fairly straight forward!
Grilled Pork
Noodles
Veggies + Garnishes
Sauce
Grilled pork is marinated in a ridiculously flavorful sauce. My husband calls this the star of the dish, I say every component is just as crucial. The marinate is made out of soy sauce, fish sauce, brown sugar, garlic, shallots, and lemongrass. All the ingredients except lemongrass can be easily found in most grocery stores. If you cannot find lemongrass, feel free to omit it.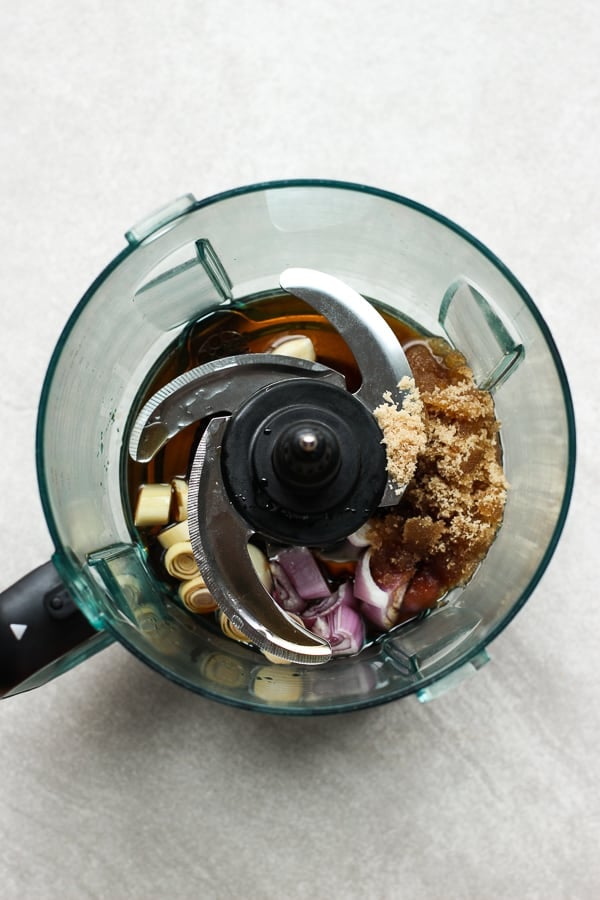 Throw everything into a food processor or blender, and blend it up. If you don't have a food processor or blender, chop up the shallots, garlic and lemongrass and mix everything together with a whisk.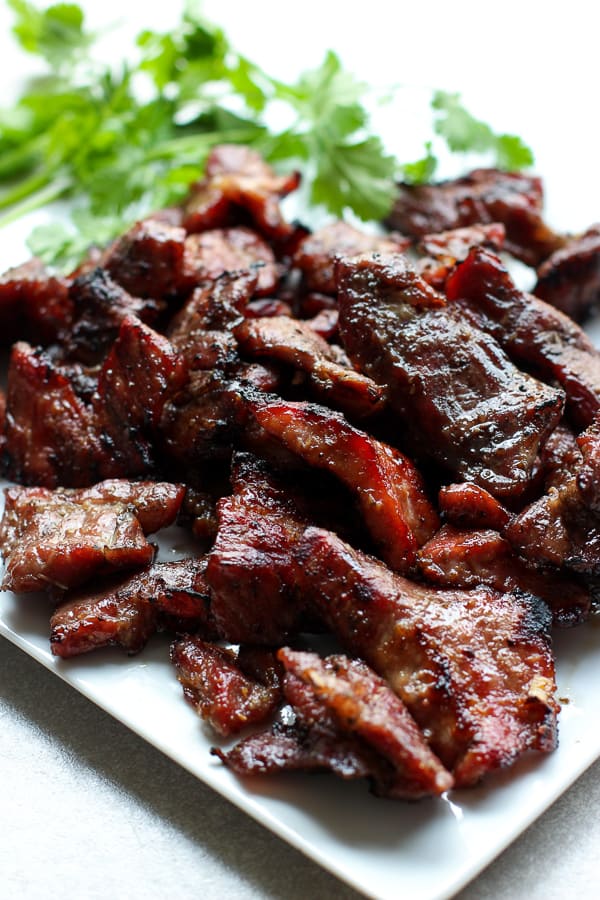 I typically marinade the pork first as it takes about an hour for the flavor to really sink into the meat. The next thing I do is the pickling of the carrots and cucumber.
Pickling them gives them an extra oomph, and that tangy vinegary flavor goes perfectly with the noodles, pork and the rest of the garnish. It doesn't have to be pickled for a long time, 30-60 minutes is sufficient.
Once the meat is on the grill, go ahead and chop/prep the rest of the veggies and garnishes, and make the noodles according to package instructions. Some will require boiling noodles in water briefly, and some just requires soaking noodles in boiled, hot water briefly. All we are trying to do is soften the noodles.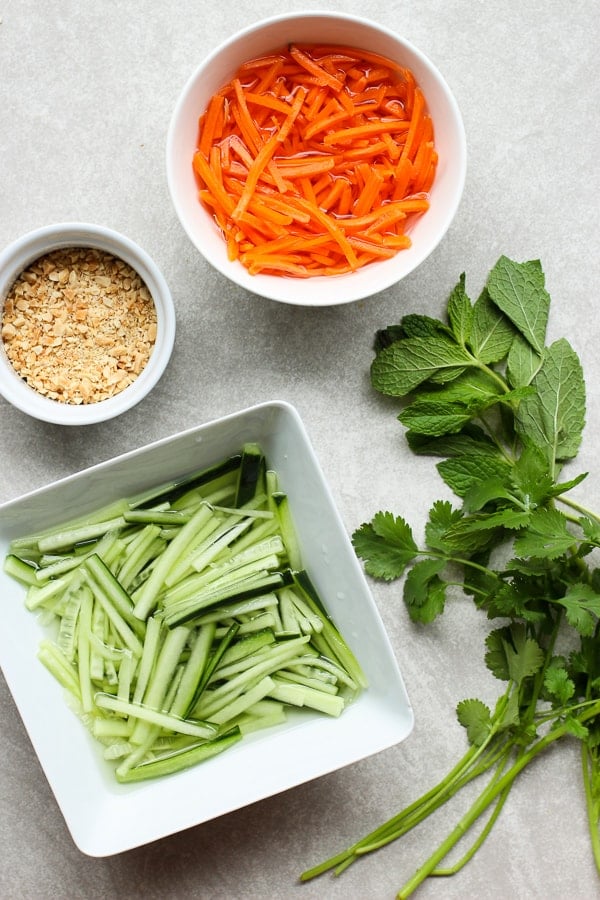 If you think we are just eating the noodles plain, you are very much mistaken. Plain is not the word to describe this dish! In fact, I will argue quite the opposite.
We are about to make a sweet, tangy, salty sauce which comprise of fish sauce, lime juice (squeezed from fresh limes), brown sugar, water and red pepper flakes. And you betcha we are going to smother the noodles with that yum sauce.
How do you eat Vietnamese Noodle Bowl?
So many components!! How do we serve and eat them?
I asked myself the same question when I had this for the very first time!
Pile everything onto the noodles – grilled pork, veggies, garnishes. Then splash that yum sauce all over it.
Then you decide how you want to proceed. Mix it all up; Or, mix some portion of it up, eat, and mix more of it up. I suggest pouring lots of sauce to it because that flavorful liquid is GOLD.
Optional, but highly recommended for your pleasure: Savor every bite. Close your eyes and shut the rest of your senses so you get the full impact of the taste and texture.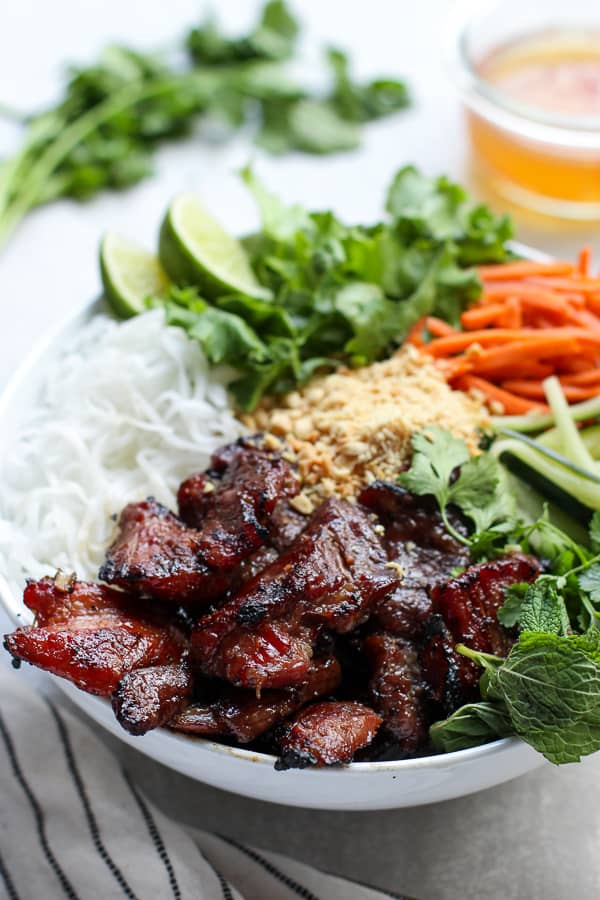 And that's all, folks. Vietnamese Vermicelli Noodle Bowl. Just like the ones you get at restaurants. ENJOY!!
If you make this recipe please comment below and let me know how it goes! It would also make me SO HAPPY if you'd take a picture of your creation and tag me on Instagram. Because I WANNA SEE!