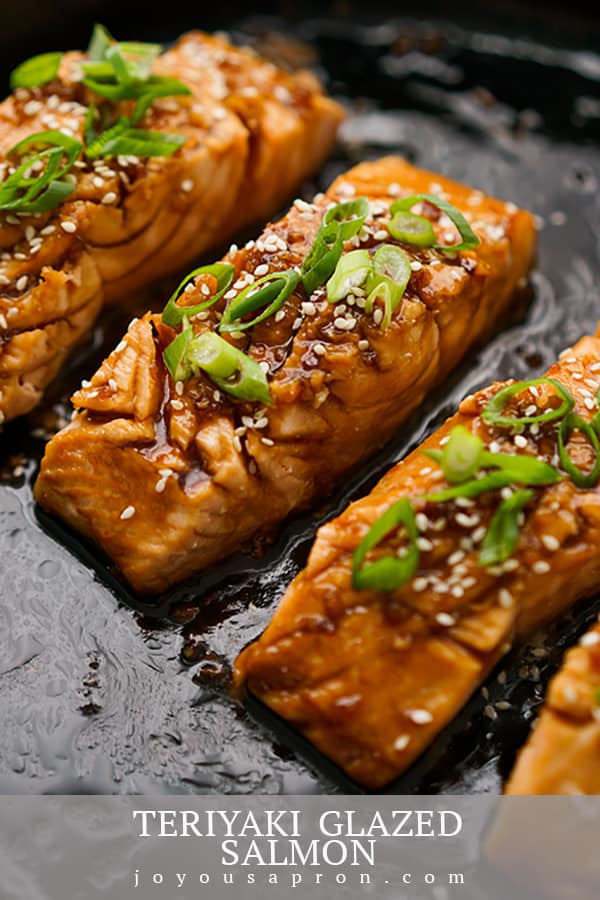 I live for this pan fried Teriyaki Glazed Salmon recipe! Savory sweet glazed salmon dinner that takes only 20 minutes…this Asian inspired fish recipe is incredibly easy and quick to make, and always hits the spot!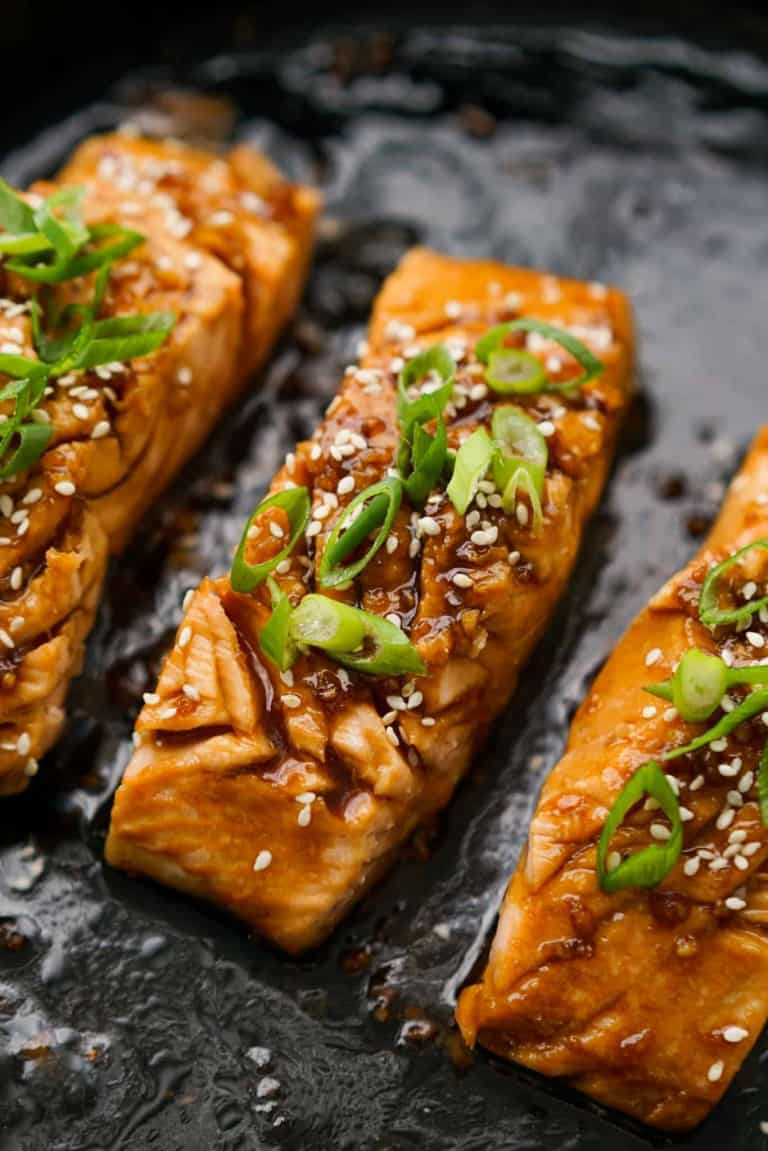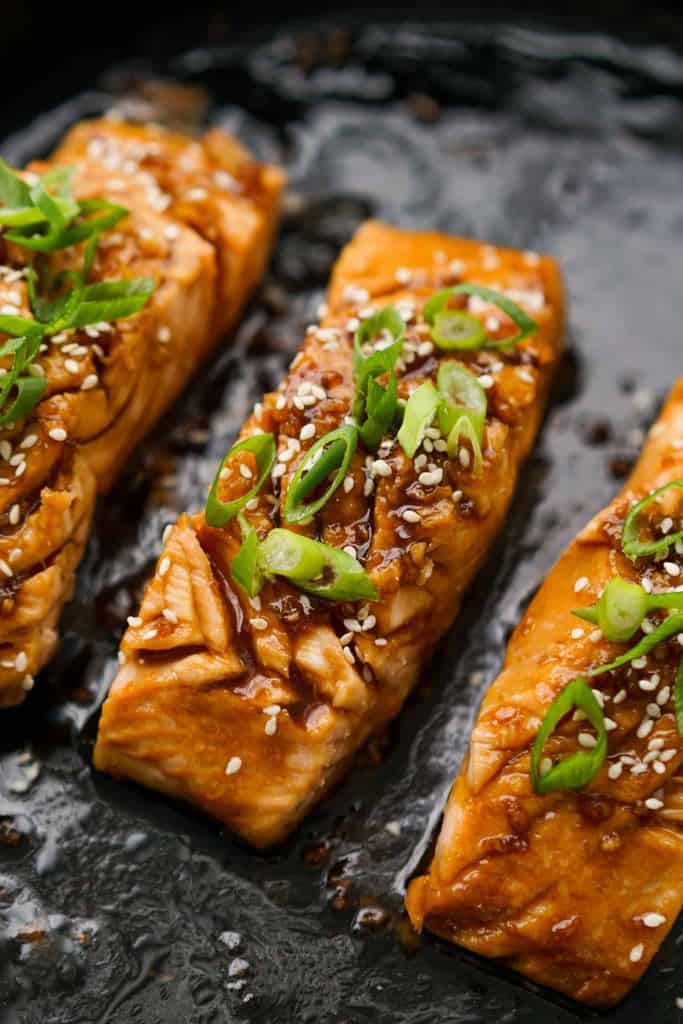 If you like teriyaki flavored meals, don't forget to also check out my Teriyaki Chicken Stir Fry recipe.
Salmon is one of our favorite fish. It is super easy to make, has incredible deep flavors by itself, so you really don't need to do much with it to make it very yummy.
And yes, it is also really good for you. Sign me up for all that Omega-3 goodness wrapped up in the form of a tasty dish!
We make this often in our home, especially when we want something quick and tasty. We love salmon in general, but we also love the savory sweet glaze with an umami flavor that is this teriyaki sauce.
Top this Teriyaki Glazed Salmon over a bed of rice, and you'll be cleaning up that plate before you know it!
How to make Teriyaki Glazed Salmon
No marinating; no food processor; no complicated ingredients.
EASY PEASY!
All you need is a non-stick skillet, a few pieces of fresh raw salmon, and a few sauces that are used over and over again when making Asian dishes to create the teriyaki sauce.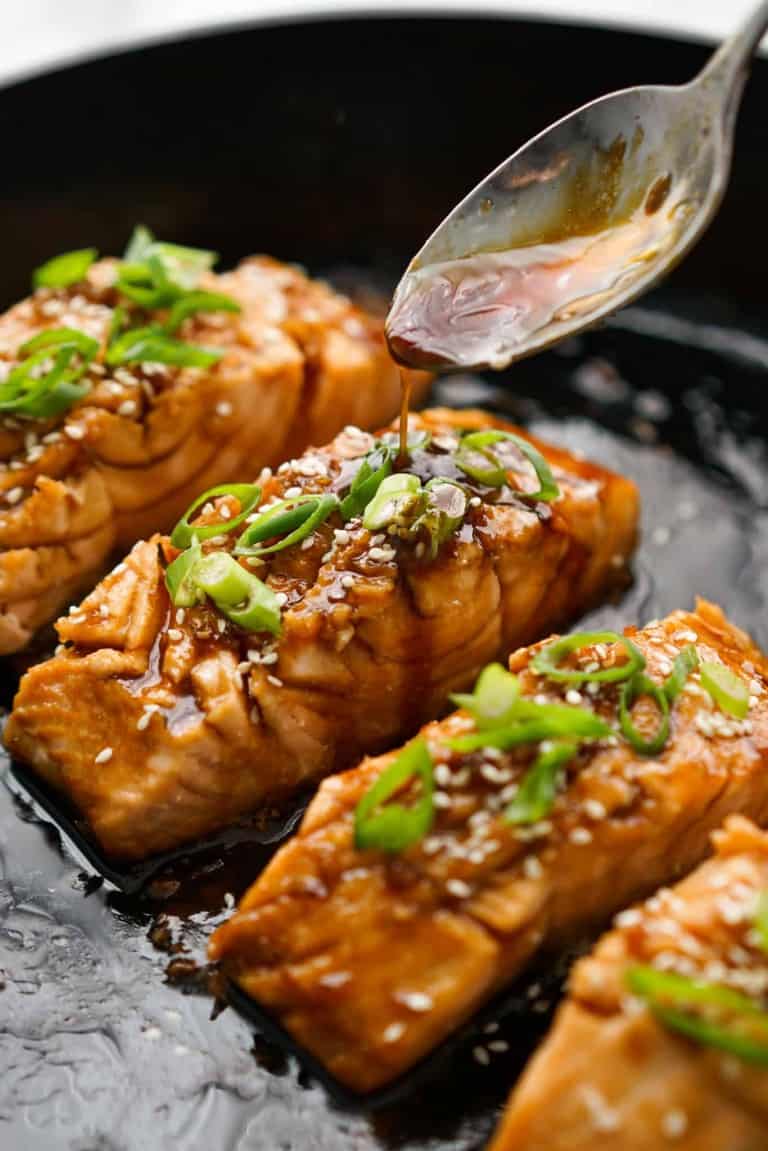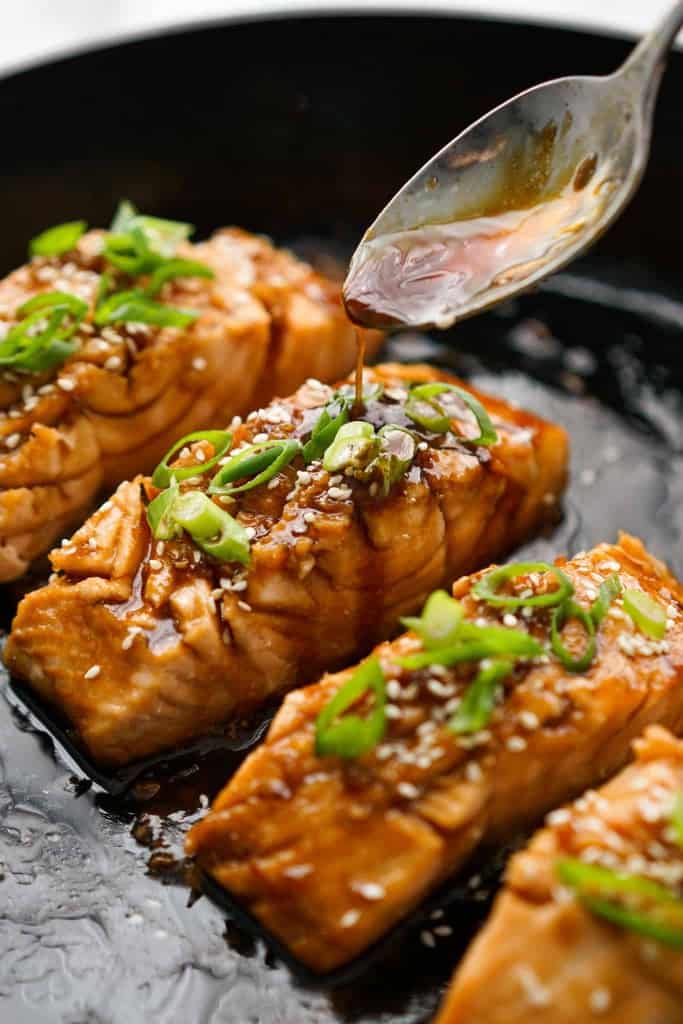 Step 1: Make Teriyaki Sauce for Salmon
What is Teriyaki Sauce?
Teriyaki is a classic sauce in Japanese cuisine that is used to flavor salmon, chicken, beef, pork, tofu and much much more.
Teriyaki sauce is popular and widely consumed all over the world these days. Because of that, there are so many variations of teriyaki sauce.
This may be a quick generalization but I find that typically the more authentic teriyaki sauces are typically less sweet (more savory) and thinner in texture.
I am sharing the teriyaki sauce I typically whip together when I am trying to make my own at home. I personally think it is the bomb. 😉
I cannot claim full authenticity in this recipe, but the beauty of this recipe is that it uses easily-obtainable ingredients (all of them widely use in many Asian dishes), and at the same time maintain a lot of the notes and flavors found in authentic teriyaki sauce.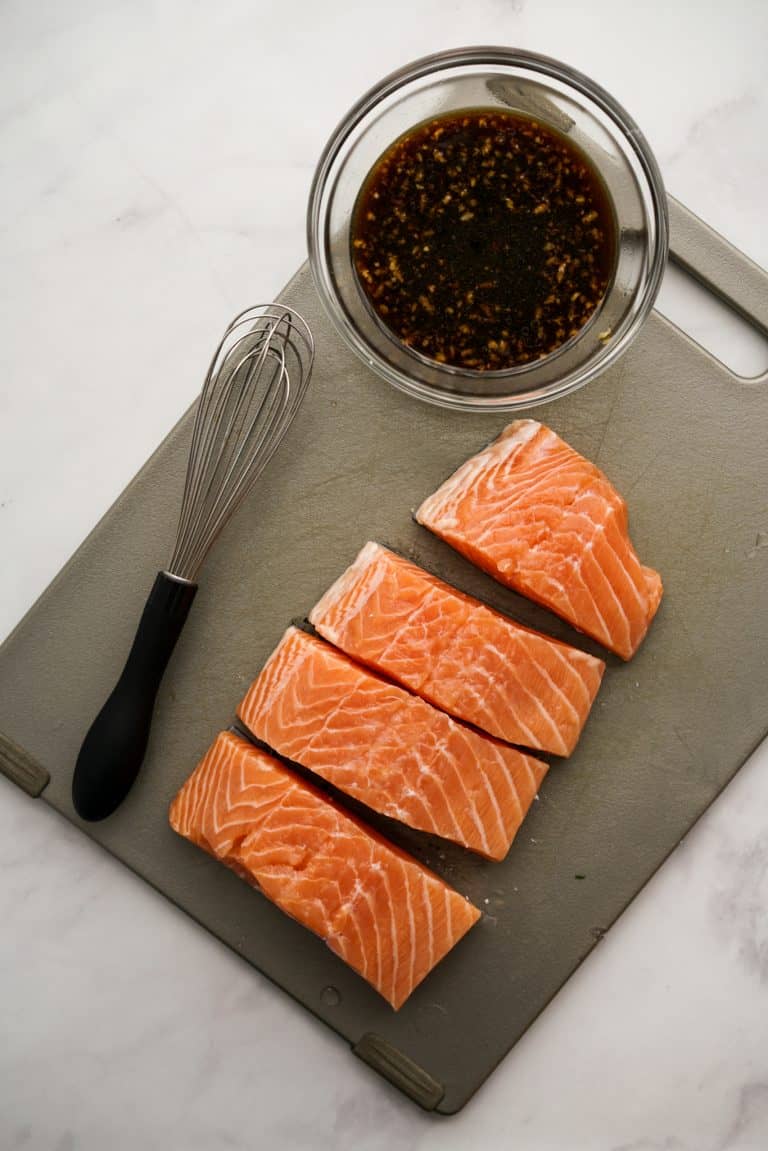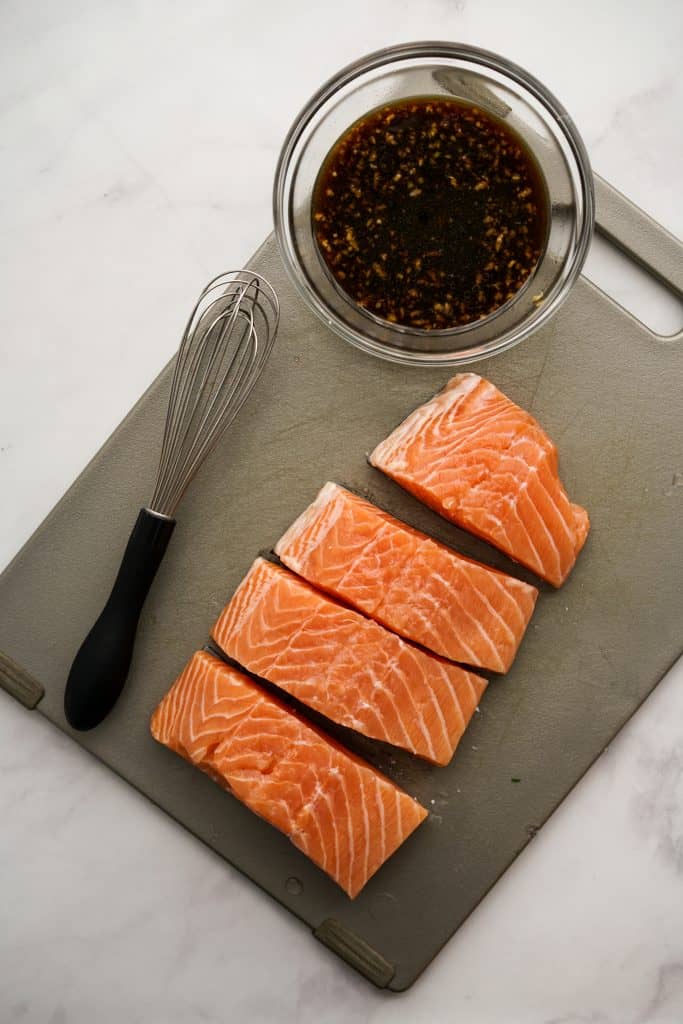 So here's everything you need to make this teriyaki glazed salmon magic happen:
brown sugar
sesame oil – is a nutty flavorful oil that brings a lot to the sauce as well.
Mirin (Japanese sweet cooking rice wine) – an important ingredient to give this sauce an umami distinct flavor we all know and love in teriyaki sauces. Try not to omit it if possible! It really takes the sauce to the next level.
garlic
ginger
That's it! If any of the ingredients sound intimidating, don't be intimidated! Most likely you've had them before in Asian dishes at restaurants…you just didn't know it! 🙂
All ingredients are popular sauces and seasonings in Asian cooking, and can be found in the Asian aisle in most grocery stores in the U.S.
Step 2: Pan fry Salmon
Once you have the sauce ready, it's time to pan fry salmon.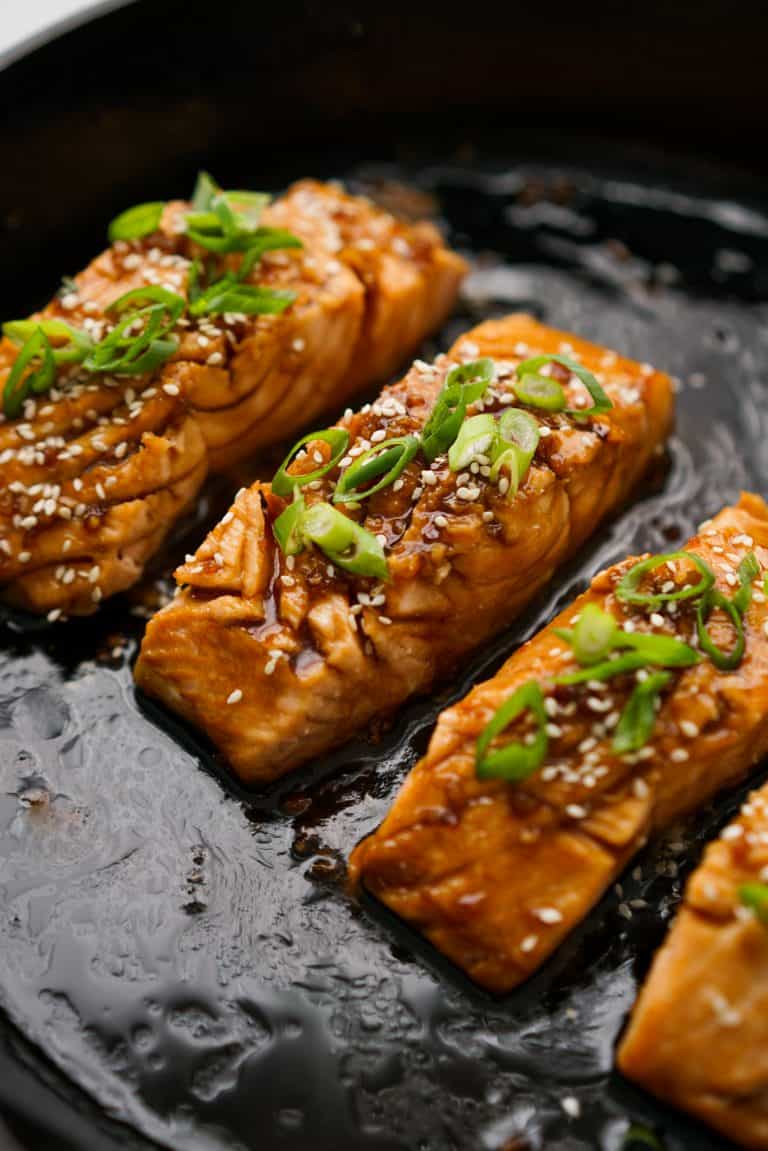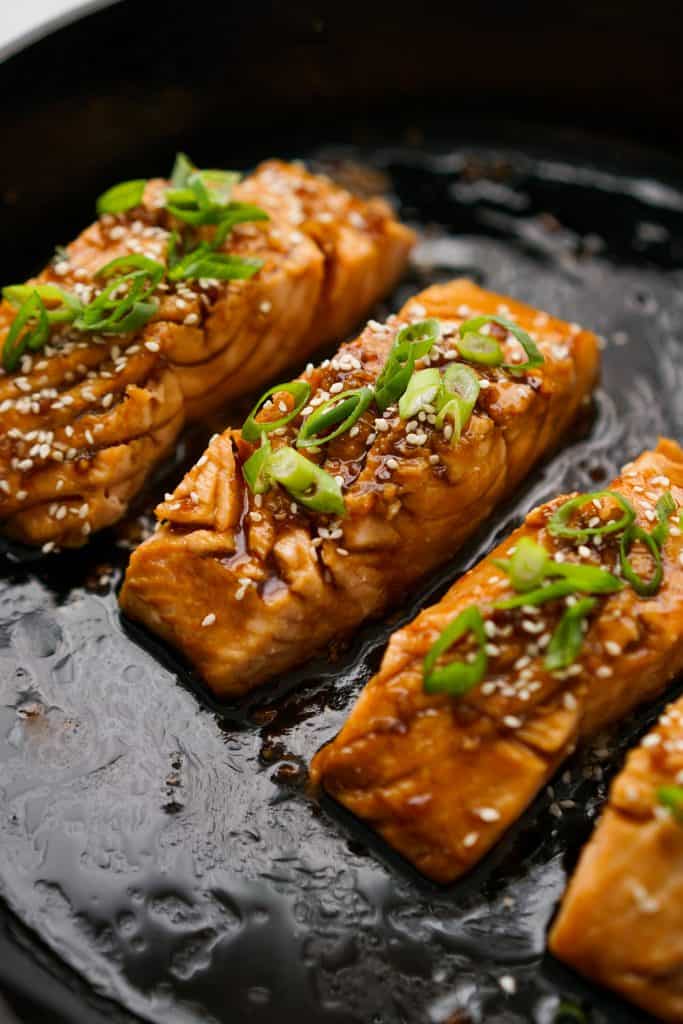 Pan frying is a quick and easy way to prepare salmon. It happens pretty quickly.
In fact, you want to make sure you do not overcook it. When salmon is overcooked, it becomes dry and though, and loses its appeal.
The trick is to pan fry salmon just enough until it is cooked. When salmon is cooked, it will be slightly flakier and no longer translucent. When you use fork to cut into a slice of cooked salmon it should break apart easily..
If you have a meat thermometer, the internal temperature of a cooked salmon should be about ~145℉ or higher. This is probably the easiest, most accurate way to tell whether a salmon is cooked just right.
Once salmon is pan fried and fully cooked, pour that teriyaki sauce mixture onto the skillet. It should bubble instantaneously on the skillet.
Use a spoon to spoon the sauce to coat the tops of the salmon.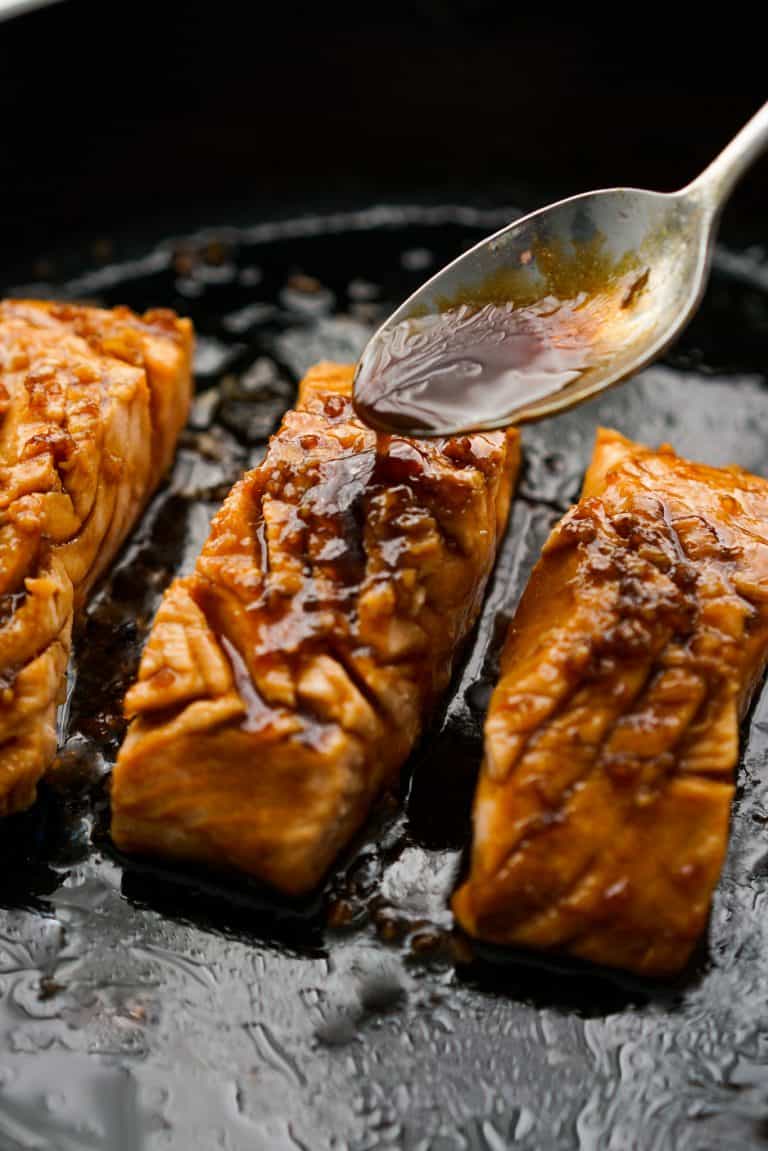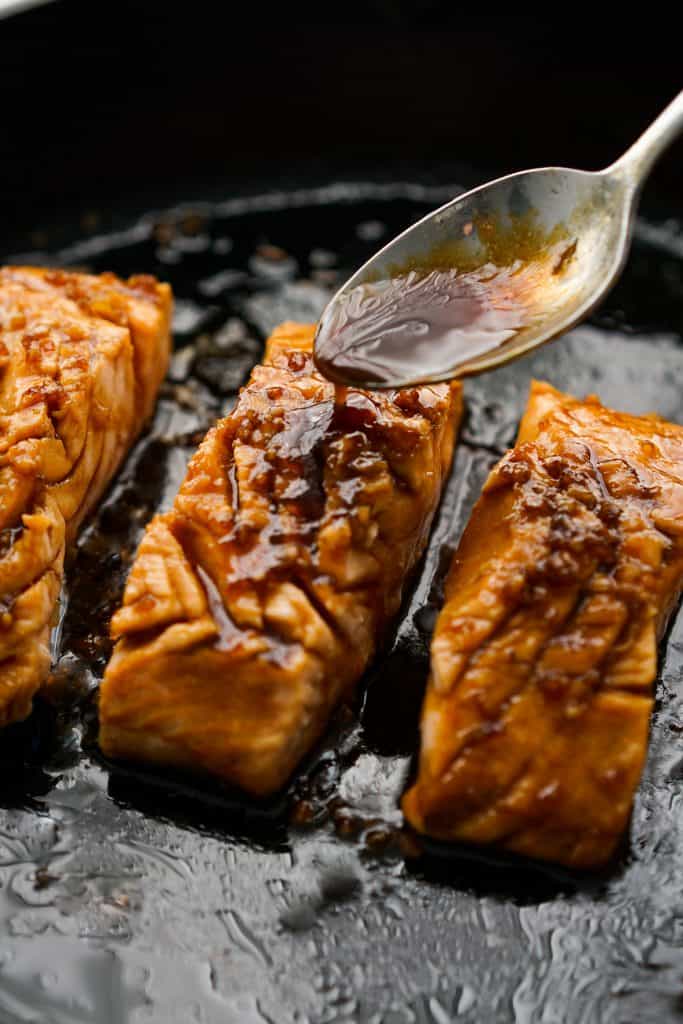 Step 3: Garnish and Serve
Remove from heat and garnish with green onions and sesame seeds.
And viola, Teriyaki Glazed Salmon is ready…my stomach is ready, my heart is ready!
If you have 20 minutes you can make this! It's a beautiful dish filled with real flavors and so much yum! Makes for an easy, no-fuss dinner any day!
How to serve Teriyaki Salmon
There are so many ways to serve this teriyaki salmon! Serve it with:
Tips and Tricks
A few more tips and you should be all set! 🙂
Use fresh salmon for the best-tasting salmon. Frozen salmon can be a hit or miss based on my experience.
Defrost salmon completely and pat dry salmon to remove as much moisture as possible before searing the salmon.
Grease skillet with oil thorough before placing salmon fillet onto skillet. A non-stick skillet is helpful but not necessary.
Avoid overcooking salmon! Once Teriyaki Glazed Salmon is done, remove from heat promptly.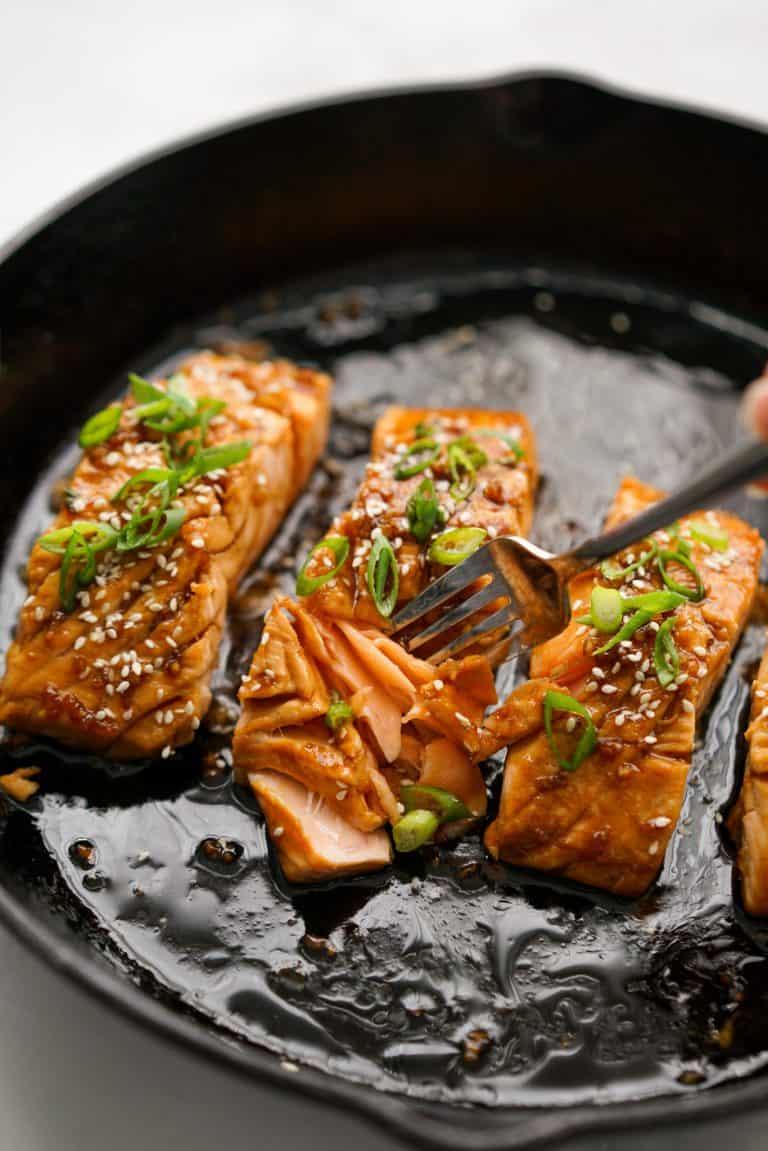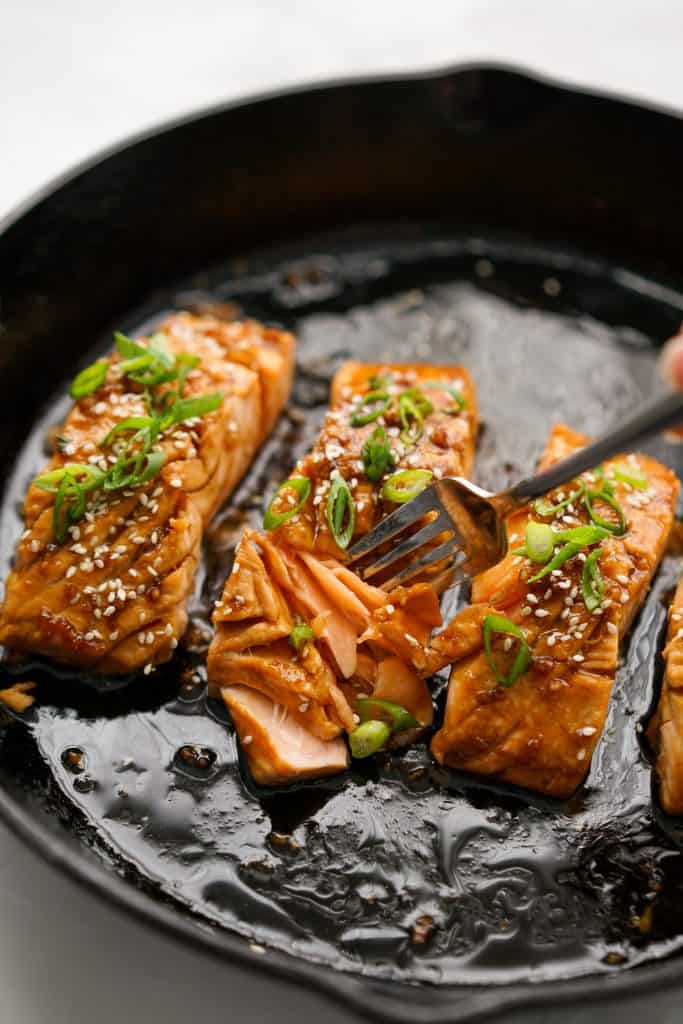 Frequently Asked Questions
Can I cook teriyaki sauce with another fish?
Yes! Absolutely! This will work great with any fish – tilapia, cod, catfish etc.
Should I marinade the salmon?
I really don't think you need to. Salmon has amazing flavors and the teriyaki salmon coated around it is in my opinion the right amount of flavor for this recipe.
How do I store and reheat leftover Teriyaki Salmon?
Store in an airtight container in the refrigerator for up to 3 days. To reheat, simply reheat in the microwave. Sprinkle some water on top of salmon before reheating in microwave if salmon is dry.
What is the best type of salmon to use?
Either farm-raised or wild-caught salmon work just fine. I typically like to buy salmon fresh from the seafood counter instead of the frozen pre-package pieces. I find that the fresh ones are typically the freshest (no pun intended) and is of better quality. Fresh, good quality seafood makes a difference!
DID YOU ENJOY THIS RECIPE? Please comment below and give us a 5-star rating! This will help others find this recipe on Google and Pinterest. We very much appreciate your help! 🤍
Other Salmon Recipes
A few other salmon recipes that I think you will enjoy as well!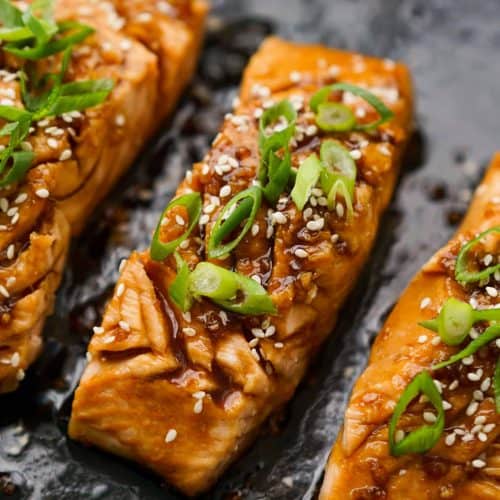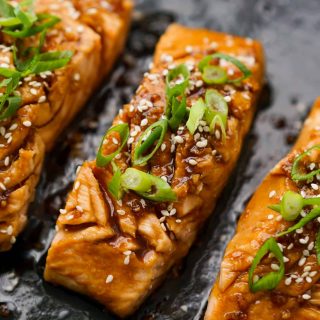 Teriyaki Glazed Salmon
A delicious and quick Asian inspired dinner! Pan fried salmon coated in a savory teriyaki sauce with a hint of sweetness and umami flavors. Such a healthy and yummy dinner for busy evenings.
Print
Pin
Ingredients
1 1/2

lbs

salmon

1-2

tbsp

vegetable oil

1

tbsp

sliced green onions

optional

1

tsp

sesame seeds

optional
Teriyaki Sauce
1/4

cup

soy sauce

1

tbsp

mirin

3

tbsp

brown sugar

1/2

tsp

corn starch

1

tsp

sesame oil

1/4

tsp

ginger powder

1-2

cloves

garlic

minced

1/8

cup

water
Instructions
Pat dry defrosted raw salmon. Important: make sure salmon is completely defrosted!

In a small bowl, combine all teriyaki sauce ingredients. Mix well.

Heat large skillet. Add vegetable oil. Once oil is heated, bring salmon to skillet and pan fry on one side for a few minutes. If using skin-on salmon, pan fry it skin side up first.

Flip salmon and lower heat to medium low. Cover if needed, especially if it is a thick cut of salmon because it will take longer to cook.

After a few minutes, when it looks like salmon is almost cooked, add teriyaki sauce to skillet. Spoon spoonfuls of sauces and drizzle onto salmon as it cooks.

When salmon is cooked and no longer translucent, or internal temperature reaches 145 degrees F, remove skillet from heat.

Serve salmon with teriyaki sauce. Optional: garnish with green onions and sesame seeds. Enjoy!
Nutrition
Calories:
336
kcal
|
Carbohydrates:
12
g
|
Protein:
35
g
|
Fat:
16
g
|
Saturated Fat:
5
g
|
Cholesterol:
94
mg
|
Sodium:
921
mg
|
Potassium:
876
mg
|
Fiber:
1
g
|
Sugar:
10
g
|
Vitamin A:
83
IU
|
Vitamin C:
1
mg
|
Calcium:
36
mg
|
Iron:
2
mg