This post may contain Amazon or other affiliate links. As an Amazon Associate I earn from qualifying purchases at no additional cost to you.
Summer is here, my friends. SUMMER IS HERE!!
And this light, fruity salad is my summer salad dreams come true. You are staring at the lovely Strawberry Bacon Spinach Salad, with a KILLER (and easy peasy) homemade lemon dressing that makes those dreams even sweeter.
But wait, a salad with the words "bacon" and "spinach" together?? It sounds so wrong, but you betcha it never tasted more RIGHT.
Side note: When spinach and strawberry and bacon and maple syrup come together, magic happens. These opposing flavors and textures melt together in your mouth and produce goodness that is beyond human comprehension…
This is possibly my new favorite salad in the whole wide world. Not even kidding. The other day I had three plates of it all in a day. Post-breakfast (last round of recipe testing), lunch (accompanied by some of this) and dinner (and I don't even remember what I had with it…).
What's not to love about a bed of soft spinach topped with generous (very generous) amount of crispy bacon, juicy strawberries and crunchy slivered almonds. Then drizzle on the out-of-this-world homemade Lemon Maple Dressing. By the way, THAT lemony, so-good-I-wanna-cry dressing…it is so yum I can DRINK it.
So yes, this salad dressing has captured my heart. Made only with freshly squeezed lemon juice, 100% pure maple syrup, a little bit of garlic, a pinch of salt, and lots of olive oil to give it the creaminess, it is liquid GOLD. I highly recommend using 100% pure maple syrup – it gives the dressing the full  flavor it deserves.
Double or triple the batch and store in refridgerator (for up to 2 weeks) for your future salad needs. Because you will NEED it. Trust me.
Summer salad dressing perfection. Right here, right now…
And now to the salad itself. A couple of simple, but yummy ingredients that goes into this salad:
Spinach
Strawberries (it's the season!)
Crispy bacon 🙂 🙂 🙂
Slivered almonds. Or substitute with pecans or cashews. What we are trying to do is to give the salad a nice crunchy texture.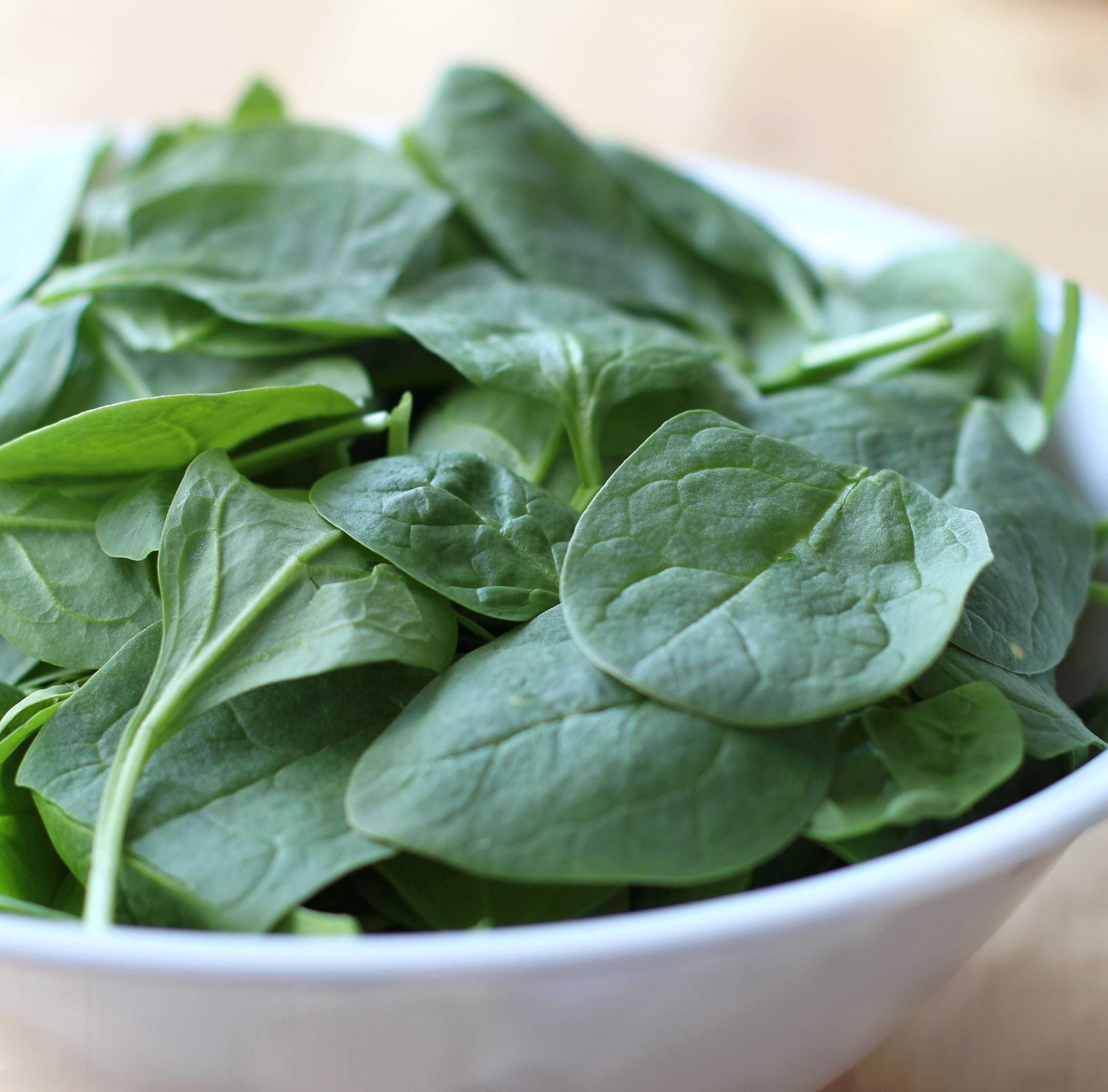 If you are making it for a multiple people, serve it buffet style and let your people assemble the salad themselves. This gives them the freedom to adjust the amount of each ingredients as well.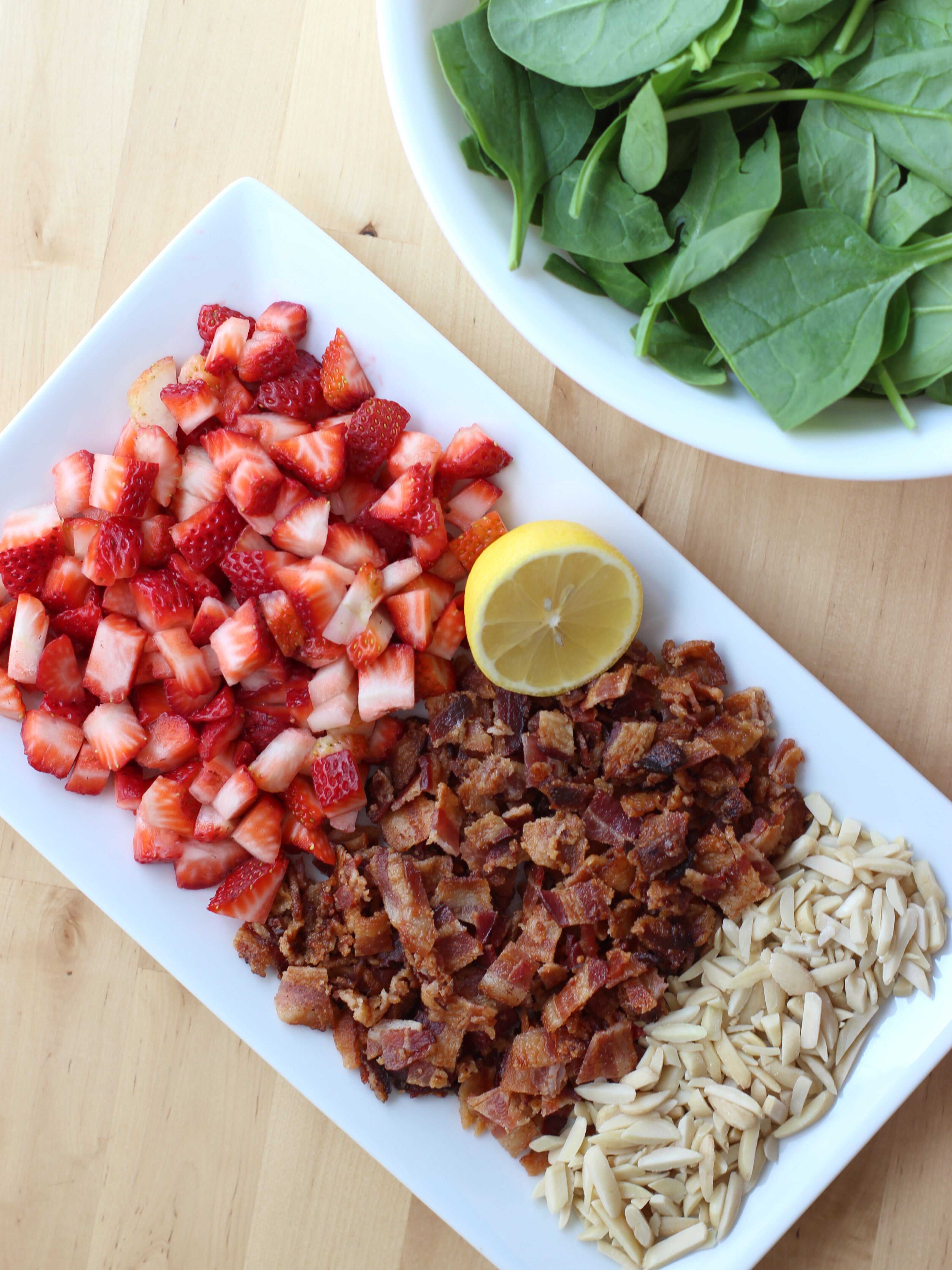 You can toss the salad after adding the dressing, or you can just drizzle the dressing on top of each plate of salad. I typically like my salads tossed, but for some reason, I don't mind just drizzling the salad dressing onto this salad.
So many gorgeous flavors and textures!
Sweetness from the strawberries and maple syrup
Savory from the bacon
Citrus from the lemon
Crunch from almonds and bacon
I call this a fun salad. Let's face it, because of the bacon, it's not exactly a salad you consume to be super healthy. But come on, BACON is a must every now and then…
It is, however, one of those gorgeous salads you make as a side or starter to a protein main course. Great accompaniment to your grilled meats, or that fancy homemade meal.
It actually reminds me of those nice dinner salads I'll get at a steak house as a starter before my juicy steak comes out. Lots of flavor, great use of different ingredients that comes together perfectly, and of course, deliciously good.
Or make it during the holidays season as that fancy pants side salad that goes with your turkey, ham and mashed potatoes. The not-so-healthy-but-it's-probably-the-healthiest-thing-on-the-holiday-table. 🙂
It is also a great salad for potlucks, summer cookouts, or picnics. Throw the salad ingredients together, serve the dressing on the side, and feed it to tons of people. They will thank you for it 🙂
Here are some great main course ideas that will go great with it!
I'll be eating this ALL summer long. JOIN ME!
Strawberry Bacon Spinach Salad with Lemon Maple Dressing
A bed of fresh spinach topped with strawberries, bacon and slivered almonds, drizzled with a lovely, highly flavorful homemade lemon maple dressing.
Print
Pin
Rate
Ingredients
4-5

oz

fresh spinach

8

oz

diced strawberry

6-8

oz

bacon

1/2

cup

slivered almonds
Lemon Maple Dressing
3

tbsp

100% pure maple syrup

2

tbsp

freshly squeezed lemon juice

5

tbsp

extra virgin olive oil

1

clove

medium garlic

1/4

tsp

salt
Instructions
Cut bacon into 1-inch slices and cook bacon in skillet until crispy. Drain bacon grease.

Make the Lemon Maple Dressing by combining all the ingredients in a blender or food processor. Blend and set aside. (See Note 1)

Assemble spinach, diced strawberry, crispy bacon and slivered almonds. Drizzle dressing onto salad. (See Note 2)
Notes
Note 1: To store leftover salad dressing, refrigerate up to 2 weeks.
Note 2: Adjust amount of salad dressing to taste. There may be leftover dressing.