This post may contain Amazon or other affiliate links. As an Amazon Associate I earn from qualifying purchases at no additional cost to you.
Love yourself some edamame? You need to check out this fantastic Garlic Edamame recipe. It's a yummy upgrade from sprinkling sea salt on steamed edamame, because when garlic and soy sauce are lightly coated on those nutritious little things, your life will change for the better.
Also, quickest, easiest recipe ever! 10 minutes from start to finish. NOW WE ARE TALKING.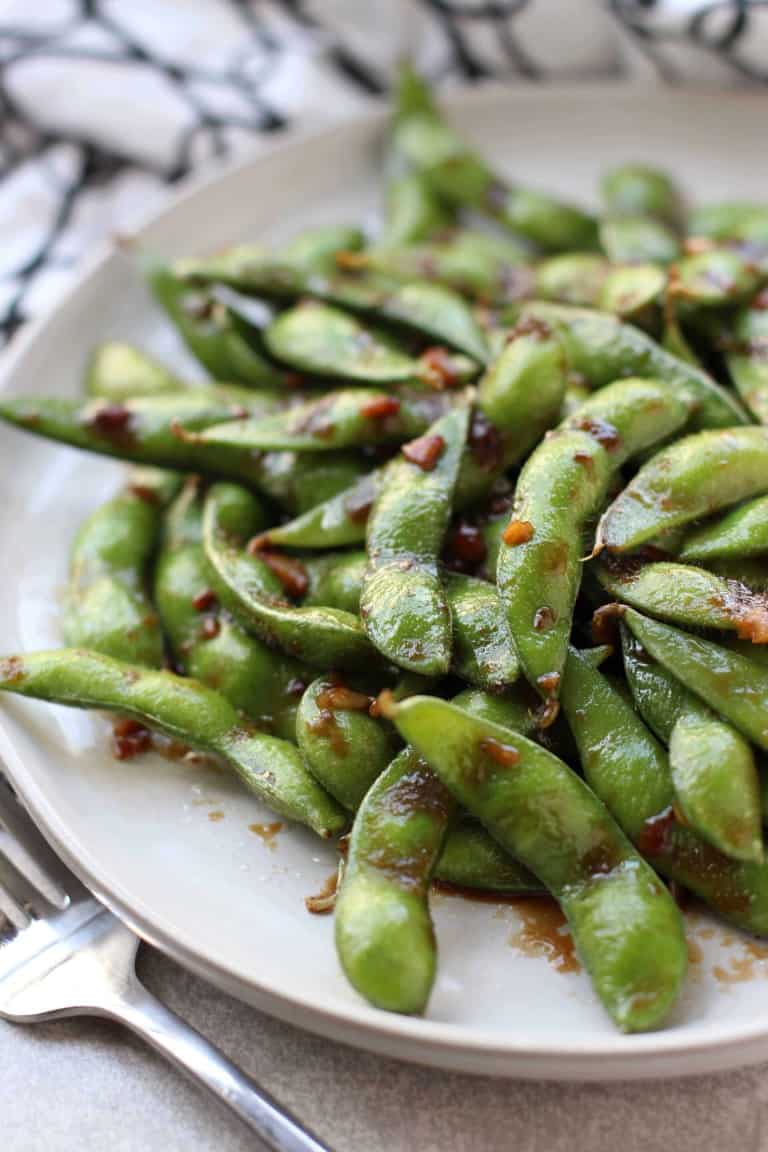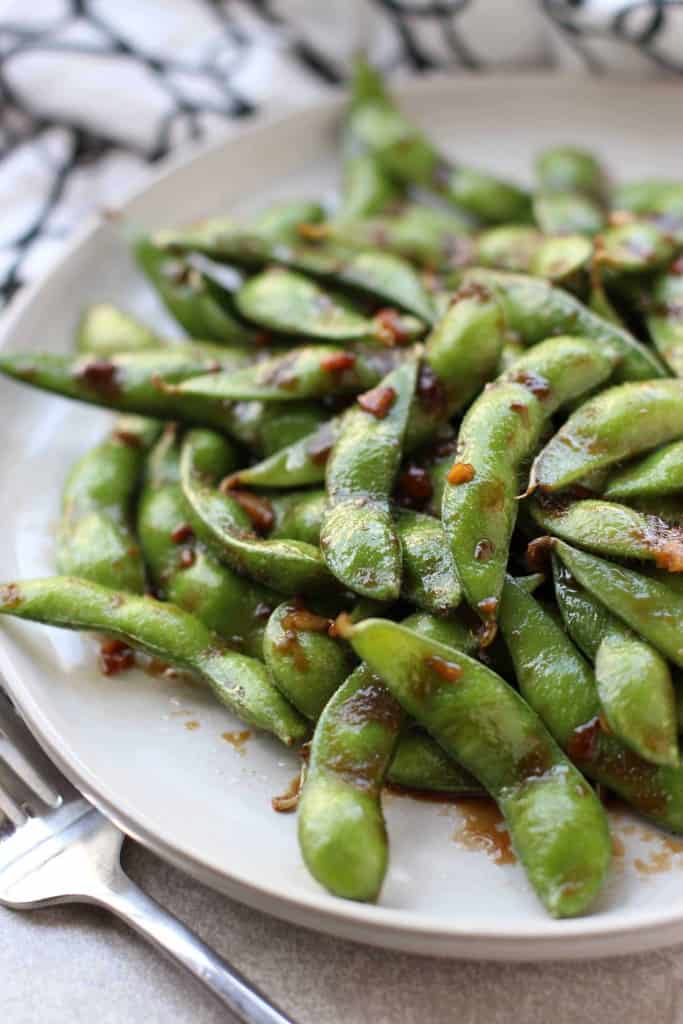 Why Garlic Edamame
I have been wanting to post a soy-based edamame recipe in forever, because it is easy to make and incredibly yummy.
Then last week I had this super yummy garlic edamame appetizer from a Japanese restaurant, and I was instantly inspired and motivated.
It was so dang good I knew I had to recreate it and share it.
What I love about this dish is the sticky, savory sweet sauce with a lot of browned garlic clinging (just slightly) to the edamame. The flavor is just out of this world. Simple and so delish.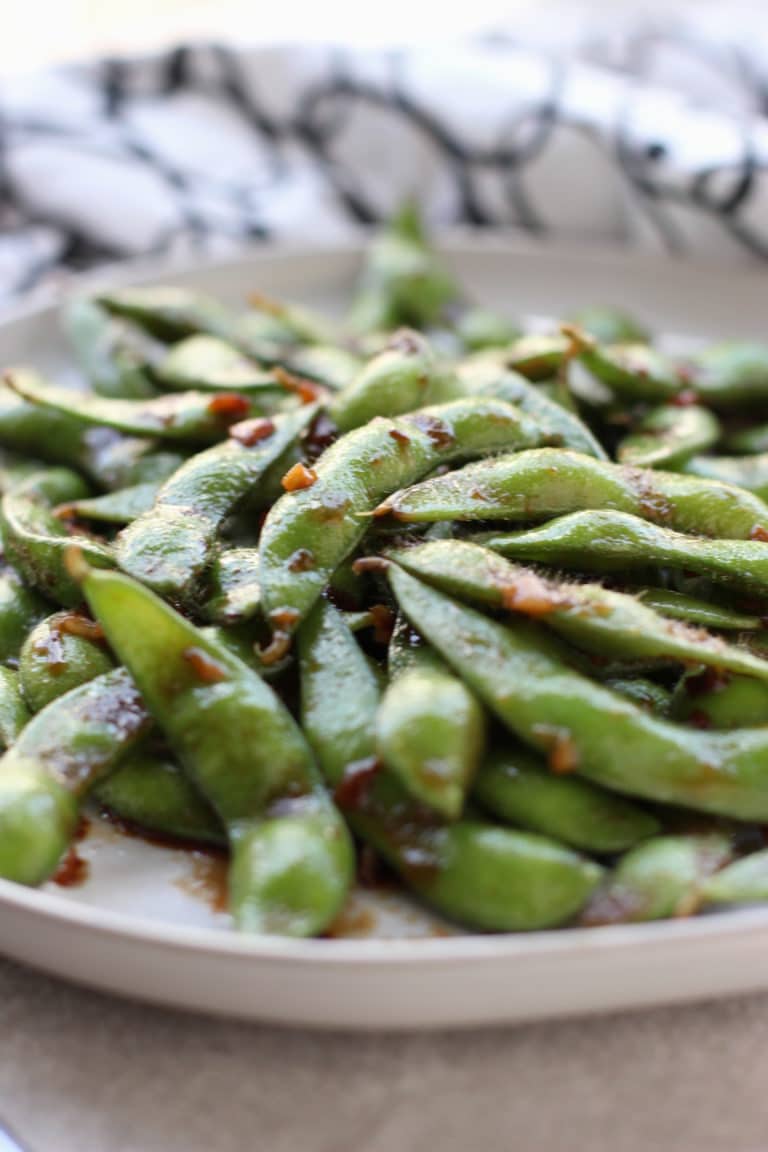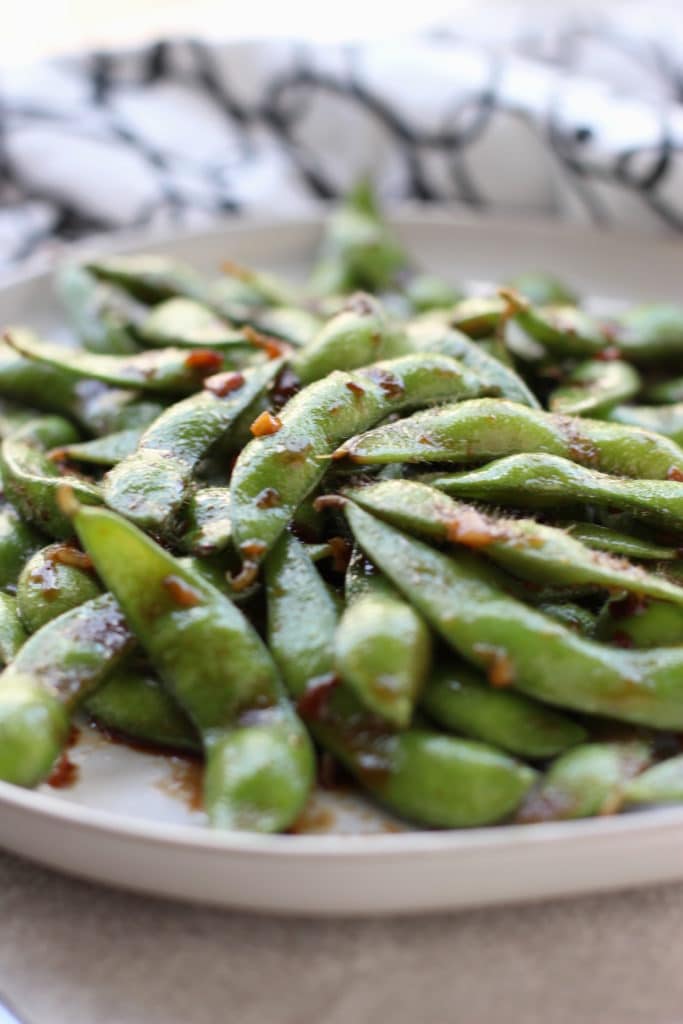 The perfect appetizer or side to go along with an Asian-inspired meal. Or really, any meal.
Also, did I mention edamame are super nutritious?
These little things have so much fiber and protein in them.
Anything that is good for me and taste good? SIGN ME UP!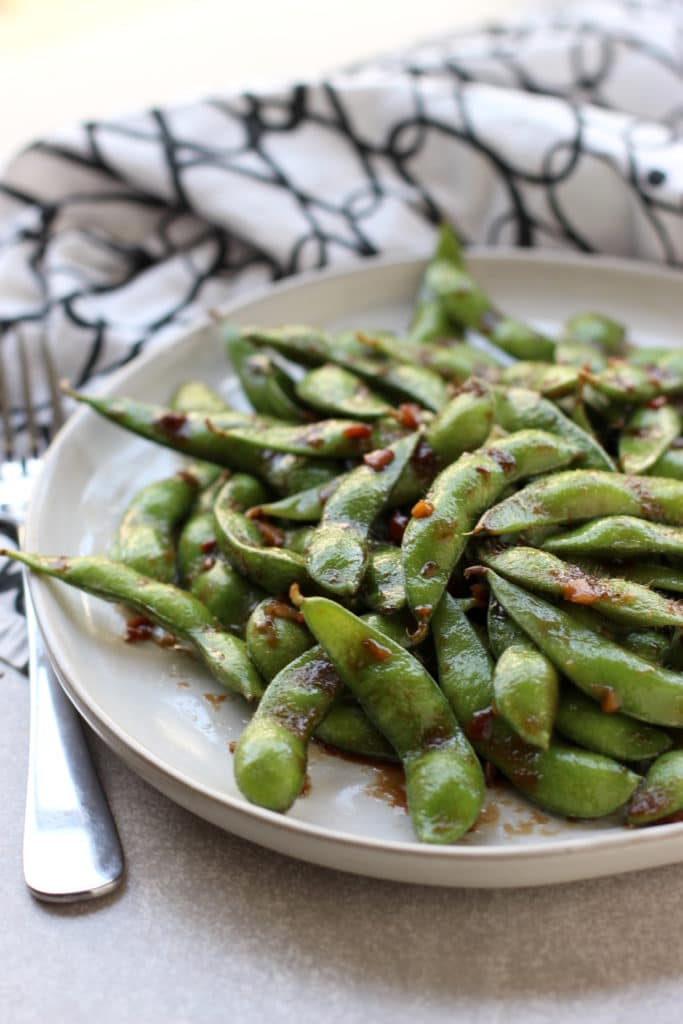 How to make Garlic Edamame
To make this Garlic Edamame magic happen, start with a frozen bag of edamame from your grocery store. You should be able to find them at mainstream grocery stores in the freezer aisle.
For this recipe, buy the edamame with the pods on them. They also sell those where the shells are removed.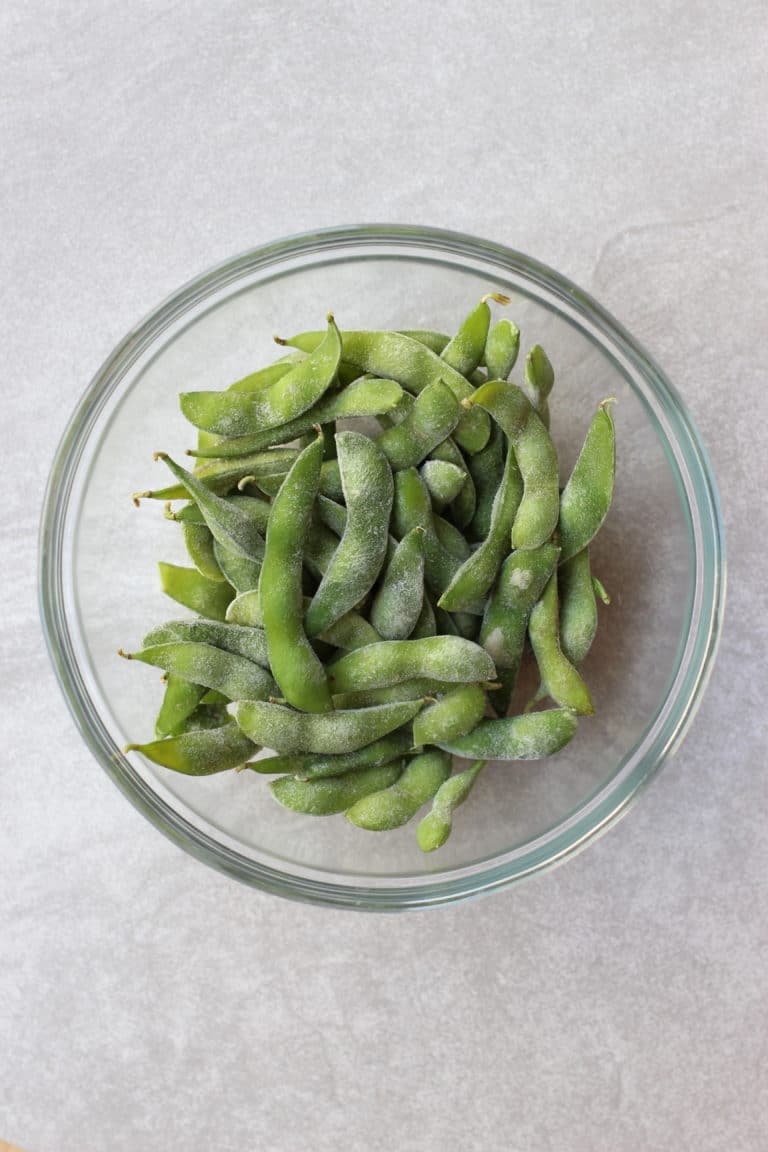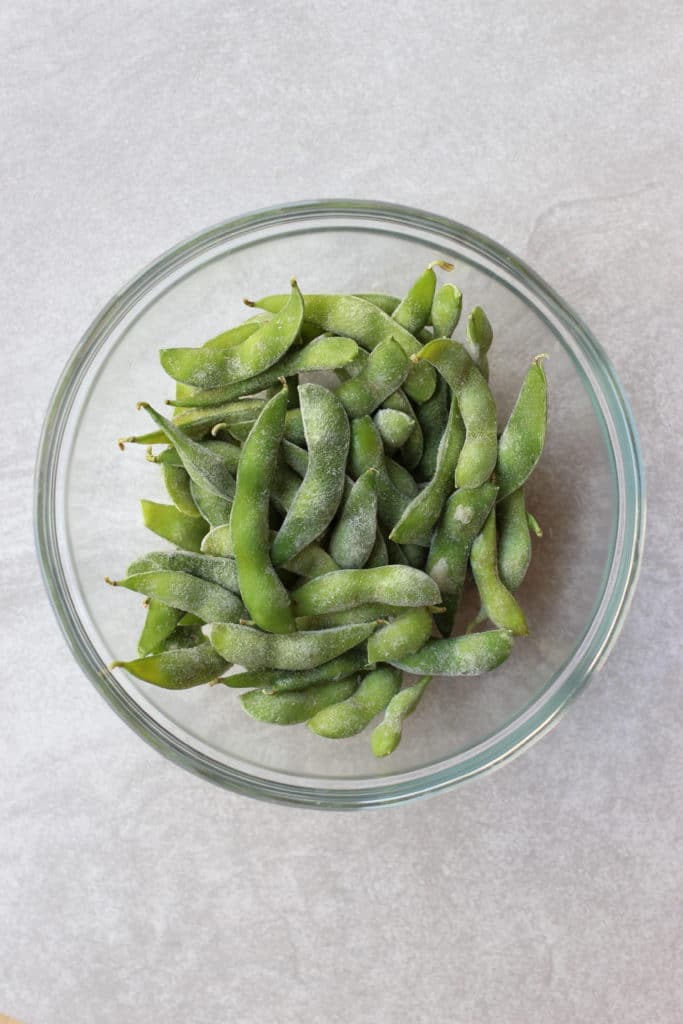 In a small bowl, mix together soy sauce, sugar, cornstarch and some water. Then heat up a large skillet under medium high heat with some vegetable oil on it.
Once the skillet is heated up, add minced garlic and cook until garlic is browned. I like the garlic browned, or even slightly burnt.
If you don't want the "burnt-garlic" flavor, then shorten the time you cook the garlic.
Regardless, you do want to cook the garlic for at least 30 seconds, or until you can smell the aroma of the garlic. This way you infuse the oil with the amazingness that is garlic flavor.
Once you get the garlic to your desired doneness, add the sauce, mix around for a few seconds, then immediately add edamame. Cook for 3-4 minutes, or until edamame is cooked through.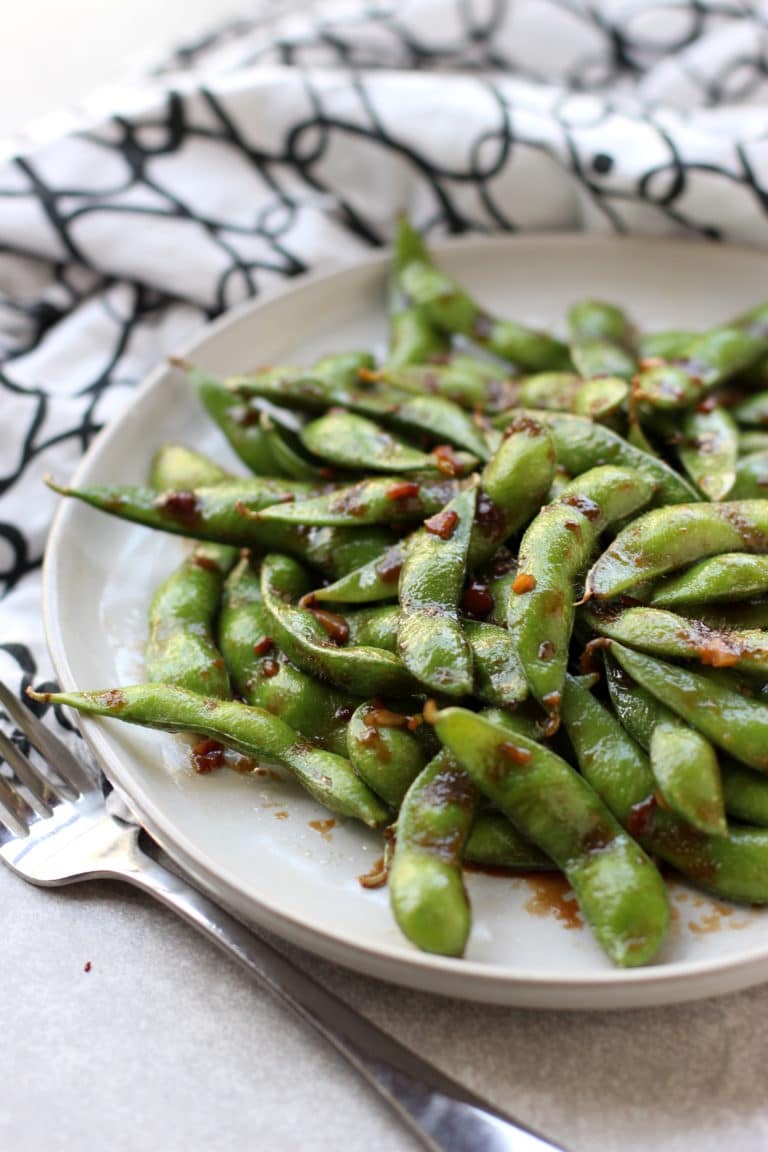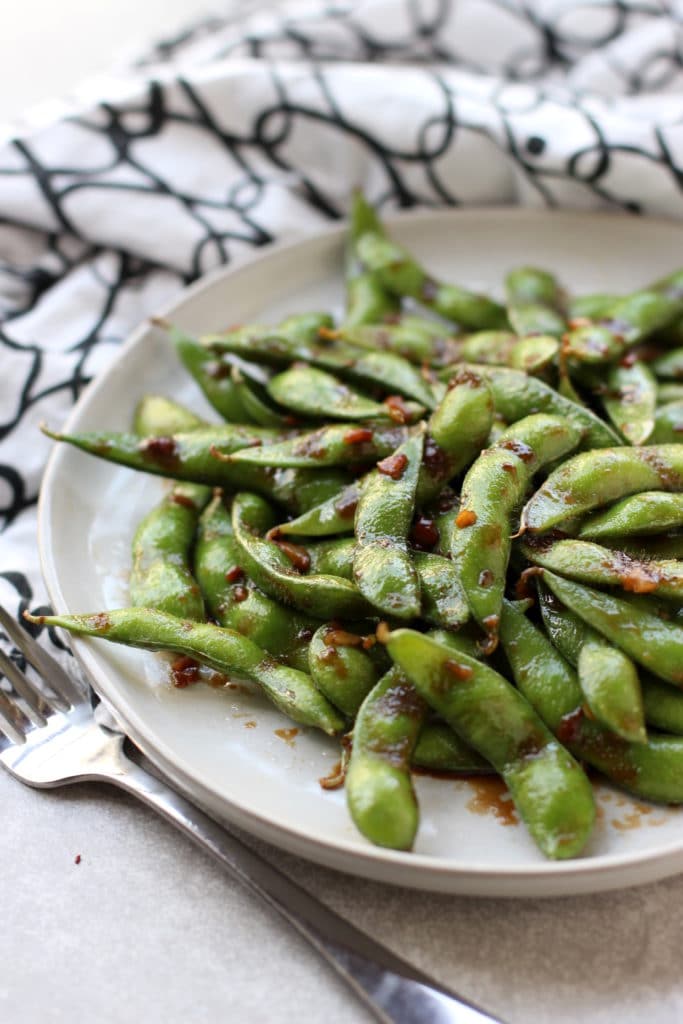 Seriously though. Wasn't that just EASY EASY? And best of all, it tastes like a million bucks.
Save a trips out to the restaurant and make this right in the comforts of your own home. Save some $$ along the way.
Frozen edamame is fairly cheap to buy from the grocery stores, and this recipe requires pantry-friendly ingredients. You just can't beat that!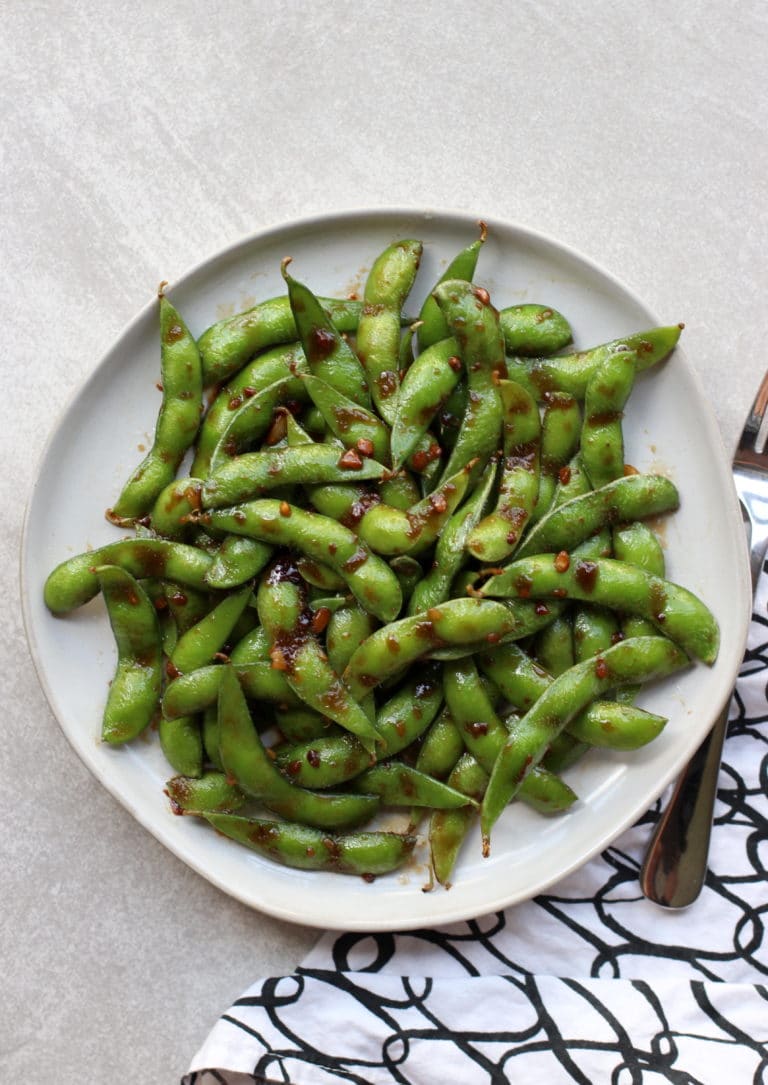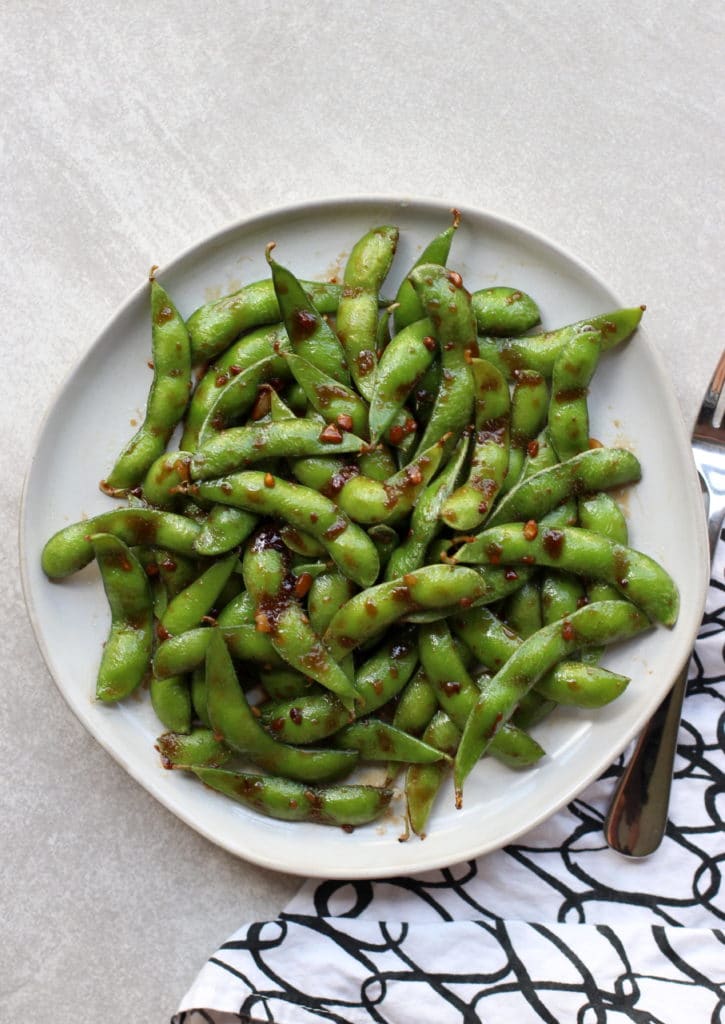 I can eat this all day, all week, ALL THE TIME. I was munching and licking the sauce off my fingers while photographing this because it tasted so good.
Try this yummy appetizer/side along with some of my favorite Asian inspired dishes!
YUMMY YUMMY YUMMY!
Love this recipe? Comment below and give us a 5-star rating! Also, take a picture of your creation and tag me on Instagram, because I WANNA SEE!!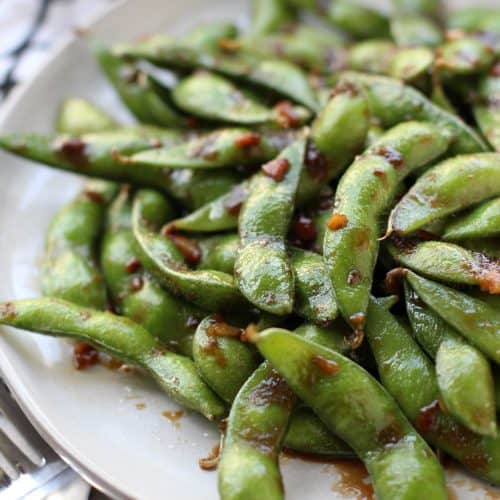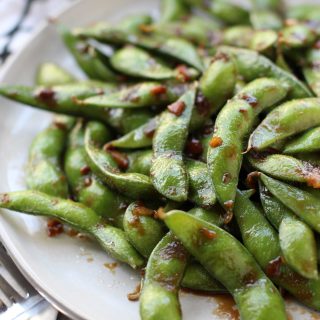 Garlic Edamame
Edamame sautéed and coated in a sticky, garlicky soy based sauce. 10 minutes from start to finish! So easy and delicious! The perfect way to kick off sushi or any Asian-inspired meal!
Print
Pin
Ingredients
1/2

lbs

frozen edamame

2-3

tsp

minced garlic

packed

1

tbsp

soy sauce

1/2

tbsp

sugar

1 1/2

tbsp

water

1/4

tsp

cornstarch

1/2-1

tbsp

vegetable oil
Instructions
Mix together soy sauce, sugar, water, and cornstarch in a small bowl.

Heat up large skillet with 1/2-1 tbsp vegetable oil (See Note 1) under medium high heat.

Once skillet is heated up, add minced garlic and sauté for a minute or two, or until garlic is browned and slightly burnt (See Note 2).

Add the sauce to the skillet and stir for a few seconds, then immediate add frozen edamame onto the skillet.

Stir to coat edamame with sauce. Cook for 2-4 minutes or until edamame is warm and cooked through.
Notes
Note 1: You can use less oil if using a non-stick skillet.
Note 2: If you prefer the garlic to be less-burnt, cook garlic in less time.