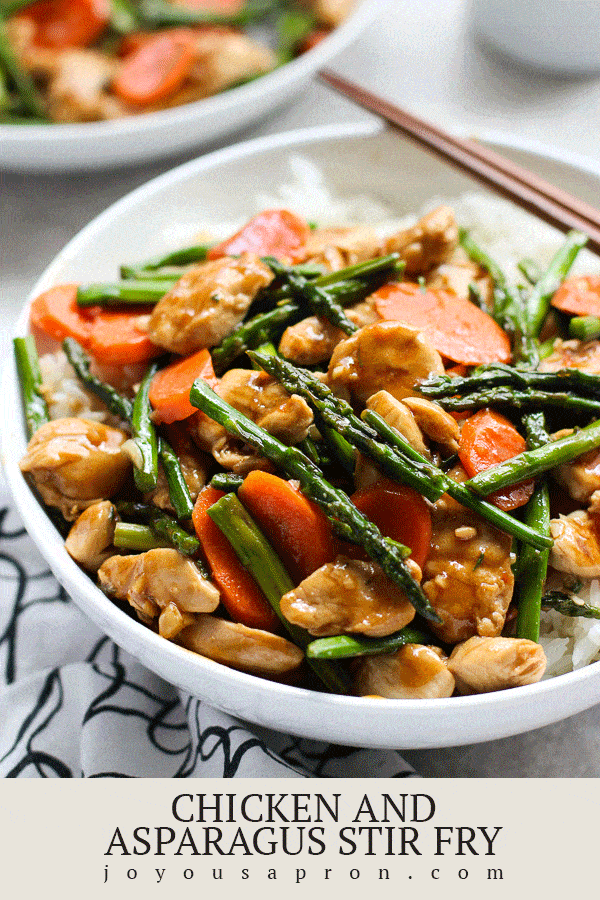 This post may contain Amazon or other affiliate links. As an Amazon Associate I earn from qualifying purchases at no additional cost to you.
This Chicken and Asparagus Stir Fry recipe is a yummy and basic Chinese chicken stir fry dish that combines pieces of white meat chicken, crunchy asparagus and carrots, and a crazy flavorful sweet and savory sauce.
Every component is important, but I will be lying if I don't mention that the secret is in the sauce.
Chicken and Asparagus Stir Fry is such a versatile and BASIC chicken stir fry recipe that you can tweak and make it your own. Everyone needs a basic stir fry dish in their hip pockets. THIS IS IT, YOU GUYS!
It has the key essential ingredients that will remind you of the Chinese Stir Fry that you love.
Also, here's the best part: this meal takes approximately 30 minutes to make from start to finish. How awesome is THAT?
Love asparagus? Also check out Asparagus and Ham Quiche and Baked Garlic Parmesan Asparagus on the blog!
What do appliances you need to make Chicken and Asparagus Stir Fry?
I use a wok to make Chicken and Asparagus Stir Fry, but feel free to use a large skillet. If you are not using a non-stick skillet, grease the skillet more generously.
A large-sized skillet is preferred because you want to be able to move the items around when you are stir frying to cook the ingredients evenly.
What is the in Stir Fry Sauce?
The sauce is the secret that makes this chicken stir fry tastes so good…it deserves its own little section.
The sauce for my Chicken Asparagus Stir Fry dish is made out of:
soy sauce
corn starch
sugar
Just mix it all up in a bowl. No blending. No heating it up. Just mix it.
Each of these items can be found in most regular grocery stores. If not, Amazon affiliate links are attached!
I highly recommend not skipping any of them to get the full flavor of this beautiful dish. In fact, all are very basic and versatile ingredients for cooking Chinese food, and you will see them in many Chinese recipes.
Can I make this Chicken and Asparagus Stir Fry with a different veggie?
This is the real truth. This Chicken and Asparagus Stir Fry should really be called Chicken and (fill in the blanks) Stir Fry.
I chose asparagus because let's be real here, I dig it.
If you are using a different vegetables, and want to throw your veggies into the wok all at once, make sure they cook for around the same time.
If not, throw the one that cooks the longest in first, then add the other vegetable(s).
If you don't like it, do not feel like the time has come to give asparagus a chance, or just don't want to eat asparagus today, use other vegetables such as broccoli, broccolini (hello, new favorite!), pea pods, green beans, french beans, edamame etc.
Or try it with yummy Chinese veggies like Gai Lan and Bok Choy.
Stir Fry Tips
The authentic way of stir frying is over a very powerful gas stove. In fact, at many restaurants, the flames cover more than half of the wok, cooking the items in extremely high heat.
Most of us cook in our homes, and many of us may not even have gas stoves. Can we still make an awesome stir fry?
HECK YES!
Here are some tips:
Pick a wok or skillet that retains heat really well. Heat retention is the key to a great stir fry.
Use a large wok or skillet, because you want to be able to move the items around so everything cooks evenly.
Keep moving the items around the whole time you stir fry – the process goes super fast, and requires your constant attention.
Chop/prep ingredients and place them within arms' reach when stir-frying because the process goes fast!
Cook in batches. You want to cook the vegetables and chicken separately to avoid over or under cooking them. This is because they all require different cook times! See recipe card below for more details on how to do this.
Stir frying is an amazing technique that I love, and love to talk about. A lot. In fact, I love talking about it so much I wrote a whole article about it. YESS.
8 Tips to a Great Stir Fry is everything you want to know about making a GREAT stir fry. Check it out HERE!!!
Storing and Reheating
Store Chicken and Asparagus Stir Fry in refrigerator for up to 5 days in an air tight container.
It reheats really well in the microwave. Drizzled a few drops of water onto it before reheating in microwave so it doesn't dry out.
The Dinner Convo
Chicken – always YUM, mixed with the crunch of the carrots and asparagus, all coated in this savory soy based, and slightly sweet sauce of GOODNESS.
John and I were so impressed with how this turned out. When we made this the other night, the convo during dinner time went something like that:
John: *Stuffing food into mouth* Man, this is good!
Me: *Stuffing food into mouth* (Lots of food in mouth. Delayed response) Man, this is good!
Continue to stuff food into mouths. Silence with the exception of intense chewing.
We totally have deep conversation and offer profound insights during dinner time.
Serve Chicken and Asparagus Stir Fry with white or brown rice, and you'll get your protein, veggies, carbs, all in one place. Perfect meal for a busy night.
If you want to jazz it up, serve this with our super popular Baked Cream Cheese Wontons appetizer, or make a side of Hot and Sour Soup or Egg Drop Soup to go with it! It's so much better than takeout! TRUST ME.
DID YOU ENJOY THIS RECIPE? Please comment below and give us a 5-star rating! This will help others find this recipe on Google and Pinterest! We very much appreciate your help! 🤍
Other Stir Fry Recipes
Check out other equally lip-smacking, finger-licking good stir fry on the blog!
More Asian Recipes
Chicken and Asparagus Stir Fry
Juicy white meat chicken stir fried with crunchy asparagus and carrots, glazed in savory soy-based sauce with a hint of sweetness. A chicken stir fry recipe that is simple, healthy and so delicious!
Print
Pin
Ingredients
1

lbs

chicken breast or chicken tenders

7

oz

asparagus

1

carrot

5-6

cloves

garlic

A few

slices

fresh ginger

or 1/4 tsp ground ginger

vegetable oil
Stir Fry Sauce
3

tbsp

oyster (flavored) sauce

1

tbsp

soy sauce

1

tbsp

sesame oil

1/2

tbsp

rice wine

1

tsp

sugar

1

tbsp

water

1/2

tsp

corn starch
Instructions
Slice defrosted chicken into thin strips.

In a small bowl, add stir fry sauce ingredients – oyster sauce, soy sauce, sesami oil, rice wine, sugar, water and corn starch. Mix well

Slice asparagus and carrots. Mince garlic. Slice fresh ginger to create 5-6 thin slices of ginger.

Add vegetable oil to wok or large skillet and heat up wok on high heat. Once wok is heated up, add asparagus and carrots and cook for 2-3 minutes or until almost done. Remove from wok and set aside.

Add vegetable oil to wok. Once oil is heated up, add ginger and garlic. Wait for 30 seconds, then add chicken to the wok.

Cook chicken for ~2 minutes, or until chicken is almost done. Add asparagus and carrots back into the wok, cook for 1 minute, add stir fry sauce, and cook for another 1-2 minutes, or until everything is fully cooked.

Serve with white or brown rice, and enjoy!
Nutrition
Calories:
280
kcal
|
Carbohydrates:
11
g
|
Protein:
35
g
|
Fat:
10
g
|
Saturated Fat:
2
g
|
Polyunsaturated Fat:
4
g
|
Monounsaturated Fat:
3
g
|
Trans Fat:
1
g
|
Cholesterol:
97
mg
|
Sodium:
1019
mg
|
Potassium:
810
mg
|
Fiber:
2
g
|
Sugar:
4
g
|
Vitamin A:
3943
IU
|
Vitamin C:
8
mg
|
Calcium:
47
mg
|
Iron:
2
mg