Smoked Gouda Mac and Cheese
Silky, creamy, and filled with smoky flavors, Smoked Gouda Mac and Cheese is the boss of all macaroni and cheese.
If you are looking for the best mac and cheese recipe, the kind that you cannot stop eating because it is so addictively good, you've come to the right place.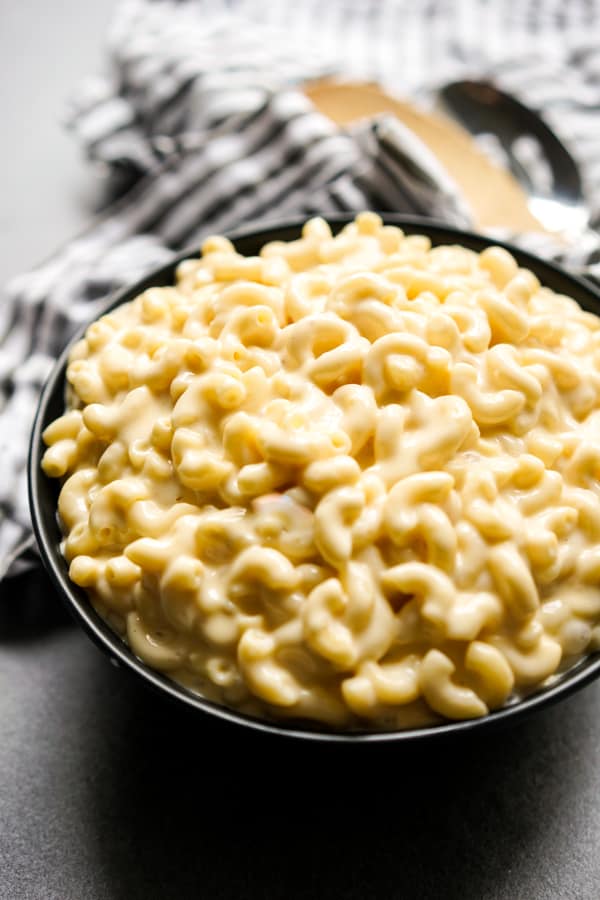 Mac and Cheese with Smoked Gouda
I am thorough convinced that smoke gouda is put on this planet to create the best macaroni and cheese.
I've had smoked gouda in so many different things – sandwiches, pizza, breakfast omelettes, with crackers, by itself…
But none compare to its pivotal role in mac and cheese. Smoked gouda mac and cheese is the mac and cheese of all mac and cheese.
Similar to my Adult Macaroni and Cheese recipe, where the cheese sauce is truly creamy, rich and flavorful, this smoked gouda mac and cheese incorporates the base for my famous cheese sauce with smoky flavors of gouda cheese.
It melts in your mouth, ignites your tastebuds, and takes the meaning of mac and cheese to a whole new level.
Smoked gouda mac and cheese makes the perfect side dish for holiday dinners or dinner parties. It's like an 'elevated' mac and cheese, so it makes it a tad fancier, but the best part is, it is still so easy to make.
Disclaimer: we don't really just eat this for the holidays or special dinner parties, because we need this smoked gouda mac and cheese more often in our lives that that…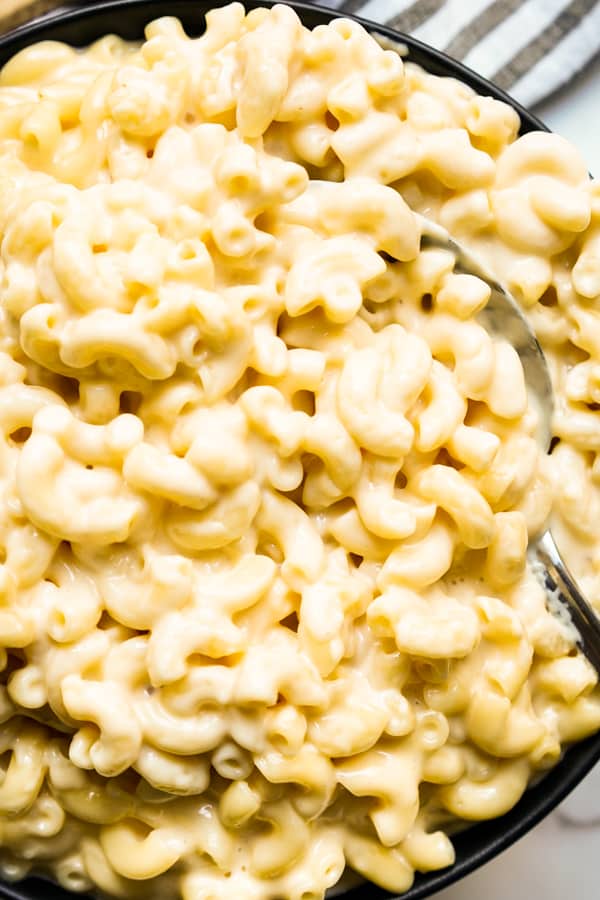 In our household, you'll find smoked gouda mac and cheese on a regular basis at your dinner table, or my husband and I nuking leftovers in the microwave as lunches or snacks.
Or…eat it by itself.
I highly recommend experiencing the beauty of that magic that is smoked gouda macaroni and cheese by itself, with no interruptions from anything else whether in the form of food, human beings, pets, etc… 😉
Ingredients
Don't let the thought of making this smoked gouda mac and cheese recipe from scratch intimidate you. It is actually truly simple.
It calls for pantry friendly ingredients and is ready under 30 minutes.
And it tastes 200x better than store-bought boxes with powdered cheese packets.
Here is the short list of ingredients you'll need to make smoked gouda mac and cheese:
Macaroni pasta – shells pasta works as well!
Smoked gouda cheese – regular gouda cheese works too if you can't find smoked gouda, but in my experience, it is less flavorful without the smoky flavors.
Butter – I typically use unsalted. If using salted butter, you may just need to add less salt.
All-purpose flour – used to thicken the cheese sauce
Heavy Cream – super important to create a rich and creamy cheese sauce
Milk – 2% milk or whole milk
Deluxe American cheese slices – the Deluxe kind tastes a lot better than regular. I like to add American cheese in here because it provides an extra dimension of flavor and it melts easily.
Salt – important ingredient to open up all the wonderful flavors in this dish.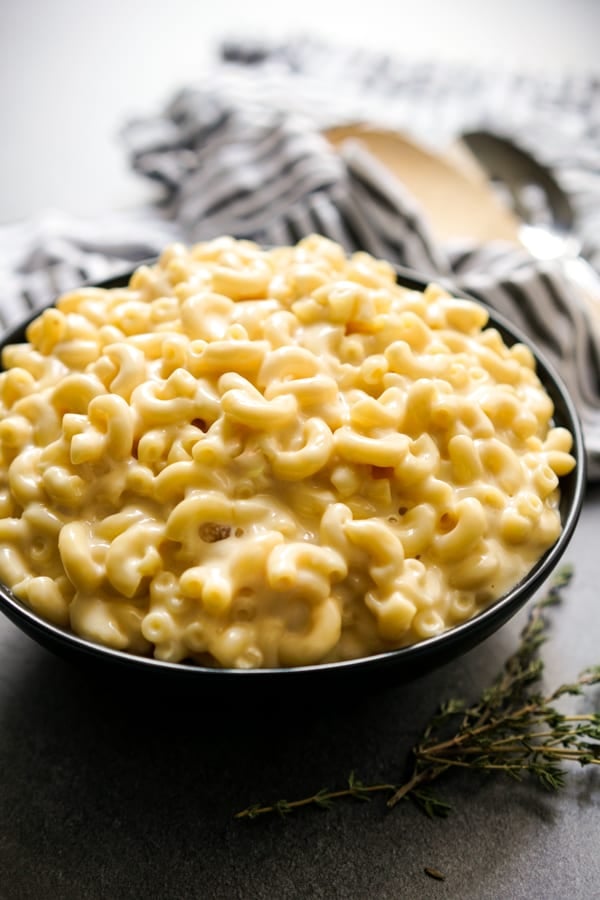 How to make smoked gouda mac and cheese
There are two essential parts to this smoked gouda mac and cheese recipe:
I typically make them simultaneously. I have a pot going for boiling the macaroni in water, and then another pot for making the cheese sauce.
I also typically use the bigger pot for the cheese sauce because we will eventually be adding the drained pasta into the pot with sauce, covering those chewy macaroni with the most amazing smoked gouda cheese sauce.
(Drooling while I type this…)
Cheese Sauce
The secret to an amazing smoked gouda mac and cheese lies in the cheese sauce.
And this smoked gouda cheese sauce is the best ever.
To make the cheese sauce portion, start with bring together butter, flour, heave cream and milk.
Important: WHISK to combine to remove lumps and grainy texture from flour. I find that if you use a spatula to do this it just doesn't work as well.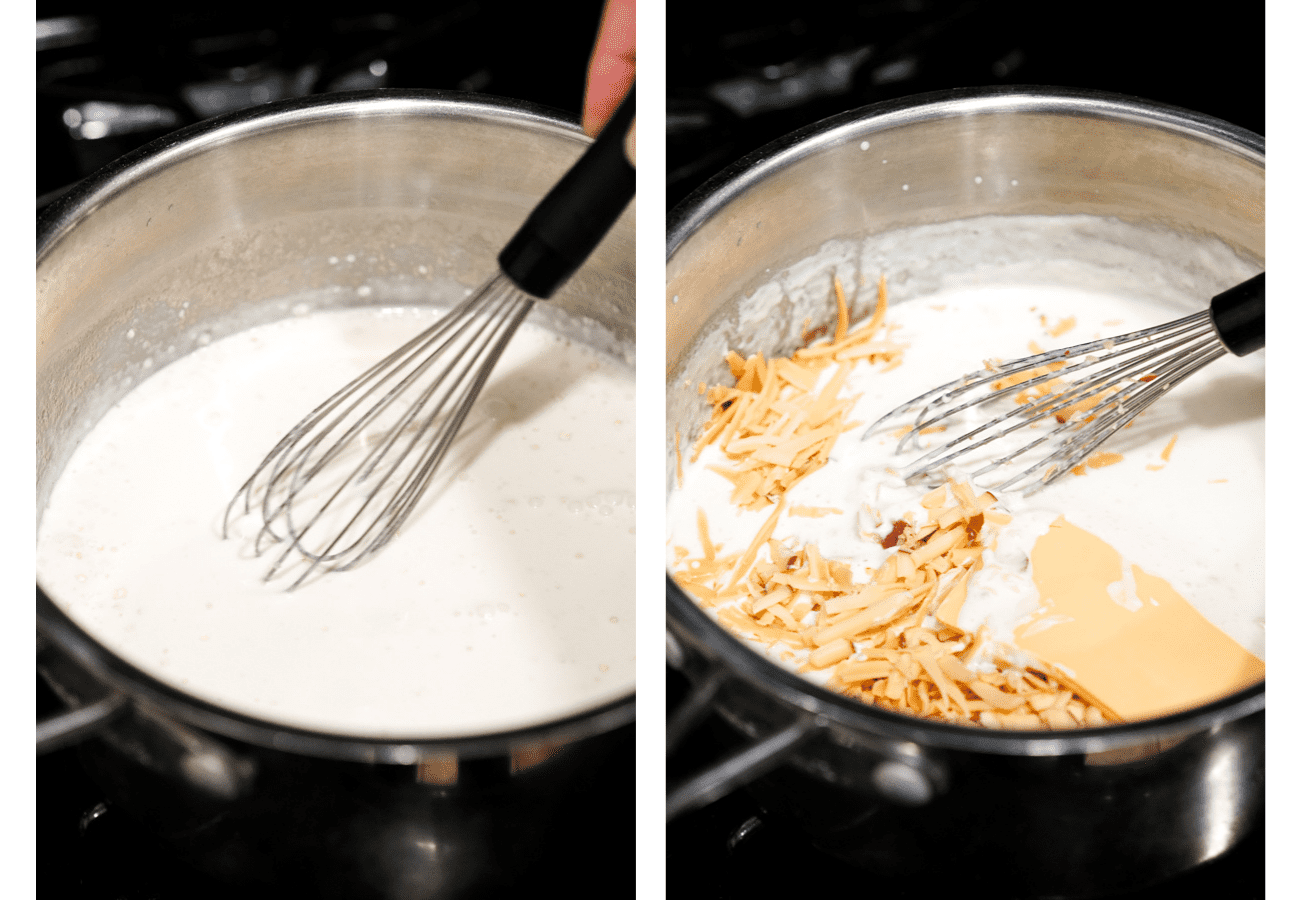 Once sauce is thickened, turn off heat, and bring cooked/drained pasta into the pot and fold it into the sauce.
And yes, now you can use your spatula. 🙂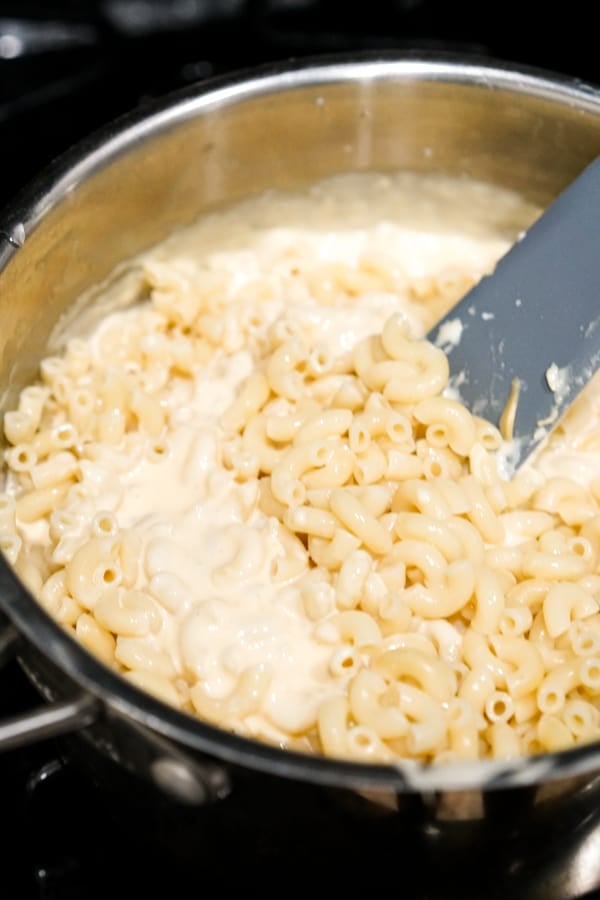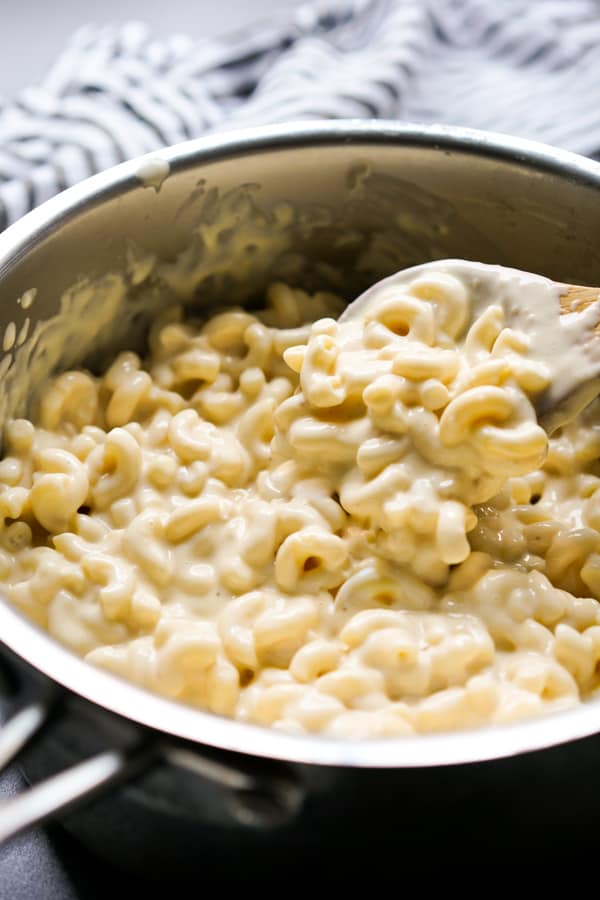 Once macaroni pasta is folded in the smoked gouda cheese sauce, remove everything from pot so that pasta will not be overcooked.
And there you have it. Smoked gouda mac and cheese that is flavorful, delicious, and makes the best comfort food well loved by grownups and kids alike.
Tips and Tricks
A few note-worthy points when making smoked gouda mac and cheese:
Use good quality cheeses! I find that the quality of your mac and cheese is directionally proportional to the quality of the cheeses you use. I always use Deluxe American Cheese on this, and Trader Joe's smoke gouda is my favorite smoke gouda to use.
Most smoked gouda cheese have a smoke rind, remove it before shredding cheese and adding it into the sauce to avoid pieces of rind in your macaroni and cheese.
Use a whisk to combine milk and flour mixture until flour is completely dissolved. This will prevent the sauce from being grainy. I find that using a spatula to stir does not do as good a job.
Stir continuously when making the cheese sauce so that sauce does not stick to the bottom of the pot.
Add more milk to thin out cheese sauce as needed. If cheese sauce sits out for a while after it is cooked, it will thicken and become clumpy. To get it back to its silky, creamy texture, add milk and stir while heating it under low heat for a few minutes.
Do not over boil pasta because it will be 'cooked' more when combined with sauce even though heat is turn off.
If you find that smoked gouda mac and cheese isn't as flavorful as you'd like at the end, add a few more pinches of salt to open up the flavors. Salt doesn't just add saltiness to dishes, it elevates and opens up all the flavors in the dish.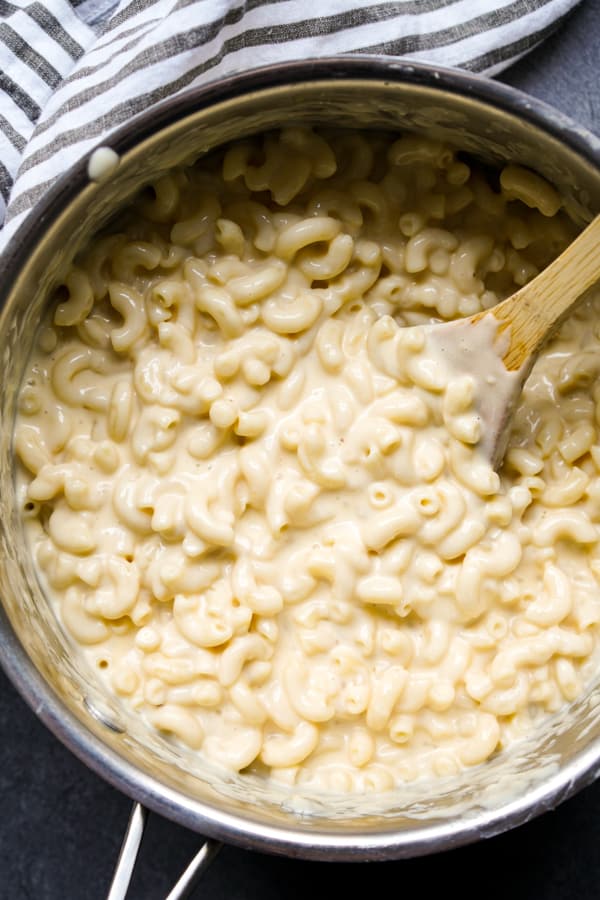 Frequently Asked Questions
Can I make ahead smoked gouda mac and cheese?
Yes! When ready to reheat, add a tablespoon or two of milk and heat on stove top under medium heat. Stir continuously so that pasta and sauce do not stick to the bottom of the pot. Lower heat as necessary. Add more milk if needed at any point. Remove promptly once it is heated through.
How to reheat leftover macaroni and cheese in the microwave?
Add a few drops of milk (or water if you don't have milk) onto mac and cheese, then heat in microwave. Stir halfway through to loosen up pasta and cheese sauce.
Cheese sauce tends to harden after it has been left out for a while. What do I do?
Cheese sauce will solidify after it sits out without being heated. To loosen it up, add some milk, heat it, and stir continuously until cheese becomes silky and creamy again.
How do I make a low carb version of this?
Use macaroni made with chickpeas or cauliflower. Or use straight-up cauliflower instead of pasta! (Check out Kathryn's Kitchen's Cauliflower Mac and Cheese for this).
Dishes that goes well with it
Some of my favorite dishes that goes well with smoked gouda mac and cheese:
DID YOU ENJOY THIS RECIPE? Please comment below and give us a 5-star rating! This will help others find this recipe on Google and Pinterest. We very much appreciate your help! 🤍
More Delicious Side Dishes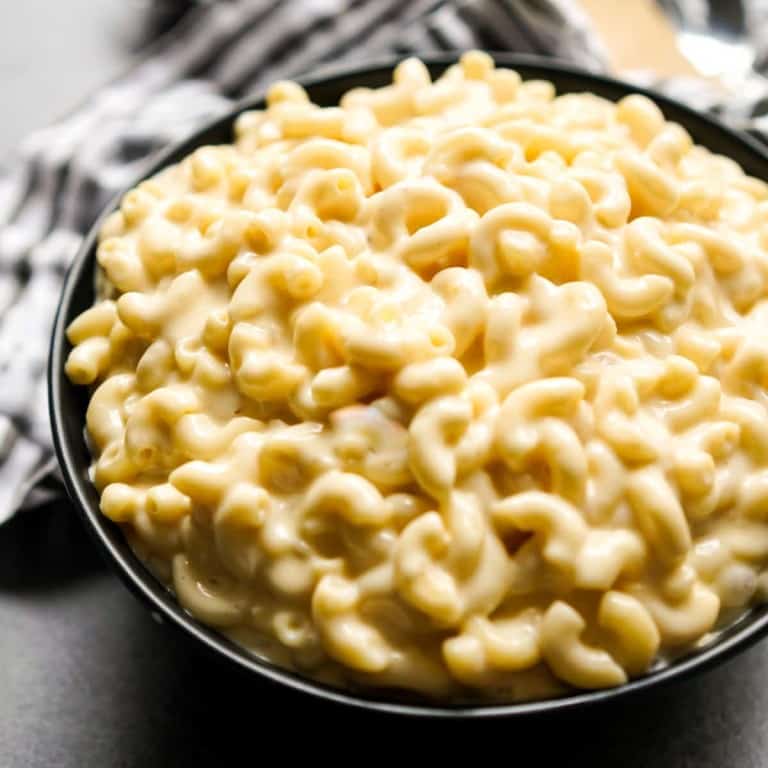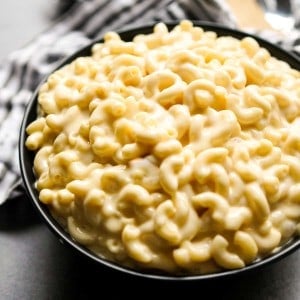 Smoked Gouda Mac and Cheese
Creamy, silky and rich macaroni and cheese flavored with smoked gouda cheese. The BEST kind of mac and cheese! A yummy side dish perfect for the holidays and dinner parties.
Print
Pin
Ingredients
8

oz

macaroni pasta

2

tbsp

unsalted butter

2

tbsp

all purpose flour

1 1/2

cups

heavy cream

1/4

cup

2% milk

more

6

oz

smoked gouda cheese

shredded, remove rind

2

slices

deluxe American cheese

1

tsp

salt

or more to taste
Instructions
Boil water in a small/medium pot and cook macaroni pasta based on package instructions. When done drain water from pasta.

Bring a medium/large pot to medium heat. Add butter and flour, then add heavy cream, 1/4 cups of milk and salt. Use a whisk to stir continuously to remove the grainy texture formed by the flour.

Once it comes to a boil, turn off heat and add shredded gouda cheese and American cheese. Stir to incorporate cheese into sauce until cheese dissolves. If cheese sauce is too thick, add a tablespoon or two of milk and stir to thin it out. (See Note 1)

Taste, and add more salt if needed.

Fold drained pasta into cheese sauce.
Notes
Note 1: Cheese sauce will thicken/harden as time goes on. Adding a few drops of milk is a great way to thin out cheese sauce.
Nutrition
Calories:
390
kcal
|
Carbohydrates:
25
g
|
Protein:
11
g
|
Fat:
27
g
|
Saturated Fat:
17
g
|
Polyunsaturated Fat:
1
g
|
Monounsaturated Fat:
8
g
|
Trans Fat:
1
g
|
Cholesterol:
99
mg
|
Sodium:
575
mg
|
Potassium:
143
mg
|
Fiber:
1
g
|
Sugar:
2
g
|
Vitamin A:
920
IU
|
Vitamin C:
1
mg
|
Calcium:
249
mg
|
Iron:
1
mg