This post may contain Amazon or other affiliate links. As an Amazon Associate I earn from qualifying purchases at no additional cost to you.
Ready for the goodness that is Kung Pao Shrimp? A zesty, flavorful, slightly spicy, crunchy Chinese shrimp dish that will blow your mind and make your tastebuds very happy!
It takes 30 minutes to make and is so much healthier and tastier than the takeout versions!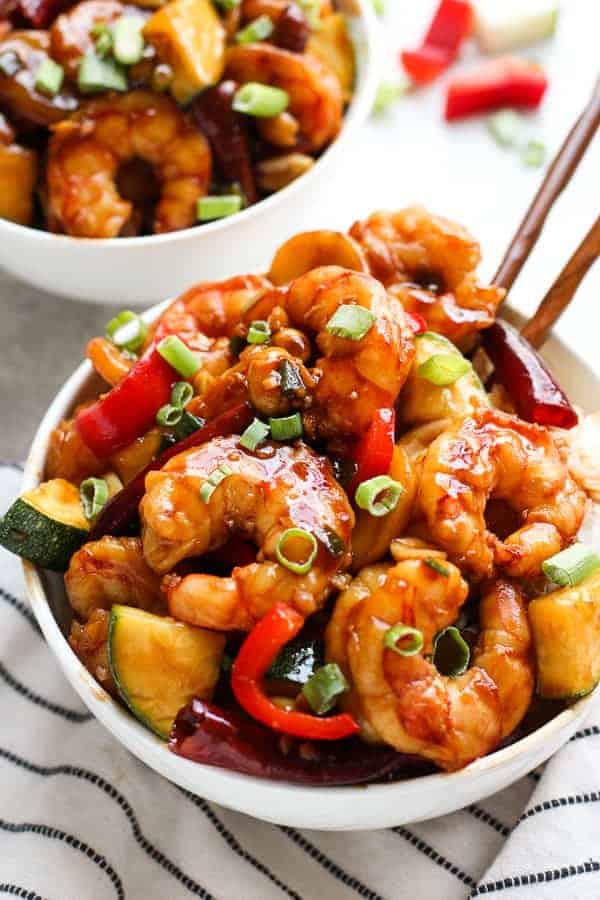 Similar to our Kung Pao Chicken recipe, this Kung Pao Shrimp has all the amazing flavor and texture, but shrimp is quicker to prepare and does not require marinating because shrimp by itself is typically salty and pretty flavorful.
So if you want a quick and delicious dish to scratch that Chinese takeout itch, this is perfect!
What is Kung Pao?
Kung Pao is a traditional stir fry dish/method from the Sichuan province of China. The authentic Sichuan version is typically less sweet, a lot spicier (due to the Sichuan peppercorns used), the sauce is thinner, and it doesn't have as much veggies added to it.
Because the traditional version requires ingredients that are hard to find in regular grocery stores, we are going to make a simpler, more accessible, but just as tasty, version.
This version is similar to what you typically get at most Chinese restaurants across the U.S.
It is crunchy, savory, zesty, slightly spicy, and filled with is amazing in every way.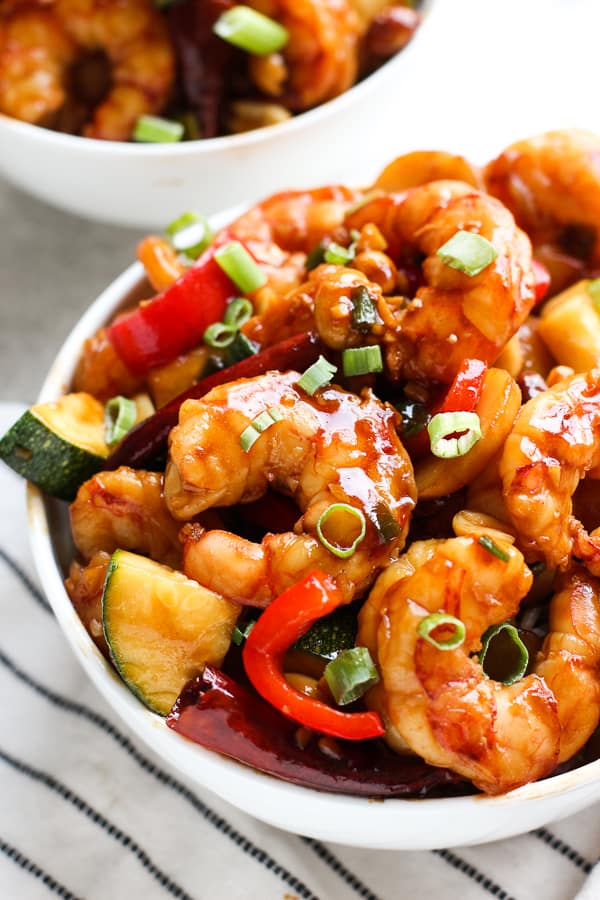 What appliances do you need to make Kung Pao Shrimp?
For this dish, you can use a wok or a skillet to make it (affiliate links are attached to the wok and skillet I use). Non-stick appliances will make stir frying easier, but it is not necessary.
If you are not using a non-stick appliance, use more vegetable oil so that ingredients don't stick to it.
Kung Pao Sauce
The beauty of this dish lies in the sauce. Sure, we need to not overcook the shrimp (it doesn't become rubber-y or tough), and the same applies to the veggies, but without this amazing sauce, this Kung Pao Shrimp dish would not be what it is.
The stir fry sauce is consisted of light soy sauce/soy sauce, dark soy sauce, rice vinegar, sesame oil, sugar, water, and corn starch. I attached affiliate links so you can see the products. Most of these ingredients can be found in regular stores, the only one that might be harder to find is dark soy sauce. I typically get that from Asian grocery stores.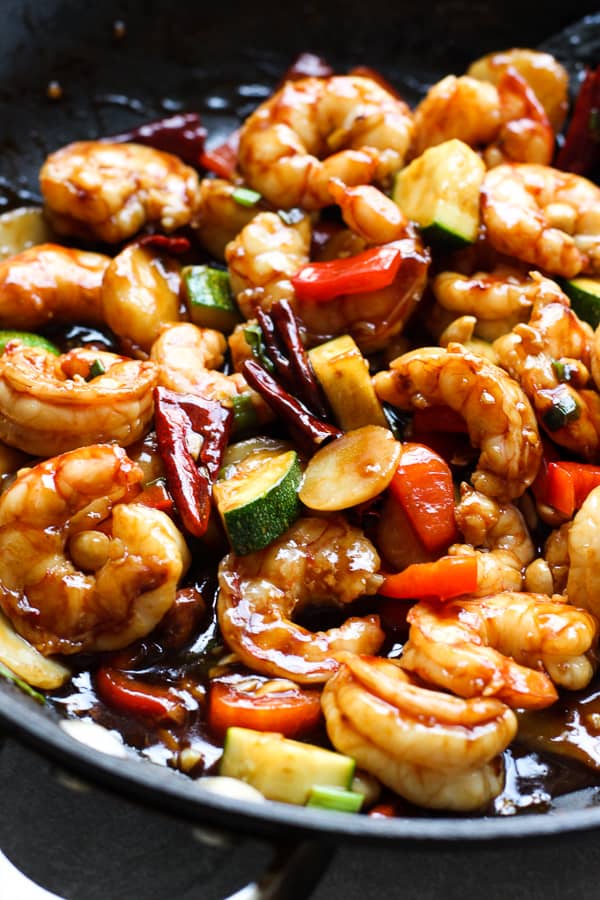 If you cannot find dark soy sauce, feel free to omit it or substitute it with soy sauce. You can also substitute rice vinegar for white vinegar if you are in a pinch.
The dried red chiles are what contribute to the spiciness of this dish. If you do not want this to be super spicy, feel free to omit this! If you cannot find this but still want the spicy, feel free to substitute with red pepper flakes.
Tips and tricks
This dish is quick and fairly simple to make. Take note of the tricks below and it will make the process even smoother and easier!
Always always always completely defrost the shrimp and pat dry them before cooking them to avoid a puddle of water at the bottom of your wok and skillet when cooking. Puddle of water = not cool. 😉
Prep/chop all the ingredients and lay them out next to the stove before beginning the stir frying because stir frying goes fast!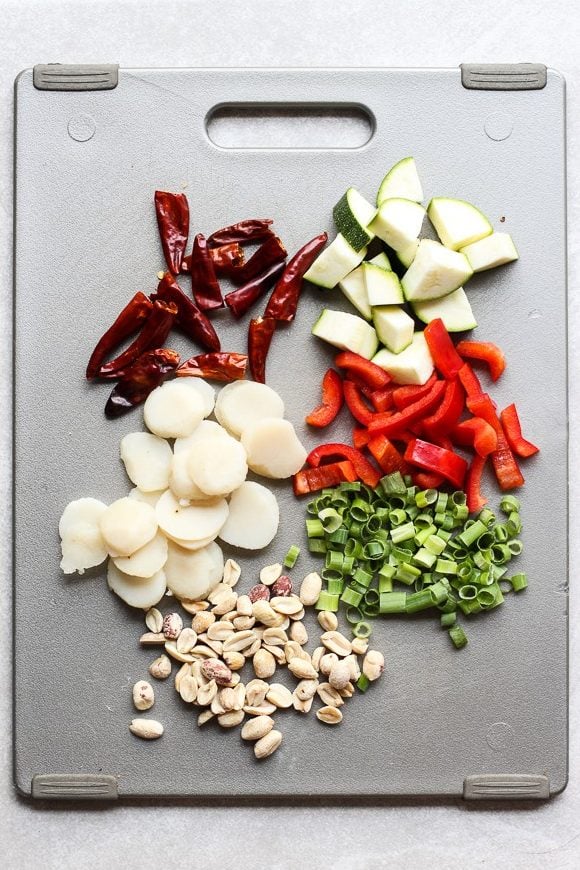 Use a wok or skillet that retains heat well as we will be stir frying this on high heat
Make sure your wok or skillet is large enough to move the ingredients around to cook the items evenly.
If you are looking for more general stir fry tips, check out my 8 Tips to a Great Stir Fry article!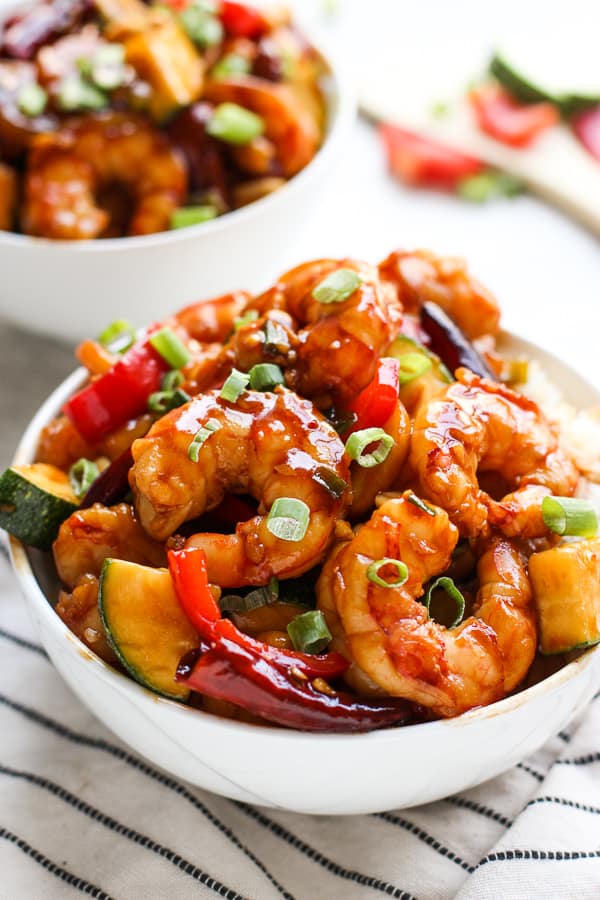 Please do yourself a favor and stuff your face with this yum thing! I highly recommend serving it with some white or brown rice. And trust me, you will be saying goodbye to Chinese takeout before you know it! 🙂
If you make this recipe, comment below and let me know what you think! Also, don't forget to take a picture and tag me on Instagram, because I WANNA SEE!!
Other shrimp recipes