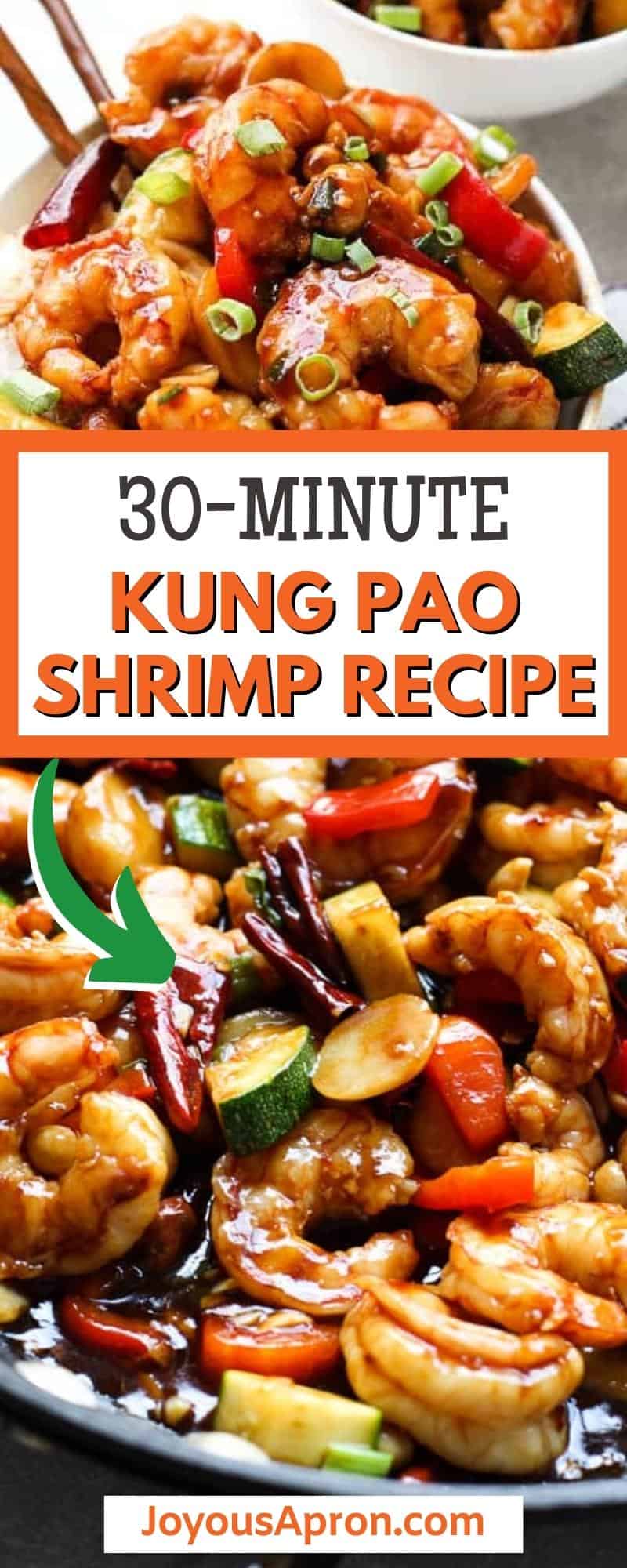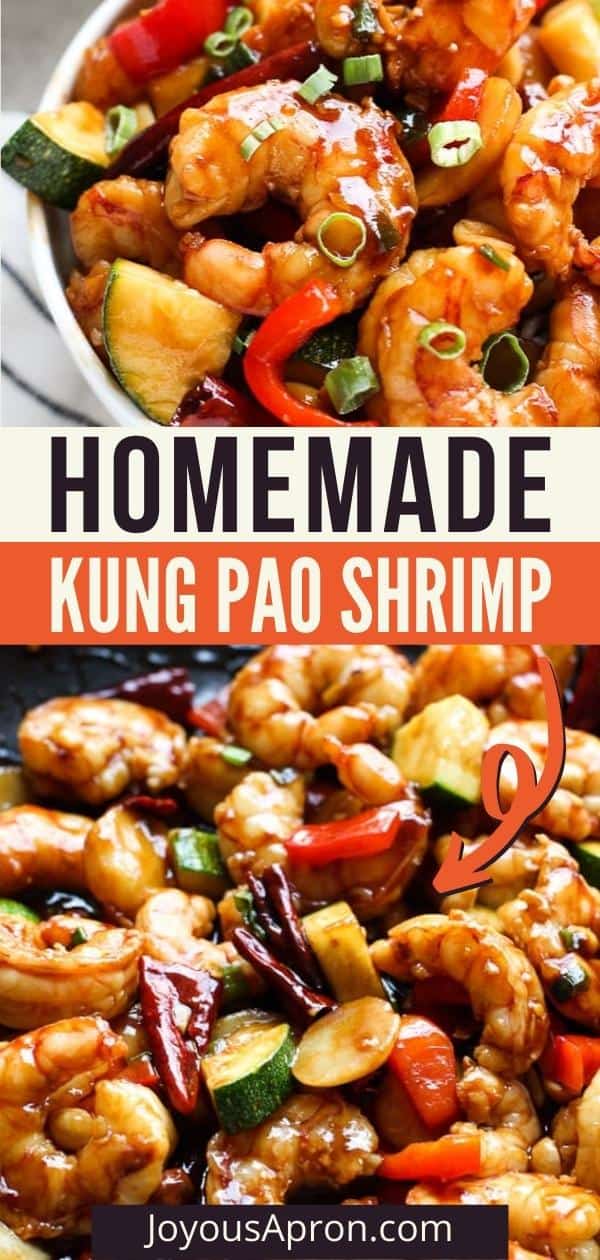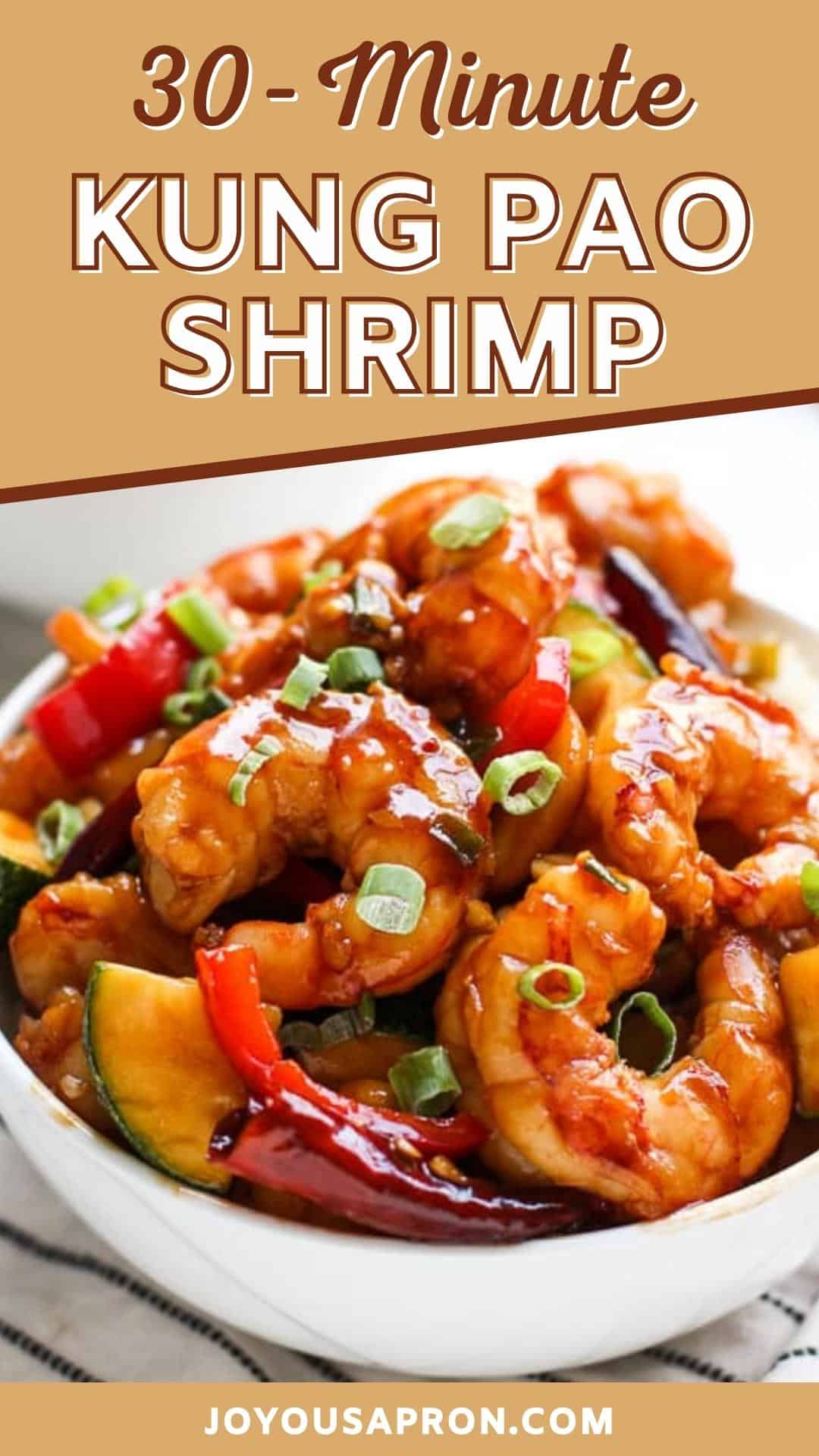 Ready for the goodness that is Kung Pao Shrimp? A zesty, flavorful crunchy Chinese shrimp (some would call it prawn) dish with a bit of heat that will blow your mind and make your tastebuds very happy!
This Kung Pao Shrimp recipe takes 30 minutes to make and is so much healthier and tastier than Asian takeout versions!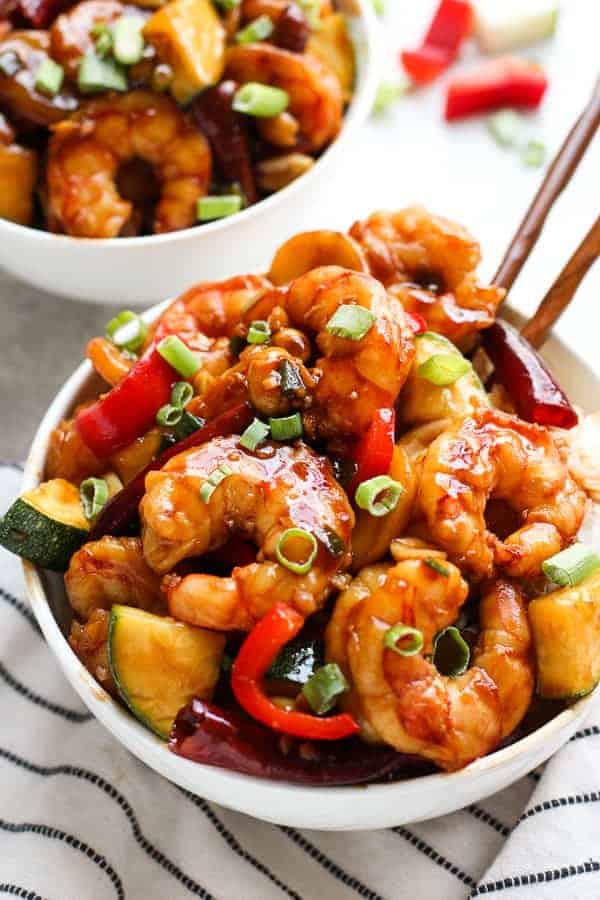 Similar to our Kung Pao Chicken recipe, Kung Pao Shrimp has all the amazing flavor and texture, but shrimp is quicker to prepare and does not require marinating because shrimp by itself is typically salty and pretty flavorful.
So if you want a quick and delicious dish to scratch that Chinese takeout itch, this is perfect!
What is Kung Pao Shrimp?
Kung Pao is a traditional stir fry dish/method from the Sichuan province of China. The authentic Sichuan version is typically less sweet, with some heat (due to the Sichuan peppercorns used), the sauce is thinner, and it doesn't have as much veggies added to it.
Because the traditional version requires ingredients that are hard to find in regular grocery stores, we are going to make a simpler, more accessible, but just as tasty, version.
This Kung Pao Shrimp version is similar to what you typically get at most Chinese restaurants across the U.S.
It is crunchy, savory, zesty, slightly spicy, and filled with is amazing in every way.
What appliances do you need to make Kung Pao Shrimp?
To make Kung Pao Shrimp, you can use a wok or a skillet to make it (affiliate links are attached to the wok and skillet I use).
Non-stick appliances will make stir frying most Asian dishes easier, but it is not necessary.
If you are not using a non-stick appliance, use more vegetable oil so that ingredients don't stick to it.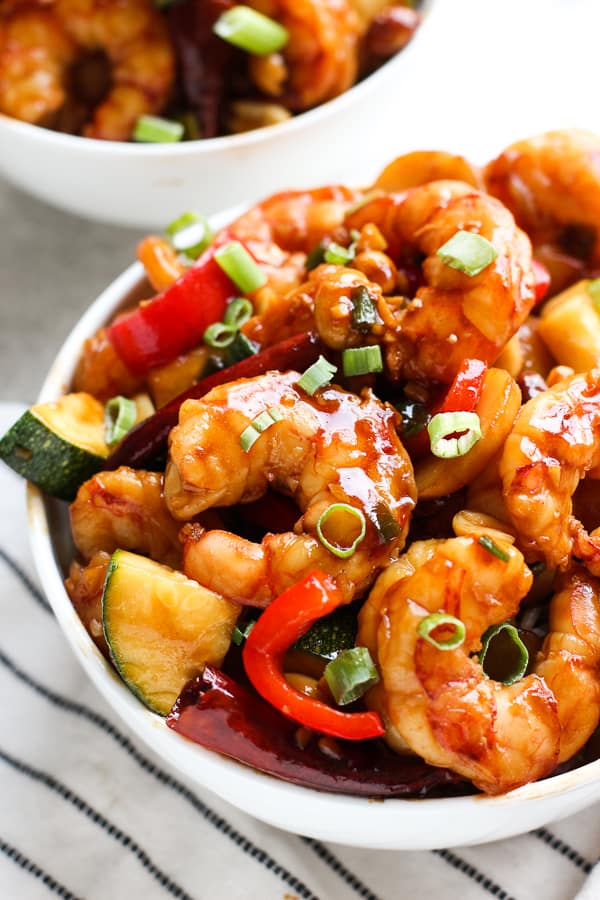 Ingredients
This Kung Pao Shrimp recipe is made with simple, easy-to-find ingredients. There are three primary parts to this popular Asian dish:
Shrimp (or prawns) – use fresh raw shrimp (not cooked shrimp). I always prefer fresh to frozen shrimp. In my experience, the freshest shrimp can be found at the seafood counter in the grocery stores, instead of the pre-package ones in the refrigerator or freezer. Sometimes also called prawns. In the U.S., you'll almost never hear 'Kung Pao Prawns', but prawns and shrimp are very similar.
Veggies and seasonings/spices – bell peppers, zucchini, bamboo shoots, peanuts, green onions, red chilies, ginger, garlic
Kung Pao Sauce – my homemade Kung Pao Sauce that is easy, delicious and BETTER THAN TAKEOUT!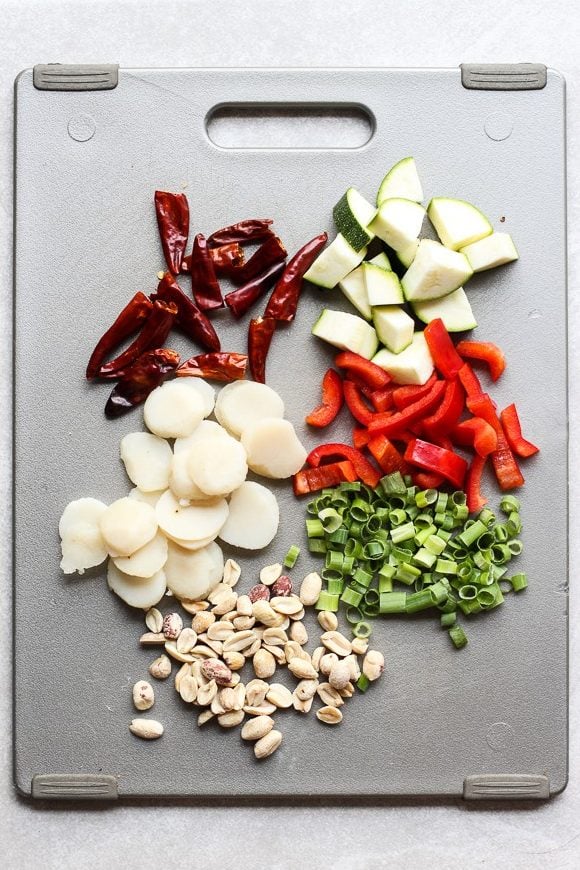 Kung Pao Sauce
The beauty of Kung Pao Shrimp lies in the sauce.
That saucy and brilliant Kung Pao Sauce.
Sure, we need to not overcook the shrimp (it doesn't become rubber-y or tough), and the same applies to the veggies, but without this amazing sauce, this Kung Pao Shrimp dish would not be what it is.
The stir fry sauce is consisted of
granulated sugar
corn starch
Most of these ingredients can be found in regular stores, the only one that might be harder to find is dark soy sauce. I typically get that from Asian grocery stores.
If you cannot find dark soy sauce, feel free to omit it or substitute it with soy sauce. You can also substitute rice vinegar for white vinegar if you are in a pinch.
The dried red chiles are what contribute to the spiciness of this dish. If you do not want this to be super spicy, feel free to omit this! If you cannot find this but still want the spicy, feel free to substitute with red pepper flakes.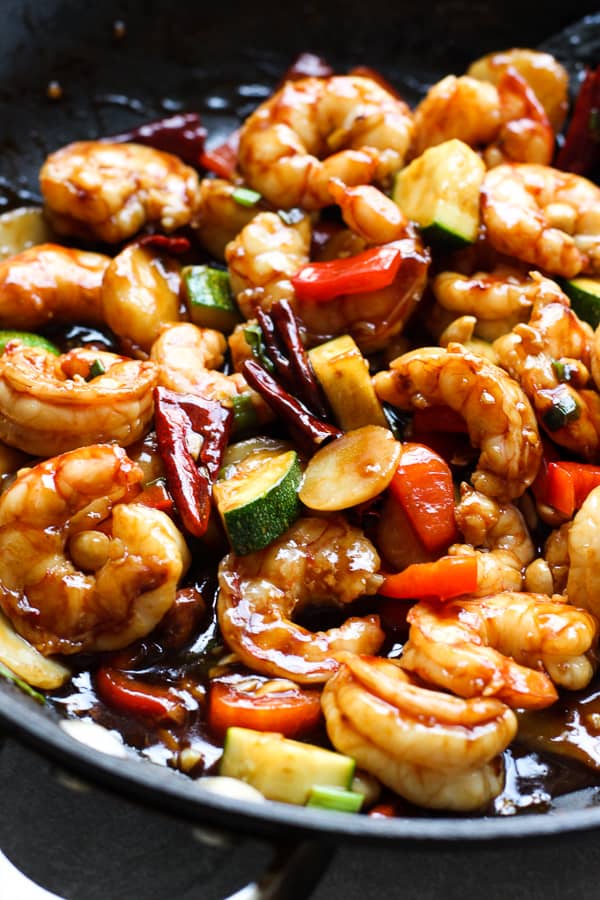 Tips and tricks
As you can probably tell, Kung Pao Shrimp is quick and fairly simple to make. Take note of the tricks below and it will make the process even smoother and easier!
Always always always completely defrost the shrimp and pat dry them before cooking them to avoid a puddle of water at the bottom of your wok and skillet when cooking. Puddle of water = not cool. 😉
Prep/chop all the ingredients and lay them out next to the stove before beginning the stir frying because stir frying goes fast!
Use a wok or skillet that retains heat well as we will be stir frying this on high heat
Make sure your wok or skillet is large enough to move the ingredients around to cook the items evenly. If you are doubling the recipe, cook in two bathes so you do not overcrowd the pan or wok.
If you are looking for more general stir fry tips, check out my 8 Tips to a Great Stir Fry article!
Frequently Asked Questions
Can I make this Kung Pao dish with chicken?
Absolutely! Check out my Kung Pao Chicken recipe for more information!
I cannot find dried red chilies, what can I use instead?
Use red pepper flakes. And if you don't like your food spicy, simply omit it completely.
I cannot find dark soy sauce, what can I use instead?
You can simply omit this if you cannot find it!
Does this keep well as leftovers?
Yes! Store in an airtight container in the refrigerator for up to 3 days and when ready to eat, heat it in the microwave.
What other veggies work well with it?
Honestly, use whatever veggies you have at hand! Baby corn, cucumber, squash, carrots, broccoli, green beans, or other crunchy veggies works really well too!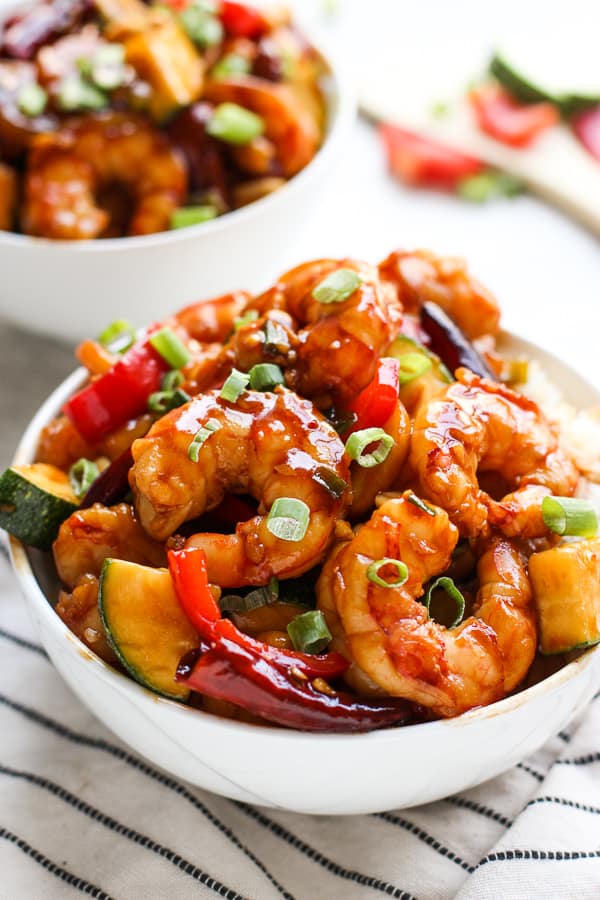 Please do yourself a favor and stuff your face with this delicious homemade Kung Pao Shrimp! I highly recommend serving it with some white or brown rice.
And trust me, you will be saying goodbye to Chinese takeout before you know it! 🙂
DID YOU ENJOY THIS RECIPE? Please comment below and give us a 5-star rating! This will help others find this recipe on Google and Pinterest. We very much appreciate your help! 🤍
Other shrimp recipes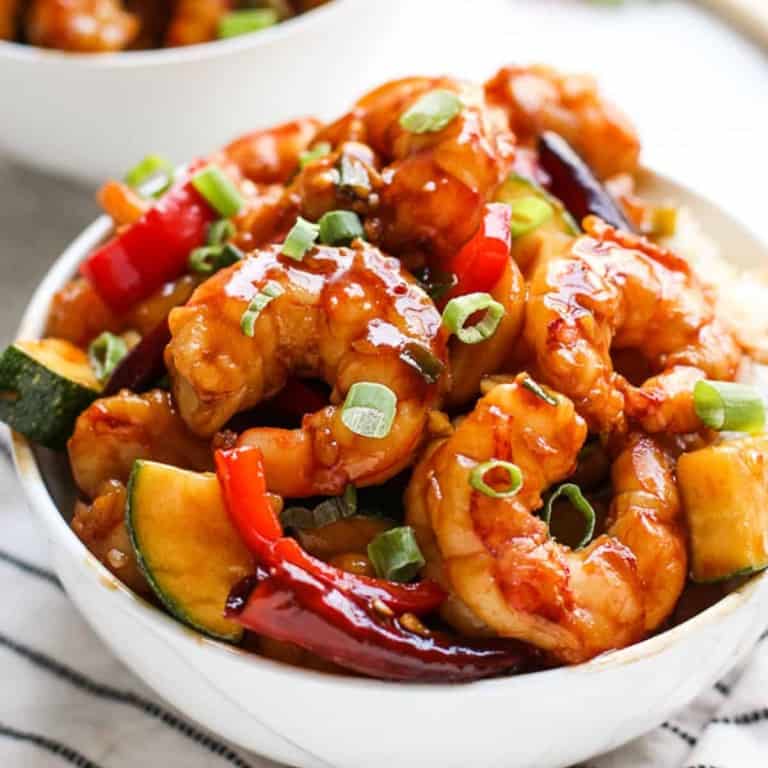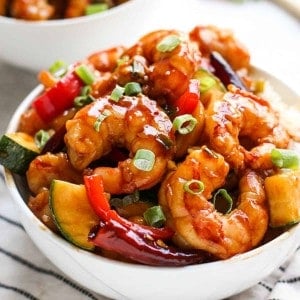 Kung Pao Shrimp
Delicious shrimp stir fry dish tossed in a homemade Kung Pao sauce, combined with yummy veggies. Sooo much yummier AND healthier than Chinese takeout!
Print
Pin
Ingredients
3/4

lbs

shrimp

1/2

cup

zucchini

cubed

1/3

cup

red bell peppers

sliced

1/3

cup

canned water chestnuts

1/3

cup

peanuts

10-14

dried red chiles

1/4

cup

green onions

chopped

8-12

slices

ginger

or use 1/4 tsp ginger powder

1 1/2

tbsp

minced garlic

1 1/2

tbsp

vegetable oil

or more if needed
Kung Pao Sauce
2

tbsp

soy sauce/ light soy sauce

2

tsp

dark soy sauce

3

tbsp

sugar

4

tsp

rice vinegar

2

tbsp

water

2

tsp

corn starch

1/2

tsp

sesame oil
Instructions
Pat dry defrosted shrimp. Cube zucchinis, mince garlic, cut up red bell peppers. Slice green onions and ginger. Drain water from canned water chesnuts.

Create stir fry sauce by combining all the stir fry sauce ingredients. Mix well and set aside.

Remove seeds from dried red chiles.

Place all the ingredients needed for the stir fry next to wok/skillet as the stir fry process will go fast! When ready, add vegetable oil to wok/skillet and heat up wok/skillet under high heat.


Once wok/skillet is heated up, add shrimp and cook for a minute or so. Shrimp should not be completely cooked before proceeding to the next step.

Add dried red chiles, minced garlic, sliced ginger and stir fry sauce. Cook very briefly, for 30-60 seconds.

Add zucchini and red bell peppers, and cook for another minute or so to soften veggies. Avoid overcooking.

Add water chestnuts, peanuts and green onions. Cook for ~30 seconds or so.

Remove promptly. Serve with white or brown rice. Enjoy! 🙂
Notes
Stir frying process goes very quickly! Avoid overcooking shrimp or veggies.
Nutrition
Calories:
429
kcal
|
Carbohydrates:
38
g
|
Protein:
33
g
|
Fat:
18
g
|
Saturated Fat:
7
g
|
Cholesterol:
286
mg
|
Sodium:
1800
mg
|
Potassium:
908
mg
|
Fiber:
6
g
|
Sugar:
22
g
|
Vitamin A:
2071
IU
|
Vitamin C:
248
mg
|
Calcium:
226
mg
|
Iron:
6
mg