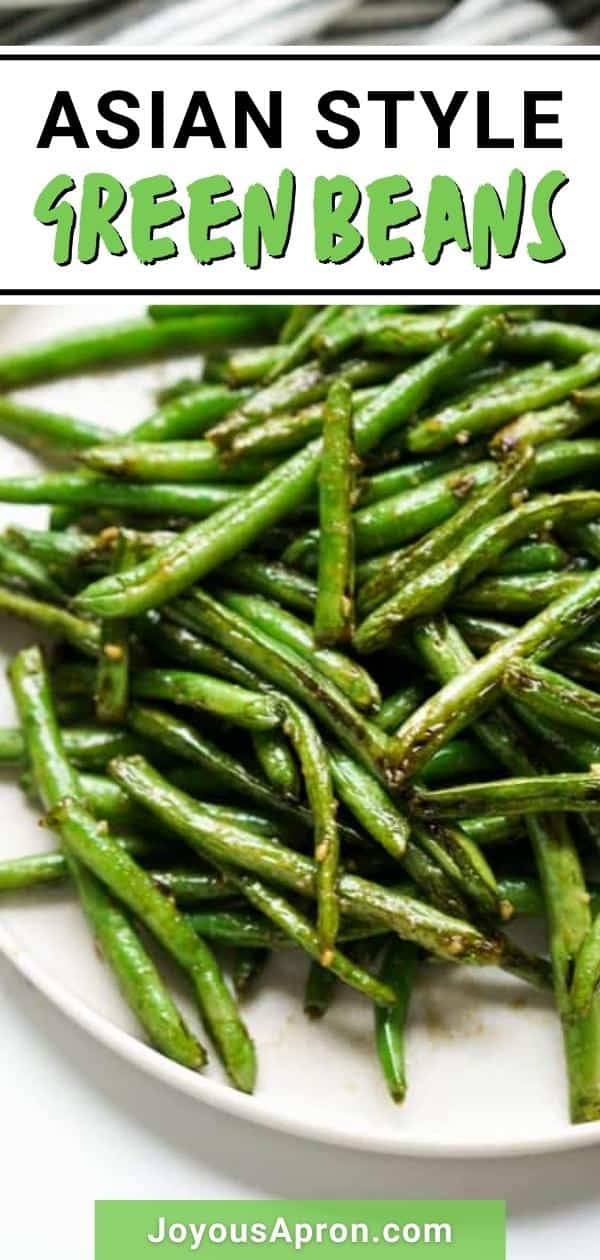 Asian Style Green Beans is a simple yet flavorful Chinese inspired green bean stir fry recipe that is both delicious and quick.
Even though it is ready under 15 minutes and calls for only 4 ingredients, Asian Style Green Beans boast incredible flavors and textures. It'll be some of the most flavorful green beans you'd ever come across!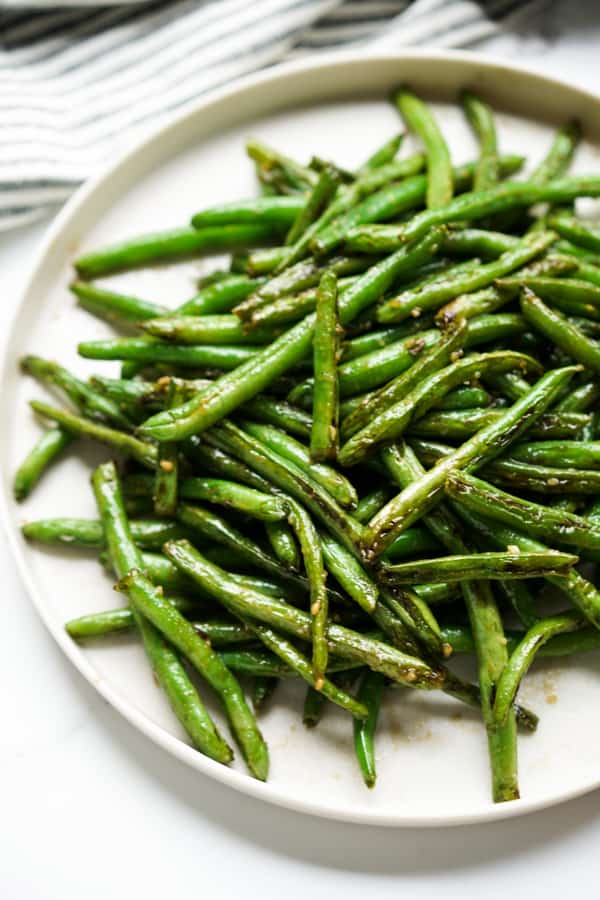 We make this Asian Style Green Beans dish all the time whenever we want some extra vegetables to go with many of the Asian dishes we love, such as Garlic Noodles with Shrimp, Sushi Bake, Sweet and Sour Chicken Meatballs, Chinese Braised Pork Belly, and Chicken Lo Mein.
I might be incredibly bias, but I think Asian seasonings and spices, along with the stir fry method, make vegetables tastes the best.
With Asian Style Green Beans, we are doing just that. Stir-frying it, and coating it with delicious Asian and Chinese seasonings. I say Chinese because the style and seasoning of cooking reminds me of green beans you get at Chinese restaurants or buffets (except that it's even better!).
By stir frying, we will be cooking these green beans under high heat, so not only does it cooks quickly, it doesn't get soggy. Instead, we retain the lovely texture of green beans, and it will still be slightly crunchy.
In addition to that, we add bold flavors to otherwise plain green beans if you just leave it alone. Savory, a hint of sweet, and lots of umami flavors.
Between the flavors and the crunchy textures…oh-la-la!
Trust me when I say even non-green-bean eaters will become green-bean-lovers!
This Asian Green Beans is the dish where I've successfully converted my husband from a non green bean eater to an actual fan of green beans! TRUE STORY.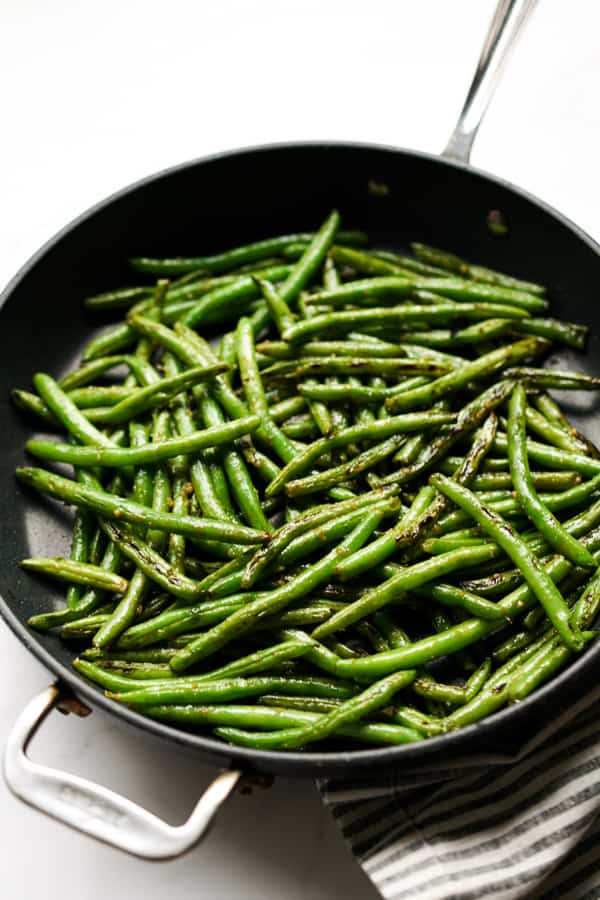 Ingredients
Now, the ingredient list to make Asian Style Green Beans is short, but don't be fooled, the flavor is complex and gorgeous.
It tastes kinda like it was made with 15 ingredients.
Even though we are only using a handful of ingredients, each ingredient plays an important role in bringing great flavors to the dish. Some of the ingredients carry incredibly complex flavors, and it's hard to achieve its flavor profile by using another seasoning.
So do not skip or substitute them!
Here's what you need:
Green beans – fresh, not canned or frozen.
Garlic – use fresh, not powdered. Mince or chop it finely.
Chicken bouillon – I use the powdered kind, but you can use the cubed bouillon or even bouillon paste. Do not substitute with chicken broth – it is too diluted and does not provide the flavors chicken bouillon bring.
Oyster (flavored) sauce – a classic sauce used a lot in Chinese cooking. It does not taste like oyster, and even if you don't like oyster (I don't like oyster), this is a different thing all together. It brings a delicious umami flavor to dishes, and it is also used widely in many Chinese dishes. You probably have had it many times without realizing it.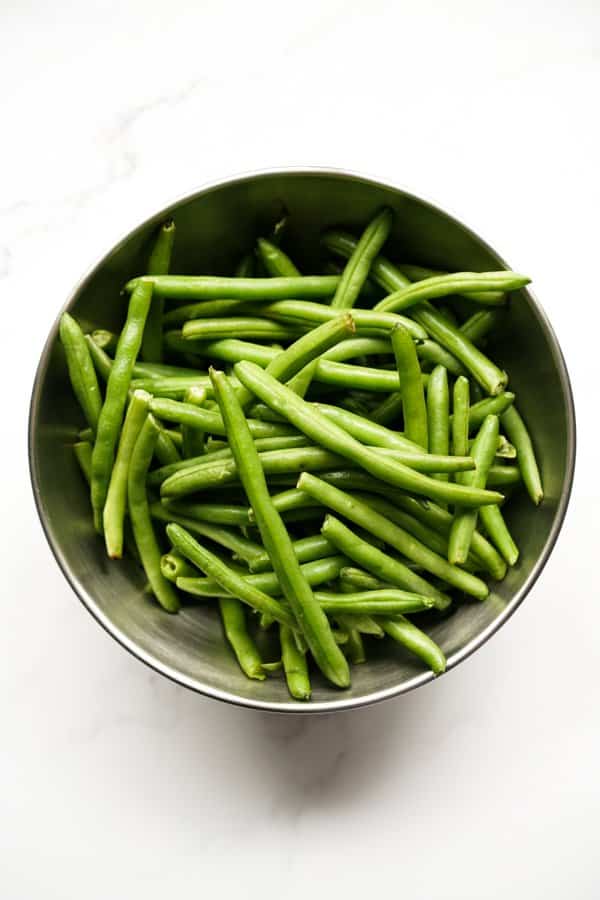 If you are wondering why I did not use soy sauce to make these Asian Style Green Beans, since soy sauce is a super popular Asian and Chinese ingredient.
By using oyster sauce and chicken bouillon, it brings 100x more delicious and complex flavors than soy sauce can bring to this dish.
When cooking this dish with soy sauce, the flavors are very one dimensional. It's kinda flat. It doesn't bring the oomph.
With the use of oyster sauce and chicken bouillon, it will bring the savory flavor soy sauce would bring and much more. So there's really no need to use soy sauce to make these Asian Style Green Beans.
How to make Asian Style Green Beans
Step 1: Prepare green beans
Clean green beans and then pat dry. Always pat dry veggies when stir frying them because we want to avoid a pool of water at the bottom of the skillet.
You can remove the stems from the green beans if you want, or leave them as is.
Step 2: Stir frying green beans…Asian style
The traditional way to stir fry green beans is to use a wok, but you don't necessarily need a wok to cook this Asian Style Green Beans recipe. You can also use a large skillet to make this.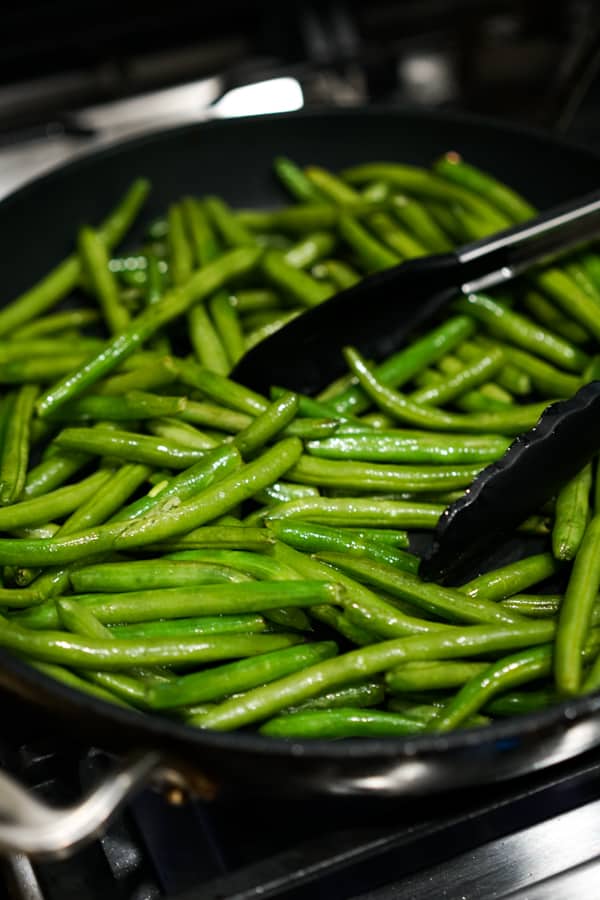 Non-stick skillets are usually easier to use because food doesn't stick to it as easily, and you won't need to use as much vegetable oil if you don't want to, but stainless steel skillets work as well.
You can use a turner to stir the green beans, or even a pair of tongs. I really like these tongs with the rubber tips because that will prevent scratching, especially if you are using a non-stick skillet. Tongs are nice because it's easier to pick up the green beans with tongs than a turner.
We are stir frying this Asian Green Beans under high heat, and the process will go pretty quickly.
Make sure to get all the ingredients ready and place them next to the stove top.
Once wok or skillet is heated, add vegetable oil and saute the green beans until they turn dark green and are fully cooked. You will want to stir green beans continuously throughout the process.
This will probably take about 4-6 minutes, depending how hot your pan gets.
Once the green beans are cooked, add the seasoning to the green beans – garlic, oyster sauce, and chicken bouillon.
Give it a good stir and immediately remove from heat, if not garlic will burn pretty quickly.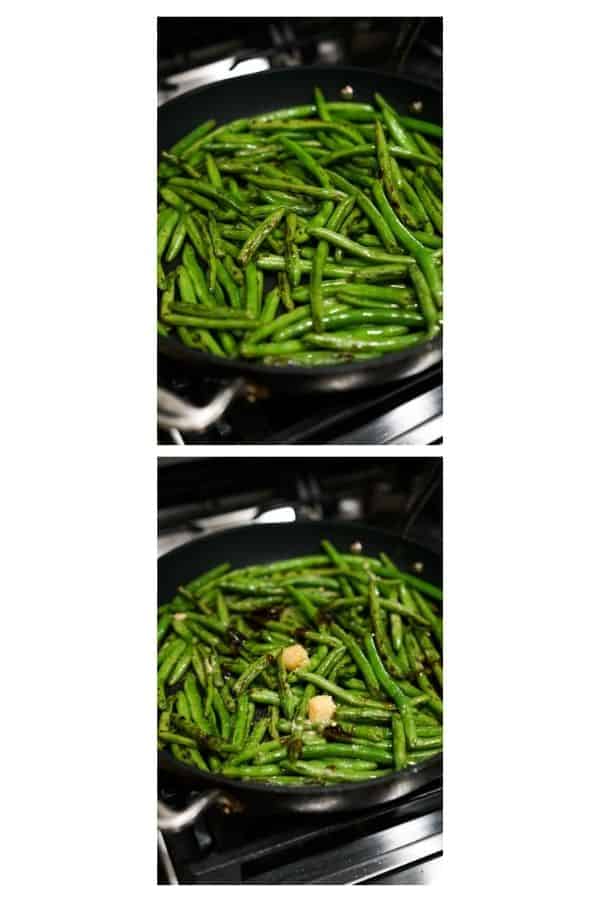 Step 3: Serve!
All this should take you about 15 minutes from start to finish.
This Asian Style Green Beans recipe is a quick, simple yet very delicious way to incorporate some vegetables in your meals!
Recipe Notes
A couple of things to keep in mind when making these Asian Style Green Beans:
Green beans should be pat dry prior to stir frying – this will prevent splattering and also avoid a pool of water to form in the skillet.
Make sure there's enough vegetable oil in the skillet and add more if needed, especially if you are not using a non-stick skillet.
Stir fry process goes quickly. Gather all the ingredients next to the stove before stir frying Asian Style Green Beans.
What to serve with green beans
Here are some of my favorite dishes that go so well with these Asian Style Green Beans: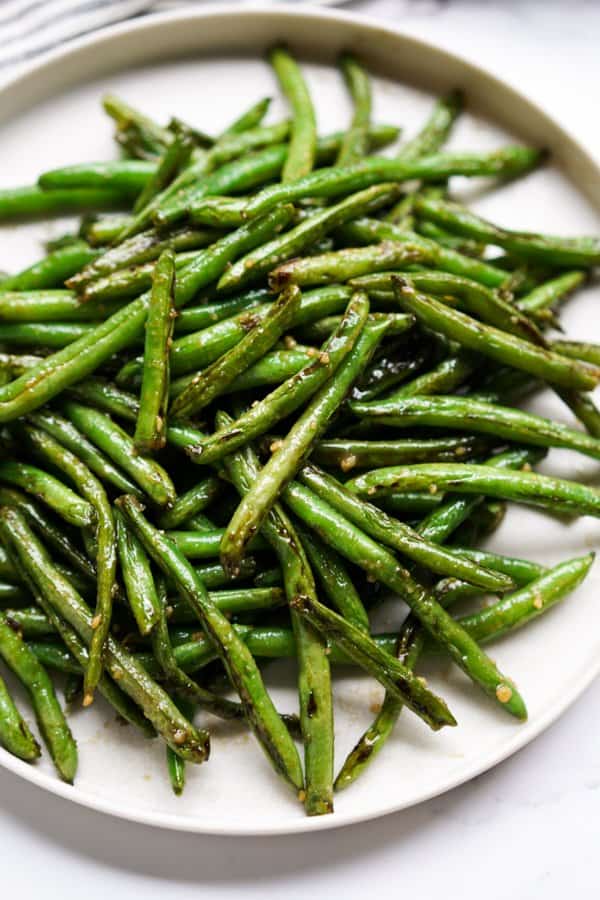 Other Green Beans recipes
Green beans are yummy and delicious when cooked well. Besides these Asian Style Green Beans, there are of course so many ways to make green beans.
If you are looking for other ways to cook green beans, check these yummy recipes out!
DID YOU ENJOY THIS RECIPE? Please comment below and give us a 5-star rating! This will help others find this recipe on Google and Pinterest. We very much appreciate your help! 🤍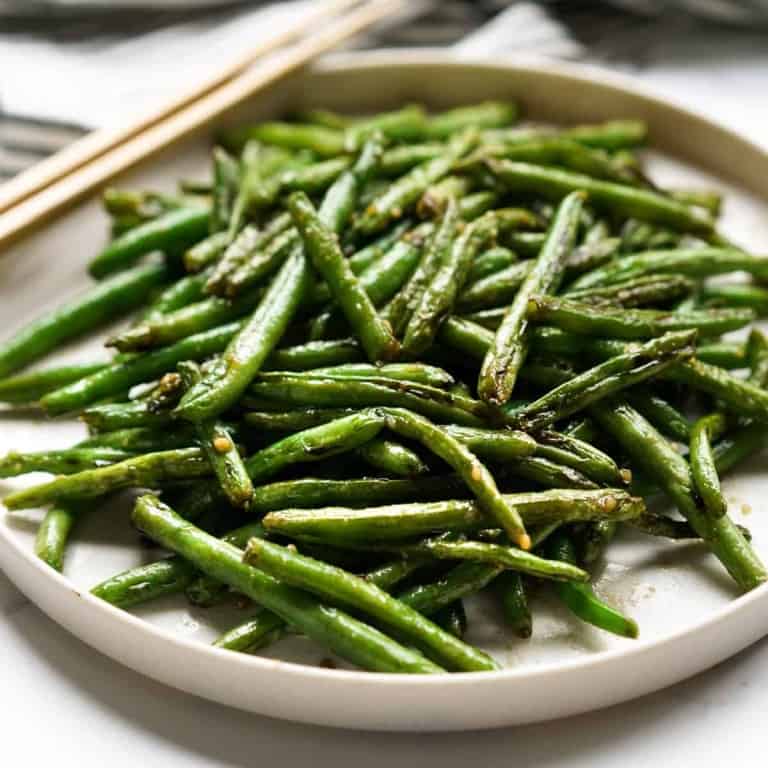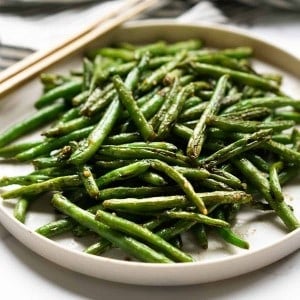 Asian Style Green Beans
Crunchy green beans pan fried with garlic and sticky Asian inspired seasonings and sauces. A simple yet incredibly flavorful vegetable side dish ready under 15 minutes!
Print
Pin
Ingredients
12

oz

green beans

2

cloves

garlic

minced

1/2

tsp

chicken bouillon

1

tbsp

oyster (flavored) sauce

1-2

tbsp

vegetable oil
Instructions
Prepare green beans by washing them and then pat drying them. Optional: remove stems.

Heat large wok under high meat. Once wok is heated, add vegetable oil (see note 1).

Add green beans. Stir green beans continuously to pan fry for 5-8 minutes, or until green beans are cooked (turn darker green, still crunchy).

Add minced garlic, oyster sauce, chicken bouillon. Stir to combine. Remove promptly from heat.
Notes
Note 1: add more vegetable oil if needed to prevent items from sticking, especially if you are not using a non-stick skillet.
Nutrition
Calories:
41
kcal
|
Carbohydrates:
5
g
|
Protein:
1
g
|
Fat:
2
g
|
Saturated Fat:
1
g
|
Polyunsaturated Fat:
1
g
|
Monounsaturated Fat:
1
g
|
Trans Fat:
1
g
|
Sodium:
87
mg
|
Potassium:
125
mg
|
Fiber:
2
g
|
Sugar:
2
g
|
Vitamin A:
391
IU
|
Vitamin C:
7
mg
|
Calcium:
24
mg
|
Iron:
1
mg