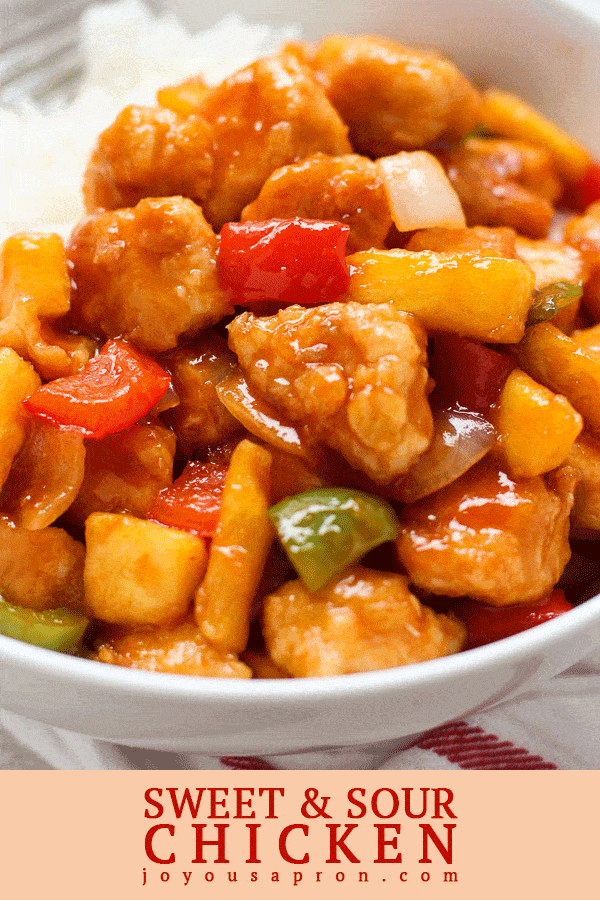 Sweet and Sour Chicken is a classic Chinese takeout dish well-loved all over the world. In our homemade version, chicken is lightly coated in flour mixture, panfried (slightly healthier than deep fried ones) and then tossed in a delicious sauce that is tangy, sweet and sour.
Our homemade sweet and sour chicken recipe is so good, much healthier, and easy to make. It will have you saying goodbye to Chinese takeout!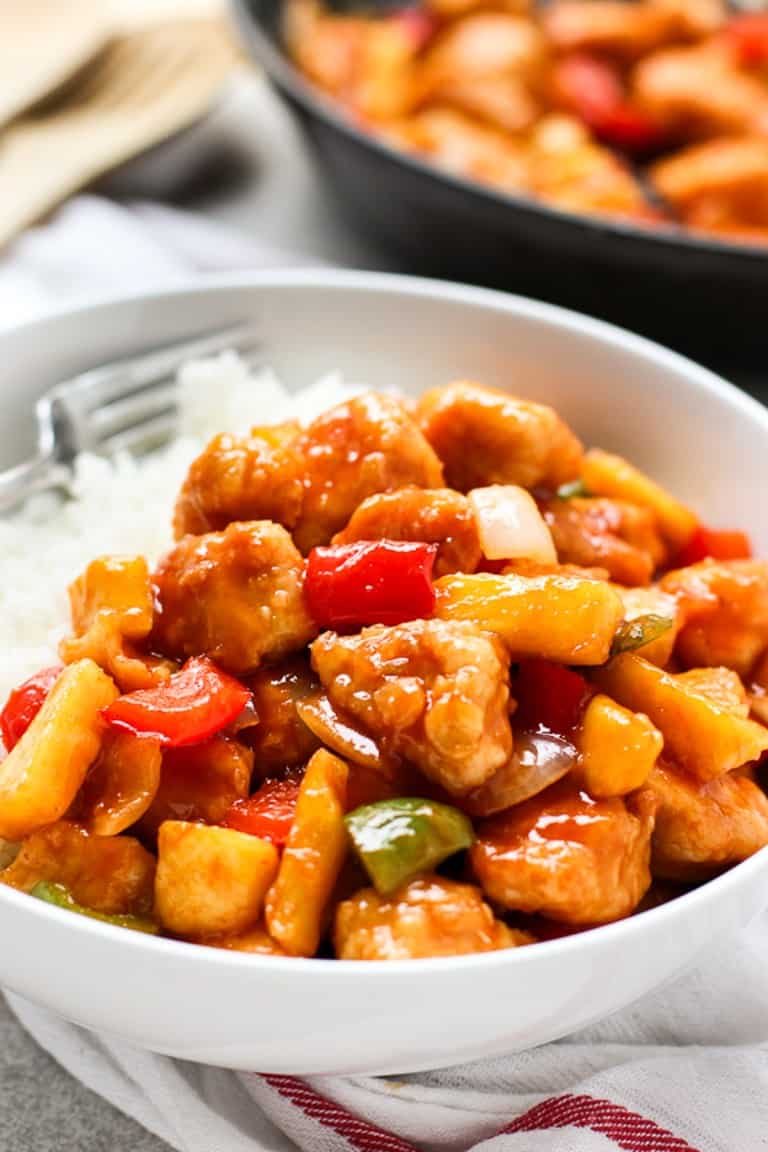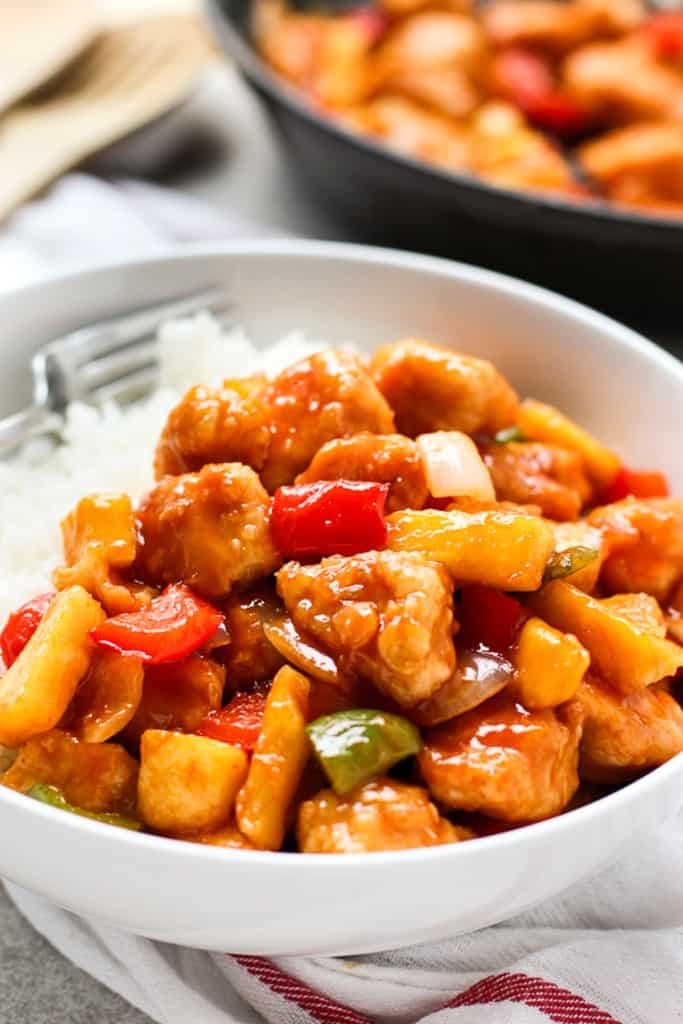 Don't forget to also chicken out other Chinese takeout recipes on the blog, such as Beef and Broccoli, Mongolian Beef Noodles, Baked Orange Chicken and Kung Pao Shrimp.
Chinese Sweet and Sour Chicken
If you have visited any Chinese restaurants in the United States, you will very likely have come across sweet and sour chicken on their menu.
This sweet and sour chicken recipe is an American Chinese recipe, similar to the ones you'll find at these Chinese restaurants in the states. And while it is not an authentic Chinese recipe it is so dang delicious it doesn't matter! (says the person who also loves her authentic Chinese dishes!)
I love the flavors of from the sticky sweet and sour sauce that coated those crispy, juicy chicken pieces. Enjoy with some white rice that will soak up the juices and you'll be licking your plate clean before you know it!
When I make sweet and sour chicken at home, I like to make mine a tad bit healthier. Therefore, instead of deep frying chicken in a pool of oil I am simply pan frying them.
Other than that, I would say this is very similar to sweet and sour chicken I have at restaurants.
I may be bias but I think it also happens to be far superior in taste and freshness! But you give it a try and tell me what you think! 😉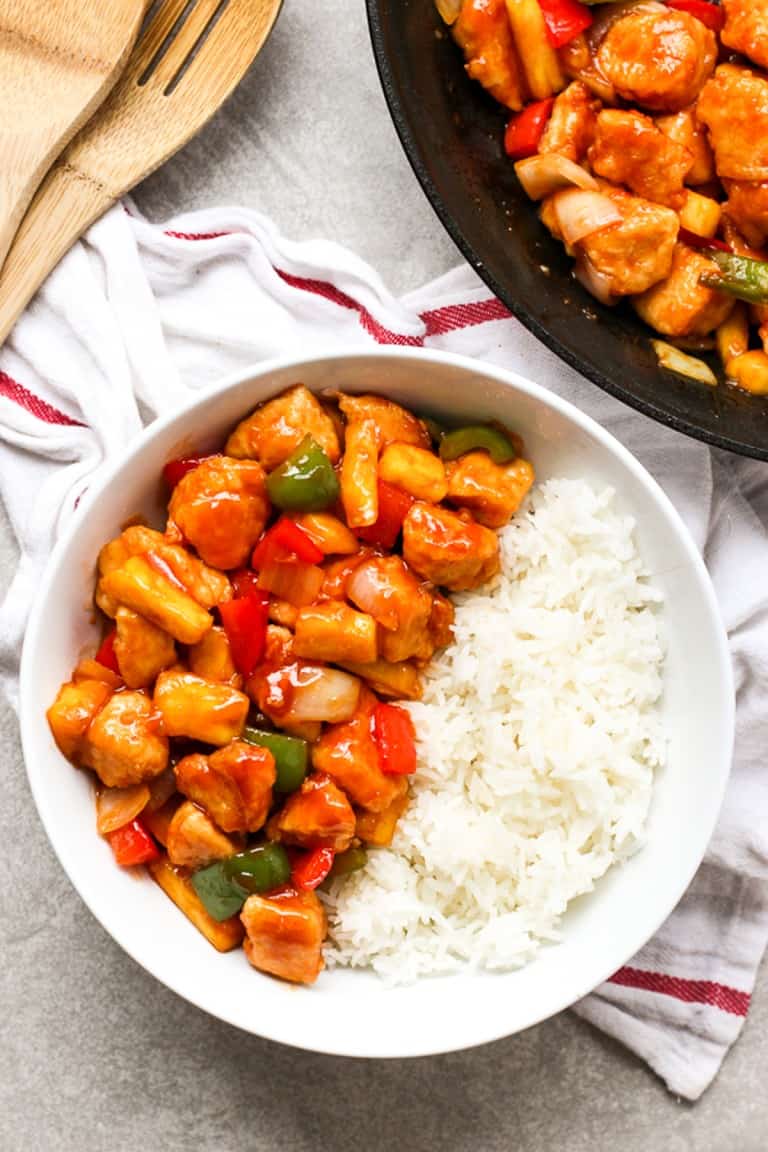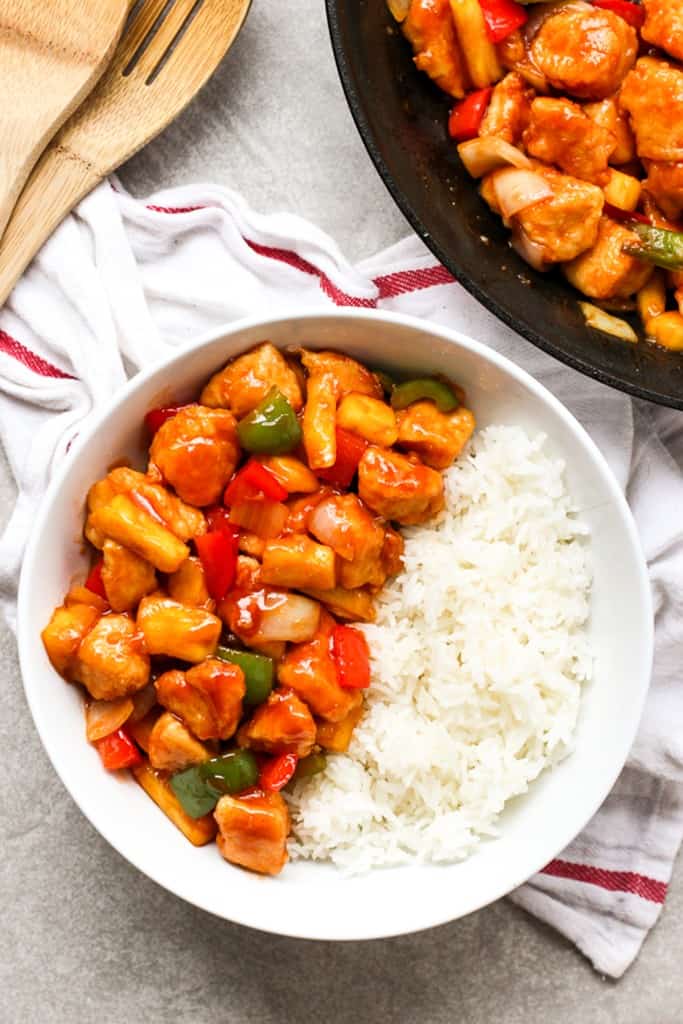 Ingredients
To make sweet and sour chicken, here are the key ingredients you will need:
chicken pieces – cube chicken breast or chicken thighs
corn starch – used as the coating for chicken pieces
all-purpose flour – also used as a coating for chicken pieces
salt – used to season the coating for chicken pieces so that there's a little bit of flavor on there
bell peppers – red, green, yellow…any bell peppers work!
onions – red, yellow, white, sweet onions work!
We make our own delicious homemade sweet and sour sauce, which I think is pretty fantastic and makes this dish what it is. It calls for just a few pantry-friendly ingredients below:
ketchup – contributes to the tangy/sour flavors, with a hint of sweetness
rice vinegar – typically found in the Asian section of the grocery store. If you cannot find this, white vinegar works as well.
granulated sugar – this will offset the tanginess in the vinegar
soy sauce – this gives the sweet and sour sauce an umami, Chinese-inspired taste.
garlic – use fresh minced garlic for best taste. Try to avoid using garlic powder!
How to make sweet and sour chicken
Let's get cooking and make some sweet and sour chicken!
Pan-fried healthier chicken
As mentioned earlier, the chicken in Sweet and Sour Chicken is usually deep fried. Most of us will probably not heat up a pot full of hot oil and deep fry chicken at home very often.
Also, let's be honest, it's a lot of oil and a whole lot more unhealthy.
This dish tastes just as good, or even better, when you pan fry the chicken.
What I do is I coat the chicken in an egg mixture, then a corn starch/flour/salt mixture, and then panfry them on a skillet.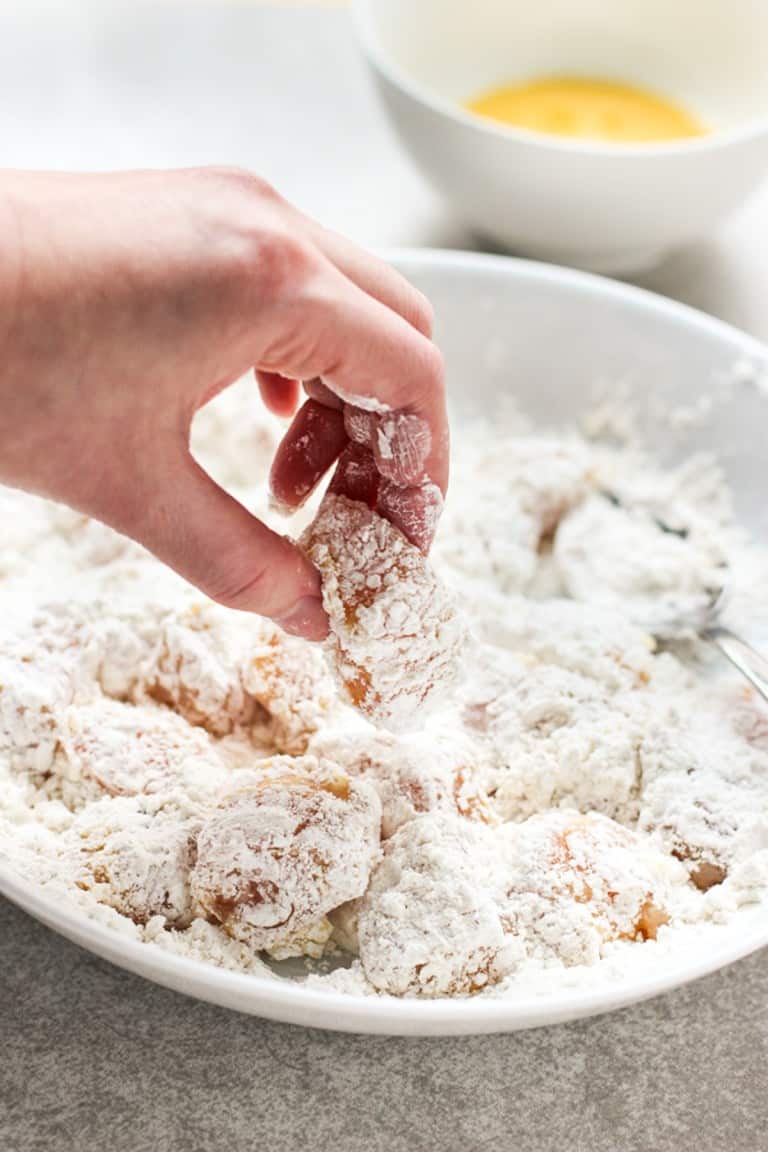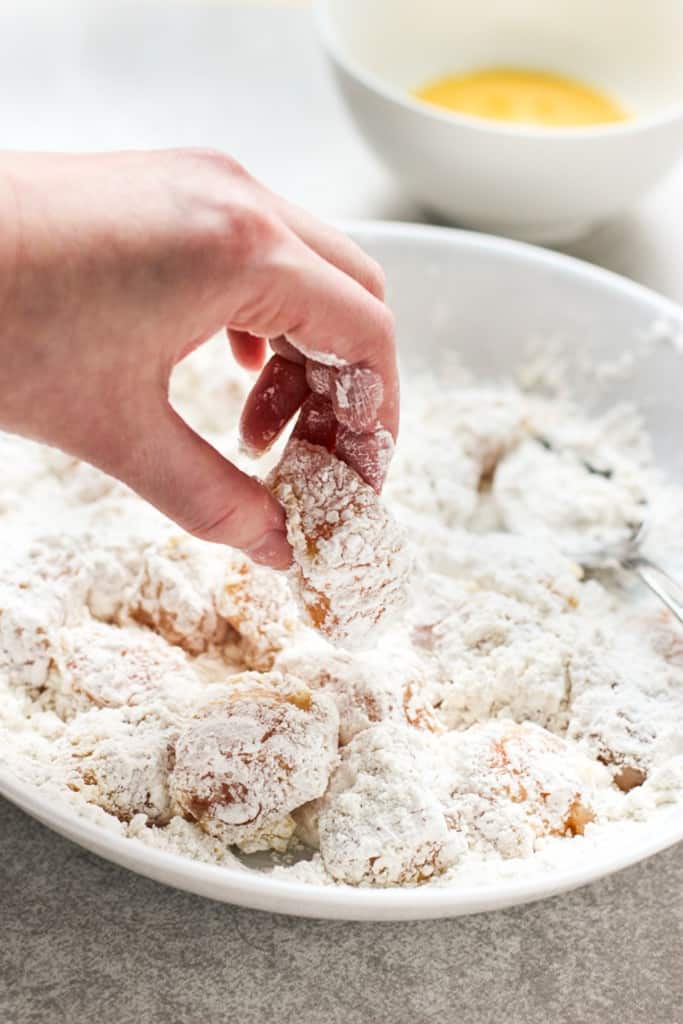 When panfrying, make sure the oil is hot and bubbly before adding the chicken.
Also, do not overcrowd the chicken, and make this in two batches if necessary.
I like to find my biggest skillet possible and make it on there because it will go faster, and less batches are needed.
When cooking the chicken, I typically like to start with medium heat and then cover the skillet so that chicken will be cooked through on the inside before it gets burned on the outside.
Also, warning: Because these chicken pieces are cut into small 1-inch sizes, they fry quickly! Don't overcook chicken because overcook chicken is spongy and not yummy!
Pro tip: use a pair of tongs to pick up chicken pieces. It is much easier than using a spatula.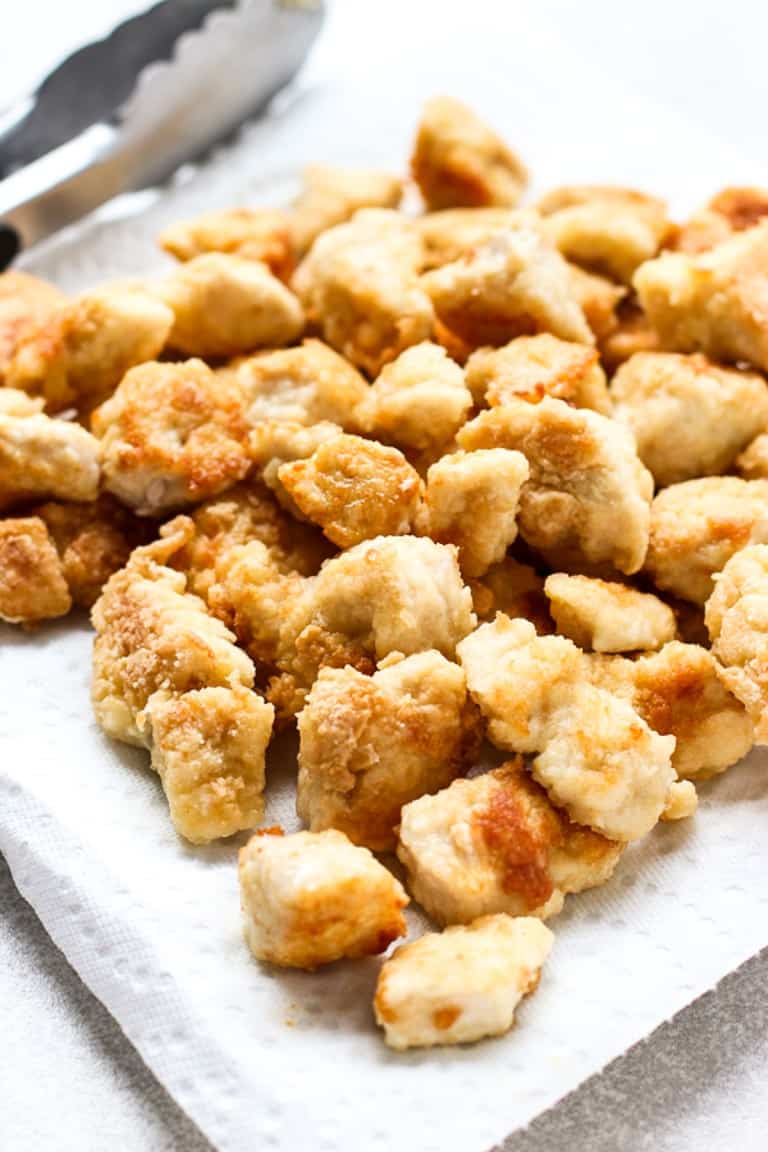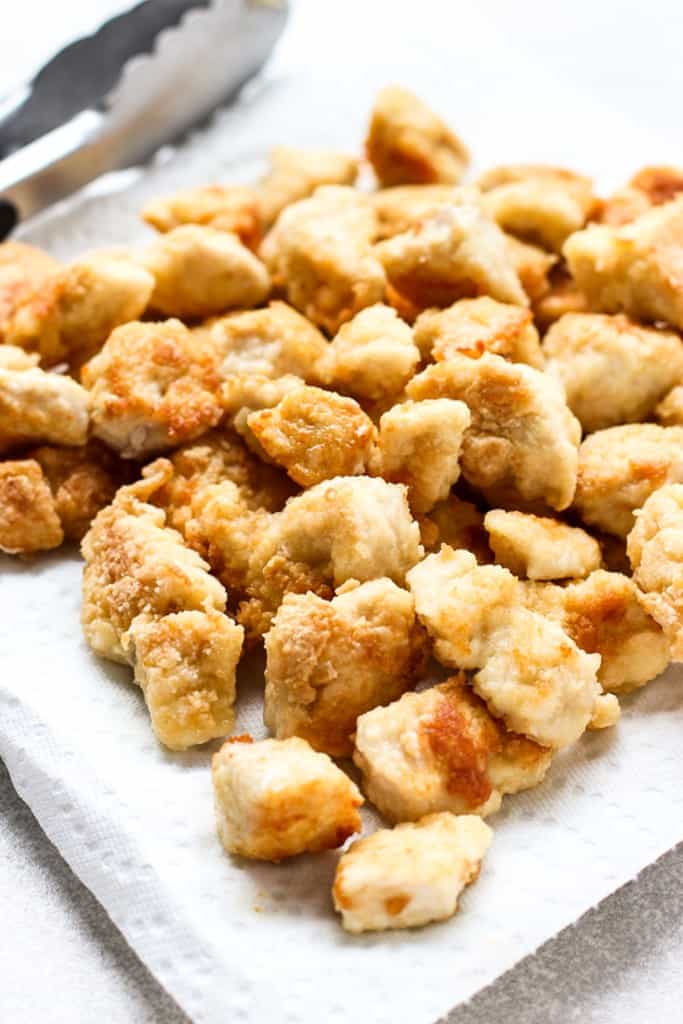 Sti fried veggies
Once chicken is done, remove from skillet, drain access oil on the skillet, and stir fry onions and bell peppers until they are soft.
Remove veggies from skillet and it's time to make the sauce for our sweet and sour chicken recipe!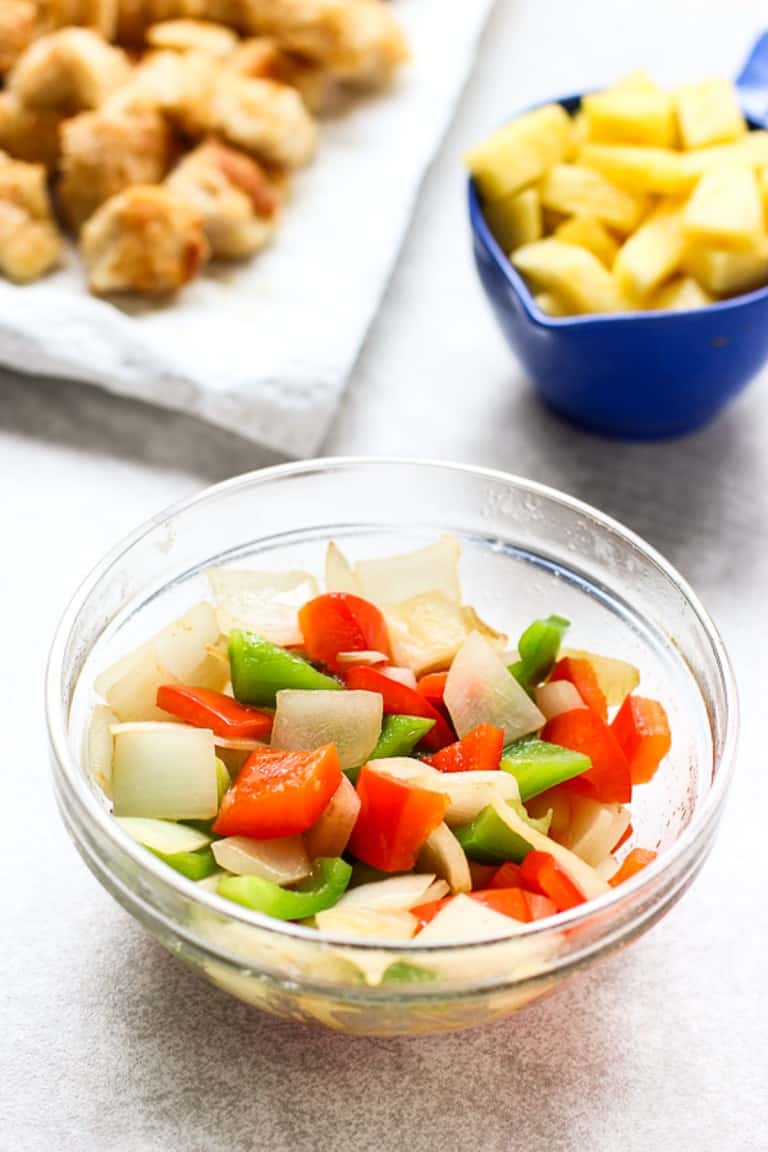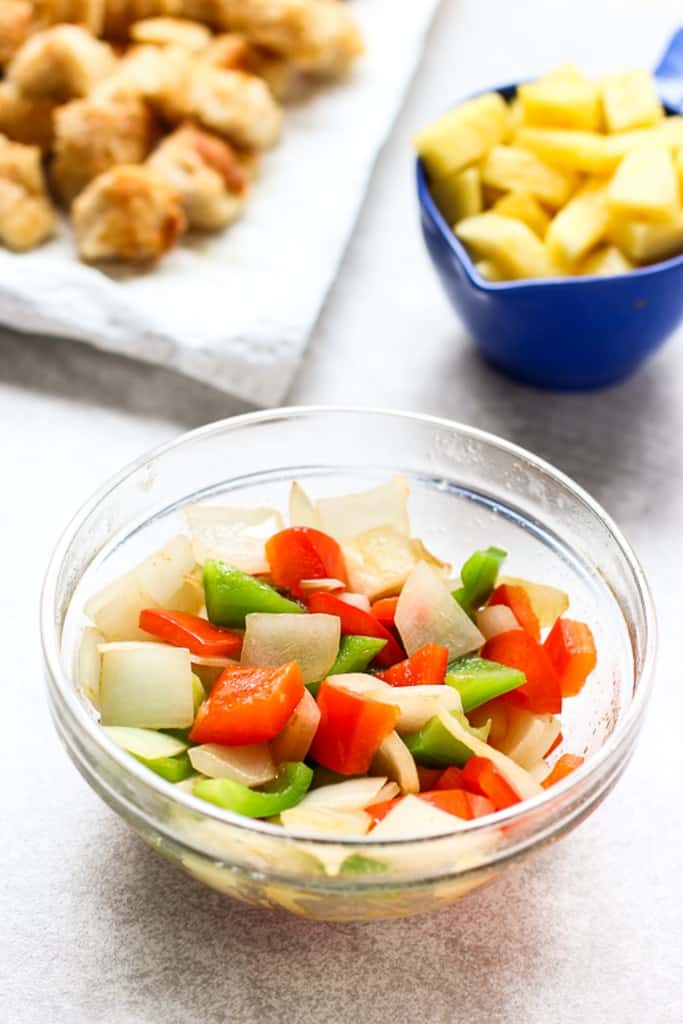 Sweet and Sour Sauce
When I started making my own sweet and sour sauce for this recipe, I knew exactly how I wanted it – not too sweet, not too sour, but packs a flavorful punch. I wanted the sauce to compliment to chicken, not overpower it.
We all know how important the sauce is when it comes sweet and sour chicken.
Sure, you need to not overcook the chicken, and the veggies add to the texture, but let's be real here. We all know the real MVP of this dish. THE SAUCE. It makes or breaks it.
Well, the good news is the sauce is made out of easy-to-find, pantry-friendly ingredients.
All you need is tomato ketchup, soy sauce, rice vinegar, garlic, sugar, and sesame oil (but this is optional).
Just heat them up and you get yourself a solid, delicious sweet and sour sauce. Stir until sweet and sour sauce comes to a boil.
Combine everything!
Once sauce is done, toss chicken pieces and veggies in sauce to coat.
And there you have it, your very own homemade sweet and sour chicken, which is, I must say, much tastier and healthier than the ones you get at Chinese restaurants!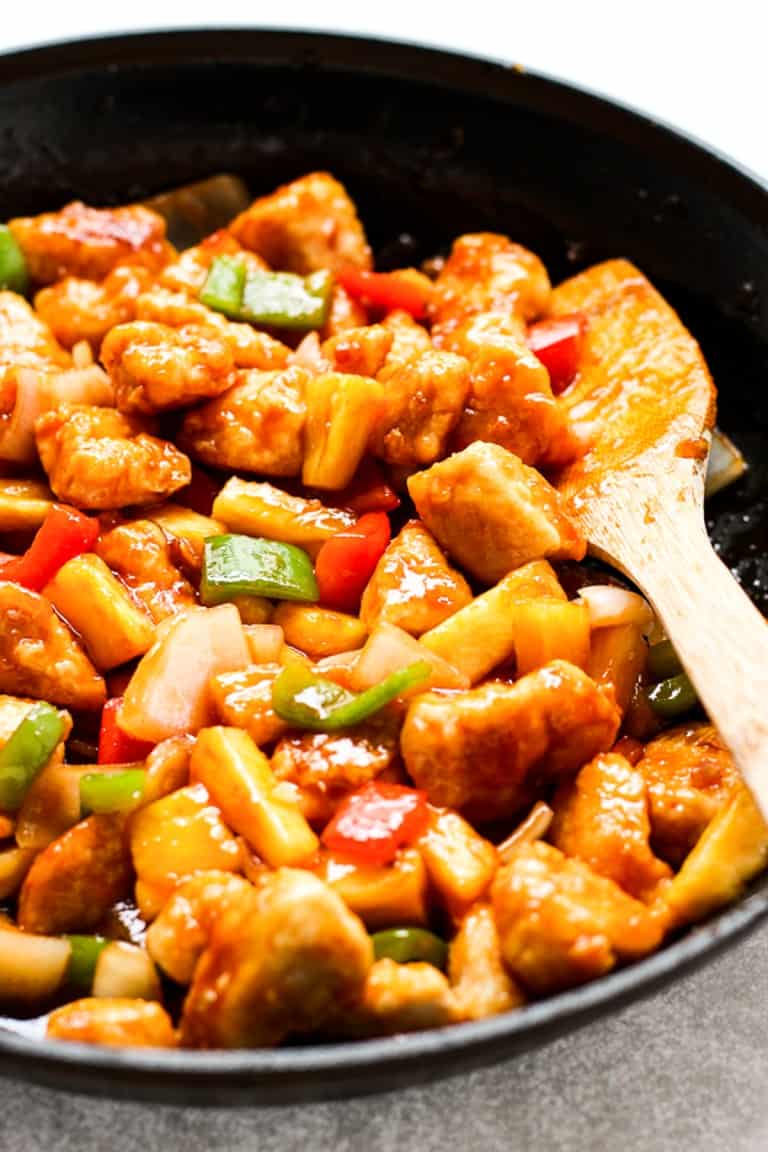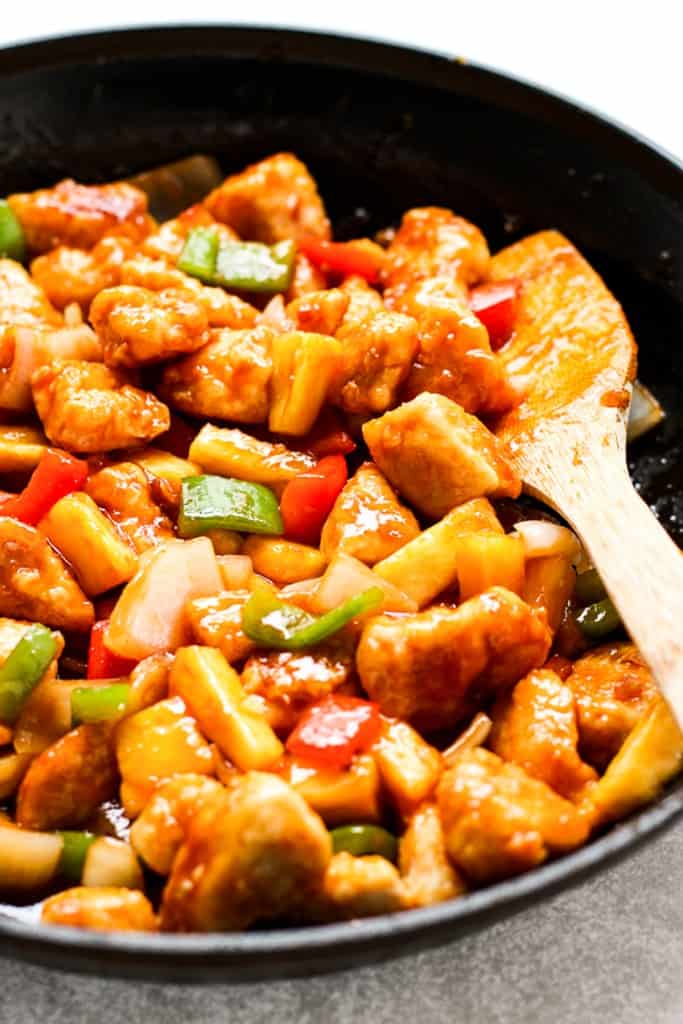 If you make more sauce than you need, you can even use leftovers as dipping sauce for egg rolls, chicken nuggets, veggies, or my Baked Cream Cheese Wontons. Because it is THAT GOOD.
This Sweet and Sour Chicken recipe hits the spot every. single. time. Seriously LEGIT.
How to Serve
Best way to serve this yum thing is with Jasmine brown or white rice. That sticky sauce coated all over the juicy, slightly crispy chicken, and combined with crunchy veggies.
It can be also served with fried rice or noodles.
For a lower carb option, serve with cauliflower rice or wrap sweet and sour chicken in lettuce to make a sweet and sour chicken lettuce wrap!
Frequently Asked Questions
How do I bake the chicken?
To bake chicken, generously spray baking sheet with cooking oil, then place breaded chicken pieces on baking sheet. Bake at 350℉ for 30 minutes, flipping halfway through.
How do I make ahead?
If making ahead, do not toss chicken and veggies in sauce and store them separately. Reheat chicken in toaster oven so that it is crispy, and reheat sauce and veggies in microwave. Toss chicken and veggies in sauce only when ready to serve.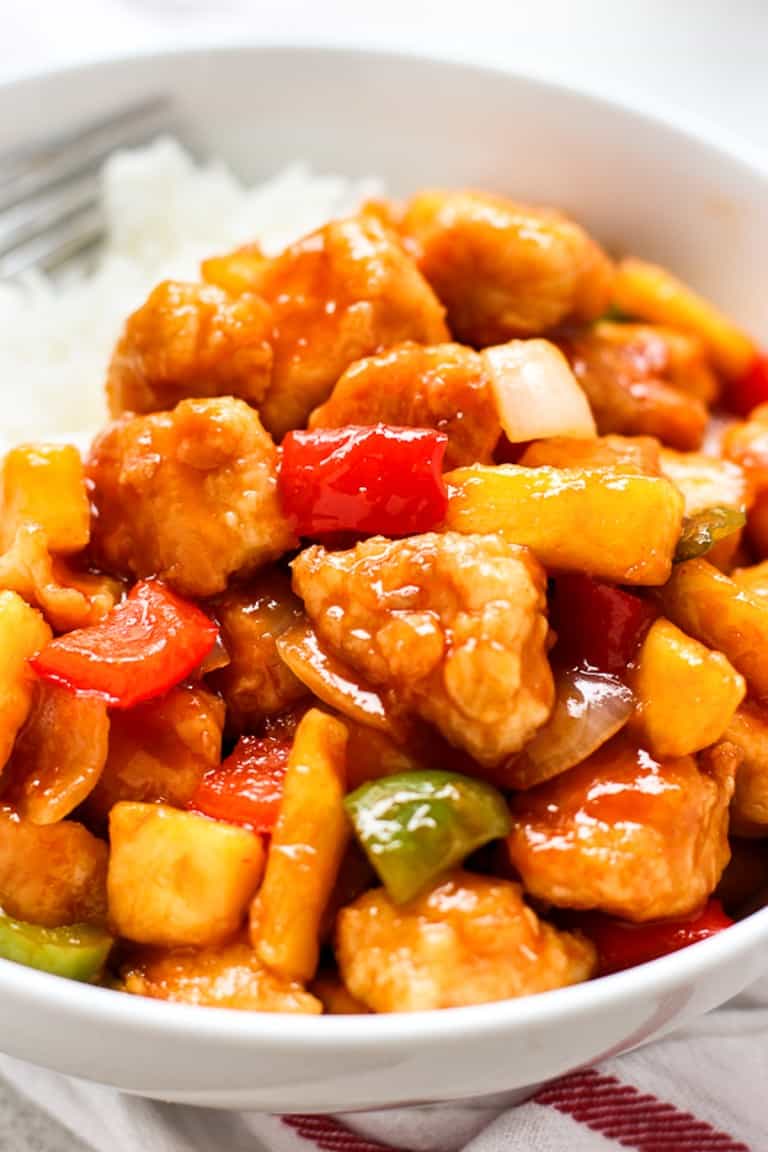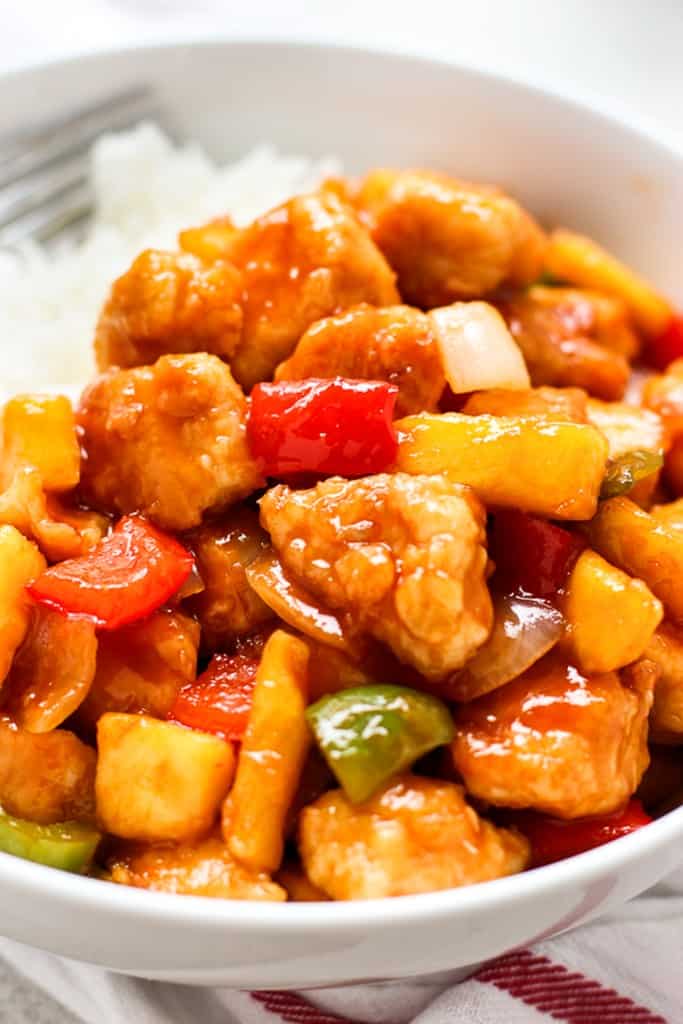 DID YOU ENJOY THIS RECIPE? Please comment below and give us a 5-star rating! This will help others find this recipe on Google and Pinterest. We very much appreciate your help! 🤍
More Chinese Takeout Copycats
Do you like Chinese takeout? Check out some of these other recipes on the blog!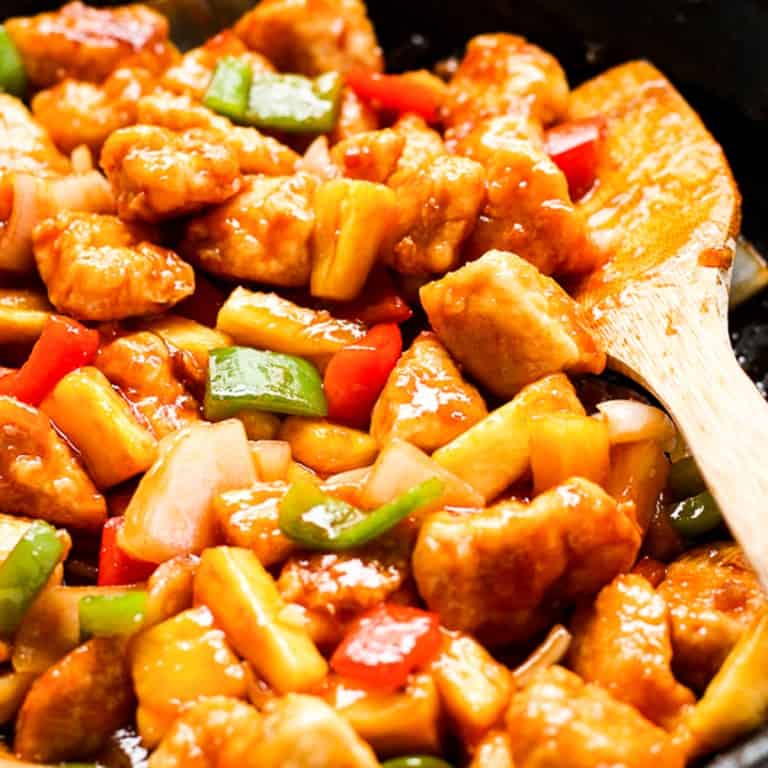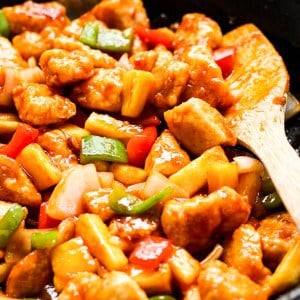 Sweet and Sour Chicken
Make this classic Chinese takeout at home! Crispy, juicy perfectly seasoned chicken tossed in a sweet, sour and tangy sauce, combine with crunchy veggies. Serve with white or brown rice!
Print
Pin
Ingredients
1

lbs

chicken breast

boneless, skinless

1/3

cup

corn starch

1/3

cup

flour

1/2

tsp

salt

1

large egg

vegetable oil

1

cup

onions

sliced

1

cup

bell peppers

sliced

1

cup

pineapple pieces
Sweet and Sour Sauce
1/4

cup

ketchup

1/4

cup

rice vinegar

1/2

cup

sugar

2

tbsp

soy sauce

2-3

cloves

garlic

1/2

tsp

sesame oil

optional
Instructions
Cut chicken into ~1-inch pieces. Pat dry.

In a flat plate or bowl, combine flour, corn flour and salt. In a bowl, whisk egg.

Add chicken to egg mixture. Mix to coat well. Then coat each piece of chicken with flour mixture.

Heat up large skillet with vegetable oil. Make sure there is a thin layer of oil covering the entire surface of the skillet.

Once oil is heated up, add chicken pieces to skillet. Do not overlap or overcrowd skillet; cook in two (or three) batches if necessary. Cook under medium heat and cover if necessary,

Flip chicken over once one side is cooked. Cover again if necessary. Do not overcook chicken. Chicken is cooked once internal temperature reaches 165 degrees F. Remove chicken from skillet and set aside.

If skillet has a lot of burned flour pieces from cooking the chicken, use a paper towel to remove/wipe it off before proceeding.

Heat skillet and add more vegetable oil if necessary (we don't need a lot for this). Once oil is heated, add bell peppers and onions to skillet and stir fry for ~1 minute under medium heat. Do not overcook the vegetables. The goal is to slightly soften the vegetables so it is not completely raw. Remove promptly.

Add sauce ingredients to skillet, stir and let it come to a boil. Lower heat and let it simmer for a minute or so, or until sauce thickens slightly.

Bring cooked chicken, cooked bell peppers, cooked onions, and pineapple pieces back to skillet. Toss chicken and veggies with sauce. Remove from heat promptly.
Nutrition
Calories:
534
kcal
|
Carbohydrates:
79
g
|
Protein:
38
g
|
Fat:
6
g
|
Saturated Fat:
1
g
|
Polyunsaturated Fat:
1
g
|
Monounsaturated Fat:
2
g
|
Trans Fat:
1
g
|
Cholesterol:
151
mg
|
Sodium:
1443
mg
|
Potassium:
935
mg
|
Fiber:
3
g
|
Sugar:
48
g
|
Vitamin A:
1815
IU
|
Vitamin C:
97
mg
|
Calcium:
52
mg
|
Iron:
2
mg