This post may contain Amazon or other affiliate links. As an Amazon Associate I earn from qualifying purchases at no additional cost to you.
Lemon Butter Parmesan Crusted Pork Chops is a simple yet delicious pork chop dish that you can put together in 30 minutes! The breading is crunchy and coated in lemon butter, bringing amazing flavors and textures to this dish!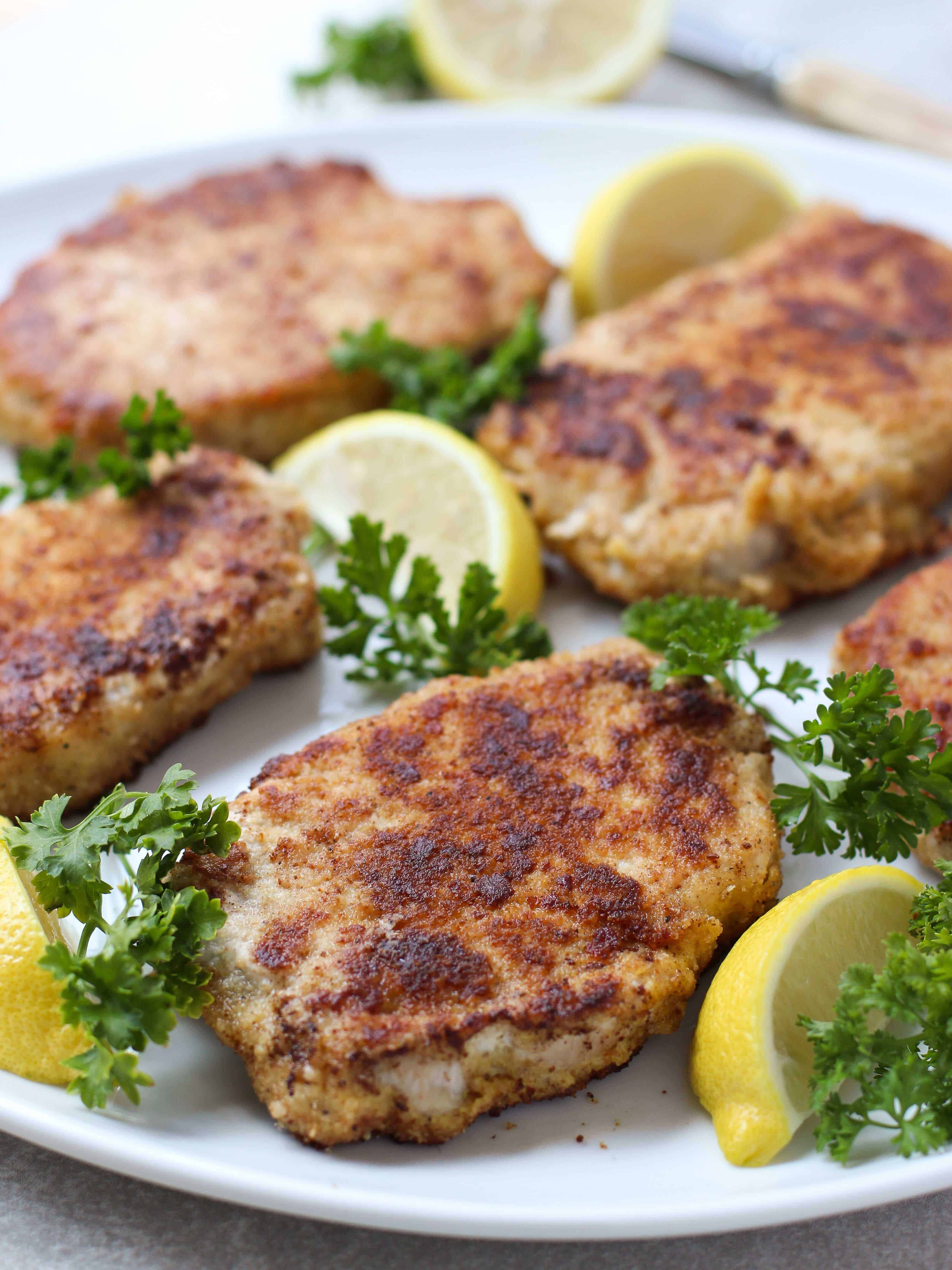 Can I confess something?
Pork is probably my least favorite meat. THERE, I SAID IT. Given a choice, pork will be at the bottom of my list of things to eat.
But here I am making a pork chop recipe….one that I absolutely LOVE.
It all started with me wanting to create an easy meat recipe that anyone can whip together on a busy weeknight. With kids going back to school, summer winding down, I figured quick meals and leftovers are themes in many of our lives.
Since pork is a protein that is a little MIA (except for this yummy Chinese Barbecue Pork recipe) on my blog, I thought why not. Why not give it a shot.
The truth is, I also like to give all kinds of ingredients (including the ones I do not care for) a chance. I don't know if it's the foodie in me, the soft spot in my heart, or I just like a challenge. Probably a little bit of all of the above. I am a big believer that anything, if cooked well, can taste very yummy.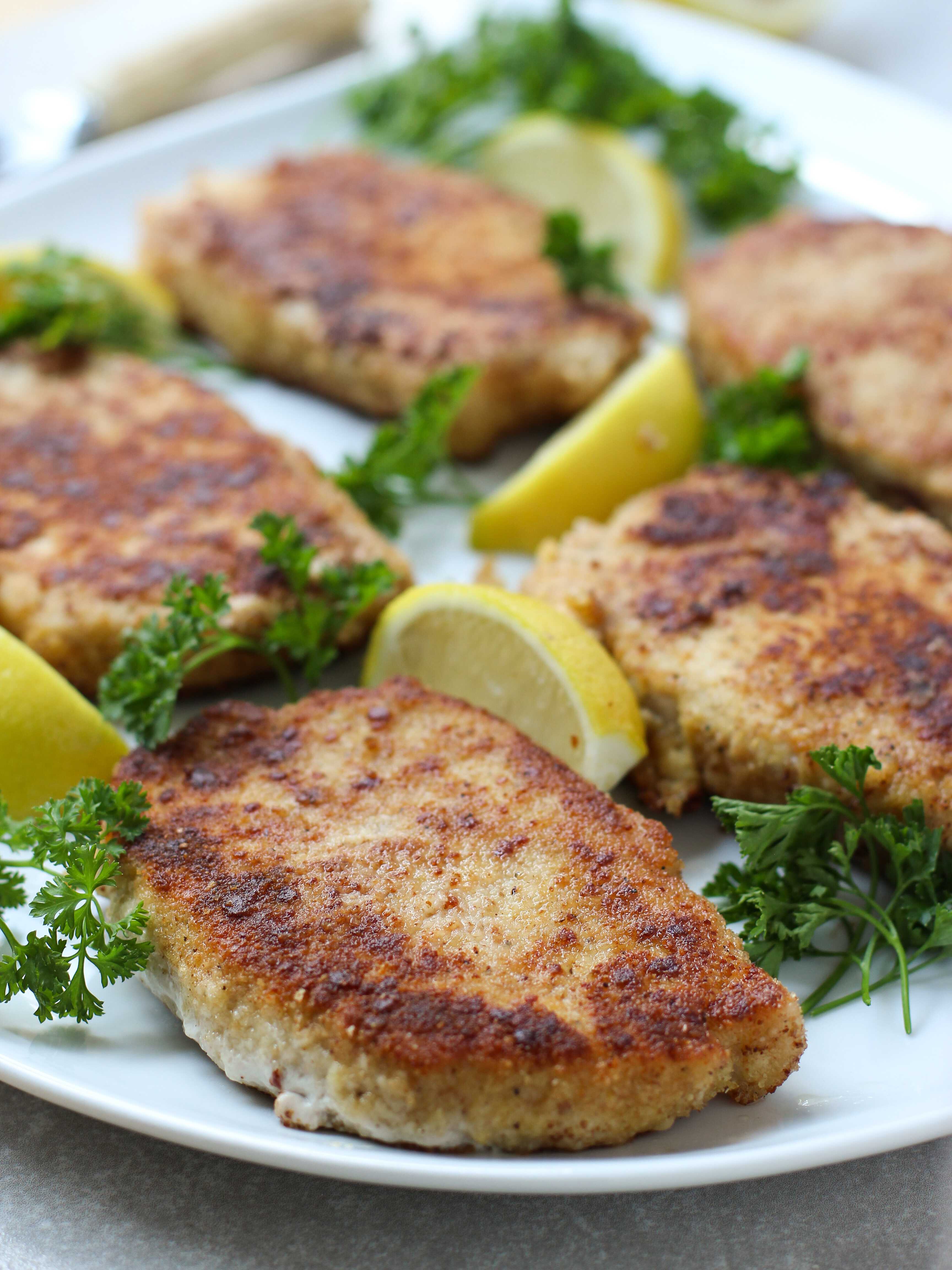 So here comes this pork chop recipe that I've been dreaming up in my head. It is breaded with a crispy, flavorful breading, seared in butter. Uh-huh. BUTTER (Hallelujah). Then sprinkled with fresh lemon juice. Besides, I have a serious thing for butter + lemon combination. And I had a feeling it will make up for my lack of enthusiasm for pork in general.
I must say – I was pretty accurate. Not tryin' to brag, but it is the best pork chops I have ever tasted. Lemon Butter Parmesan Crusted Pork Chops will be how we pork chop from hence forth.
When I said flavorful breading, I meant those words, my friends. The breading is made out of regular breadcrumbs, parmesan cheese (buy the good quality kind!), garlic powder and a little bit of salt and pepper. Dip the pork chops into an egg wash, and then coat it a few times with the breading.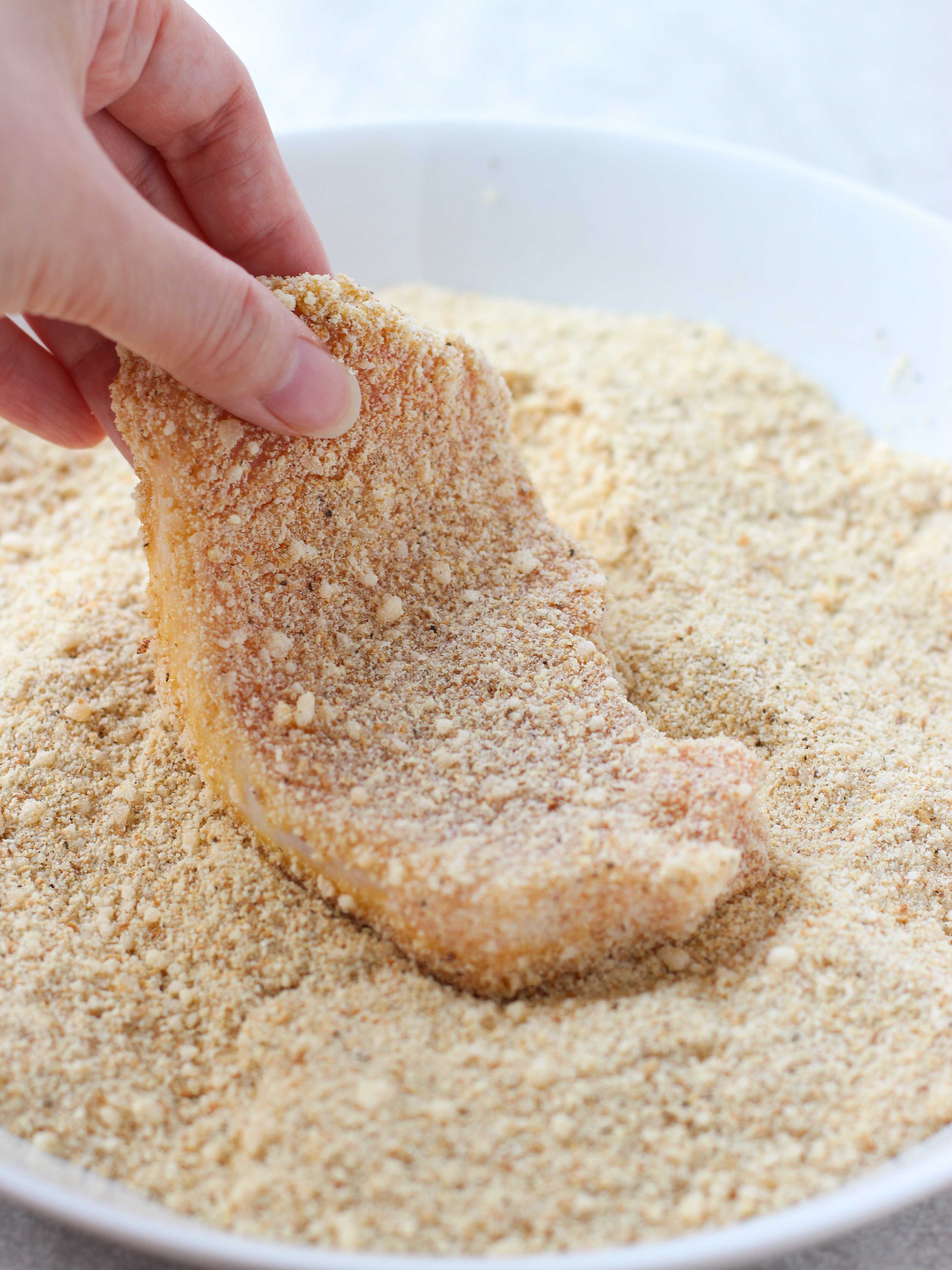 In addition to a solid, we-mean-business breading, we are also incorporating buttery flavor into the chops. Do so by melting butter onto skillet. Once skillet is heated up, add pork chops to the skillet to sear the chops. Let it sit searing in sizzling butter for a few minutes before flipping over and searing the other side.
I like to keep skillet on medium high heat, and then lowering to medium if the crust has browned but the pork is yet to be cooked, so that pork chops don't get too burned (slightly charred is totally fine…in fact I like it better that way!).
I typically remove my pork chops once the internal temperature reaches 145-150 degrees F, then let them sit for a few minutes to "cook further" and they should reach 160 degree F, a safe temperature for cooked pork chops.
Then sprinkle fresh lemon juice onto the chops. This provides a nice citrusy flavor to the buttery breaded chops. A necessary step to take this dish to the next level of awesomeness. In other words, I highly recommend it. 🙂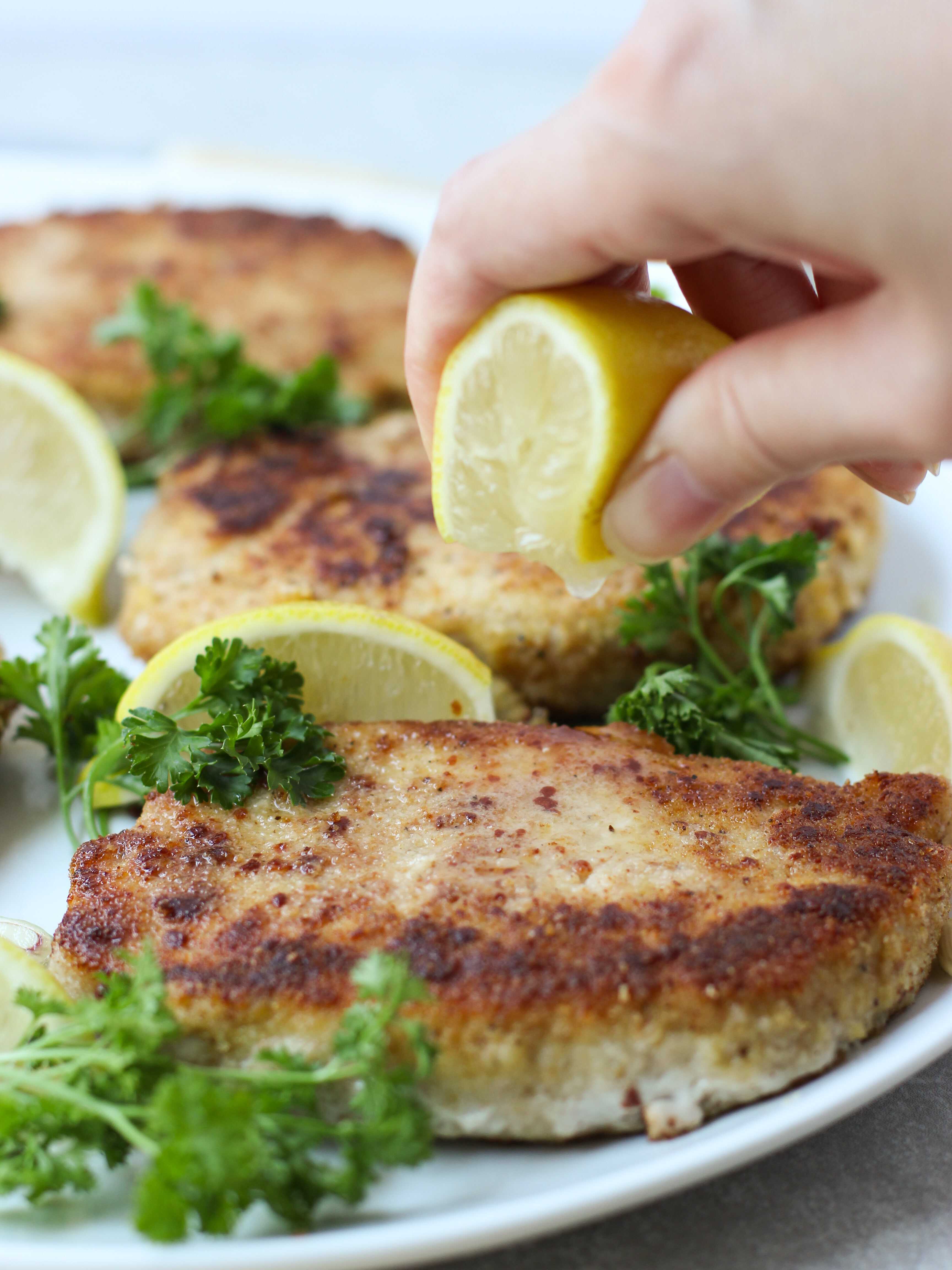 Ah – Lemon Butter Parmesan Crusted Pork Chops. Perfect in every way. I made many, many versions of this when I recipe tested this dish. In other words, we had many, many nights of pork chops. (Since it was delicious, it was not a bad thing 🙂 )
When serving the same main course for a few days in a row, I like to switch up the sides. In four to five meals of pork chops, we had Adult Macaroni and Cheese, Roasted Garlic Parmesan Potatoes, Fruit Salad with Honey Lime Dressing, and Light Raisin Coleslaw as sides. They were all fantastic and went perfectly with the pork.
Try this one out (and maybe the sides too!) and let me know what you think in the comment box below.
Happy cooking, all!
Other Pork Recipes