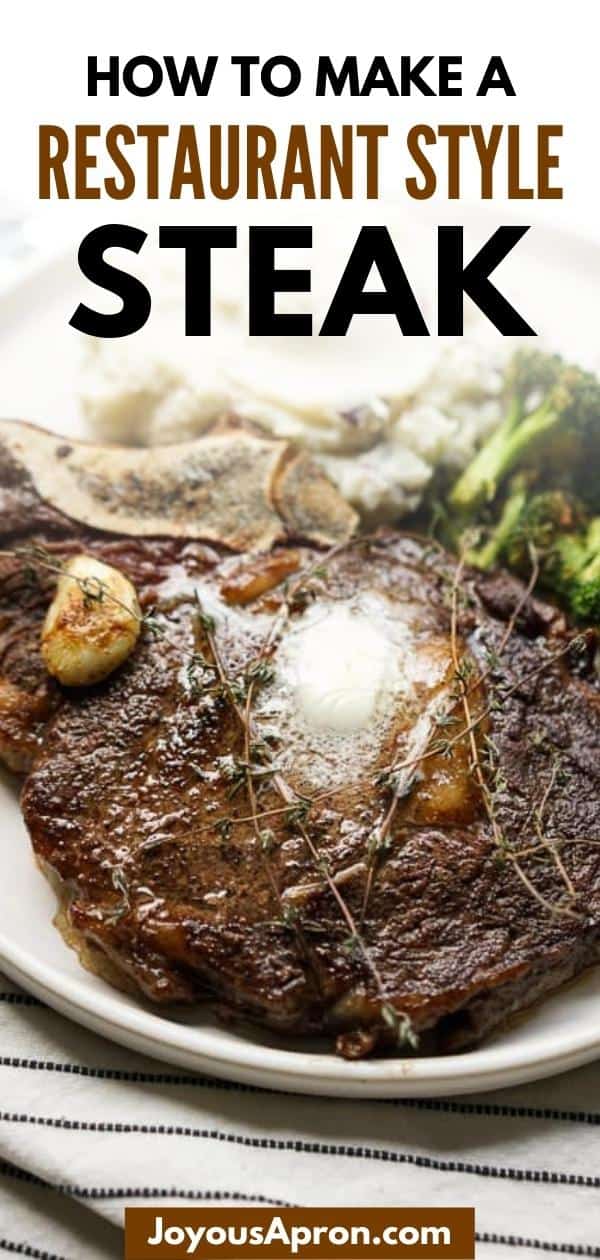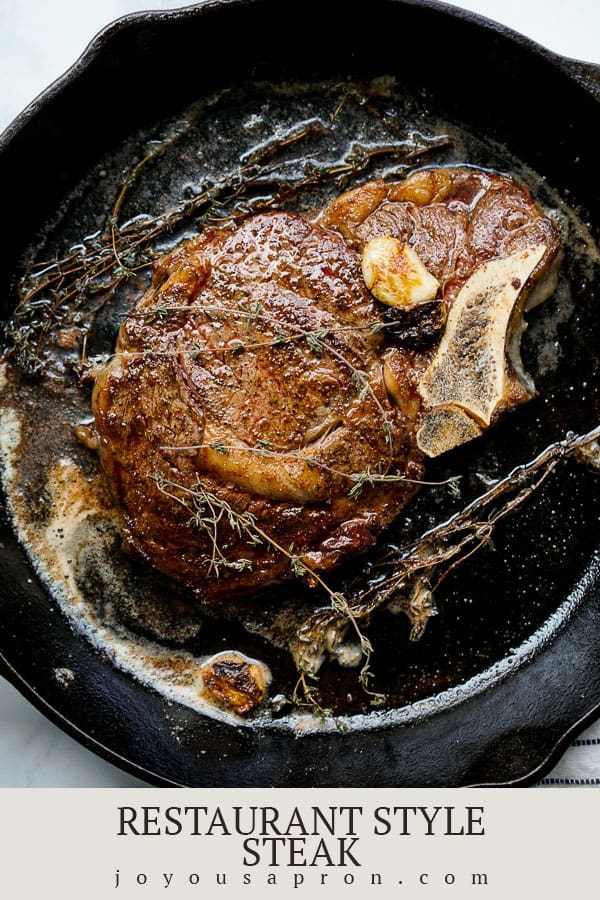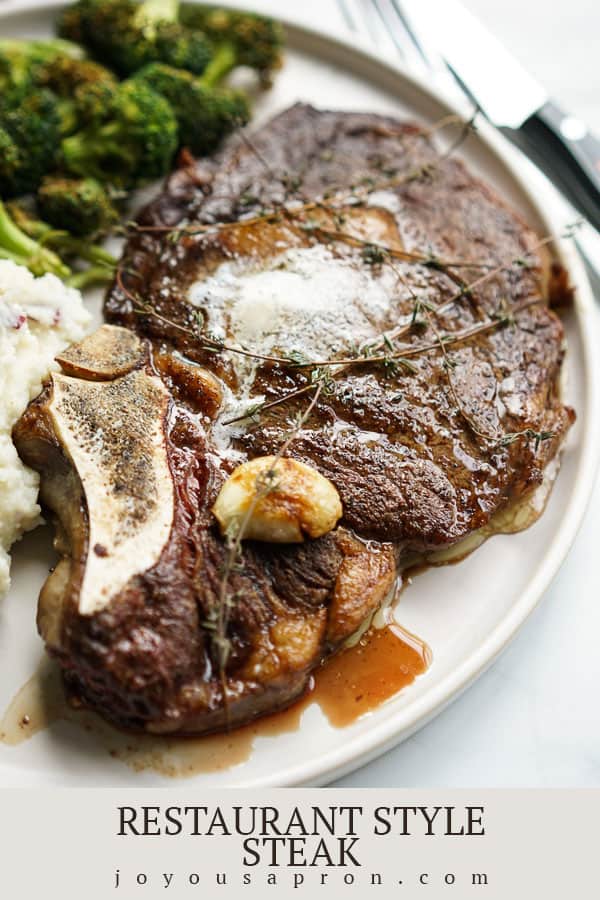 What I am currently dreaming about: a juicy, perfectly seasoned, perfectly cooked restaurant style steak infused with buttery herb flavors, all in the comforts of my own home.
The good news is, as fancy as that sounded, it is actually super simple to make a steak that looks and tastes like it was made in a steakhouse.
And not just a normal steakhouse. Like a really good steakhouse. 😉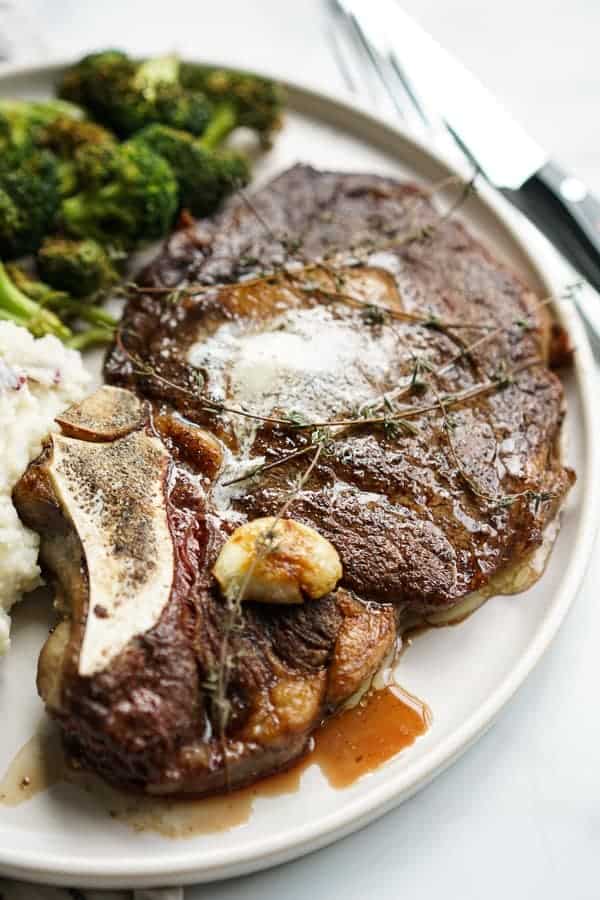 This is my tried and true homemade steak recipe. When I want a good slice of steak, this is how I make it. And it is pretty darn simple.
The key is to use the right tools, and understand the details that go into the art of cooking a steak.
Don't forget to also check these other delicious beef/steak recipes: Cheese Stuffed Burger, Steak Fried Rice, Stovetop Beef Stew, and Beef Bulgogi (Korean BBQ Beef).
Let's make Restaurant Style Steak!
I call this my "special occasion" steak – Valentine's Day, Father's Day, birthdays, anniversaries, Christmas Eve dinner (especially when there's a small crowd), etc.
And also for those few random days in the year when my body just need a good piece of steak.
Often it's after a long week. Or when I don't want to spend a lot of money eating out but want a fancier meal. Or after I am on a veggie-heavy diet and my body decides it needs some serious red meat fix.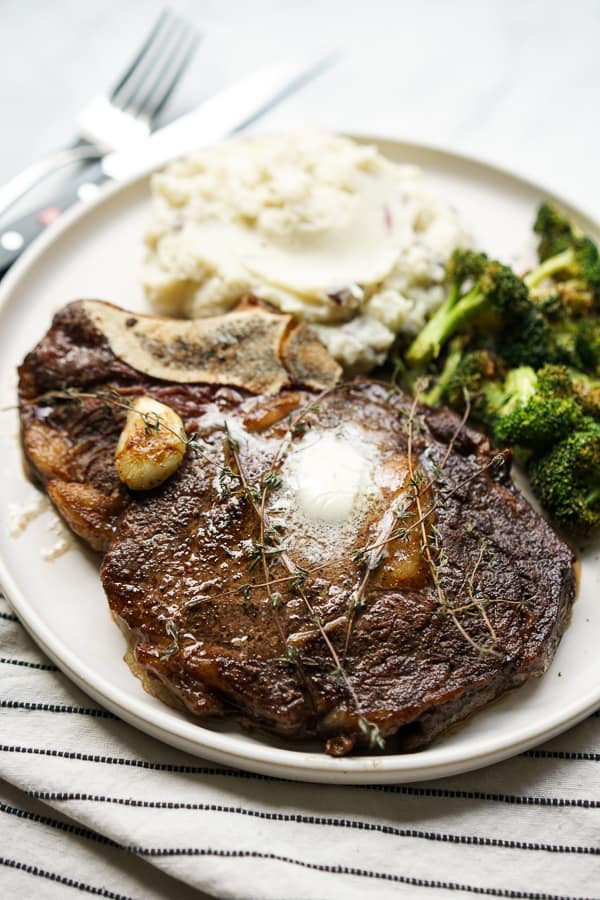 I don't eat a huge piece of steak often. But when I do, I want to go all the way.
Bring on that butter.
Use those fresh herbs.
And most importantly, get a nice, solid cut of meat.
What do you need?
When it comes to appliances, all you need is a cast iron. If you don't have a cast iron, use a non-stick skillet that can withstand high heat and cooks evenly.
I love cooking with this cast iron because it retains heat extremely well and distributes the heat evenly. It is also super affordable and will last for a long time. What can I say, it's one of my favorite appliances in my kitchen!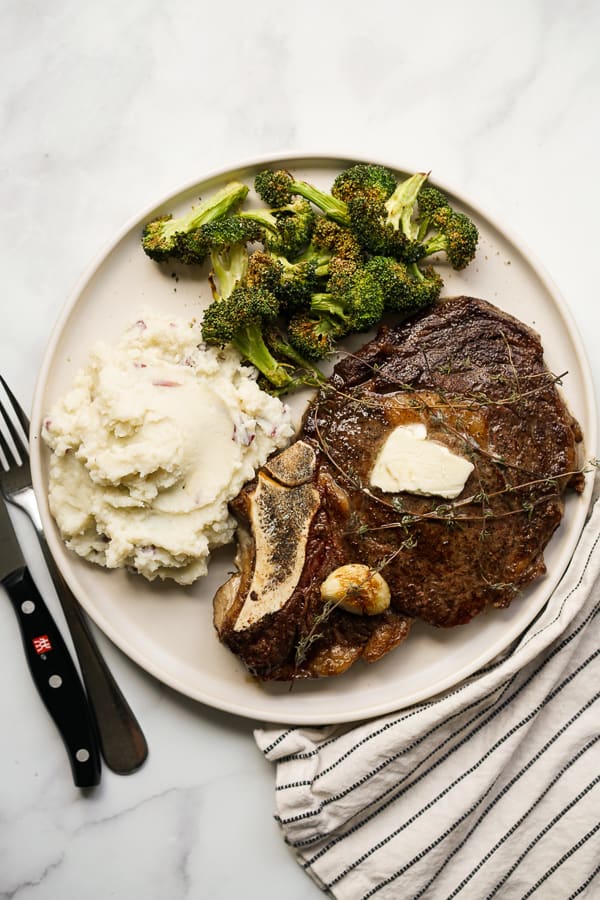 As for the ingredients, we are looking only at a few simple ingredients:
Fresh garlic. None of that garlic powder business please.
Fresh herbs. Avoid using dried herbs – it makes a difference here!
Butter. You better believe we are talking about real butter!
Salt and black pepper.
Steak, of course. 🙂
Here's the truth, when it comes to a solid piece of Steak house Steak, when cooked right, doesn't need much seasonings on it. Because you want to be able to truly tastes the meat, and the seasonings are just there to enhance it.
The real star is the meat.
How to cook steaks in a cast iron?
There is a little bit of art when it comes to cooking this Restaurant Style Steak on the cast iron. Every step is important and I highly recommend following them closely!
Bring steak to room temperature. Avoid cooking steak cold because that will quickly drop the temperature of the cast iron.
Pat dry steak (super important!) so that it will sear well.
Sprinkle salt and black pepper on both sides of the steak. Only add salt and pepper when ready to cook to avoid drying out steaks. Salt will suck the moisture out of steaks.
Sear steak on one side for a few minutes. Do not move it until ready to flip. Then sear on the other side. Also do not move it around after flipping.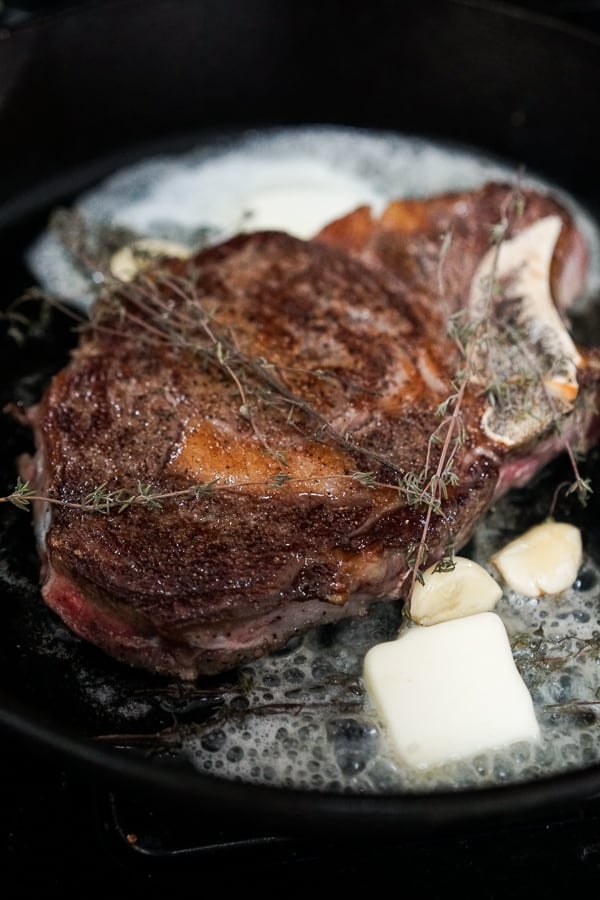 Add butter, crushed garlic and fresh thyme to the skillet. Then take a deep breath and smell the glorious smell of butter, seared steak, and herbs…it is quite amazing.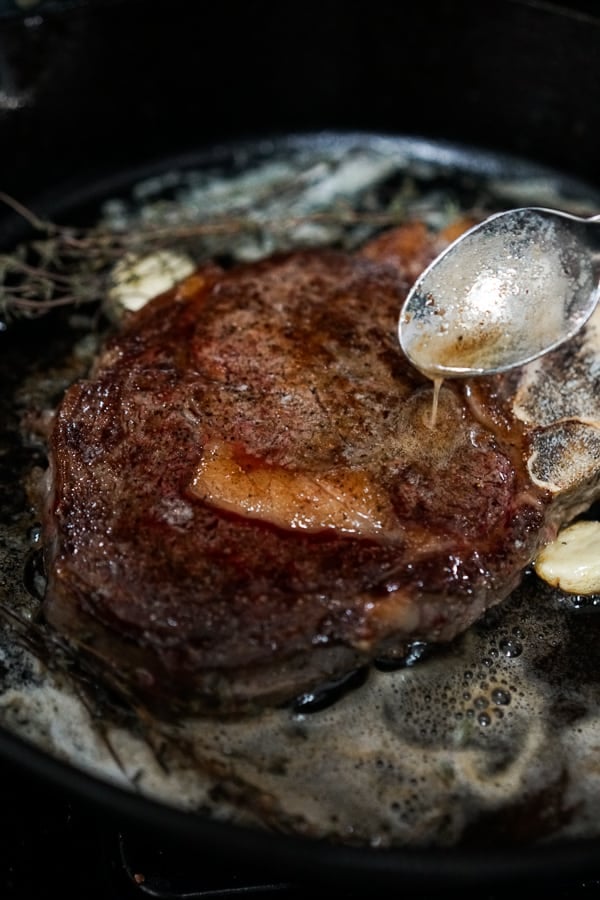 Use a spoon to drizzle butter over the top of the steak as it cooks. This will help cook the steak and give the top of the steak more buttery flavor. Okay yum…
I like to lower to medium/medium low heat after flipping the steaks. This will ensure the inside of the steak gets cook before the outside burns and becomes too crusty/burned. You should adjust the heat as you see fit.
The thicker the steak, the lower the heat you will need because thicker steaks will take longer cook.
Remove promptly when ready! Use a meat thermometer to determine when it is ready depending on how you like your steaks cooked.
Let steaks sit on a plate wrapped with aluminum foil for 3-4 minutes.
Serve that Steak house Steak like a boss! Add with more butter to the steak because why not! 🙂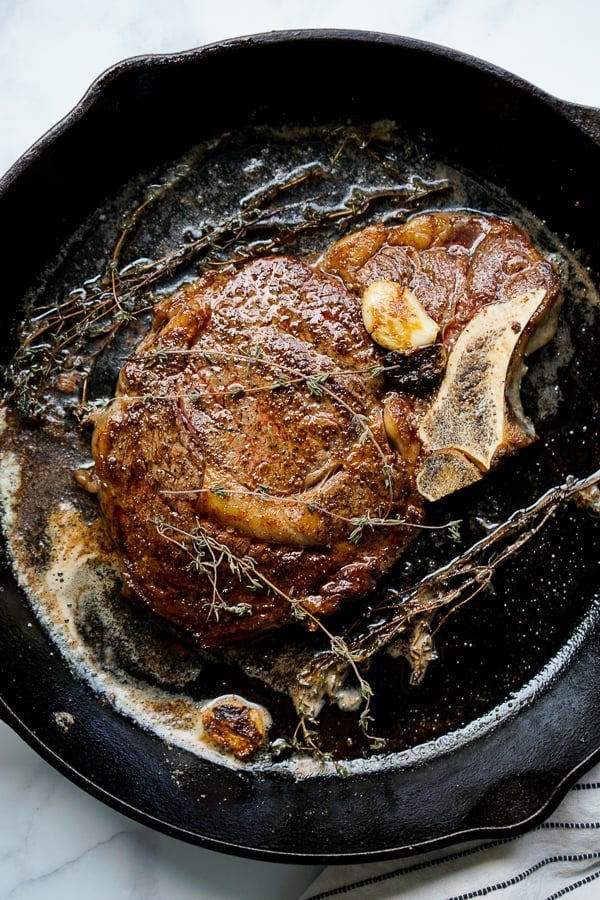 Steak temperature
To make steaks just like a restaurant or steakhouse does it, getting it to the right temperature is important!
Here is the guideline for temperature and doneness for a steak! Remember to use a meat thermometer to check the thickest spot of the steak and also a few other random spots.
Medium rare – ~140 degrees F
Medium – ~150 degrees F
Medium well – ~160 degrees F
Well done – ~165 degrees F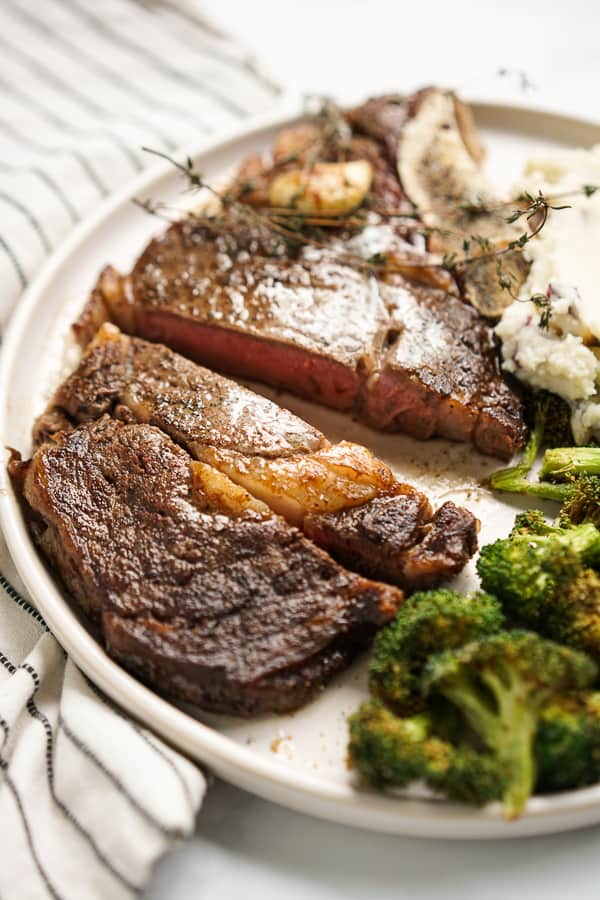 What cut of meat to use?
I highly recommend a more tender cut of meat, and to avoid tough cuts. Rib eye, sirloin, filet mignon are all good options. NY strip would work too but it could be slightly tougher than the ones I just mentioned, but a thinner slice will be more tender.
We are searing the meat and cooking it fairly quickly, not taking the time to break down the fiber like you would if you are cooking Beef Stew. So a nicer, more tender cut is ideal.
When selecting the meat, I typically look for some marbling, which is fat that runs through the meat, but also avoiding high fat to meat ratio.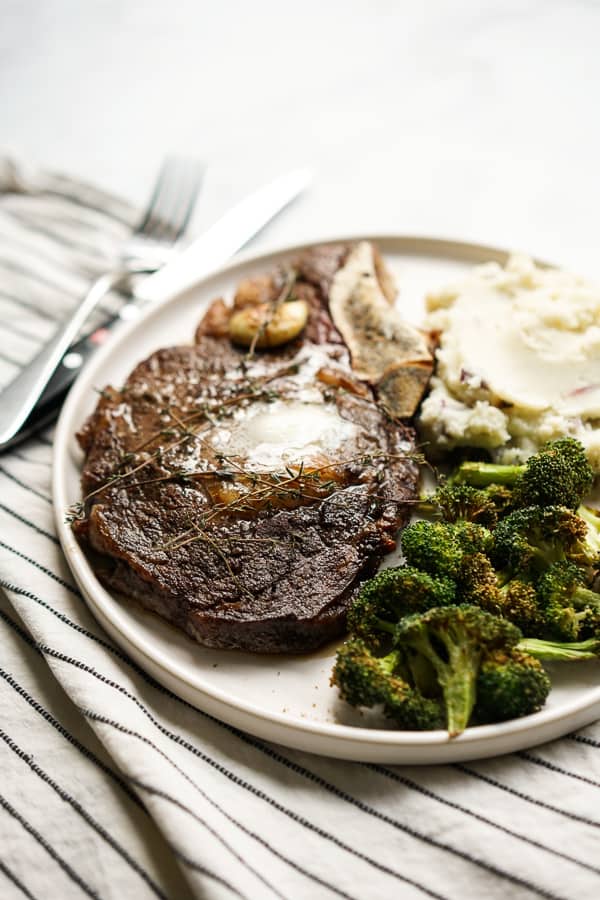 Seriously, this Restaurant Steak is one of the easiest and most delicious recipes.
When I want a steak at home, this is how I make it happen.
It tastes just as good as Steakhouse Steaks that you get at fancy restaurants.
Easy. Delicious. Quick. Budget-friendly.
And before you know it, you'll be making your own steaks at home and skipping those fancy and expensive steaks in restaurants!
Give it a try and let me know what you think! 🙂
What to serve with steaks?
Here are some of my favorite sides to serve with steaks!
DID YOU ENJOY THIS RECIPE? Please comment below and give us a 5-star rating! This will help others find this recipe on Google and Pinterest. We very much appreciate your help! 🤍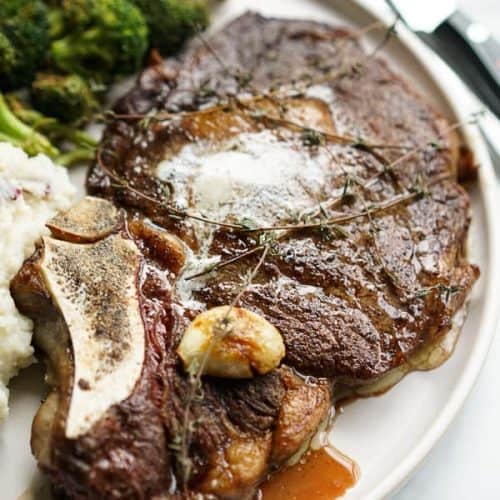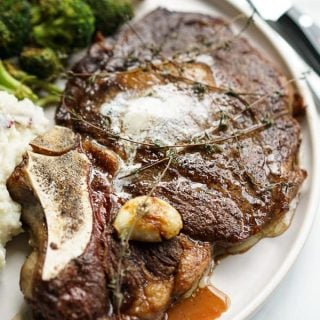 Restaurant Style Steak
Easy, delicious, flavorful, perfectly seared steaks cooked on a cast iron. Skip the fancy steakhouse and make these Restaurant Style Steaks at home today!
Print
Pin
Ingredients
1

lbs

ribeye, sirloin , filet mignon or NY strip steak

salt

black pepper

2-3

tbsp

salted butter

more if needed

3-4

cloves

garlic

A few

springs

fresh thyme
Instructions
Bring steak to room temperature. Avoid cooking steak cold.

Preapre other ingredients – cut butter into smaller pieces, and crush garlic cloves.

Pat dry steak and sprinkle salt and pepper on both sides (only add salt and pepper to steak when ready to cook).

Add vegetable oil to cast iron. Heat on medium to medium high heat. Once cast iron is hot, sear steak on one side for a few minutes until it is slightly golden brown. Do not move the steak until it is ready to flip. Flip, then sear on the other side.

Add 2 tbsp of butter to cast iron (spread them out around the steak), then add crushed garlic and fresh thyme.

Lower to medium/medium low heat after flipping the steaks. This will ensure the inside of the steak gets cook before the outside burns and becomes too crusty/hard. Adjust the heat as you see fit. The thicker the steak, the lower the heat you will need because thicker steaks will take longer cook.

Use a spoon and scoop melted butter and drizzle onto the top of the steak a few times. Add more butter if the bottom of the cast iron has dried out.

Use a meat termometer to check the temperature of the thickest part of the steak and other random spots on the steak. Once it is ready, remove from heat.

Place steak on a plate and wrap with aluminium foil. Let it sit for 3-5 minutes.

Optional: Add more butter to steak if desire! 🙂
Nutrition
Calories:
580
kcal
|
Carbohydrates:
2
g
|
Protein:
46
g
|
Fat:
43
g
|
Saturated Fat:
21
g
|
Polyunsaturated Fat:
2
g
|
Monounsaturated Fat:
18
g
|
Trans Fat:
1
g
|
Cholesterol:
168
mg
|
Sodium:
800
mg
|
Potassium:
636
mg
|
Fiber:
1
g
|
Sugar:
1
g
|
Vitamin A:
387
IU
|
Vitamin C:
1
mg
|
Calcium:
30
mg
|
Iron:
4
mg