Red Wine Braised Short Ribs
An elegant and lovely meal that is surprisingly easy to make! This fall-off-the-bone Red Wine Braised Short Ribs is made in the Dutch Oven – first briefly on the stovetop, then slow cooked in a a red wine herb sauce in the oven for a few hours.
The result is a tender, flavorful piece of meat that is comparable to the ones you get from fancy restaurants…only that it is much cheaper!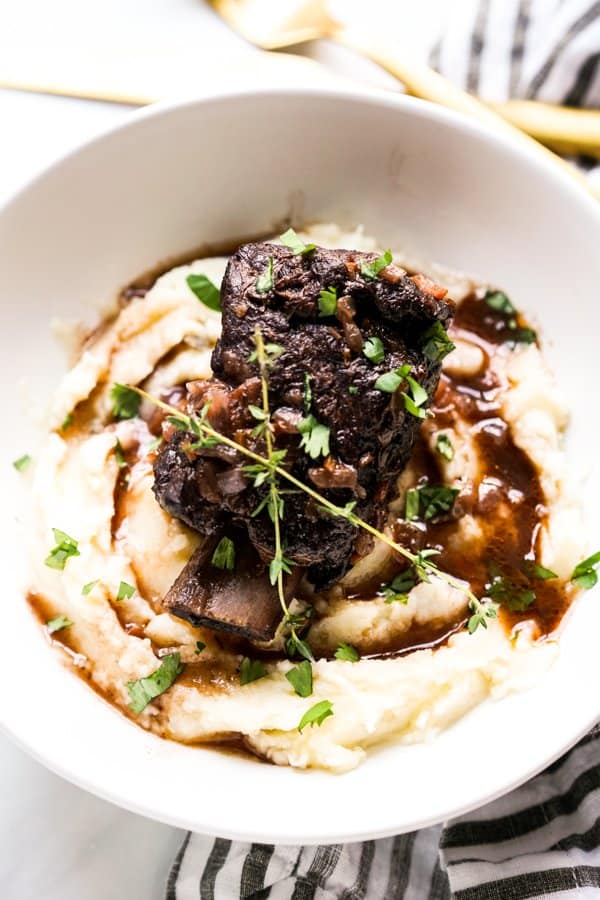 Here's the good news for those of you who took one look at this and go: err, no way I'm attempting this fancy thing.
This fancy thing is actually SUPER EASY to make!
This Red Wine Braised Short Ribs might exude all the fanciness, but it takes 15 minutes of active time, while the Dutch oven and oven do all the hard work.
Yes, you'll need a couple of hours so that the fiber in the meat is broken down and the end product is tender, juicy and just falls off the bone at the touch of your fork.
But that is all passive time. Time where you can walk away, finish up laundry, cook another meal, take care of the million and one things you have going on in the house.
It is quickly becoming my go to fancy-meal-at-home recipe. Perfect for dinner parties, romantic dinners, cooking at home on special occasions, Valentine's Day, or a small Christmas or any holiday gathering.
I love how it mimics something you get at a fancy restaurant, and yet is very attainable in an everyday kitchen.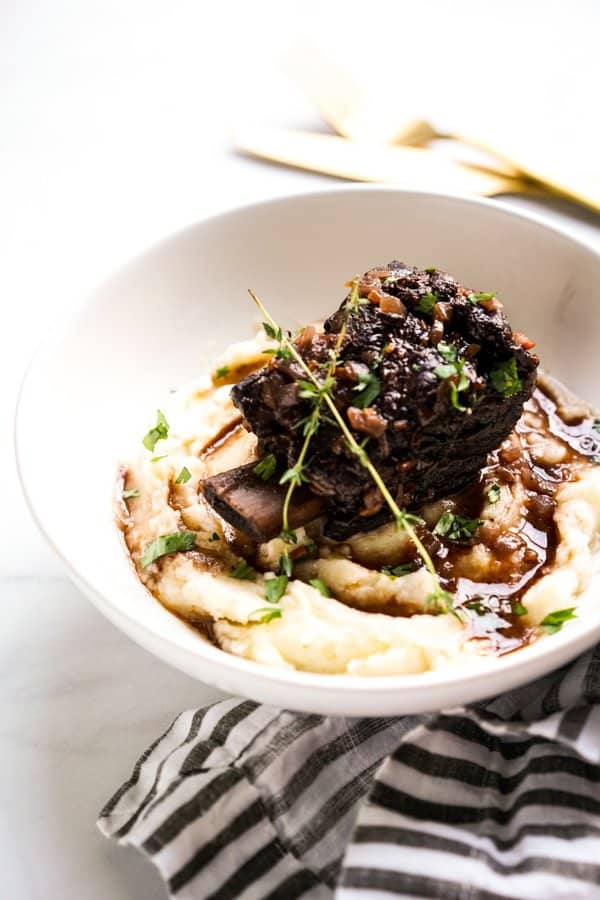 Ingredients
Here are the ingredients you will need:
Beef Short Ribs – it is usually already cut into smaller pieces (a few inches long) and is attached to a bone.
Red wine – use dryer red wine such as Cabernet Sauvignon, Merlot, Zinfandel, Shiraz/Syrah etc. Avoid sweet wines.
Tomato paste
White onion – or sweet onion and yellow onion
Garlic – use fresh! Avoid substituting with garlic powder.
Carrots
Fresh thyme – fresh thyme brings about a more intense flavor to the dish. Avoid using dried thyme.
Bay leaves
Salt and black pepper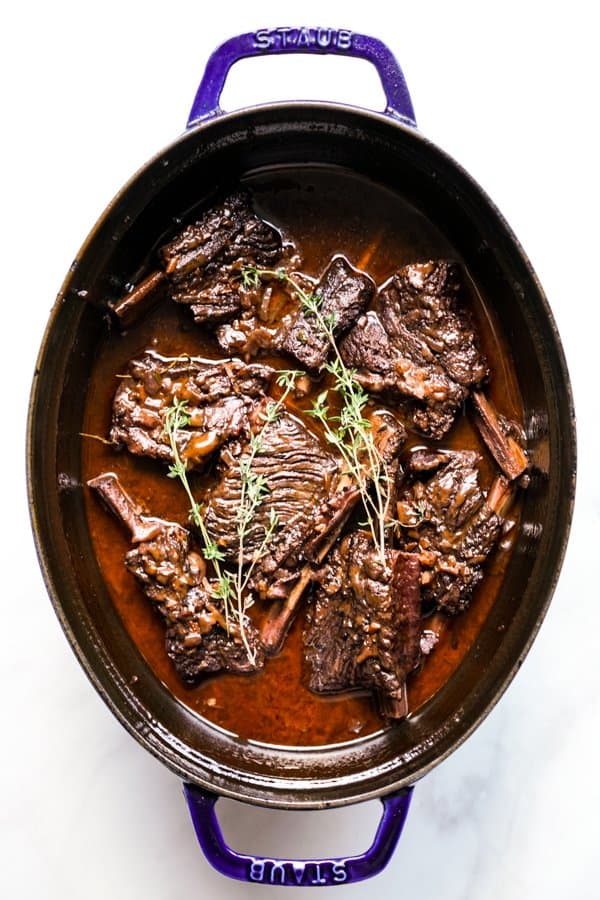 How to Braise Beef Short Ribs
We will start by seasoning the short ribs generously on all sides with salt and black pepper.
And when I say generous, I mean very generous.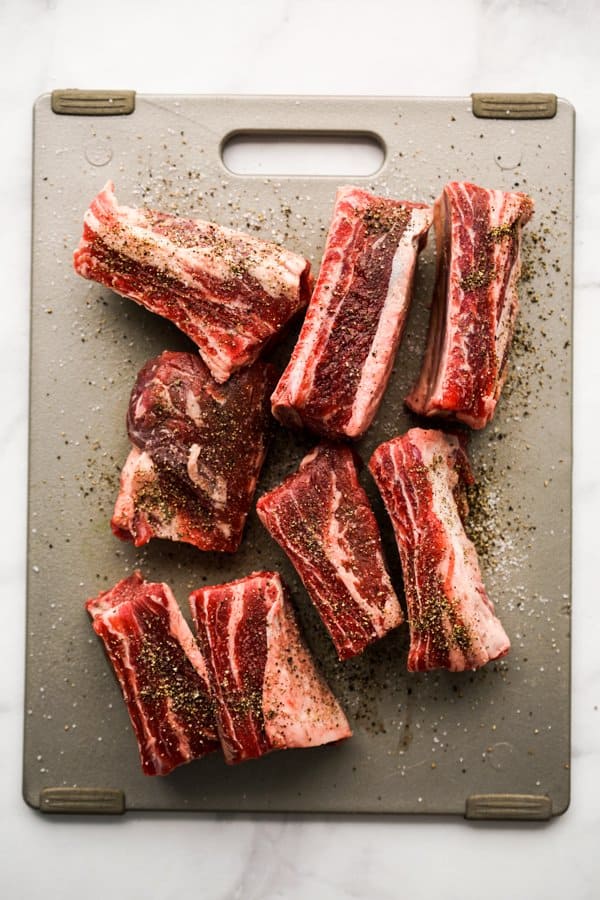 We will be braising these beef short ribs, so that means we will be searing it on the stovetop and then slow cooking the beef short ribs under low heat so that it is tender and falls apart easily.
To do that, we will be using a Dutch oven. Dutch oven retains heat well and cooks evenly, which yields a very delicious product. Any Dutch oven larger than 5 qt should work well for this recipe calling for 3lbs of short ribs.
After seasoning the short ribs with salt and black pepper, sear them on medium high heat with cooking oil in the dutch oven. Do not overcrowd Dutch oven and sear in two batches if necessary.
Remove short ribs and bring the chopped onions, carrots, and garlic into the Dutch oven. Sear until they are tender, then bring the short ribs back into the pot.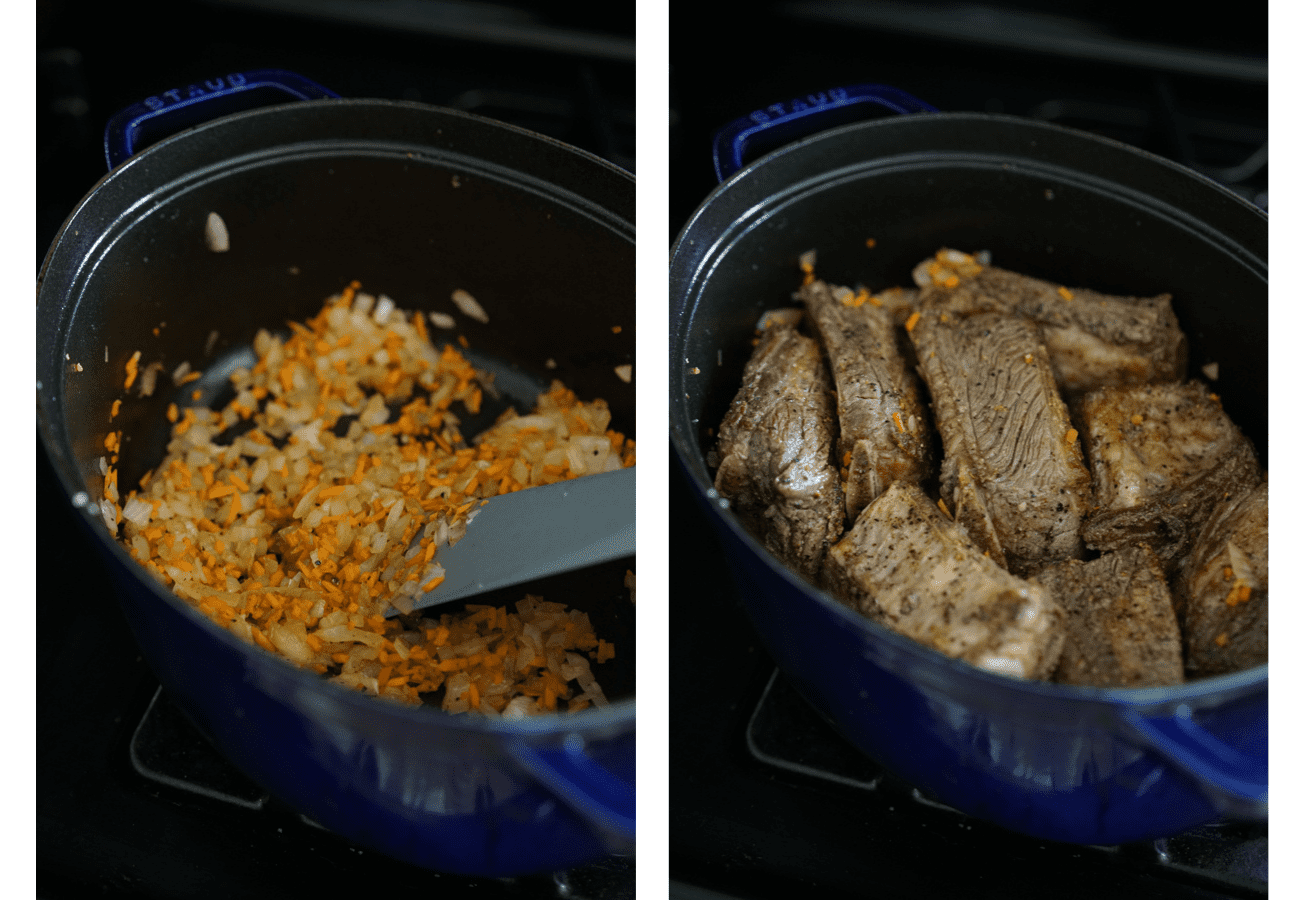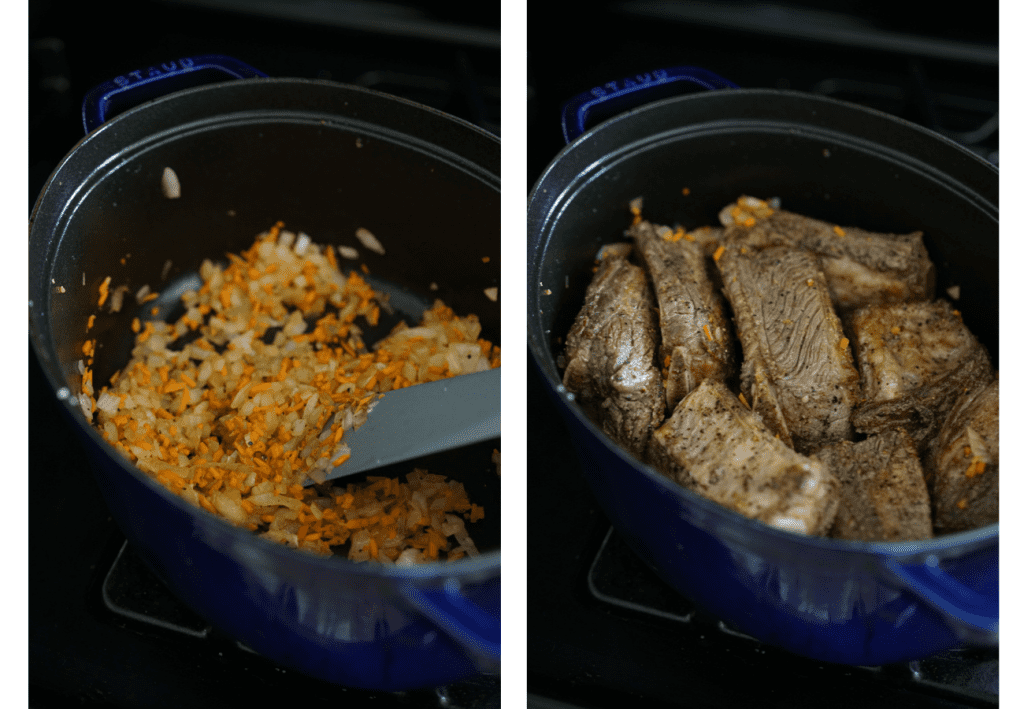 Next, we will be adding a very important ingredient: WINE.
One whole bottle of red wine. Just pour it all in.
If you need to, a small sip is allowed. Now is the time to do it. 😉
And then add in tomato paste and smashed garlic.
Give it a gentle stir to combine everything, then place the herbs on the top before covering Dutch oven and letting it cook in the oven for 2 1/2 to 3 hours under a low 325℉ heat.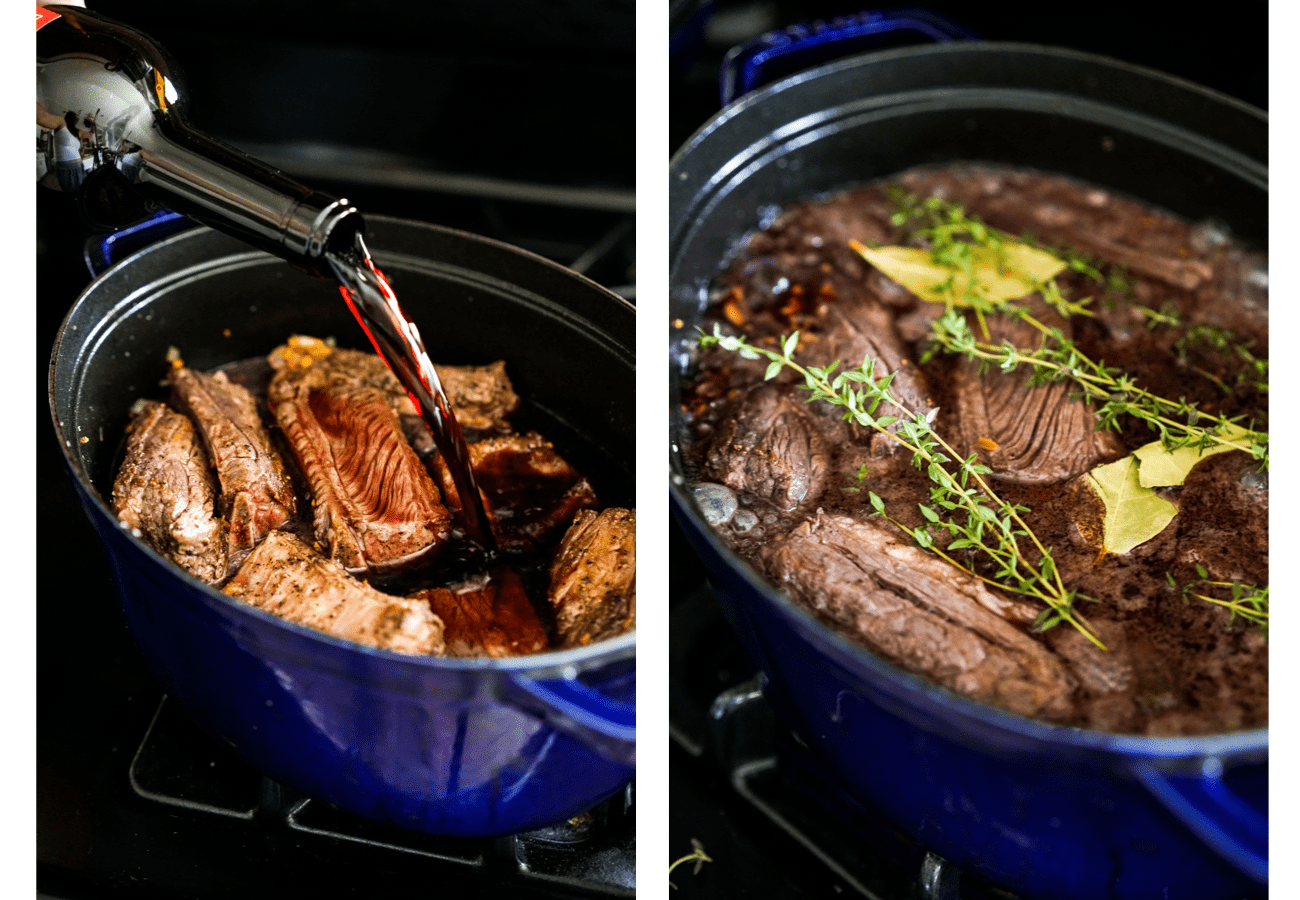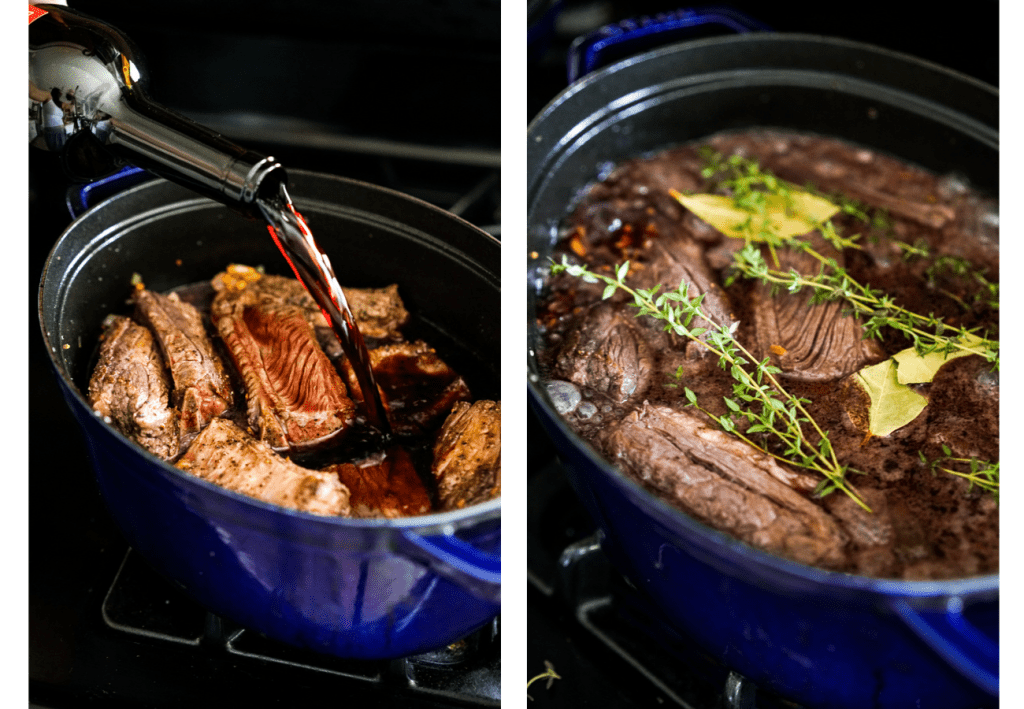 When it is done, meat should be very tender and falls off the bone easily.
In addition to being juicy and tender, short ribs are flavored with the gorgeous flavors of wine, garlic and herb. It will melt in your mouth and taste like a dream.
It is seriously one of my favorite meat dishes.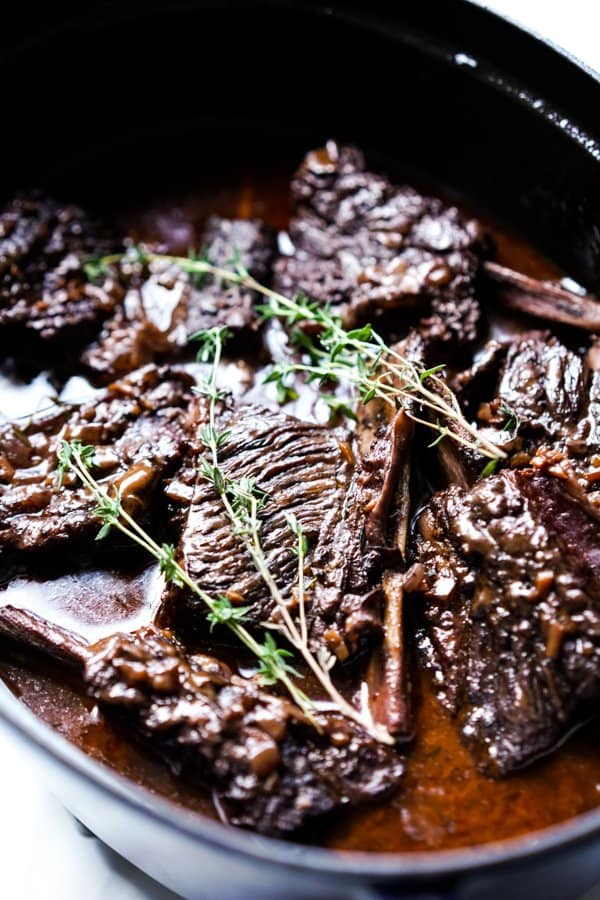 Tips and Tricks
A few quick kitchen tips when making Red Wine Braised Short Ribs!
When searing the beef short ribs, do not overcrowd the Dutch Oven and sear in two batches if necessary. We want to make sure each sides of the beef ribs has a nice light brown sear to it. Searing the short ribs will produce some nice flavor to the dish and also help lock in the moisture.
Recipe calls for finely chopped onions and carrots, but if you want the vegetables finer, you can also chop it up in a food processor.
If you use more than 3lbs of short ribs you will need a longer cook time than what is recommended.
Short ribs should be mostly submerged in liquid when baking. If needed, add some water or beef broth to Dutch oven if one bottle of wine is not enough and submerge at least 3/4 of short ribs in liquid.
How to serve this
I highly recommend serving this on top of a bed of mashed potatoes or polenta, then drizzling the yummy juices all of the top of the short ribs and also all over the potatoes.
Drawn them in the juice if you have to. That's how I do it!
Also serve this with some Honey Butter Rolls, and a simple vegetable side dish on the side such as Easy Garlic Parmesan Asparagus, Roasted Lemon Garlic Broccoli, Roasted Zucchini or Garlic Honey Roasted Carrots.
Yum yum yum!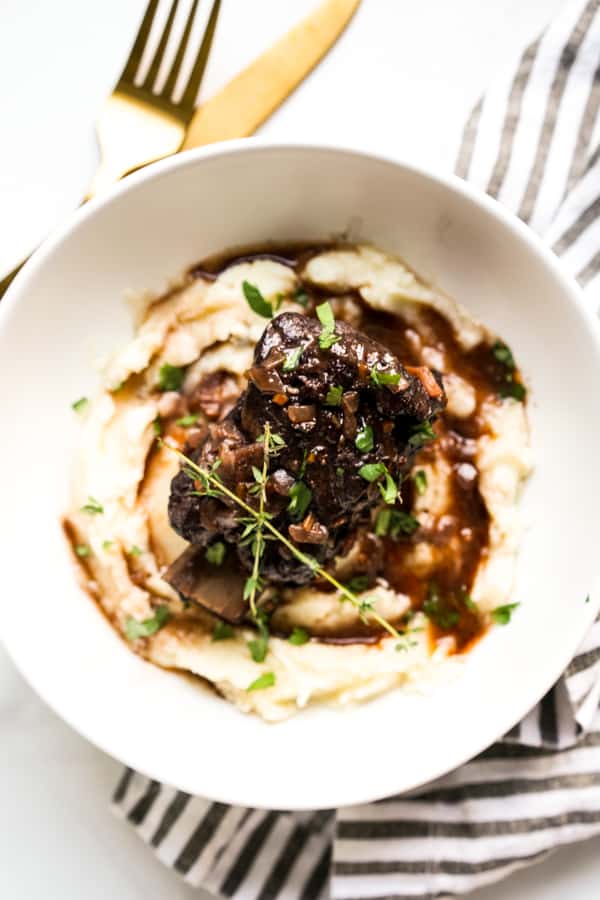 Frequently Asked Questions
Can I cook this without red wine?
I highly recommend cooking with wine because it is hard to achieve the depth of flavor red wine brings to this dish. However, if you really want to avoid red wine, replace it with beef stock and 1-2 cubes of beef bouillon for flavor.
I would like to thicken the gravy…how do I do that?
After removing Dutch Oven from the oven, remove all the beef short ribs and set aside, leaving the liquid/juice in the Dutch oven. Then remove 1/2 cup of liquid and combine with 2-3 tbsp of flour. Then pour flour+juice mixture back into Dutch oven. Heat gravy in Dutch oven, bring to a boil, and stir continuously until thicken.
How long do I cook this if I am using the Instant Pot?
Pressure cook on high for 45 minutes. Then natural release for 15-20 minutes.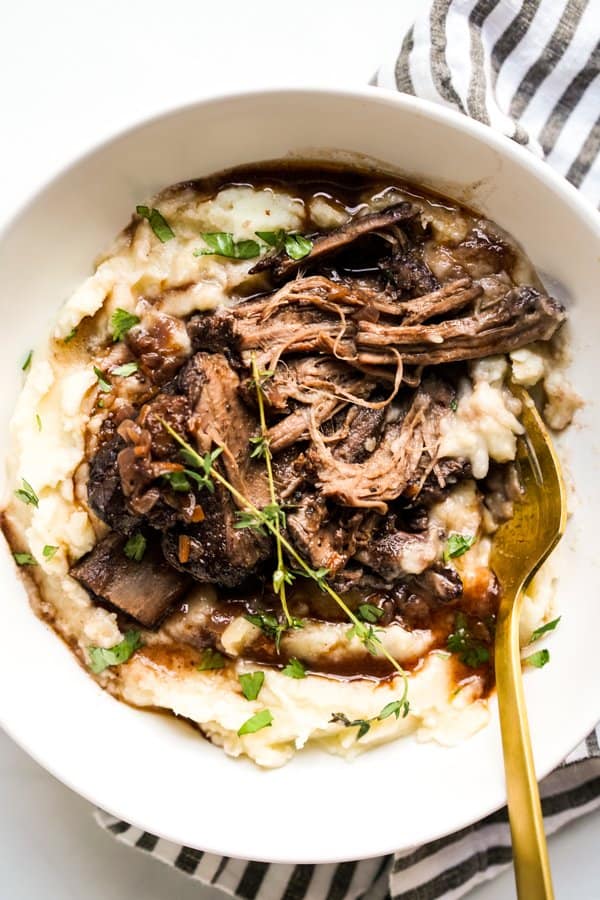 More Meat Main Dishes
DID YOU ENJOY THIS RECIPE? Please comment below and give us a 5-star rating! This will help others find this recipe on Google and Pinterest. We very much appreciate your help! 🤍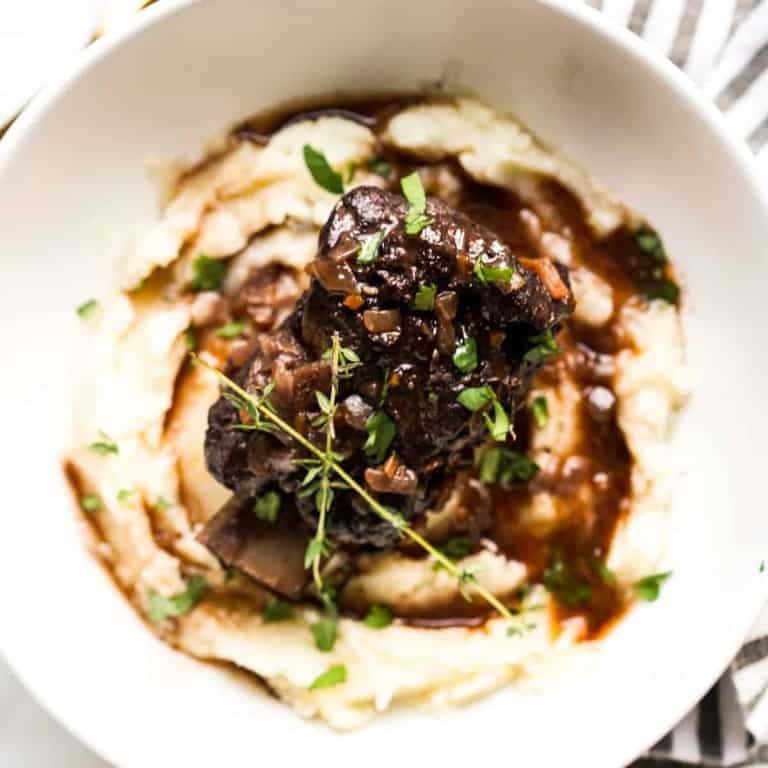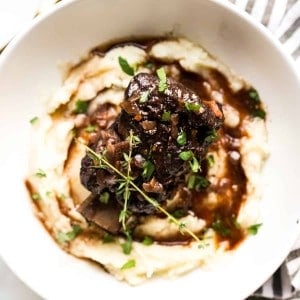 Red Wine Braised Short Ribs
Tender, fall-apart braised beef short ribs cooked in the Dutch Oven is an elegant and delicious meat main dish that is easy and delicious. Flavored with red wine and fresh herbs, this makes the perfect special occasion homemade meal!
Print
Pin
Ingredients
3

lbs

beef short ribs

salt

black pepper

2

tsp

cooking oil

1

small white onion

finely chopped

1

cup

carrots

finely chopped

1

bottle

red wine

1

tbsp

tomato paste

3-5

cloves

garlic

smashed

2-3

sprigs

fresh thyme

2-3

bay leaves
Instructions
Sprinkle beef short ribs generously on all sides with salt and black pepper.

Heat dutch oven (at least 5 qt) with cooking oil under medium high heat, then add beef short ribs to it, and sear on all sides until browned. Do not overcrowd Dutch oven and sear in two batches if necessary. Once short ribs are browned on all sides, remove promptly. Do not cook fully short ribs at this point – we are just searing the outsides.

Add chopped carrots and onions to Dutch oven, sear until tender. Stir continuously.

Bring beef short ribs back into Dutch Oven. Add red wine, tomato paste, and smashed garlic. Bring to a boil.

Add fresh thyme and bay leaves onto the top. Cover Dutch Oven and bring to oven and let it cook in the oven for 2 1/2-3 hours, or until meat is very tender.

When done, remove herbs and garlic pieces. Optional: add salt to taste.

Serve short ribs with mashed potatoes, and drizzle with gravy. Enjoy!
Nutrition
Calories:
426
kcal
|
Carbohydrates:
8
g
|
Protein:
32
g
|
Fat:
18
g
|
Saturated Fat:
7
g
|
Polyunsaturated Fat:
1
g
|
Monounsaturated Fat:
8
g
|
Trans Fat:
1
g
|
Cholesterol:
98
mg
|
Sodium:
537
mg
|
Potassium:
885
mg
|
Fiber:
1
g
|
Sugar:
3
g
|
Vitamin A:
3627
IU
|
Vitamin C:
4
mg
|
Calcium:
42
mg
|
Iron:
4
mg