This post may contain Amazon or other affiliate links. As an Amazon Associate I earn from qualifying purchases at no additional cost to you.
Delightful, light pillowy gnocchi coated with flavorful tomato basil sauce, topped with lots of parmesan cheese. You guys. I love this Tomato Basil Gnocchi to pieces and cannot get enough of it!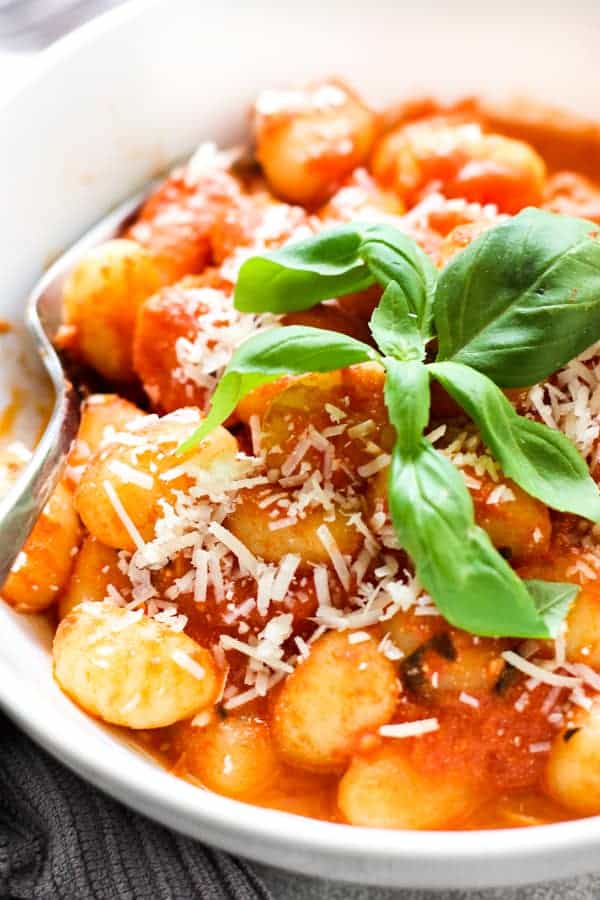 Carbs are my weakness. Whether it is in the form of sweets, bread (currently dreaming about these Cheesy Garlic Rolls too), or in this case, pasta, it had me from the very beginning.
As for this gnocchi dish…trouble is what it is. Trouble for my waistline and everything waist down, because let's be honest here, that's where all my carbs go.
But I still indulge, in appropriate amounts. Because life is short. And carbs are necessary…for survival and for enjoyment.
What is Gnocchi
Gnocchi is a form of pasta typically made out of potatoes and flour. It is soft and is a lot like dumplings.
But think Western dumplings like chicken and dumplings, not Asian dumplings which are usually filled with meat and vegetables.
Gnocchi is typically served tossed in a sauce, and sometimes with meat and veggies.
It is delicious! Also happens to be a pretty kid-friendly pasta that your whole family can enjoy.
How to make Tomato Basil Gnocchi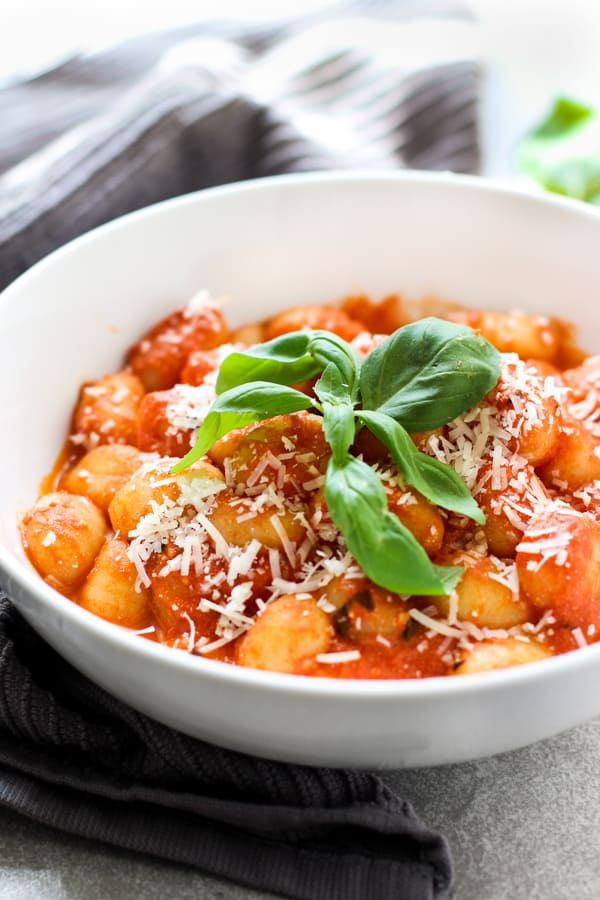 This is a simple, 30-minute recipe from start to finish and there are two primary components to this recipe:
Gnocchi
Tomato Basil Sauce
Tomato Basil Sauce
Tomato based sauce are typically my favorite, and this easy homemade Tomato Basil is what I am cooking up and coating those soft pillow-y gnocchi with.
It is full of flavor, creamy, and made with fresh and simple ingredients:
Canned San Marzano tomatoes – best kind of canned tomatoes, truly
Fresh basil – because they bring the best flavors
Fresh garlic – see a trend here? 😉
Burrata – a gorgeous cheese that is basically fresh mozzarella filled with cream. This is used to thicken and cream the sauce.
Salt, Black pepper, sugar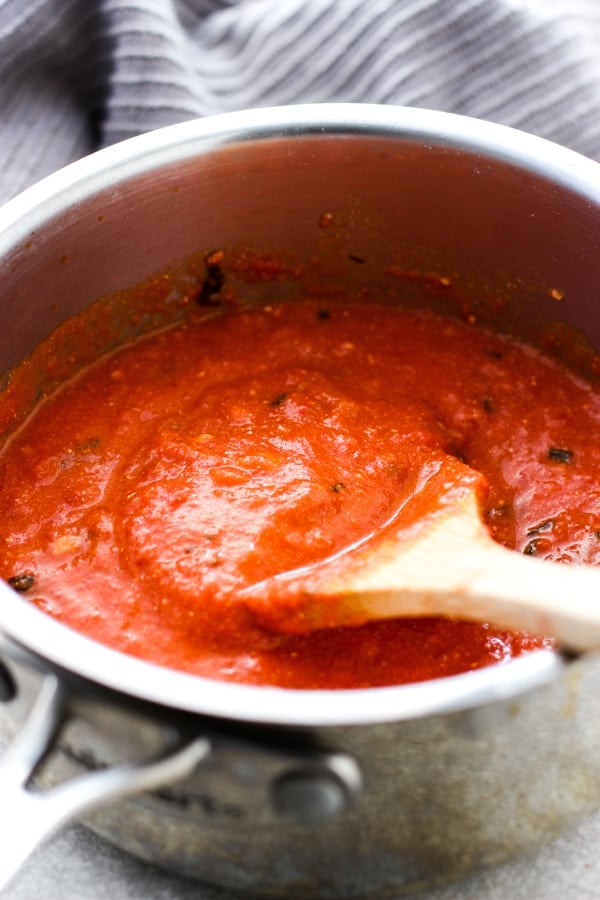 Start by prepping all the sauce ingredients. Mince fresh garlic (do not substitute with garlic powder for this one!) and cut the fresh basil leaves into tiny pieces.
Fresh basil is a must! Don't substitute with the dried ones. Just like the the garlic, use fresh! Fresh, fresh, fresh is the best way to go for this dish.
Sauté a little bit of garlic in olive oil for 30 seconds in a medium/large pot, be careful not to burn garlic. We are sautéing the garlic in order to release the gorgeous garlic flavors into the olive oil. A subtle but very nice touch to the sauce overall.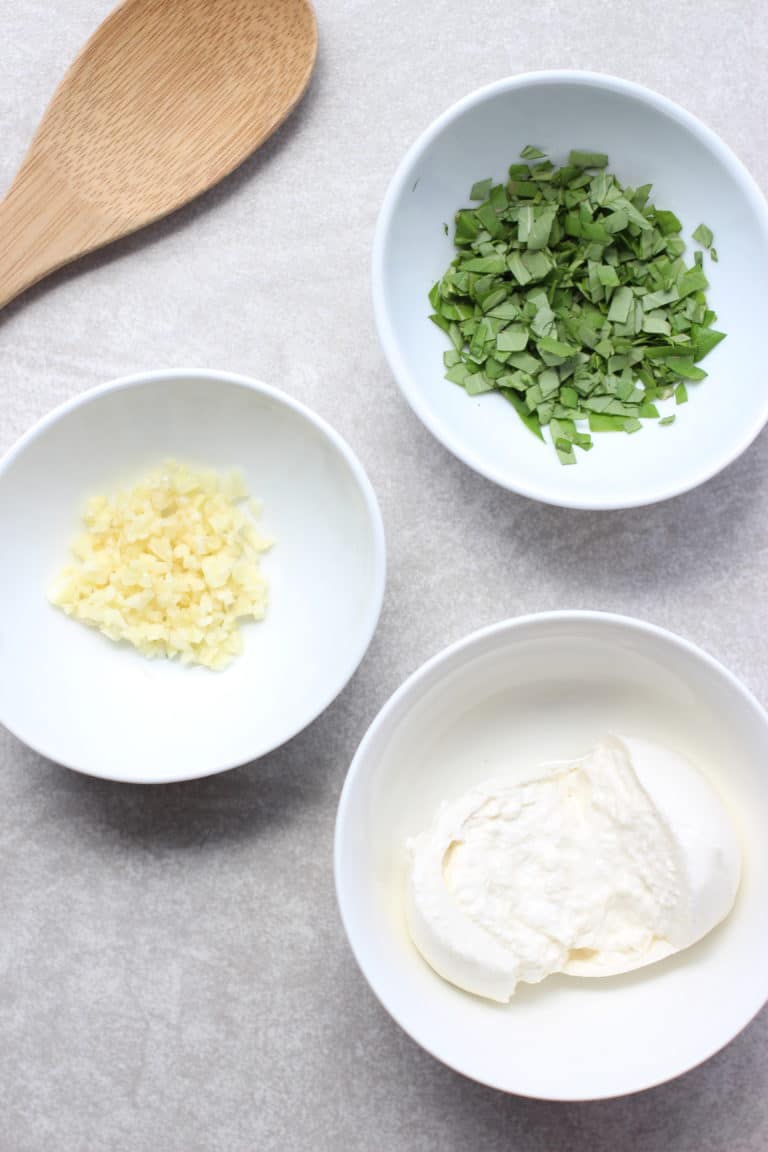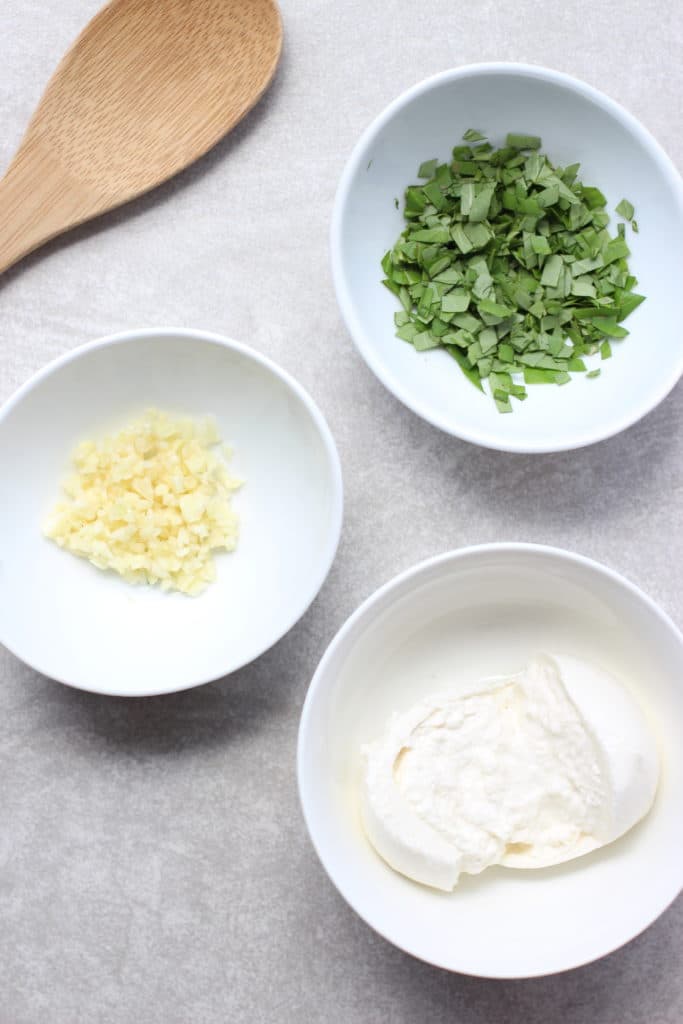 Remember to pack your tablespoon with minced garlic, even use more than called for if you like, because it really does bring gorgeous flavors to the sauce. Don't skim on the garlic.
Next, add San Marzano Peeled Tomatoes, made with the juiciest, sweetest, most tomato-ey (is that appropriate to describe tomatoes?) tomatoes ever.
They are grown in San Marzano, Italy, thus the name, San Marzano tomatoes. 🙂 Target and Trader Joe's typically carry these San Marzano Peeled Tomatoes.
The canned San Marzano Peeled Tomatoes have basil in them. If you end up using a regular canned peeled tomatoes, and not the San Marzano Peeled Tomatoes, add more basil leaves than what is called for in this recipe.
Then bring basil and the fresh burrata into the pot. I like to break the burrata to release the cream prior to adding it into the sauce. Then break it further and stir once you add it into the sauce. Bring to a boil, and then cook under medium low heat for 20-30 minutes to thicken the sauce.
Add salt, black pepper and sugar to enhance the flavors of the sauce. Salt really brings out the flavors, in addition to adding some saltiness to the dish.
And here comes the gnocchi!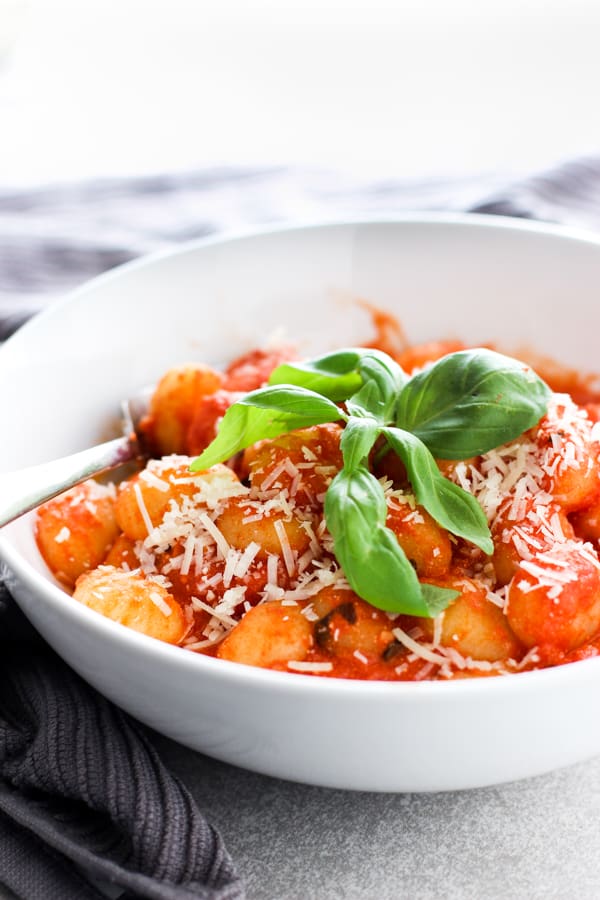 While the sauce is cooking, boil water in a separate pot and cook the gnocchi according to package instruction.
Toss cooked gnocchi with sauce, garnish with shredded fresh parmesan cheese (use good quality!), and serve!
The measurements I provided yields a slightly more saucy gnocchi as I tend to like lots of sauce in my pasta.
So for you sauce lovers out there, fear not, there will be lots of sauce to go around!
And there you go: pillow-soft pasta smothered with a juicy, sweet, basil-infused, garlicky tomato-based sauce. I am a tomato girl (i.e. love tomato-anything), and this is making my heart happy!
What I love about this dish is how simple and yet absolutely delicious it is. The quality of the ingredients (fresh basil, fresh garlic, fresh burrata, fresh parmesan cheese, San Marzano tomatoes) is the secret behind the loveliness of the dish.
Grab a fork and dig in because my friend, YOU MUST.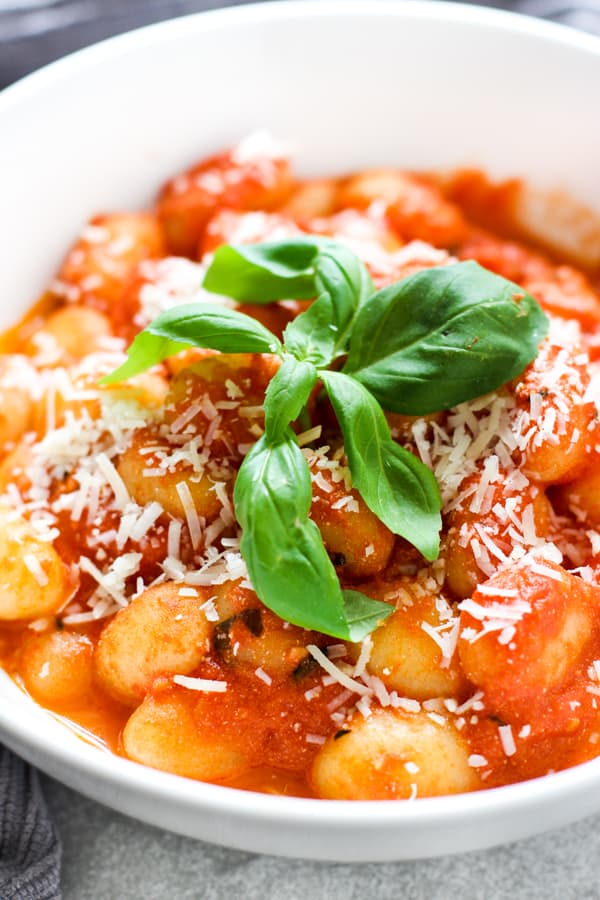 DID YOU ENJOY THIS RECIPE? Please comment below and give us a 5-star rating! This will help others find this recipe on Google and Pinterest! We very much appreciate your help! 🤍
What to serve with Tomato Basil Gnocchi
We love serving gnocchi with these!
Other delicious Pasta Dishes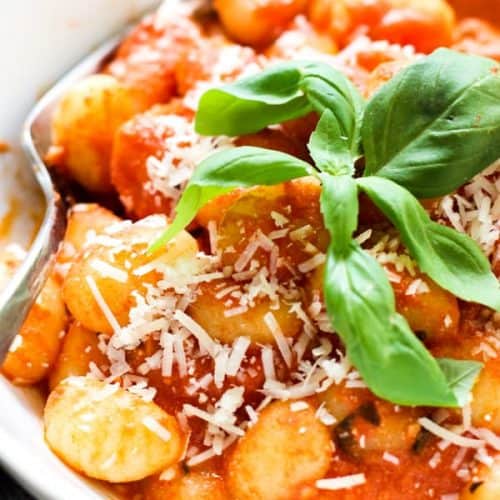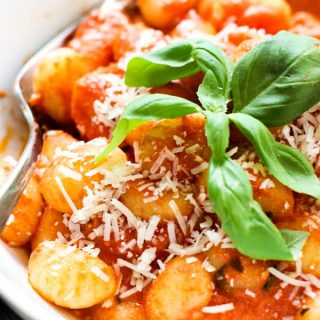 Tomato Basil Gnocchi
Potato-ey, pillow-soft pasta smothered with a highly flavorful, cheesy, basil-infused, garlicky tomato-based sauce. Easy and extremely delicious!
Print
Pin
Ingredients
1

tbsp

garlic

minced

1-2

tsp

extra virgin olive oil

28

oz

San Marzano Peeled Tomatoes

17-20

fresh basil leaves

chopped

4

oz

burrata

1

tsp

sugar

salt

to taste

pepper

to taste

1 1/4

lbs

gnocchi

1/4

cup

parmesan cheese

shredded
Instructions
In a medium large pot, saute garlic in olive oil for 20-30 seconds or until fragrant. Do not burn garlic.

Add tomatoes (including juice) into the pot. Then add basil leaves (see Note 1), burrata and sugar. Break the burrata and stir into the sauce. Bring to boil.

Once the sauce boils, bring to medium low heat and cook for another 15-20 minutes to thicken sauce. Then add salt and pepper to taste.

While waiting for the sauce to cook, bring water to boil in a separate pot and cook gnocchi based on package instructions. I cooked mine for 3 minutes once it comes to a boil.

Drain water from gnocchi and toss gnocchi in sauce. (See Note 2)

Garnish with shredded parmesan cheese. Serve and enjoy!
Notes
Note 1: The canned San Marzano Peeled Tomatoes is typically seasoned with basil. Use more basil leaves than what this recipe called for if not using the canned San Marzano Peeled Tomatoes.
Note 2: This recipe yields a slightly saucier gnocchi. Use more gnocchi if you like your gnocchi with less sauce.
Nutrition
Calories:
502
kcal
|
Carbohydrates:
80
g
|
Protein:
19
g
|
Fat:
15
g
|
Saturated Fat:
8
g
|
Cholesterol:
33
mg
|
Sodium:
1347
mg
|
Potassium:
497
mg
|
Fiber:
7
g
|
Sugar:
8
g
|
Vitamin A:
759
IU
|
Vitamin C:
26
mg
|
Calcium:
428
mg
|
Iron:
10
mg