Baked Garlic Parmesan Chicken Wings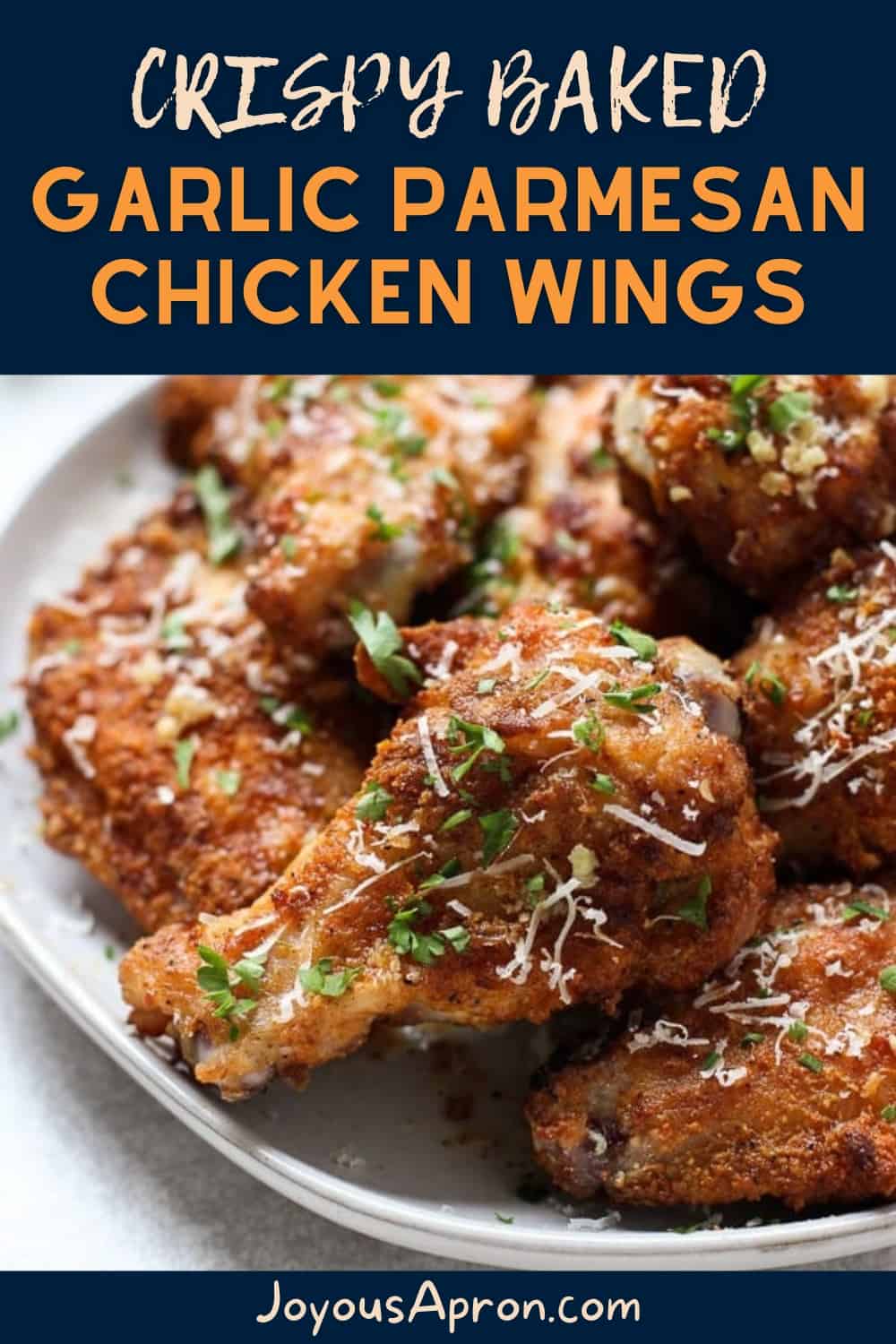 These Baked Garlic Parmesan Chicken Wings are legit with a capital letter L. Baked, and perfectly crispy and full of amazing flavors. In other words, forget those deep fried wings which happen to be less good for you…bake them instead!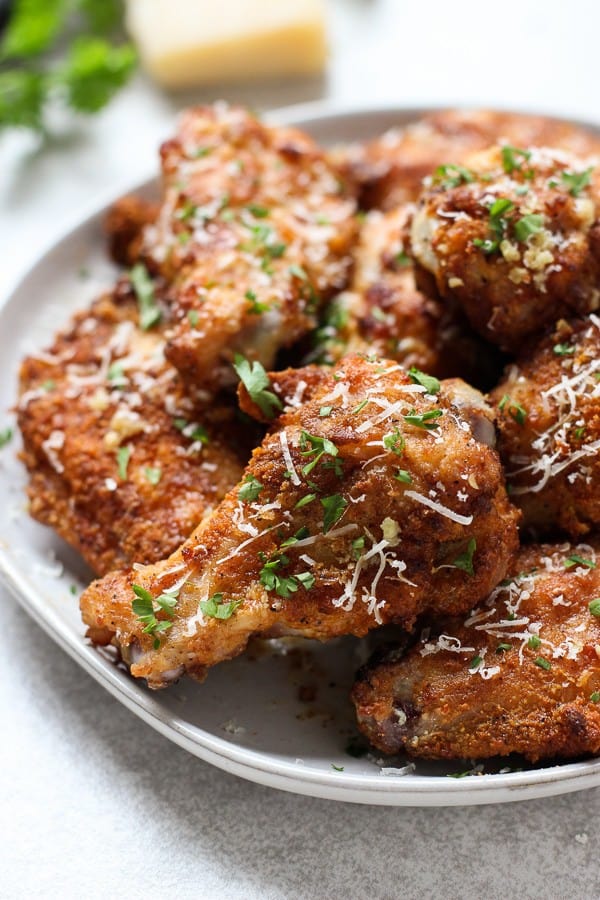 I have a thing for chicken wings. No matter how sophisticated my palette gets or will get, I'm pretty sure one thing will remain: I will ALWAYS have a thing for chicken wings.
Whenever I travel out of the country and get back to the United States, guess what is the American food I crave for? I made it easy for you because this post is, after all, about chicken wings. So yes. Chicken wings. Although chicken nuggets do it for me as well. There's just something about breaded chicken.
How to make crispy Baked Wings?
I learned how to make the perfectly crispy Baked Chicken Wings from Cook's Country. There are a handful of methods out there, but I find this the best and most effective.
To make the wings super crispy, the secret is baking powder. Note: NOT baking soda. I've heard bad things happen when you use baking soda. So even though I've never tried it, I would strongly recommend avoiding it! 😉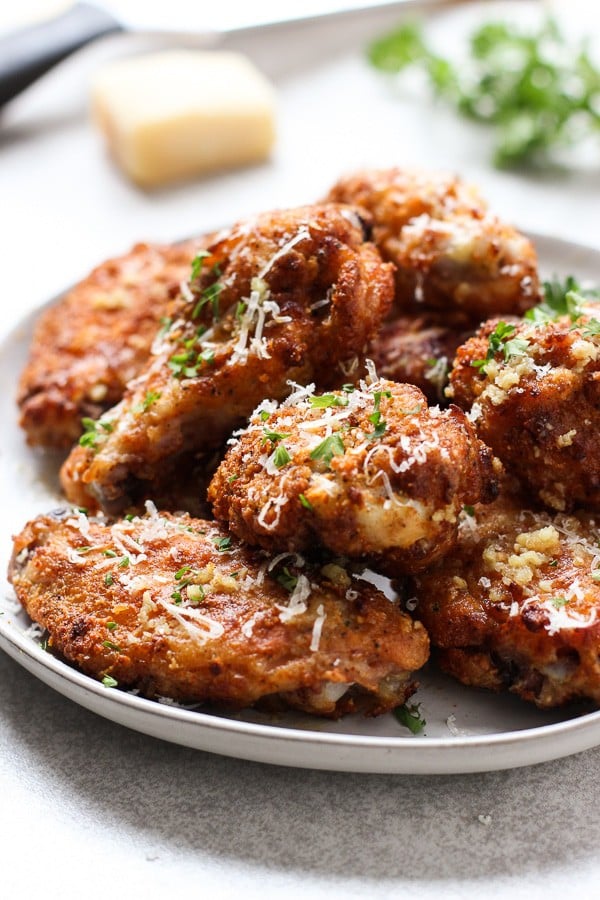 According to Cook's Country, to make the wings as crispy as fried, bake the wings under low heat first (bump the temperature up later), allowing the baking powder to break down the protein in the skin and dry out the skin, producing a nice crisp and brown texture.
We will also need a couple of other things – we'll need to place wings on a baking rack that is stacked on top of a baking sheet. This way we provide airflow underneath the wings and the bottom side doesn't become soggy.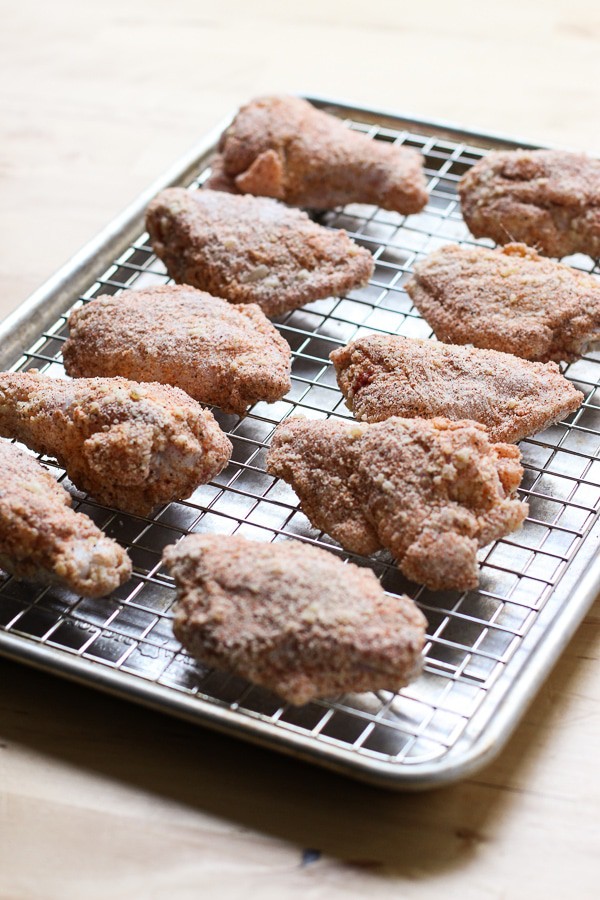 Here is the affiliate link for the baking rack. It is pretty affordable and a really good investment for the kitchen. In fact, I started some of my other baked meats on this rack to get some airflow at the bottom of the meat too.
Tips and Tricks
This Baked Garlic Parmesan Baked Chicken Wings recipe is fairly simple, it just needs some time in the oven. The active time in the kitchen is minimal, however, you will need to check the oven every now to bump up temperature, flip the wings etc.
And then there's clean up – but I have a few tricks for you. Take it from someone who has made dozens of batches of wings this way.
Grease the baking rack with a vegetable oil or olive oil spray. Some of the grease from the chicken skin will stick to the rack, and having oil on the rack makes it easier to remove the grease.
Place a large piece of aluminum foil between the baking rack and baking sheet to catch the grease from the chicken to enable easier cleaning of the rack.
When the chicken wings are done cooking, remove from baking rack immediately so that it doesn't stick to rack.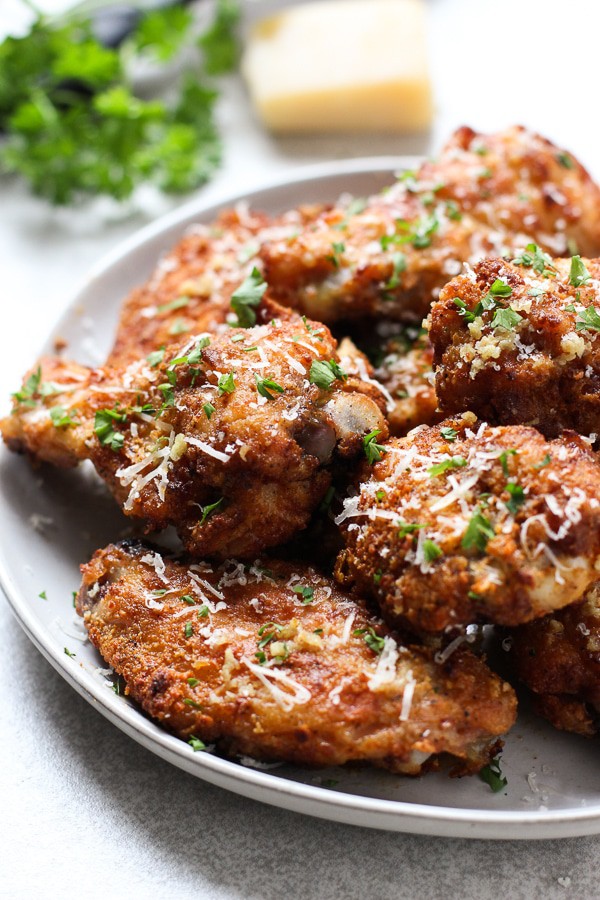 At the very end after chicken wings is done, it is completely optional to sprinkle fresh parsley and additional parmesan cheese to the chicken, as shown in the picture above.
Full disclosure: it is done purely for prettiness sake. So while it's a nice touch to pretty it up, this chicken wing recipe is also plenty flavorful by itself! That's what an amazing seasoning do to chicken.
Speaking of amazing seasoning. Let's take a moment and brag about the seasoning. Besides the tricks to make the baked chicken wing crispy, the seasoning is the magic behind this recipe.
The wonderful flavor in these Baked Garlic Parmesan Chicken Wings comes from a combination of parmesan cheese, garlic, butter, smoked paprika, salt and black pepper. The seasoning creates a gorgeous flavor and better still, is made out of simple, pantry-friendly ingredients.
And then you know how you bite into a solid chicken wing and the flavor is not just on the crispy crust, but all the way into the meat of the chicken. Oh yeah, THAT. That phenomenon actually happens here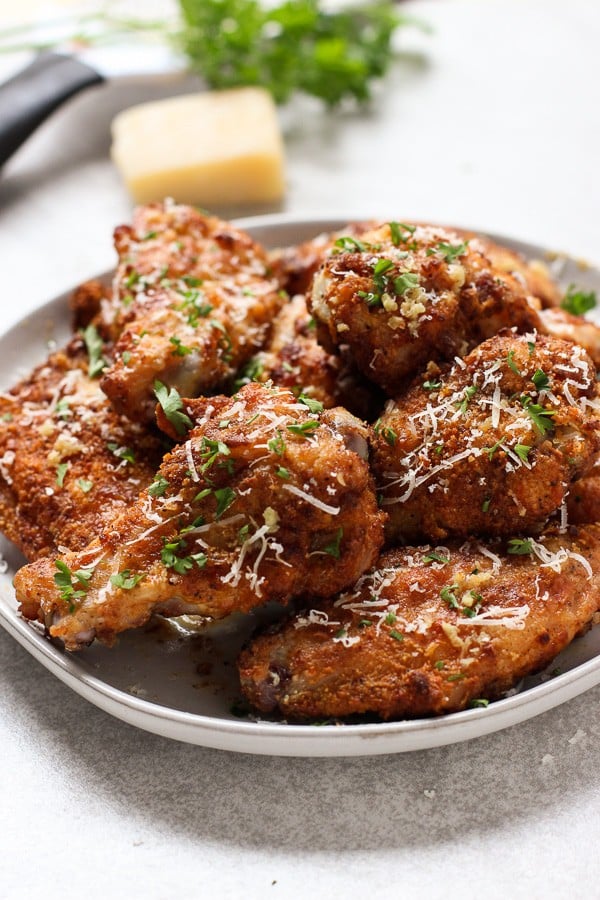 We make chicken wings at home whenever the cravings hit, instead of running out to get super greasy wings from restaurants. Because 1) it tastes just as good, perhaps even better, and 2) it is so much better for you!
Perfect for dinner any day, parties, game day…or whenever you feel like you need some chicken wings in your life. In the case of my life, that happens quite often. Try it today!! I think you will love this super yummy dish!
DID YOU ENJOY THIS RECIPE? Please comment below and give us a 5-star rating! This will help others find this recipe on Google and Pinterest. We very much appreciate your help! 🤍
More Baked Wings!
If you love baked wings, Baked Garlic Parmesan Chicken Wings is not all we have around here! Evidence of my love for wings – more wing recipe on the blog! Check out these wing recipes using the same baking powder method!
More Chicken Recipes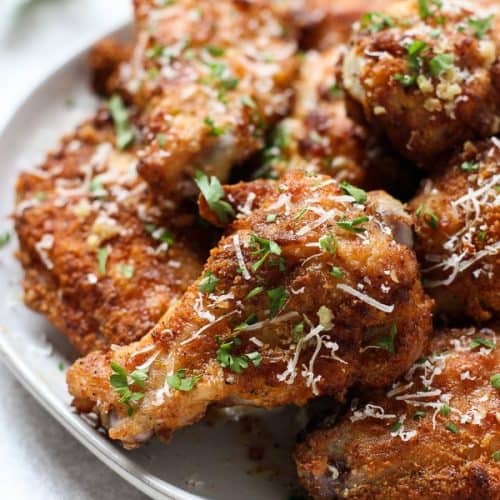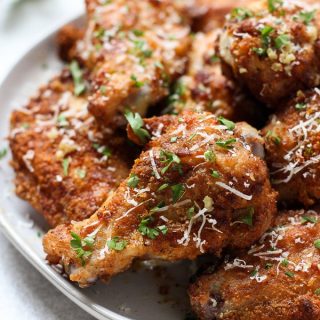 Baked Garlic Parmesan Chicken Wings
A baked, not fried, chicken wing recipe! It's much healthier and just as crispy and yummy. These wings are coated with butter, parmesan and garlic – boasting so much flavor. A perfect main dish and/or appetizer!
Print
Pin
Ingredients
2

lbs

chicken drumettes and/or winglets

2

tbsp

baking powder

3

tbsp

grated parmesan cheese

1

tsp

smoked paprika

1/2-1

tsp

salt

1/2

tsp

black pepper

3-4

tbsp

salted butter

3-4

cloves

garlic
Garnishes (optional)
fresh parsley

parmesan cheese
Instructions
In a small bowl, mix together baking powder, grated parmesan cheese, smoked paprika, salt, and black pepper, .

Pat dry defrosted drumettes and/or winglets. Toss them with the baking powder mixture. Use your fingers to rub the spices onto the meat and spread them evenly all over.

Grease baking rack with vegetable oil (use the spray if you have it) and stack baking rack on top of a baking sheet. Place drumettes or winglets on baking rack, do not overlap.

Bake in the oven for 30 minutes.

Bump the temperature up to 425°F, and bake for 25 minutes.

Flip drumettes and/or winglets over and bake for another 20-25 minutes.

While waiting for drumettes and/or winglets to cook, mince garlic. Melt butter in a small pot on the stove, then add minced garlic to pot. Remove from heat once you can smell the garlic. Do not brown or burn garlic.

Remove drumettes and/or winglets from oven when done, then remove them from baking rack promptly (so it doesn't stick to baking rack).

Drizzle garlic butter sauce all over wings.

Optional: Garnish with parsley and/or more parmesan cheese. Fyi – this is more for making it look pretty than for flavor!
Nutrition
Calories:
377
kcal
|
Carbohydrates:
3
g
|
Protein:
25
g
|
Fat:
30
g
|
Saturated Fat:
12
g
|
Polyunsaturated Fat:
5
g
|
Monounsaturated Fat:
10
g
|
Trans Fat:
1
g
|
Cholesterol:
121
mg
|
Sodium:
1169
mg
|
Potassium:
224
mg
|
Fiber:
1
g
|
Sugar:
1
g
|
Vitamin A:
732
IU
|
Vitamin C:
2
mg
|
Calcium:
433
mg
|
Iron:
2
mg