This post may contain Amazon or other affiliate links. As an Amazon Associate I earn from qualifying purchases at no additional cost to you.
This is dinner goals. Tender, flavorful, herb-crusted pork tenderloin smothered with creamy savory oh-so-delicious white cream gravy. An elegant, satisfying main dish that is crazy easy to make.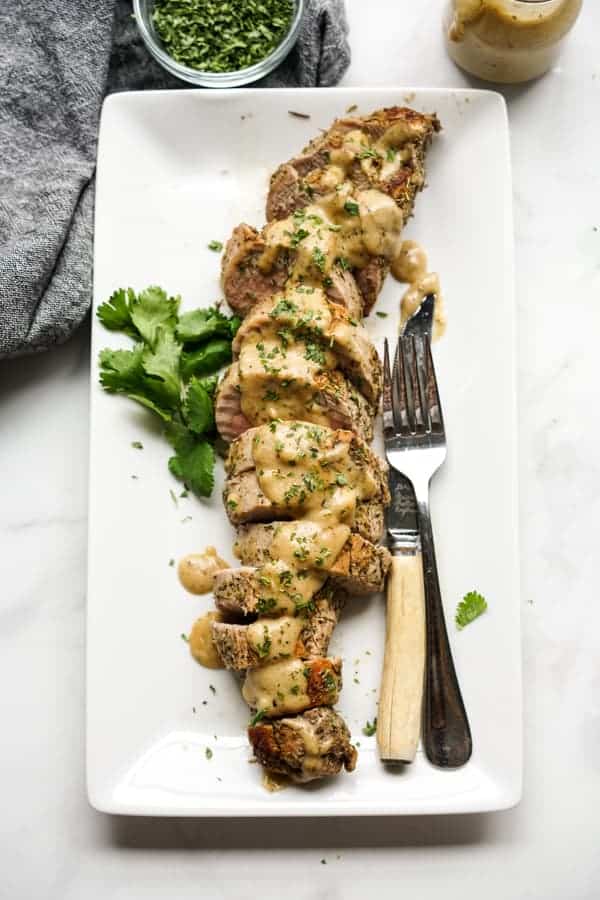 Let me spell out plainly what I mean when I say crazy easy. Because it's not just me saying it, it really is in fact CRAZY easy.
10 minute prep. 20 minutes (give or take depending on the size of your tenderloins) in the oven, which also means passive time for you. 5 minute sauce-making.
Do not, I repeat, do not skip that 5-minute sauce-making step, because it produces the creamiest, smoothest, most flavorful gravy that incorporates all the yummy drippings and herb flavors from the meat and trust me when I say you need this goodness in your life.
So all this to say : 15 minutes is all you need to stand over your kitchen and do your thing.
The product is a fantastic meat dish that serves about 6-8 people depending how big their appetites are. And if you don't have eight people I've got good news for you…
LEFTOVERS! My favorite word when it comes to preparing dinner.
This also makes a perfect Thanksgiving, Christmas or Easter meal for a smaller crowd. It is a fun way to diverge from the traditional ham and turkey business yet still incorporate something equally satisfying, meat-related and very holiday-esque.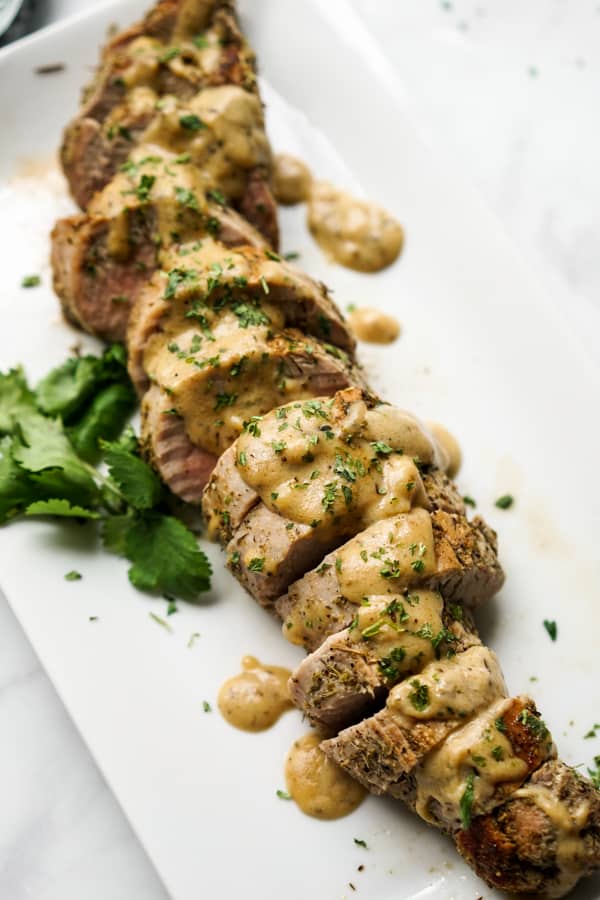 The best part about making this a holiday meal is that it takes only 15 minutes in the kitchen.
I don't know about you, but anything that cut out time in the kitchen during holiday meal prep is super exciting news to me!
Here's a few other things you need to know about this amazing dish:
It's a nice and tender piece of meat if cooked properly (more tips on that later)
Great steak substitution, and cheaper too! If you fancy a steak dinner and want something different (and cheaper), this is it!
Incredibly flavorful! There's great flavors on the meat itself, and lots of flavor packed in the cream gravy.
Leftovers are versatile. Make a sandwich out of it (using both the pork and gravy), add it to pasta or salads , serve it with different sides.
Let's make it!
I was pretty intimidated by cooking meats for the longest time. It felt like it was a very hard thing to get it done right, and I thought the cooking process sounds super complicated.
If that is you right now, I'm here to encourage you to not be intimidated. In fact, this pork tenderloin recipe is a very good one to start with if you are new to making meat dishes that serve many, because it is easy, low touch, and it will come out super tasty!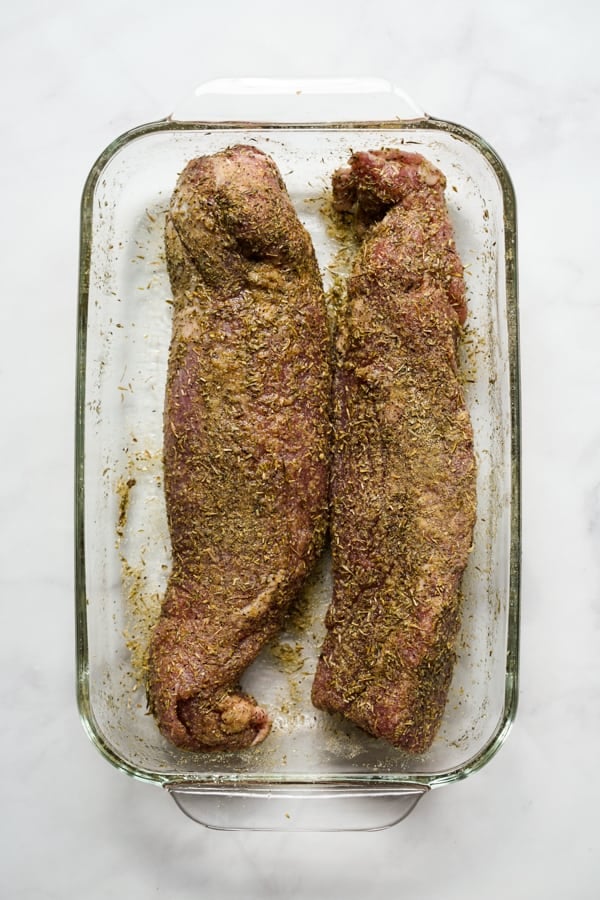 The recipe can be broken down into these sections:
Rub pork tenderloin with herbs and spices (if you have time, let it sit for a few hours, if not, no worries!)
Sear pork tenderloin
Roast (bake) pork tenderloin
Make gravy
After that, sit back, grab a fork and knife, and savor every single bite. ❤️
Tips and Tricks
Here are a few tips and tricks to keep in mind!
Always pat dry pork tenderloins before rubbing it with olive oil and herbs.
Avoid overcooking or undercooking pork. Depending on the size of the pork tenderloin(s), cook time may differ. I always advice people to cook for 10 minutes on each side and then add more time as needed. As reference, I use two pieces of pork tenderloins about the same size in this recipe that are a total of 2.5 pounds.
Pork is done when it reaches a temperature of 145℉. Place pork on a plate covered and let it rest for 5 minutes before serving.
Add more milk to cream gravy to dilute it more as needed.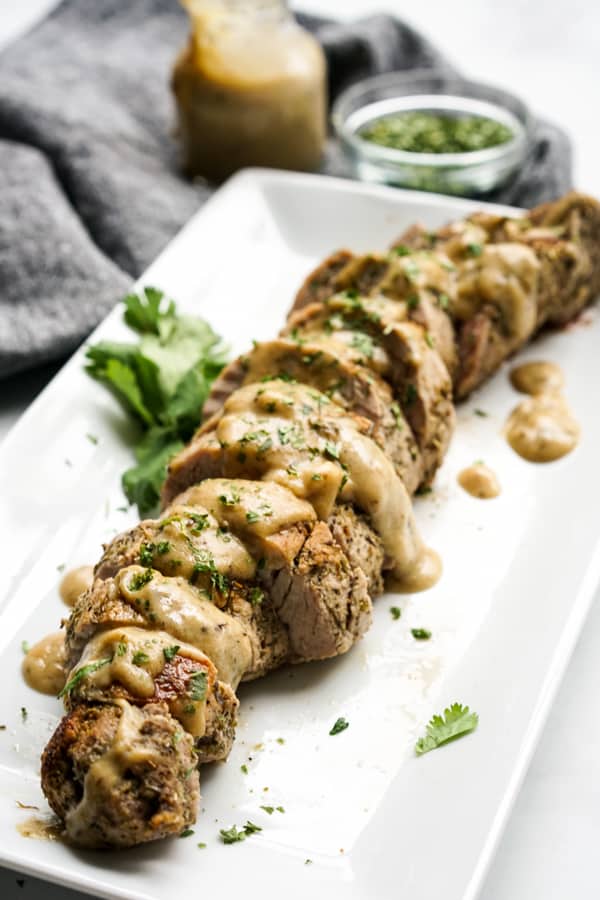 What appliances do I need?
The easiest way to make this is with a cast iron skillet because you can sear the pork tenderloins on it on the stove, and then immediately transfer the cast iron straight into the oven.
A cast iron is a super affordable (this is the one I use and love) kitchen tool that will last pretty much forever. It also retains heat really well and cooks evenly.
So yes, I highly recommend a cast iron. Not just for this recipe, but for life in general. 🙂
However, if you do not have a cast iron. This is how I would approach it:
Sear pork on a skillet.
Transfer pork to a baking dish.
After baking, transfer pork (along with all the yummy drippings and everything that is left on the baking dish) back to that original skillet to make the gravy.
A little bit more work, but totally doable and just as tasty!
Another good tool to have is this meat thermometer. Having a meat thermometer will ensure that you do not overcook or undercook your meat and it's great, low-budget investment for the kitchen.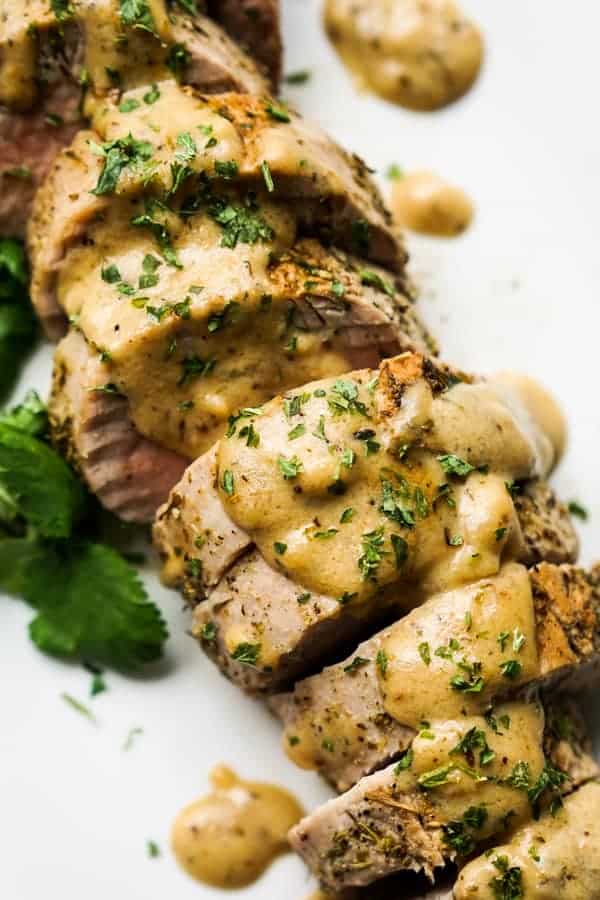 Check out that herb crusted pork tenderloins and that creamy, silky, luscious cream sauce. And that that dust of parsley sprinkled on top to give it that small bust of freshness.
That is just too much. Too much yumminess and drooling and happy tummies.
And I am HERE FOR IT. ❤️
What to serve with Pork Tenderloin
Check out some of my favorites to go with this delicious main dish!
Other Delicious Pork Dishes!
If you make this recipe, comment below and let me know what you think! Also, don't forget to take a picture and tag me on Instagram, because I WANNA SEE!!