This post may contain Amazon or other affiliate links. As an Amazon Associate I earn from qualifying purchases at no additional cost to you.
Cheesin' it up today with these Cheesy Garlic Scalloped Potatoes. I know you want to dig into this cheesy loveliness, because WHO CAN RESIST?!?
I don't know about you, but I have a serious weakness for potatoes, especially potatoes covered with garlic and creamy, velvety cheeses.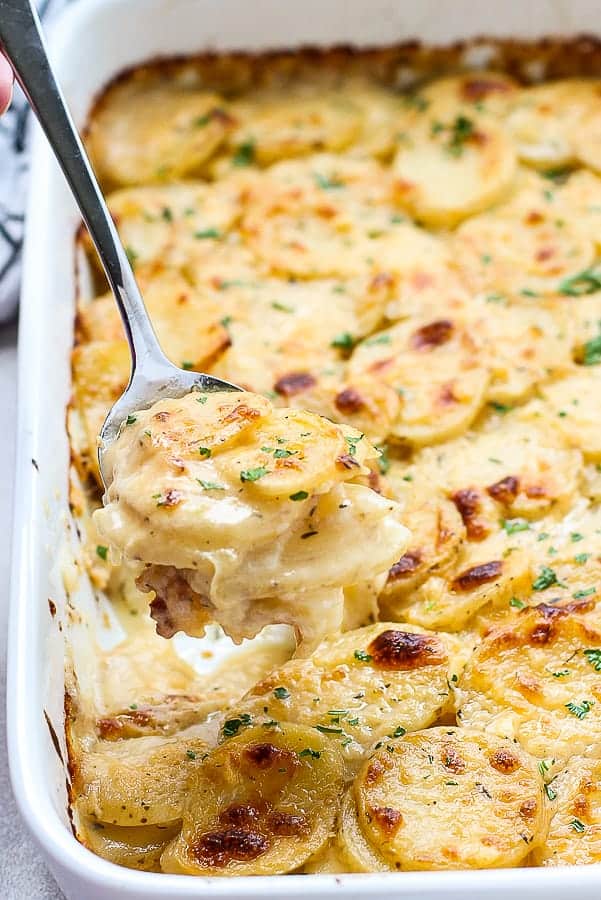 You cannot go wrong with potatoes and creamy cheese that is infused with chicken broth. You heard it right. CHICKEN BROTH.
Just like my awesome 15-Minute Queso (Cheese Dip) recipe, which seem like a complete different food item, but in many ways it is not, this dish merges two beautiful ingredients that belong together – cheese and chicken broth.
Together, they make the most scrumptious cheese sauce. Nuff' said.
Also, if you plan ahead, like a lot ahead, this has holiday dinner side written all over it. Serve this baby up with your turkey, ham, lamb, meat of your choice for the ultimate potato side during Christmas and Thanksgiving!
Or, serve it whenever you feel like potatoes need to be in your life. This is is an easy casserole dish that can pass as special occasion potatoes, or normal day potatoes.
Put it in another way, potatoes for whenever your heart desires. OH YEAH.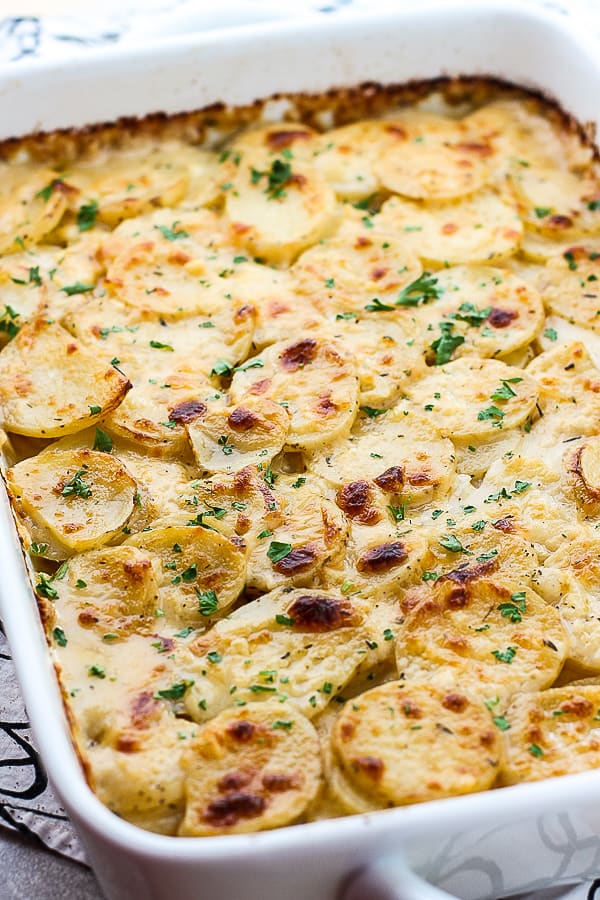 Cheesy Garlic Scalloped Potatoes Pro-tips
You know there's a lazy streak in me. I like to take short cuts in my cooking, but only as long as it doesn't sacrifice taste.
Short cut lesson for today: Do not peel these potatoes.
There is really no reason to spend time standing next to your kitchen sink and working those wrist muscles peeling the potatoes. The potato skin will not get in the way of taste, and in fact has more nutrients if consumed with skin on.
We are slicing these potatoes super thin, like 1/8 inch thin. If it is too thick it will be harder to cook!
Just remember to scrub and clean the the potatoes well, getting the dirt off the skin.
Another important tip is to spread the sliced potatoes out in the casserole dish, and make sure as you layer the cheese sauce on them, they are covered with the sauce. Potatoes that are not covered with sauce are harder to cook and will not come out as soft.
What potatoes to use
More potato tip: My favorite potatoes to use for this dish are yukon gold potatoes, russets or Idaho. Basically middle to high starch potatoes are perfect for this.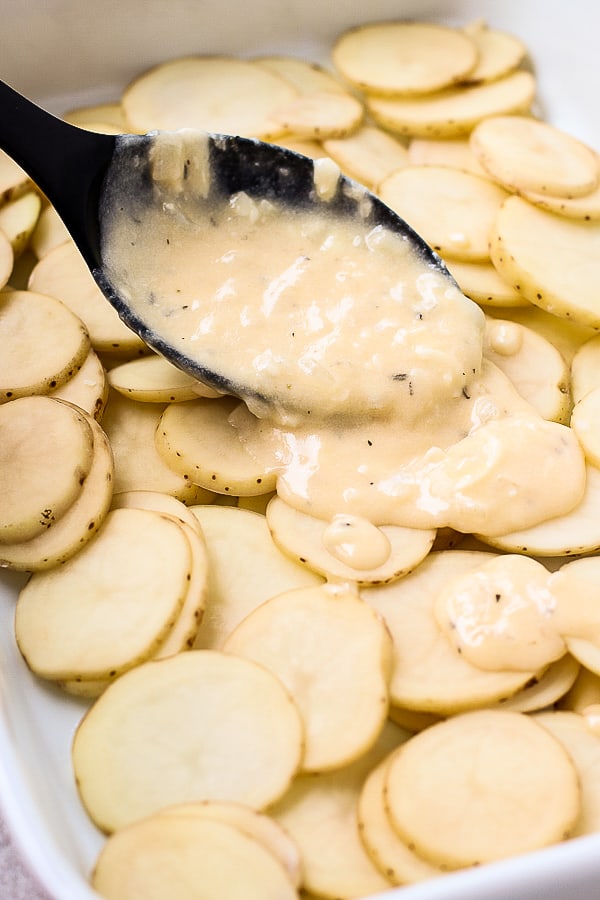 How to make Cheesy Garlic Scalloped Potatoes
One of the best part? There's no boiling potatoes beforehand. Translation: EASY.
Simply slice them, place 1/3 them in a 9″ x 13″ casserole dish, add 1/3 of the cheese sauce, and repeat until everything is gone.
Tip: As you layer the potatoes, make sure to spread them out and cover each of them well with sauce. Potatoes not covered with sauce are more difficult to cook through and will not be as soft.
We will have three layers of potato and cheese sauce, and then send it to the oven to bake.
And viola!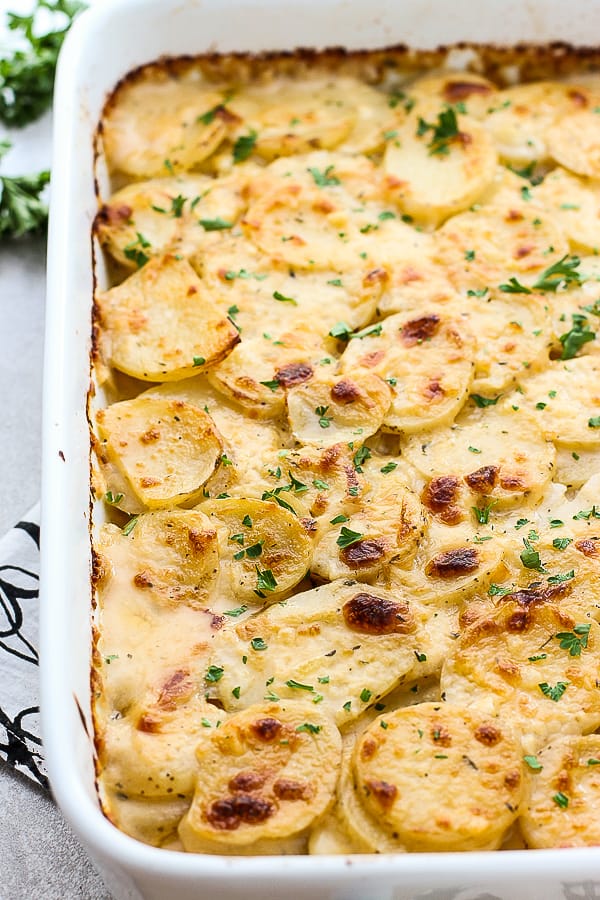 Cheese. Potatoes. Cheese. Potatoes.
With garlic flavored goodness all around it.
My heart is full. My stomach is full.
The cheese on the top will be slightly brown and crusty. Dig a spoon into it, and the creamy, velvety cheese will ooze out, along with the now tender and soft slices of potatoes.
Okay YUUUUMMMM.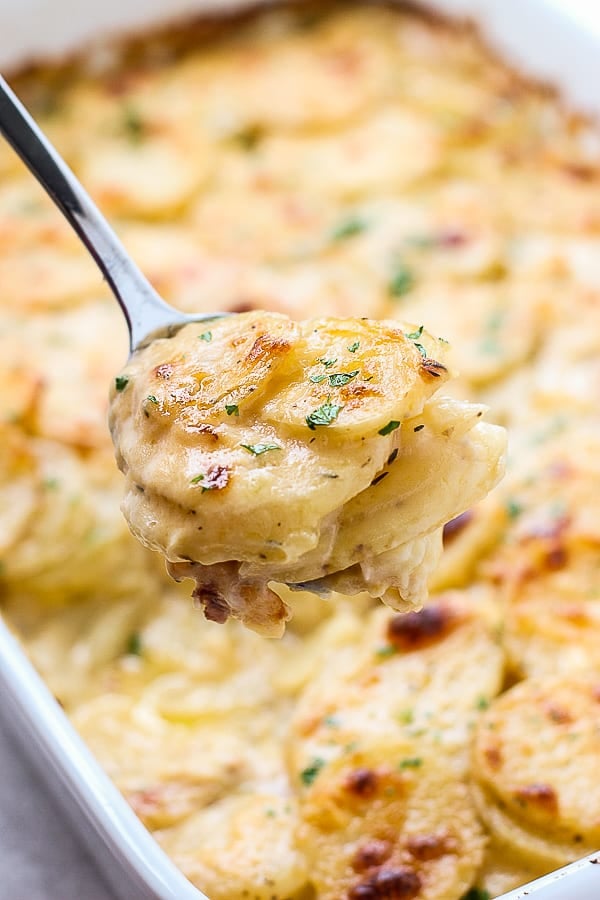 This lovely classic potato dish makes the best side to any main dishes. If you truly must, it can also be consumed by itself.
Try this today, then don't forget to let me know how it went, AND take a picture and tag me on Instagram with #joyousapron!
Because I wanna see your food!! 😀
Calling all potato lovers!
We heart potatoes. But then who doesn't? Check out these other awesome potato dishes!