Garlic Honey Roasted Carrots
Garlic Honey Roasted Carrots! An oven baked carrot recipe that every one should have in their hip pockets. Sweet and savory with a hint of garlic, these carrots are perfectly flavored, simple to make and goes well with any protein or main dish.
Carrot lovers: prepare to love carrots even more.
Non carrot eaters: prepare to be converted. Just sayin', it is THAT good.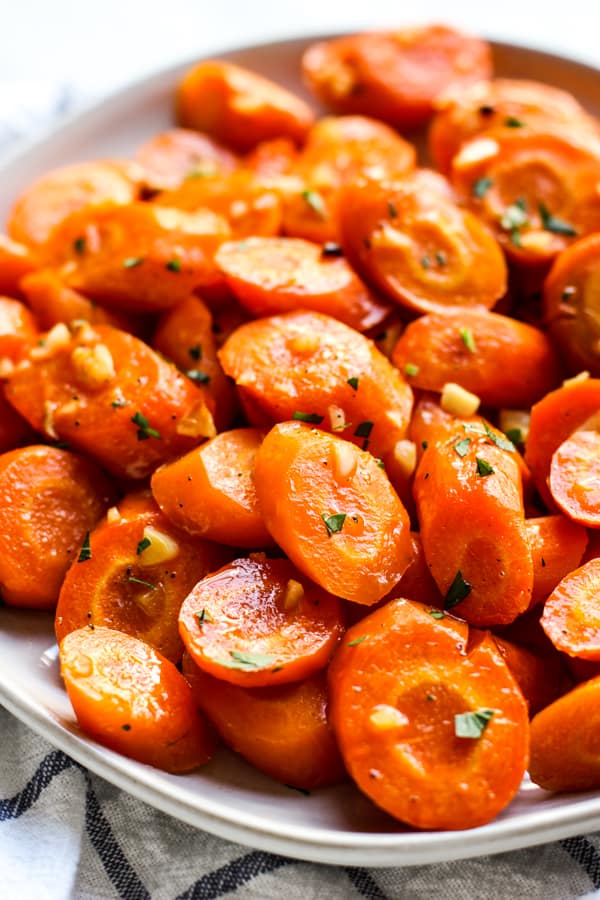 Sometimes the simplest things in life are truly the best.
This Garlic Honey Roasted Carrots recipe is requires four major ingredients, take a few minutes to prep, and can be serve all the time to accompany any dishes.
I am a huge of crazy flavorful, stupidly easy veggie sides. Even though they were published a while back, I still religiously make my Lemon Garlic Roasted Broccoli (a.k.a. BEST broccoli side ever), Easy Garlic Parmesan Asparagus, Caramelized Onions Green Beans, Sautéed Brussels Sprouts and Carrots.
And it's the same when it comes to these Garlic Honey Roasted Carrots. I've been making them again. And again. And again.
How to make Garlic Honey Roasted Carrots
When I said this is stupidly easy I truly meant stupidly easy.
Ingredients
It requires six ingredients! Yes SIX!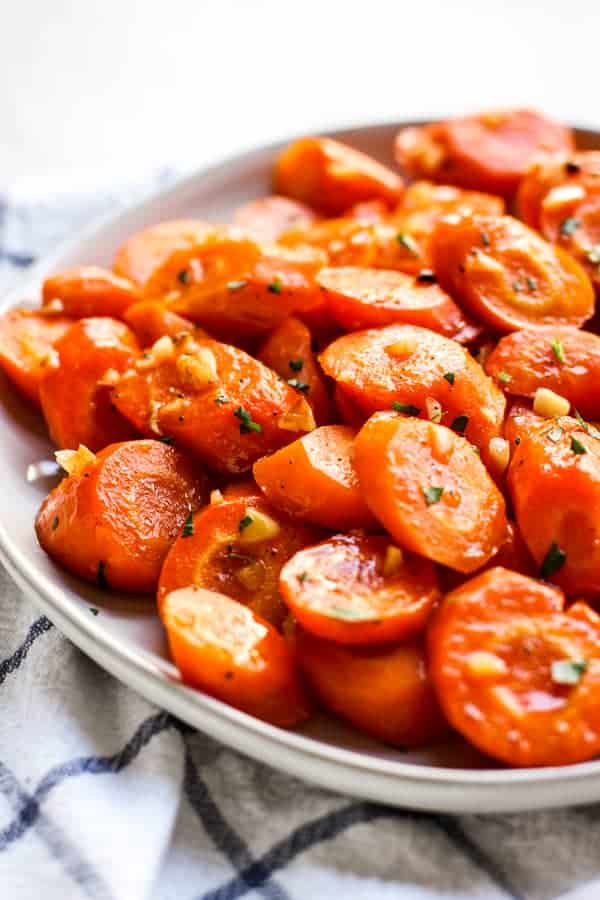 Carrot – I typically buy whole carrots and slice them. They are much cheaper whole and it's fairly easy to peel and cut up carrots. However, if you want to do less work in the kitchen, baby carrots, or ready-sliced-carrots work really well too!
Honey
Garlic – fresh garlic is the best for this, but in a pinch, you can use garlic powder.
Butter – salted butter works best. The flavor is better than unsalted.
Salt
Black Pepper
Step 1: Prepare carrots
If you are using whole carrots, make sure to wash off the dirt on the skin of the carrot and then peel the carrots.
Or, get baby carrots that are already peeled so you don't have to do the peeling work (coz we all have those moments, and those days).
Slice carrots into 1-2 inch pieces if you are using whole carrots, and place them in a large bowl.
Step 2: Toss carrots in honey garlic seasoning
Add melted butter, honey, chopped fresh garlic, salt and pepper to the bowl of carrots.
Garlic powder is okay to use if you are in a hurry, but nothing will beat fresh garlic.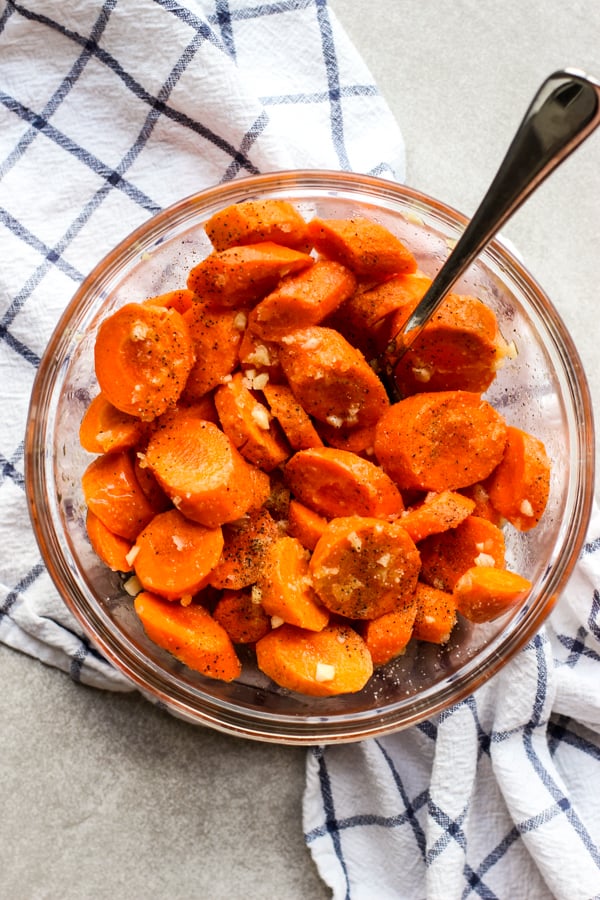 Give it a nice toss and place carrots on baking sheet.
Step 3: Roast Carrots in the oven
Make sure carrots are not overlapping. They can touch each other on the baking sheet but just don't place them on top of each other.
Then bake that baby in the oven, and viola!
25 minutes later all is done and well. Sticky sweet savory Honey Garlic Roasted Carrots with a soft crunch is served.
Tips for Making Garlic Honey Roasted Carrots
Honey Garlic Roasted Carrots is simple with a capital letter S. To make it even simpler, here are a few tips:
Line baking sheet with aluminum foil for easier cleanup
If you are looking for a short cut, use baby carrots instead of whole carrots – no peeling and chopping of carrots (yee-haw!)
Make sure to slice it to around 1-2 inches long. If it's too large of a piece, it will take longer to cook. If you like your carrots softer, feel free to cook it longer!
When baking carrots, avoid overlapping them. Bake them in two separate pans if needed!
At the end after baking, taste carrots and if the flavor is flat, sprinkle a little bit of salt to open up the flavors. Salt doesn't just add saltiness to a dish, it brings out flavors!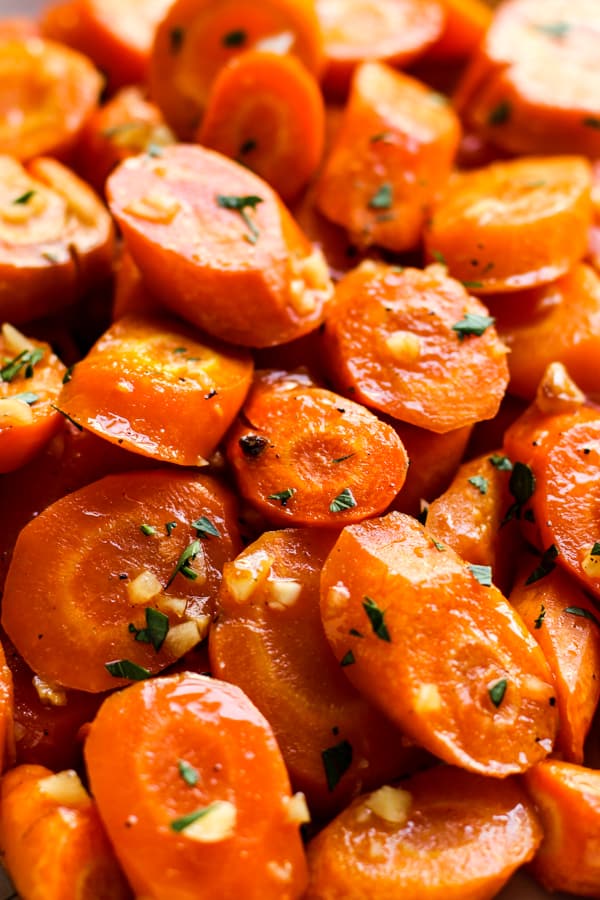 Serve this for the holidays
ALSO. Not only is this Garlic Honey Roasted Carrots a great side for dinner any day, make this the holidays as well. Add these yummy veggies to your Easter, Thanksgiving and Christmas spread!
It'll probably be one of the easiest dishes you'll ever make for the holidays! 🙂
What do I serve with Honey Garlic Roasted Carrots
Here are some yummy protein that goes great with it!
Frequently Asked Questions
Do they keep well as leftovers?
yes yes! Store them in an airtight container in the refrigerator for up to 5-6 days. Heat them up in the microwave oven when ready to serve. They keep extremely well!
What other herbs can I add to this?
Dill, thyme, rosemary or parsley typically foes really well with carrots!
Can I bake the carrots whole?
Yes! You will need to bake it for a little longer – about 30-35 minutes, or until carrots are soft.
Why are my carrots still hard after baking?
Oven temperature varies so you may need to bake it longer. Another reason could be carrots are in bigger slices so it will take longer to cook. I generally suggest slices carrots into 1-2inches long pieces.
DID YOU ENJOY THIS RECIPE? Please comment below and give us a 5-star rating! This will help others find this recipe on Google and Pinterest. We very much appreciate your help! 🤍
Other Yummy Side Dishes
Here are some of my other favorites!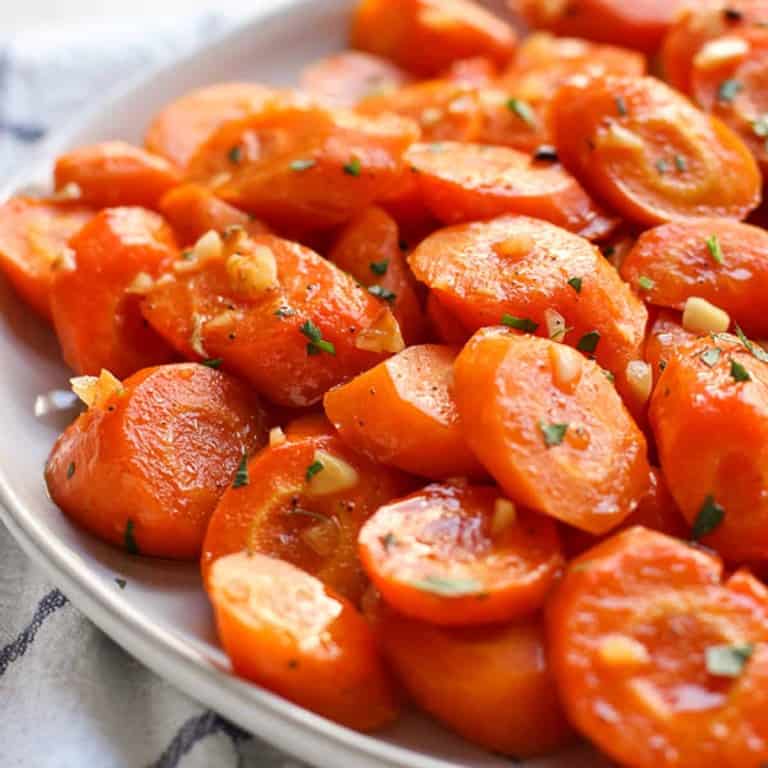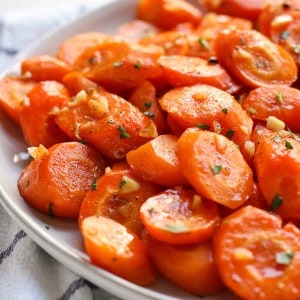 Garlic Honey Roasted Carrots
An easy and flavorful carrot side dish coated with garlicky, savory sweet glaze. Perfect side for your every day meal and the holidays!
Print
Pin
Ingredients
2

lbs

carrots

3

tbsp

salted butter

3

tbsp

honey

salt

to taste

black pepper

to taste

3-5

cloves

garlic
Instructions
Pre heat oven to 425 degrees F

Mince garlic. Wash, peel, and cut carrots into 1-2 inch pieces. Melt butter.

Bring carrots into a large mixing bowl. Add butter, minced garlic and honey. Toss to combine.

Place carrots on a baking sheet (line with aluminium foil for easy cleanup). Avoid overcroding or overlapping carrots. Use two baking sheets if needed.

Bake for 20-25 minutes or until carrots reach desired softness. Roast carrots for longer in the oven if you like it softer. Taste and sprinkle salt if needed to open up/bring out the flavors.
Nutrition
Calories:
220
kcal
|
Carbohydrates:
36
g
|
Protein:
2
g
|
Fat:
9
g
|
Saturated Fat:
5
g
|
Cholesterol:
23
mg
|
Sodium:
523
mg
|
Potassium:
735
mg
|
Fiber:
6
g
|
Sugar:
24
g
|
Vitamin A:
38151
IU
|
Vitamin C:
14
mg
|
Calcium:
81
mg
|
Iron:
1
mg