Creamy Sun-dried Tomato Pasta with Chicken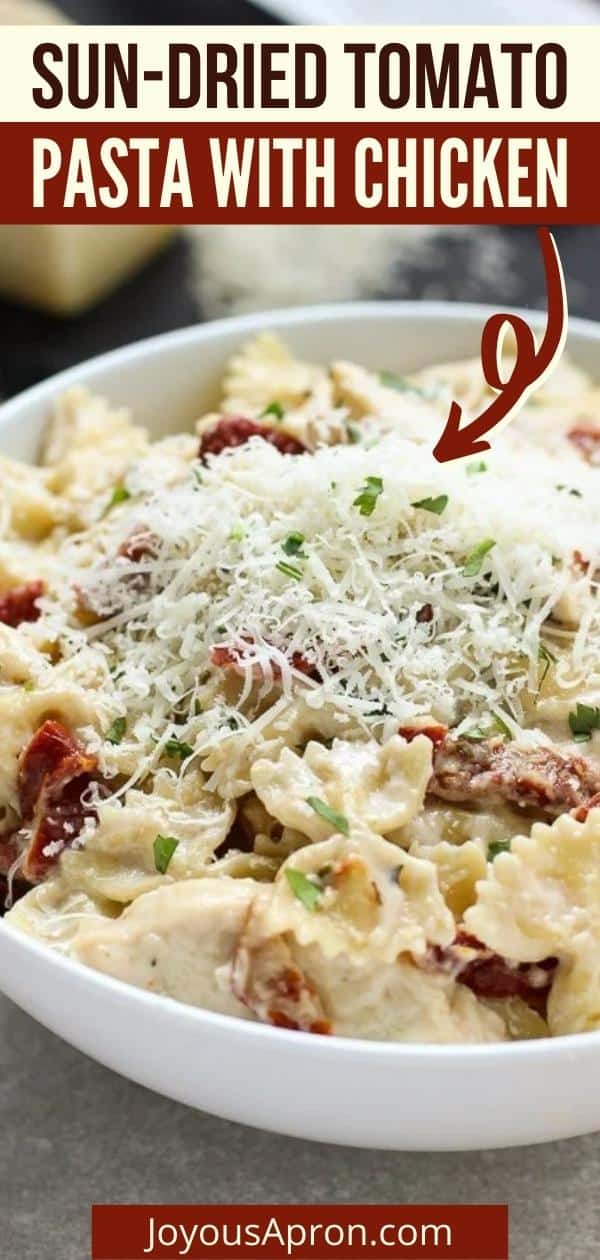 Confessions of a food-blogger: White sauce on pasta has always been a hit or miss for me. Every now and then, I do find an amazing white sauce pasta dish. However, most of the time, it just doesn't do it for me.
Sometimes it is too heavy or greasy, or lacks flavor. At other times, it tastes good, but only for a couple of of mouthfuls. I could do tapas-style, eat off my husband's plate, but it rarely leaves me wanting to finish off the whole thing.
But here's the thing. I created a white sauce that I am absoutely in love with. I taste-tested all day while developing the recipe, ate the entire bowl for dinner, had it again for lunch the next day, and cannot wait to make it again. That, my friends, is what I call love.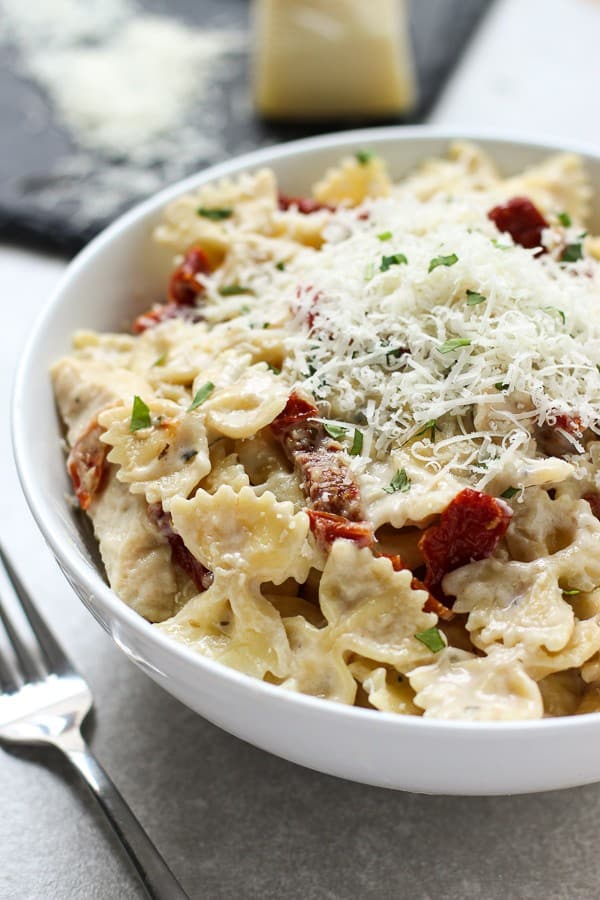 Dear Creamy Sun-dried Tomato Pasta with Chicken, you have restored my hope in white sauces.
Farfalle pasta tossed in a cheesy cream-based sauce infused with garlic and butter, mixed with sun-dried tomatoes and baked chicken with Italian herbs. It is divine. Packed full of flavor, sounds a tad bit fancy, but guess what? Super EASY to make.
It is perfect for a busy weeknight dinner, or it can be turned into a nice dinner at home for the weekend. Serve it with white wine, salad, and bruschetta, and you got yourself a nice, fancy Italian meal.
How to make it
This recipe is created for all the busy people out there who wants to make real, yummy food from scratch, but don't want to spend hours in the kitchen. We are baking the chicken after drenching it with olive oil and lots of spices such as basil, oregano, garlic powder and salt.
After sending the chicken into the oven, you can work on the pasta and the sauce while the chicken cooks, without worrying about burning the chicken or having to flip it constantly.
When cooking pasta, add some olive oil and salt into the boiling water. Cook it al-dante and drain. Add some olive oil to the pasta and toss it (this will prevent the pasta from sticking together) and set aside.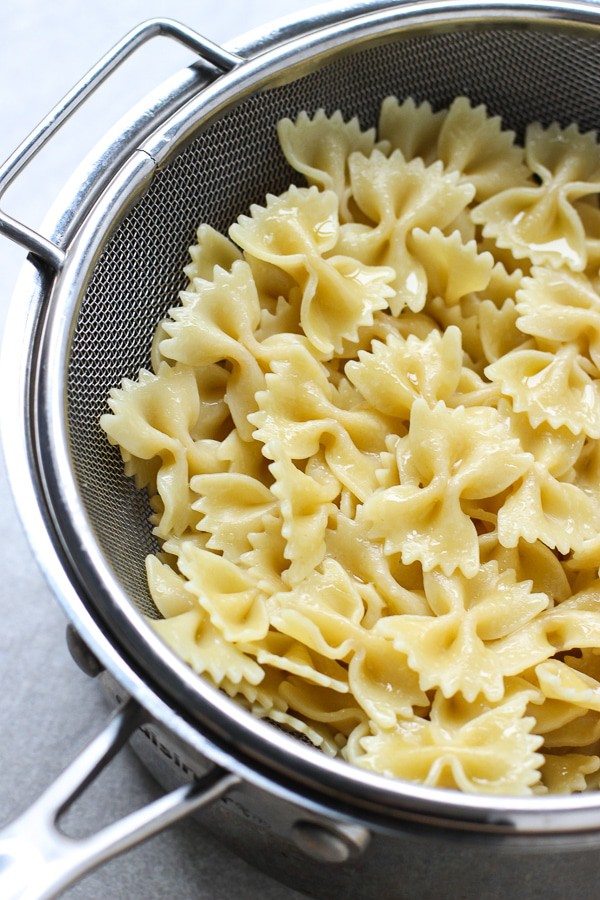 Pretty Farfalle. It's my favorite pasta shape. 🙂
Set a large skillet on stove under medium heat, add butter, flour, garlic and salt, and sauté it for about a minute. Then slowly add in 2% milk. Continue stirring and remove the lumps in sauce. Let it come to a boil and continue cooking (and stirring) for another 1-2 minutes.
Remove from heat and add 1/2 cup of shredded mozzarella cheese. If you would like the sauce creamier, you can add an additional 1/4-1/2 cup of mozzarella. However, do keep in mind that after the sauce sits for a few minutes, it will thicken slightly.
At this time, your chicken in the oven should be done, or almost done. Slice chicken into strips and add to the sauce. Also add sun-dried tomatoes (drain the olive oil) and cooked pasta to the sauce.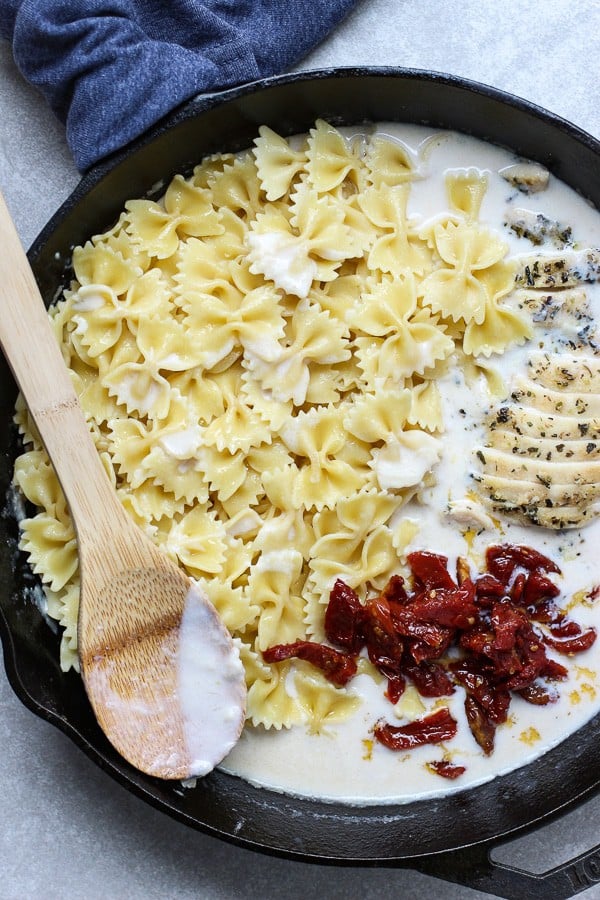 Heat skillet under medium heat for another 1-2 minutes. Stir and combine. Everything has already been cooked or can be safely consumed at this point. We are simply mixing the ingredients together, and warming it up.
The product is this tasty, satisfying, one-bowl meal staring right at you.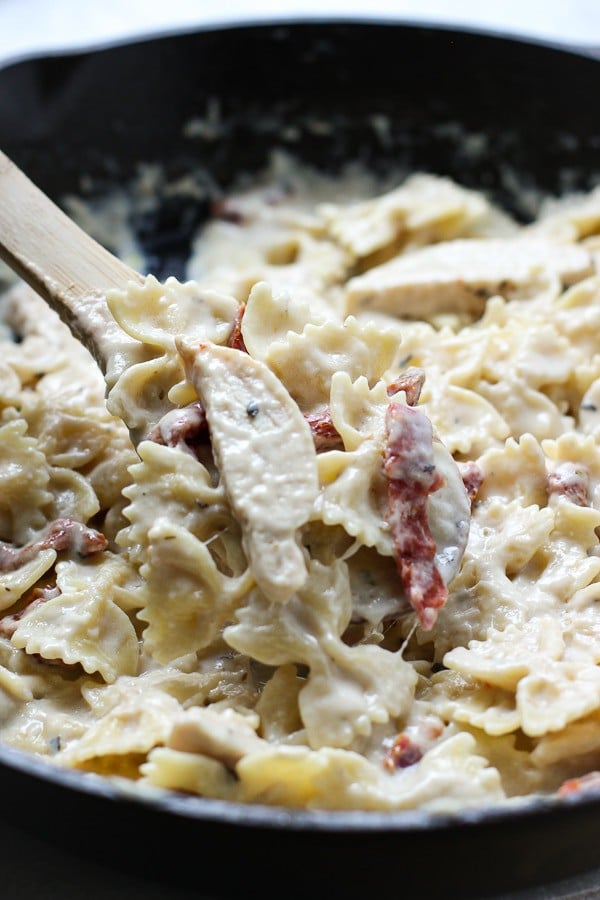 Garnish with grated parmesan cheese, basil or parsley. Or all of them. Or none at all. The parmesan does make it more cheesy and bring lots of amazing parmesan-y flavor to the dish. Which I can't pass up – because I love me some freshly grated parmesan cheese on any of my pasta.
I absolutely love how the sun-dried tomatoes introduces a slight acidity and sweetness to the luscious cream sauce. There is just enough sauce to lightly coat the pasta, and it doesn't drown it or over-power it.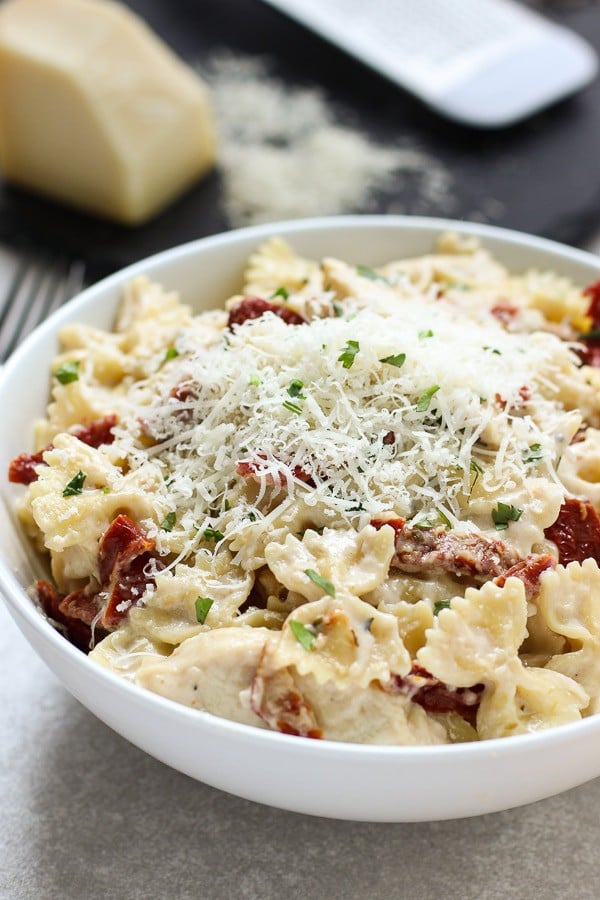 White sauce. You have won me over.
Next step: bring food to mouth, savor, devour, repeat.
DID YOU ENJOY THIS RECIPE? Please comment below and give us a 5-star rating! This will help others find this recipe on Google and Pinterest. We very much appreciate your help! 🤍
More Pasta Recipes!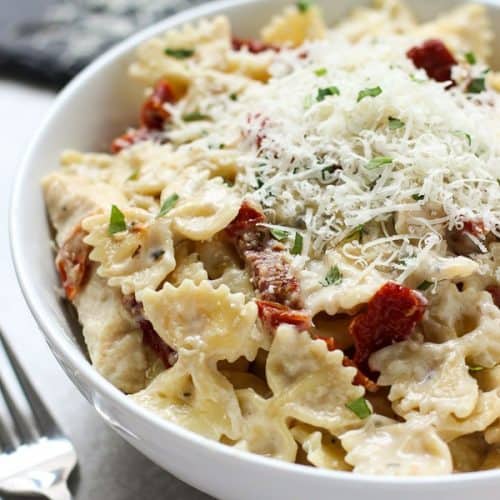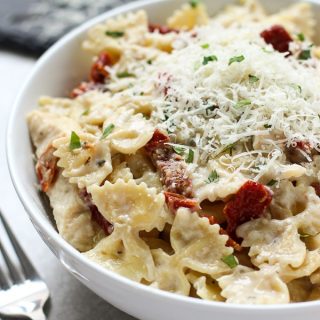 Creamy Sun-dried Tomato Pasta with Chicken
Farfalle pasta tossed in a cheesy cream-based sauce infused with garlic and butter, mixed with sun-dried tomatoes and baked chicken with Italian herbs.
Print
Pin
Ingredients
Chicken
1

large chicken breast

1/2 – 3/4 pounds

1/2

tsp

basil

1

tsp

oregano

1

tsp

garlic powder

1/2

tsp

salt

1/2

tbsp

olive oil
Pasta
8

oz

farfalle pasta

1

tbsp

olive oil

1/2

tsp

salt
White Sauce
2

tbsp

butter

1

tbsp

flour

5-6

cloves

fresh garlic

1/2

tsp

salt

2

cups

2% milk

4-5

oz

sun-dried tomatoes in olive oil

1/2-1

cup

shredded mozerella
Garnish
Freshly grated parmesan cheese

Chopped basil

optional
Instructions
Chicken
Preheat oven to 375 degrees F. Rub 1/2 tbsp olive oil, oregano, basil, garlic powder and 1/2 tsp salt onto both sides of defrosted chicken breast.

Bake chicken for 25-30 minutes, or until internal temperature reaches 165 degrees F. Once chicken is cooked, slice chicken into strips.
Pasta
While waiting for chicken to bake in the oven, boil 3 qt of water using a saucepan and once the water boils, add in pasta. Add 1/2 tsp of salt and 1/2 tbsp of olive oil into boiling water.

After 9-10 minutes, or a minute less than what the package direction calls for, remove pot from heat and drain pasta. Add another 1/2 tbsp olive oil to the pasta and toss to prevent pasta from sticking together. Set aside.
White sauce
Minced 4-5 cloves of garlic. Warm a large skillet on medium heat, then melt butter on skillet. Once butter is melted, add flour, salt and minced garlic. Stir for 30-60 seconds. Avoid burning garlic.

Add milk onto skillet. Keep stirring to remove clumps. When it boils, continue stirring for another minute. Liquid should thicken slightly. Then remove from heat.

Add 1/2 cup of shredded mozzarella onto skillet, then stir to combine. Sauce should thicken further. Add additional mozzarella if desired, however note that sauce will continue to thicken as it sits.
Combine!
Drain olive oil from bottled sun-dried tomatoes. Add baked chicken strips, cooked pasta and drained sun-dried tomatoes to sauce. Heat saucepan under medium heat, combine and stir for another 1-2 minutes. Remove from heat.

Garnish with parmesan cheese and fresh basil (optional). Serve and enjoy!
Notes
Tip: Baking the chicken, boiling the pasta and making the sauce can happen concurrently. Doing so will save lots of time!
This post was originally published on January 11, 2018 and the photographs and texts were updated on November 9, 2018.