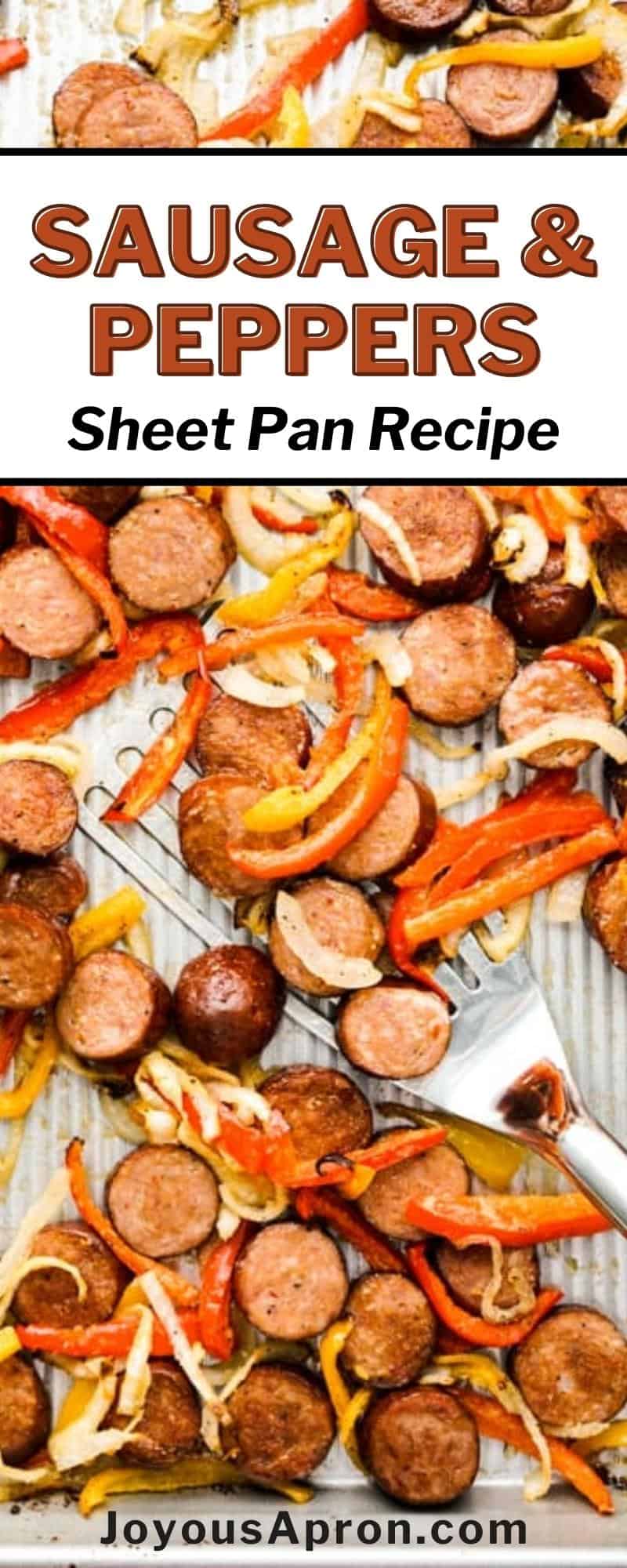 This post may contain Amazon or other affiliate links. As an Amazon Associate I earn from qualifying purchases at no additional cost to you.
I love making this easy sheet pan Sausage and Peppers in the oven! We are simply placing pre-cooked smoked sausage, and seasoned bell peppers and onions on a large full size sheet pan, then sending them into the oven to bake.
You are looking at an easy, fast, and tasty one-pan recipe…perfect for a quick no-fuss dinner!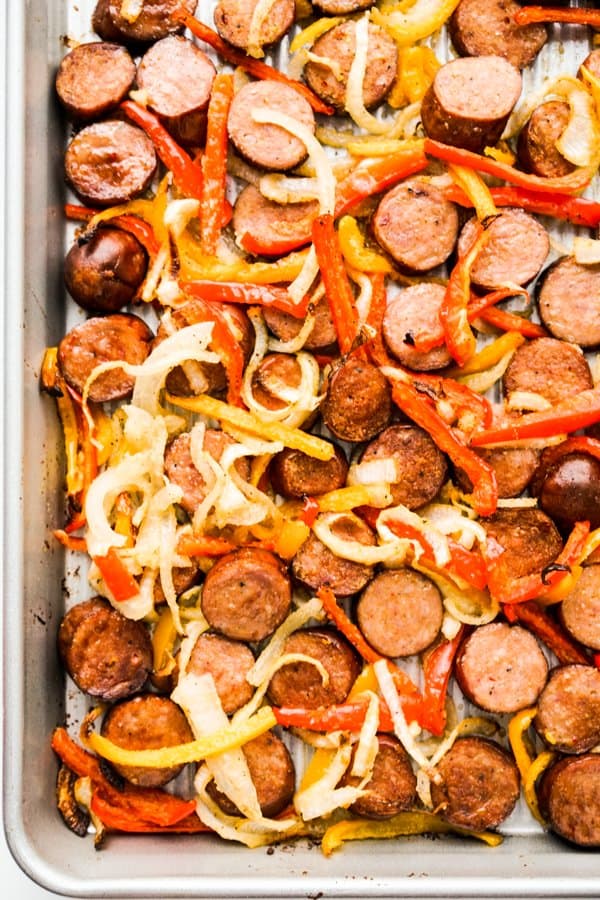 If you are looking for more easy one-pan dinners, don't forget to also check out One Pan Baked Lemon Chicken and Rice and Skillet Sweet Potato Kielbasa Hash. Some of my other favorite quick meals on the blog!
We have been making sausage and peppers in the oven the last couple of months, especially on busy weeknights because this yum thing takes only 10 minutes to prepare! I mean, it really doesn't get better than that…
With the sausage already pre-cooked and packed with great flavors, we are simply adding some seasonings to the vegetables (namely bell peppers and onions, but you can add other veggies too), and then putting it all on one large sheet pan to bake.
The flavor from the sausage will intermingle with the bell peppers and onions, thus bringing additional flavors to the veggies.
It's tasty. it's quick and easy. It hits the spot every time.
What you do need to make Sausage and Peppers in the oven
Kitchen Tools
All you need is an oven and a large full size sheet pan. These are typically 18′ x 26′ in dimension.
If you don't have a sheet pan that large, you can cook the sausage and peppers in two separate smaller sheet pans.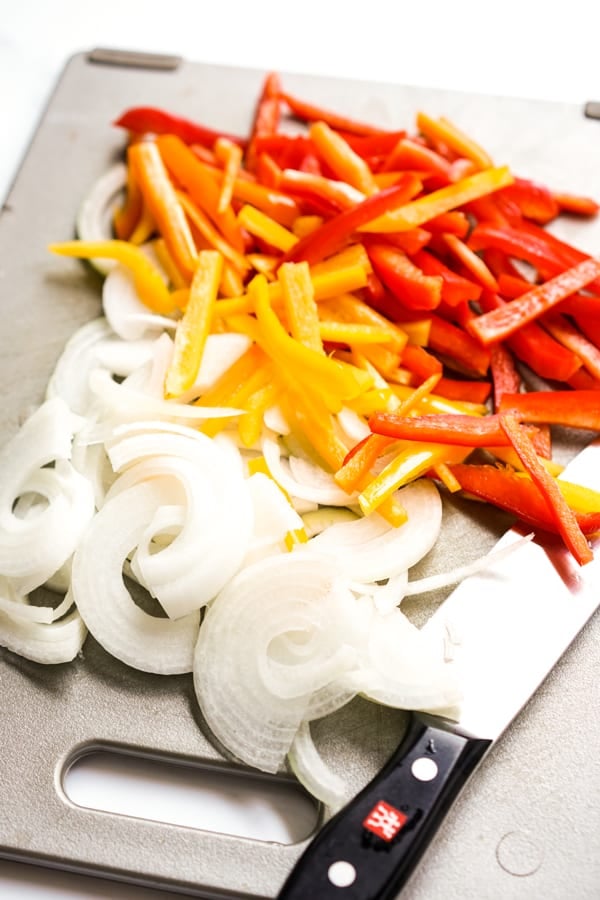 Ingredients
As for the ingredients, Oven Baked Sausage and Peppers are made with minimal pantry-friendly ingredients:
Bell peppers – sliced into thin strips
White onions – sweet or yellow onions work too. Also sliced into thin strips.
Smoked sausage – pre-cooked sausage sliced in coin-shape slices. Pro tip: use good quality sausage! It will elevate this dish and makes it tastes much better.
Garlic powder
Onion powder
Olive oil
Salt and black pepper
How to make Sausage and Peppers in the Oven
Step 1: Toss bell peppers and onions in seasonings and olive oil
Make sure to slice the peppers and onions to about the same size so they cook evenly. I like to slice them into strips so they are thin enough to be completely softened in about 20 minutes.
We are combining peppers and onions with olive oil, garlic powder, onion powder, salt and black pepper. Use a pair of tongs to toss them together.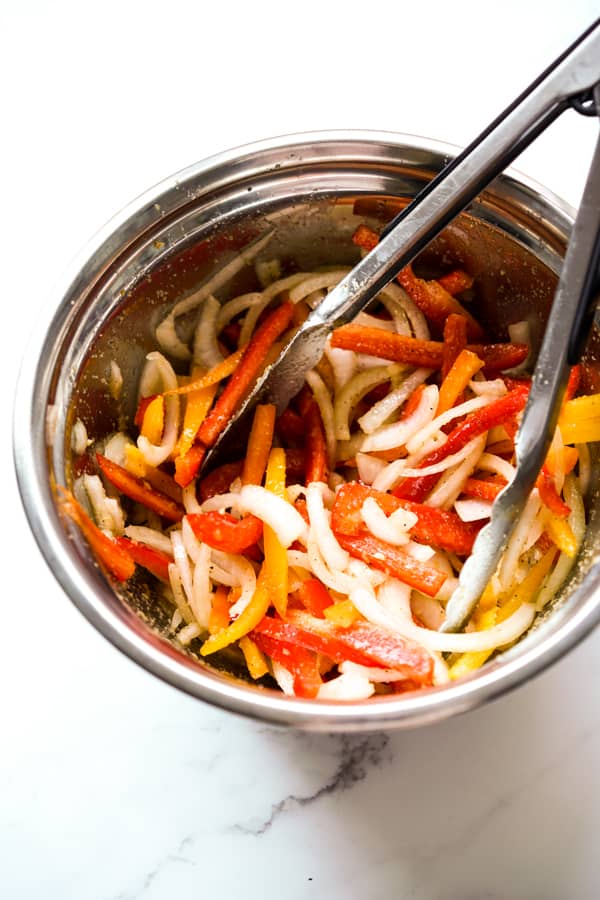 Step 2: Place sausages, peppers and onions on sheet pan
Next, spread sausages all over the sheet pan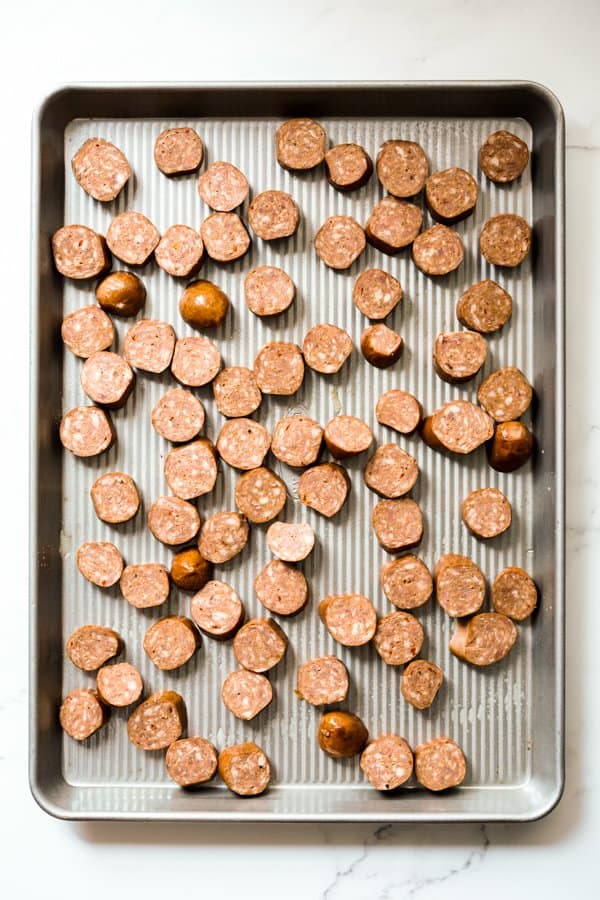 Then, spread seasoned peppers and onions on top of sausage all over the baking sheet.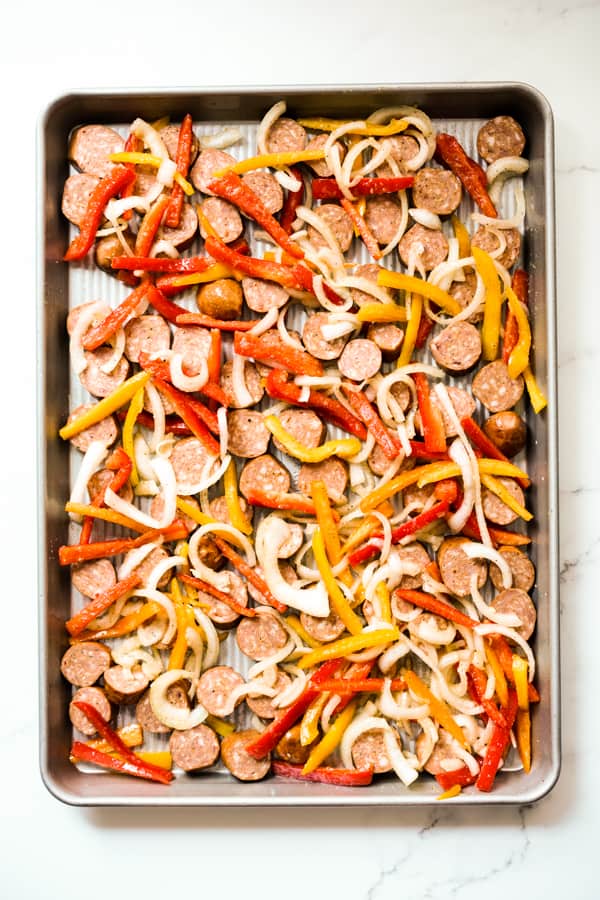 Step 3: Bake
Send the pan into the oven and bake for 20 minutes at 400℉.
Sausage is already cooked, so the goal is to heat up the sausages and softened the onions and bell peppers. This one pan meal will be ready before you know it!
When they are done, peppers and onions should be soft and sausage should be heated through. If your oven heats up quickly, check at the 15 minute mark and pull it out once the peppers and onions are softened.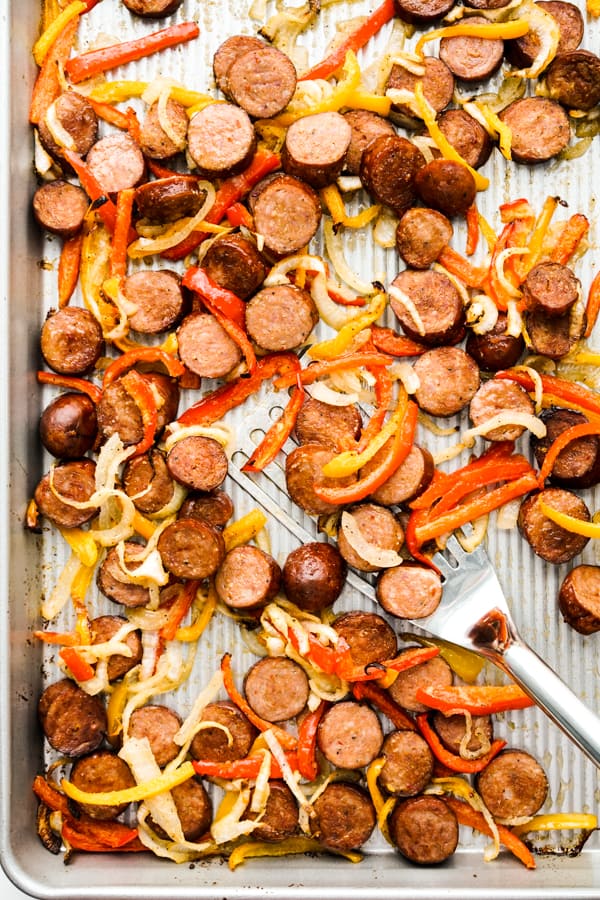 And that's it!
Quick, simple, straight-forward, and really not all that much work to it.
But yielding a very tasty, satisfying product!
Variations and Substitutions
There are many ways to customize this and make it your own. Here are a few examples:
Use different seasonings – instead of garlic and onion powder, feel free to add Italian seasoning, or dried herbs such as thyme, parsley or dill to the bell peppers and onions.
Add more vegetables – feel other veggies such as carrots, pea plant, zucchini, or squash. Slice them into long strips and keep them in similar sizes as the bell peppers and onions so they cook evenly. I would avoid vegetables that are slow to cook or chunky and large (like broccoli, cauliflower – they will need to be cooked longer in the oven).
Try out with different flavors of smoked sausage – I especially love the ones with cheddar cheese inside! There are so many variety of sausages and each of them will add a different twist to this dish.
How to Serve Sheet Pan Sausage and Peppers
I've served this recipe so many different ways. Its versatility is one of my favorite things about this dish. It also helps keep the meals interesting and different, especially if you are eating this for multiple days in a row.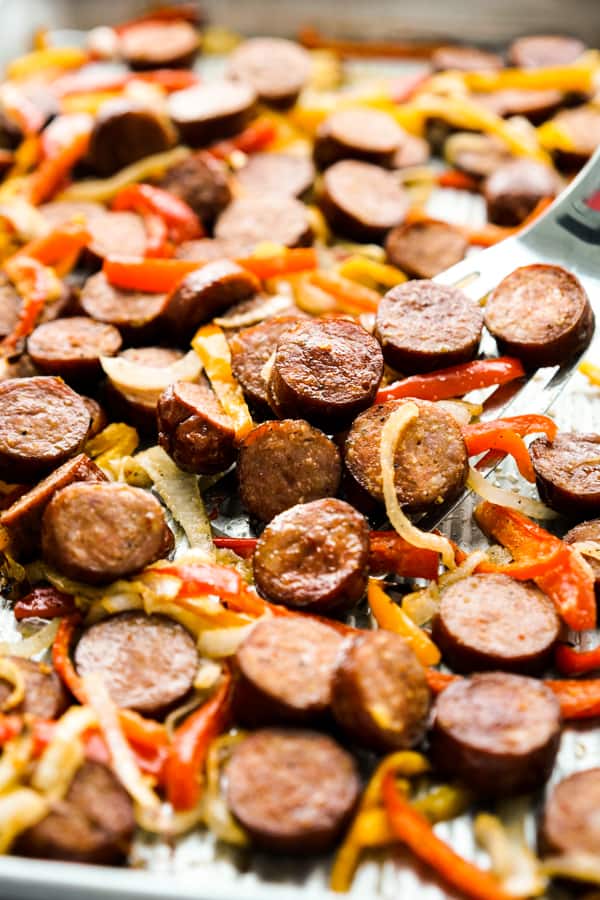 Here are some ways to serve this:
Tips and Tricks
A couple of quick notes!
Slice bell peppers and onions to about the same size so they cook evenly!
Use a parchment paper or aluminum foil to line baking sheet for easier cleanup.
Move oven rack to the middle rack when baking. Avoid using anything higher than the middle rack for this.
Frequently Asked Questions
Can I make this in the air fryer?
Air fry for 350℉ for 5-6 minutes. Cook it longer if it is still not done. Note that you will probably have to do it in two batches or more, unless you have a huge air fryer.
How do I store and reheat leftovers?
You can store this in the refrigerator in an air tight container for up to 5 days. To reheat, simply heat leftovers using the microwave.
How do I prepare this ahead of time?
Toss peppers and onions in seasonings, slice sausages, and then store everything in the refrigerator an airtight container or zip lock bag. When ready to bake, simply spread them all out on a sheet pan and bake following the instructions.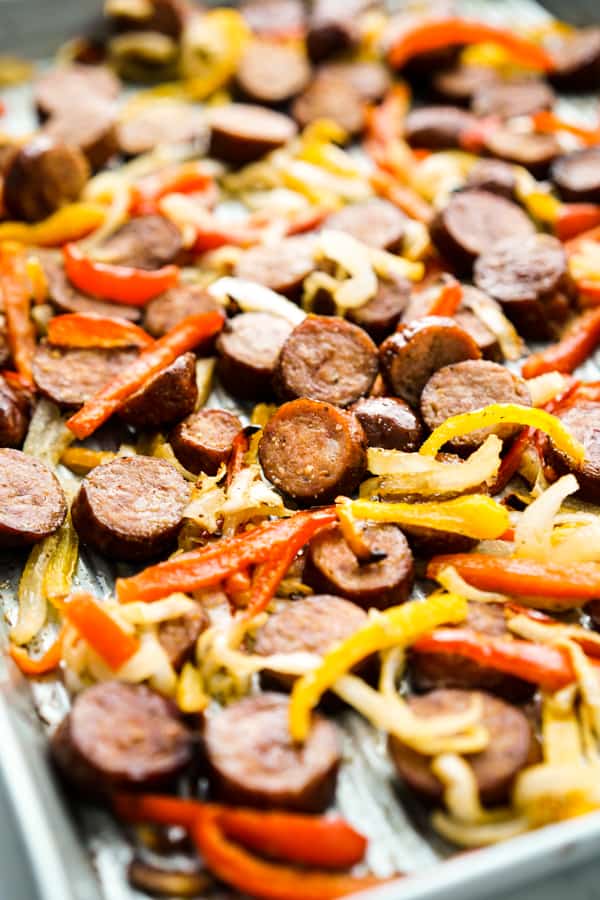 As you can see, roasting sausage and pepper in the oven is actually kinda easy!
It's one of those simple underrated weeknight meal that will always leave me thoroughly satisfied.
It has saved me on many busy evenings when I thought I need to go get unhealthy fast food to feed all the hungry stomachs (spoiler alert: I do not!) – and I hope it will do the same for you!
DID YOU ENJOY THIS RECIPE? Please comment below and give us a 5-star rating! This will help others find this recipe on Google and Pinterest! We very much appreciate your help! 🤍
More Easy Dinner Recipes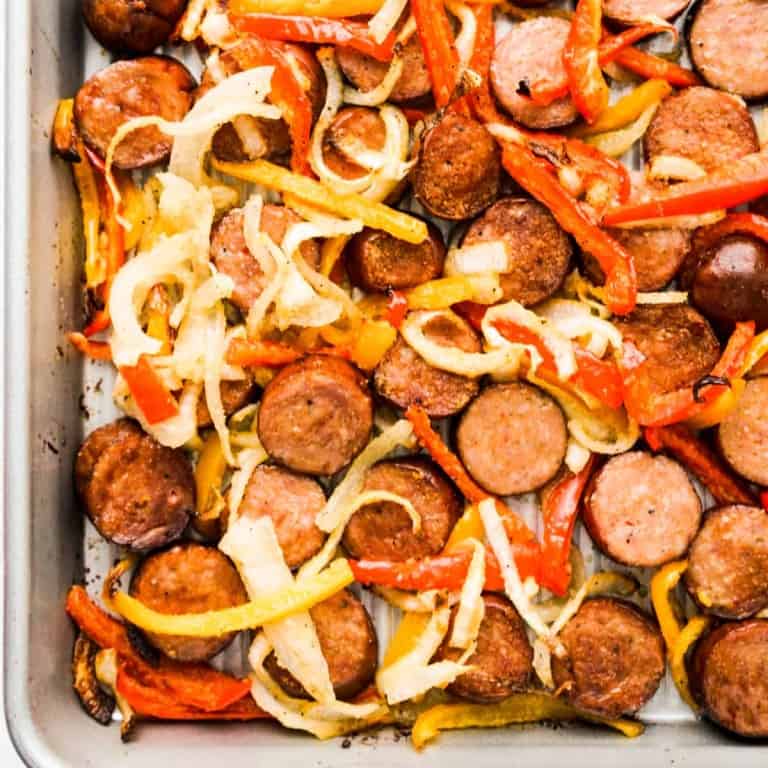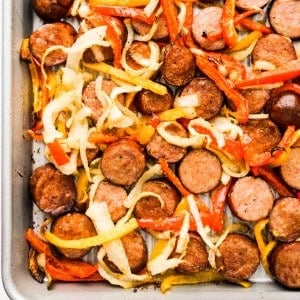 Sheet Pan Oven Baked Sausage and Peppers
Sausage, peppers and onions baked in the oven on just one pan! A simple, easy and quick meal ready under 30 minutes.
Print
Pin
Ingredients
28

oz

smoked sausage links

~8 sausages, sliced into coin shapes

2

red or orange bell peppers

thinly sliced

1

white onion

sliced

2

tsp

olive oil

1

tsp

garlic powder

1

tsp

onion powder

1

tsp

salt

1/4

tsp

black pepper
Instructions
In a large mixing bowl combine sliced bell peppers, onions, olive oil, garlic powder, onion powder, salt and black pepper.

Using a pair of tongs, toss to combine.

Optional: line a full baking sheet (16' x 28') with parchment paper or aluminum foil for easy cleanup.

Spread out sliced sausages onto baking sheet. Then bring peppers and onions to baking sheet and spread them out on top of sausages.

Bring baking sheet to oven and bake for 20 minutes. When it is done, onion and peppers should be soft and sausage should be heated. Optional: check at the 15 minute mark to pull it out if it is done.
Nutrition
Calories:
522
kcal
|
Carbohydrates:
6
g
|
Protein:
25
g
|
Fat:
44
g
|
Saturated Fat:
14
g
|
Polyunsaturated Fat:
6
g
|
Monounsaturated Fat:
20
g
|
Trans Fat:
0.3
g
|
Cholesterol:
114
mg
|
Sodium:
1478
mg
|
Potassium:
539
mg
|
Fiber:
2
g
|
Sugar:
3
g
|
Vitamin A:
1610
IU
|
Vitamin C:
64
mg
|
Calcium:
25
mg
|
Iron:
2
mg