A classic old fashion Beef Pot Roast cooked on the stove top, featuring tender, fall-apart beef, flavorful gravy, fragrant herbs and soft vegetables. It is warm, comforting, and delicious – all I want to do is snuggle up under the covers with a bowl of this yumminess.
This delicious Stovetop Pot Roast recipe is a must this Fall and winter.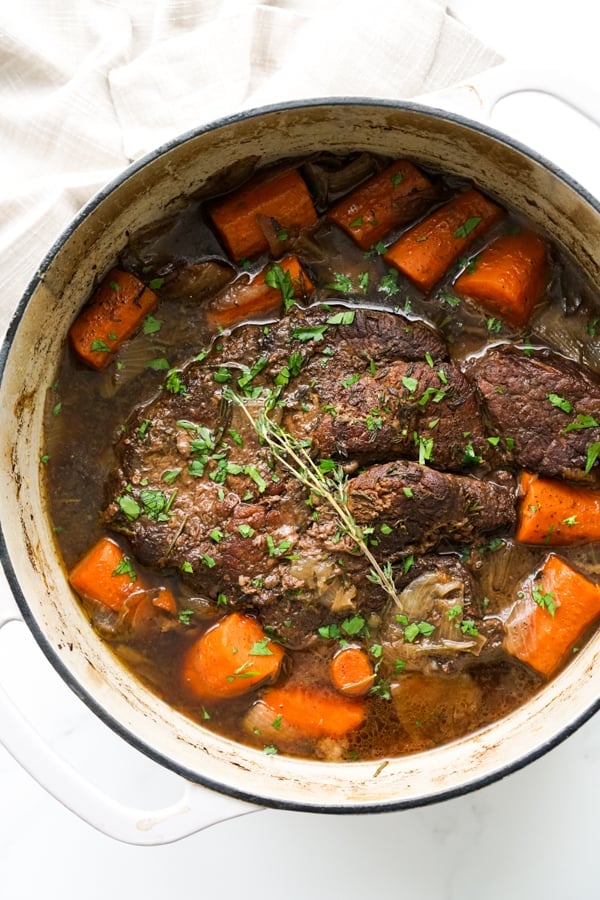 If you love this Stovetop Pot Roast recipe, you will also love these other delicious comfort food recipes on the blog. Check them out! Stovetop Beef Stew, Puff Pastry Chicken Pot Pie, Beef Noodle Soup, Turkey Sweet Potato Chili, and Pork Tenderloin with Gravy.
Making Pot Roast on Stove Top
I typically make my pot roast on the stovetop in a Dutch oven or big pot that is at least 6qt or larger. If you are using a roast smaller than 3 lbs, you should be able to comfortably get away with a smaller pot.
We are cooking this Stovetop Pot Roast recipe low and slow so beef is tender and fall apart at the touch of a fork, while soaking in all the gorgeous flavors from the fresh herbs and wine (if you choose to use it).
I love making pot roast on the stovetop, and here's why:
Easy heat control. I like being able to adjust the heat up and down as I see fit. This way there is no surprises at the end.
Easy to add or remove items. I especially like that I can add water easily when I find the broth in my Pot Roast evaporates.
Adjustability. When cooking a large piece of meat, it can be tricky to know exactly when it will be done, and cooking on the stove top makes it easier to check and adjust accordingly.
Ingredient Notes
Here's what you need to make this delicious Stovetop Pot Roast. They are easy-to-find, simple, budget-friendly ingredients:
Beef chuck roast – using 3 to 4 lbs. A fairly inexpensive cut of beef that is tender when cooked low and slow.
Beef broth – the amount will depend on how big your beef chuck is and how it fits into the pot. In general, it's about 2-4 cups. More may be needed as you cook if broth evaporates.
Red wine – use a decent quality wine! Doesn't have to be expensive but avoid using old wine or cheap wine. The basic rule is use the type of wine you won't mind drinking. If you do not want to use wine, substitute with beef broth (and some beef bouillon if needed) instead.
Thyme – use fresh thyme leaves for the best flavor for Stovetop Pot Roast. If in a pinch, use dried thyme.
Rosemary – similar with thyme, use fresh rosemary for best flavor. If in a pinch, use dried rosemary.
Garlic – use fresh cloves of garlic, not garlic powder.
Onions – white, yellow or sweet onions work great.
Carrots – I get carrots in its full stalk and cut them into large chunks, but baby carrots work as well.
Salt and black pepper – salt especially is crucial for opening up the flavors of your Stovetop Pot Roast.
Parsley – This is optional but I use fresh parsley as garnish. Dried parsley works as well.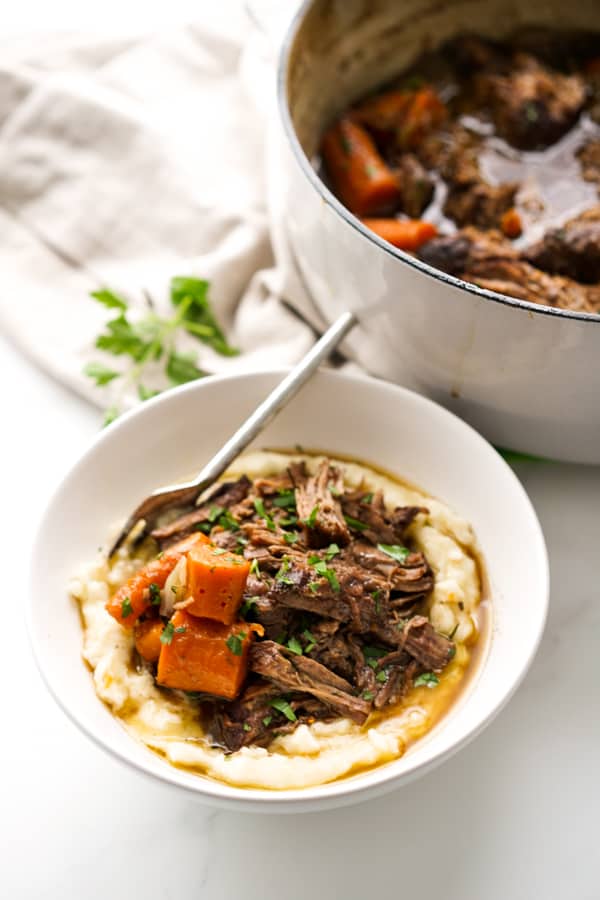 How to make it
To make this classic old fashion Stovetop Pot Roast, you will need a large Dutch oven or pot that is 6 qt or larger. And as the name suggested, we will be cooking this on the stovetop – gas or electric ranges work just fine! No oven is needed for this recipe.
Step 1: Season and sear beef
First, we will be seasoning and searing that big ole piece of beef chuck roast.
Season beef generously with salt and black pepper. Like, very generously…since it's such a huge piece of meat. This is SUCH an important step to bringing incredible flavors to your Stovetop Pot Roast.
Then heat Dutch oven or pot on the stove with cooking oil.
Once oil is heated, sear the beef chuck roast on onside side, flip when the bottoms are browned to sear the other side.
It's so important to sear the chuck roast so that you get those brown bits from the meat on the pan, which will contribute to flavors to your Stovetop Pot Roast sauce. In addition, we are also locking in the juices and flavors in the meat.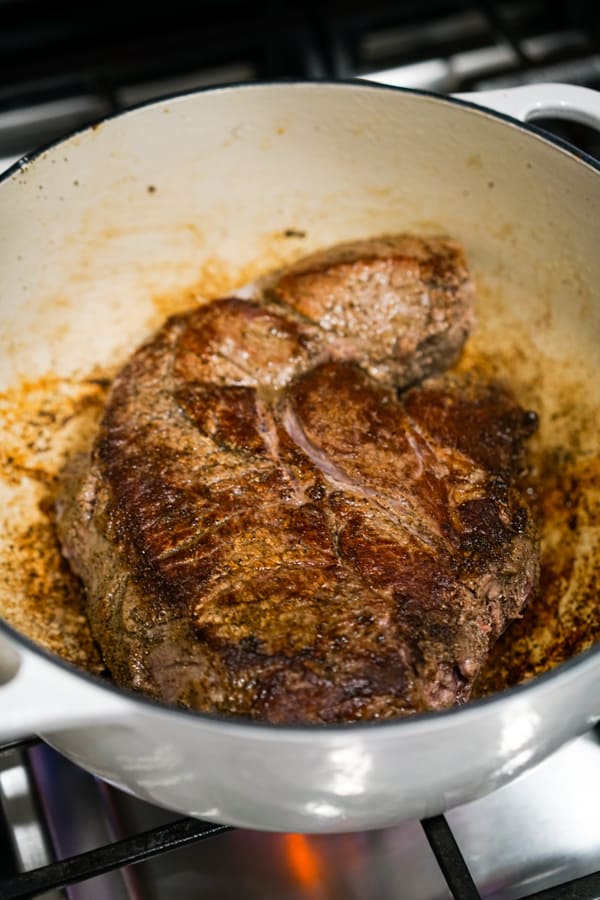 Step 2: Sear vegetables
Once the meat is browned on both side, remove from pot and set aside.
Add more cooking oil if needed, then sear the onions and whole garlic cloves (leave it whole, no need to slice).
The reason we are searing the onions and garlic is to get those flavorful brown bits onto our Stovetop Pot Roast as well.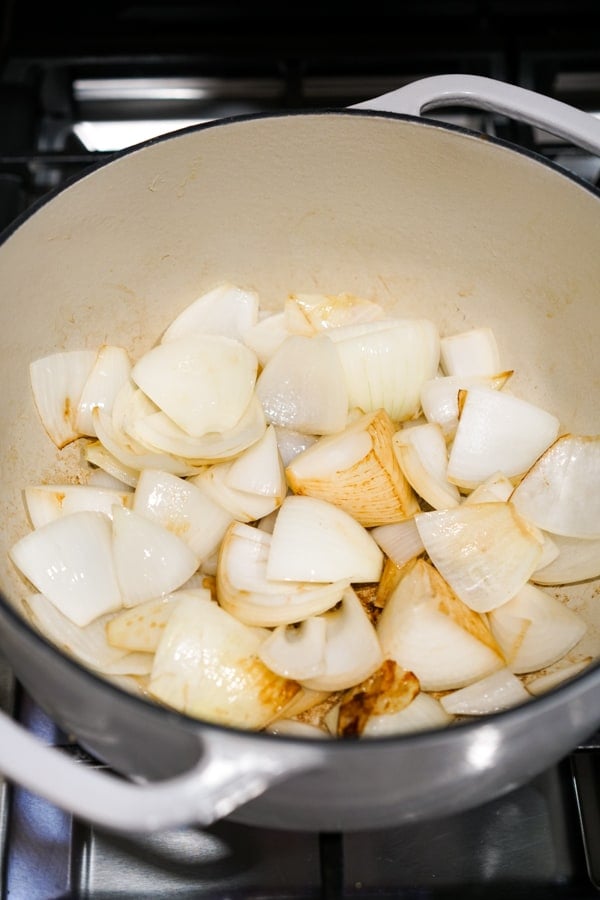 Once onions are brown on a few sides, remove and set aside.
Step 3: Cooking it low and slow
At this point the bottom of your Dutch oven or pot should have lots of brown bits on it.
Pour red wine onto it and scrap off the brown bits to get the flavors into the broth of your Stove top Pot Roast.
If you are not using red wine, use beef broth instead.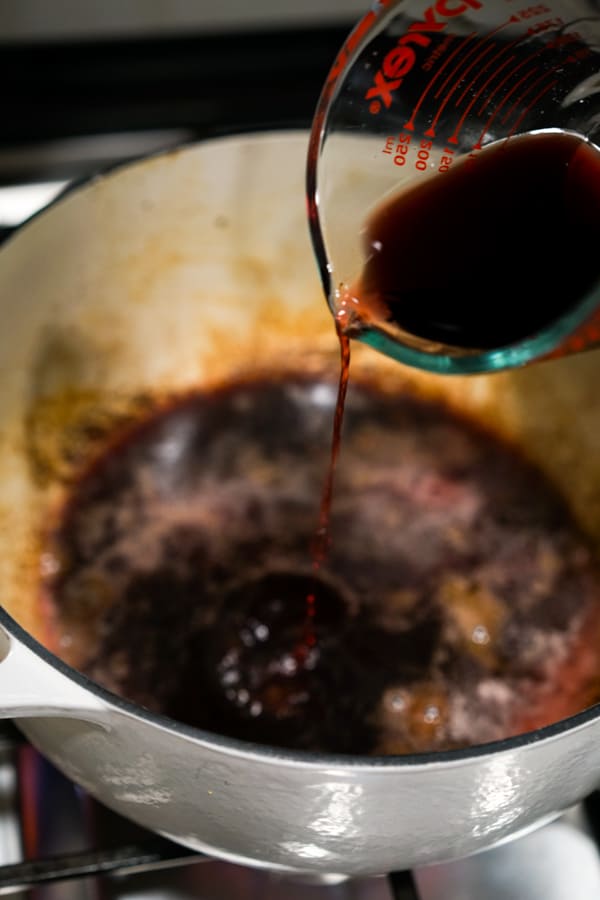 Let the wine come to a boil, then add your beef chuck back into the pot.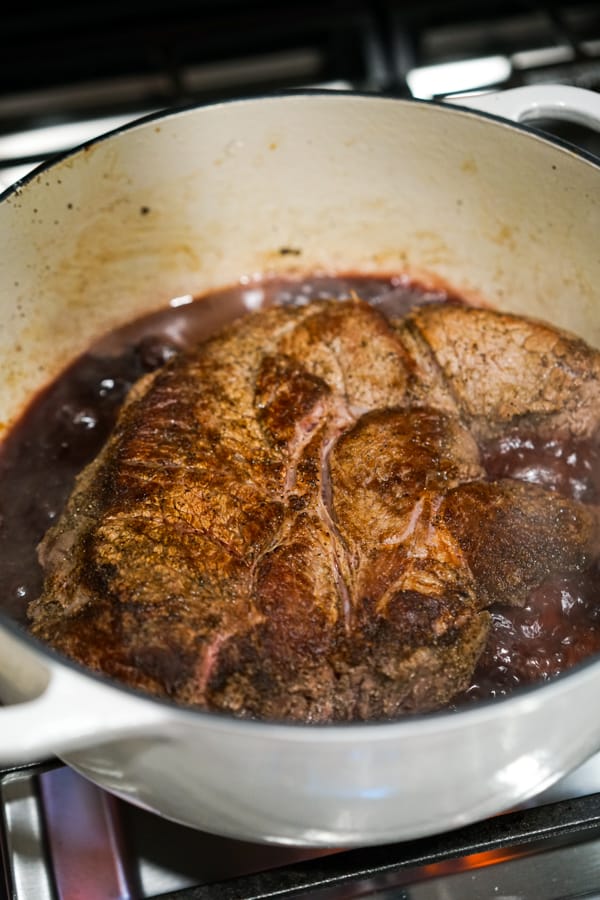 Next, add beef broth and submerge at least 2/3 of your chuck roast in it.
Add carrots, then bring seared onions and garlic back into the pot.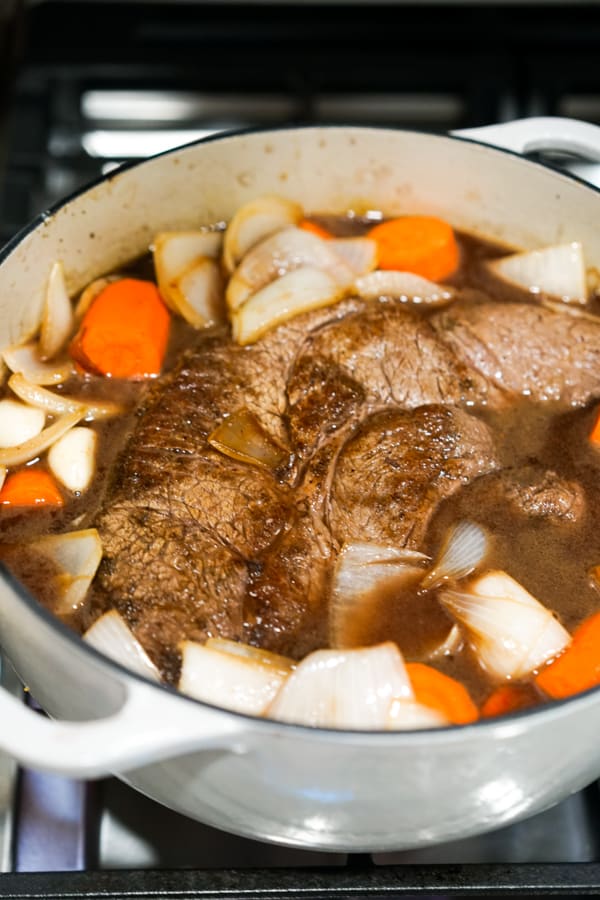 Bring heat on your stove to medium high, bring Stovetop Pot Roast to a boil, then add those fresh herbs.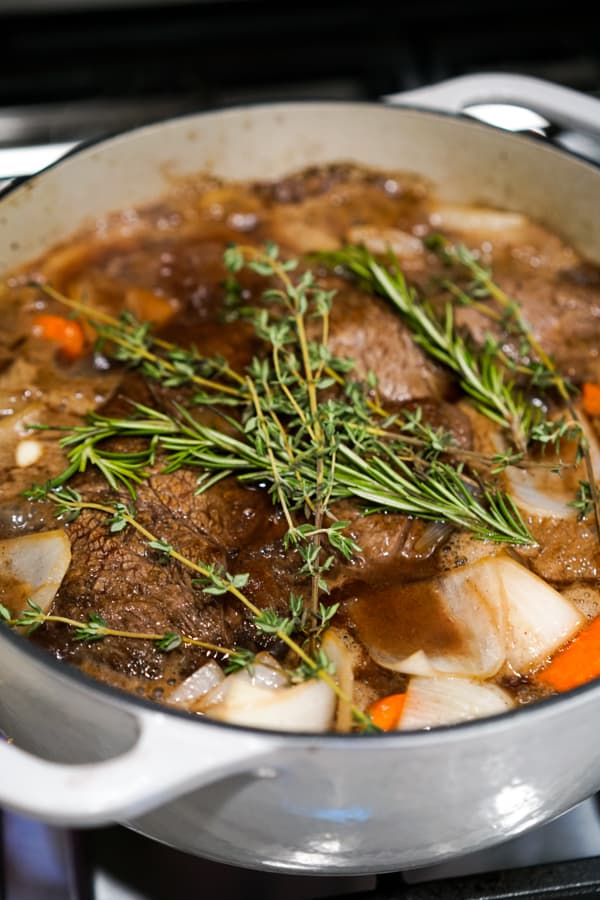 Bring your stove down to medium low heat. Cover and let your Pot Roast cook on the stove top for the next 3 hours on low.
Check every hour or so and add more water if Pot Roast is no longer 2/3 of the way submerge in water.
When Stovetop Pot Roast is done, it should be super tender and falls apart easily when shredding it.
Last but not least, garnish it with fresh parsley!
Depending on the size of your roast, you may need more or less than the 3-hour cook time allocated. So test it out by shredding a small part of your roast, and if it's still tough let it cook for longer.
And that's it! It's truly much easier and less daunting than it seems!
May I present to you – the BEST Stovetop Pot Roast ever. Peak the equally glorious whole and shredded versions of it… fresh off the stove! 🙂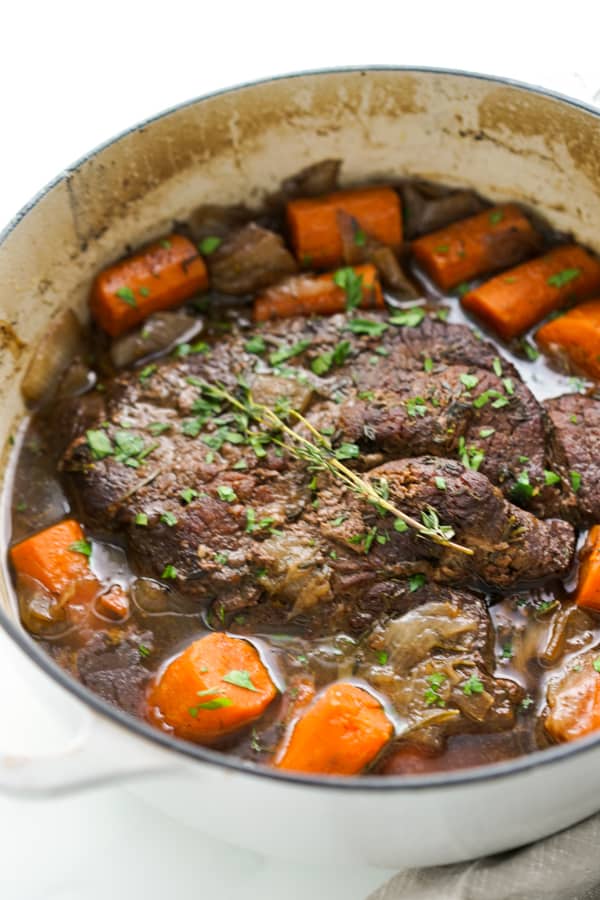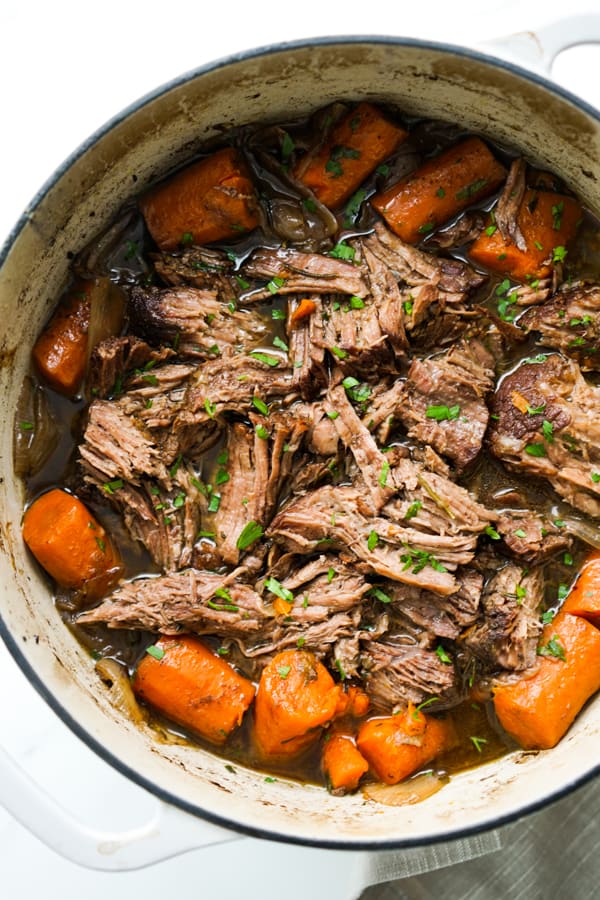 Are you drooling??? Because I sure am…
Tips and Tricks
A few thing to keep in mind when making Pot Roast on stove top:
Make sure raw beef chuck roast is not wet and then generously season roast with salt and black pepper on both sides before searing. Seasoning will bring lots of good flavors to your dish.
As Pot Roast is cooking on the stove,

keep an eye out on the broth level and add more water if needed at any time to make sure 2/3 of the roast is covered in broth.
adjust the heat on stove up or down as needed if Pot Roast is boiling too vigorously or not boiling enough

Taste your Pot Roast at the end, and add salt and black pepper to open up the flavors. If not using red wine, you can add beef bouillon if you'd like.
How to Serve Pot Roast
My favorite way to serve my Stovetop Pot Roast is, hands down, on a bed of mashed potatoes.
I love way those creamy potatoes soaks up that flavorful gravy…
I love the way that smooth and creamy potato texture compliments that juicy, tender pieces of meat and soft veggies…
I love how everything just melts in your mouth…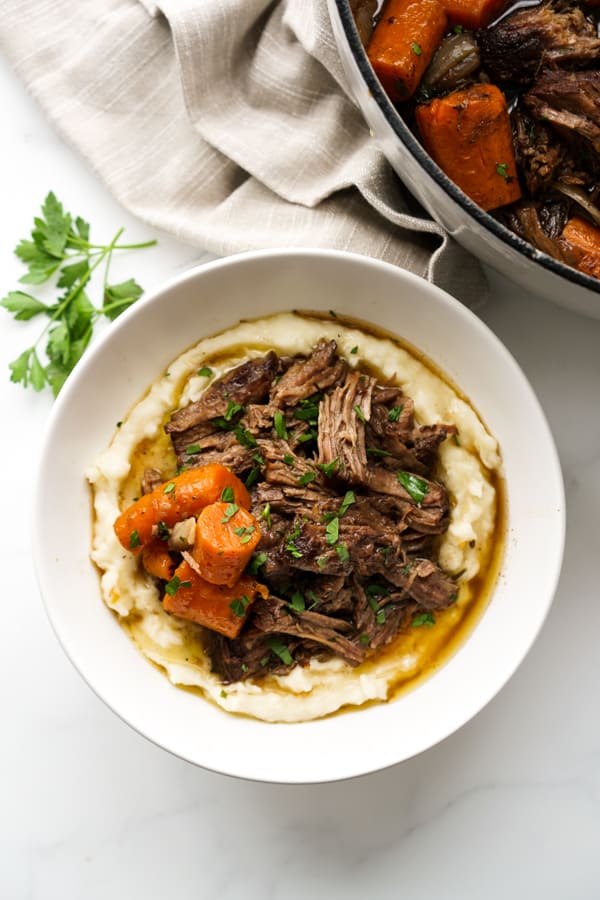 While I do love mashed potatoes, here are a few other yummy ways to serve your Stovetop Pot Roast:
Adding potatoes into the Pot Roast itself and make a one-pot meal! If you are pressed on time, this is a great way to add potatoes to your Pot Roast. Instead of using 1.5 lbs of carrots, use 1/2 of that and add 1 lbs of potatoes (slice into cubes if they are large) to your Pot Roast. Alternatively, you can keep the same amount of carrots, add 1 lbs of potatoes and more beef broth.
Other potato dishes: Cheesy Garlic Scalloped Potatoes, Roasted Baby Potatoes, Garlic Parmesan Hasselback Potatoes.
Frequently Asked Questions
My pot roast is not very tender after 3 hours, what should I do?
You probably need to cook it for longer – continue boiling pot roast on stove top under low/medium low heat until they fall apart easily when shredded. Make sure at least 2/3 of the roast is covered in broth the whole time.
What should I do if I don't want to use red wine?
Replace with beef broth instead (the same amount as you would use red wine), and a little bit of beef bouillon if you like a stronger beef flavor. You can add bouillon at the end after tasting it if you prefer.
How do I thicken the gravy?
After you are done cooking the roast, remove everything from the Dutch oven or pot, leaving just the broth. Spoon out 1/4 cup of broth into a measuring cup, add 1 tbsp of corn starch and whisk to combine. Bring broth + cornstarch back into the pot, bring to boil, stir, and cook for a few minutes until gravy thickens. If gravy is still not thick enough, repeat process until gravy reaches desired consistency.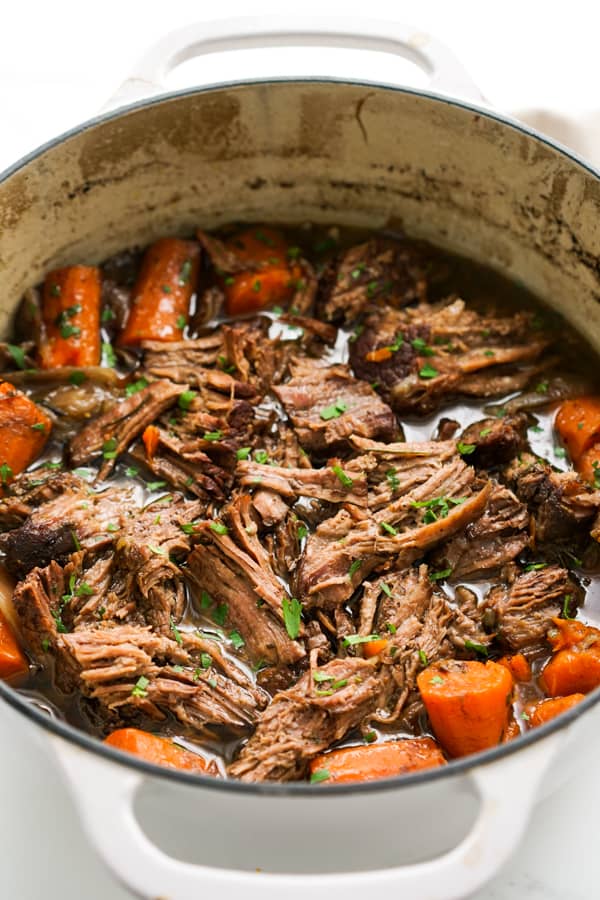 Oh I just love this old fashion Stovetop Pot Roast so dang much. And I'm not alone. Whenever I make it, everyone loves it too!
Like clockwork, you can find me making this every Fall as soon as the weather gets cool enough to justify making Pot Roast. It's probably one of the first Fall recipes I make every year.
It just doesn't ever get old!
Stovetop Pot Roast is my favorite way to make Pot Roast. It's easy, makes your house smell amazing when it cooks, and tastes like a dream. And I truly hope you enjoy it as much as I do!
DID YOU ENJOY THIS RECIPE? Please comment below and give us a 5-star rating! This will help others find this recipe on Google and Pinterest. We very much appreciate your help! 🤍
More Comfort Food Recipes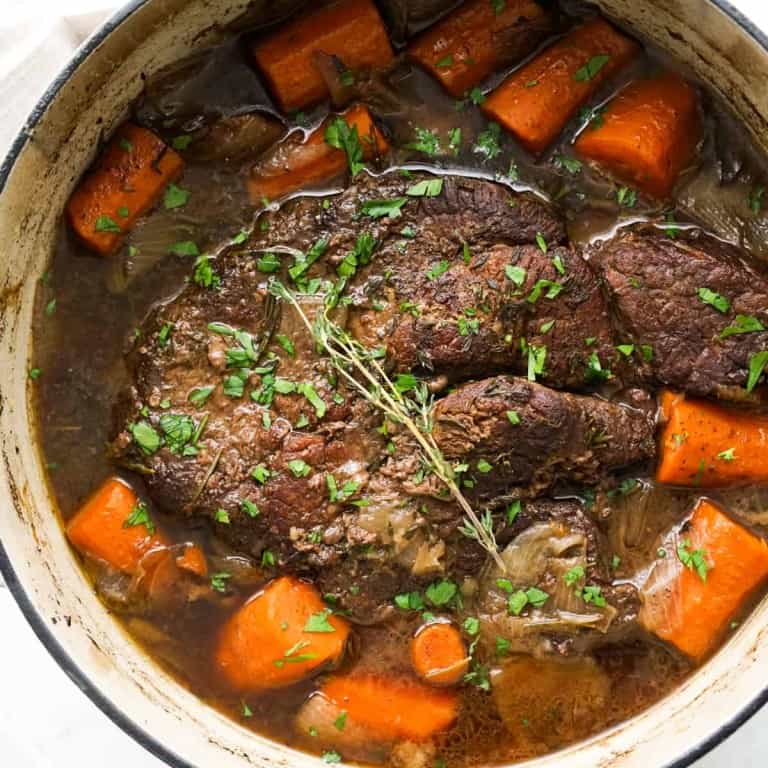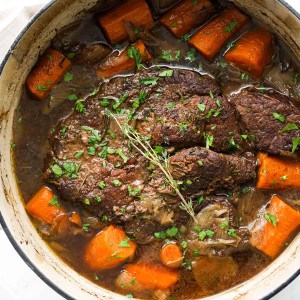 Stovetop Pot Roast
Tender, fall apart Beef Pot Roast cooked on the stove top! This flavorful and delicious Stovetop Pot Roast recipe is cooked alongside carrots and onions, in a herb and red wine infused broth.
Print
Pin
Ingredients
3-4

lbs

beef chuck roast

1

tbsp

salt

or more

1/2

tbsp

black pepper

or more

5-6

cloves

garlic

whole

2

onions

chunks

1.5

lbs

carrots

large slices

1 1/2

cups

red wine

2-4

cups

beef broth

adjust accordingly

2-3

sprig

fresh thyme leaves

1-2

sprig

fresh rosemary

2

tsp

parsley

chopped

cooking oil
Instructions
Pat dry beef chuck if needed. Generously season it with salt and black pepper on both sides.

Heat Dutch oven or pot that is 6qt or above on stovetop under medium heat. Add cooking oil. Once oil is heated, sear beef chuck. Once it is browned, flip and sear the other side. Once the other side is browned, remove beef and set aside.

Add more cooking oil to Dutch oven, once oil is heated, sear onions and garlic cloves. Stir every minute or so. Once onions are browned on some sides (just a few minutes, does not have to be fully browned), remove onions and garlic from heat and set aside.

Stove should still be at medium heat. Add wine to pot or Dutch oven. Use a spatula to scrap the brown bits at the bottom of the pot as wine comes to a boil.

Bring the pot roast back in, then add beef stock until at least 2/3 of pot roast is submerged in broth. Add carrots, then add the seared onions and garlic.

Once it comes to a boil, place thyme and rosemary on the top of the beef chuck. Cover with lid and lower heat to low/medium low.

Let Pot Roast cook on stovetop for 3 hours, or until meat is tender. During the 3 hours, add more water to keep beef submerged at least 2/3 of the way in broth if needed. Adjust heat up or down as needed.

Discard herbs. Taste the broth, and add salt and black pepper to open up the flavors as desire.

Remove Pot Roast from heat. Shred meat. Garnish with parsley and serve.
Notes
Substitute red wine with beef broth if necessary. If using beef broth instead of red wine, you may want to add a little bit of beef bouillon to taste to give your Pot Roast more flavors. Try it with just salt first, and if unsatisfied with the results, only add beef bouillon.
Nutrition
Calories:
531
kcal
|
Carbohydrates:
17
g
|
Protein:
46
g
|
Fat:
27
g
|
Saturated Fat:
12
g
|
Polyunsaturated Fat:
2
g
|
Monounsaturated Fat:
13
g
|
Trans Fat:
2
g
|
Cholesterol:
156
mg
|
Sodium:
1727
mg
|
Potassium:
1308
mg
|
Fiber:
4
g
|
Sugar:
7
g
|
Vitamin A:
18998
IU
|
Vitamin C:
11
mg
|
Calcium:
103
mg
|
Iron:
6
mg