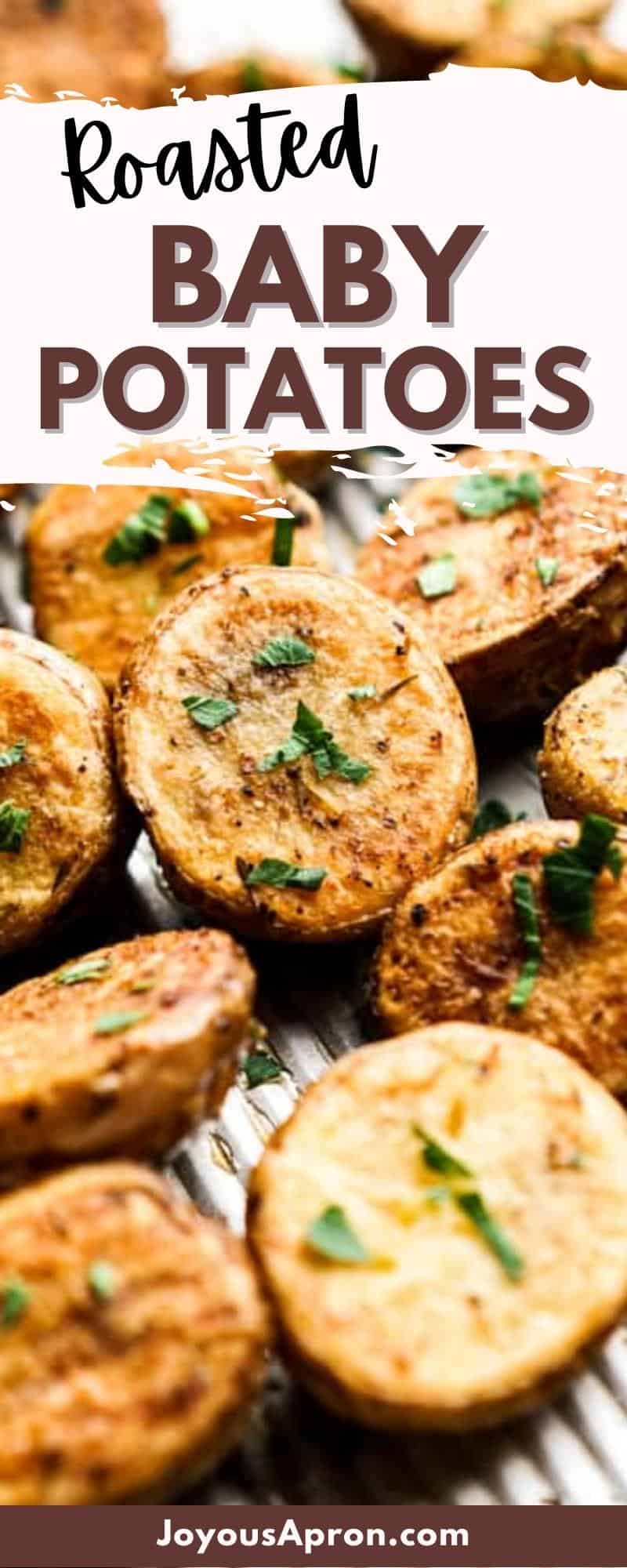 A classic and easy side dish, these Roasted Baby Potatoes are tender on the insides and crispy on the outsides, seasoned with garlic, salt, black pepper and herbs.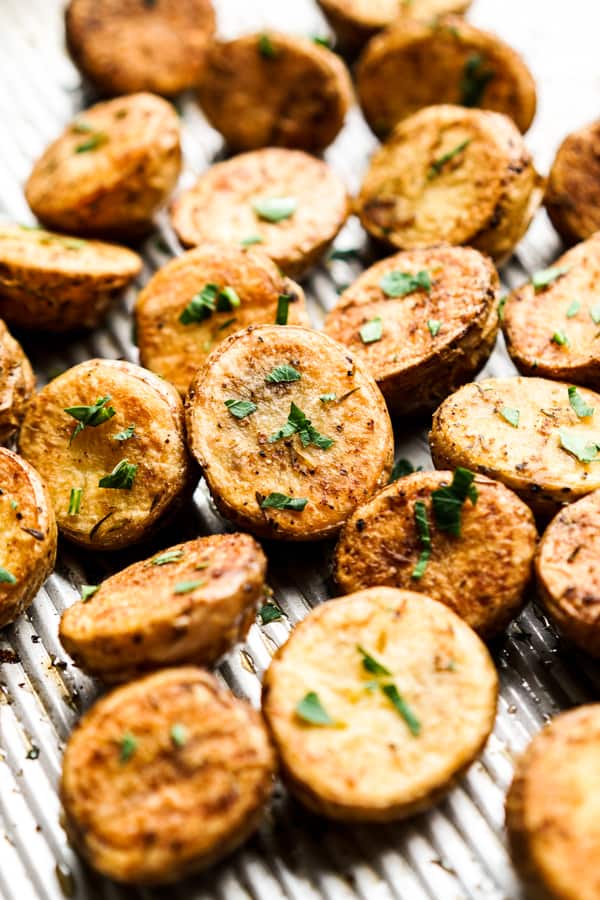 They are so easy to make you really can't go wrong with them!
They call for minimal pantry-friendly ingredients, takes 10 minutes to prepare, and then will be baked in the oven for 30-40 minutes.
Super simple, straightforward, versatile, and will quickly because your go-to way of preparing baby potatoes! Trust me. This is one of those recipes you will want to keep in your hip pockets!
If you like potatoes, don't forget to also check out these fairly similar potato side dishes: Roasted Garlic Parmesan Potatoes and Mascarpone Mashed Potatoes.
What are baby potatoes?
Sometimes called baby potatoes, other times called mini potatoes, small potatoes or new potatoes (so many names!), they are basically potatoes that are picked before they are fully grown.
I like these Roasted Baby Potatoes a lot because they tend to be firmer and creamier in texture and has a sweeter flavor. Sometimes they are even in fun colors like purple! They taste very similar to the regular yellow ones though.
I like to bake them, boil them, add them to soups and stews, etc. You can cook them just like you would regular potatoes.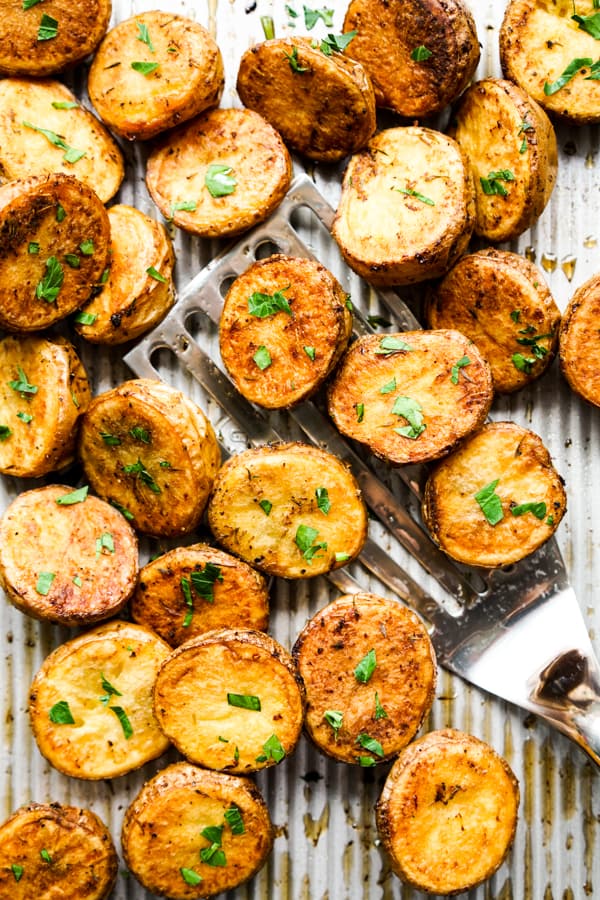 Ingredients for Roasted Small Potatoes
I promise easy, so here is easy.
You are looking at a total of 7 ingredients. And yes, that includes the potatoes!
baby potatoes – slice these mini potatoes in halves so that they cook faster and there is more crispy surface area!
olive oil – or your favorite cooking oil
garlic – highly recommend using fresh garlic for the best flavor
thyme – dried thyme works really fine. If you happen to have fresh thyme at hand, use them! Make sure to chop them up finely.
salt
black pepper
parsley – chop up fresh parsley and use them at the end as garnish and also giving the potatoes a bite of freshness.
How to make Oven Roasted Mini Potatoes
Step 1: Prepare baby potatoes
Scrub potatoes under running water to remove the dirt on potato skin. Do this thoroughly since we will not be removing potato skin.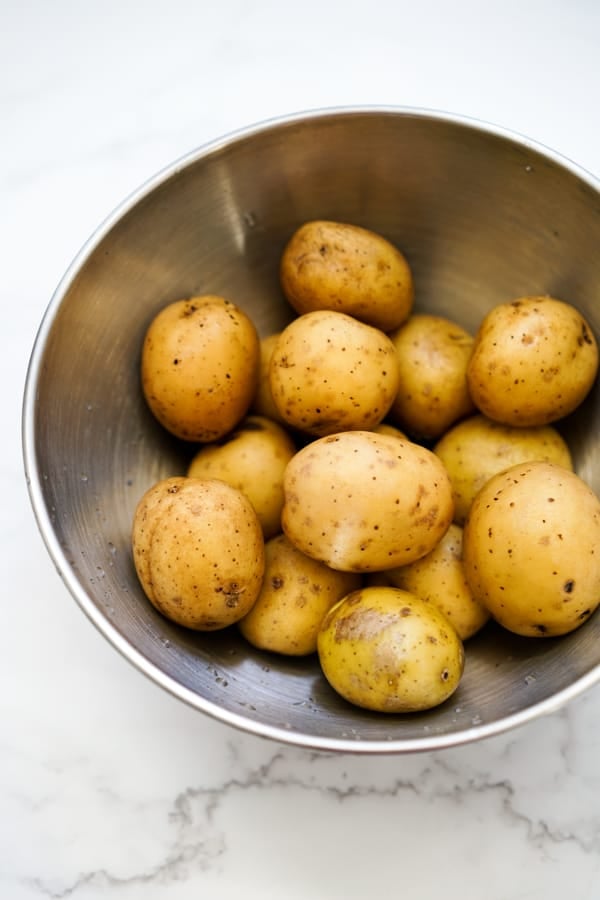 Then slice potatoes into halves, and season them with olive oil, salt, black pepper, minced garlic and thyme.
Give it a toss so that baby potatoes are evenly coated in oil and seasonings.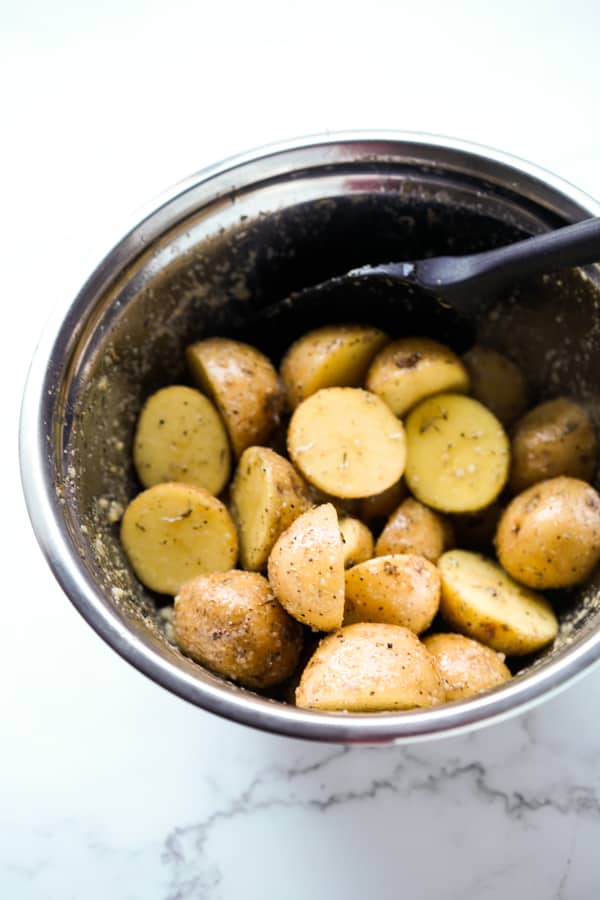 Step 2: Bake potatoes
Grease a large baking sheet lightly then place these small potatoes face down (skin side up) onto baking sheet.
We are placing potatoes face down so that the face of the potatoes are in contact with the grease on the baking sheet and that is how they will become crispy and golden brown.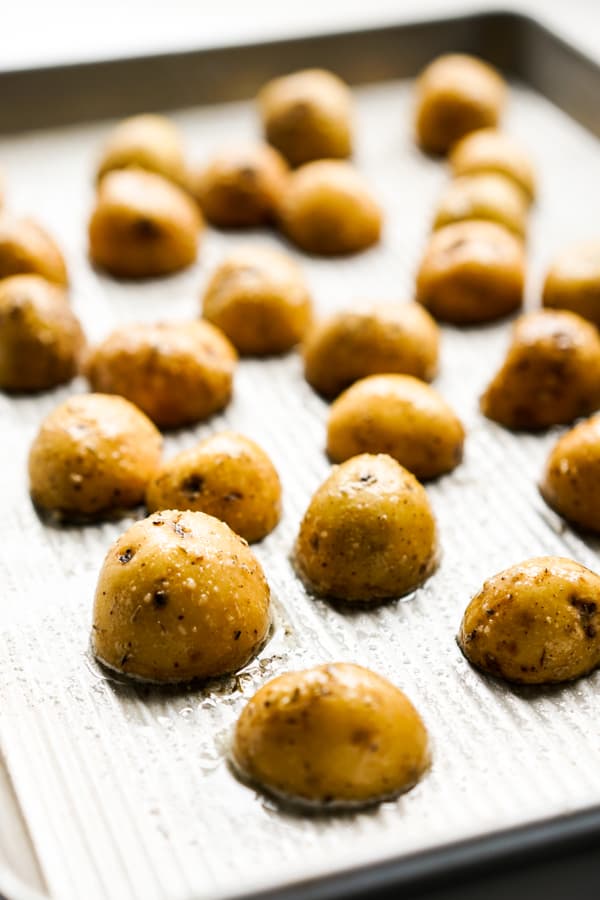 Roast potatoes for 20 minutes at 400℉, then remove from oven and flip them over.
Bring them bake into the oven and continue to bake for another 10-20 minutes, depending on the sizes of the potatoes.
Test for doneness by piercing potatoes with a fork. When fully cooked, potatoes should be soft and tender.
Step 3: Garnish and serve!
When done, sprinkle mini potatoes with fresh chopped parsley.
Then bite into these delicious, perfectly seasoned potatoes that are crispy on the outside yet tender and soft on the inside.
YUM! So straight forward and so delicious!
Sometimes the simplest things are the tastiest…and this is truly one of those times!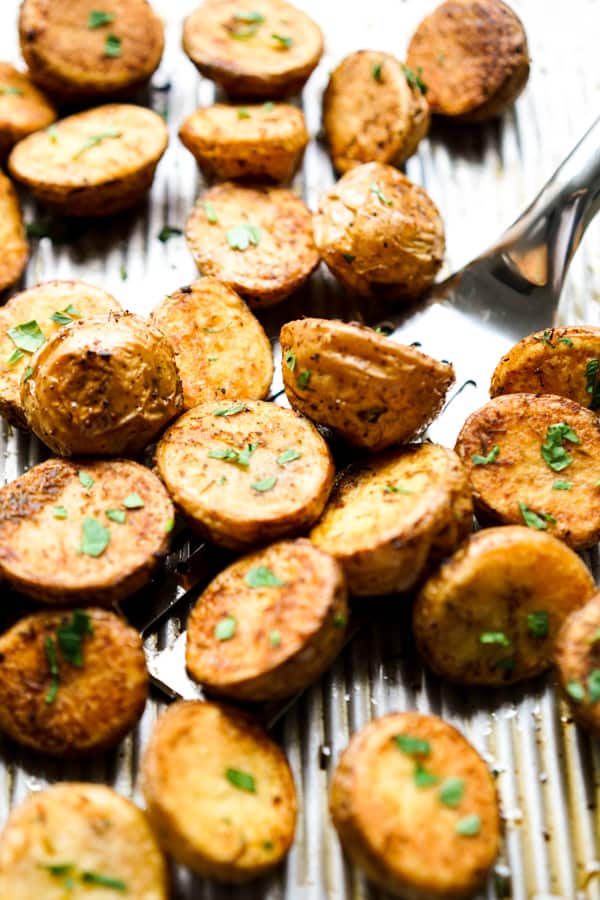 Tips and Tricks
A couple of thing to keep in mind!
Prepare mini potatoes

Wash and scrub baby potatoes to remove dirt stuck to potato skin
No need to remove skin! It actually makes the potato crispier.

Baking

For easier cleanup, line baking sheet with parchment paper or aluminum foil.
Don't forget to grease the baking sheet so that these small potatoes don't get stuck on it.

Serving

Add more salt and pepper after Roasted Small Potatoes are done if you prefer your potatoes saltier.
Serve them immediately so that potatoes are crispy.
Variations
I wanted to share a very basic Roasted Small Potatoes recipe, but there are many ways to jazz this up and make this your own! Here are some ideas:
Add more herbs and spices such as Italian seasoning, dill, rosemary, smoked paprika, onion powder.
Add cheese such as parmesan, or even melt some softer cheese such as cheddar or mozzarella on top of potatoes during the last 5 minutes.
Use season salt instead of salt for additional flavors.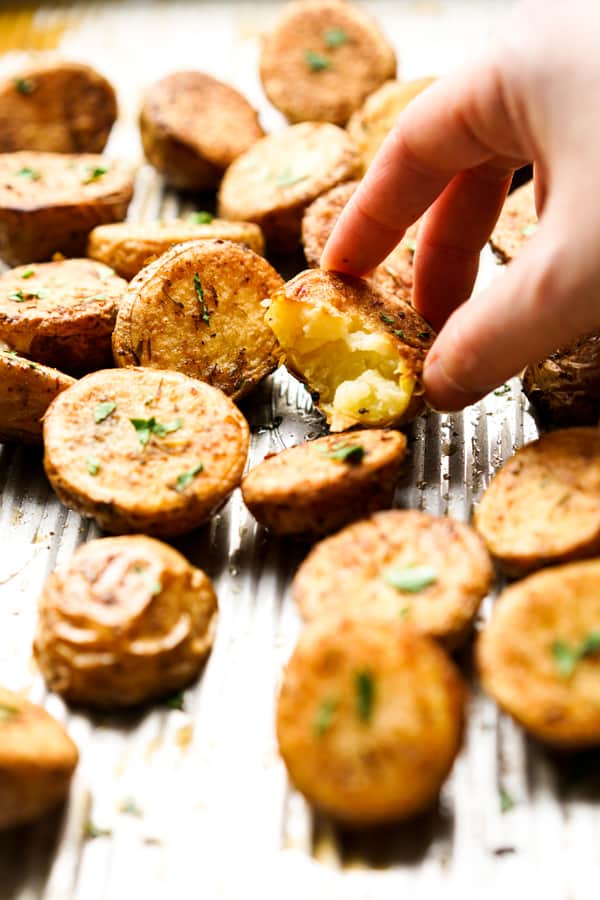 What to serve with Roasted Baby Potatoes
I have to confess to eating this by itself standing by my kitchen counter many times, but there are also many yummy recipes that serve well with it! Try it with some of these delicious main dishes:
You can also serve it with one of these delicious sauces!
Frequently Asked Questions
Can I make this in the air fryer?
Yes! Air fry at 400℉ for 20 minutes or until potatoes are tender. Avoid overcrowding and air fry in two batches if necessary.
How to store cooked potatoes?
Let potatoes cool completely, then store in air tight container in the refrigerator or ziplock bag for up to 5 days.
What is the best way to reheat roasted baby potatoes?
Cover with foil and reheat in the oven until potatoes are warm and crispy. Microwave works well too but note that potatoes will no longer be crispy.
DID YOU ENJOY THIS RECIPE? Please comment below and give us a 5-star rating! This will help others find this recipe on Google and Pinterest. We very much appreciate your help! 🤍
More Potato Recipes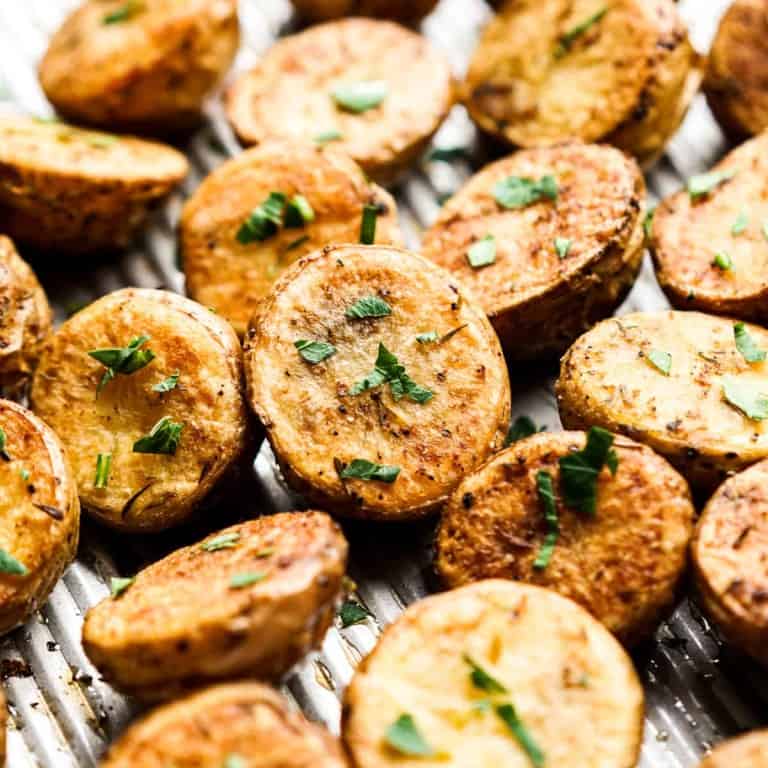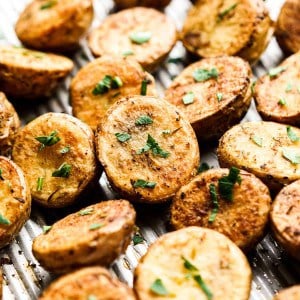 Roasted Baby Potatoes
Easy and delicious baby potatoes seasoned with herbs and roasted in the oven. Soft and tender on the insides, and crispy on the outsides.
Print
Pin
Ingredients
1.5

lbs

baby potatoes

1 1/2

tbsp

olive oil

3

cloves

garlic

minced

1

tsp

thyme

2

tsp

salt

1

tsp

black pepper

2

tsp

fresh parsley

chopped
Instructions
Wash and scrub baby potatoes, then slice them in halves.

Place potatoes in a large mixing bowl, add olive oil, garlic, thyme, salt and black pepper. Toss to evenly coat potatoes with seasonings and herbs.

Lightly grease a baking sheet (see Note 1), then place small potatoes face side down (skin side up). Avoid overlapping or overcrowding.

Bake for 20 minutes, then flip potatoes over, and bake for another 10-20 minutes (Note 2). Check at the 10 minute mark, if potatoes are tender when pierced with a fork, it is done.

Garnish with parsley. Serve and enjoy!
Notes
Note 1: Line with parchment paper or aluminum foil for easier cleanup if desire.
Note 2: Potatoes vary in size and can take longer to cook if they are larger pieces.
Air Fryer Instructions: Air fry for 20 minutes at 400

°F. Avoid overcrowding and fry in two batches if necessary.
Nutrition
Calories:
122
kcal
|
Carbohydrates:
21
g
|
Protein:
2
g
|
Fat:
4
g
|
Saturated Fat:
1
g
|
Polyunsaturated Fat:
1
g
|
Monounsaturated Fat:
3
g
|
Sodium:
782
mg
|
Potassium:
490
mg
|
Fiber:
3
g
|
Sugar:
1
g
|
Vitamin A:
23
IU
|
Vitamin C:
23
mg
|
Calcium:
20
mg
|
Iron:
1
mg