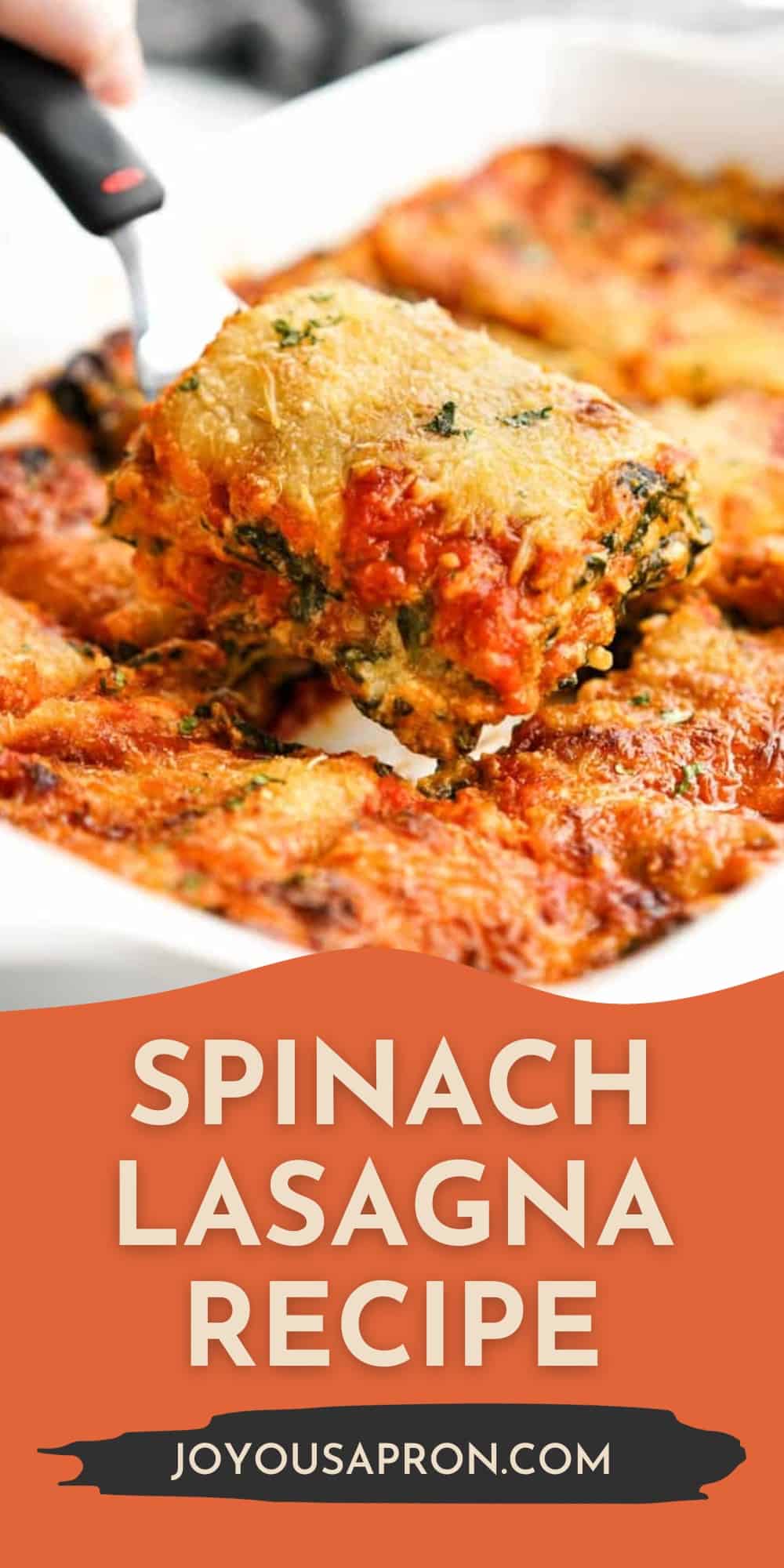 This delicious and easy Spinach Lasagna recipe features layers of lasagna pasta, ricotta and parmesan cheese spinach mixture, marinara sauce, and mozzarella cheese.
Our spinach lasagna is a partially white and partially red lasagna dish. It is cozy and hearty, yet also fairly light and very satisfying. I love the balance of both in this one dish. Feel free to add a layer of crumbled sausage or ground beef for additional protein.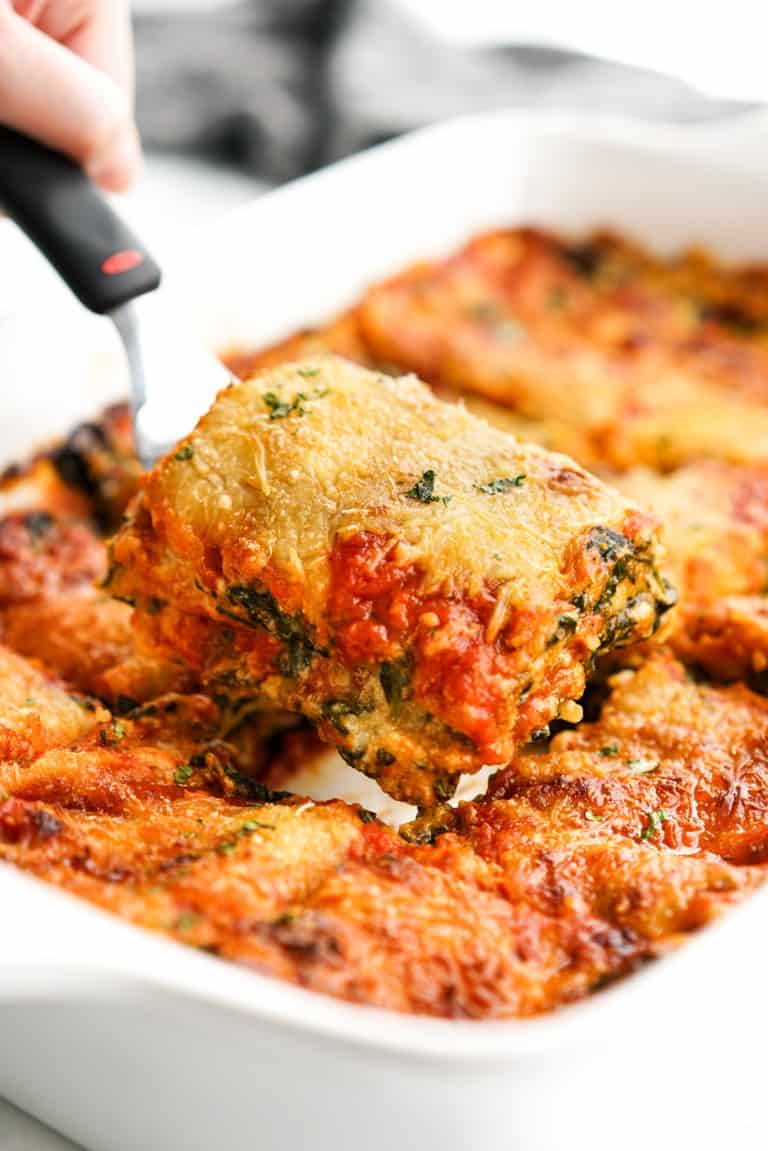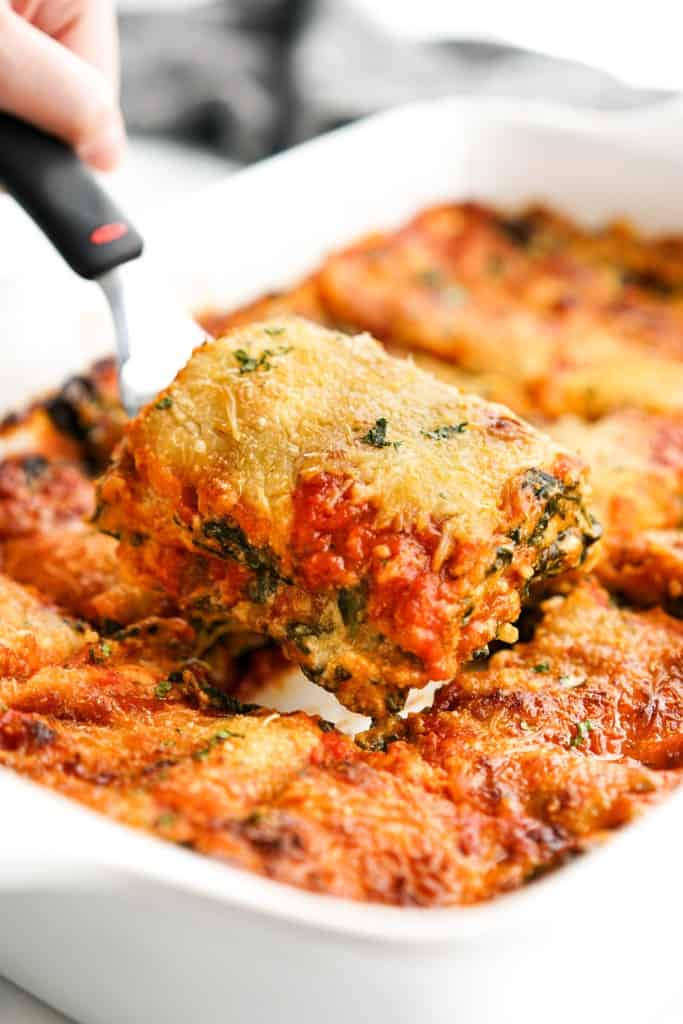 If you love a good lasagna, don't forget to also check out my Lasagna with Béchamel Sauce recipe, another popular lasagna recipe on the blog!
Spinach Lasagna Recipe
One of my favorite things about spinach lasagna is that it is a hearty and cozy yet light and not overly heavy pasta dinner.
Loaded with spinach, it is a great way to consume lots of hidden vegetables, while enjoying the loveliness of creamy pasta and cheese.
Lasagna from scratch is often a intimidating thought, but I assure you, with this spinach lasagna, it takes about 20 minutes of active time, and then you just sit back and let the oven do the rest of the hard work!
For this spinach lasagna recipe, I recommend using a good marinara sauce (there are so many good store-bought ones) and oven-ready lasagna sheets to make the process super simple and quick.
By using oven-ready lasagna, you will not need to pre-boil lasagna pasta which saves a whole lot of time!
Here are all the reasons you are going to love this spinach lasagna recipe!
easy to make – only 20 minutes of prep time!
great way to eat your veggies – even if you don't like spinach, it is hidden between the yummy marinara sauce, cheese and pasta! You seriously can barely taste it!
makes great leftovers – saves well as leftovers and heats well in the microwave (super quick)
great meal prep option – for the reasons above!
versatile – easy to jazz it up or make modifications. See 'Variations and Modifications' section for more details.
so yummy! – I'll be honest, when I first tried making spinach lasagna, I didn't think I would love it as much as other lasagnas because there's no meat in it. Well, I was so wrong! It tastes so delicious! With the sauce, pasta and cheese, it is delicious and filling! If you do want to add meat, it is super easy to add a layer or two of crumbled sausage in there.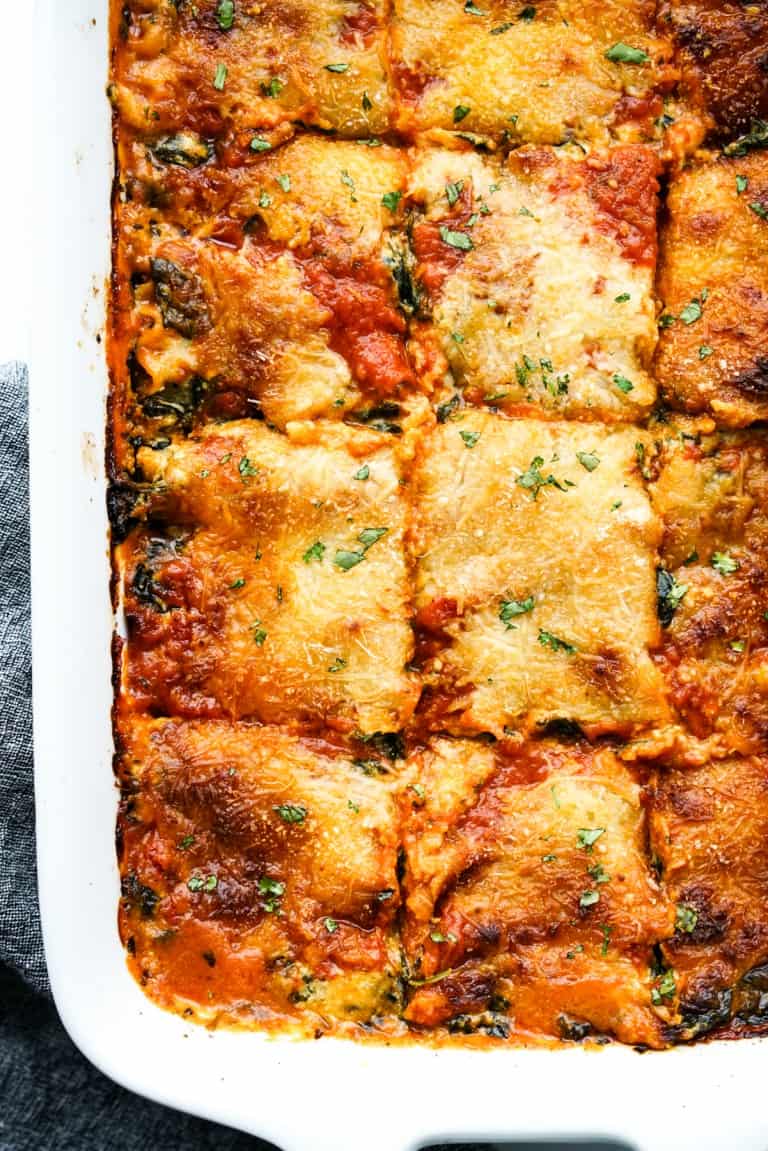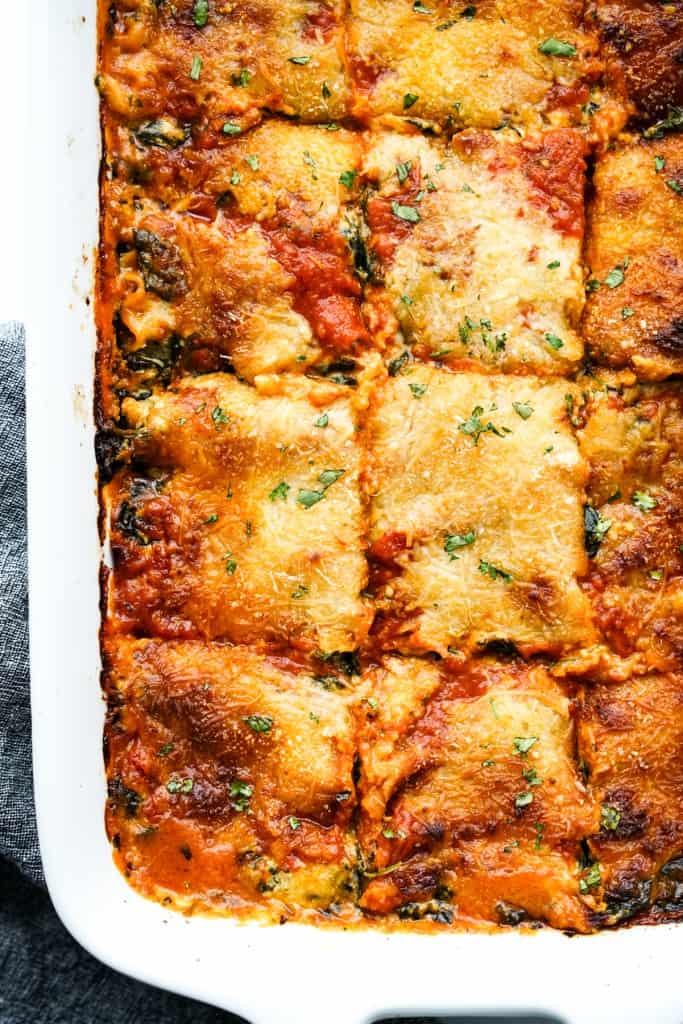 Ingredients
My goal when putting together this spinach lasagna recipe is to bring you a yummy yet super easy to make spinach lasagna. We are trying to optimize for taste and ease at the same time!
Because of that, each ingredient plays an important role and I try to use short-cut ingredients and good quality ingredients when it helps accomplish our goal – easy and tasty.
Here are the ingredients you need:
spinach – fresh or frozen spinach can be used. If using frozen spinach, make sure to remove all moisture before adding to the cheese mixture. You'll want to sauté and cook down fresh spinach, whereas frozen spinach does not need to be cooked down.
ricotta cheese – whole milk ricotta can be used for a creamier richer flavor, whereas skim can be used for a lighter, healthier take on spinach lasagna.
garlic – minced fresh garlic for best flavor.
marinara sauce – important: use a good quality marinara sauce! I love Rao's. Homemade marinara sauce tastes amazing as well, but it is definitely more work.
mozzarella cheese – shredded mozzarella is used for the cheese and spinach mixture and also for the top layer of the lasagna.
parmesan cheese – most of it is used for the cheese mixture and some for the top layer
dried oregano – Italian seasoning used in the cheese/spinach mixture
dried basil – Italian seasoning used in the cheese/spinach mixture
salt and black pepper – spices to bring out the flavors for the cheese mixture
Step-by-Step Guide
As I promise you, it takes only about 20 minutes to prep and assemble spinach lasagna, and then the oven will do all the hard work!
So let's get to it!
Step 1: Saute Spinach
Before assembling your spinach lasagna, we will need to saute and cook down fresh spinach. If using frozen spinach, you will need to bring to a complete defrost and pat dry, but you don't have to saute frozen spinach.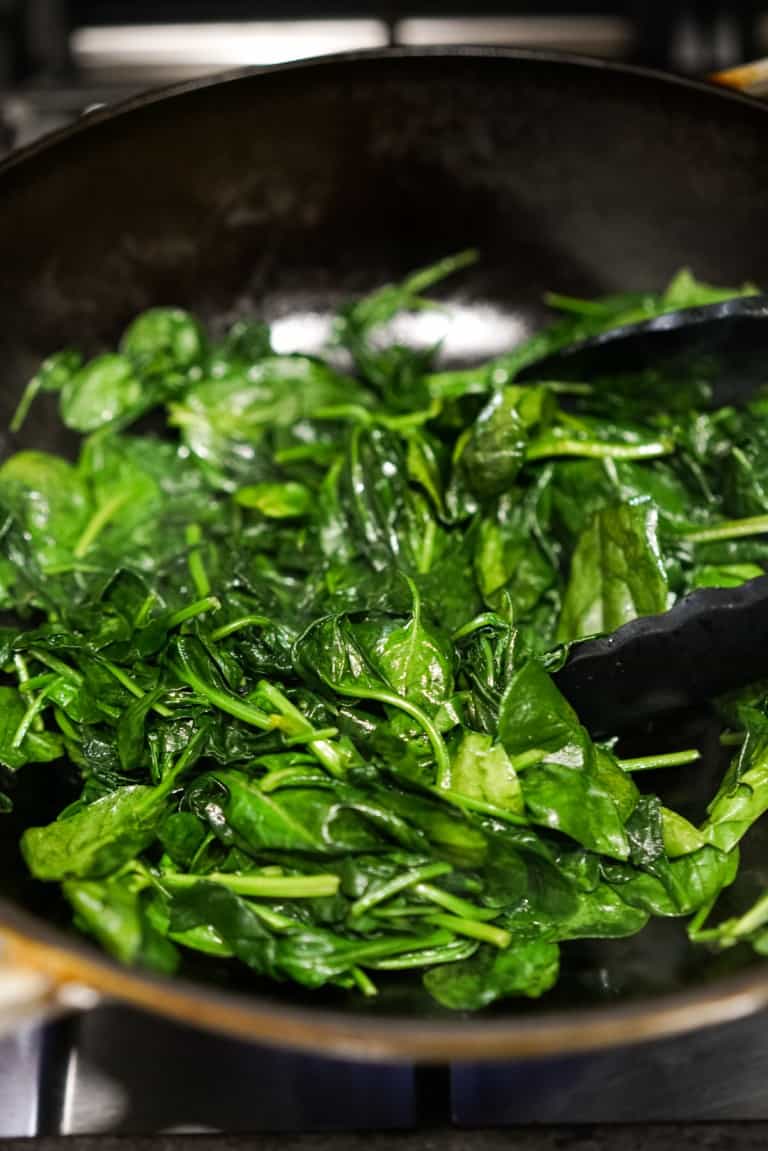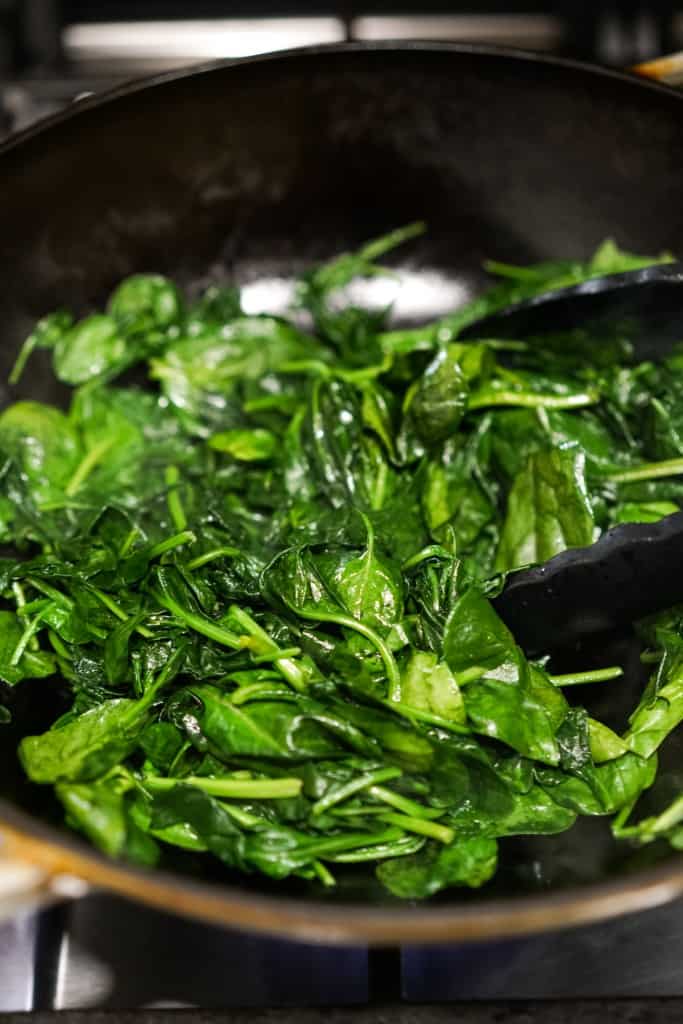 This spinach lasagna recipe calls for 1 pound of fresh spinach. That may seem like a whole lot, but trust me, once sautéed, spinach will be cooked down and it will reduce in size significantly.
If your skillet isn't large enough to sauté all the spinach in one go, sauté them in batches.
Spinach is sautéed with just a little bit of oil in the skillet. Our goal is to cook it down. We will add flavors to it later in Step 2.
Step 2: Bring together cheese mixture
Once spinach is cooked down, bring it to a large mixing bowl and combine with ricotta cheese, mozzarella cheese, parmesan cheese, oregano, basil, salt and black pepper.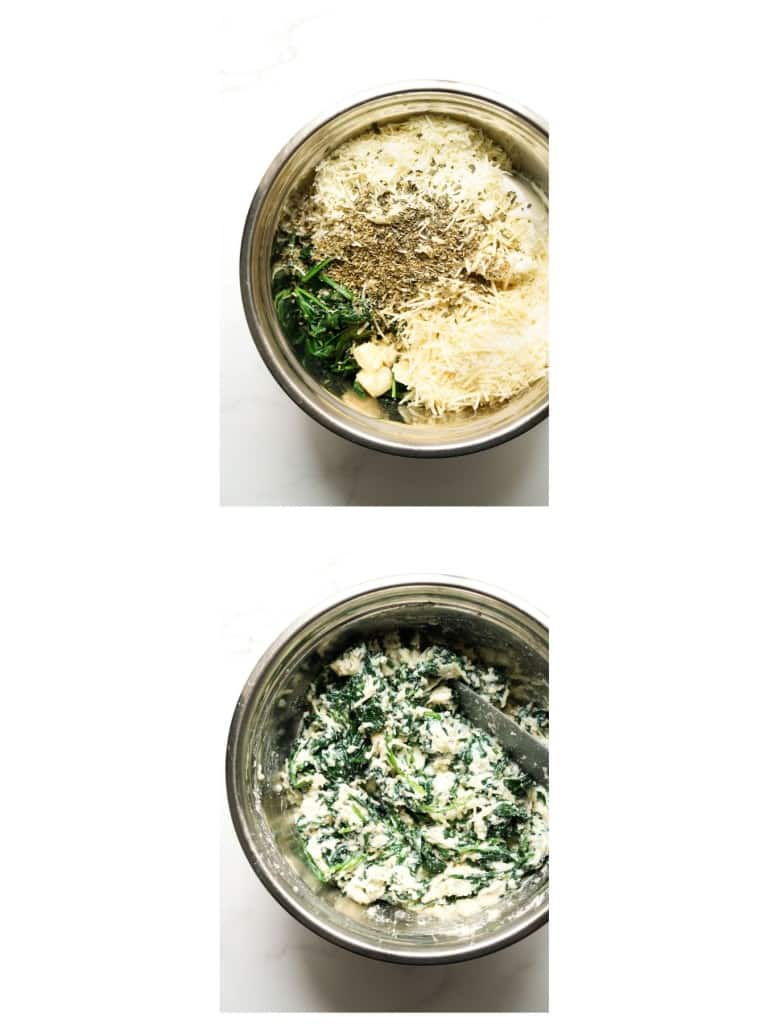 See how much the spinach disappear after cooking it down? That is a whole pound of spinach in the cheese mixture!
Step 3: Layer the Lasagna
Now it's time to assemble our spinach lasagna!
Start by greasing a 9′ x 13′ rectangular casserole dish, and coat the bottom of the dish with a thin layer of marinara sauce.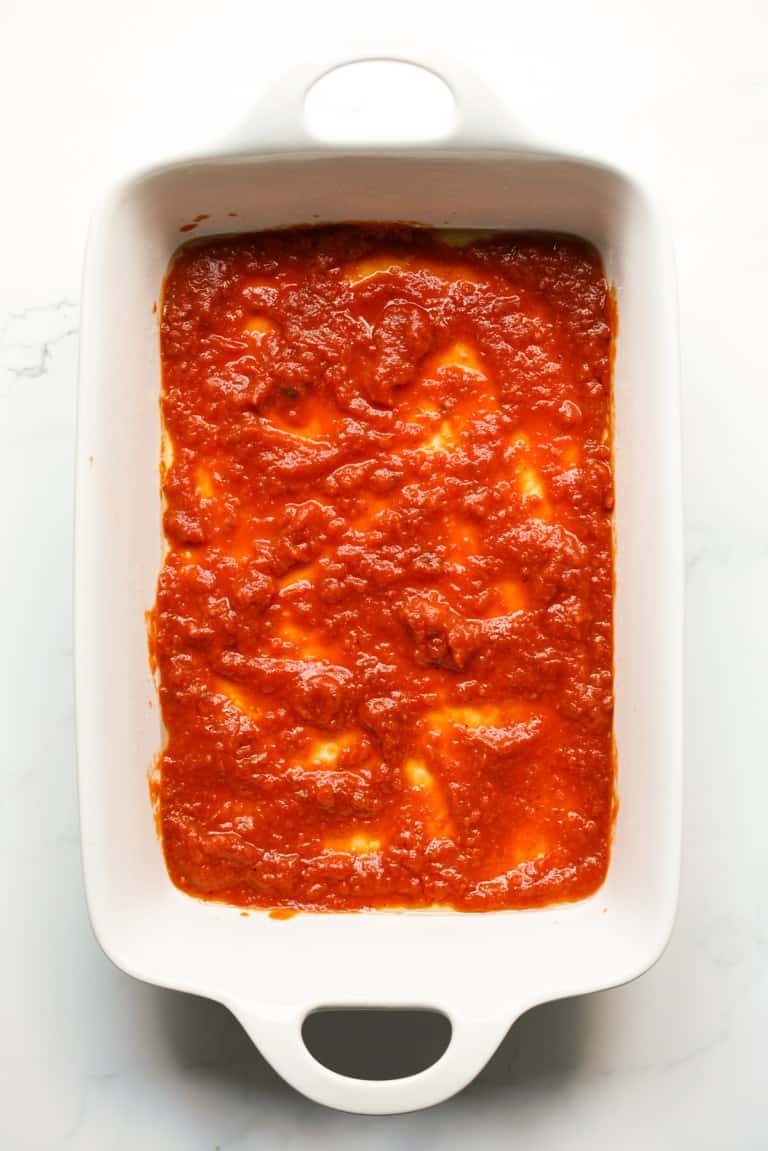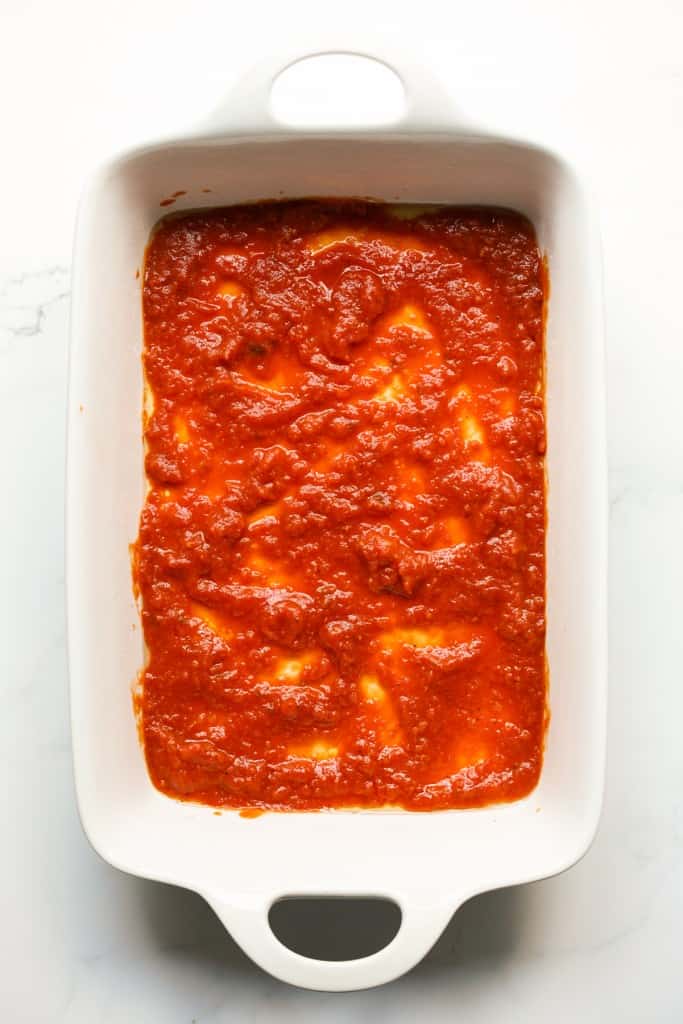 Then layer with in the order of:
lasagna pasta (bottom)
spinach and cheese mixture
marinara sauce (top)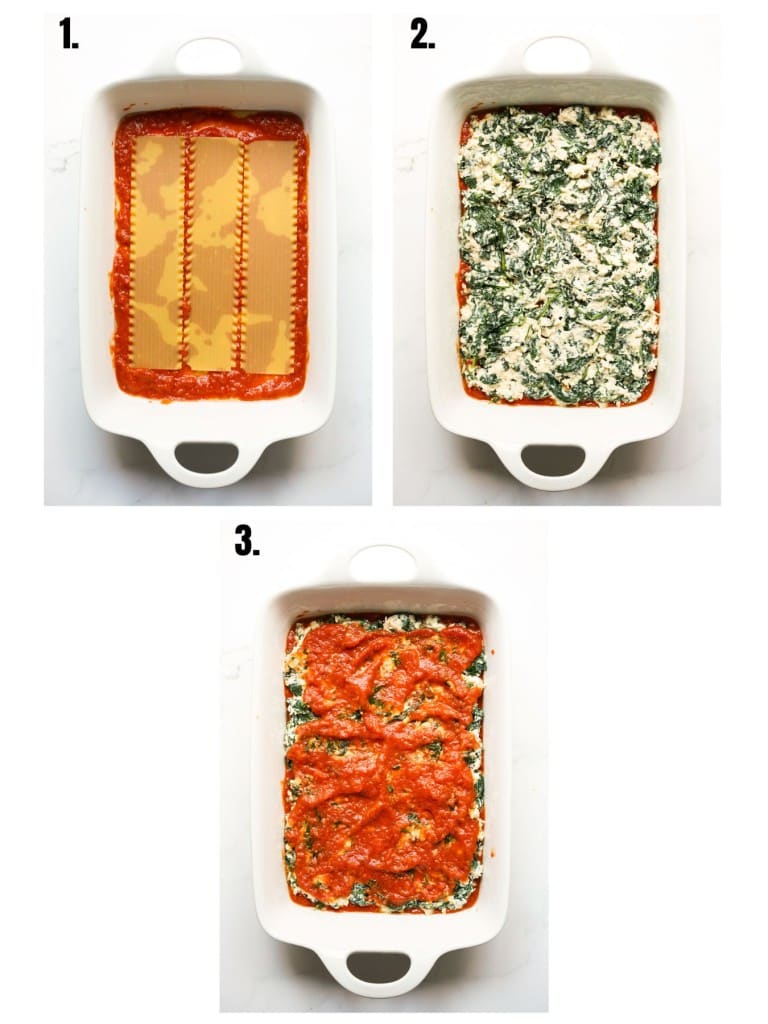 Repeat the above one more time, and then top it off with shredded mozzarella cheese and parmesan cheese.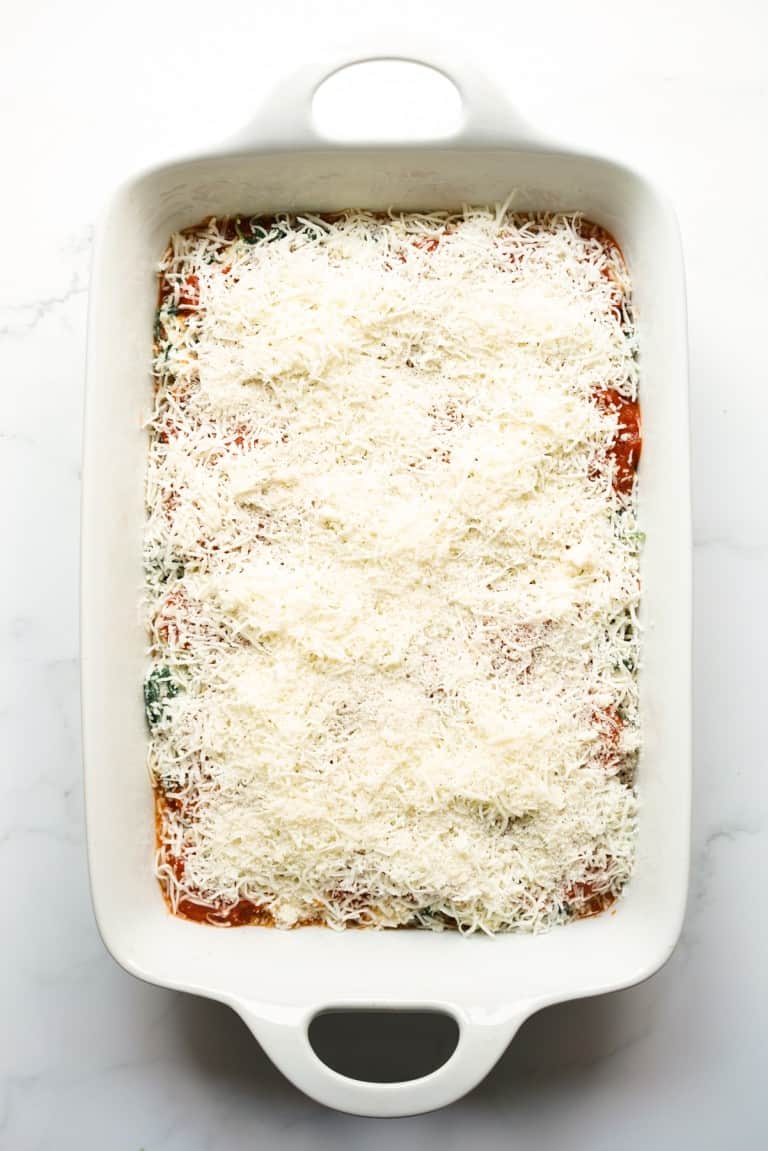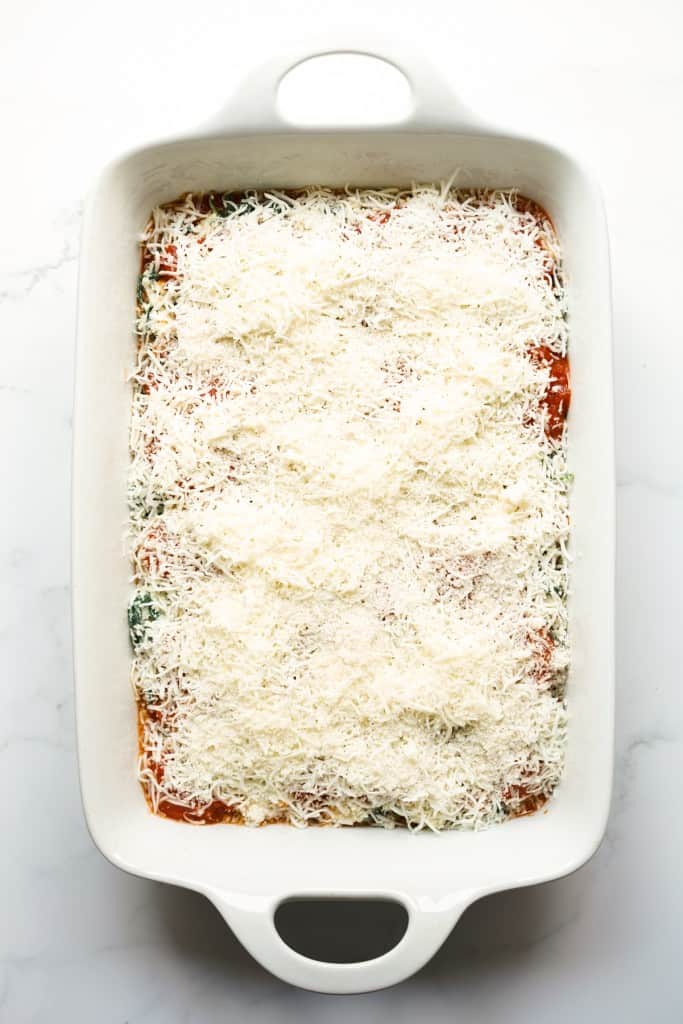 Send spinach lasagna into the oven to bake for 45 minutes at 375℉, at the middle rack. If using the top rack, tops of lasagna may be slightly burned.
When spinach lasagna is done, let it rest for 15 minutes before cutting into it. This is to let the layers cool and harden slightly so it wouldn't be a blob of liquid when you cut into the lasagna.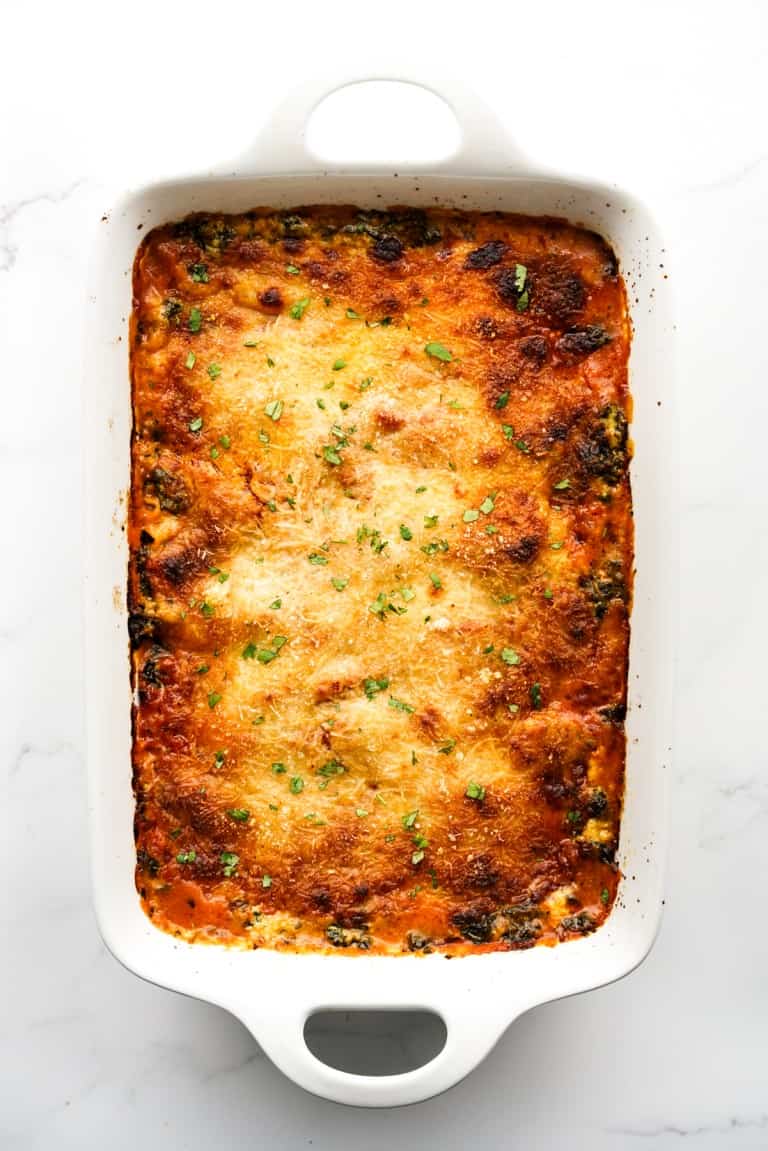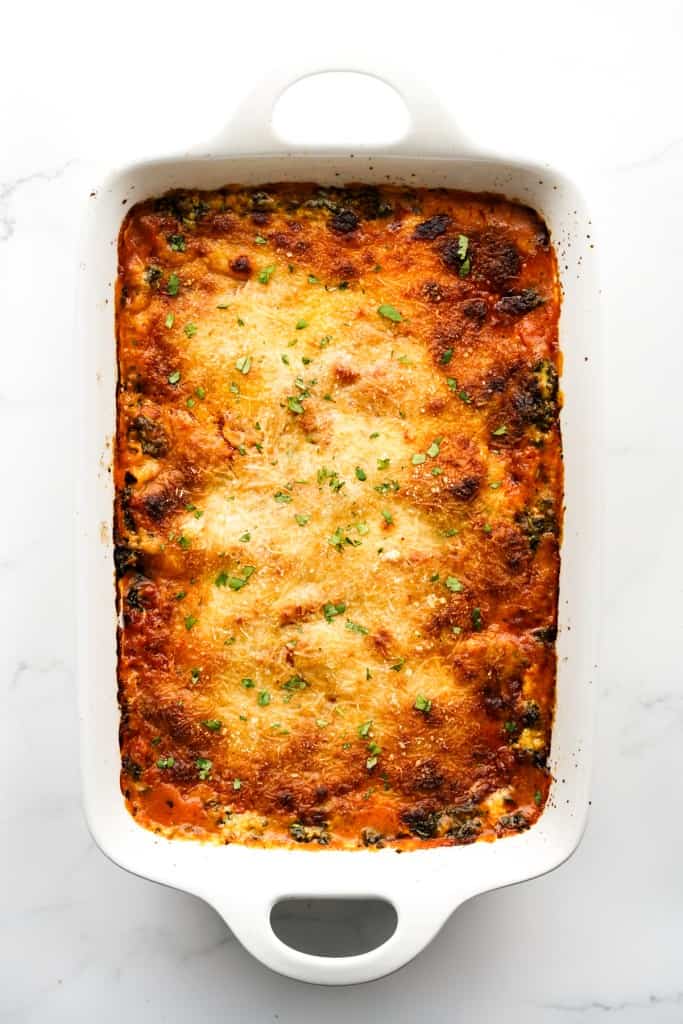 When you slice into it, you'll see distinct layers of spinach, cheese, marinara red sauce and chewy pasta.
I love the combination of the red and white sauce of this spinach lasagna, along with bites of earthy spinach and chewy pasta.
The flavor combination of creaminess from the cheese and tanginess from the tomatoes balances each other out really well.
Spinach lasagna is one of our favorite cozy and hearty pasta dish for when the weather cools down. I hope you give this one a try!
Variations and Modifications
There are so many ways to make this spinach lasagna recipe:
adding meat: probably one of the most common questions is how do I add meat. I love adding cooked crumbled sausage or cooked ground beef. Just add it to the layer between spinach/cheese mixture and marinara sauce.
adding more vegetables: feel free to add other vegetables such as mushrooms, kale, diced or shredded zucchini into the cheese mixture. These veggies do not need to be cooked before adding to the mixture,.
Seasoning and spices: instead of dried basil and oregano, feel free to substitute with Italian seasoning, parsley or other Italian inspired spices. Do not omit the garlic, salt and black pepper.
add egg: you can also add an egg to when bringing together the cheese/spinach mixture if desired. I didn't because I like my spinach lasagna less heavy/creamy.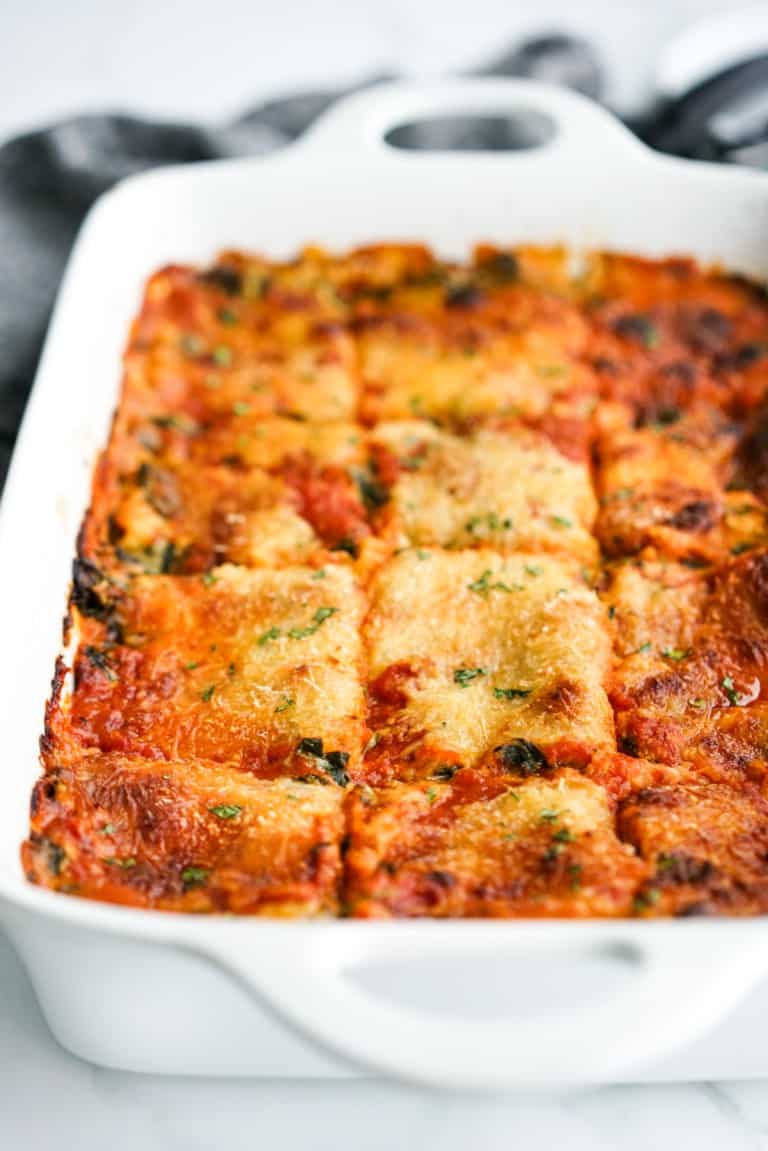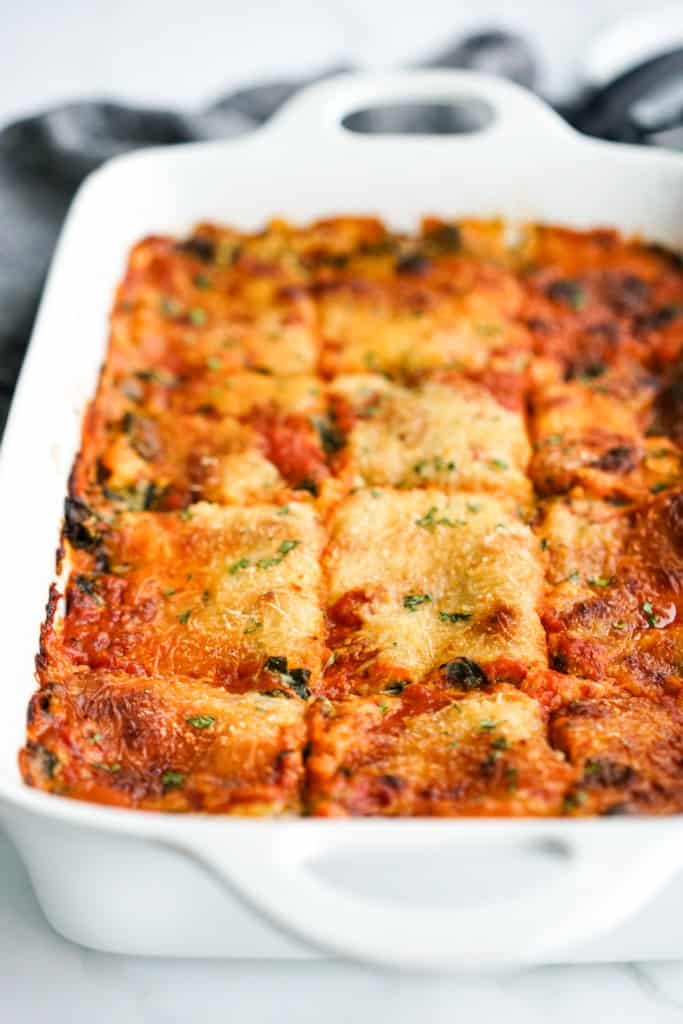 Freezing and Reheating Instructions
Fully baked spinach lasagna freezes really well and is a great meal to make ahead.
To freeze: After baking, wait till spinach lasagna is completely cool, then wrap it up with a few layers of aluminum foil to ensure it is air tight. Freeze in freezer for up to 2 months.
To reheat: If frozen, bring it to a defrost in the refrigerator overnight. Reheat lasagna in the oven covered with aluminum foil at 350℉ for 30-40 minutes, or until lasagna is heated throughout.
Frequently Asked Questions
Can I use frozen spinach instead of fresh spinach?
Yes! If using frozen spinach, bring to a defrost, pat dry to remove moisture before adding to cheese mixture. No need to saute frozen spinach.
Can I freeze lasagna? Should I freeze before or after baking?
You can freeze lasagna before or after baking. Either way, make sure it comes to a complete defrost overnight in the refrigerator before baking or reheating. See reheating instructions in the section above.
Can I cook lasagna in the slow cooker?
I typically prefer to make lasagna in the oven because I like the crustier top. However, if you want to cook it in the slow cooker, layer according the the instructions given and cook lasagna on low in slow cooker for 4-6 hours.
DID YOU ENJOY THIS RECIPE? Please comment below and give us a 5-star rating! This will help others find this recipe on Google and Pinterest. We very much appreciate your help! 🤍
More Lasagna Recipes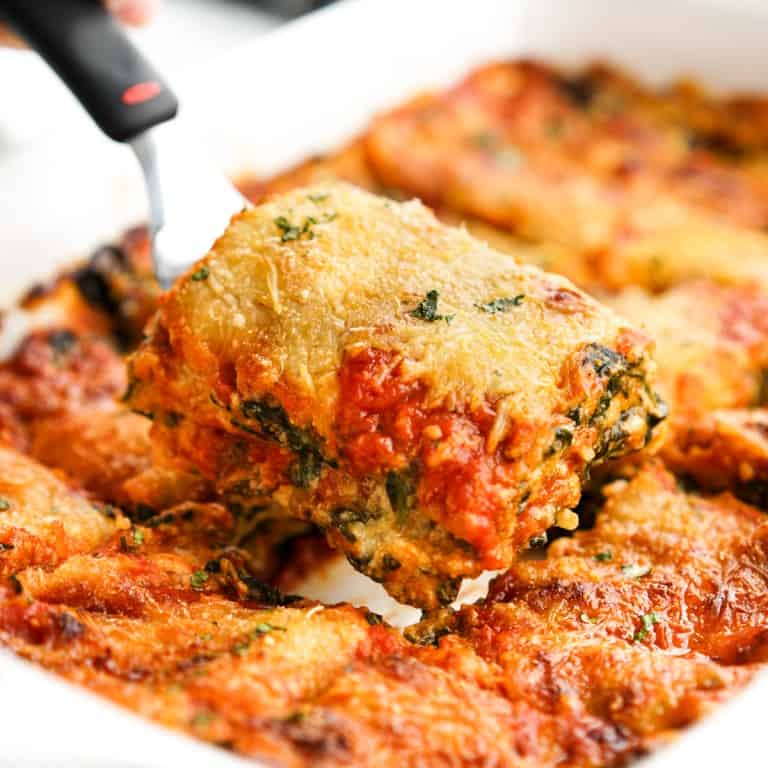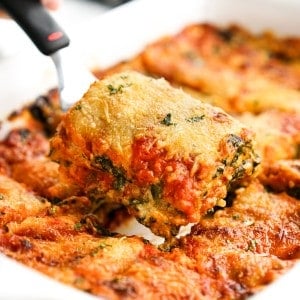 Spinach Lasagna
This easy Spinach Lasagna recipe features layers of spinach, ricotta and parmesan cheese mixture, red marinara sauce and mozzarella cheese.
Print
Pin
Ingredients
Spinach and Cheese Mixture
16

oz

fresh spinach

15

oz

ricotta cheese

4-6

cloves

garlic

minced

1

tsp

dried oregano

1

tsp

dried basil

1

cup

mozzarella

shredded

1

cup

parmesan

grated

1

tsp

salt

1

tsp

black pepper
Others
1-2

tsp

vegetable oil

6

sheets

oven-ready lasagna pasta

2 1/2

cup

marinara sauce

1

cup

mozzarella

shredded

1/2

cup

parmesan

grated
Instructions
Heat a large skillet on the stovetop under medium heat. Add vegetable oil. Once vegetable oil is hot, sauté spinach until spinach is soft (shouldn't take more than a couple of minutes). Sauté in multiple batches if needed. Spinach should cook down significantly.

In a large mixing bowl, bring together cooked spinach along with all the ingredients under 'Spinach and Cheese Mixture': ricotta cheese, garlic, basil, oregano, mozzarella, parmesan, salt and black pepper. Fold to combine.

Grease a large 9'x13' casserole dish. Spoon 1/2 cup of marinara sauce and spread all over the bottom of the casserole dish.

Next, layer it with lasagna pasta, followed by half of the spinach/cheese mixture, and then 1 cup of marinara sauce.

Repeat step 5 to form another layer. When you are done, the top layer should be marinara sauce.

Sprinkle with 1 cup of mozzarella cheese, followed by 1/2 cup of parmesan cheese.

Bake in the oven for 45 minutes.

Remove from oven and let spinach lasagna cool for 10-15 minutes.

Slice lasagna. Serve and enjoy!
Notes
Frozen spinach can be used instead of fresh. Bring frozen spinach to a complete defrost, pat dry to remove moisture before adding to cheese mixture. No need to saute frozen spinach.
Nutrition
Calories:
222
kcal
|
Carbohydrates:
13
g
|
Protein:
16
g
|
Fat:
12
g
|
Saturated Fat:
7
g
|
Polyunsaturated Fat:
0.5
g
|
Monounsaturated Fat:
3
g
|
Cholesterol:
45
mg
|
Sodium:
813
mg
|
Potassium:
458
mg
|
Fiber:
2
g
|
Sugar:
3
g
|
Vitamin A:
4151
IU
|
Vitamin C:
15
mg
|
Calcium:
367
mg
|
Iron:
2
mg