Homemade Beef Noodle Soup is such a cozy meal for the Fall and winter! Warm beef broth is seasoned with herbs and spices, loaded with chunks of steaks, egg noodles, tomatoes, carrots, and celery.
Hearty and rich, beef noodle soup is made in just one pot (translation: super easy!), and is the ultimate comfort food for the cold weather.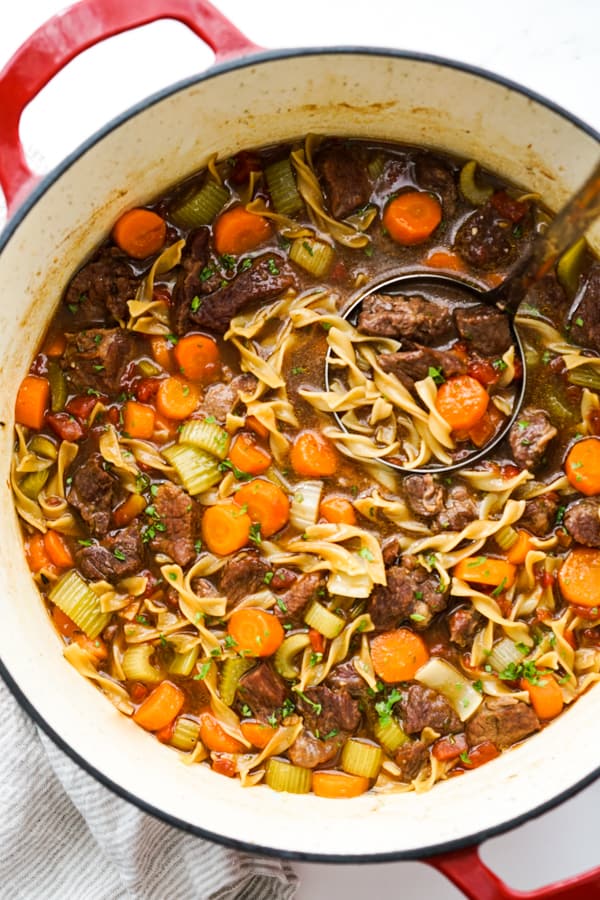 Easy and Yummy Beef Noodle Soup
As the weather gets colder, I'm so excited about savoring all my favorite soups…Creamy Chicken Noodle Soup, Tomato Soup, Creamy Potato Bacon Soup, Miso Noodle Soup…yum yum yum!
And of course, my new favorite as well, this cozy Beef Noodle Soup.
Beef Noodle Soup is basically the beef version of the classic chicken noodle soup we all know and love. When I want something heartier and richer, I turn to beef instead of chicken and make it with egg noodles, veggies in the same warm, comforting broth.
Or you can think of it as a soupier, more broth-y Beef Stew. The flavor in the soup in also less concentrated so you can actually sip and drink the soup easily.
I just love steak pieces in soups because I will boil them low and slow until they are tender and soft, and they simply melt in your mouth.
What you need to know about this Beef Noodle Soup recipe:
Easy to make – this takes only 15 minutes of active time, calls for pantry-friendly ingredients, and made in just one pot!
Your whole dinner in one bowl – don't you love your whole meal in just one bowl? Easy to serve, easy to clean up…perfect for busy evenings!
Comfort food – when you need something cozy and warm, this Beef Noodle Soup will scratch that itch!
So delicious – the soup is so flavorful – loaded with beef flavors, herbs and spices, and is packed with chunks of meat and vegetables.
Makes great leftovers and meal prep – saves well and easy to heat up (just microwave!)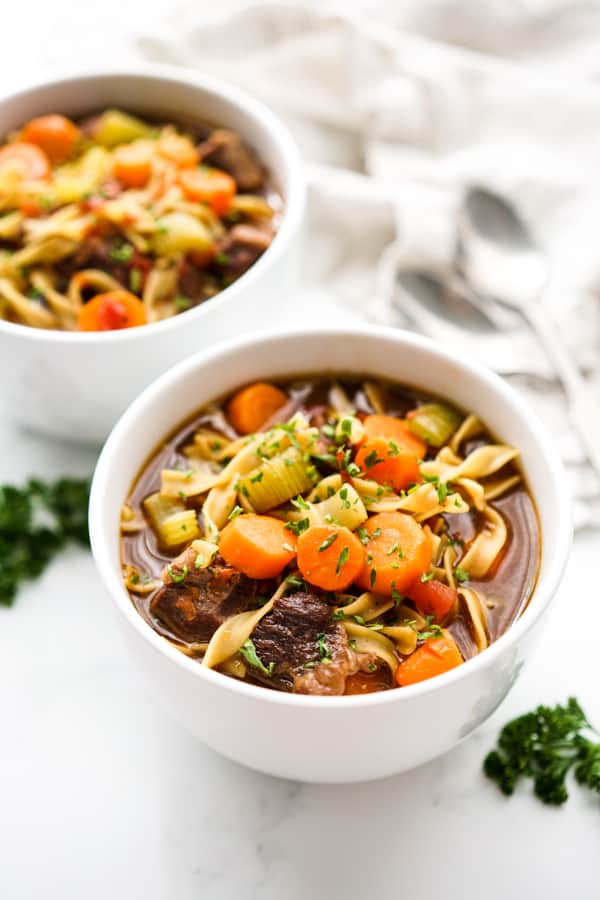 Ingredient Notes
Made with a short list of pantry-friendly ingredients, I almost always have everything at hand to make Beef Noodle Soup:
Beef chuck – cube it into small 1-2 inch pieces. Use the same meat you use for Beef Stew. Don't spend too much money buying expensive cuts of steak for this as we will be cooking it in the beef broth low and slow and even non expensive meat will become super tender. Another reason why I love making this Beef Noodle Soup recipe – you spend little money and still are able to eat yummy tender beef 🙂
Beef broth or beef bone broth – bone broth will have more depth in flavor compared to regular beef broth. I highly recommend beef bone broth if you can find it. Good quality broth makes your Beef Noodle Soup much tastier so use the better quality kind if you can!
Egg noodles
Thyme – fresh thyme brings better flavors to the soup but in a pinch, you can use dried thyme.
Bay leaf – along with thyme, this is the only other herb we are using to flavor the Beef Noodle Soup.
Garlic cloves – avoid substituting with garlic powder, use fresh garlic cloves – no need to mince.
Carrots – sliced into small bite-size pieces
Celery – sliced into small bite-size pieces
Diced tomatoes – this comes in a can and I typically use 'petite' diced tomatoes so that there are smaller chunks of tomatoes in the soup.
Granulated sugar – I know it sounds like a weird ingredient, but I find that it's necessary to balance out the flavor and makes the soup less bitter. Just a little bit of it!
Salt and black pepper
How to make Beef Noodle Soup
You will need a large pot or Dutch oven that is 6 qt or above to make this Beef Noodle Soup recipe, and it will be cooked on the stove top.
Start by seasoning beef pieces with salt and black pepper, and then searing them in the pot or Dutch oven to lock in the flavors and juices.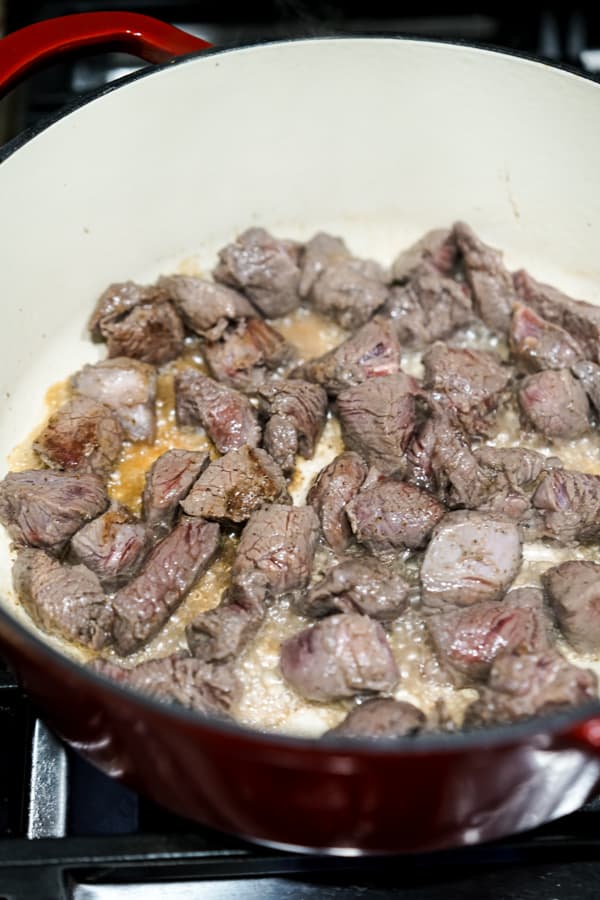 Beef doesn't have to be cooked completely, just browned on the outside.
Next add beef (bone) broth, and the herbs and spices – thyme, bay leaf and garlic.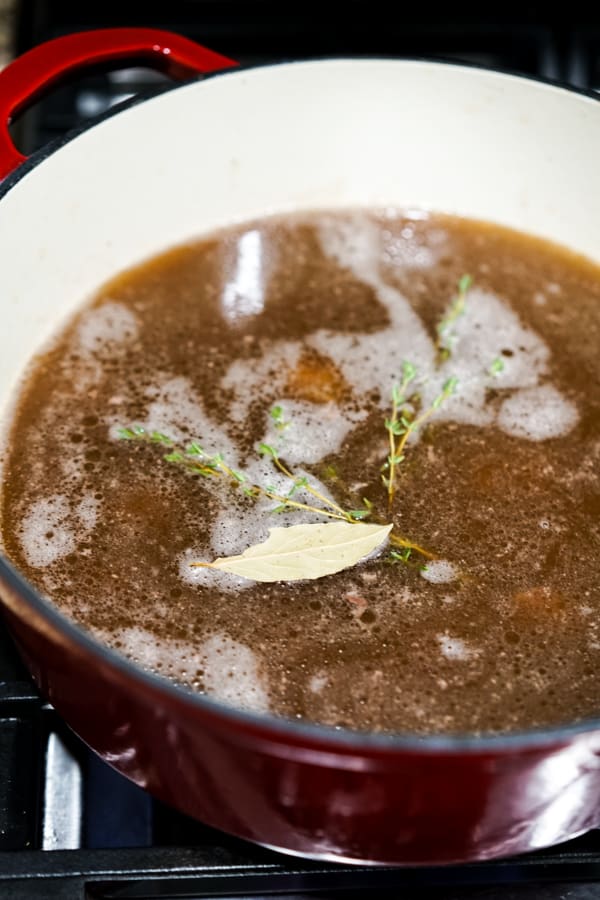 Bring to a boil. Then bring it to medium low heat and let it boil for 1 hr and 30 minutes. We are cooking the beef low and slow to break down the fibers of the meat, making it soft and tender.
Once it's done cooking, if you want to (and can find them), discard the herbs (thyme and bay leaf) and garlic cloves.
After that, I typically add about 1 1/2 cup of water to the beef broth because some of it would have evaporated through the boiling process.
Depending on the heat of your burner, size/type of pot etc, you may need to add more or less water.
Once water is added, go ahead and add the vegetables – canned tomatoes, carrots and celery.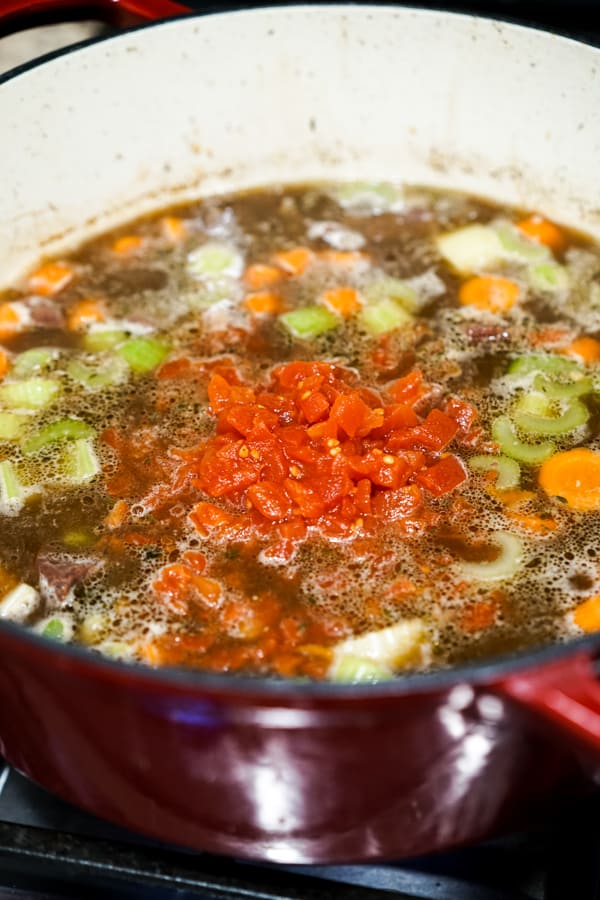 Bring Dutch oven to a boil again, and once it is boiled, let soup cook on medium low for about 10 minutes.
At this point, vegetables should be more tender and the flavors of your Beef Noodle Soup should have come together.
Last but not least, let's cook the egg noodles! Bring to a medium high heat, and once broth starts boiling a more vigorously, add egg noodles to the pot.
Cook egg noodles based on package instructions. Different egg noodles may have different cook times.
Once noodles are soft, add sugar then taste the Beef Noodle Soup (pro tip: always taste your products before serving them!), and then add salt and black pepper to taste to open up the flavors.
Switch off heat, garnish with some parsley (optional) and serve your Beef Noodle Soup!
Ideally, don't let noodles sit in the soup too long before serving.
Ta-da! Here's the Beef Noodle Soup we have all been waiting for!
It seriously so cozy and comforting…it's like getting a big ole hug…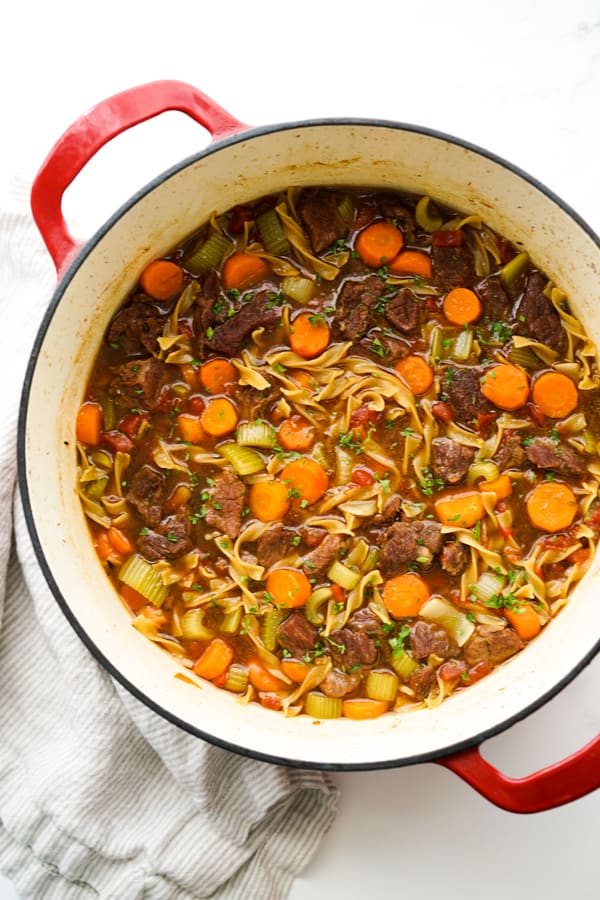 Variation and Substitution
This Beef Noodle Soup recipe is so versatile! Feel free to add more or substitute the ingredients based on what you have at hand:
Pasta: use other forms of pasta such as macaroni, penne, rotini, or even low carb pasta such as brown rice pasta, lentil pasta etc. Just make sure to follow its package instruction for cook time.
Vegetables: onions, potatoes, sweet potatoes, or other veggies works great as well.
Other Cooking Methods
You can also cook this Beef Noodle Soup recipe in the slow cooker or Instant Pot if you'd like.
Slow Cooker. Season and sear beef on a skillet on the stove top first to lock in the juices and flavor, then add beef along with all ingredients except for egg noodles into the slow cooker. Cook for 4 hours on high, then add egg noodles and cook for 15-20 minutes on high, or until egg noodles are tender.
Instant Pot. Season and sear beef in the Instant Pot using the 'saute' setting. Add the rest of the ingredients except for egg noodles. Pressure cook on high for 30 minutes, and then release pressure manually. Open the lid, and bring soup to a boil under 'saute' setting again. Add egg noodles, and cook based on package instructions, or until tender.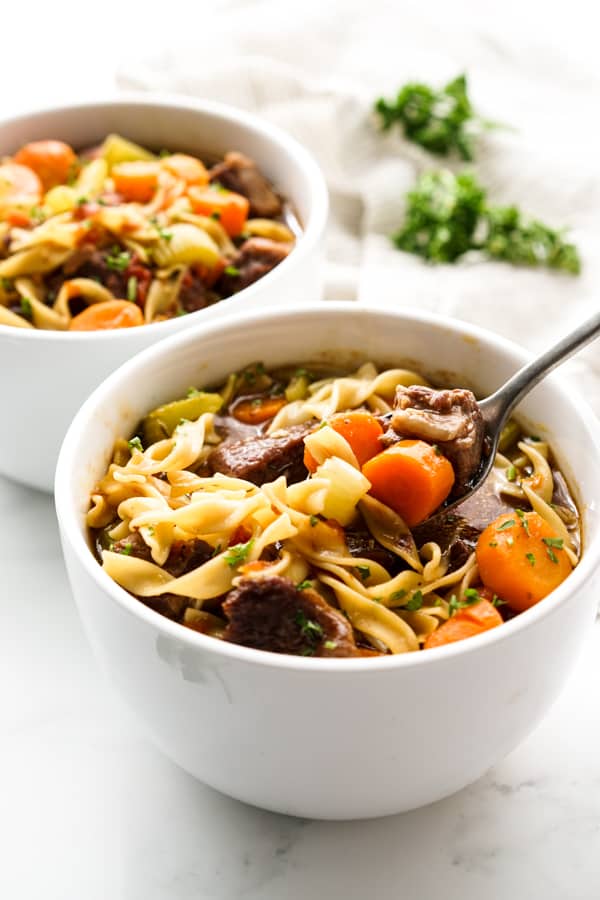 Storage and Make Ahead
Beef Noodle Soup is the perfect recipe to make ahead for storage or meal prep. For storage, let soup sit in room temperature for 30-45 minutes until it is no longer boiling hot, then
Store in an airtight container and refrigerate up to 5 days
Store in an airtight container and freeze for up to 2 months
Noodles will be less chewy and softer after storing. If you prefer chewy, al dante noodles, you can cook noodles and store separately, and only add to soup when ready to reheat.
Frequently Asked Questions
I would like my broth to have more flavor. What should I do?
If you find that your broth isn't very flavorful, try seasoning with some salt and black pepper first to see if it helps open up the flavors. If it still not very flavorful, you can add a little bit of beef bouillon. Keep in mind that using good quality broth will also help bring up the flavor profile of your Beef Noodle Soup.
There is little broth in my soup after cooking. What should I do?
Sometimes soup may dry out after boiling for a few hours. If so, add some water to your Beef Noodle Soup and bring to boil so that it is not as concentrated.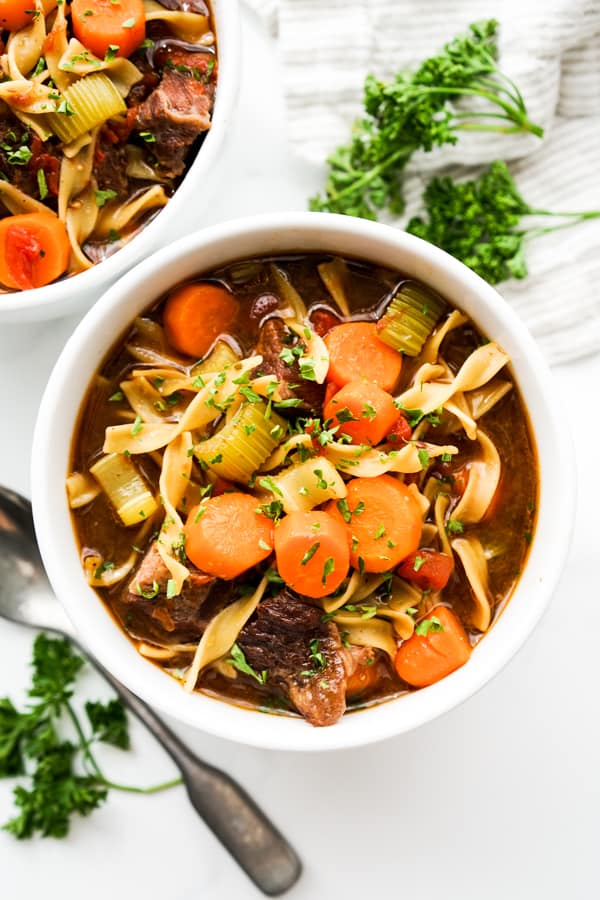 Ways to serve this
I love serving my Beef Noodle Soup with…
Other Soup Recipes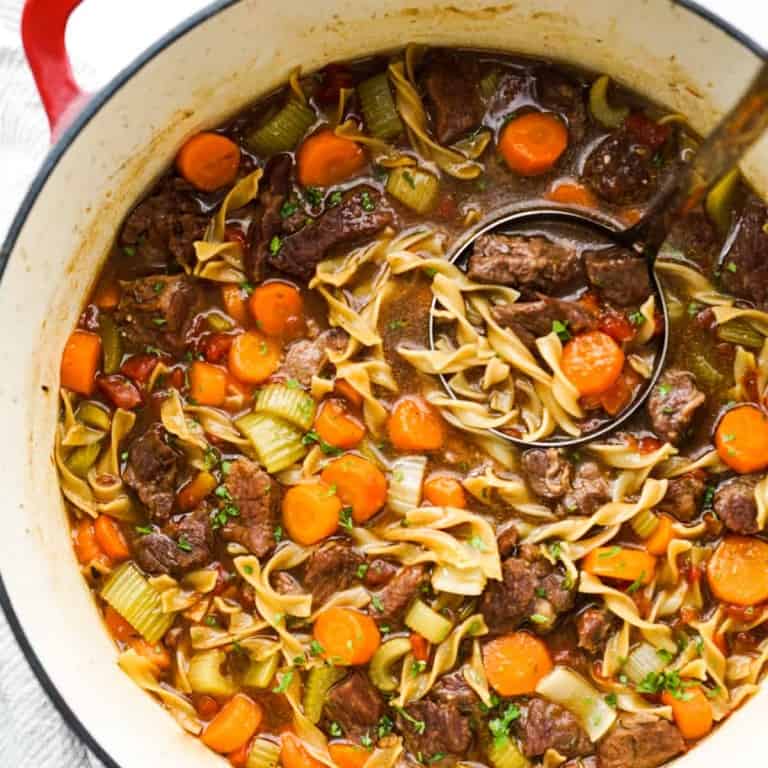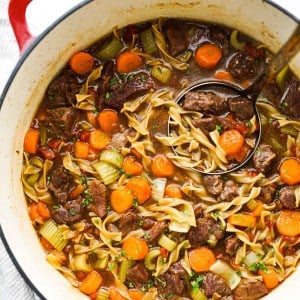 Beef Noodle Soup
Tender beef chunks, egg noodles, carrots, celery, and tomatoes simmered in flavorful herb-infused beef broth. Cozy and comforting soup recipe for the Fall!
Print
Pin
Ingredients
1.5

lbs

beef chuck

cubed

1

tsp

salt

plus more to taste

1/2

tsp

black pepper

plus more to taste

1

tsp

cooking oil

8

cups

beef bone broth

1

sprig

thyme

1

bay leaf

4

cloves

garlic

1 1/2

cups

water

3-4

stalks

carrots

peeled, sliced

2-3

stalks

celery

sliced

14

oz

petite diced tomatoes

4

oz

egg noodles

2

tsp

granulated sugar

1

tsp

parsley

chopped, optional
Instructions
Season cubed beef chuck with ~1 tsp of salt and ~1/2 tsp of black pepper.

Heat a large pot or Dutch oven 6 qt or larger with cooking oil under medium high heat. Once oil is heated, add cubed beef and sear on all sides until browned. Beef does not have to be fully cooked through at this time.

Add beef broth and bring to a boil. Add thyme, bay leaf and garlic cloves. Lower heat to medium low, cover lid partially (give it some room to breathe if not it may bubble over), and cook for 1.5 hours.

Remove lid. Discard herbs and garlic (if you can find them).

Add 1/2 cup of water (or more/less, depending on how much your broth dried out). Bring heat to medium high, and bring broth to a boil again.

Add diced tomatoes, celery and carrots. Stir and bring to a boil, then cook for ~10 minutes.

Add egg noodles, and cook based on package instructions (usually 6-9 minutes), or until they are tender.

Add sugar, stir. Then add salt and pepper to taste to open up the flavors in the soup.

Remove from heat. Garnish with parsley and serve. Enjoy!
Nutrition
Calories:
358
kcal
|
Carbohydrates:
21
g
|
Protein:
37
g
|
Fat:
15
g
|
Saturated Fat:
6
g
|
Polyunsaturated Fat:
2
g
|
Monounsaturated Fat:
7
g
|
Trans Fat:
1
g
|
Cholesterol:
94
mg
|
Sodium:
704
mg
|
Potassium:
664
mg
|
Fiber:
2
g
|
Sugar:
5
g
|
Vitamin A:
324
IU
|
Vitamin C:
7
mg
|
Calcium:
61
mg
|
Iron:
4
mg