Garlic Parmesan Hasselback Potatoes
Brace yourself – these Garlic Parmesan Hasselback Potatoes are about to rock your potato-loving world. Coated with butter, garlic and parmesan, these potatoes are crispy and so flavorful. If you love a good potato side dish, this is for you!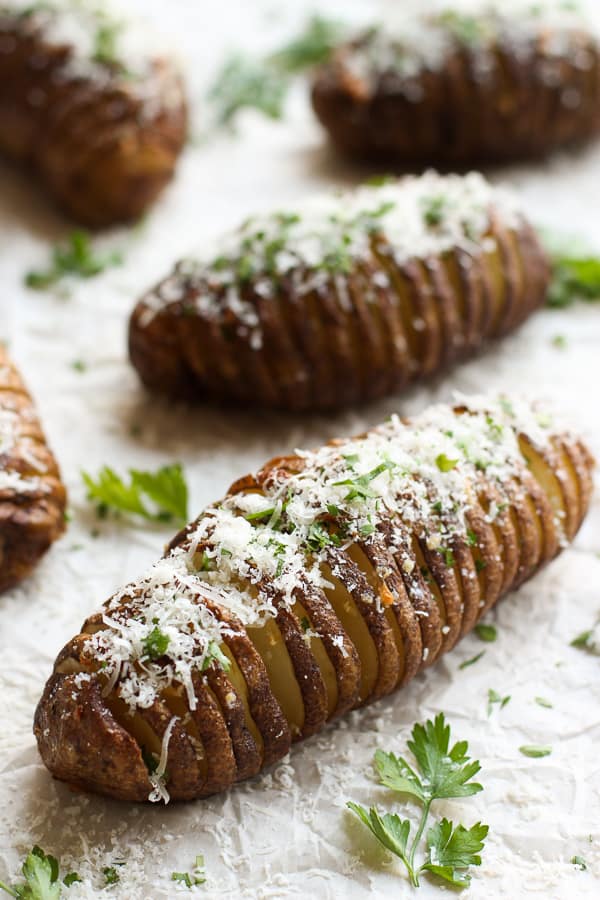 If you know me, you know I love my potatoes. With a handful of potato recipes on the blog – Cheesy Garlic Potato Casserole, Loaded Baked Potato Salad, Roasted Garlic Parmesan Potatoes, Cheesy Bacon Potato Casserole, Creamy Mashed Potatoes do we really need another potato recipe on the blog?
Oh, yes we do, yes we do!
What are Hasselback Potatoes?
Hasselback Potatoes originated from Sweeden but is consumed all over the world today, and is now made into a variety of flavors with all kinds of toppings.
Not only are they pretty to look at, they taste amazing AND are simple to make!
Don't let its fancy-pants look fool you, these potatoes are indeed easy and quick to put together. You can totally make this happen and look like a pro!
What potatoes to use to make Hasselback Potatoes?
My favorite potatoes to use are russet potatoes, but any starchy potatoes work well for hasselback potatoes. I typically avoid red potatoes because they are less starchy and the texture is slightly different.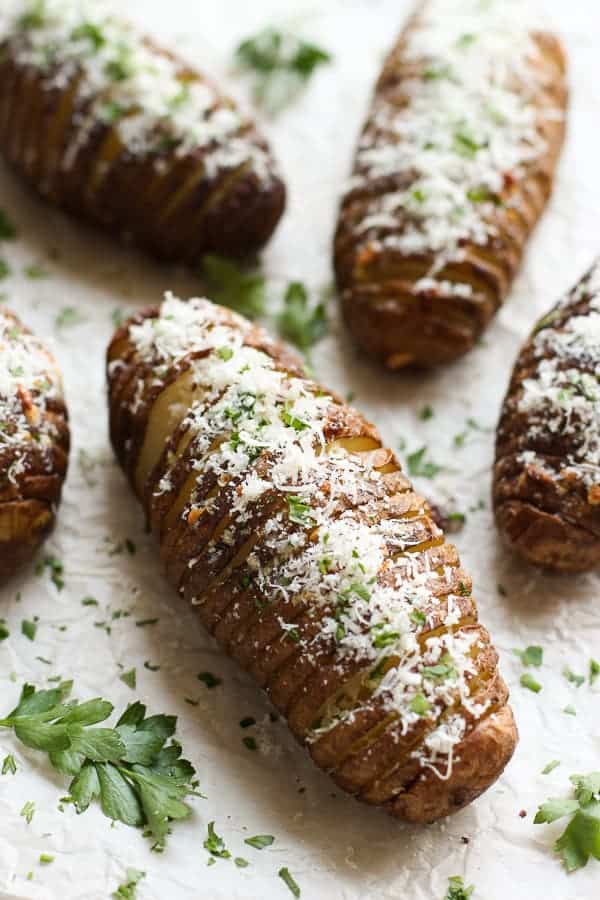 How to make Garlic Parmesan Hasselback Potatoes?
I cannot wait to show you how simple this how process is. Because yes I really really want you to try it and wow yourself and your people.
Always always start by washing the potatoes and scrubbing it gently with your hands or a brush.
Then carefully make slits on the potatoes with a knife. Slits should be approximately 1/8″ – 1/4″ apart from each other. Don't slit all the way and leave some room at the base. The closer you get the slits to the base the more flavor will sip into the potatoes, but you do run the risk of cutting the potato in half, so there's a trade off there.
Similarly, the thinner the slits, the crispier the potato will be, but there's also a catch. It's harder to get the slits perfectly stacked next to each other when they are slit too close to each other. So proceed with caution.
Nah it's seriously not that serious. Experiment with it and go with what is comfortable for you. 😉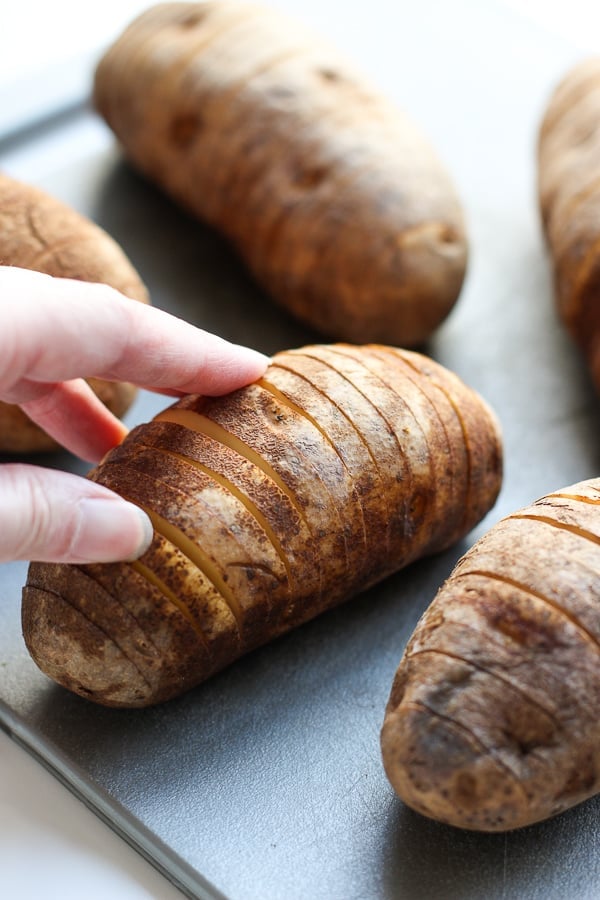 Then drizzle the mixture of garlic, salt and melted butter onto the potatoes, filling the slits as much as you can to get the flavor into the potatoes.
Send it into the oven to bake and once that is done, sprinkle potatoes generously with parmesan cheese and parsley.
I also like to get the parmesan and parsley (especially the parmesan) into the slits of the potatoes to get as much flavor into the potatoes as possible.
Buttery, garlicky, cheese goodness. YUM YUM YUM.
If you are all about the crispy goodness and like it crispier, bake for longer than the recommended time!
What to serve with Garlic Parmesan Hasselback Potatoes?
Hasselback potatoes goes really well with any protein – beef, chicken, pork, ribs, seafood. Or yes, by itself.
I have been known to sprinkle bacon pieces on it and eat it by itself. It sounds every bit as glorious as it tastes.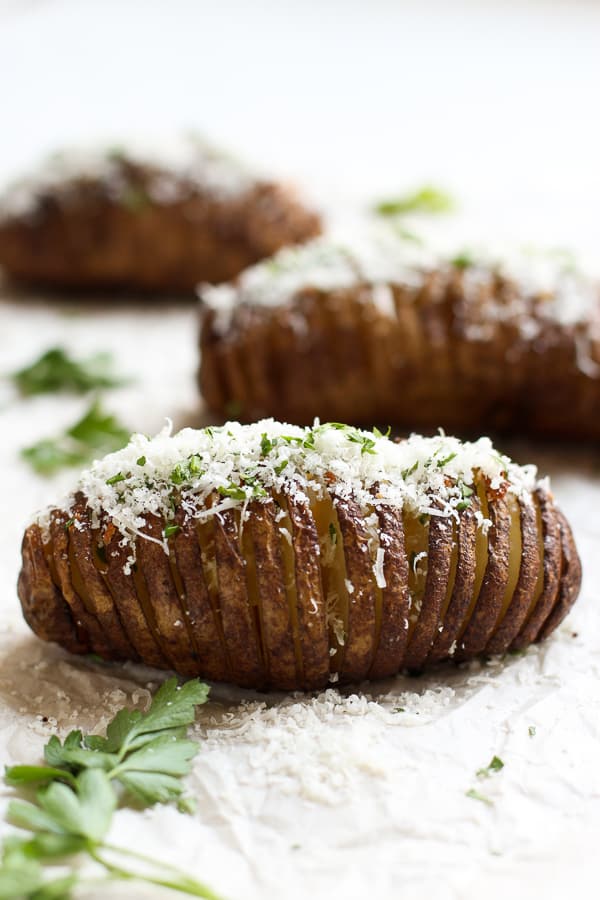 Here are meat/protein dishes that would go great with these potatoes!
I hope you give it a try and enjoy Garlic Parmesan Hasselback Potato dish as much as I do! 🙂
DID YOU ENJOY THIS RECIPE? Please comment below and give us a 5-star rating! This will help others find this recipe on Google and Pinterest. We very much appreciate your help! 🤍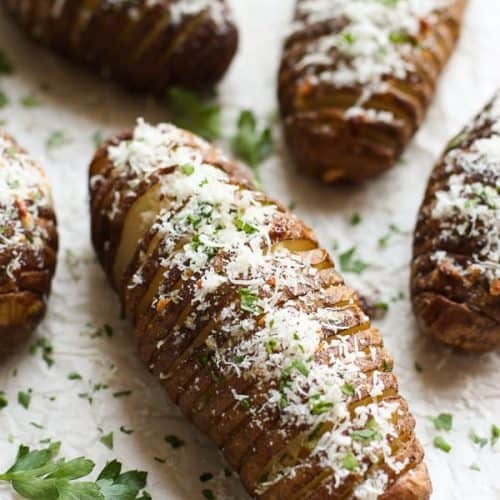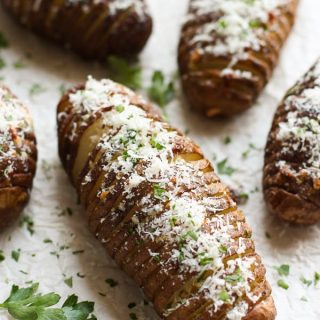 Garlic Parmesan Hasselback Potatoes
A yumy potato side dish! Crispy potatoes flavored with butter, garlic and parmesan cheese. Perfect for dinner any day or holidays!
Print
Pin
Ingredients
2

lbs

russet potatoes

6

tbsp

salted butter

3-5

cloves

garlic

1/2

tsp

salt

more if needed

1/4

cup

shredded parmesan cheese

more if needed

2

tbsp

chopped parsley
Instructions
Pre-heat oven to 425 degrees F.

Wash and scrub potatoes. Then using a knife, create slits on potatoes, but don't slit it all the way down and leaving the base of the potatoes unslit. Slits should be 1/4-1/8 inches apart from each other.

Mince garlic. In a small bowl, combine butter, salt and minced garlic. Pour miixture onto potatoes, and use a brush to get it into the slits as much as possible. Doing this will make the insides of the potatoes more flavorful.

Place potato on a baking sheet and bake for 55-65 minutes. The large the slits and the potatoes, the longer it will take to cook, so adjust accordingly.

Add shredded parmesan cheese and chopped parsley onto potatoes. Try to get the parmesan in between the slits as well. I like to serve with parmesan cheese and salt on the side so you can add more to taste. Enjoy!
Nutrition
Calories:
287
kcal
|
Carbohydrates:
34
g
|
Protein:
6
g
|
Fat:
15
g
|
Saturated Fat:
10
g
|
Polyunsaturated Fat:
1
g
|
Monounsaturated Fat:
4
g
|
Trans Fat:
1
g
|
Cholesterol:
40
mg
|
Sodium:
443
mg
|
Potassium:
781
mg
|
Fiber:
2
g
|
Sugar:
1
g
|
Vitamin A:
596
IU
|
Vitamin C:
13
mg
|
Calcium:
92
mg
|
Iron:
2
mg