Turkey Sweet Potato Chili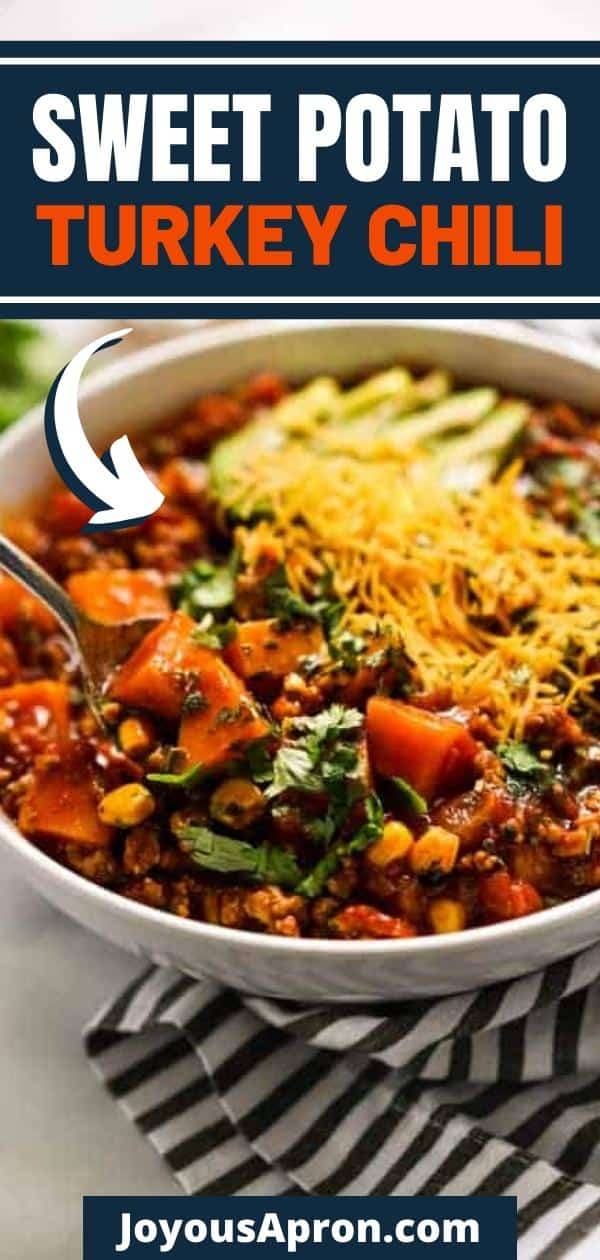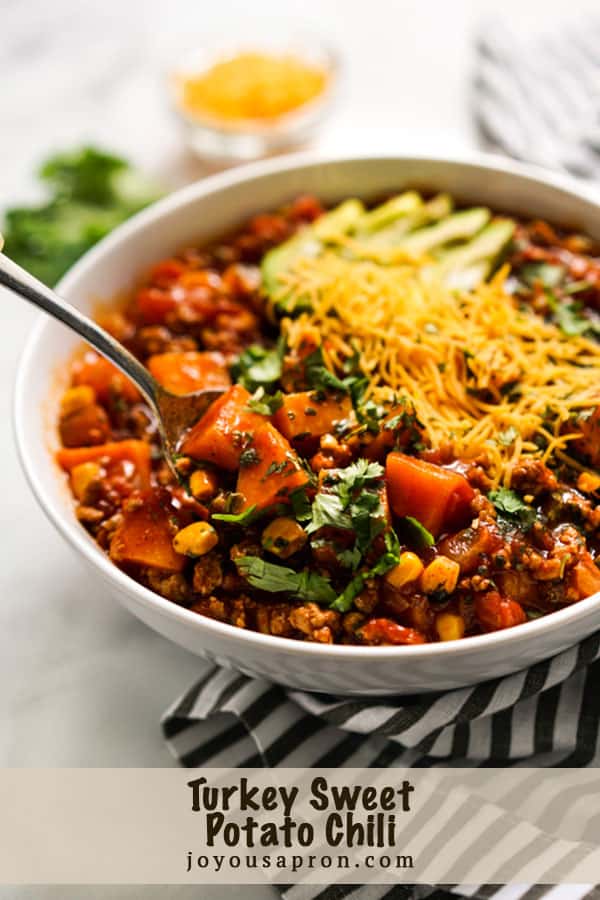 Introducing Turkey Sweet Potato Chili! I love regular chili, but I'm telling you, I'm loving this ground turkey, no bean, sweet potato version even more!
Turkey Sweet Potato Chili is a fun and healthier twist to traditional chili, but it still retains that slightly spicy, tomato-y flavors and hearty textures that we all know and love.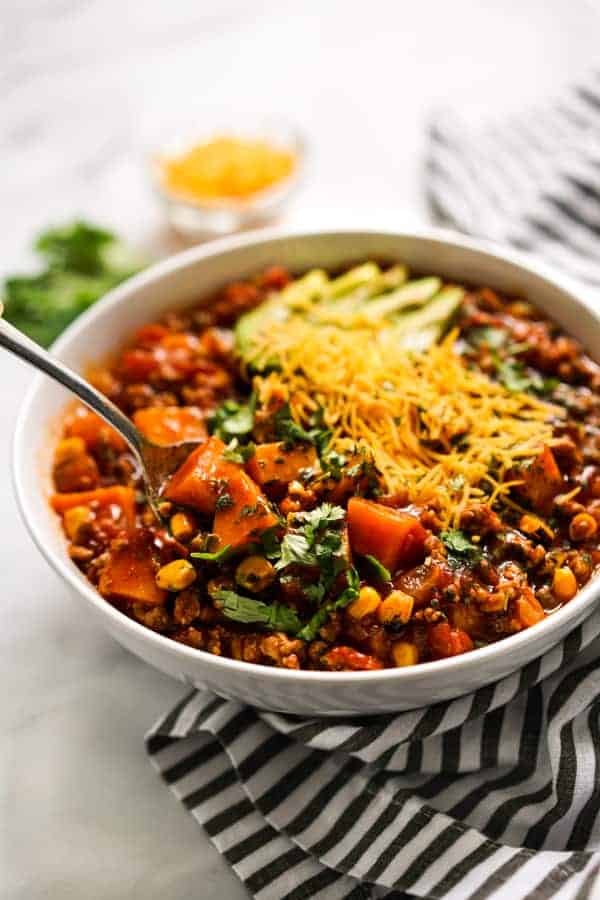 Turkey Chili with Sweet Potatoes
This chili recipe is very similar to my Healthy Turkey Chili, but loaded with lots of yummy sweet potato chunks and has a slightly sweeter twist to it. The slight sweetness in the broth goes perfectly with those wonderful sweet potatoes.
Having a fervent passionate love for all things sweet potato, it is no surprise that I am loving this sweet potato version of turkey chili so dang much.
Sweet Potato Turkey Chili is a chunky, cozy soup filled with ground turkey, tomatoes, and sweet potatoes (well duh…), then garnished with avocados, cheese, and cilantro.
My opinion about garnishes is that they are just as important as the chili itself. So whenever I am having a bowl of any chili, you better believe it is loaded with garnishes.
If you aren't a garnish person, it's okay we can still be friends! 😉
Add lots of garnish, add no garnish at all, or somewhere in between…it's all yummy, and you should enjoy this chili however way you want!
Turkey Sweet Potato Chili is a delicious bowl of soup to enjoy in this beautiful Fall weather that is slowly but surely coming upon us.
Ingredient Notes
Here are the key ingredients for this turkey chili with sweet potatoes: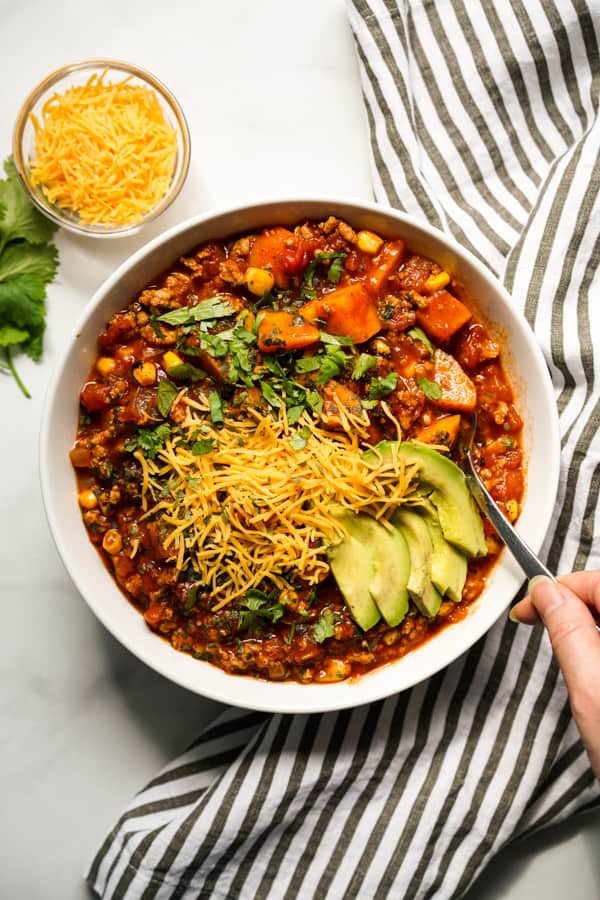 Ground turkey
Sweet potatoes – use 1 large, or 2 small sweet potato(es). Cut into cubes about 1-inch wide. If sweet potatoes are too big, it's takes longer to soften them.
White or sweet onions
Garlic
Canned tomatoes – using both canned petite diced tomatoes and canned tomato sauce
Chicken broth
Spices – we are using chili powder, smoked paprika, ground cumin to bring on lots of delicious flavors
Frozen corn – canned or fresh work as well.
Sugar, salt and black pepper to taste – this will help open up the flavors of the chili!
Let's make Turkey Sweet Potato Chili
Turkey Sweet Potato Chili is a one-pot, 30-minute, easy meal that that anyone can put together, even on a busy evening!
You'll want to heat a large pot, add some cooking oil, then saute minced garlic and diced onions until fragrant. This is an important step to bring out the flavors of the garlic and onion.
Next, add ground turkey to the pot. Season with salt and black pepper, then saute ground turkey until they are no longer pink
After that, add everything else into the pot! Canned tomatoes, chicken broth, spices, and cubed sweet potatoes…and bring to a boil.
Let the chili simmer and cook so that chili thickens and the flavors come together.
It is done when sweet potatoes are soft and can be pierced easily with a fork…about ~15 minutes or so.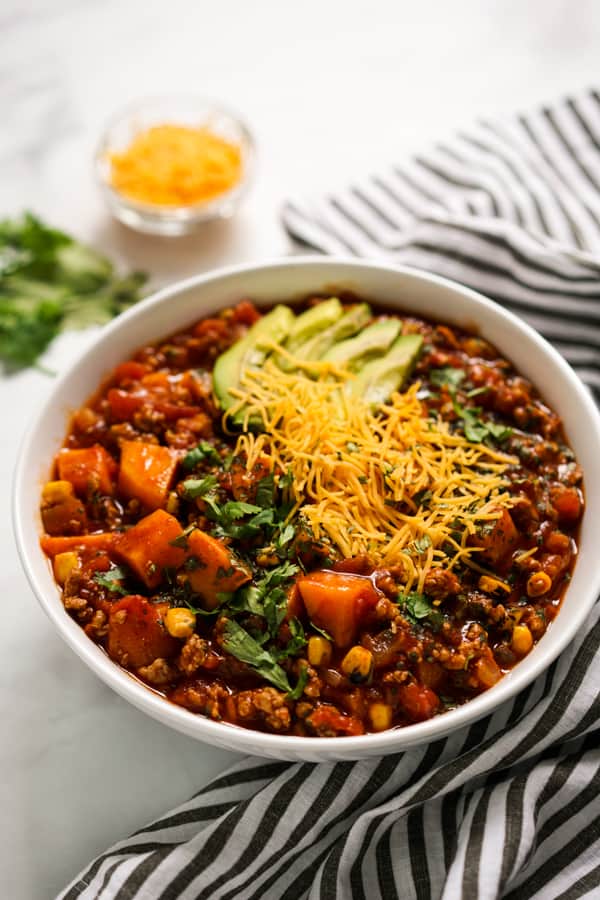 I wait until chili is almost done before adding frozen corn because they don't take long to cook. We are basically just heating them up.
So at the end, add frozen corn and bring heat to medium high, cook for another few minutes until liquid comes to a boil again.
Taste (always, always taste your food!), and then add salt and black pepper to open up the flavors as desire.
Variations
And of course, if you want to make this your own or jazz it up further, here are some other ingredients you can add/substitute with:
Bell peppers – red, green, orange…
Beans – black, pinto, any kind!
Ground beef or pork or chicken – use in place of ground turkey if desire!
Keep in mind that if you add a lot of additional ingredients you will need to add more liquid and spices to balance out the flavors and thickness of the Turkey Sweet Potato Chili as well. So adjust accordingly!
Garnish
When Turkey Sweet Potato Chili is done, garnish with some or all of the below!
Cilantro (something about cilantro in sweet potato chili just rounds out the flavor so well!)
Shredded cheese
Avocado
Tortilla chips or corn chips
Jalapeños
Sour cream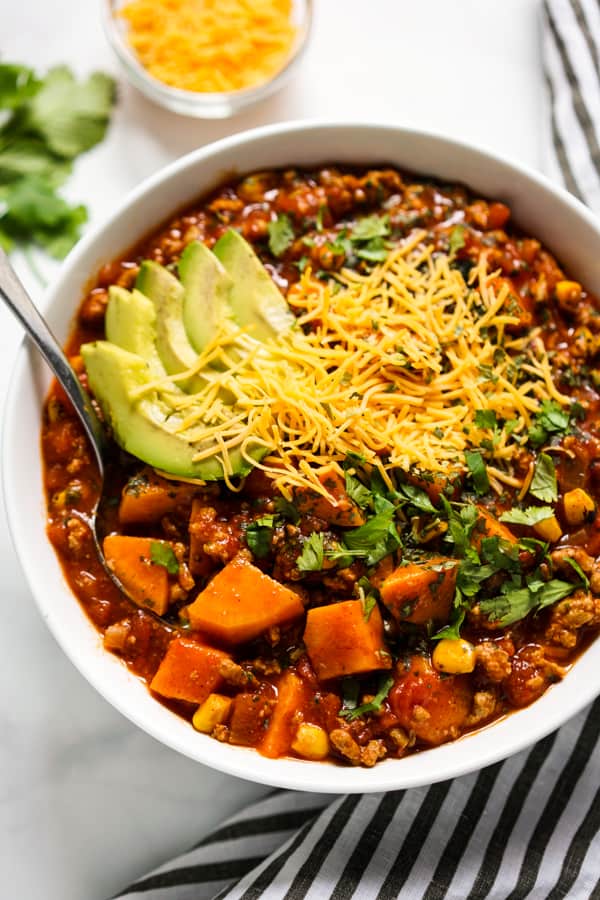 Tips and Tricks
A few tips for making Turkey Sweet Potato Chili:
Cut sweet potatoes into ~1 inch cube. Avoid cutting it in large pieces because it will take longer to cook.
Salt is used to open up flavors, not just to add saltiness to the chili. Taste chili when it is fully cooked, and if it is not as flavorful as you like, try adding a dash or two of salt. You'll be surprise what a little bit of salt can do to bring the flavors to the next level!
Meal prep
Turkey Sweet Potato Chili makes great meal prep because it stores really well. In fact, I might argue that it tastes even better after sitting for a few days as the chili powder, cumin and smoked paprika would have fully permeated the soup and the other ingredients such as the ground turkey and sweet potato.
I'm definitely one of those people who loves leftover chili and look forward to it. Especially when they are as tasty as this one.
Whenever I make Turkey Sweet Potato Chili I typically double it and store one batch in the freezer for busy weeks.
There's nothing quite like warm homemade comfort food that is already done and only needs to be microwaved on a busy weeknight.
Storage and Reheating
Store sweet potato chili in air tight container in the fridge for up to 4 days, or freezer for up to 2 months.
If storing in the freezer, bring to refrigerator to fully defrost chili 24 hours prior before microwaving it to heat it up.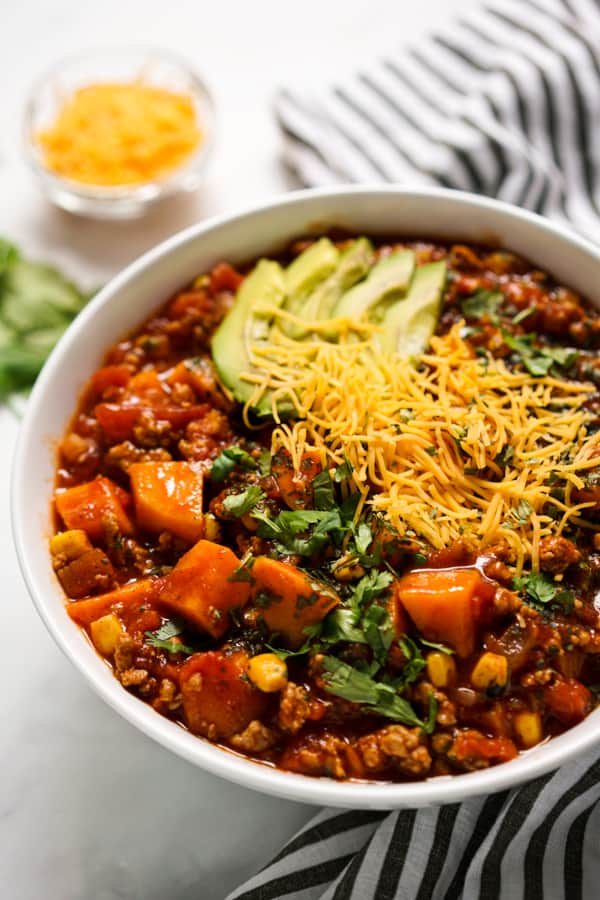 Serving Turkey Sweet Potato Chili
Here are some delicious recipes to serve with it:
After many, many hot days this summer, I am so ready to make a big bowl of this cozy Sweet Potato Turkey Chili, put on my comfy sweater, and kick off Fall season.
Wanna join me?? 😄
DID YOU ENJOY THIS RECIPE? Please comment below and give us a 5-star rating! This will help others find this recipe on Google and Pinterest. We very much appreciate your help! 🤍
Other Chili and Soup Recipes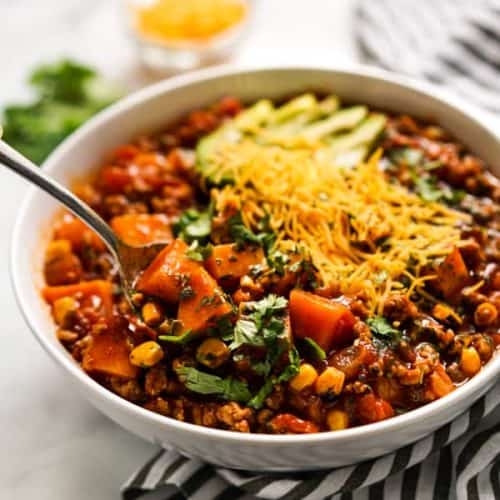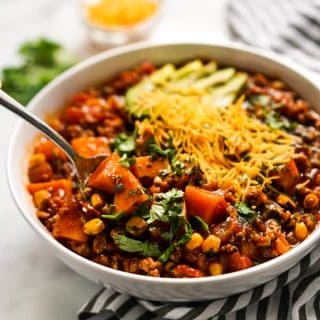 Turkey Sweet Potato Chili
30-minute delicious and healthy sweet potato chili recipe! Ground turkey, sweet potatoes, tomatoes cooked in a delicious thick hearty broth, garnished with avocados, cilantro and cheese.
Print
Pin
Ingredients
1

tbsp

olive oil

1/2

sweet onion

diced

5-7

cloves

garlic

minced

1

lbs

ground turkey

28

oz

petite diced tomatoes

canned

16

oz

tomato sauce

canned

1/2

cup

chicken broth

1

large sweet potato

1-inch cubed (~12 oz)

1

tbsp

chili powder

1

tsp

smoked paprika

1/2

tsp

ground cumin

1

tbsp

granulated sugar

1

cup

frozen corn

salt

to taste

black pepper

to taste
Garnish
1/4

cup

cilantro

chopped

1/3

cup

cheddar cheese

shredded

2

avocado

sliced
Instructions
In a large pot, add olive oil, diced onions and minced garlic. Saute under medium heat for 1-2 minutes or until fragrant.

Add ground turkey to pot, break up the ground turkey if it is clump together. Sprinkle one or two pinches of salt and pepper to turkey. Cook until turkey is almost done (no longer red/pink).

Add diced tomatoes, tomato sauce, chicken broth, diced sweet potatoes, chili powder, smoked paprika, ground cumin and sugar to pot. Bring to a boil, then lower to medium heat, and cook for another 15 minutes, or until sweet potatoes are soft and can easily be pierced with a fork.

Add frozen corn. Bring heat to medium high, cook for another few minutes until liquid comes to a boil again. Add salt and pepper to taste. Remove from heat.

Serve by dividing chili into a few bowls, and garnish with all or some of the garnish ingredients! We recommend garnishing with at least one or two of them. Enjoy!
Nutrition
Calories:
577
kcal
|
Carbohydrates:
59
g
|
Protein:
39
g
|
Fat:
25
g
|
Saturated Fat:
5
g
|
Cholesterol:
72
mg
|
Sodium:
1449
mg
|
Potassium:
2238
mg
|
Fiber:
16
g
|
Sugar:
22
g
|
Vitamin A:
10110
IU
|
Vitamin C:
46
mg
|
Calcium:
204
mg
|
Iron:
7
mg