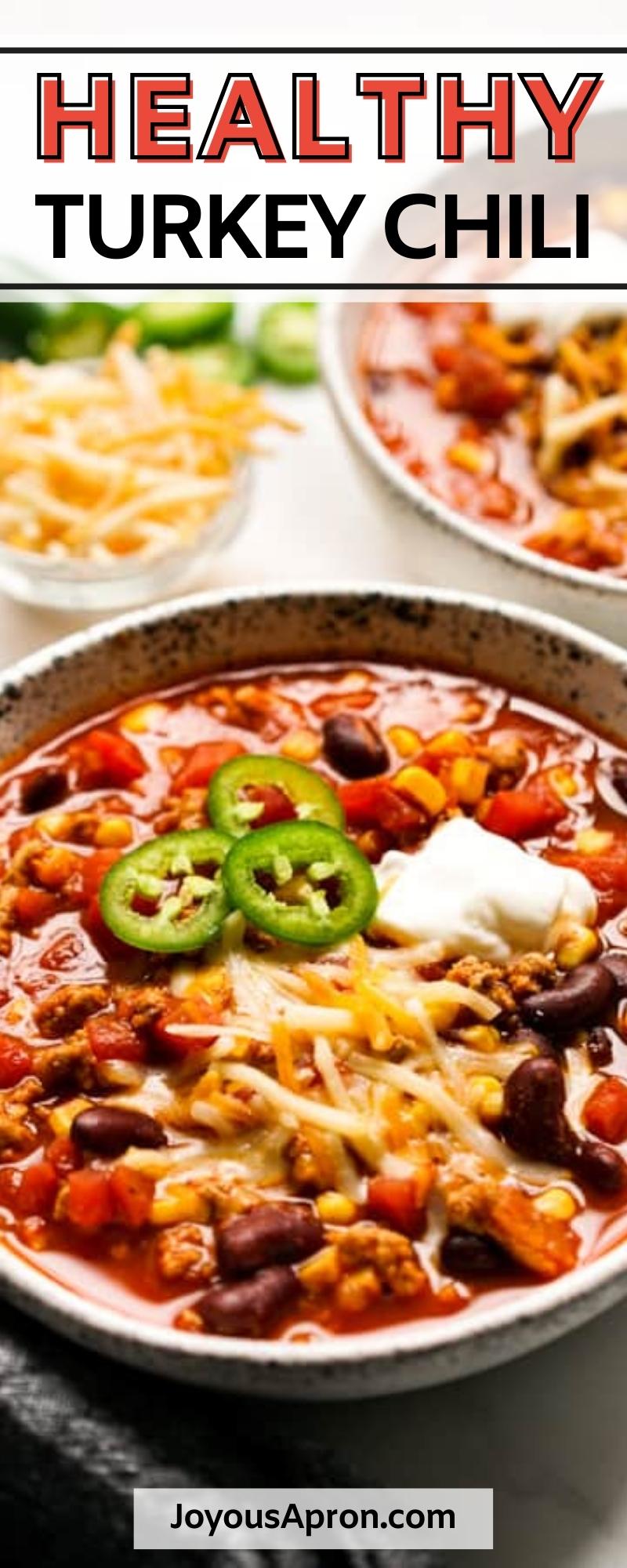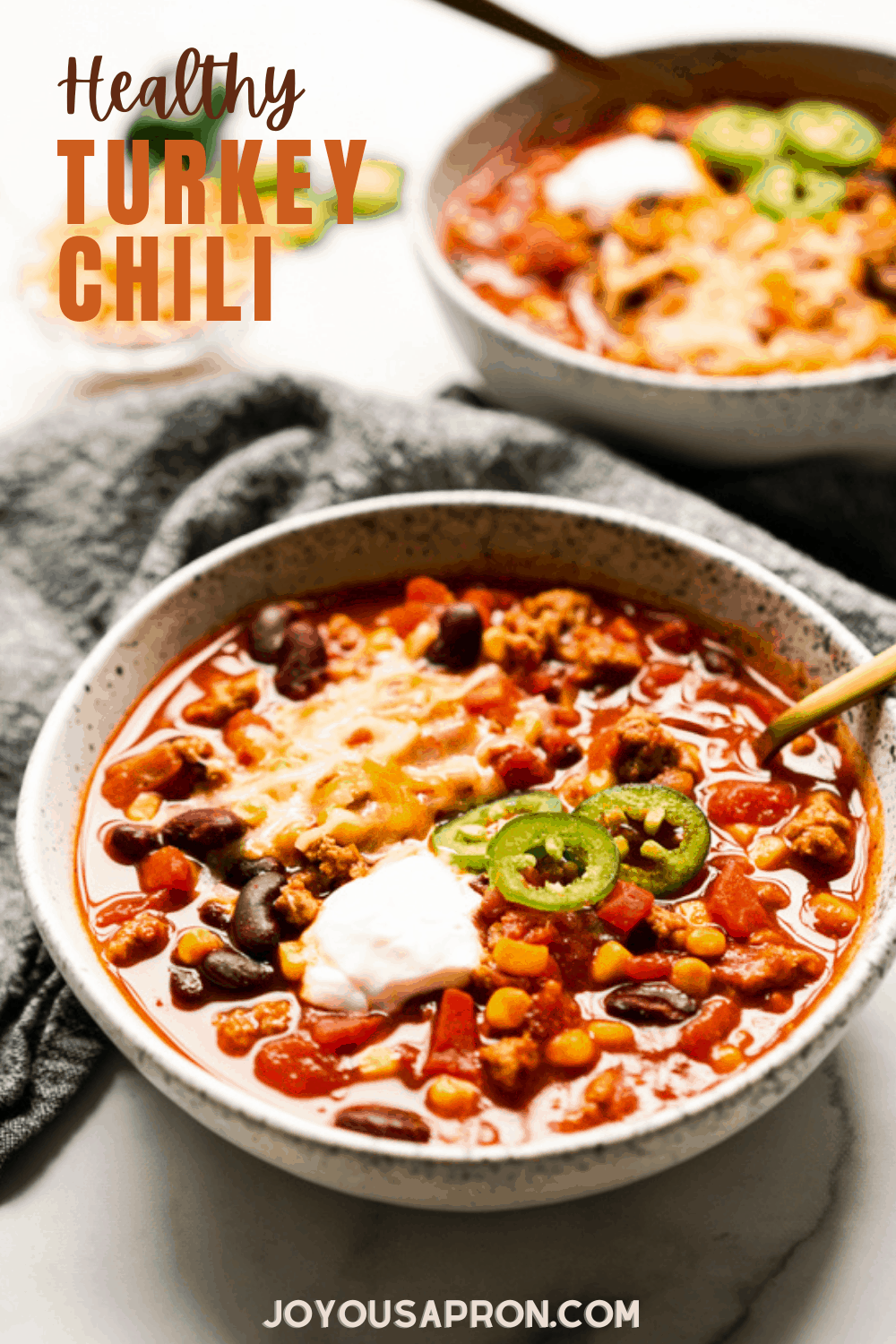 Kinda obsessed with this Healthy Turkey Chili! Its flavorful chunky broth is loaded with ground turkey, tomatoes, beans and corn, and topped with cheese, jalapeño and sour cream.
This is a healthier spin on the more traditional chili. Ready under 30 minutes, we make this delicious Healthy Turkey Chili often every single year, especially when Fall starts to roll around, and never seem to get tired of it…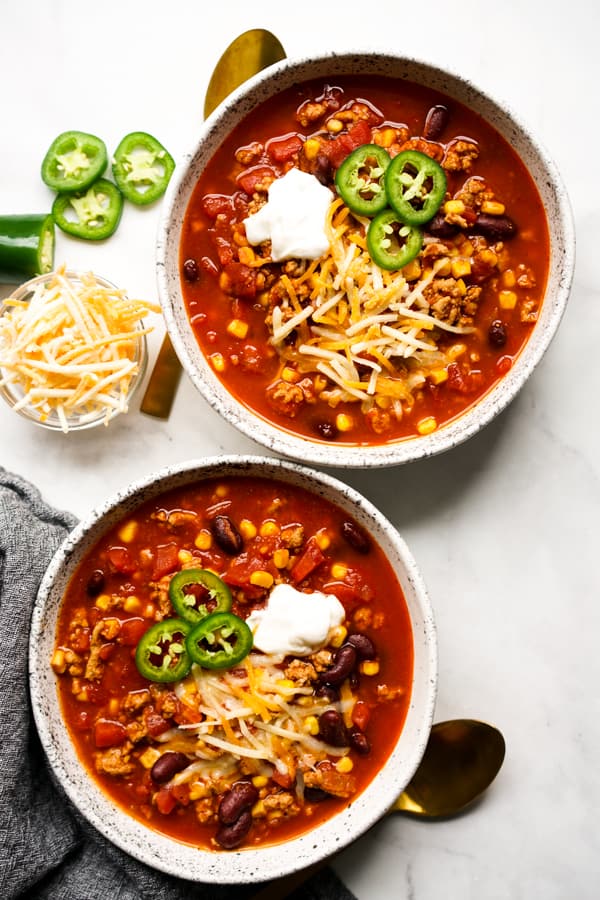 Love a tasty soup, stew or chili recipe? I think you'll love these as well! Beef Noodle Soup, Turkey Stew, Creamy Chicken Noodle Soup, and Lemon Chicken and Rice Soup.
Healthy Ground Turkey Chili
In my attempts to make a healthier version of chili (so that I can eat it all the time all Fall), we are using ground turkey to make this delicious chili recipe.
I recently discovered the beauty of ground turkey. Ground turkey is leaner and much healthier than ground beef. The thing with ground turkey is it typically doesn't bring as much flavor as ground beef.
However, when you are cooking ground turkey in an ultra flavorful sauce with lots of spices (e.g. THIS Healthy Turkey Chili recipe!), it is plenty flavorful! Using ground turkey isn't all that different compared to using ground beef!
Traditionally, chili is made out of beef, but if you want a healthier, lighter spin that is equally delicious, this easy Healthy Turkey Chili recipe is just as amazing and so much better for you!
As summer comes to a close and we gear up for Fall, chili is always one of the first meals I make. It's a warm, comforting meal, kinda like getting a big ole hug from grandma.
All you need to make this Healthy Turkey Chili happen is 30 minutes of your time, a handful of pantry-friendly ingredients, and a big old pot. I use my Dutch oven that I LOVE, but you can use any big pot that is about 5 qt or larger.
All the reasons why I love this Healthy Turkey Chili:
One-pot meal
Easy weeknight (or weekend) dinner
Saves well as leftovers
Freeze well for make-ahead meals
DELICIOUS!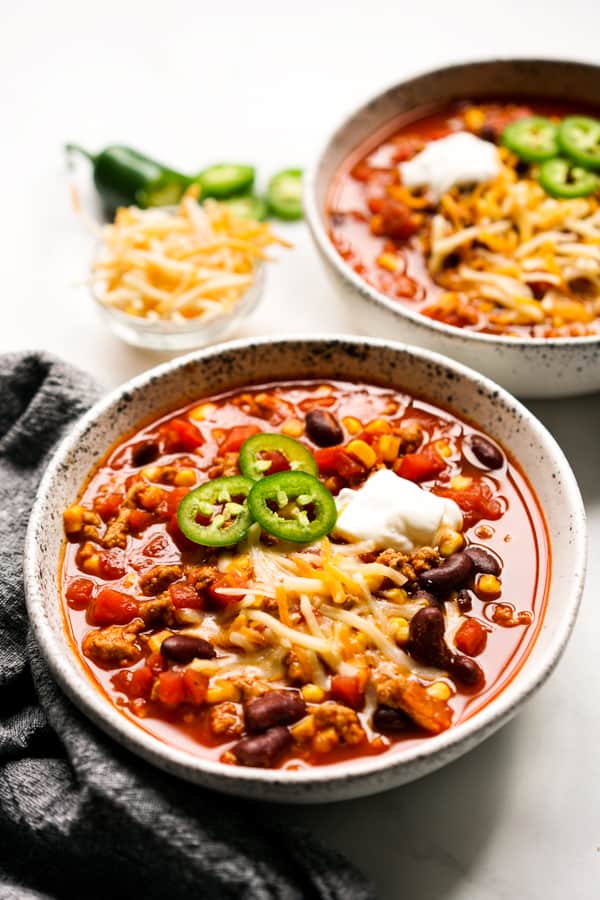 I love it so much that the last time I made this, I doubled this Healthy Turkey Chili recipe , and have a big Tupperware of this in my freezer.
It's ready for those emergency-nights when there is no food in the house but I don't feel like eating out or grabbing fast food.
Ingredients
Healthy Turkey Chili recipe is made with pantry friendly ingredients:
Ground turkey – ground chicken works as well when making healthy turkey chili.
Kidney beans – or any other beans of your choice, such as black beans, pinto beans etc
Corn – frozen, canned or fresh
Tomatoes – canned petite diced tomatoes and tomato sauce.
Chicken broth – turkey broth or vegetable broth works as well. Gives some extra liquid to the some and prevents chili from drying out when boiling
Garlic – use fresh! Avoid garlic powder. This brings a lot more complex flavors to our healthy turkey chili
Onions – also use fresh! No onion powder please…it's just not the same!
Other spices – such as chili powder, smoked paprika and cumin.
Simple ingredients it's gonna bring lots of amazing flavors!
The recipe will yield mild/medium in terms of level of spiciness. If you would like a spicier turkey chili, add some cayenne pepper or fresh jalapeño to turn up the heat!
If you ask me, garnishes on this healthy turkey chili is a must… Add all or some of the below: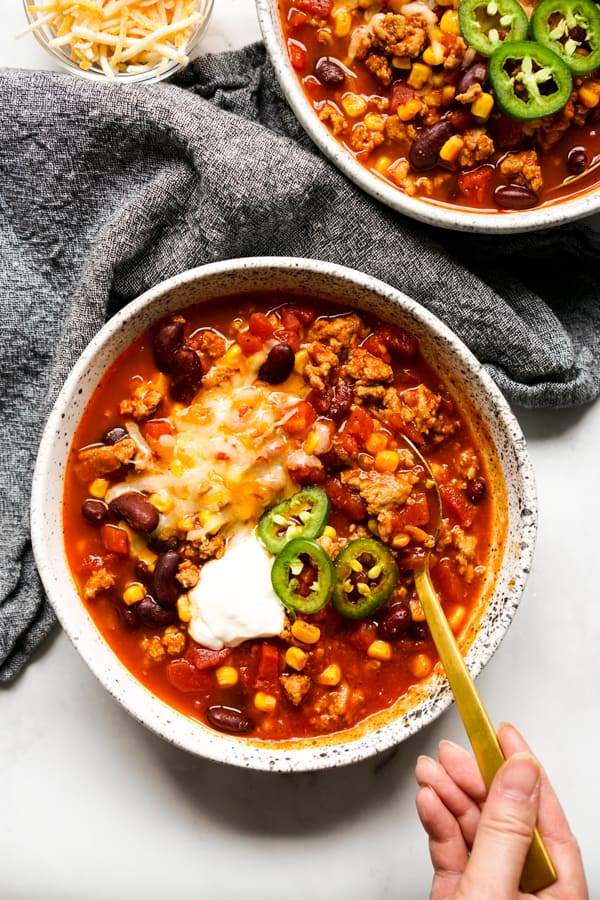 Sour cream – some added creaminess to make this Healthy Turkey Chili super delicious…
Shredded cheddar cheese – another layer of creaminess…
Avocados or guacamole – adds another layer of creaminess without the dairy.
Tortilla chips – bring on that crunchy texture!
Jalapeño – more spice, anyone? 🙂
Fresh cilantro – It brings a new flavor dimension and adds lots of freshness to the chili.
How to make Healthy Turkey Chili
Now I'm going to show you how easy it is to make my healthy ground turkey chili recipe. It is a one-pot meal ready under 30 minutes, so as you can imagine, we've had plenty of turkey chili on busy weeknights.
Grab a large pot or Dutch oven, and start by adding oil, garlic and onions to the pot. Saute until it is fragrant (do not brown). Then add ground turkey, and saute until it is no longer pink in color.
After that, add the canned tomatoes and tomato sauce, chicken broth, along with spices.
Boil for ~10 minutes to bring together the flavors and also thicken the soup slightly.
Add beans and corn, cooking for another a few minutes.
Once everything has come to a boiled, go ahead and taste your healthy turkey chili and add salt and pepper to taste as needed.
Remember that salt opens up the flavors a whole lot! If it tastes a little bland, most likely a pinch or two of salt will do the trick.
If you like your ground turkey chili chunkier, boil it for a little longer. If you like more liquid in it, you can add chicken broth and bring to a boil at anytime.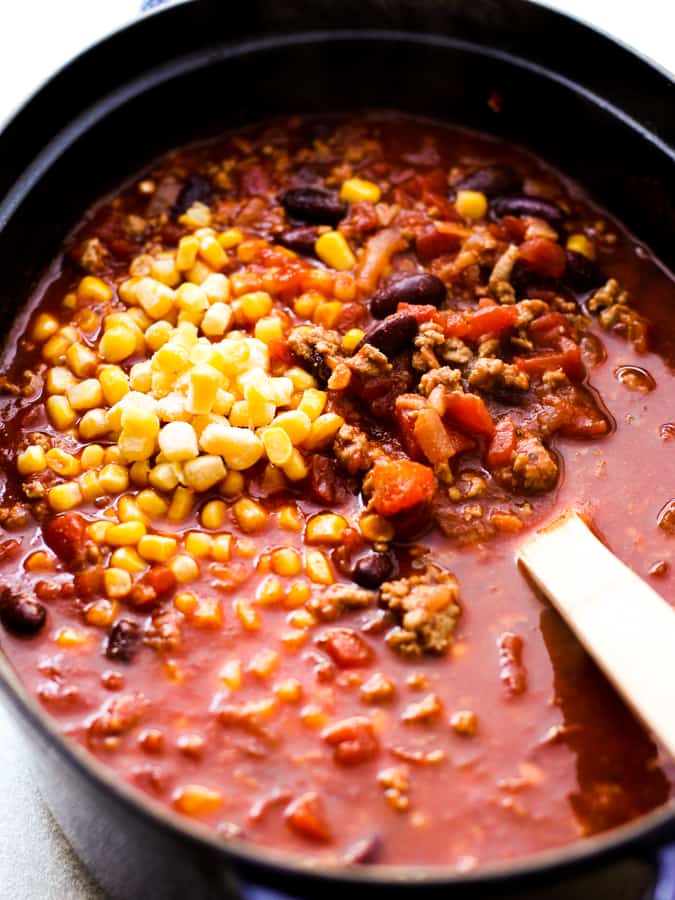 Basically, once everything is cook, you can adjust boiling time so that chili reaches your desired consistency.
To sum up the process: you are basically just adding stuff to a pot and boiling it until it is done!
Last but not least, remove from heat and serve the Healthy Turkey Chili!
Bon appetit!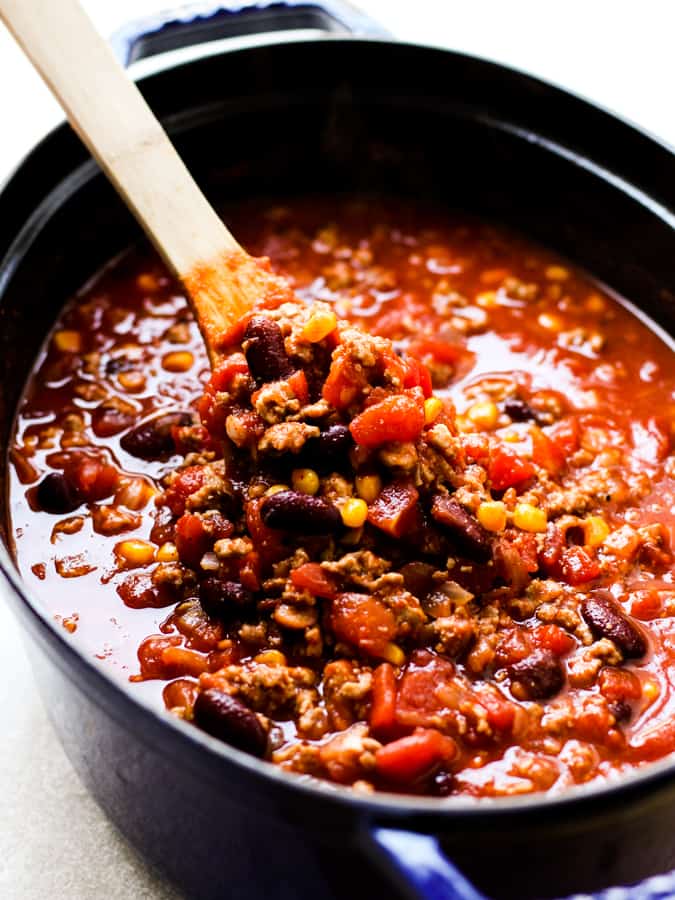 And don't forget to garnish! Sour cream, cheese, cilantro, jalapeños, avocados….all and any of your favorite garnishes to jazz up this healthy turkey chili.
In fact, I highly recommend garnishing to your heart's content.
It's not a crime to over-garnish your healthy turkey chili.
Under-garnishing, however, is a very small crime and will bring about a lack of deliciousness. 😉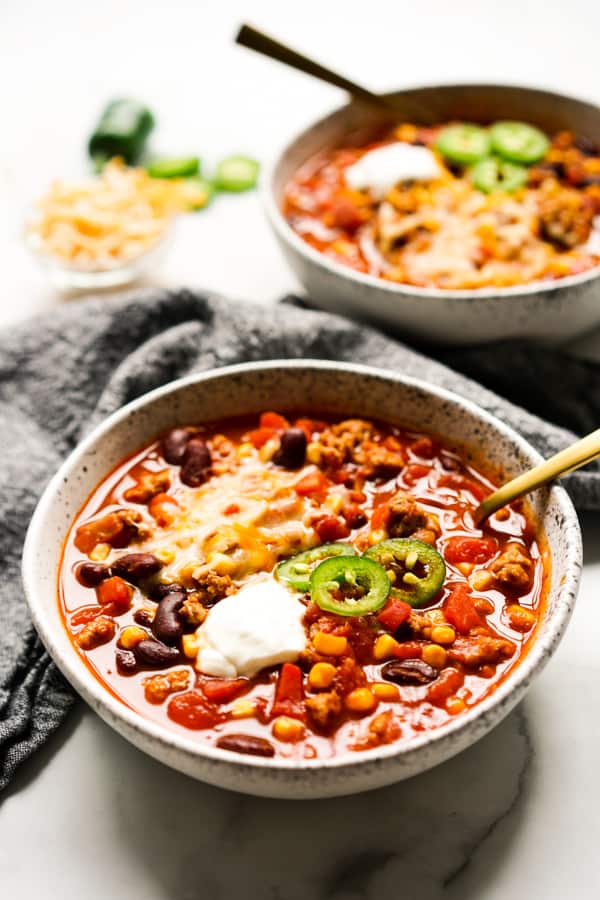 Substitution and Variation
This Healthy Turkey Chili recipe is super versatile and you can definitely add or substitute with some of these ingredients based on what you prefer or what you have on hand.
Here are some ways you can switch things up and use up what you have in your fridge or pantry if necessary:
Ground turkey: use ground chicken, beef or pork instead
Beans: use a different type of beans
Petite diced tomatoes: use canned whole tomatoes or diced tomatoes instead
Add other spices: Mexican oregano, bay leaf
Add other vegetables:

red bell peppers

, sweet potatoes (probably my favorite add…check out my Turkey Sweet Potato Chili recipe to learn how to make turkey chili with sweet potatoes! I must say, it is pretty amazing…)
Make it spicier: Add jalapeño or cayenne powder…or both!
Frequently Asked Questions
Can I make ahead this turkey chili?
Absolutely! Store in an airtight container in the refrigerator or even freeze in freezer until ready to eat! Only garnish when ready to eat. This is great as meal prep and make-ahead dinners.
How long can I store this?
Healthy Turkey Chili can be stored in an airtight container for up to 3-4 days in the refrigerator or 2-3 months in the freezer.
How do I make this spicier?
When cooking the chili, add jalapeño and cayenne pepper…or both!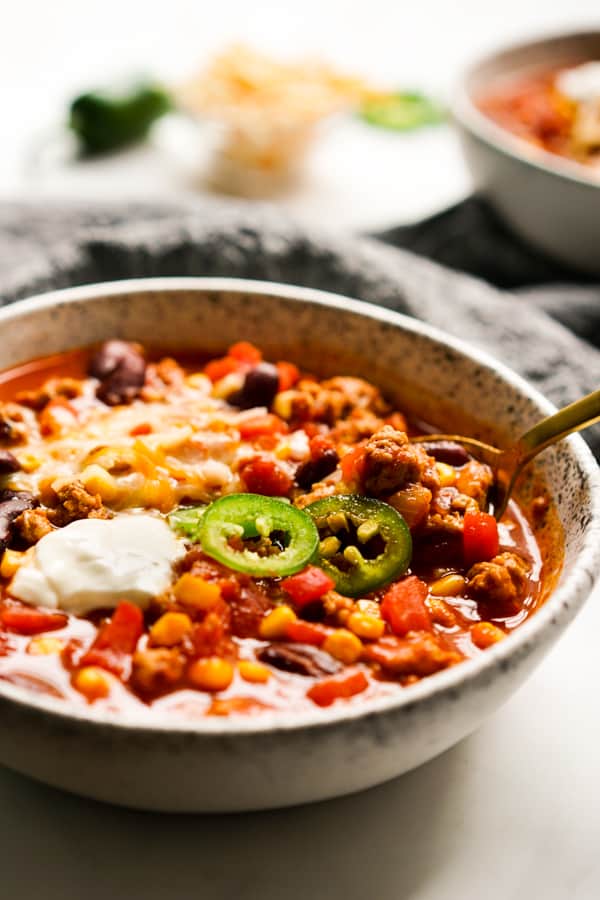 A simple chili recipe for the keeps. Make yourself a bowl (or two) of this Healthy Turkey Chili today! 🧡
Other soup and stew favorites
DID YOU ENJOY THIS RECIPE? Please comment below and give us a 5-star rating! This will help others find this recipe on Google and Pinterest. We very much appreciate your help! 🤍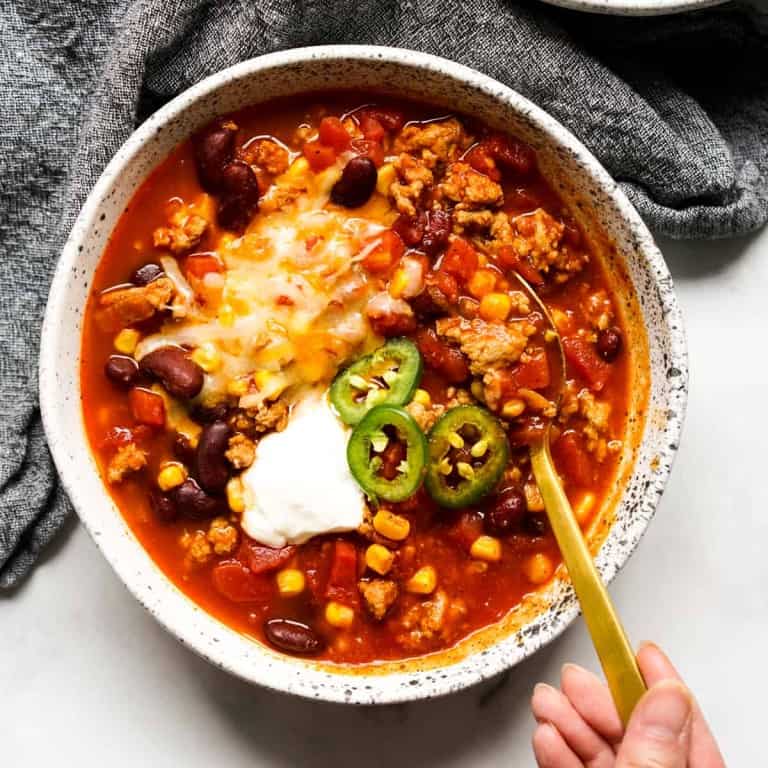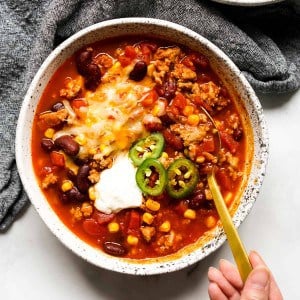 Healthy Turkey Chili
A heathy spin to chili! And only 30 minutes! Made with ground turkey, this tomato-based chili is packed full of bold flavors and great textures. Perfect for dinners on busy nights!
Print
Pin
Ingredients
1

lbs

ground turkey

1/2

large onion

5-7

cloves

fresh garlic

1/2

tbsp

olive oil

28

oz

canned petite diced tomatoes

15

oz

canned tomato sauce

16

oz

canned kidney beans

1/2

cup

chicken broth

1

tbsp

chili powder

1

tsp

smoked paprika

1/2

tsp

cumin

1

cup

frozen corn

salt

to taste

pepper

to taste
Garnish
shredded cheddar cheese

sour cream

jalapeño
Instructions
Dice onions and mince garlic.

In a large pot, add olive oil, diced onions and minced garlic. Cook under medium heat for 1-2 minutes or until fragrant. Do not brown or burn.

Add ground turkey to pot, break up the ground turkey if it is clump together. Sprinkle one or two pinches of salt and pepper to turkey. Cook until turkey is almost done (no longer red/pink).

Add diced tomatoes, tomato sauce, chicken broth, chili powder, smoked paprika, and cumin to pot. Bring to a boil, then lower to medium low heat, and cook for another 10 minutes.

Add frozen corn and kidney beans (drained). Bring heat to medium high, cook for another few minutes or until liquid comes to a boil again. Add salt and pepper to taste.

Optional: Garnish with all of some of the garnish ingredients!
Nutrition
Calories:
427
kcal
|
Carbohydrates:
52
g
|
Protein:
42
g
|
Fat:
9
g
|
Saturated Fat:
3
g
|
Polyunsaturated Fat:
2
g
|
Monounsaturated Fat:
3
g
|
Trans Fat:
1
g
|
Cholesterol:
73
mg
|
Sodium:
1942
mg
|
Potassium:
1828
mg
|
Fiber:
14
g
|
Sugar:
17
g
|
Vitamin A:
1909
IU
|
Vitamin C:
38
mg
|
Calcium:
202
mg
|
Iron:
7
mg