Whole Roasted Butternut Squash
Have you ever baked a butternut squash whole? I haven't until recently, and let me tell you – you are in for a treat! Whole Roasted Butternut Squash is totally the way to go.
Only 5 ingredients (butternut squash included, of course), requires minimal prep time (only 10 whole minutes!) and so incredibly delicious.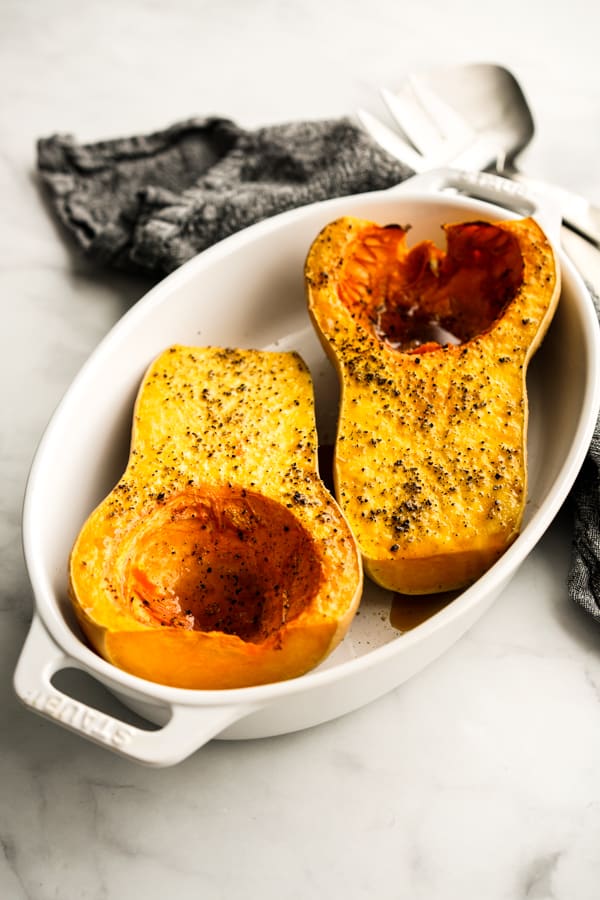 About Butternut Squash
Sitting on my kitchen counter right now are three whole butternut squash. Along with pumpkins, apples, pears etc.
Guilty as always for my obsession with Fall.
The reason for three whole butternut squash is quite simple – I CANNOT GET ENOUGH OF IT.
And since it is seasonal, I'll make sure I eat my share of it while they are still around.
Such an underrated fruit, butternut squash (also known in Australia and New Zealand as butternut pumpkin or gamma, thank you Wikipedia), it is a great source of Vitamin A, Vitamin C, and fiber. Its flash has a sweet nutty taste – kinda similar to pumpkin.
Its texture is hard uncooked but once roasted it is nice and soft.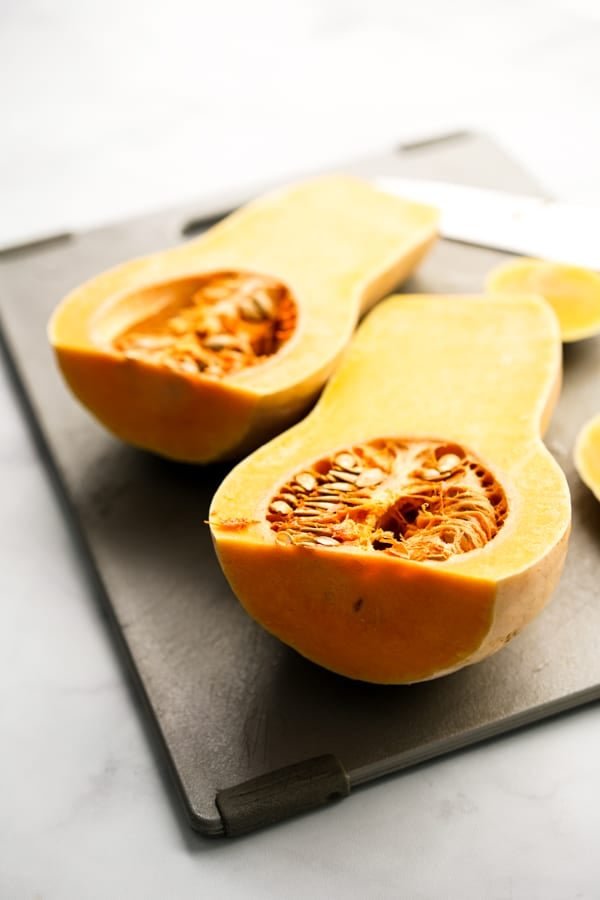 Baking Butternut Squash Whole
There are so many ways to cook butternut squash.
You can cut it into pieces and bake it, puree it, add it to salads, make soups out of it (speaking of soups, this delicious Curry Butternut Squash Soup is a butternut squash lovers' dream!) etc. The list goes on.
Today, being the first butternut squash recipe on the blog (more will be coming, trust me…), I wanted to share a simple and basic way to cook butternut squash. One that requires minimal ingredients and prep time.
And one where you get to enjoy butternut squash close to its purest form – whole.
How to cut butternut squash
Before we start cooking, let's talk about how to cut a whole butternut squash.
I don't know about you, but when I first made Whole Roasted Butternut Squash, this is the most intimidating part for me.
How do I break apart this giant of a fruit?
If you are also asking that question, let's dive straight in!
First, start by cutting off both ends (top and bottom) of the butternut squash.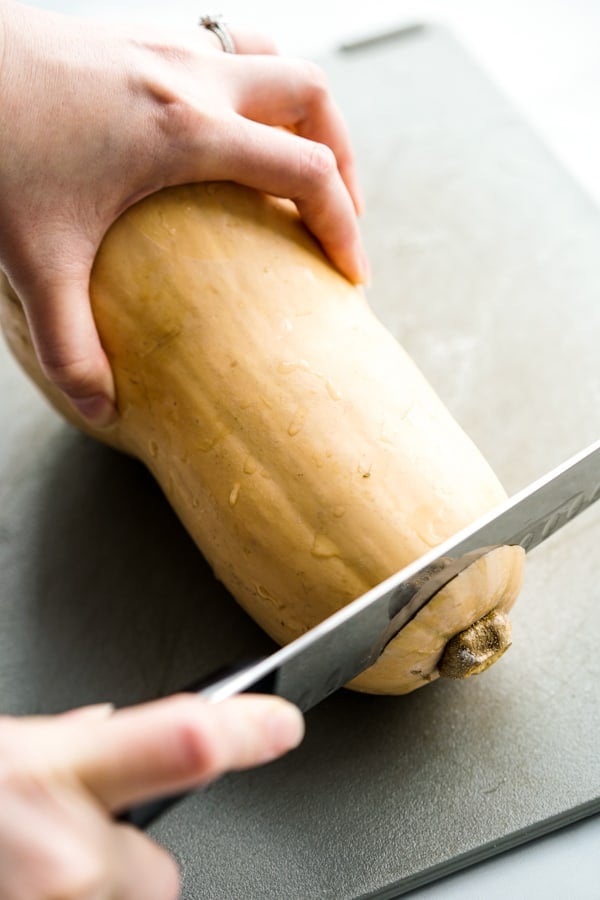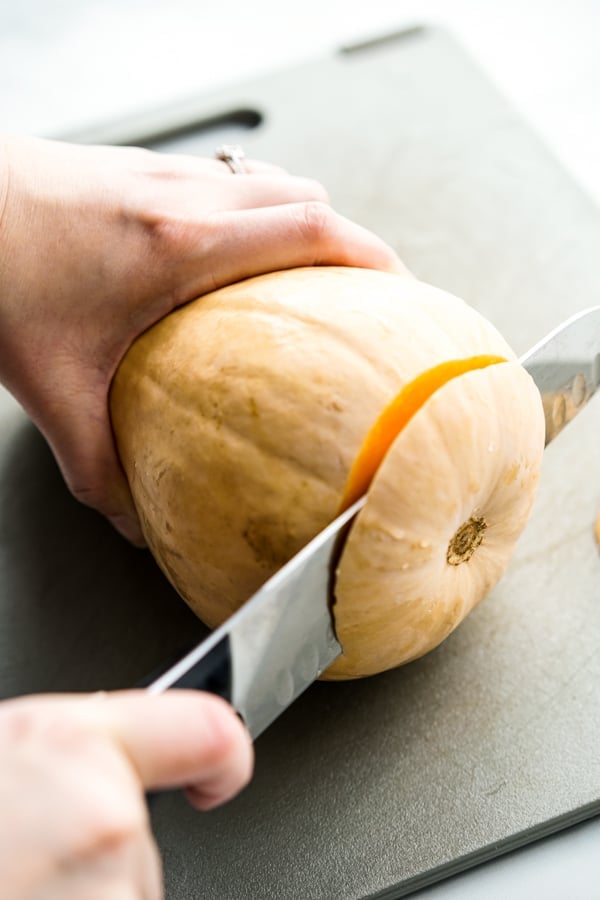 Stand butternut squash up on a firm flat surface (bottoms down), then slice it into half lengthwise.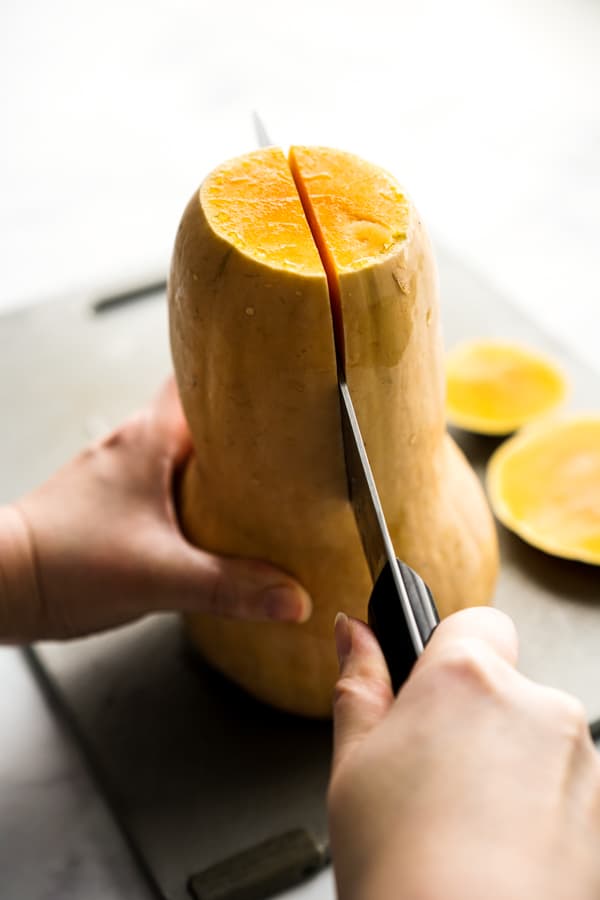 Next, dig out all the seeds using a spoon.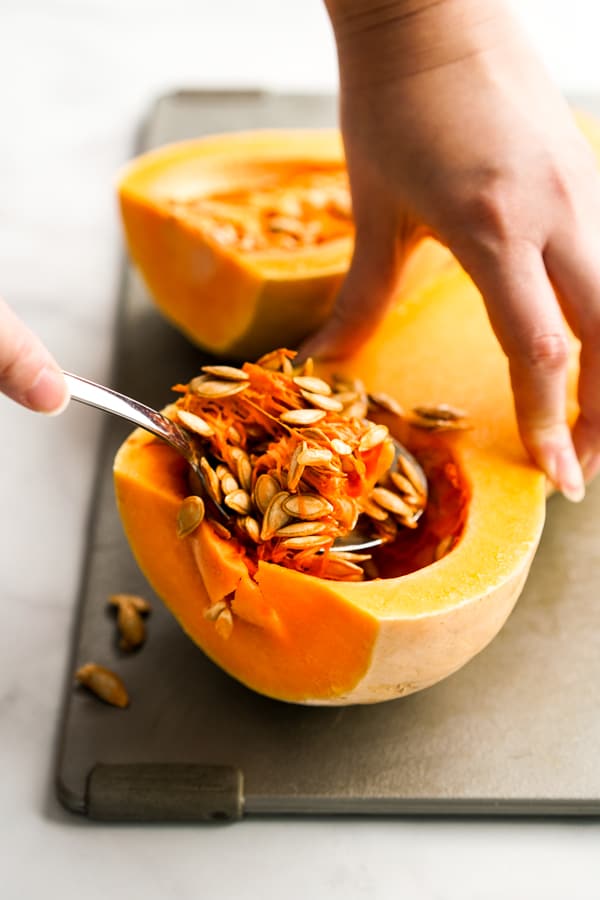 How to roast butternut squash
Now that we have cut up the butternut squash, it's time to prepare it for roasting.
Place both halves of butternut squash face side up (skin side down) on a baking dish or baking sheet.
Using a brush, brush olive oil onto the non-skin surfaces of both halves of butternut squash, including the hole where the seeds were dug out.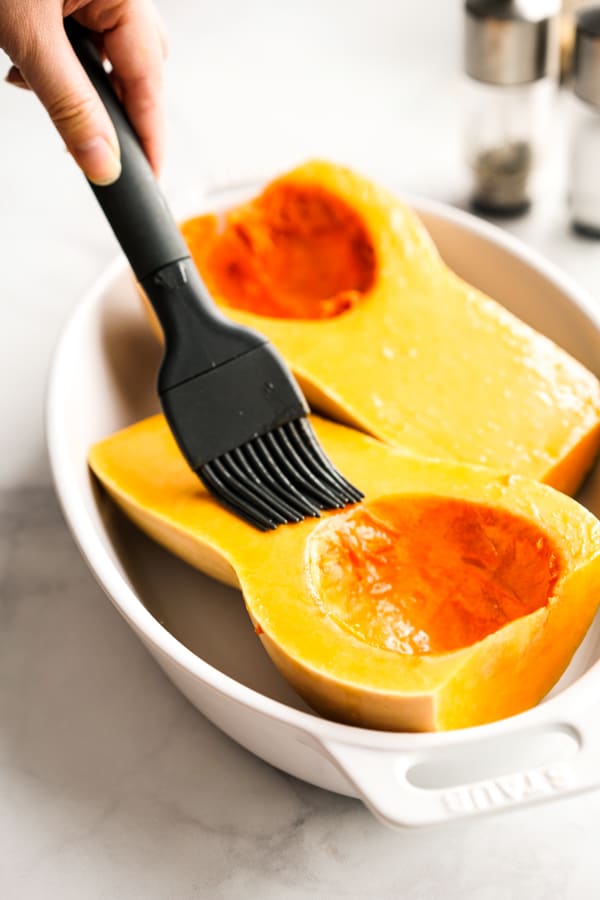 Then sprinkle it generously with:
sea salt
black pepper – this is optional if you are not a fan of a slight kick in your foods. I personally like it but it will also taste delicious without this.
brown sugar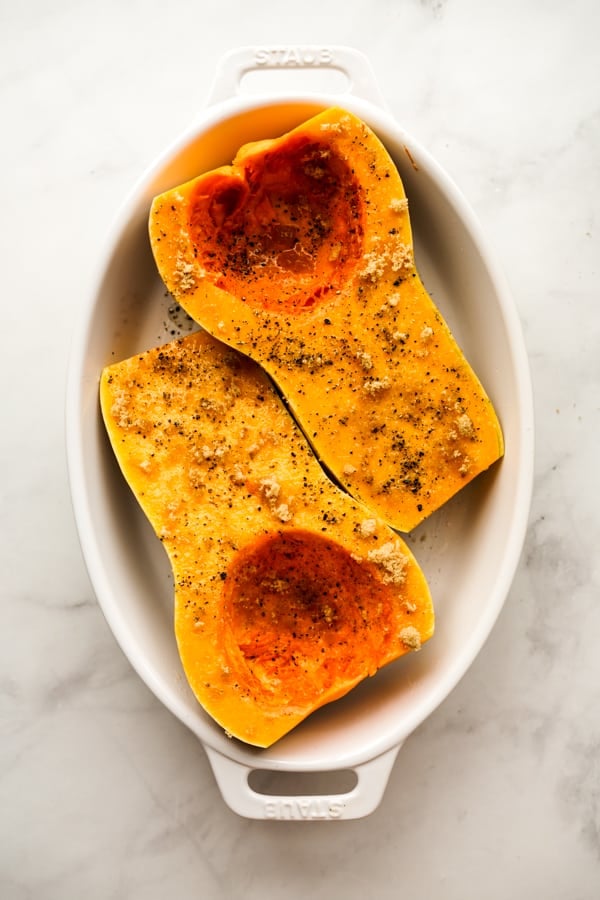 Bake in the oven at 400℉ for 45-60 minutes. Check at the 40-45 minute mark, especially if you are baking a small butternut squash. If not, you will most likely need close to an hour.
When done, butternut squash should be very soft on the inside, and you should be able to scoop it out easily with a spoon.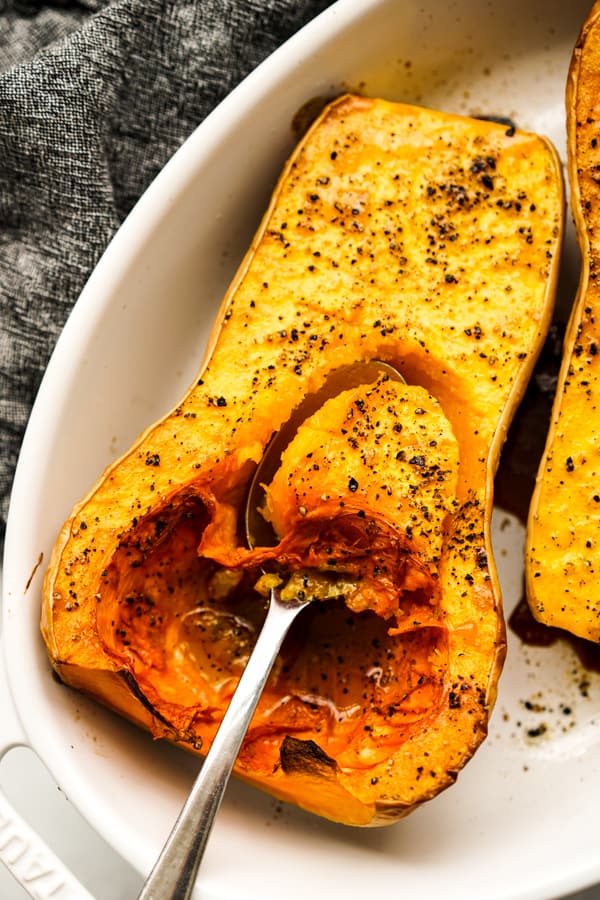 And there you go – Whole Butternut Squash in all its glory.
Super simple. Super tasty. Super satisfying.
Variation and substitution
There are so many ways to season the butternut squash. I like to have a savory and a sweet component because having both really brings out the flavors of the butternut squash. But other than that, have fun with it! Feel free to add additional flavors to make this recipe your own!
Here are some other options:
maple syrup instead of brown sugar
seasonings such as garlic or onion powder
herbs such as thyme, sage or parsley
adding some Fall flavors such as cinnamon, allspice and nutmeg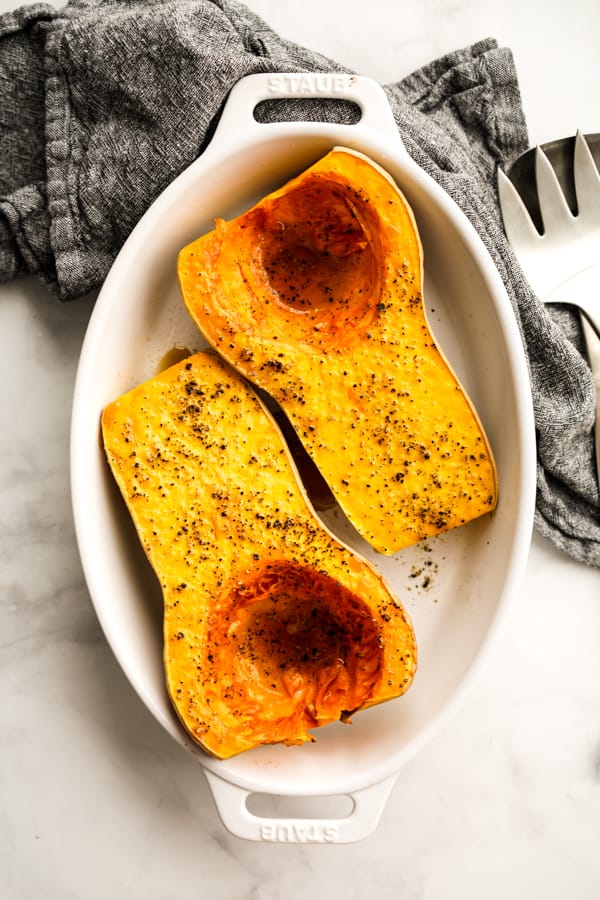 How to serve this butternut squash
This makes a wonderful side dish to many protein dishes such as:
In addition to sides, they are make the best salad toppings. After roasting the whole butter squash, remove the skin and cut it into cubes. Serve cubed butternut squash on top of your favorite salads!
Lastly, this is also a great way to get a butternut squash ready to be mashed up. Remove the skin and use a potato masher or electric mixer to smash butternut squash until smooth. With the seasonings added prior to baking, butternut squash should be flavorful but you can always add more seasonings to mashed butternut squash if you like.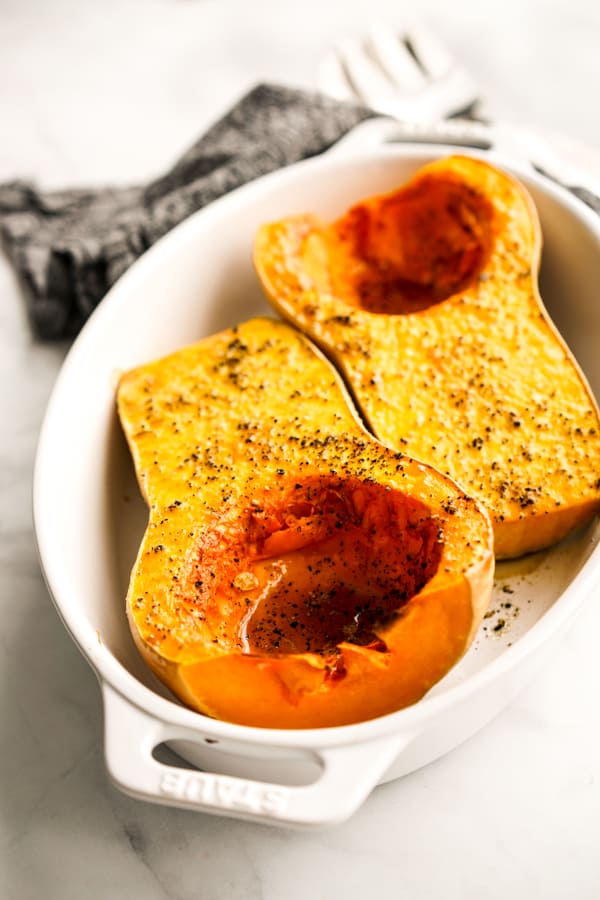 Ready. Set. Feast! 🧡
More delicious Fall Recipes
DID YOU ENJOY THIS RECIPE? Please comment below and give us a 5-star rating! This will help others find this recipe on Google and Pinterest. We very much appreciate your help! 🤍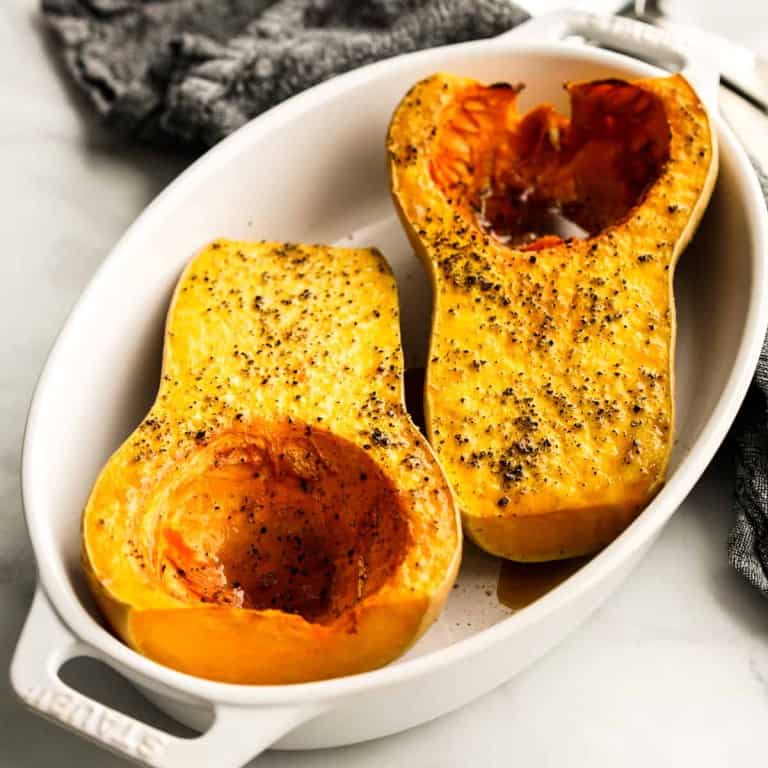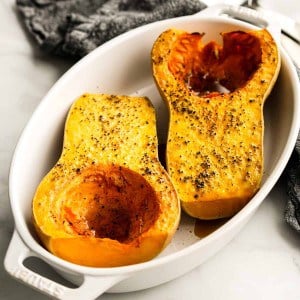 Whole Roasted Butternut Squash
Lightly seasoned butternut squash oven baked whole. The perfect Fall side dish that is easy to make, yummy and healthy!
Print
Pin
Ingredients
1

butternut squash

1

tbsp

olive oil

1

tsp

sea salt

1/2

tsp

black pepper

optional

1

tbsp

brown sugar
Instructions
Cut butternut squash lengthwise and remove seeds. (See pictures in post for directions on how to cut a whole butternut squash)

Place butternut squash skin side down, face side up on a baking dish or baking sheet.

Brush the top of butternut squash with olive oil.

Sprinkle with salt, black pepper (optional) and brown sugar.

Bake for 45 – 60 minute. If butternut squash is small, check at the 40 minute mark. Butternut squash is ready when it is soft can be easily pierced with a fork.
Nutrition
Calories:
64
kcal
|
Carbohydrates:
13
g
|
Protein:
1
g
|
Fat:
2
g
|
Saturated Fat:
1
g
|
Polyunsaturated Fat:
1
g
|
Monounsaturated Fat:
1
g
|
Sodium:
295
mg
|
Potassium:
334
mg
|
Fiber:
2
g
|
Sugar:
4
g
|
Vitamin A:
9966
IU
|
Vitamin C:
20
mg
|
Calcium:
47
mg
|
Iron:
1
mg