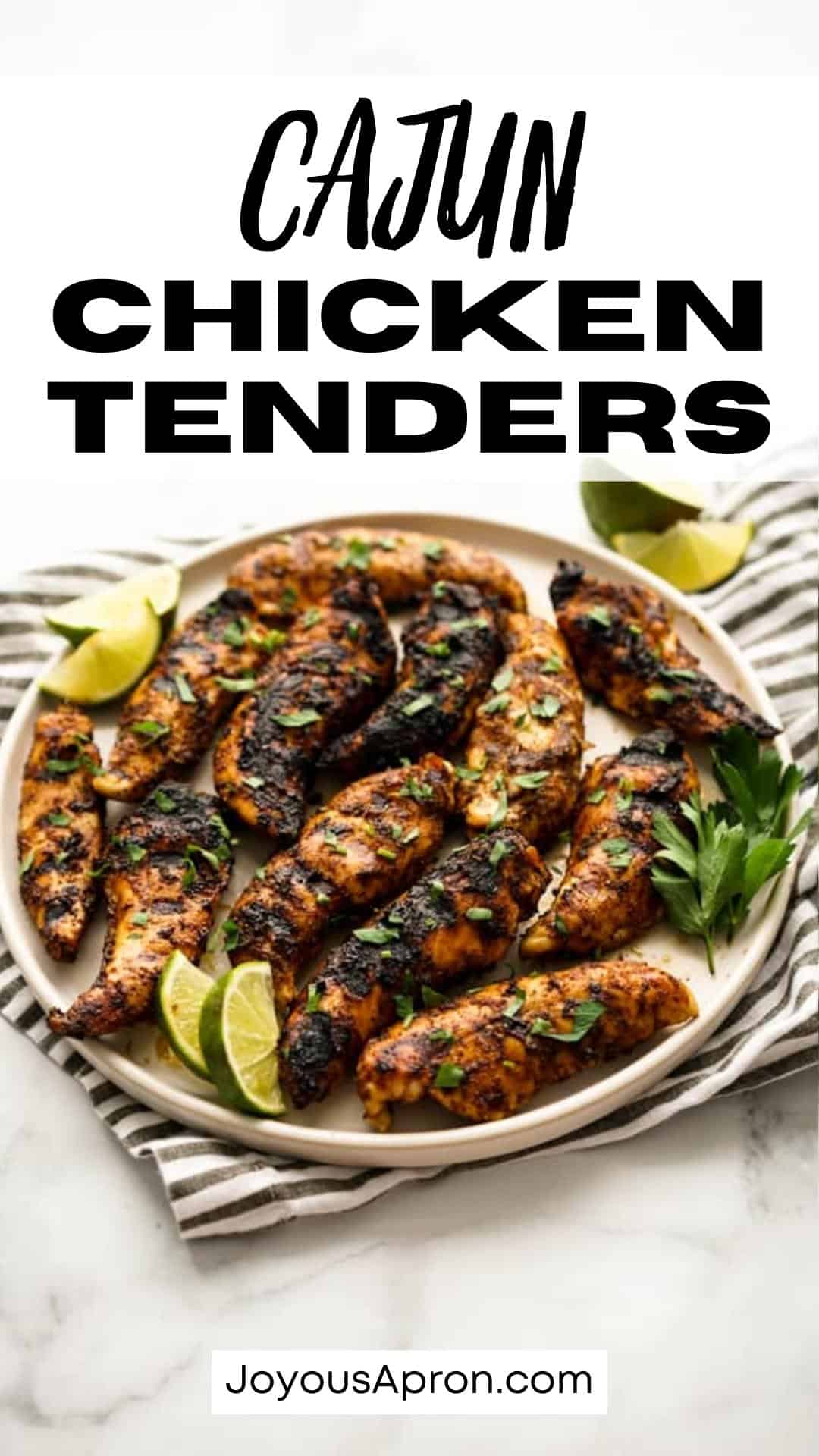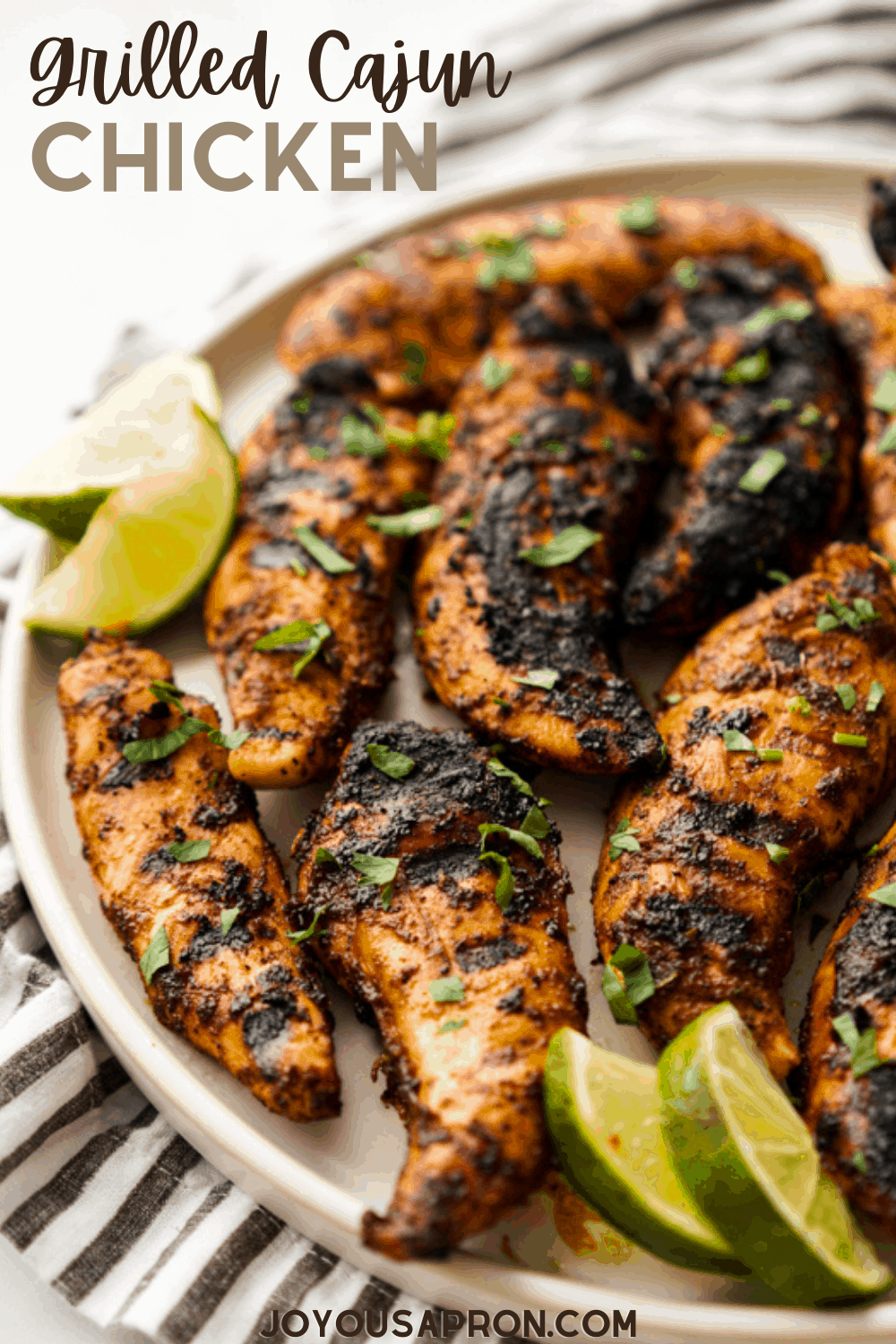 Grilled Cajun Chicken – talk about flavor like you've never seen (or tasted) before!
What it is: smoky, spicy, savory, slightly tangy, incredibly tasty Cajun and Creole inspired chicken tenderloins. A summer spectacular!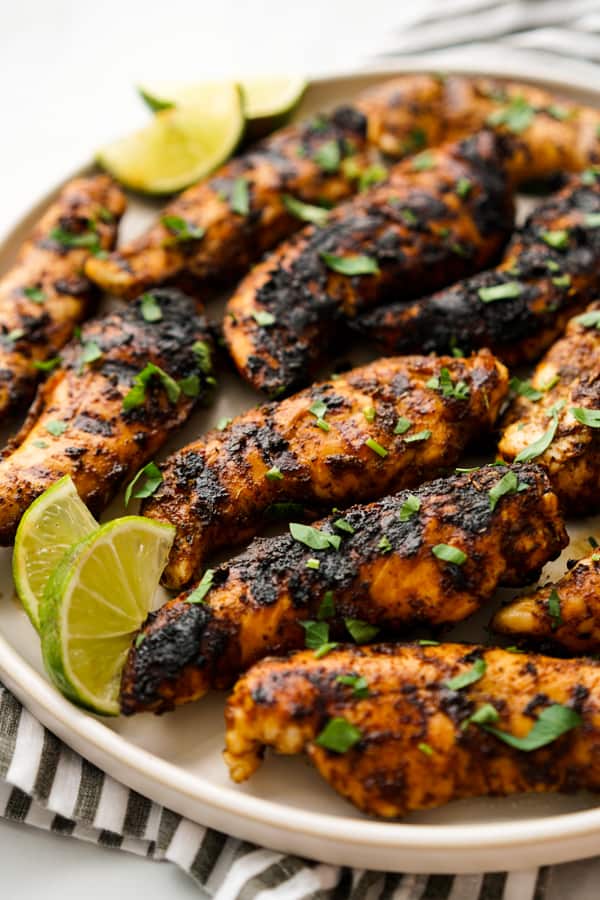 Being a full time food blogger, one of the most challenging things is to get myself out of the kitchen and stop cooking every now and then. I try to take breaks, eat out a night or two a week. And every now and then, my husband grills.
Yes, I love it when he cooks!
(You'll find me on my porch sipping on my favorite Coconut Rum Cocktail, thank you very much)
One of my favorite meals that my husband makes is this Grilled Cajun Chicken dish. I don't know what took me so long, but it's about time we feature this fantastic creation of his on the blog.
John has perfected this dish over the years, and I made him measure every single ingredient so I can share this with you.
Thank you, honey! ❤️
This dish is done grilled (charcoal strongly preferred). Pan-fried is another option but grill is much better.
It has a unique cajun flavor with a nice savory and spicy blend. It has a full, bold flavor, and the smokiness from the grill brings out the great flavors even more.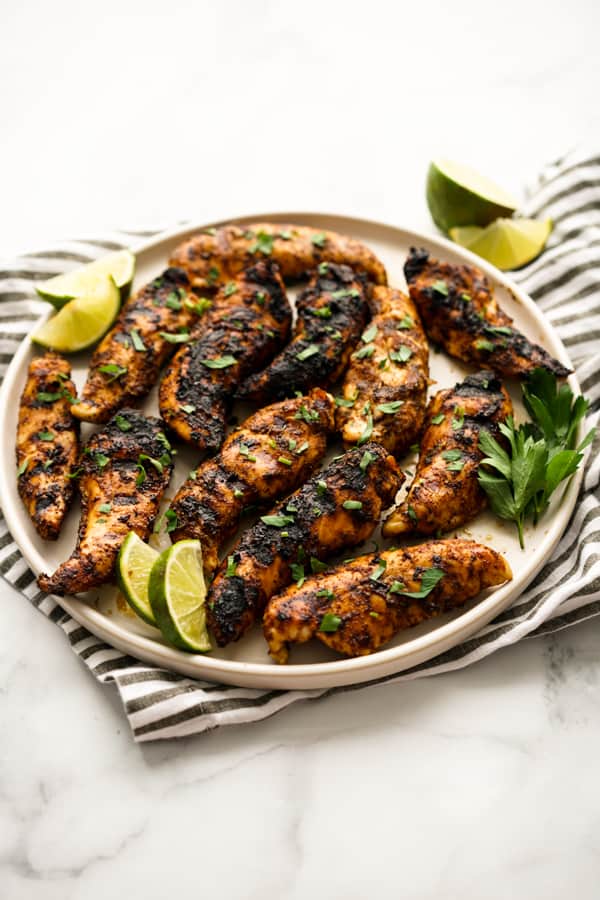 It definitely has a kick, and you have the option to make it less spicy as well.
Ingredients
The secret ingredient in this dish is Tony Chachere's Creole seasoning. It can be found in most regular grocery stores in the United States. If you cannot find it, check it out here.
This seasoning has a kick to it, and a little goes a long way. It has a relatively high salt content. Because of that, we will not be adding any additional salt to this recipe.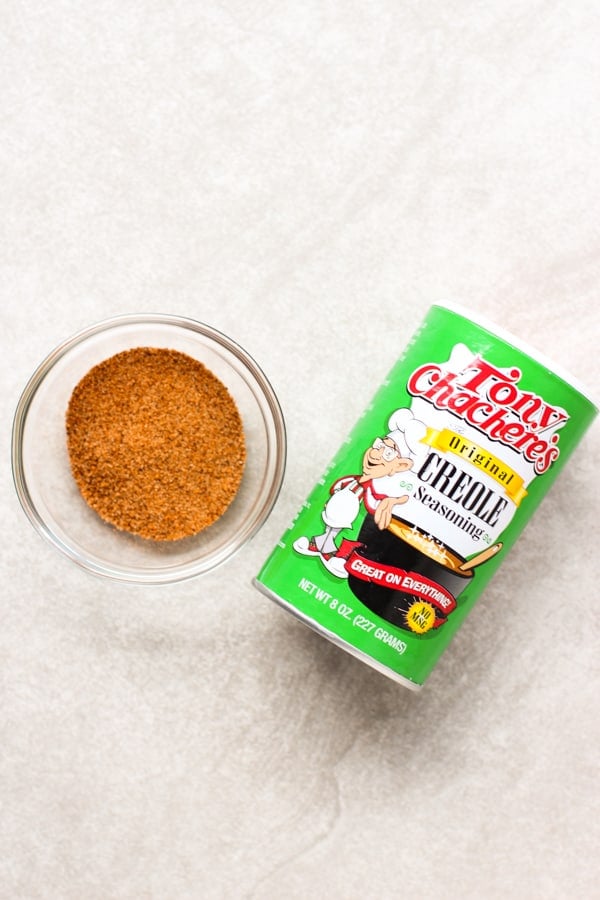 Side note: We also love the Tony Chachere's Creole seasoning on our scrambled eggs. It also goes well with lots of other protein, and is also a nice spice to top on pasta and soups.
Along with Creole seasoning, the marinate/sauce for the chicken also consists of:
Worcestershire sauce – this also has salt in it
Tabasco sauce – bring on a bit more heat and some tanginess.
Oregano
Garlic powder
Black pepper
Butter – used as the "oil" for this recipe.
How to make Grilled Cajun Chicken
Heat all the sauce ingredients in a pot to get the flavors to combine.
My recommended way to cook this is to cook it on the grill, because the smoke definitely brings an added element of flavor to the chicken and opens up flavors of the other spices.
Give some time for grill to heat, especially if you are using a charcoal grill, and when heated, add chicken tenderloins onto the hot grill, then brush the marinate generously onto the chicken.
Once one side is done, flip, and brush marinate on the other side. If you have additional marinate, just gently pour/brush the rest of it onto onto the chicken.
No wasting of good sauce here!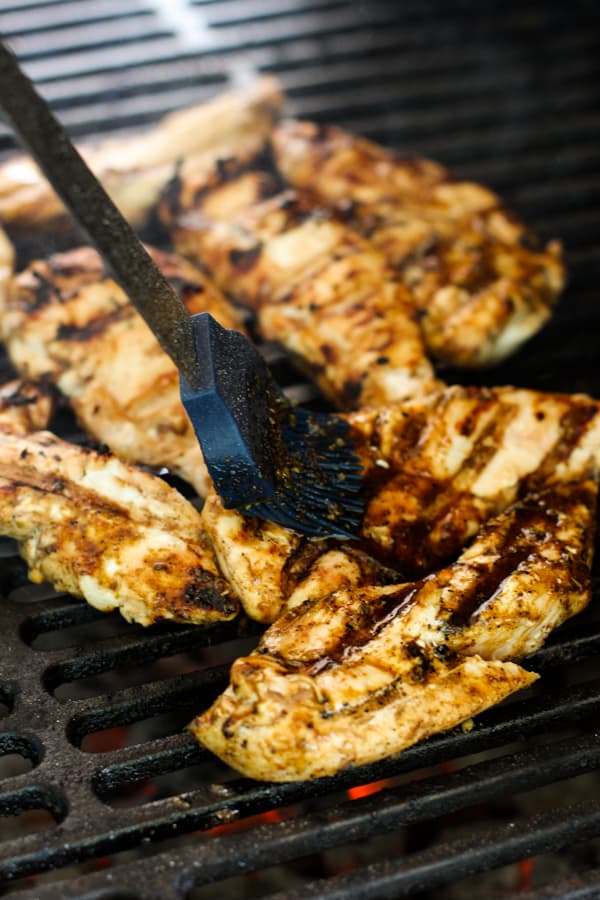 As a reference point, our charcoal grill shows 300℉ and we cooked it about 7 minutes on each side. So in other words, it cooks fast!
Regardless of how you cook it make sure chicken has an internal temperature of at least 165℉ before removing from grill.
Charcoal grill is definitely my favorite way to make Cajun Chicken because in my personal opinion, nothing beats a good smoky flavor on chicken.
BIG FAN OF THE SMOKE.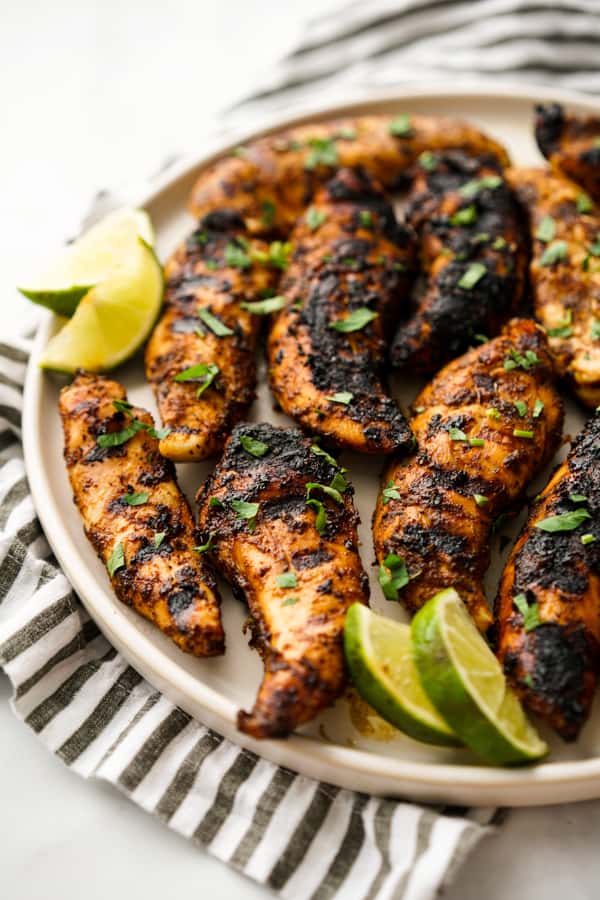 As you can see, it's a fairly simple chicken dish with a good solid marinate/sauce on it. If you like it with less kick, reduce the amount of Creole seasoning you put in there, because that thing definitely is SPICY.
We love this in our household, and make this very often!
Tender, juicy pieces of chicken marinated in a good sauce – lots of flavor, lots of kick if you want it. While it is simple, it is also fairly unique and will leave you thoroughly satisfied.
Everyone needs a couple of simple, good, solid chicken recipes in your back pocket!
We typically serve Grilled Cajun Chicken with pasta and marinara sauce. I don't know if it is an us 'thing' but we do it all the time and can't imagine eating anything else with it.
The tomato-y pasta pairs perfectly with the bold-flavored spicy chicken. Sometimes we toss some spinach in the pasta to get some veggies in there, or serve a veggie side with it. It is delish, will give your tastebuds a little party of their own.
Behold photo evidence 👇🏽.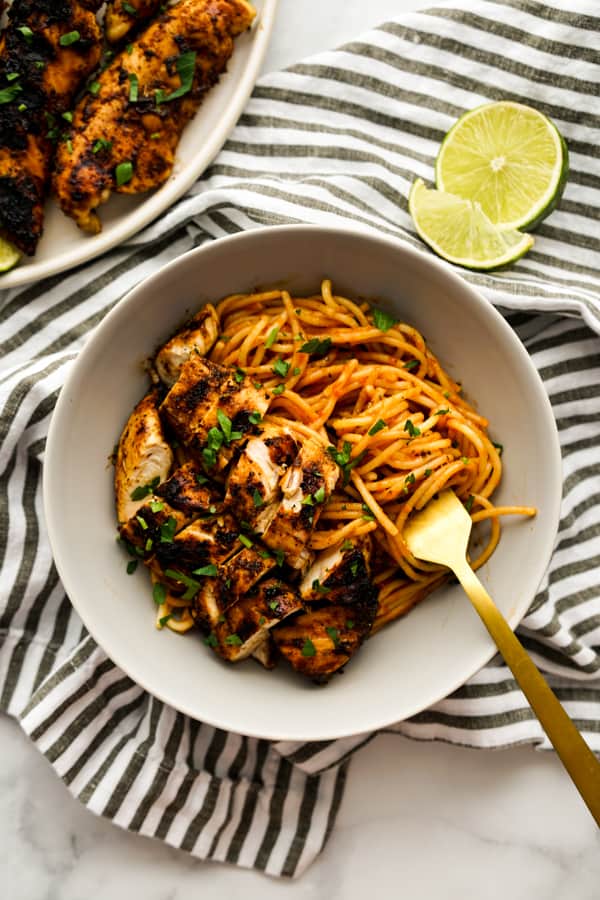 Frequently Asked Questions
How to cook this if I am pan frying instead of grilling?
If you are pan-frying the chicken, I highly recommend marinating the chicken for at least 45 minutes, or up to a couple of hours, then pan-fry it with some vegetable oil. When you bring the chicken to the skillet/cast iron pan, avoid adding sauce onto the skillet. Optional: brush on more sauce as chickencooks. The goal is to pan fry the chicken fairly dry, with the marinate already soaked into the chicken, and just a tiny bit on the chicken.
Does this store well as leftovers?
Absolutely! We make and use leftovers for meal prep or other dinners. The longer the flavors sit on the meat the tastier it is!
I don't like spicy. Can I still make this?
The spicy primarily comes from the Creole seasoning so lessen the amount of the seasoning and omit Tabasco if you like your Grilled Cajun Chicken less spicy. There is no way to completely remove the spicy component of this dish because omitting the Creole seasoning will lose its Cajun/Creole flavors.
More Chicken Recipes!
Other simple chicken recipes that we love includes (but not limited to):
ENJOY!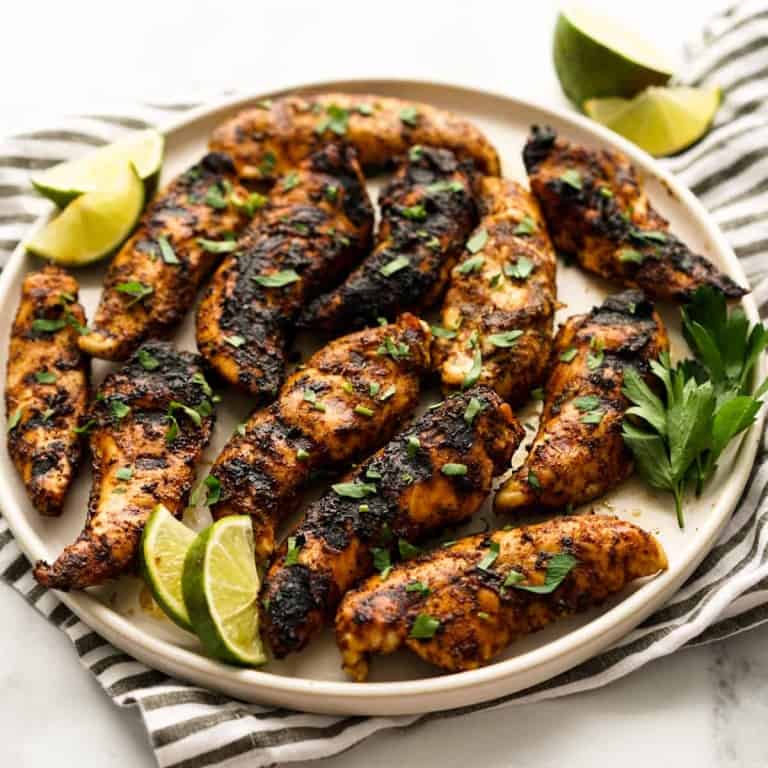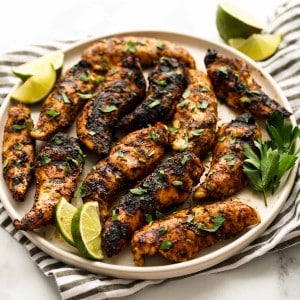 Grilled Cajun Chicken
Easy grilled chicken recipe with lots of cajun flavors! Tender, juicy chicken tenderloins coated with bold, spicy and flavorful seasonings and smoky flavors!
Print
Pin
Ingredients
1.5-2

lbs

chicken tenderloins

1

tbsp

butter

3/4

cup

Worcestershire sauce

1/4

tsp

tabasco sauce

1

tsp

oregano

1 1/2

tsp

black pepper

2

tsp

garlic powder

1

tbsp

Creole Seasoning (I use Tony Chachere's)

Reduce amount for less spicy!
Instructions
Heat butter, Worcestershire sauce, tabasco, oregano, black pepper, garlic powder, and Creole seasoning (Note 1) in a pot under low heat for a few minutes to mix the flavors together. If it gets to a boil that is fine, but there is no need to.

Heat up grill to medium high heat (See Note 2), and add chicken tenderloins to it.

Brush sauce to the chicken, cook for 5-8 minutes, flip chicken over, and brush addition sauce to it. If there is leftover sauce, brush the rest of it to the chicken. Cook for another 5-8 minutes, or until internal temperature of chicken reaches 165℉.

Serve (recommended with red sauce pasta) and enjoy!
Notes
Note 1: Reduce amount of Creole seasoning for less spicy. Amount called for yields medium spicy.
Note 2: As a reference point, temperature i our charcoal grill was ~300 degrees F, and we cooked chicken for ~7 minutes on each side.
Pan frying instructions:
Marinate the chicken in sauce for 45 minutes or up to a few hours. Heat skillet with some vegetable oil. Once skillet is heated up, bring chicken to skillet, but shake off the sauce as much as possible and do not add the sauce to the skillet. Cook chicken on both sides until internal temperature of chicken reaches 165 ℉.
Nutrition
Calories:
271
kcal
|
Carbohydrates:
13
g
|
Protein:
37
g
|
Fat:
8
g
|
Saturated Fat:
3
g
|
Polyunsaturated Fat:
1
g
|
Monounsaturated Fat:
2
g
|
Trans Fat:
1
g
|
Cholesterol:
116
mg
|
Sodium:
736
mg
|
Potassium:
1102
mg
|
Fiber:
1
g
|
Sugar:
5
g
|
Vitamin A:
712
IU
|
Vitamin C:
10
mg
|
Calcium:
79
mg
|
Iron:
4
mg