Sweet and Sour Chicken Meatballs
Asian inspired savory sweet chicken meatballs coated in an irresistible sticky homemade sweet and sour sauce….err yum!! I am always completely satisfied after this meal of Sweet and Sour Chicken Meatballs combined with roasted red peppers and fragrant Jasmine rice…and then I get so excited about tomorrow's dinner…because leftovers! 🙂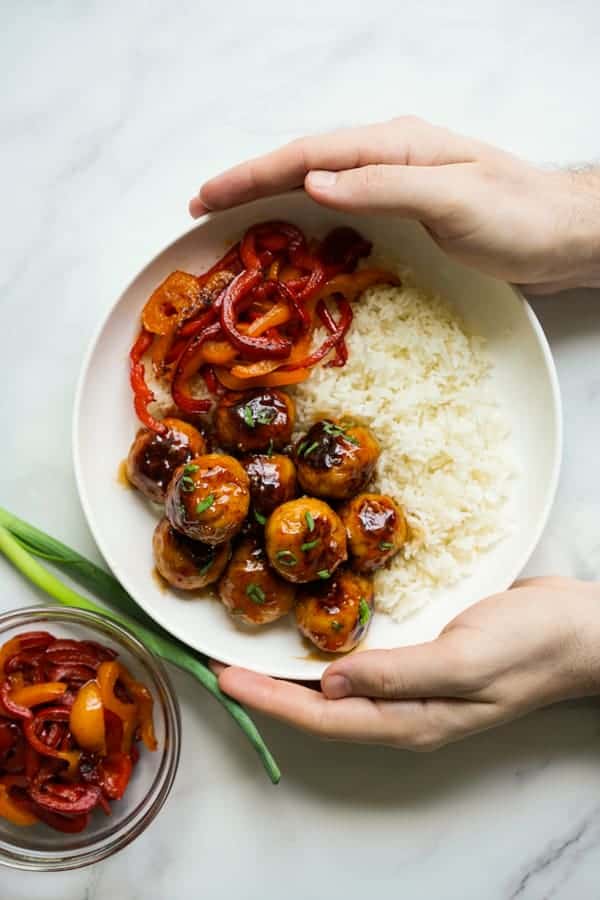 Brace yourself because you are about to experience some meatball magic!!
Okay true story. When I first attempted homemade chicken meatballs I didn't have much expectations for it. I just wanted some clean eating in my diet, a meal prep friendly meal to prepare for a busy week, and I figured they would taste…decent. I was on what I like to call "practical eating" mode.
Here's what I got instead: meatballs that were out-of-this-world flavorful, juicy and delicious, us oo-ing and ah-ing at the dinner table, me getting EXCITED about eating meatballs (is that even a thing!?) for dinner the next day…and the next day…and the next day. Because having leftovers after a long day is a wonderful thing.
I knew the sweet and sour sauce was the bomb because it's the same sauce as my equally bomb Sweet and Sour Chicken recipe that we have on repeat in our household. But I truly did not expect to fall in love with homemade chicken meatballs.
The rumors are true and they are indeed so much better than store-bought. No fillers, no fake chicken, just the real thing!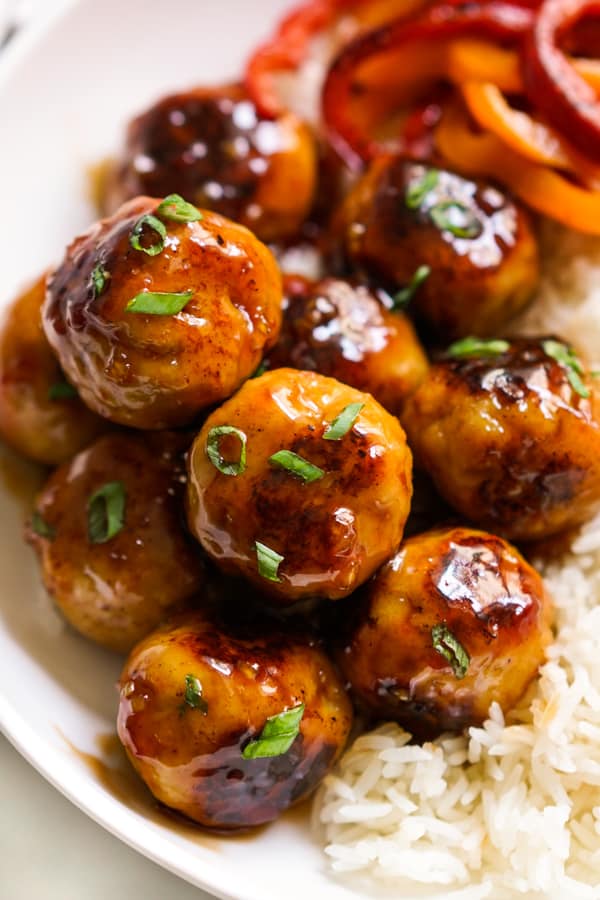 Since then, Sweet and Sour Chicken Meatballs became a thing in our household. We are ALWAYS excited when it's Sweet and Sour Meatball night.
We still oo and ah over it like we have never had it before.
How to make Homemade Asian Chicken Meatballs
Here are all the yum things that make up these Asian inspired chicken meatballs: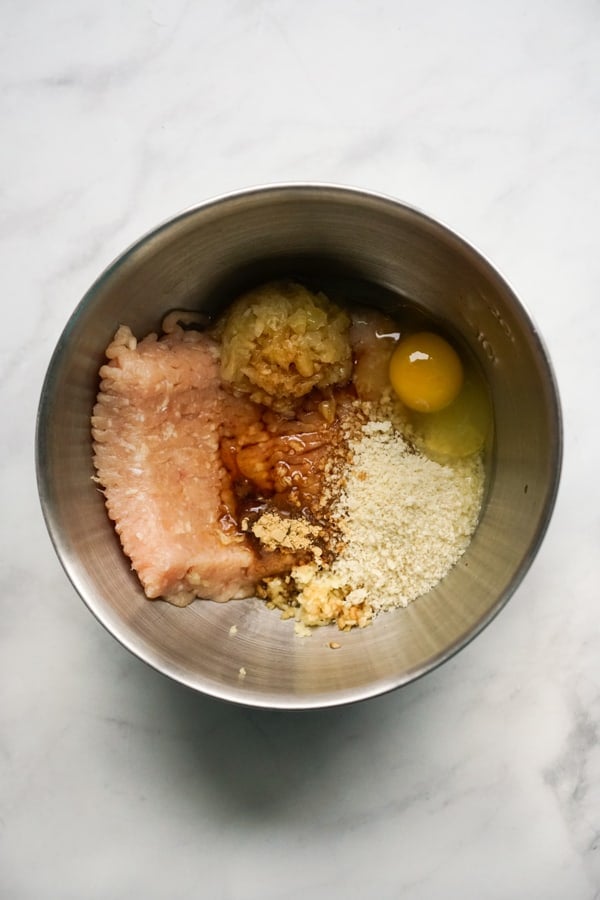 Combine it all and roll into 1 1/2 – 2 inch balls…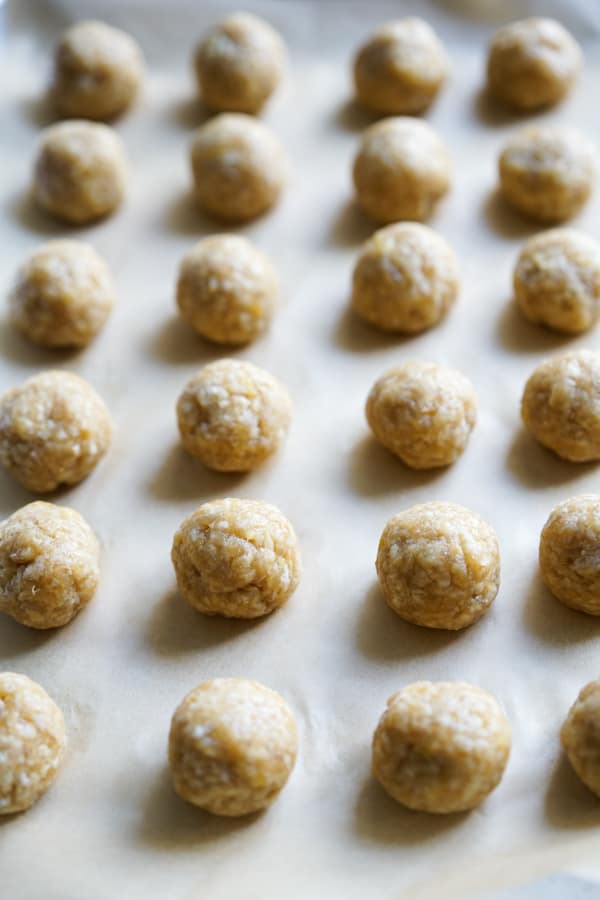 Then panfry!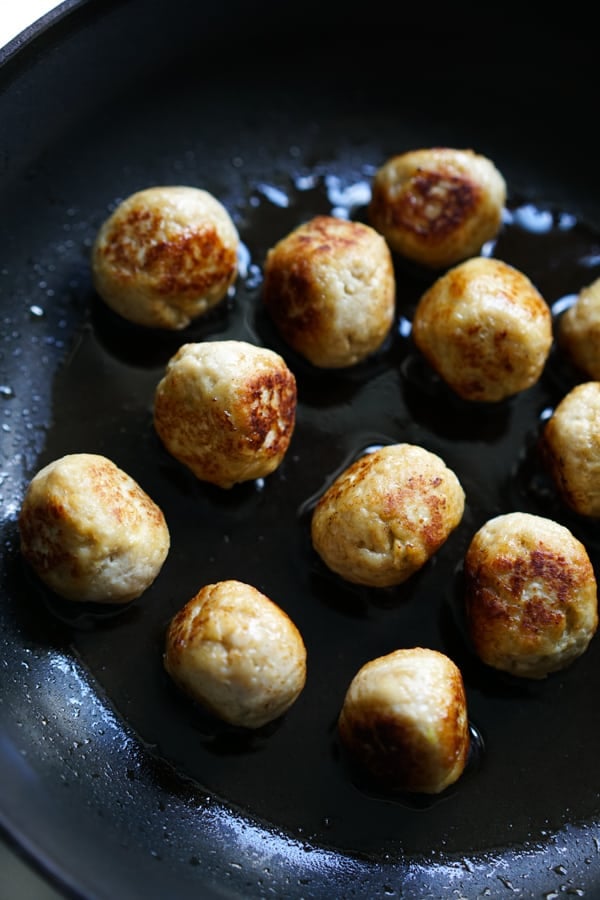 The meatballs are juicy, soft, and SO flavorful! It has Asian-inspired notes from the soy sauce and sesame oil, are for the most part savory with hints of sweetness from the crushed pineapples.
Sweet and Sour Sauce for Meatballs
The meatballs are amazing. But it gets even better. OH YES.
The sauce, my friends. THE SAUCE.
Sweet and Sour sauce that is tangy, sweet, slightly savory….I never fail to clean off my plate when this sauce is present.
And here are the deets:
Cook everything in a pot under medium heat until it is nice and thick…giving it that sticky, sticky texture that we all love, and then evenly toss chicken meatballs in it.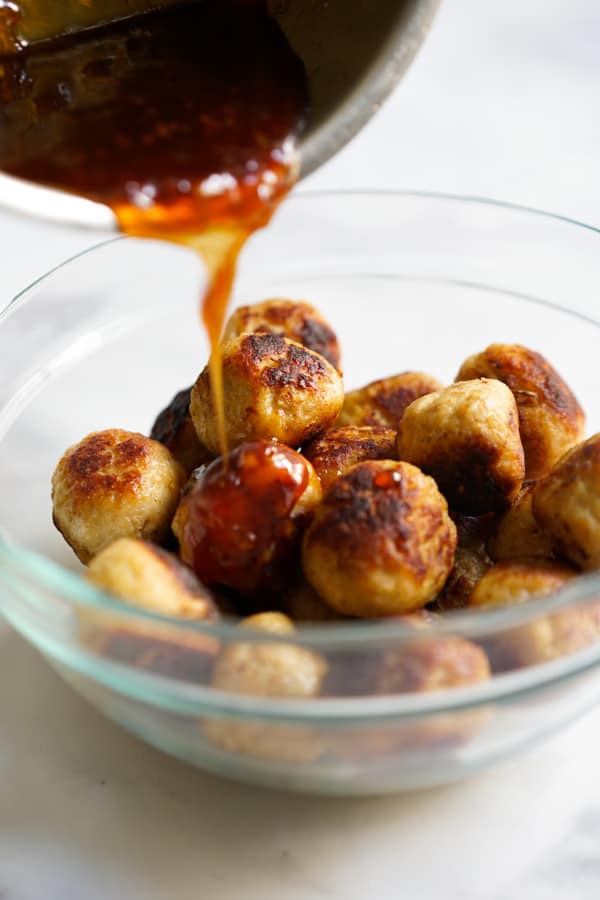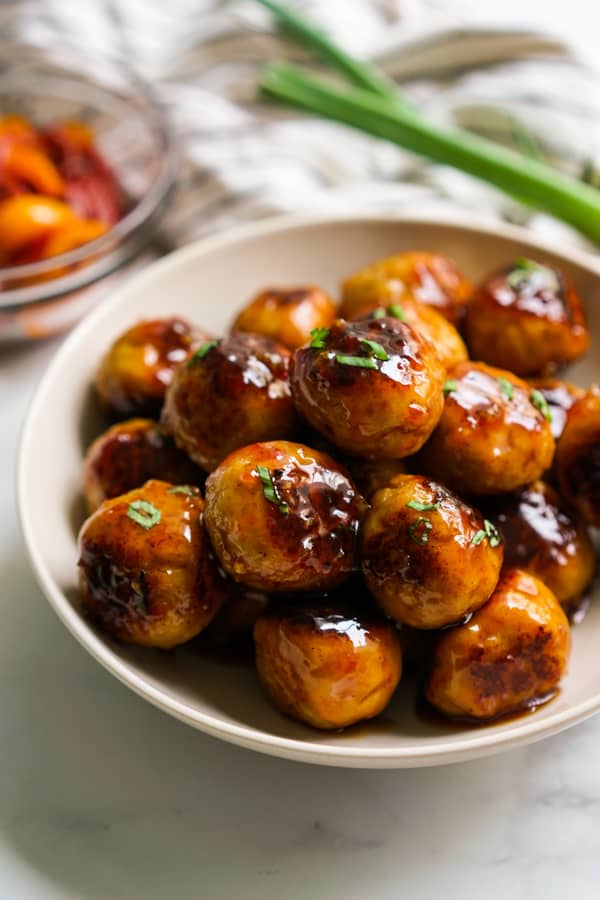 How to Serve Sweet and Sour Chicken Meatballs
I was inspired to serve this with bell peppers because Sweet and Sour Chicken is typically served with crunchy bell peppers and pineapples.
I incorporated the pineapples into the meatballs so it's only fair to the bell peppers (and for our own selfish enjoyment) to include them somewhere in the dish, right?!
With that said, I highly recommend sautéing some red and/or orange bell peppers with cooking oil and a little salt and serving it on the side because that tangy sauce and the bell peppers compliment each other in taste and textures so very well!
And last but by no means the least, a little Jasmine rice to soak up every last bit of the sauce and not let it go to waste. Because you just must.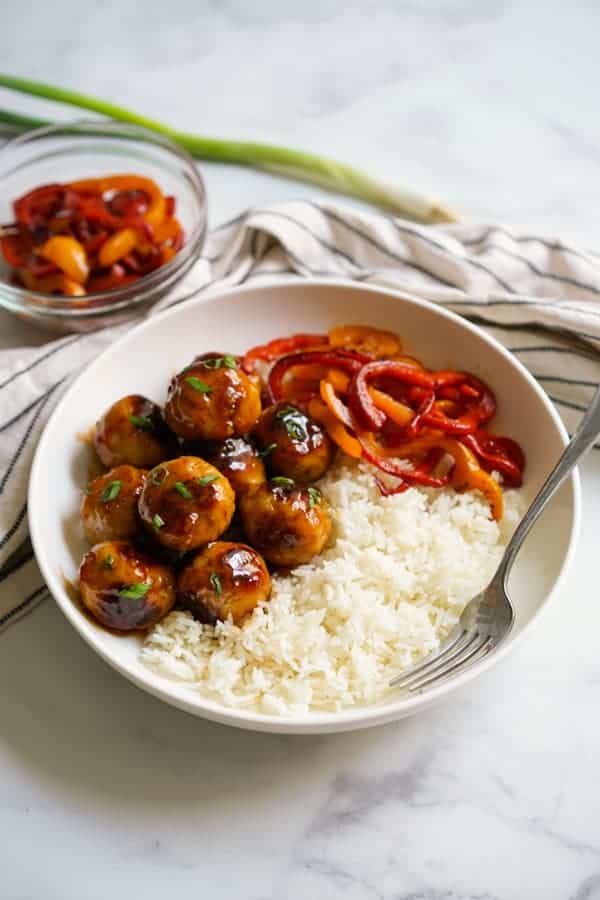 More Tips and Tricks
A few tips to note while cooking!
Can I make this with Ground Turkey or Ground Pork?
Yes! They are just as tasty!
Substitute ground chicken with ground turkey or pork and follow the rest of the instructions!
Can I freeze this?
The uncooked meatballs are the perfect candidate for freezing! Roll the meatballs and save them in an airtight bag or container in the freezer for up till a month.
Thaw completely in refrigerator overnight before panfrying them.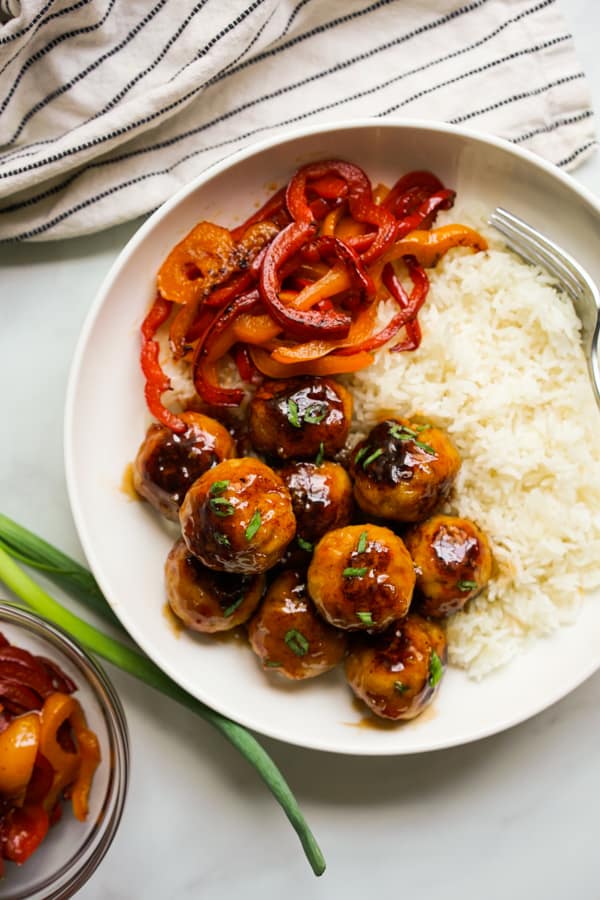 How to Serve Sweet and Sour Chicken Meatballs
Serve it with some of my other favorite sides!
Okay, am I the only one or are you also wishing you could GRAB THAT FORK and inhale those sticky juicy meatballs?!
This is a meal I could eat all day everyday! (Insert drooling emoji, thank you very much)
DID YOU ENJOY THIS RECIPE? Please comment below and give us a 5-star rating! This will help others find this recipe on Google and Pinterest. We very much appreciate your help! 🤍
Other Asian inspired Meals!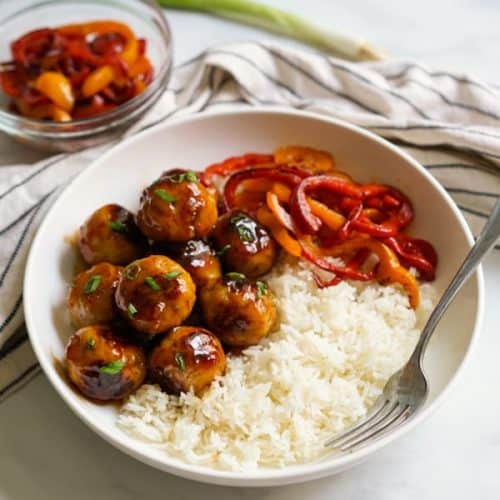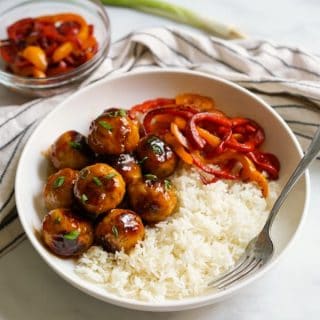 Sweet and Sour Chicken Meatballs
Asian inspired soft and flavorful chicken meatballs coated with a sticky tangy sweet and sour sauce, serve with seared bell peppers and rice. A delicious meal that makes great meal prep!
Print
Pin
Ingredients
Asian Chicken Meatballs
1

lbs

lean ground chicken

1 1/4

cups

Panko breadcrumbs

more if needed

1

large egg

1/4

cup

crushed pineapple

drained

2

tbsp

soy sauce

3-4

cloves

garlic

minced

1/2

tsp

ground ginger

2

tsp

sesame oil

cooking oil
Sweet and Sour Sauce
1/4

cup

ketchup

1/4

cup

rice vinegar

or white vinegar

1/2

cup

granulated sugar

2

tbsp

soy sauce

2-3

cloves

garlic

minced

1/2

tsp

sesame oil
Other
cooking oil

optional

2

red or orange bell peppers

sliced

a pinch of

salt

to taste

cooked white or brown rice
Instructions
In a large bowl, combine all Asian Chicken Meatballs ingredients except cooking oil. Mix well. If mixture is not firm enough to roll into balls, add more Panko breadcrumbs 1 tbsp at a time.

Grab a small piece of the meat mixture and roll into 1 1/2 – 2 inch balls (see Note 1).

Add cooking oil to skillet and set to medium heat. Once oil is heated, bring meatballs to skillet. Avoid overcrowding and cook in two batches if needed. Sear on one side for 1-2 minutes until golden brown, then continuously flip and sear other sides to make sure the entire meatball is cooked.

Cover skillet and lower to medium low heat if needed (see Note 2).

Once meatballs are cooked or reaches 165º F, remove from skillet and bring to a large bowl.

Using the same skillet (add more cooking oil if needed), saute sliced bell peppers until softened. Season with a pinch of salt. Remove from heat.

Heat a small pot to medium heat and bring all the Sweet and Sour Sauce ingredients to a boil. Lower to medium low heat and cook for another few minutes until sauce is thickened. Remove from heat.

Toss chicken meatballs evenly in sweet and sour sauce.

Bring Sweet and Sour Chicken Meatballs, bell peppers and rice to bowl.
Notes
Note 1: Refrigerating mixture can help firm up mixture and makes it easier to roll into balls.
Note 2: This is to ensure the insides of the meatballs are cooked thoroughly without burning the outsides. If covering, make sure to not cover for an extended period of time. Check every 30 second and keep flipping meatballs.
Nutrition
Calories:
623
kcal
|
Carbohydrates:
125
g
|
Protein:
13
g
|
Fat:
7
g
|
Saturated Fat:
1
g
|
Cholesterol:
41
mg
|
Sodium:
1303
mg
|
Potassium:
397
mg
|
Fiber:
4
g
|
Sugar:
34
g
|
Vitamin A:
1999
IU
|
Vitamin C:
79
mg
|
Calcium:
77
mg
|
Iron:
3
mg