This simple and delicious Braised Chicken Thighs recipe features tender, juicy dark meat chicken with a crispy skin cooked in flavorful white wine and chicken broth based sauce.
Braised Chicken Thighs are easy to prepare and require only one pot. Chicken is seared first and then baked in the oven.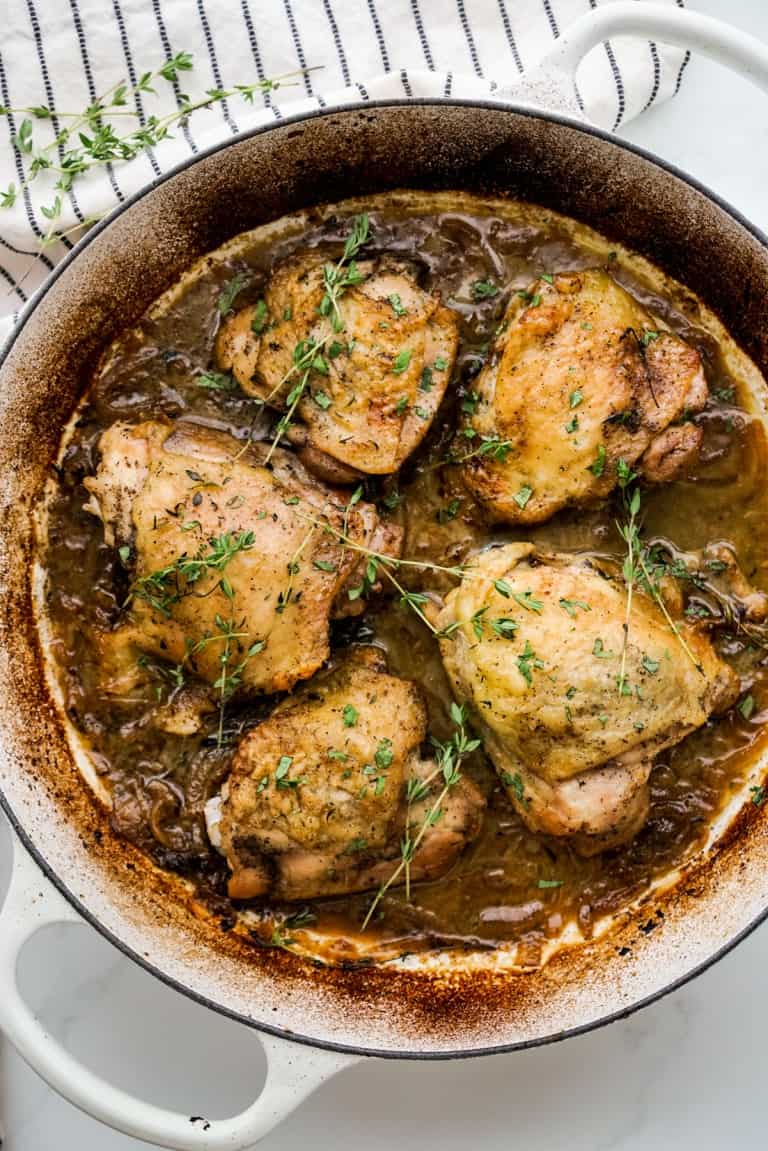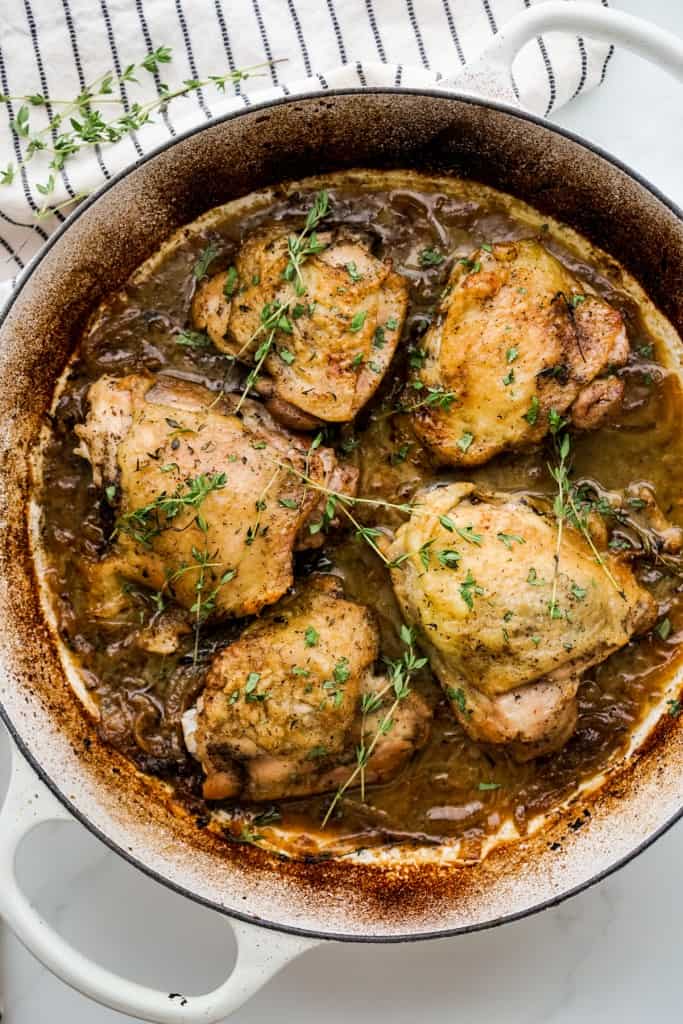 Here are more delicious chicken recipes on the blog: Creamy Mushroom Chicken, Italian Grilled Chicken, Slow Cooker BBQ Chicken Thighs, and Shredded Chicken Nachos.
Braising Chicken Thighs
Braised chicken thighs is one of my favorite ways to prepare bone-in, skin-on chicken thighs.
Braising is a cooking method where meat is pan fry and then cooked slowly in an air-tight container in the oven or stovetop.
By braising chicken thighs, chicken is incredibly tender. It is cooked slowly, and retain moisture and capture oils from the skin.
In addition, it will also be incredibly flavorful because we are searing the seasoning into the chicken and then cooking them in the seasoning and spices for an extended period of time.
Braised Chicken Thighs is a fairly fool-proof method that produces a rustic and lovely meal where chicken is tender, juicy and so flavorful. Which is hard to achieve in a lot of other methods of cooking chicken.
While braising sounds like a fancy word, you really just need about 15 minutes of active time when preparing this Braised Chicken Thighs recipe.
To braise chicken thighs, you will need a braiser, which is basically a Dutch oven that is less deep (which is what I use here), a Dutch oven, or a pot with a tight lid that is oven safe. If you don't have a lid, you can wrap with aluminum foil as tightly as possible.
Ingredients
To make this basic braised chicken thigh recipe, you will need: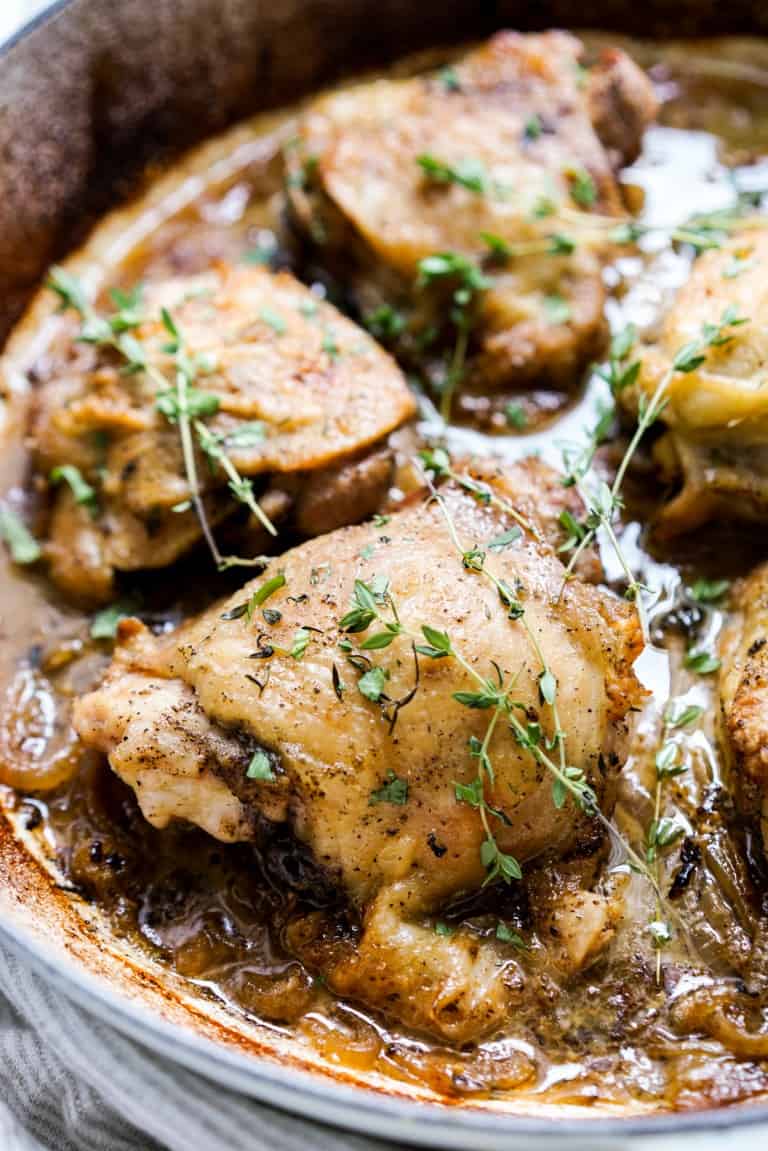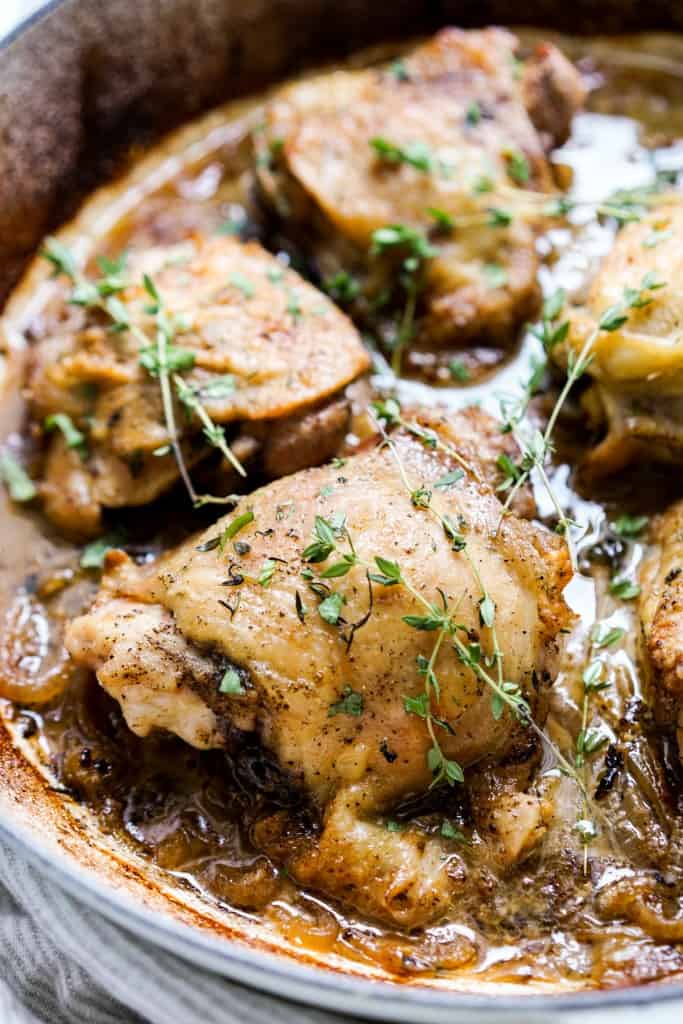 chicken thighs – I highly recommend using skin-on, bone-in chicken thighs for the juiciest, most flavorful dish. The skin adds a lot of moisture to the chicken, and cooking bone-in chicken gives a lot of better flavors to the chicken. You can use bone-in, skin-on chicken breast, but chicken thighs (dark meat) has a richer flavor.
salt and pepper – Used 1) to season chicken thighs before searing to lock in the flavors, 2) on the sauce before baking to open up the flavors.
small onion – sweet, yellow or white onions work best. Sliced into thin slices.
garlic – use fresh cloves of garlic. Minced or keep it whole, your choice.
white wine – avoid sweet white wine. I like to use sauvignon blanc, pinot noir, and chardonnay
chicken broth
lemon juice – freshly squeezed from lemons work best
fresh thyme leaves – fresh herbs works better than dried herbs to really bring flavor to this braised chicken thigh dish. Other herbs that could also work are rosemary, oregano, basil, parsley etc.
How to Braise Chicken Thighs
To make this braised chicken thighs recipe, you will need a braiser that is at least 3.5 qt, or a Dutch oven, or a pot with a lid
Step 1: Sear Chicken
Start by generously seasoning chicken thighs with salt and black pepper on both sides. Don't be afraid to load up on salt and pepper because this will penetrate the chicken meat and bring a lot of yummy flavors.
Once chicken thighs are seasoned, heat braiser with vegetable oil. Once oil is hot, sear chicken thighs skin side down first, and then flip and sear on the other side.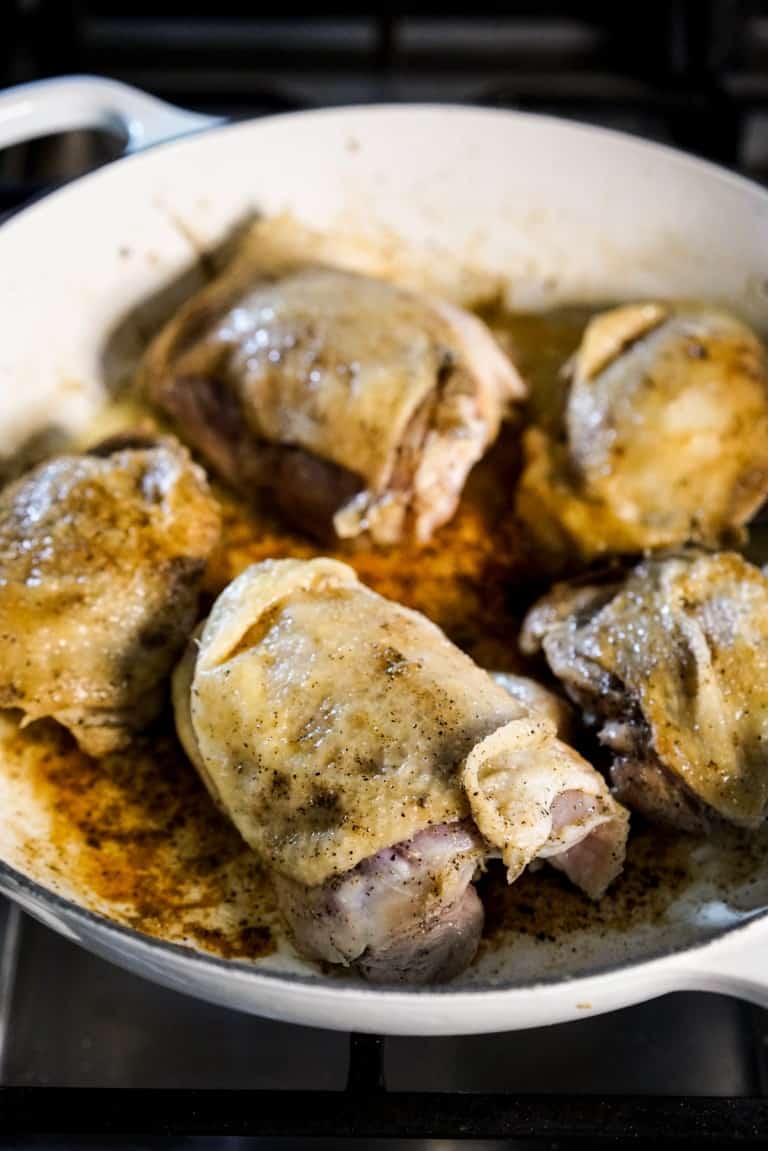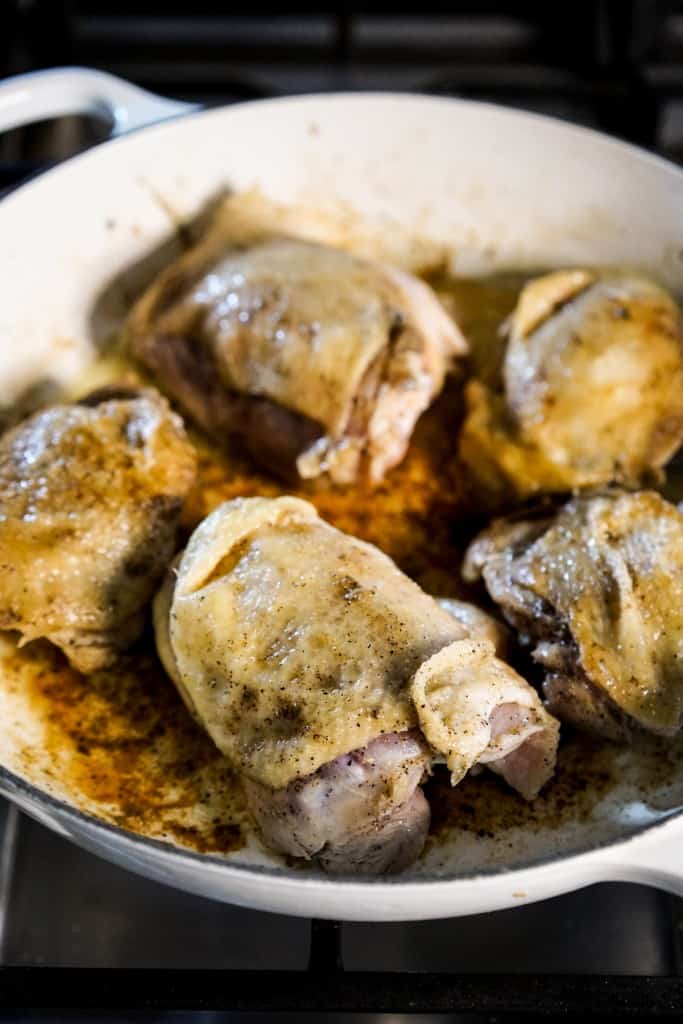 Remove chicken and set aside.
At this point, braiser will have a tablespoon or two of oil from from the chicken skin, along with brown bits from searing the chicken. These are all flavor packed and I like to incorporate it into the sauce I'll be making.
I leave the oil as is on the braiser but you can take some out if there's a lot of it.
Add onions and garlic, and sear until onions are soft and garlic is fragrant. Avoid burning garlic.
Then deglaze the braiser by adding white wine while stove is on medium heat. Stir and scrap the pieces at the bottom. Add chicken broth and lemon juice, and bring to a boil.
Add a pinch of salt to open up the flavors.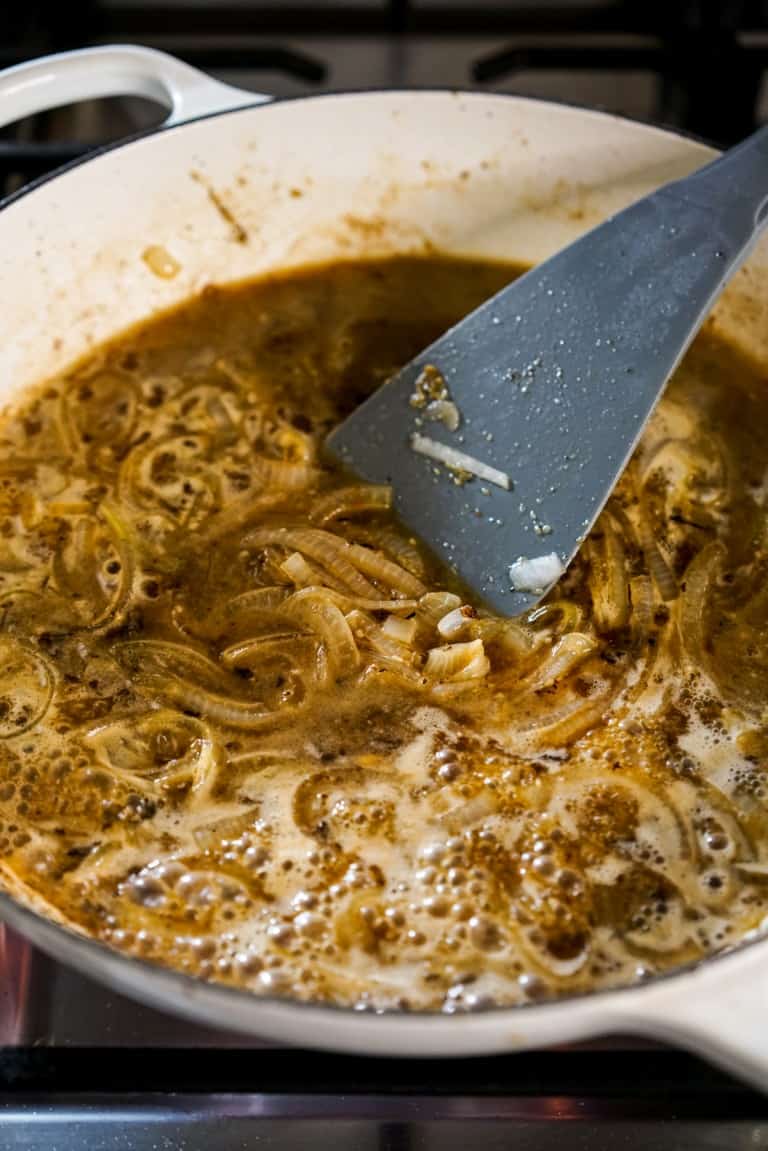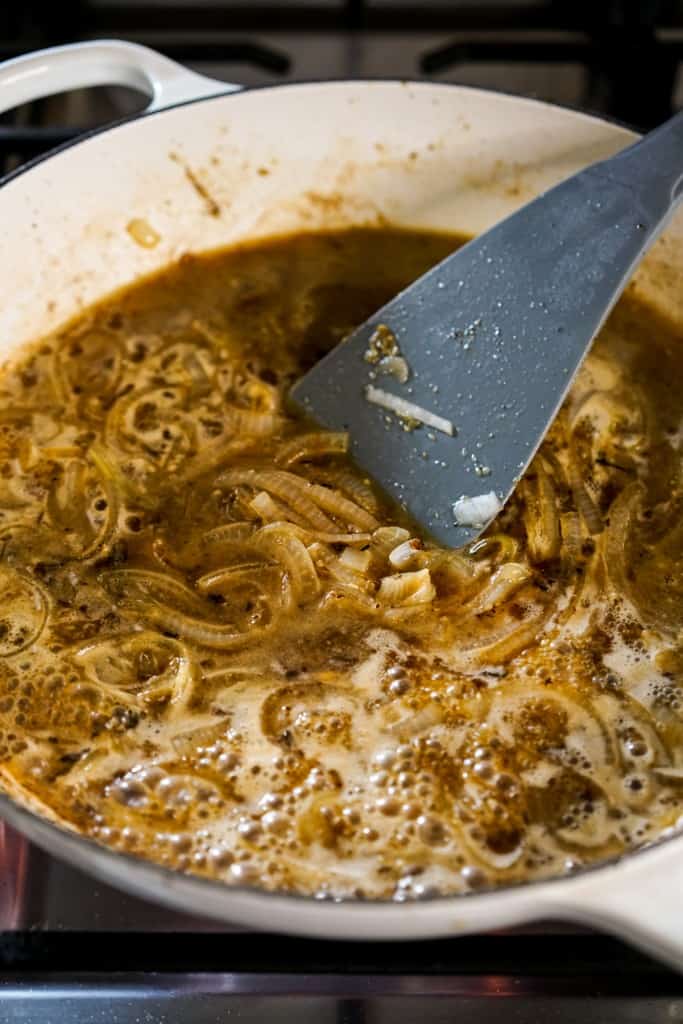 Step 2: Oven Bake Chicken
Bring chicken back into the braiser and then place fresh thyme herbs all over the top of the chicken thighs.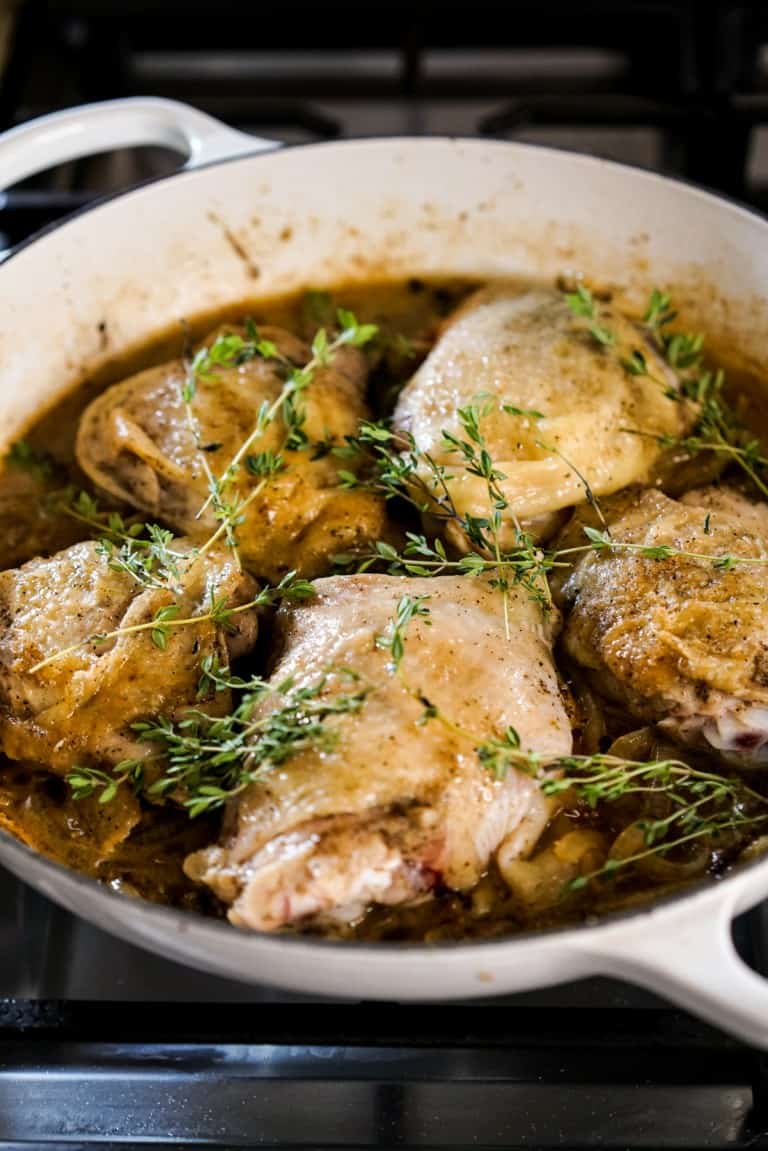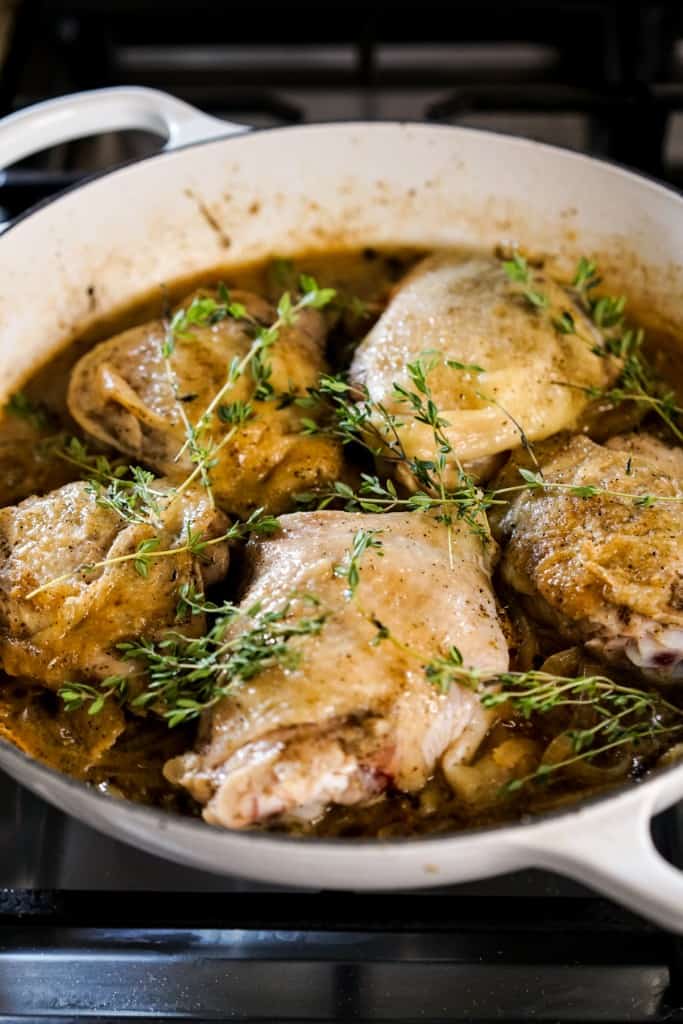 Send chicken thighs into the oven to bake at 400℉ for 30-35 minutes.
Chicken is done when the internal temperature reaches 165℉ when tested with a meat thermometer.
When braised chicken thighs are done, discard herbs and sprinkle the top with fresh ones if desired.
Braising is such as easy and delicious way to prepare chicken thighs to truly bring out the best flavors and textures. It's really such an underrated way of cooking and should totally be done more often!
Serving Suggestions
Braised chicken thighs serve well with: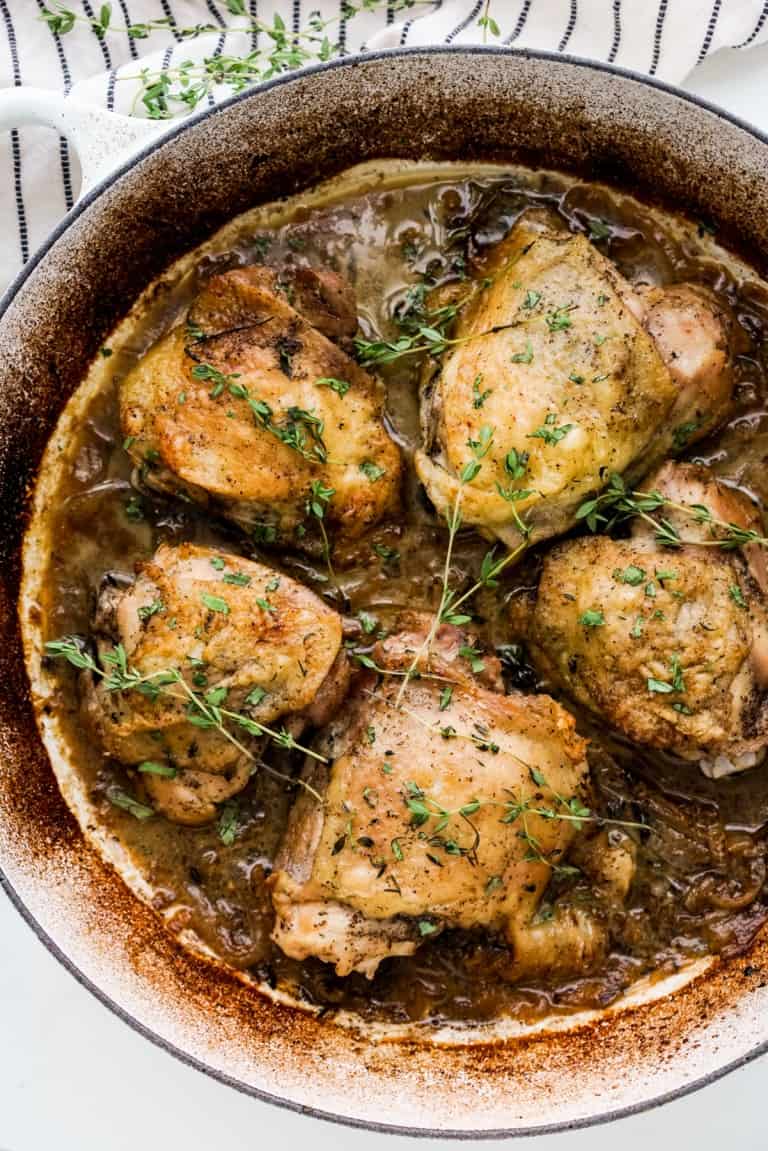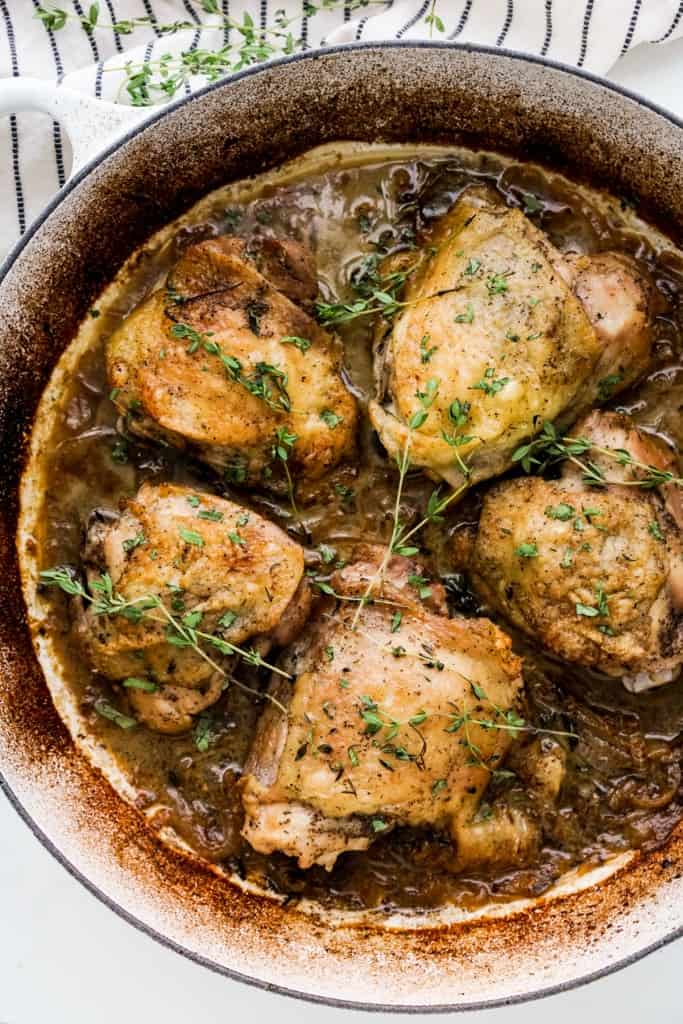 Variations and Add-on's
This Braised Chicken Thighs recipe is a basic one. Feel free to add other ingredients such as:
Add vegetables such as potatoes, carrots, parsnips, broccoli, sweet potatoes around the chicken thighs before braising chicken thighs in the oven. Cook time is the same as long as braiser is not overloaded. Stick to ~2-3 cups of vegetables.
Use other fresh herbs such as rosemary, parsley, or oregano.
Frequently Asked Questions
Can I cook braised chicken thighs on the stove top instead of the oven?
Yes! You can cook it on the stovetop but make sure to cook it on medium low/low heat so it cooks slowly and retain moisture.
My Dutch oven or pot isn't big enough to place all the chicken in them without overlapping. What should I do?
Sear the chicken in multiple batches. When cooking it in the oven, to save time, you can overlap them, just know that the chicken at the bottom will not have skin as crispy. It should still be moist and tender.
Can I use skinless boneless chicken?
You can but it will not be as flavorful or moist. The skin brings good flavors to the sauce and eventually the chicken meat, and also makes the chicken juicier and more moist. Cooking chicken with bone in them makes the meat more flavorful. Dark meat chicken have richer flavors compared to white meat chicken. For the best flavor, definitely use skin-on, bone-in chicken thighs.
Can I add cook chicken thighs with other items such as potatoes or vegetables?
Yes! You can add raw vegetables and place them around chicken thighs before sending the braiser into the oven. Make sure to slice vegetables into small pieces so they cook through. Cook time should be the same.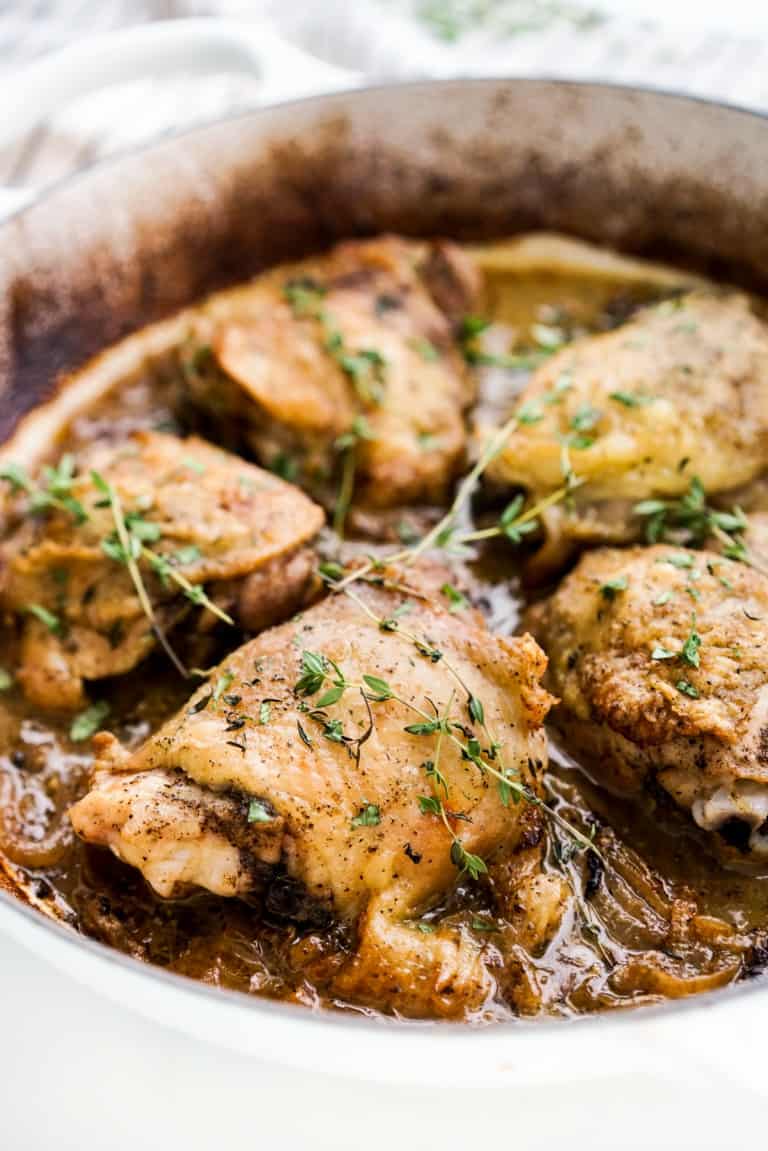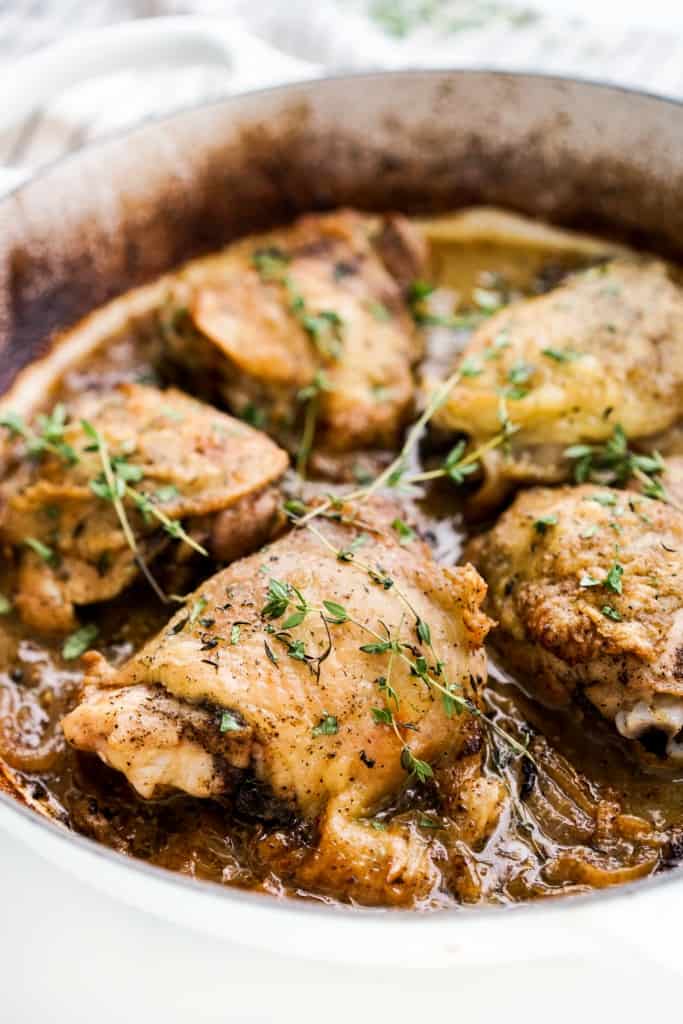 DID YOU ENJOY THIS RECIPE? Please comment below and give us a 5-star rating! This will help others find this recipe on Google and Pinterest. We very much appreciate your help! 🤍
More Chicken Recipes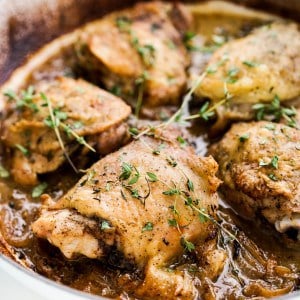 Braised Chicken Thighs
Chicken thighs are cooked slowly and simmered in a white wine garlic sauce, and is juicy, tender and so flavorful.
Print
Pin
Ingredients
5

pieces

bone-in, skin on chicken thighs

2

tbsp

salt

1

tbsp

black pepper

1

tsp

vegetable oil

1

small white onion

sliced

4-6

cloves

garlic

minced

1/2

cup

white wine

1/2

cup

chicken broth

2

tbsp

lemon juice

1/2

tsp

salt

3-4

twis

thyme leaves
Instructions
Season chicken thighs generously with salt and black pepper on both sides.

Heat braiser with vegetable oil under medium high heat. Then sear chicken thighs, skin side down first. Flip after 1-2 minutes, or when the skin is slightly browned. Sear the other side for another 1-2 minutes. Remove chicken from heat and set aside.

Add onions, sear until they are soft, about 1 -2minutes. Add garlic and sear for 20 seconds or until fragrant. Do not burn garlic.

Add white wine to deglaze pot. Then add chicken broth and lemon juice. Bring to a boil, and let it cook for 1 minutes. Add 1/2 tsp and stir.

Add chicken thighs back in. Top with thyme leaves.

Send braiser along with chicken into the oven and cook for 30-35 minutes, or until internal temperature reaches 165℉.
Notes
If you don't have a braiser, use a Dutch oven or pot with a lid that can be used in the oven. If you don't have a lid, use aluminum foil to wrap up the top and make it as air tight as possible. If the surface area for Dutch oven or pot isn't large enough, sear the chicken in multiple batches. When cooking it in the oven, you can overlap chicken on top of the other, just know that the chicken at the bottom will not have skin as crispy. It should still be moist and tender.
Nutrition
Calories:
49
kcal
|
Carbohydrates:
5
g
|
Protein:
1
g
|
Fat:
1
g
|
Saturated Fat:
0.2
g
|
Polyunsaturated Fat:
1
g
|
Monounsaturated Fat:
0.3
g
|
Trans Fat:
0.01
g
|
Cholesterol:
1
mg
|
Sodium:
2881
mg
|
Potassium:
91
mg
|
Fiber:
1
g
|
Sugar:
1
g
|
Vitamin A:
37
IU
|
Vitamin C:
6
mg
|
Calcium:
22
mg
|
Iron:
0.4
mg