Garlic Rosemary Chicken is a simple chicken breast recipe perfect for busy weeknights! Tender chicken cutlets are seasoned and cooked in a reduction of white wine and chicken broth that is infused with garlic and fresh rosemary.
Ready under 15 minutes, it is filled with amazing flavors and so incredibly tasty!
Love a simple and delicious chicken dinner? Don't forget to also check out my Lemon Balsamic Chicken, Teriyaki Chicken Skewers, Skillet Chicken Parmesan and Panko Baked Chicken Tenders recipes.
An easy chicken recipe with garlic and rosemary
Everyone needs a few basic yet delicious chicken breast recipe in their hip pockets, and trust me when I say this Garlic Rosemary Chicken recipe it is a keeper!
All you need is a large skillet, a stove top, only a few pantry-friendly ingredients, and you are ready to go!
But know this. Garlic Rosemary Chicken uses minimal ingredients but it sure is not lacking at all in the flavor department. Garlic and fresh rosemary are two gorgeous ingredients that goes so well together and make the dish super yummy.
Whenever I make a pan-seared chicken breast recipe, I always use chicken cutlets, aka thinly sliced chicken breast. And that is exactly what we are using to make Garlic Rosemary Chicken as well.
Chicken breast that you get from the store are super thick and are typically hard to cook through properly on the skillet..the insides will be way undercook before the outsides are overcooked.
Therefore, always slice chicken breast into half lengthwise so that it's thinner and easier to cook.
This will also help the flavors, in this case, the delicious white wine, garlic and rosemary soak through the chicken because there's more surface area to do so.
This results in the insides of your Garlic Rosemary Chicken Breast (and not just the surface) being actually flavorful.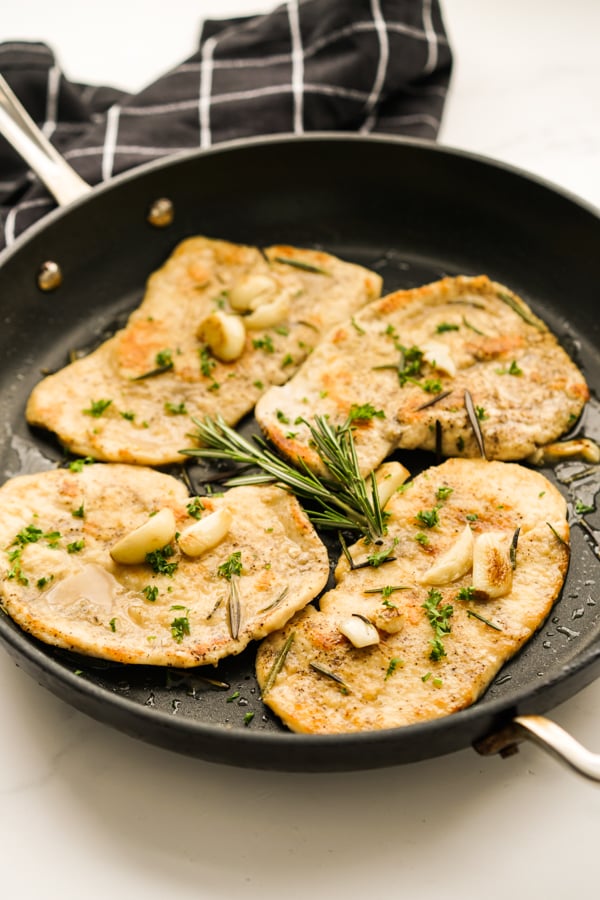 Ingredients
Here is a the short list of ingredients needed to make Garlic Rosemary Chicken:
chicken cutlets – these are chicken breast that are sliced thinly lengthwise. You can get them ready sliced, or slice them yourself. It should be about 1/4-1/2 inch thick so that it cooks quickly and soaks up all the delicious juices in the skillet. Chicken thighs can be used in placed of chicken cutlets. Chicken thighs are typically thinner than chicken breast, but you can also slice it thinner if you prefer.
garlic cloves – do not use garlic powder for this Garlic Rosemary Chicken because it will significantly change the flavor of the dish. Use peeled garlic cloves and crush them to release their flavors into the sauce.
fresh rosemary – use fresh rosemary if possible. In a pinch, dried rosemary can work, but will be less flavorful.
white wine – an ingredient that is packed full of flavor. Use a decent quality wine, but it doesn't have to be super expensive. Avoid using old wine that has been opened for more than a week. The basic rule of thumb for cooking with wine is to cook with wine you won't mind drinking. If you do not want to use wine, substitute with chicken broth
chicken broth – even if you use wine, we will need to use some chicken broth in this recipe. Good quality broth makes a difference. Here's a recipe to make chicken broth from scratch.
salt and black pepper
all purpose flour – to give the chicken cutlets a light coating, which helps make the chicken tender and also thicken the sauce and helps it stick to the chicken.
cooking oil – avocado oil, olive oil, vegetable oil, canola oil…whatever you have on hand!
How to make it
You'll see what I mean when I say this Rosemary Garlic Chicken recipe is so easy to make!
Sometimes when I bite into it, it tastes so good I cannot believe it came together that easily.
It has a nice complex flavor which I think the white wine brings, but the process is not complex at all!
Step 1: Season and coat chicken
Make sure chicken cutlets are not wet by pat drying them with a paper towel if needed.
Season both sides of chicken cutlets with salt and black pepper.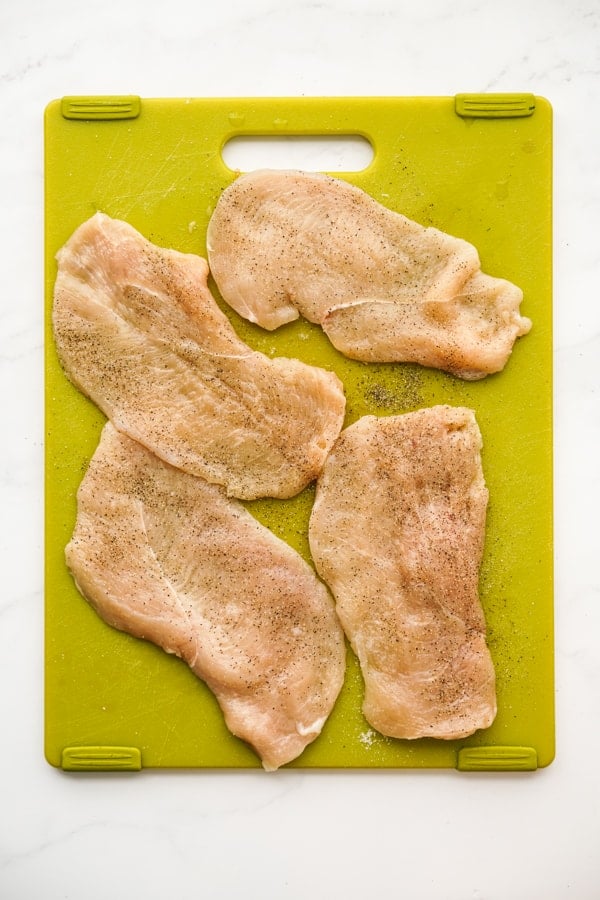 Coat chicken cutlets on both sides in flour mixture.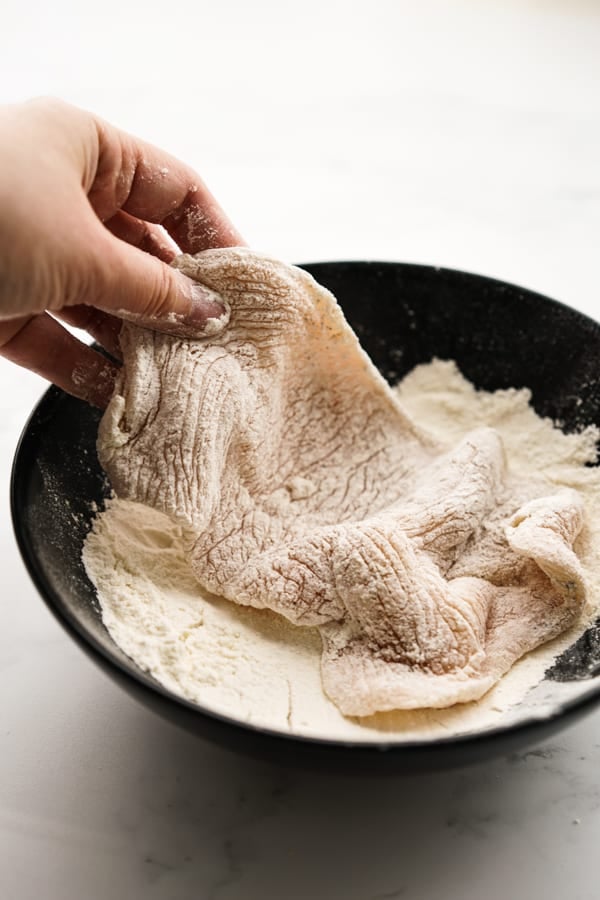 And now they are ready to be fried in the skillet!
Step 2: Pan sear chicken
Heat skillet with oil and set it to medium/ medium high heat.
Sear it on both sides until chicken is cooked and slightly golden brown on the outside.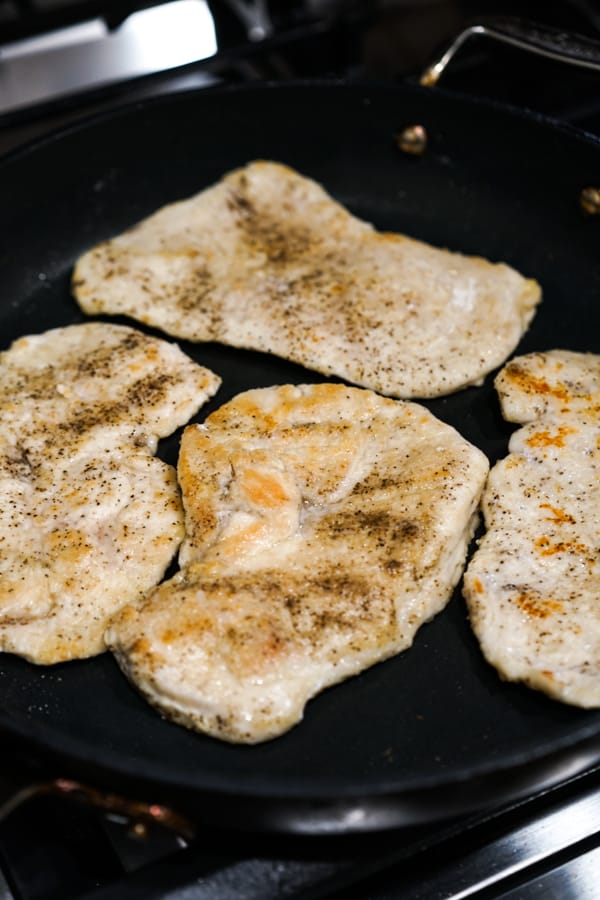 When chicken is done, remove and set aside.
Using the same skillet, drizzle a little bit more cooking oil and sear the crushed garlic for 30-60 seconds until garlic is slightly golden brown.
Add white wine, and it should bubble and evaporate under the heat.
Let it boil for about 30 seconds, then add chicken broth and herbs.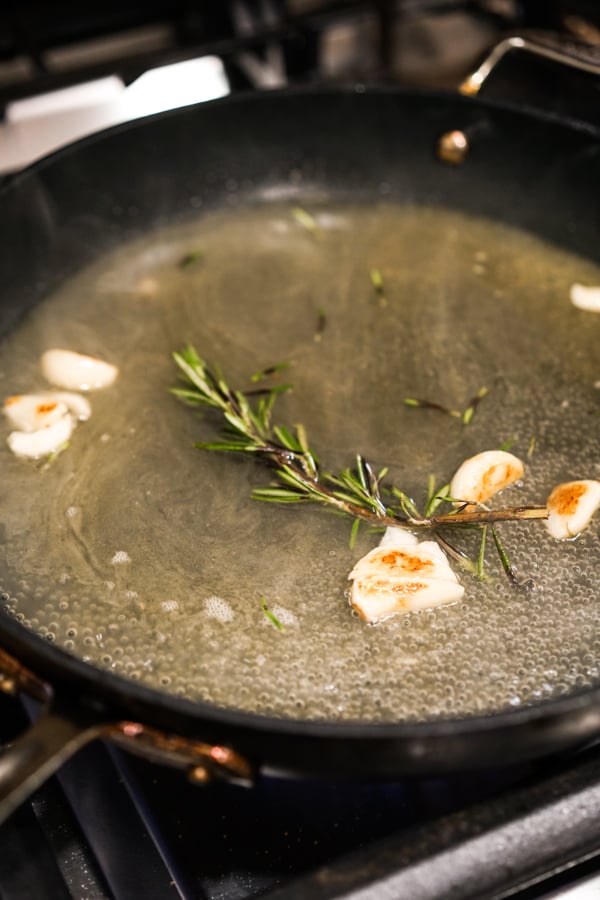 Let the garlic and rosemary sauce boil for about 30-60 seconds, then go ahead and add the chicken back into the skillet.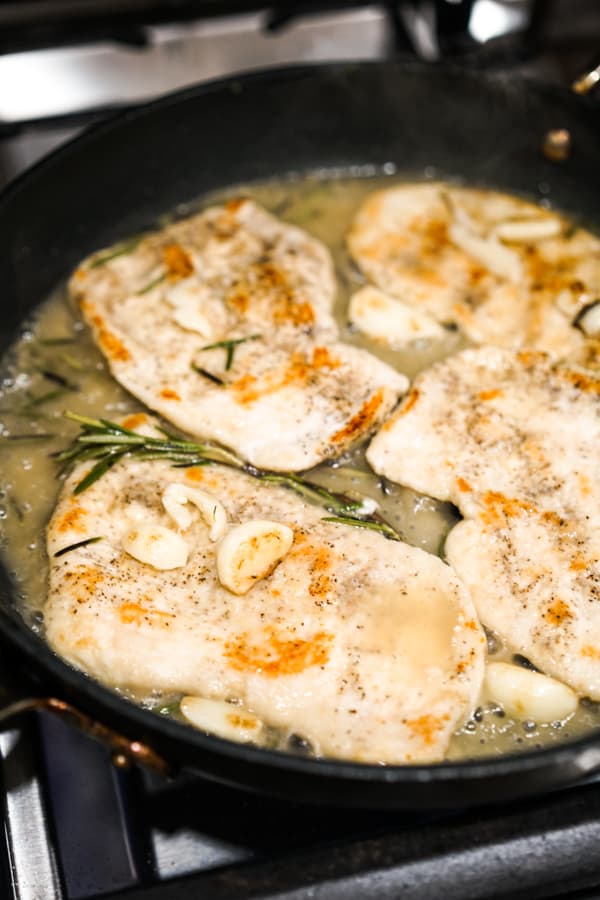 When you first add the chicken back in, it should be sitting in some sauce, but as you boil it under medium heat, the sauce will slowly soaked into the chicken and there will be less of it in the skillet.
At the end, chicken should soak up most of the sauces, and is infused with the lovely flavors of white wine, rosemary and garlic. It should not be swimming in the sauce.
I like to garnish with some fresh parley to finish it off!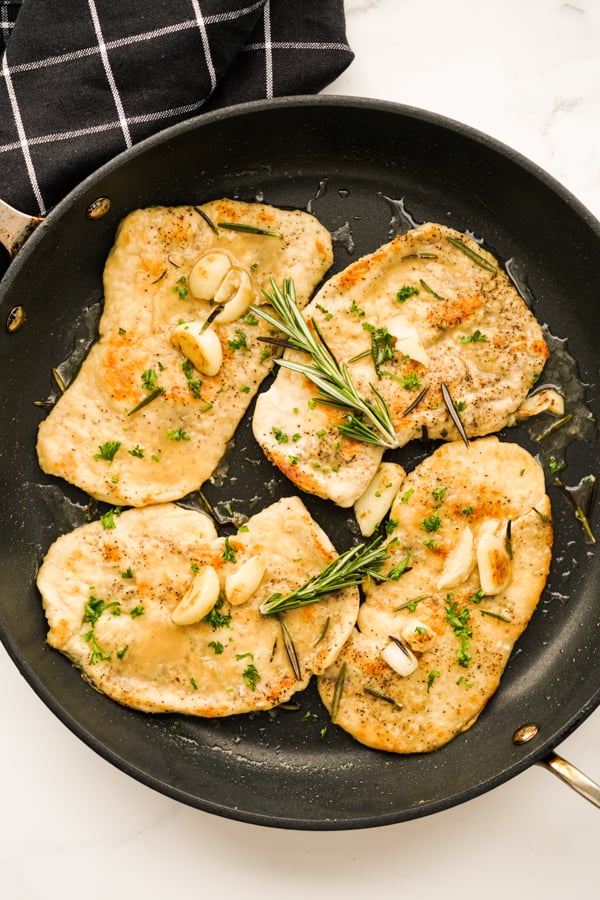 How to serve this
Garlic Rosemary Chicken is a simple chicken breast recipe that can be served alongside so many different sides. Here are some of my favorite ways to serve it:
Frequently Asked Questions
Can I use chicken thighs?
Absolutely! If chicken thighs are super thick (thicker than 1/2 inch), slice it into two lengthwise so that you get a thinner slice which makes it easier to cook, and also tastier (soaks in more juices and flavors).
What should I do if I want more sauce in my Garlic Rosemary Chicken?
Double the amount of wine and chicken broth. Before adding chicken back to the sauce, taste it and season with a pinch or two of salt to taste. Don't overcook chicken once you add them back into the sauce, pull the chicken out while there is still some sauce in the skillet.
Does this dish reheat well?
Yes! Very much so. Simply microwave it and it should come out super delicious. Maybe even more flavorful because it has been sitting in the juices for a little while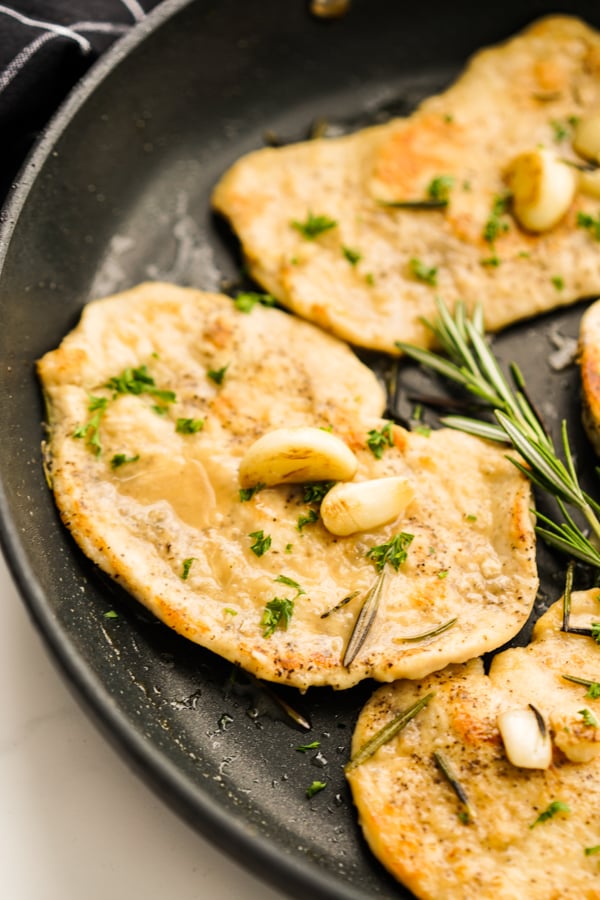 DID YOU ENJOY THIS RECIPE? Please comment below and give us a 5-star rating! This will help others find this recipe on Google and Pinterest. We very much appreciate your help! 🤍
More Chicken Dinner Recipes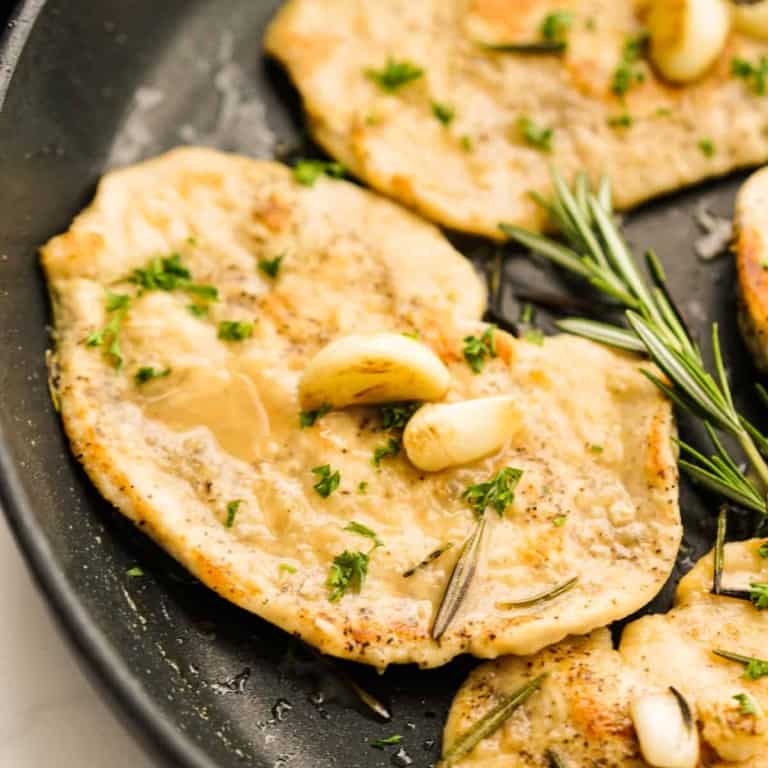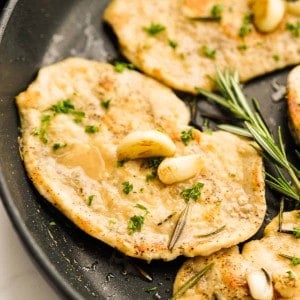 Garlic Rosemary Chicken
An easy chicken cutlet recipe! Thinly sliced chicken breast is seasoned and pan seared, coated in flavors of garlic, rosemary and white wine. Ready under 20 minutes!
Print
Pin
Ingredients
1

lbs

chicken cutlets (thin slices)

~4 pieces

1/2 – 1

tsp

salt

1/2

tsp

black pepper

1/2

cup

all purpose flour

1-2

tsp

cooking oil

5-6

cloves

garlic

smashed

1-2

twig

fresh rosemary

1/2

cup

white wine

1/2

cup

chicken broth

1

tsp

parsley

chopped, optional
Instructions
Pat dry chicken cutlets. Season both sides with salt and black pepper.

Bring flour to a flat bowl. Coat chicken cutlets on both sides with flour.

Add cooking oil to skillet. Heat skillet to medium/ medium high heat.

Sear chicken cutlets on skillet. Do not overlap. Flip and sear the other side once one side is slightly golden brown. Remove chicken and set aside.

Add more cooking oil to skillet. Add smashed garlic, sear for 30-60 seconds until fragrant and slightly golden brown. Do not burn garlic.

Pour white wine onto skillet. It should bubble up slightly. Let it boil for 30 seconds or so. Then add chicken broth and fresh rosemary. Bring to boil again, cook for another 30 seconds.

Add chicken cutlets back into the skillet. Let it cook in the juices and boil for 1-2 minutes under medium/medium low heat.

Once chicken has soaked up most of the juices, garnish with parsley. Remove from heat.
Notes
If you prefer more sauce, double the amount of white wine and chicken broth used. Before adding cooked chicken back into the skillet, add a pinch of salt to taste. Not flavorful? If chicken isn't super flavor, sprinkle with a small pinch of salt to bring out the flavors.
Nutrition
Calories:
205
kcal
|
Carbohydrates:
10
g
|
Protein:
26
g
|
Fat:
4
g
|
Saturated Fat:
1
g
|
Polyunsaturated Fat:
1
g
|
Monounsaturated Fat:
2
g
|
Trans Fat:
0.02
g
|
Cholesterol:
73
mg
|
Sodium:
1115
mg
|
Potassium:
477
mg
|
Fiber:
0.4
g
|
Sugar:
0.5
g
|
Vitamin A:
46
IU
|
Vitamin C:
3
mg
|
Calcium:
20
mg
|
Iron:
1
mg