Creamy Lemon Chicken Pasta
Creamy Lemon Chicken Pasta is the epitome of Spring time food – light, zesty, and a burst of freshness in every bite!
What you are looking at: al-dente linguini noodles tossed in buttery lemon garlic cream sauce that happens to also be light and not overly heavy, combined with juicy chicken and loads of fresh parmesan.
Easy and Yummy Creamy Lemon Chicken Pasta
We are loving this delicious new concoction and has definitely eaten more than our fair share of creamy lemon chicken pasta
And yet we are still not tired of it!
Why we love creamy lemon chicken pasta
Although calling creamy lemon chicken pasta 'new' might be slightly misleading (after all, according to these wise words: there is nothing completely new under the sun). If you have been around here a lot, you might be reminded of this Lemon Garlic Parmesan Pasta.
Think of creamy lemon chicken pasta as the creamier, more hearty version of the previous lemon pasta dish. It has the added touch of cream (half and half, to be exact) and juicy seasoned chicken pieces tossed along with it.
Since we used half and half, and incorporated bursts of lemon flavors into it, it is considered a lighter cream version than a traditional Alfredo sauce or creamy sauce.
I can go on and on about why we are loving this, but to keep it short and sweet, here are all the other amazing things you need to know about this creamy lemon chicken pasta goodness.
Amazing combination of creamy, savory and tangy flavors, along with the beautiful combination of juicy seasoned chicken (yes, there is actually flavor in the chicken!) and al dente pasta.
Require only a few pantry-friendly ingredients. In other words, easy peasy!
Ready under 30 minutes. Again…easy peasy!
Can be made ahead and heat as leftovers for a quick meal
Perfect for meal prep
Did I say delicious? ABSOLUTELY DELICIOUS.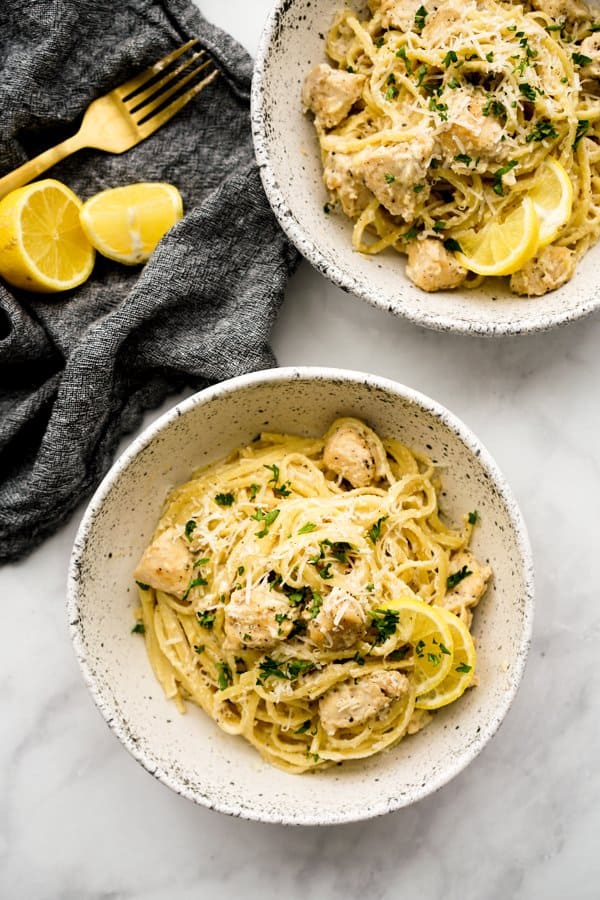 Ingredients
This delicious creamy lemon chicken pasta dish requires only simple, straight-forward ingredients:
Linguine pasta – or other types of pasta! I like long pasta for my creamy lemon chicken pasta but that is a personal preference.
Lemons – using both the juice and the zest for the ultimate lemon-y experience!
Unsalted butter – I don't use salted butter in this because I like to adjust the salt level by adding salt later. So unsalted butter it is!
Garlic cloves – high recommend using fresh! Avoid substituting with garlic powder. It tastes completely different!
Half and half – I opted for half and half instead of heavy cream to get a lighter cream texture. Milk was too watery for me for this.
Parmesan – highly recommend buying a parmesan block and grating it yourself. Fresh and good quality parmesan will make a big difference to the flavors of this dish.
Salt and black pepper to taste – added to both the chicken before searing and also to the pasta dish as a whole. Salt especially will open up the flavors and bring the dish alive. So add more salt if needed!
Chicken tenderloins – I prefer tenderloins to chicken breast because they are more tender and remains juicier after searing.
How to Make It
And here comes to fun part…let's make some creamy lemon chicken pasta!
Start by boiling water and cooking pasta in a pot. I like to get that going first and then work on the chicken and creamy lemon sauce.
For the chicken, coat cubed chicken tenderloins with salt and black pepper, then sear it on a skillet with 1 tbsp of butter.
Yes butter. If you really want to use cooking oil, you can, but let me just say, butter brings about pretty incredible flavors…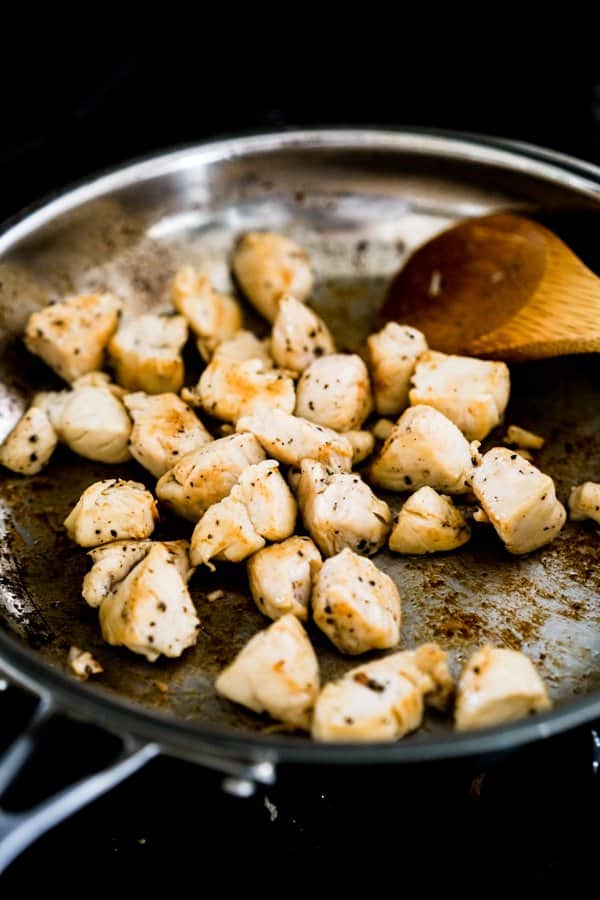 Once chicken is fully cooked, remove from skillet and make the creamy lemon sauce in that skillet.
See those brown bits at the bottom of the skillet?
I get excited when I see that because that's where the yummy flavors are at.
Leave the brown bits where they are on the skillet and add butter onto the skillet. Scrap the bottom of the skillet so the brown bits will be incorporated into the butter, and eventually the sauce.
Add the rest of the creamy lemon sauce ingredients: lemon juice, lemon zest, minced garlic, half and half, parmesan, salt and black pepper, and bring to a boil.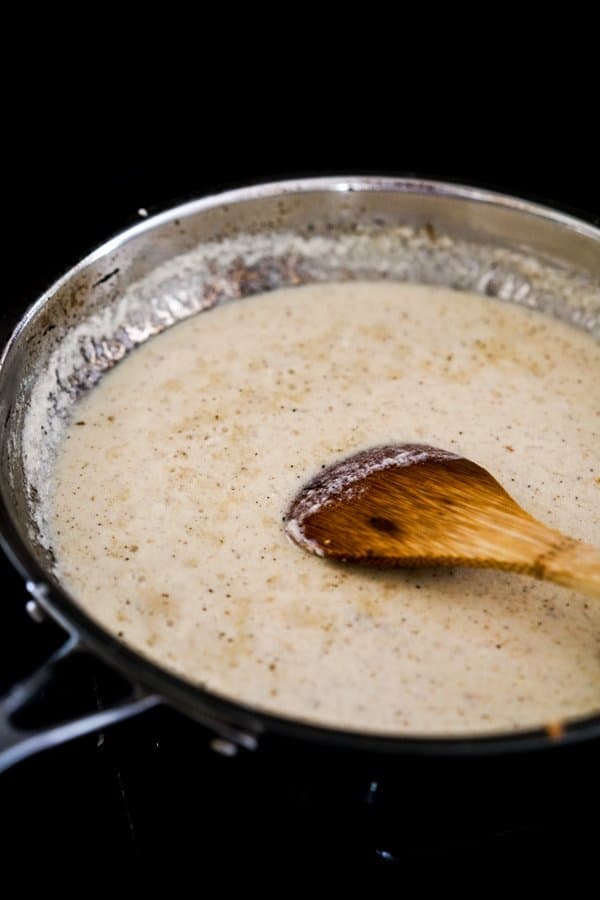 Once sauce is boiled and thickened slightly, bring linguini pasta and chicken to the skillet.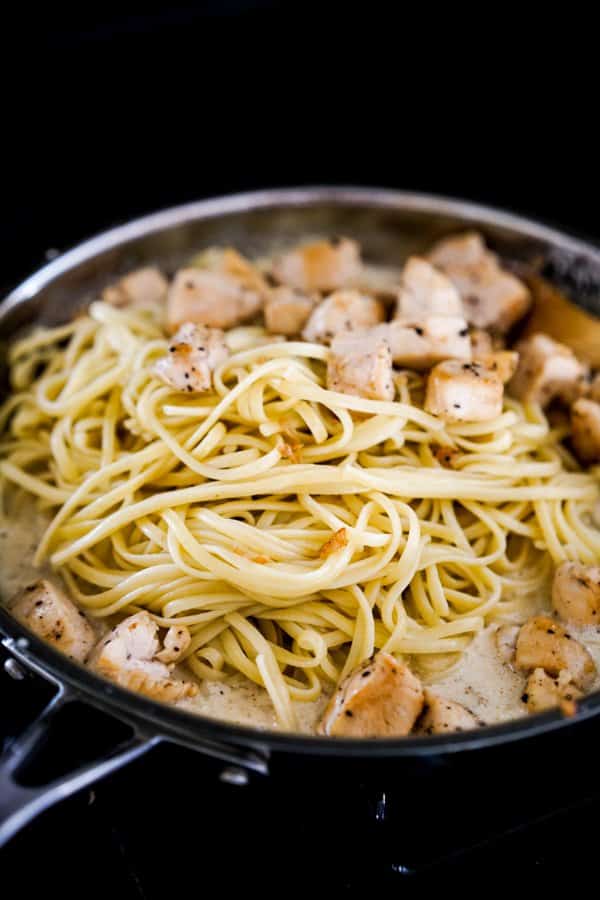 Using a pair of tongs to toss creamy lemon pasta and chicken until they are all coated with some of that creamy, velvety sauce.
Because the parmesan lover that I am, I like to sprinkle with more parmesan on top of my creamy lemon chicken pasta.
YES, I LOVE MY CHEESE.
You can add some chopped fresh parsley to get a pop of color, but it is not necessary as it will not add much to the flavor of the dish.
All that should take about 30 minutes and before you know it, you will be slurping away at the Creamy Lemon Chicken Pasta.
DREAMY.
Tips and Tricks
A few other things to keep in mind as you make creamy lemon chicken pasta:
Make sure to defrost and pat dry chicken before coating them with spices and searing them. Chicken that is wet will generate a pool of water in the skillet and that is kinda like 'boiling' the chicken instead of searing it, which will produce a less desirable texture and taste.
If noodles are done before sauce is done, drain water from noodles and toss with some olive oil so noodles aren't stuck together. Avoid rinsing noodles in cold water because that would wash away the starch on the surface of the pasta and the cream sauce will not coat onto pasta as well.leftovers
Reheating Instructions
When it comes to heating anything with cream sauce, I recommend adding a dollop of butter to pasta before heating in microwave. And the same rules apply to this creamy lemon chicken pasta.
Add butter before microwaving, and stir halfway through microwave time to spread the butter around, and send it back to the microwave to finish heating it.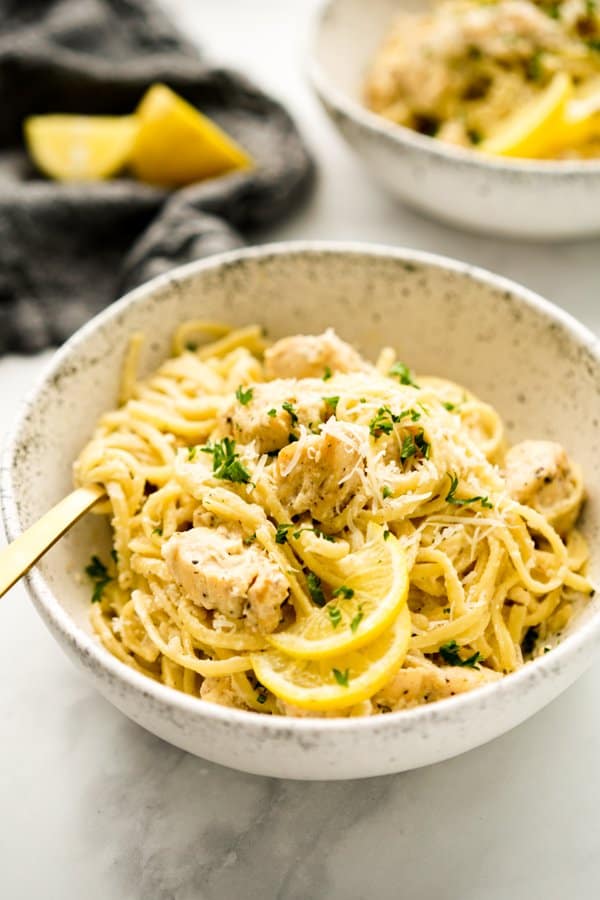 More Pasta Recipes!
Oh yes. I heart pasta with all my heart. 💛
If you love this creamy lemon chicken pasta, here are a few other yummy pasta dishes that you need in your life!
DID YOU ENJOY THIS RECIPE? Please comment below and give us a 5-star rating! This will help others find this recipe on Google and Pinterest. We very much appreciate your help! 🤍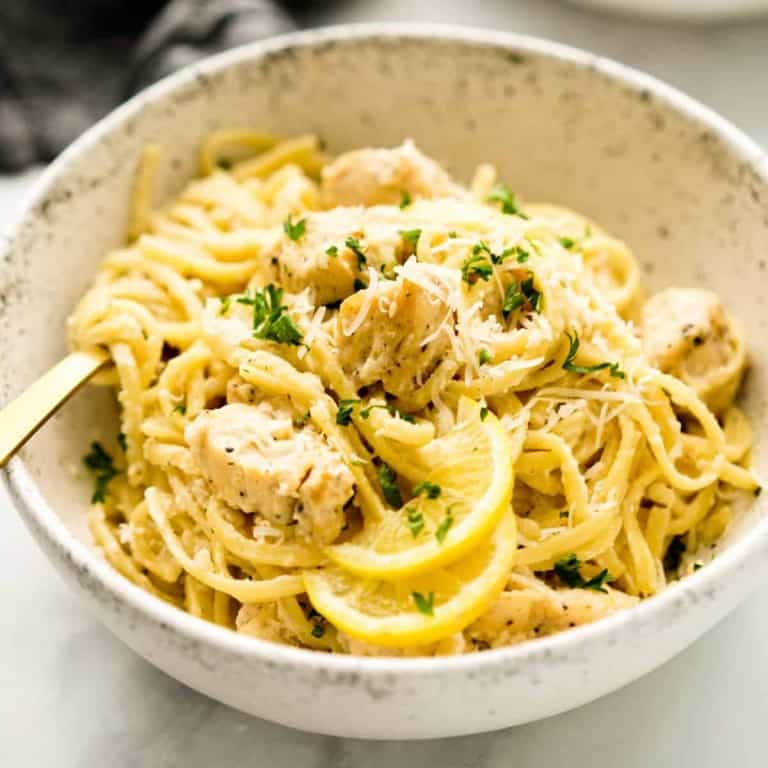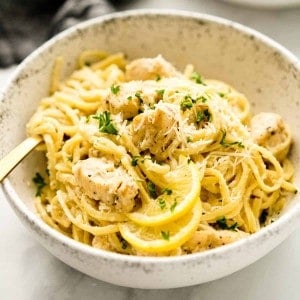 Creamy Lemon Chicken Pasta
Linguini pasta tossed in creamy lemon sauce, combined with juicy flavorful chicken. Creamy lemon chicken pasta is a quick and easy pasta dinner that is yummy and satisfying!
Print
Pin
Ingredients
8

oz

linguini pasta

0.5

lbs

chicken tenderloins

cubed

4

tbsp

unsalted butter

2

cloves

garlic

minced

2

tbsp

lemon juice

1/2

tbsp

lemon zest

1

cup

half and half

room temperature or slightly warm

1/2

cup

parmesan cheese

grated, more if needed

salt

to taste

black pepper

to taste

1

tsp

parsley

chopped, optional
Instructions
Bring water to boil in a pot and cook linguini noodles according to package instructions. Drain when noodles are done and set aside (see Note 1).

Cube chicken tenderloins. Coat chicken pieces with a few pinches of salt and black pepper.

Heat skillet with 1 tbsp of unsalted butter. Once butter is melted (before it turns brown), add chicken tenderloins.

Sear chicken under medium high heat until they are slightly brown on the outside and cooked on the insides. Remove chicken and set aside.

Add the rest of the butter to skillet, and scrap the bottom of the skillet to remove any brown bits so it is incorporated into the butter. Add garlic, and stir for 10-20 seconds or until fragrant (before they turn brown).

Add lemon juice and lemon zest, stir. Then slowly add half and half (make sure it is in room temperature or warm, see Note 2) while stirring constantly. Bring to a boil.

Lower heat to medium and add parmesan cheese. Stir to incorporate parmesan into the sauce.

Turn heat off. Bring linguini and chicken pieces back to skillet. Toss to coat pasta and chicken in sauce. Taste and add salt and black pepper to taste to open up the flavors even more.

Serve with more parmesan cheese and chopped parsley if desire. Enjoy!
Notes
Note 1: If setting aside noodles for a while, toss in olive oil to prevent noodles from sticking together.
Note 2: Warm half and half in the microwave before adding to the skillet to avoid curdling. Whisking the liquid in the skillet constantly while pouring will also be help in preventing curdling.
Nutrition
Calories:
677
kcal
|
Carbohydrates:
62
g
|
Protein:
35
g
|
Fat:
32
g
|
Saturated Fat:
19
g
|
Trans Fat:
1
g
|
Cholesterol:
130
mg
|
Sodium:
783
mg
|
Potassium:
598
mg
|
Fiber:
3
g
|
Sugar:
3
g
|
Vitamin A:
911
IU
|
Vitamin C:
7
mg
|
Calcium:
313
mg
|
Iron:
2
mg