Oven roasted whole carrots is an easy, delicious and elegant way to prepare carrots. Coated in olive oil, honey, fresh thyme and sea salt, these whole carrots are baked in the oven so they are soft with a slight crunch, and taste fresh and flavorful.
Roasted whole carrots are also an impressive way to serve carrots as a side dish for your Thanksgiving and Christmas holiday dinners. They simply shine on a platter.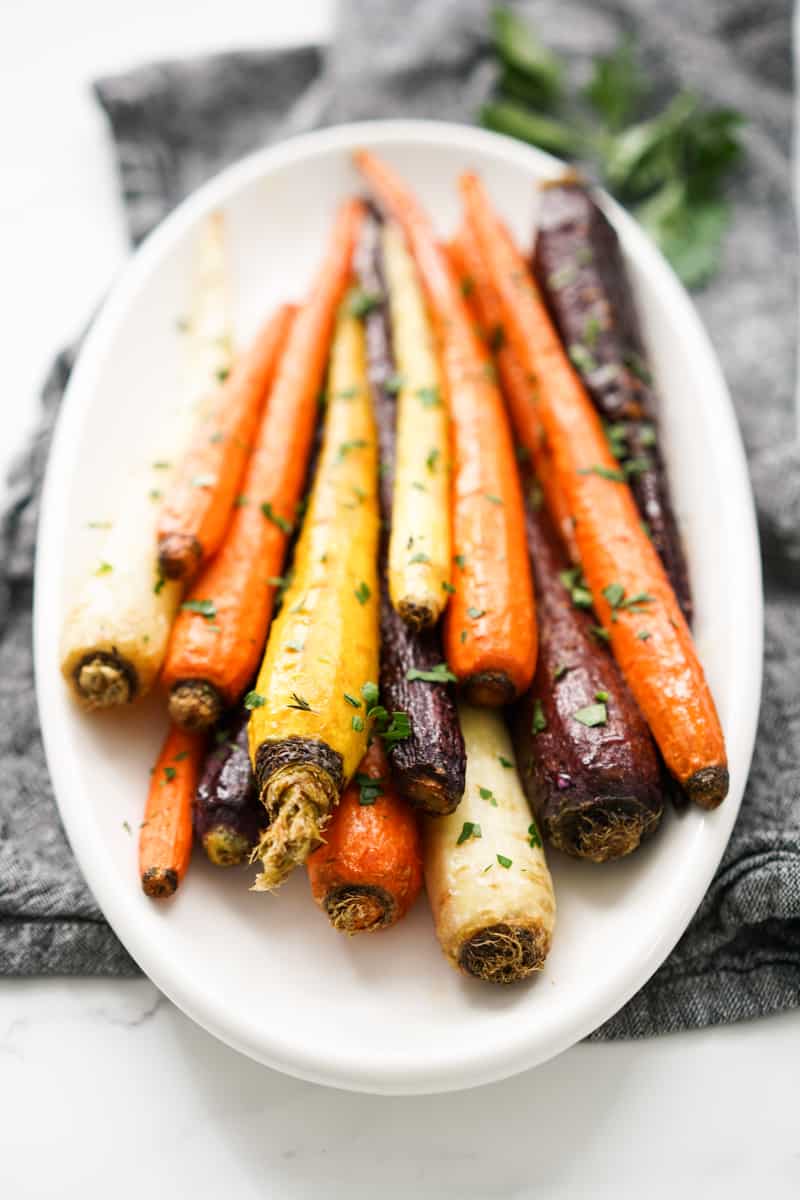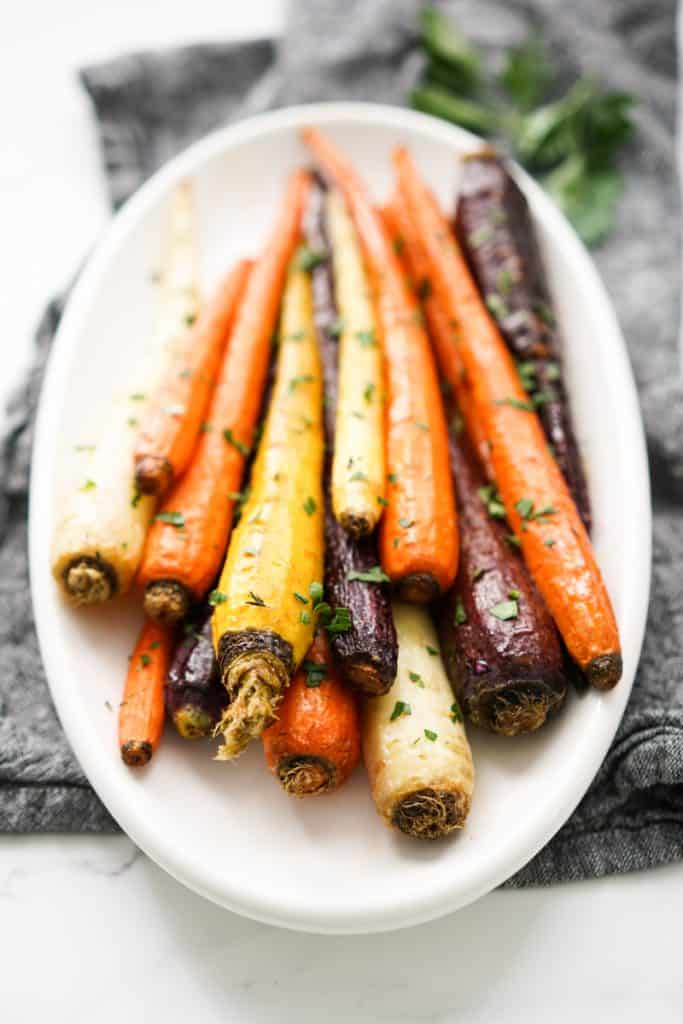 Looking for more yummy vegetable side dishes? Check these out as well: Honey Roasted Brussels Sprouts with Bacon, Garlic Sautéed Spinach, Broccoli au Gratin, Roasted Zucchini with Garlic Parmesan and Oven Roasted Corn on the Cob.
Oven baked whole carrots
To all my carrot loves out there: you are going to love this roasted whole carrots dish. I recently started roasting whole carrots, and I am loving how simple the process is and how amazing the carrots taste.
Our roasted whole carrots are lightly seasoned with just honey, salt and herbs to enhance but not overpower the flavors of the carrots, and baked just long enough to softened but still maintain a slight crunch. Translation: not soggy.
If you are looking to entertain or host a family meal, these roasted whole carrots also makes for a presentable and lovely dish. They look as beautiful on a serving plate as they are delicious.
In short, here's why you should make these roasted whole carrots:
Super easy – much less work on your part than slicing them into smaller pieces. All you need to do is peel the carrots, season and bake them. The whole process takes under 30 minutes.
Minimal ingredients – using only 5 pantry-friendly ingredients ingredients
Very yummy – although roasted whole carrots is simple to make, it's also delicious. Honey and sea salt give this dish a good balance of sweet and savory, pair well with the carrots, and bring out the best of its flavors and textures.
Lovely presentation – roasting whole carrots without slicing them preserves their natural look, and gives your dish a rustic, elegant look. Perfect for dinner parties, Thanksgiving, Christmas, and Easter holidays.
Make ahead – A perfect option to make ahead and reheat in oven or microwave when ready to serve.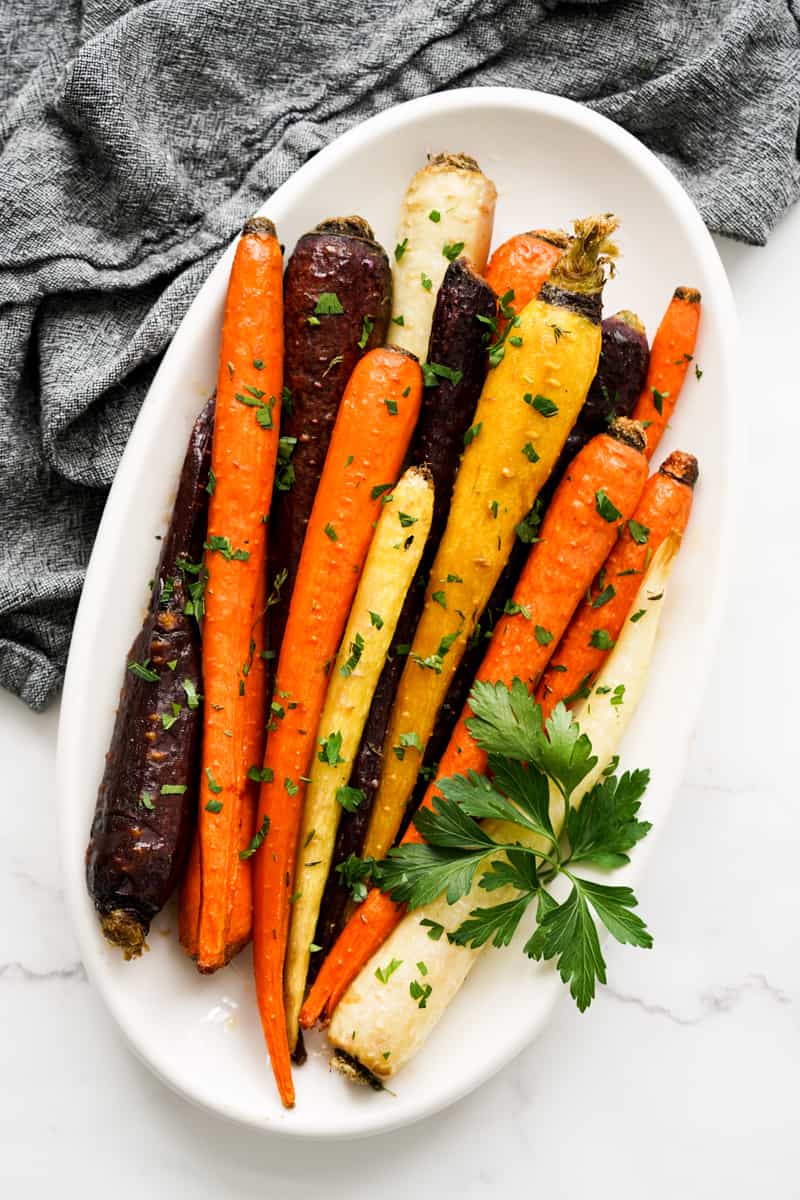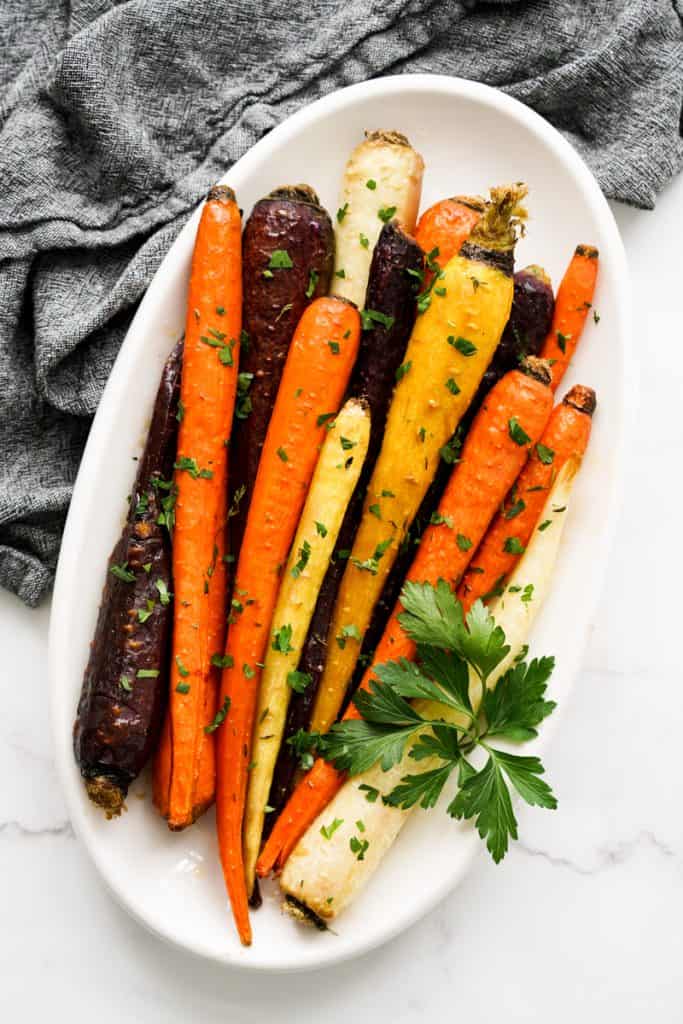 If you prefer to slice your carrots, I also shared my Garlic Honey Roasted Carrots where carrots are sliced in coin shaped, seasoned and then oven baked.
Ingredients
Here are the ingredients I am using to make my roasted whole carrots:
whole carrots – we are using a 2 lbs bag of carrots, either the regular orange carrots or an assortment of colorful carrots. Colorful carrots taste very similar to orange carrots.
olive oil – you can also use avocado oil, vegetable oil, canola oil, or your favorite cooking oil.
honey – use good quality honey for best taste. This will give your carrots a touch of sweetness, and it also helps it brown up a bit in the oven.
sea salt – to balance out the sweetness and open up the flavors
fresh thyme – I highly recommend using fresh thyme for optimal flavor, but dried thyme works as well
As promised, the list is short and sweet, but each ingredient plays an important role in bringing out the beauty of these roasted whole carrots.
How to roast whole carrots
Step 1: Prepare carrots
When making roasted whole carrots, or any carrot dishes for that matter, always wash your carrots!
Place those carrots under running water and use your hands to scrub them to remove the dirt on the carrots.
Then peel them. I find that peeling them make the roasted whole carrots taste better.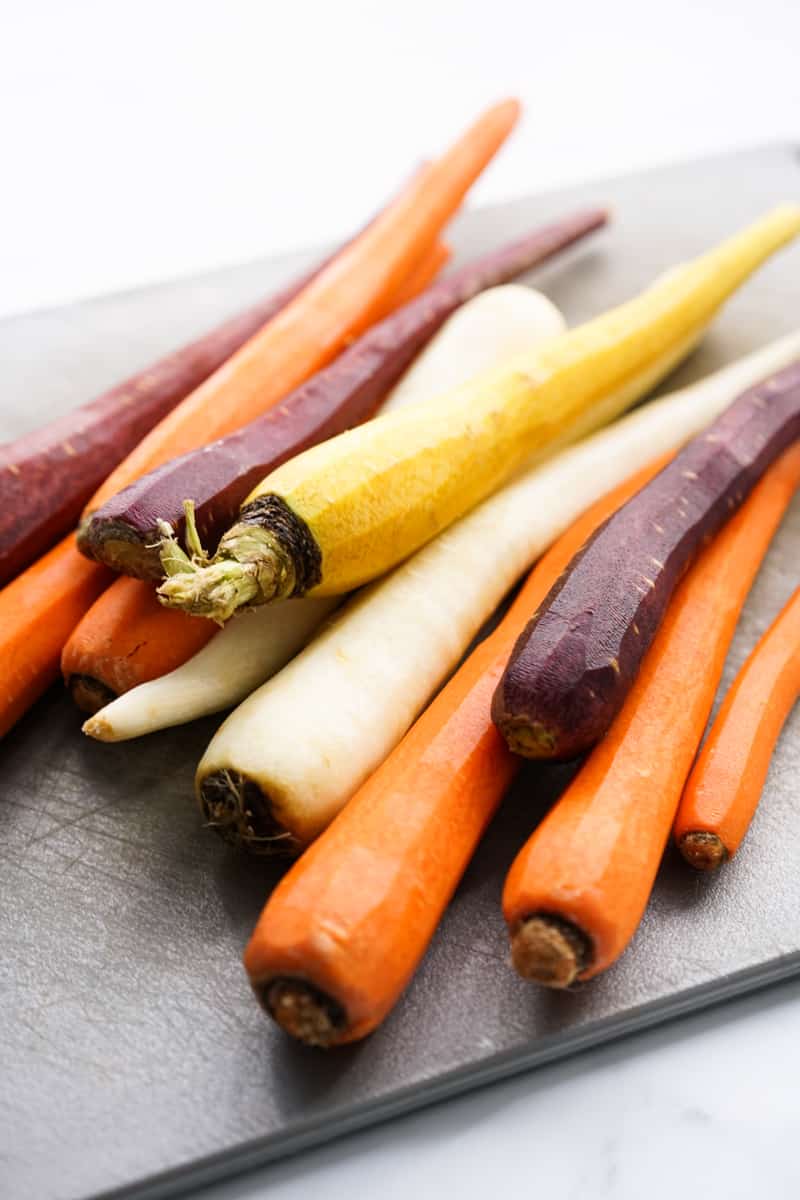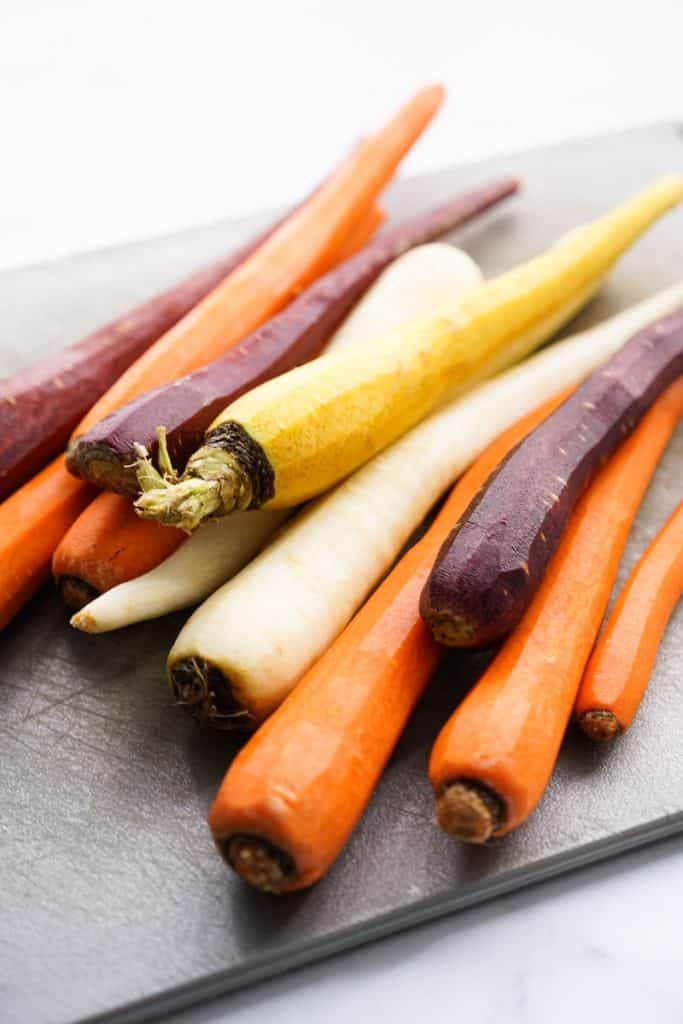 If the stalks are still on the carrots, you do not have to remove them as long as you wash them well.
If you prefer to remove them, that is fine as well.
Step 2: Season carrots
Place your carrots on a greased baking sheet lined with aluminum foil for easily cleanup. Avoid overlapping carrots.
In a small bowl, combine olive oil, honey, and sea salt. Just a whisk or spatula to stir to combine.
Then use a brush to brush on the oil and seasoning mixture all over the carrots.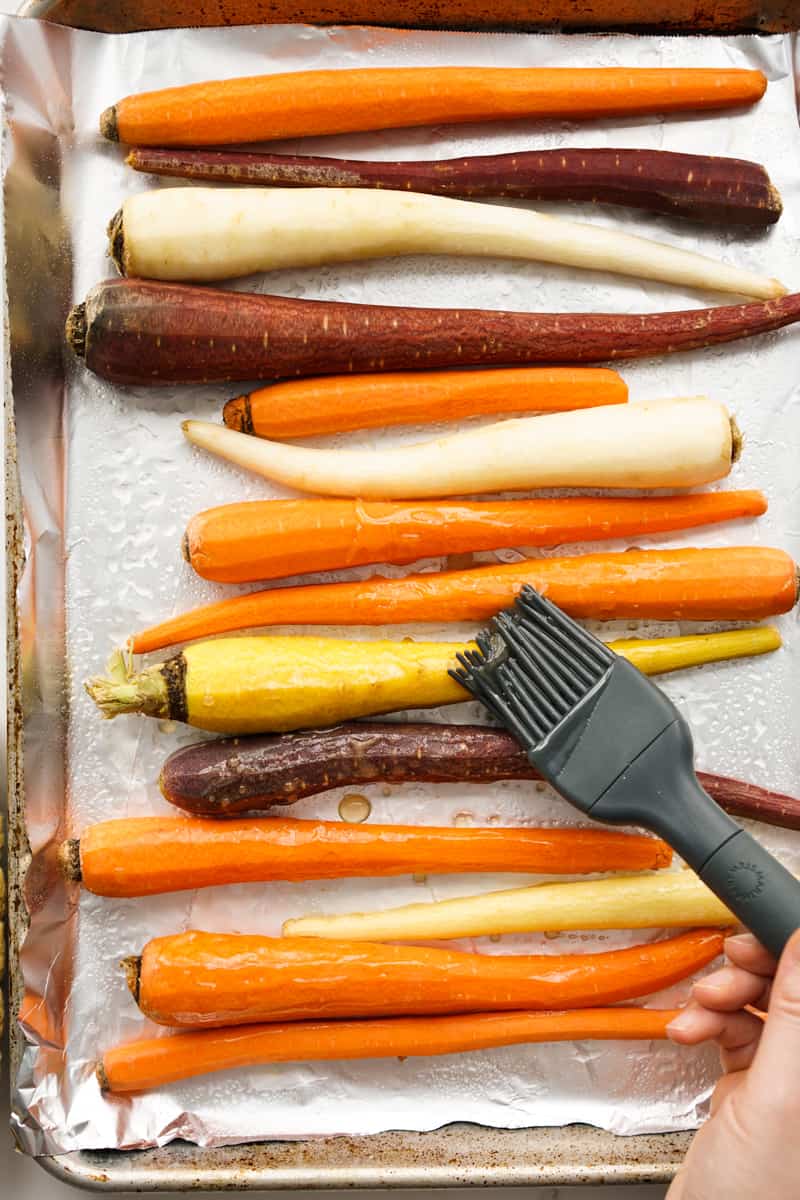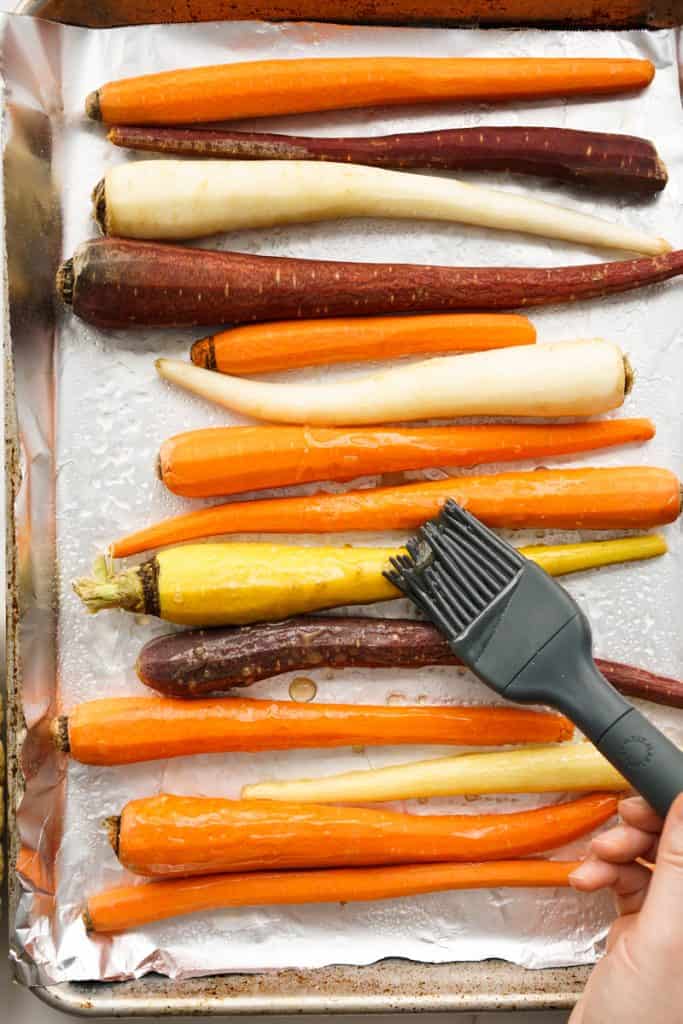 Then place a few twigs of fresh thyme all over the top of the carrots right before sending it into the oven.
Step 3: Roast carrots
Carrots will take about 20-30 minutes to bake under a a temperature of 400℉.
Depending on the size of the carrots, how soft or crunchy you prefer your carrots, it may take shorter or longer to bake.
Check at the 20 minute mark to see if roasted whole carrots have reached desired doneness, and bake for longer if needed.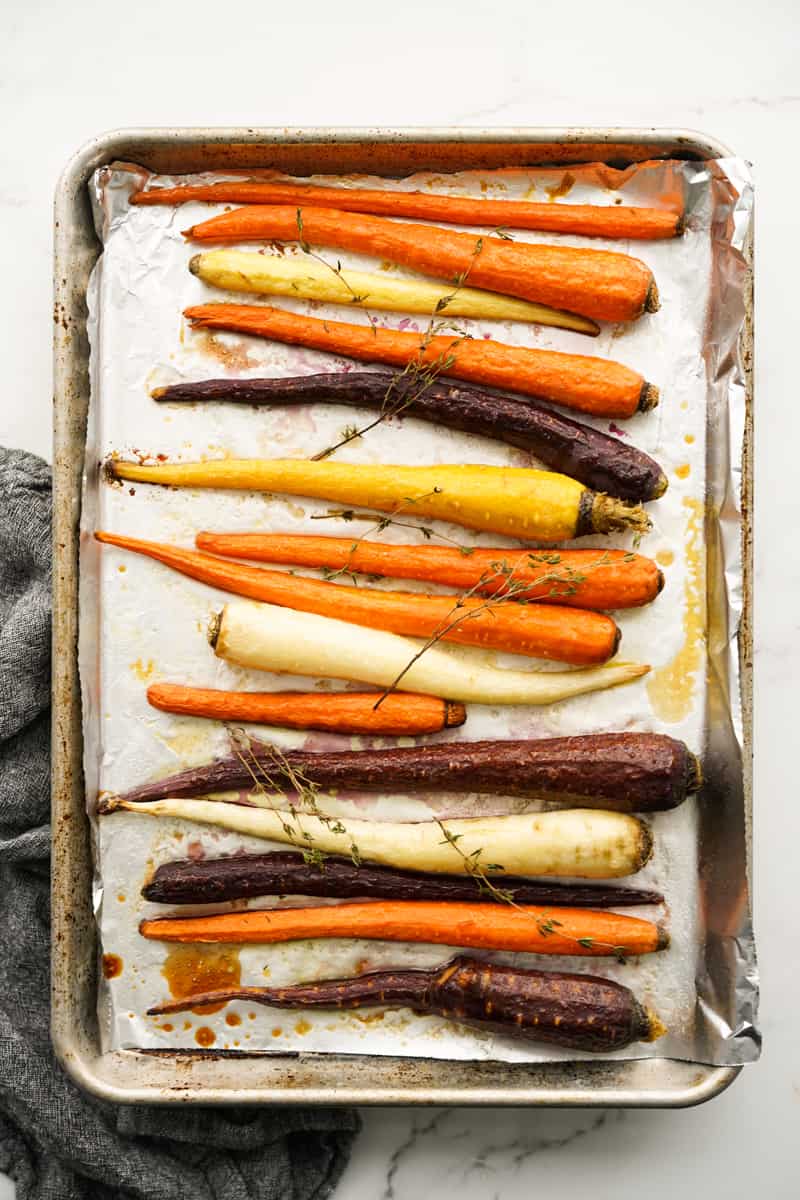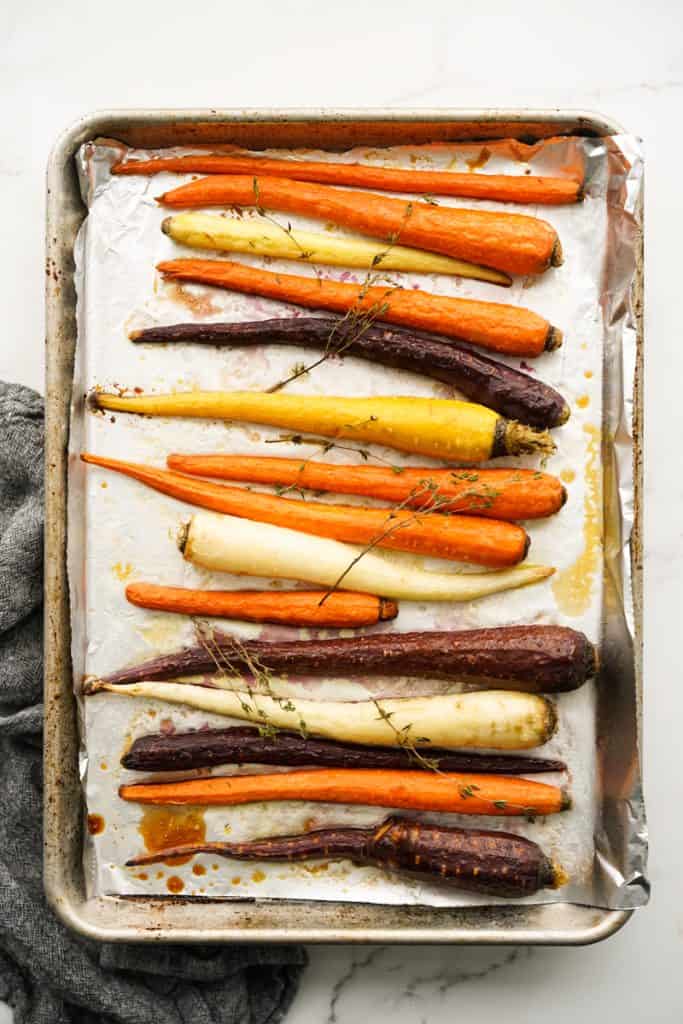 After they are done, roasted whole carrots should be soft enough to slice easily with a knife, but still produce a slight crunch when you bite into it.
Carrots should be coated in a sweet and savory glaze infused with the scent of fresh thyme.
Serve in on a platter and garnish with some parsley to make the color pop even more (if desired).
These roasted whole carrots should take about 30 minutes from start to finish, and is such a delicious, healthy and beautiful dish to serve at dinner parties and holidays.
Variations and Substitutions
I wanted to share a basic yet flavorful way to make these roasted whole carrots. There are however, other ingredients you can substitute or add to your carrots if you desire:
olive oil: use other oils such as avocado oil (high boiling point), butter, vegetable oil or canola oil.
fresh thyme: use a different herb or add on another herb: dill, rosemary, sage, parsley, or oregano work great with carrots as well.
honey: instead of honey, brown sugar or maple syrup works great as well
Other ingredients to add: garlic, cinnamon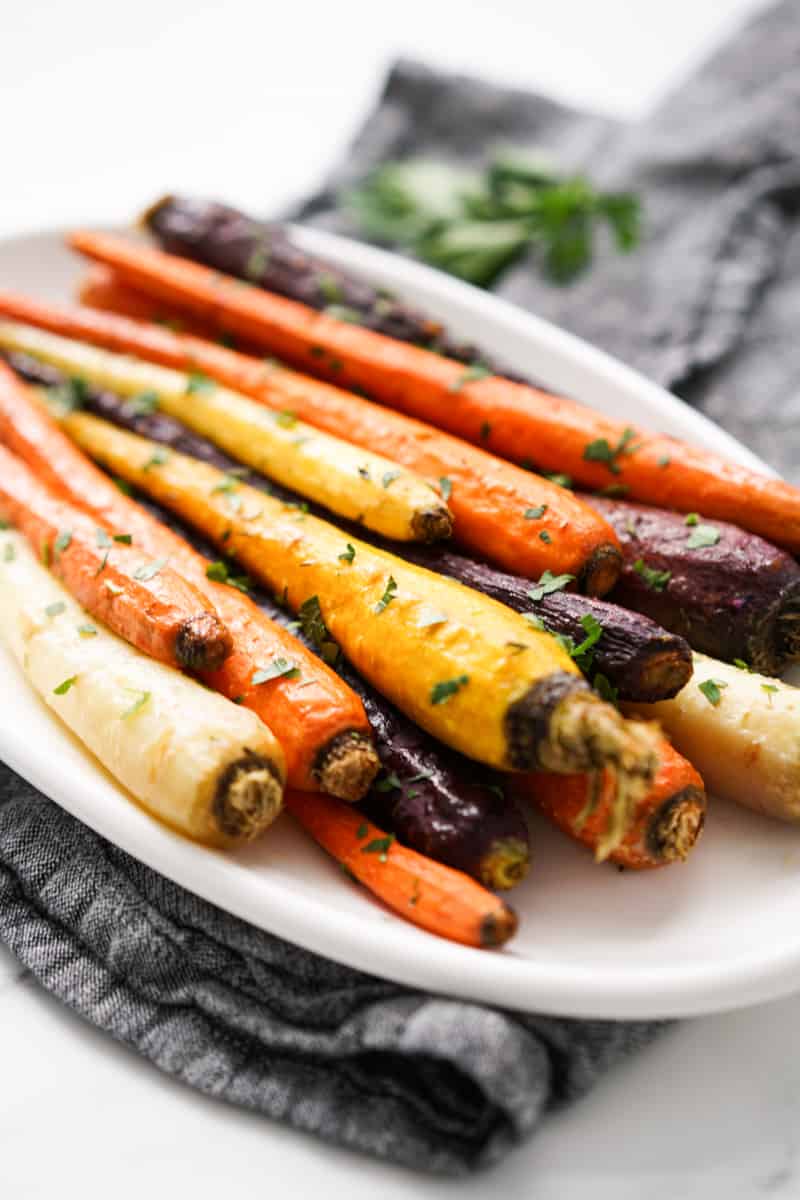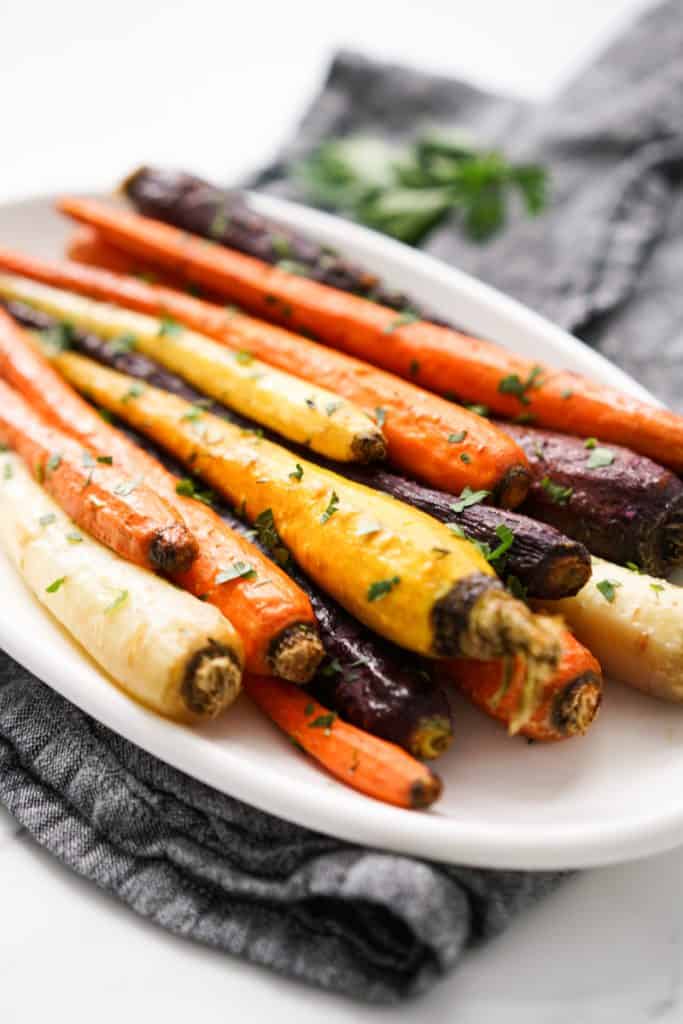 Storage and Reheating Instructions
To store roasted whole carrots, place them in an airtight container and store them in the refrigerator for up to 5 days. You can reheat carrots using the microwave, or roast them covered in the oven (350℉ for 20-25 minutes).
Frequently Asked Questions
Would it be ok to not peel the carrots?
I think these whole roasted carrots taste better with peeled carrots so I would highly recommend it! However, as long as you wash the carrots clean and bake them, there shouldn't be anything wrong health-wise to eat unpeeled carrots.
How do I make my carrots softer or more crunchy?
For softer carrots, bake them closer to the 30-minute mark; for crunchier carrots, bake them closer to the 20-minute mark. Do keep in mind that these are merely estimated times, depending on the size of your carrots, oven temperature and personal preferences, you may need to roast your whole carrots for a shorter or longer time. Adjust accordingly, and check on it frequently!
Can you freeze cooked carrots?
Absolutely! They freeze well. Defrost them completely before reheating and enjoying them.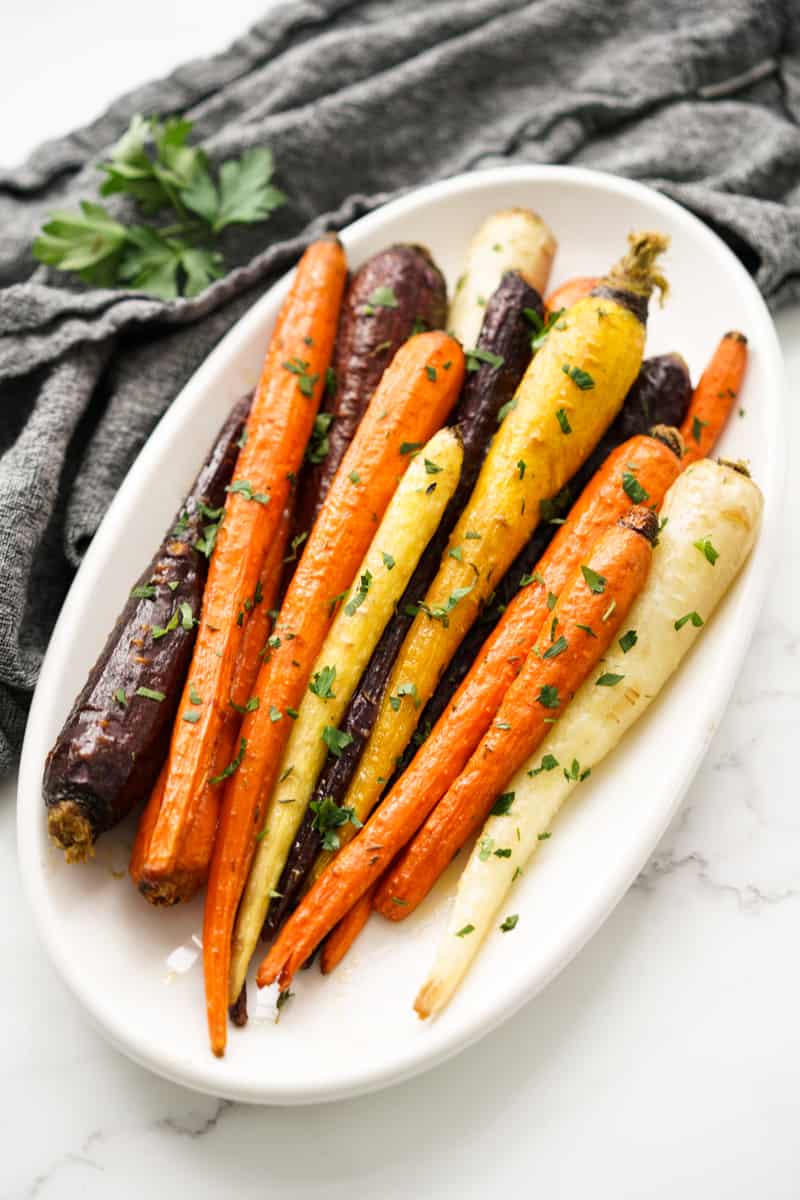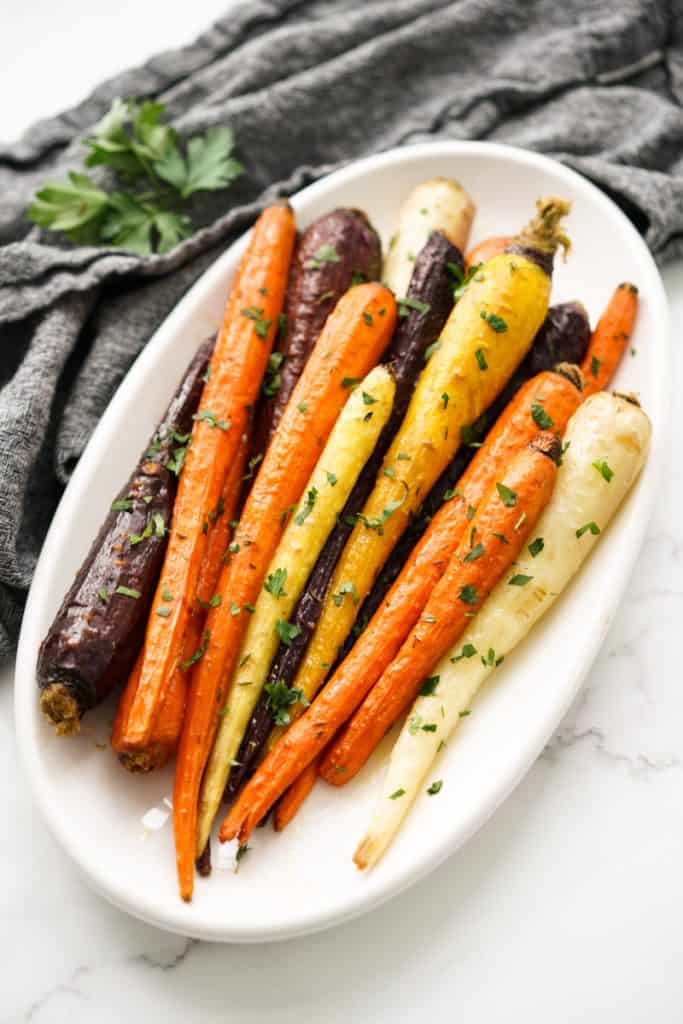 DID YOU ENJOY THIS RECIPE? Please comment below and give us a 5-star rating! This will help others find this recipe on Google and Pinterest. We very much appreciate your help! 🤍
Other Vegetable Dishes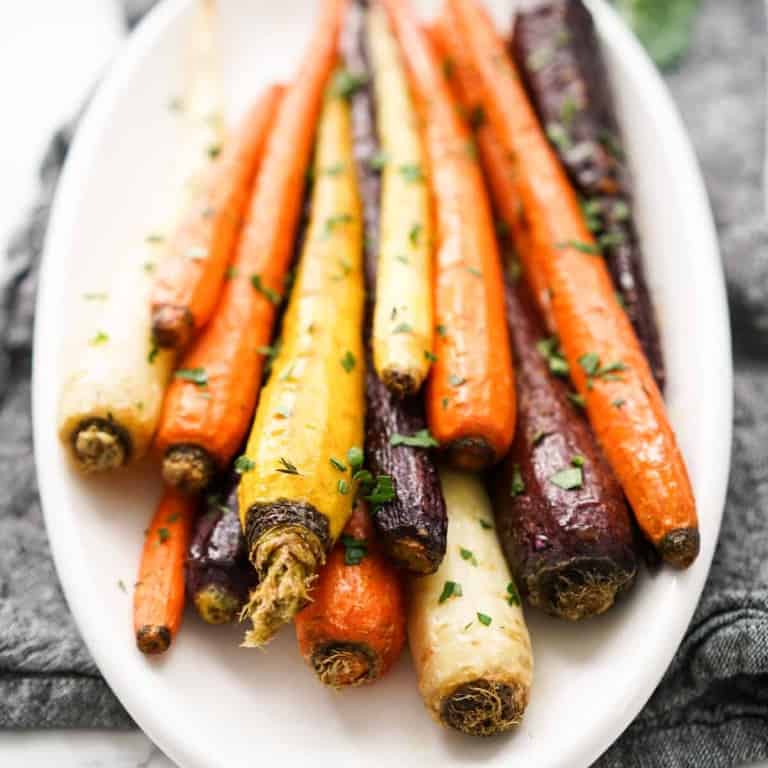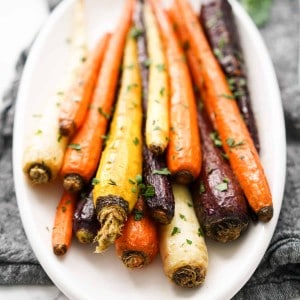 Roasted Whole Carrots
Oven roasted whole carrots coated in a sticky honey glaze and infused with flavors of fresh thyme. An elegant, delicious and easy carrot side dish for dinner parties and the holidays!
Print
Pin
Ingredients
2

lbs

whole carrots

2

tbsp

olive oil

2

tbsp

honey

1

tsp

sea salt

1-2

sprig

fresh thyme
Instructions
Wash and scrub carrots to remove dirt on the skin. Peel carrots.

Place carrots on a greased baking sheet lined with aluminum foil. Avoid overlapping carrots.

In a small bowl, combine olive oil, honey and salt. Mix well. Brush mixture all over carrots.

Place fresh thyme on top of the carrots.

Bake carrots for 20-30 minutes, or until it reaches desired softness.
Nutrition
Calories:
75
kcal
|
Carbohydrates:
12
g
|
Protein:
1
g
|
Fat:
3
g
|
Saturated Fat:
0.4
g
|
Polyunsaturated Fat:
0.4
g
|
Monounsaturated Fat:
2
g
|
Sodium:
295
mg
|
Potassium:
293
mg
|
Fiber:
3
g
|
Sugar:
8
g
|
Vitamin A:
15160
IU
|
Vitamin C:
6
mg
|
Calcium:
31
mg
|
Iron:
0.3
mg