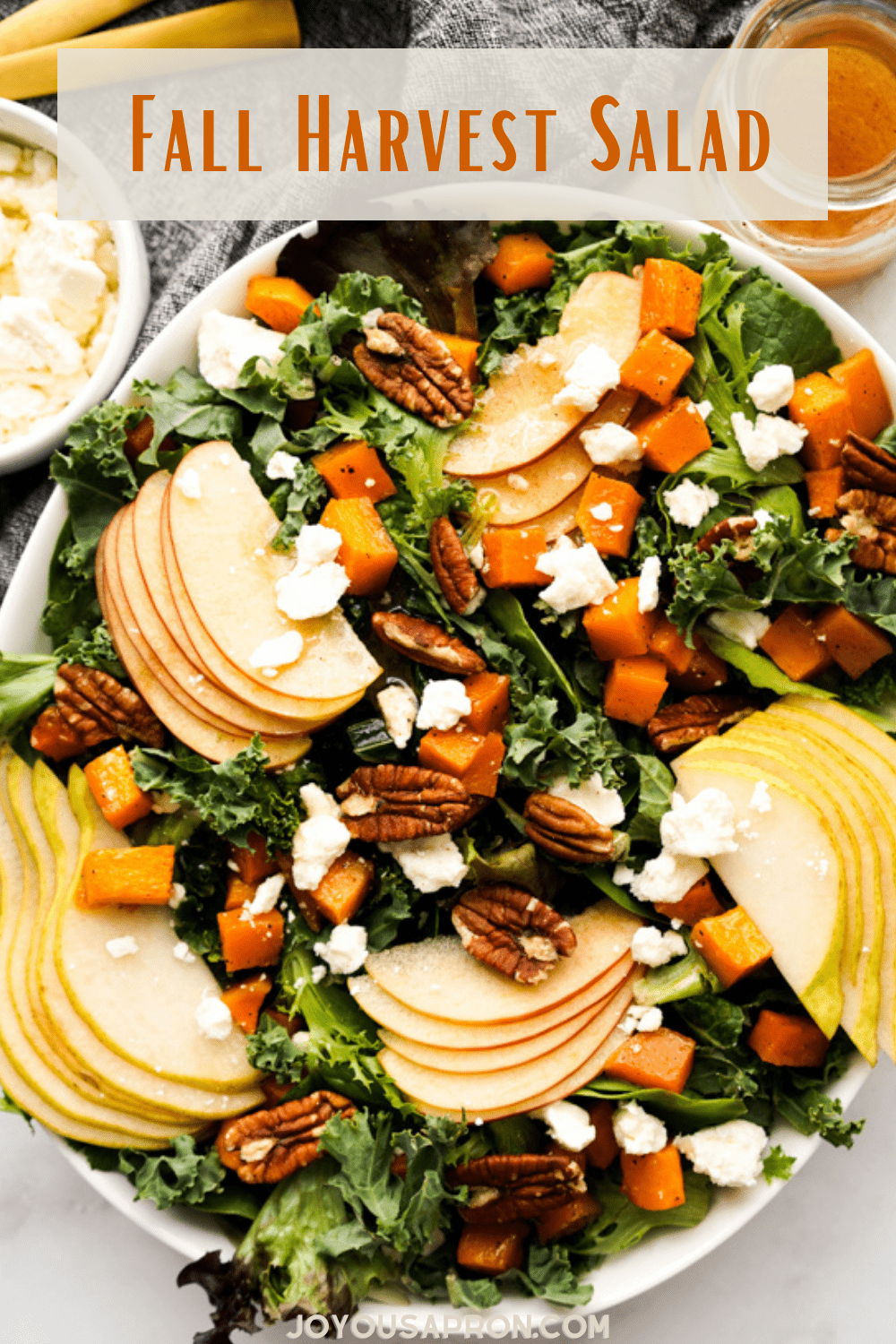 This post may contain Amazon or other affiliate links. As an Amazon Associate I earn from qualifying purchases at no additional cost to you.
This lovely Fall Harvest Salad is an autumn theme salad with roasted butternut squash, apples, pears, pecans and feta, drizzled with a tangy Apple Cider Vinaigrette.
Fresh, delightful and loaded with all your favorite Fall harvest produce!
This post is sponsored by my friends at BRIANNAS Fine Salad Dressings! I absolutely love their dressings! As usual, all opinions and texts are mine.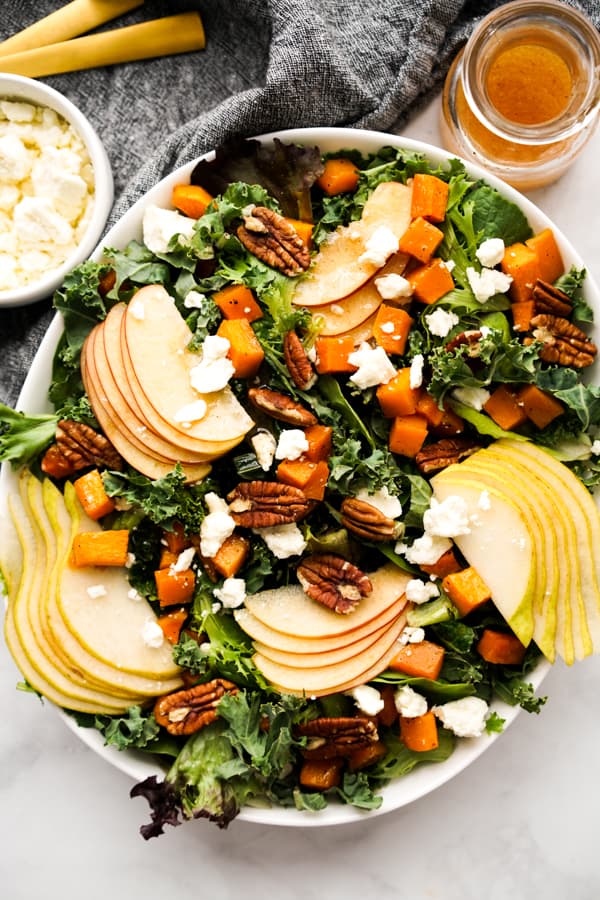 If Fall taste like anything, it is this.
I'm in love with each and every flavor and texture in this glorious salad. That earthy kale and mixed green as a based. The crunchy pecans. Juicy seasoned butternut squash. Crisp and fresh apple and pear slices. Crumbles of feta cheese that brings out the tangy, savory and sweet flavors.
And of course, the amazing BRIANNAS Apple Cider Vinaigrette that binds everything together like a dream.
If it looks like I pretty much threw in all of my favorite Fall related ingredients into this salad…OH YES, I TOTALLY DID.
And I have to say, I'm pretty proud of (and obsessed with) my creation.
This Fall Harvest Salad is everything you need for this Fall, and even more…
Why I love it: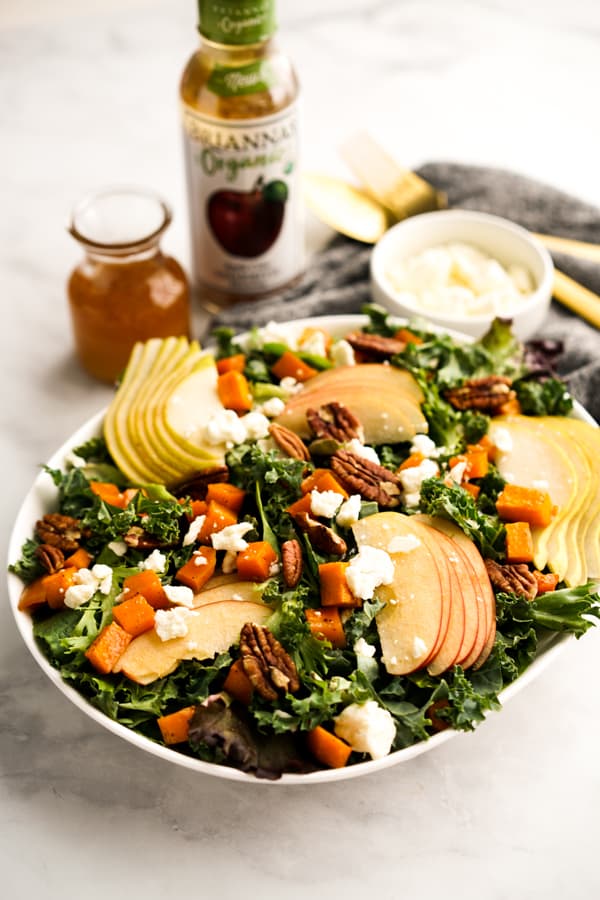 It comes together so easily. Roast the butternut squash in the oven and then throw everything together.
It's one eye-catching beauty. I mean, it's hard to argue that this thing is a looker…
Light, fresh and actually healthy! Whoever says healthy cannot taste good needs to dig into this salad and be proven wrong forever…
The combination of flavors and textures will have you wanting more. If you love a variety of flavors and textures in every bite, this is your dream come true.
Perfect for dinner parties, Thanksgiving and Christmas holidays. While I encourage you to make this anytime (because you want this in your life more than just during special occasions, trust me), this is an easy and lovely salad for entertaining.
Let's Make This Fall Salad!
I will be showing you:
How to make this salad
How it is to present this salad on a platter or salad bowl. And trust me, it's not difficult. The beautiful ingredients will make this part of the job super easy for you!
But first, let's make this salad.
Roasting Butternut Squash
We will be working on roasting the butternut squash first because it needs to be baked in the oven.
Cut butternut squash into small 1-inch cubes and then tossed in olive oil, brown sugar, salt and black pepper in a bowl.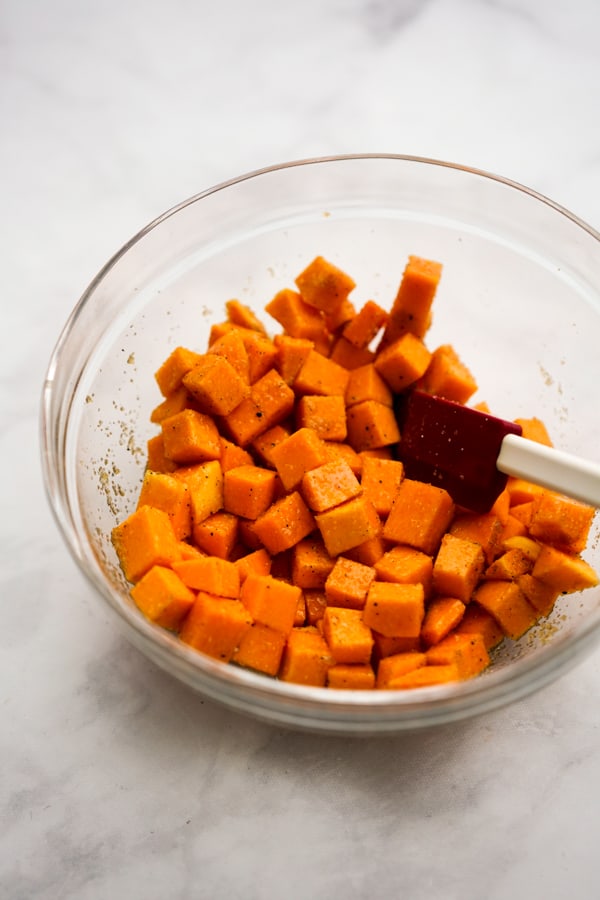 Then spread them out in a baking sheet lined with aluminum foil or parchment paper. Roast butternut squash at 400℉ for 20-25 minutes.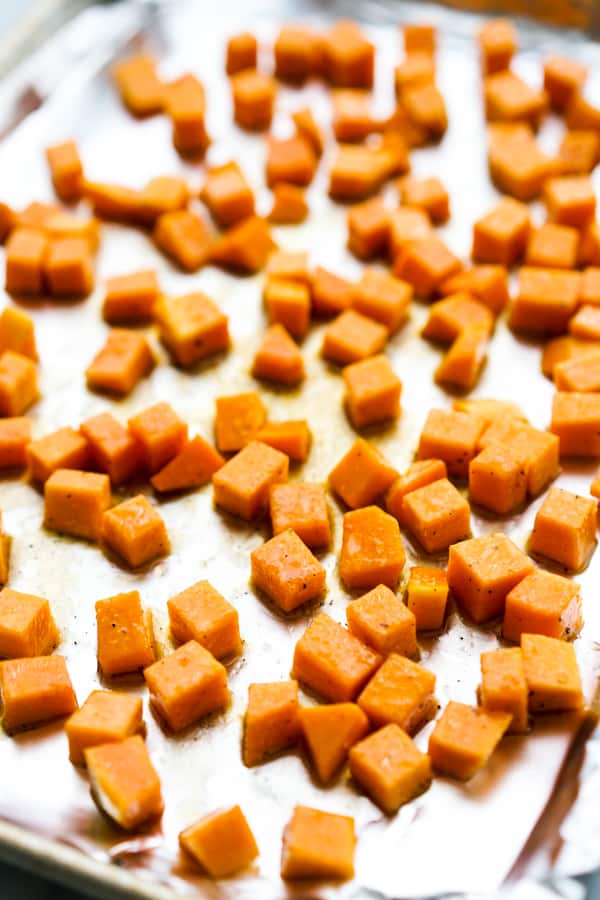 When butternut squash is done, it should be soft and easily pierced with a fork.
Bringing the Salad Together
While butternut squash is in the oven, I usually start preparing the rest of the ingredients:
Kale and mixed greens – I like to incorporate kale because it gives an earthy texture and taste to the salad that compliments the tangy Apple Cider Vinaigrette well. Mixed green softened the taste and texture and is a nice combo to kale.
Thinly sliced apples and pears – you can also cut it into chunks but thinly slicing it brings about a prettier presentation
Crumbled feta – this really brings out the other flavors in the salad.
Pecans – gives it a nice crunch and texture…and goes with out autumn theme.
BRIANNAS Apple Cider Vinaigrette – my go-to salad dressing! High quality and delicious flavors.
If you want to throw this together quickly, bring all raw ingredients into a large bowl, add the roasted butternut squash, drizzle with dressing and enjoy! No shame in wanting to make this quick and simple.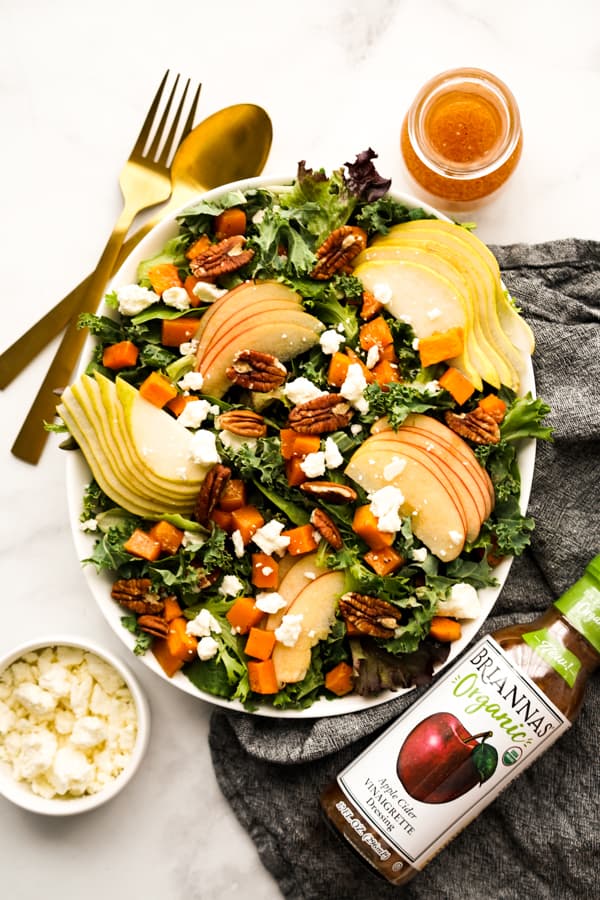 If you are entertaining for a dinner party or holidays and would like to make this salad all lovely and presentable, I've got you covered as well. In the next section, we will be discussing steps and tips on how to decorate and present this salad for holiday dinners or entertaining in general.
Steps/Tips for Presenting and Serving Salad
Start by laying down the kale and mixed greens at the bottom of salad bowl or plate. I toss the two greens together in a separate bowl before bringing it to the salad bowl so it's already mixed together.
Next, placed the thinly sliced apples and pears on top of the bed of kale and mixed green. When doing this, bunch each of the fruits up in chunks (see photographs of my Fall Harvest Salad) instead of spreading out each and every slice.
Then sprinkle butternut squash cubes, pecans and feta all over the salad.
Drizzle with Apple Cider Vinaigrette or serve it on the side. Unless you are eating it immediately, I recommend serving the dressing on the side.
Substitution and Variation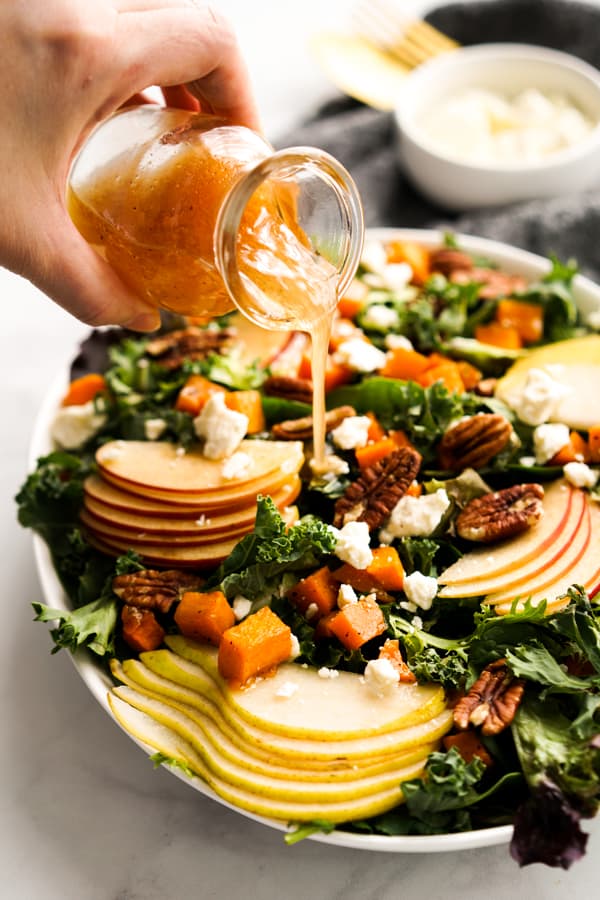 There are so many ways to jazz up this salad! Here are some options but let me know in the comments below other ideas you have!
Instead of pecans, use walnuts, cashews, or other nuts
Use a different mix of lettuce/greens, such as arugula, green leave lettuce, spinach, shaved Brussels sprouts etc.
Other cheeses to use: blue cheese, gorgonzola, parmesan, white cheddar.
Add other Fall fruits! Pomegranate, persimmons, dried cranberries, figs, grapes etc.
Roasted cubed sweet potatoes would be a yummy addition as well!
To make this a full meal, add protein such as chicken, boiled eggs, shrimp or salmon.
Tips and Tricks
A few tips and tricks to keep in mind and you are all set!
Cube butternut squash into small 1-inch cubes. Butternut squash that is larger will take longer to bake. Bake for longer if you have bigger cubes of butternut squash. If you are cubing from a whole butternut squash, check out instructions and pictures on how to do so from my Whole Roasted Butternut Squash post.
Spread butternut squash out on a baking sheet and avoid overlapping.
Line baking sheet with aluminum foil or parchment paper for easy cleanup.
Serve with the dressing on the side to prevent salad from getting soggy.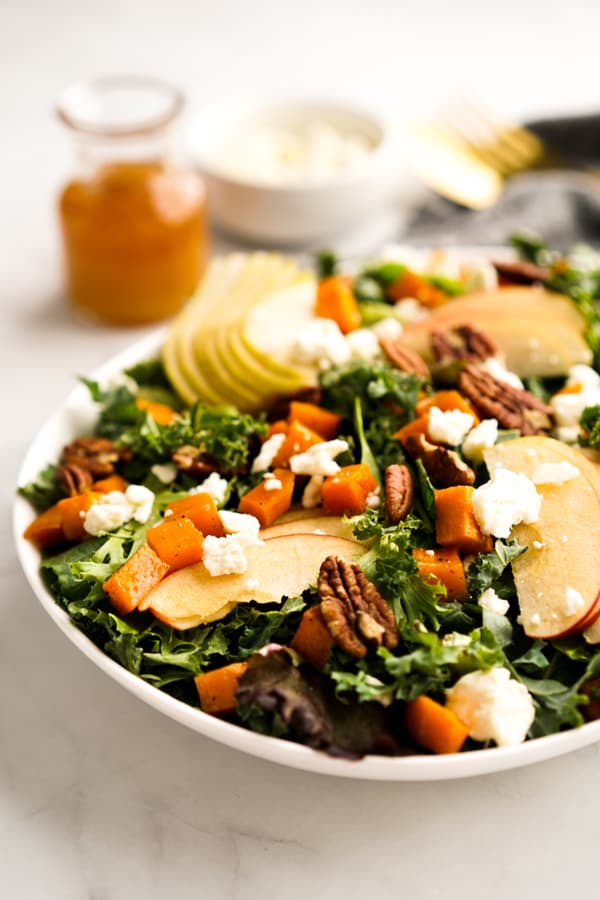 Frequently Asked Questions
How do you prepare this ahead of time?
Roast butternut squash ahead of time. Prepare the rest of the ingredients ahead of time but do not bring everything together until it is time to serve.
Does this keep well as leftovers?
If dressing isn't added to the salad you can keep it in the refrigerator for a few days. If dressing is already tossed into the salad, consume within 24 hours.
Is this salad healthy?
I would say this is pretty healthy. It's about 135 calories per serving, low in saturated fat and sugar, and has a good amount of Vitamin C, Vitamin A, Potassium and Calcium
Give this Fall Harvest Salad a try this Fall! 🧡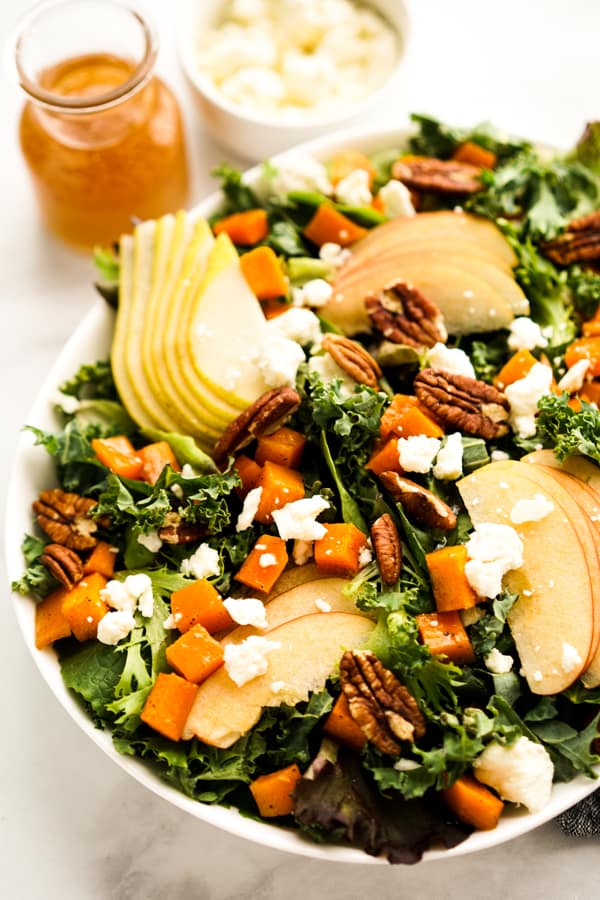 More Fall Recipes
Other Vegetable Recipes
DID YOU ENJOY THIS RECIPE? Please comment below and give us a 5-star rating! This will help others find this recipe on Google and Pinterest! We very much appreciate your help! 🤍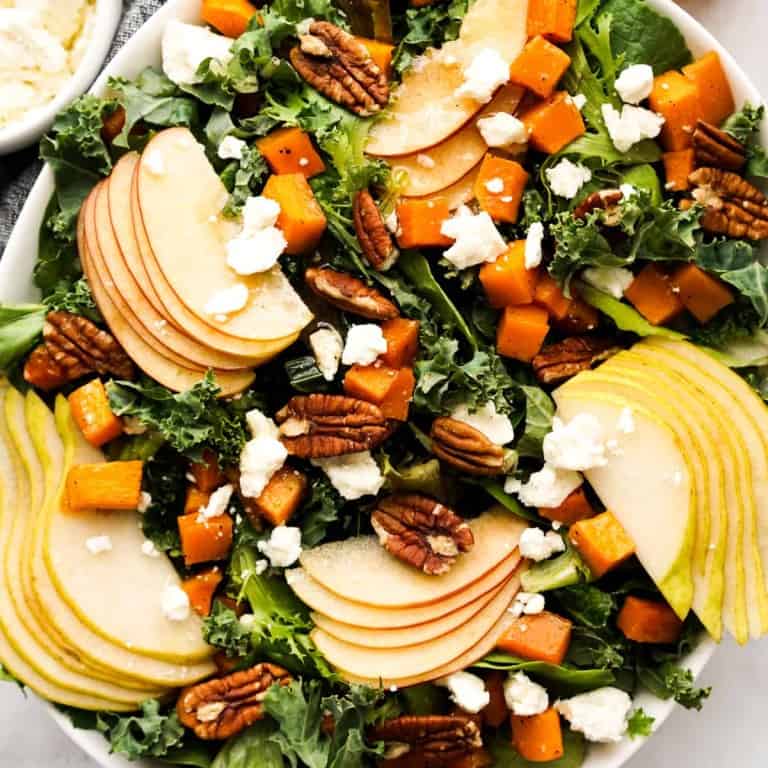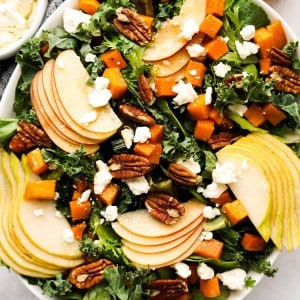 Fall Harvest Salad
Yummy Fall salad with your favorite Fall vegetables and fruits! Kale and mixed greens combined with roasted butternut squash, apples, pears, pecans and crumbled feta. Perfect for the holidays as well!
Print
Pin
Ingredients
3

oz

kale

3

oz

mixed greens

1

apple

sliced

1

pear

sliced

1/2

cup

feta

1/4

cup

pecans

1/2

cup

BRIANNAS' Apple Cider Vinaigrette
Roasted Butternut Squash
2

cups

butternut squash

cubed

1

tbsp

olive oil

2

tsp

brown sugar

1/2

tsp

salt

1/4

tsp

black pepper
Instructions
Pre-heat oven to 400℉. Toss cubed butternut squash (~1-inch) in olive oil, brown sugar, salt and black pepper. Spread butternut squash out on a baking sheet lined with aluminum foil or parchment paper. Bake for 20-25 minutes or until butternut squash is soft.

Bring together the rest of the salad ingredients to a large bowl – kale, mixed greens, sliced apples, sliced pear, feta crumbles, pecans and roasted butternut squash.

Drizzle with apple cider vinaigrette or serve it on the side. Enjoy!
Nutrition
Calories:
135
kcal
|
Carbohydrates:
17
g
|
Protein:
3
g
|
Fat:
7
g
|
Saturated Fat:
2
g
|
Polyunsaturated Fat:
1
g
|
Monounsaturated Fat:
3
g
|
Cholesterol:
8
mg
|
Sodium:
304
mg
|
Potassium:
287
mg
|
Fiber:
2
g
|
Sugar:
9
g
|
Vitamin A:
4963
IU
|
Vitamin C:
25
mg
|
Calcium:
89
mg
|
Iron:
1
mg