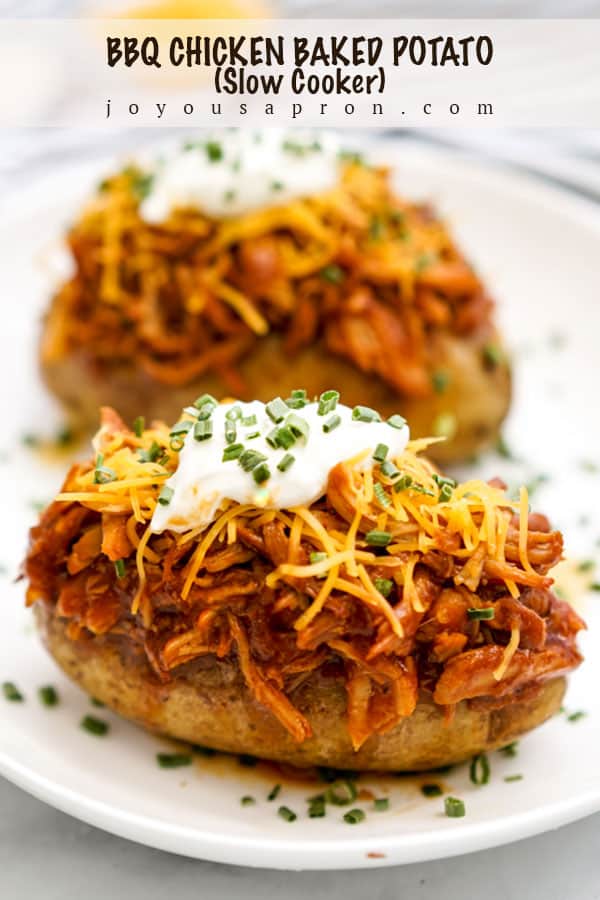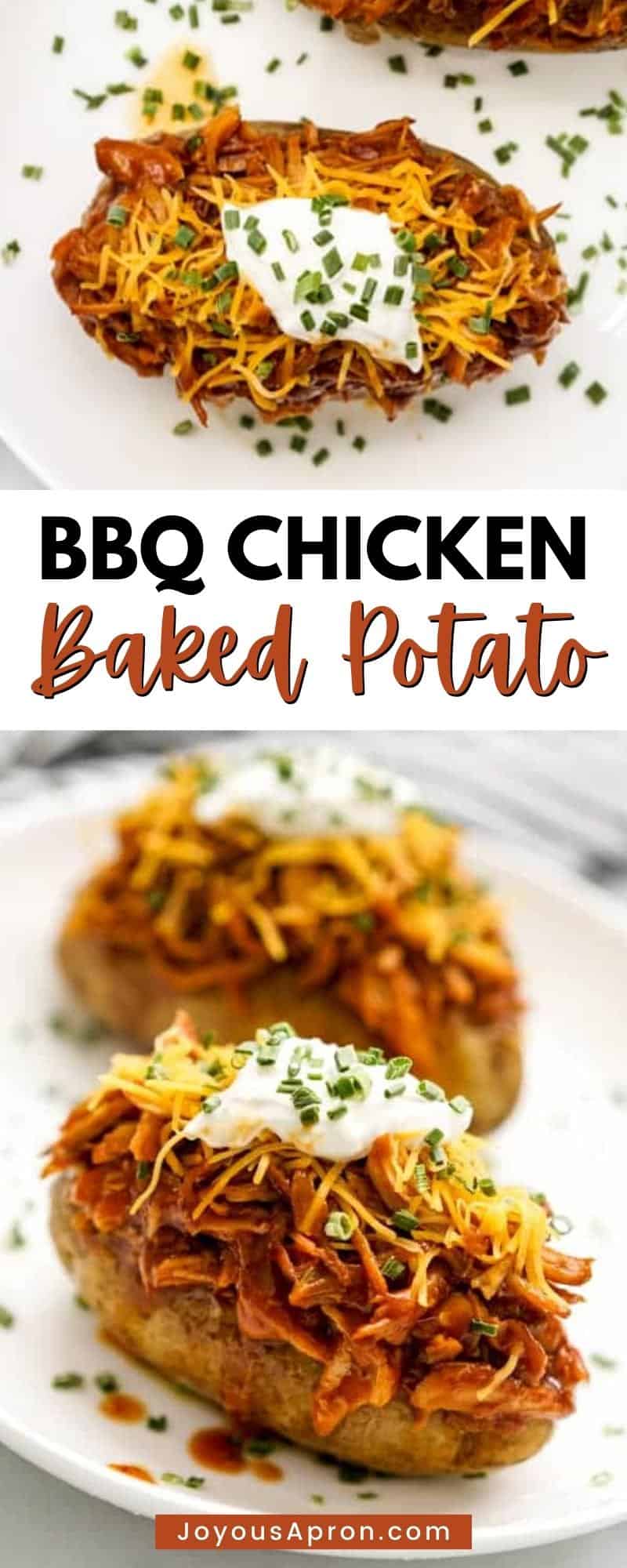 Oh hi hi…check out the new cool kid in town!
This BBQ Chicken Baked Potato is the hip and trendy modern-day meat-and-potato dish.
Baked russet Idaho® potato smothered with savory sweet saucy slow cooker BBQ chicken, cheddar cheese, sour cream, and chives. Jazz up your lunch and dinner menu with this fun and delicious make-ahead meal!
This is a sponsored post written by me on behalf of Idaho® Potato Commission. All opinions and texts are mine.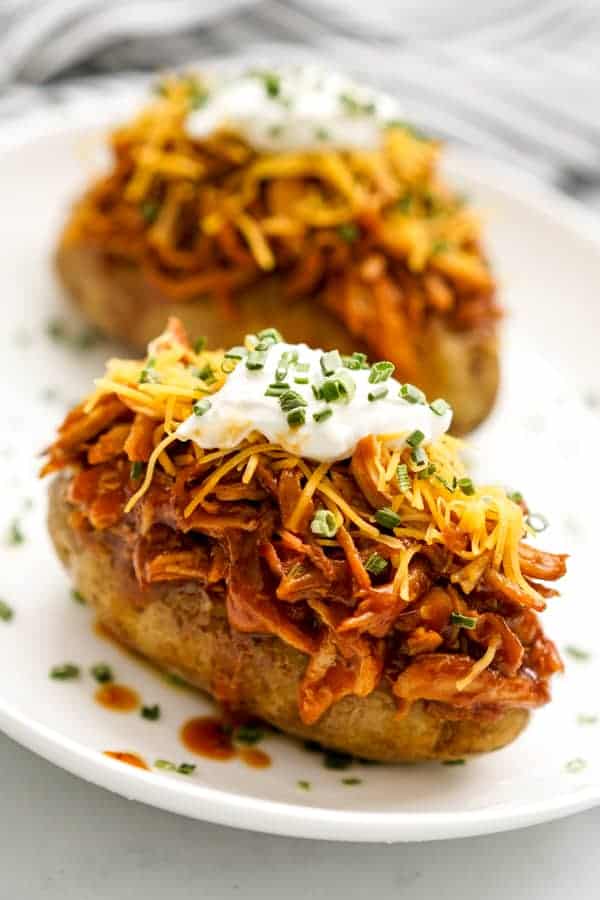 Bake those russet Idaho® potatoes in the oven. Bring boneless, skinless chicken breast and a few pantry friendly seasoning and spices into the slow cooker. Walk away, do the other five thousand and sixty nine things you need to do in the house, and BAM, lunch (or dinner) is ready!
Adults love it. Kids love it. I love it. You love it.
EVERYBODY loves it.
An easy lunch that you can make ahead!
Story of my life: I am always scratching my head wondering what in the world should I eat for lunch today.
Breakfast – I got it (favorite meal of the day). Dinner – I always have some ideas. But lunch – lunch is always a headache.
I get tired of eating the same thing over and over again. And it feels like lunch always creeps up on me amidst the busyness of the day. In the end I settle for whatever I can find in the fridge and it's typically under whelming.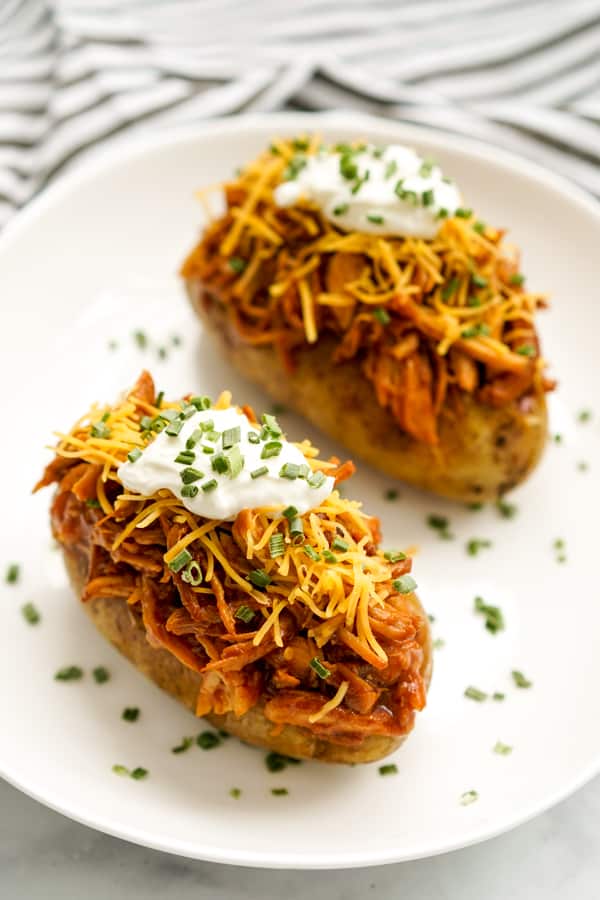 There were some baked potatoes lying around one time and I decided to pile on some toppings and call it 'lunch'.
I, of course, started with the obvious ingredients to add to baked potatoes – bacon, sour cream, cheese. But as much as I love my bacon, I wanted to try something different.
When I'm bored, I get creative.
And when I get creative, things start getting real yummy.
When I piled on saucy, sticky, sweet savory shredded BBQ chicken onto these potatoes, I thought heaven just burst into a song.
Mind-blowing. Delicious. WOW.
Not to mention – simple, low-touch, and so dang perfect to make ahead for busy days.
It felt like I hit the jackpot.
Not to be overly dramatic or anything, but lunches have not been the same ever since.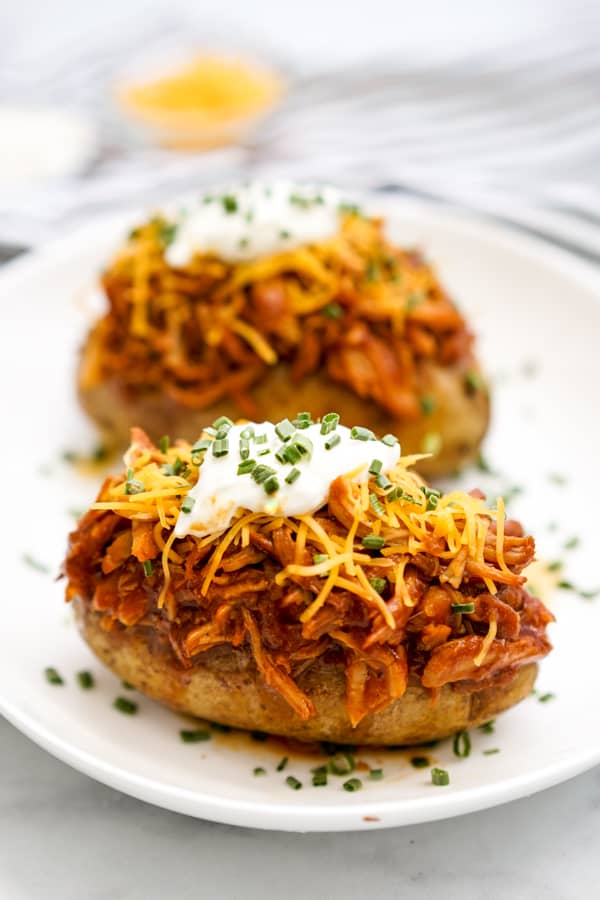 How to make BBQ Chicken in the Slow Cooker
As I mentioned, what I love about this meal is how simple it is. And just you wait. I'm about to prove that to you.
To make the BBQ chicken, add chicken breast to slow cooker or crockpot, along with these seasoning and spices:
Your favorite BBQ Sauce. I typically use this.
Brown Sugar – use less if your BBQ sauce is already sweet, or if you prefer a more savory BBQ flavor.
Liquid smoke – to give it that nice smokey flavor even though there is no real smoke involved.
Apple cider vinegar
Garlic powder
Cook on high for 3 1/2 hours, then shred chicken, and let it cook for another 10 minutes or so.
And that's it!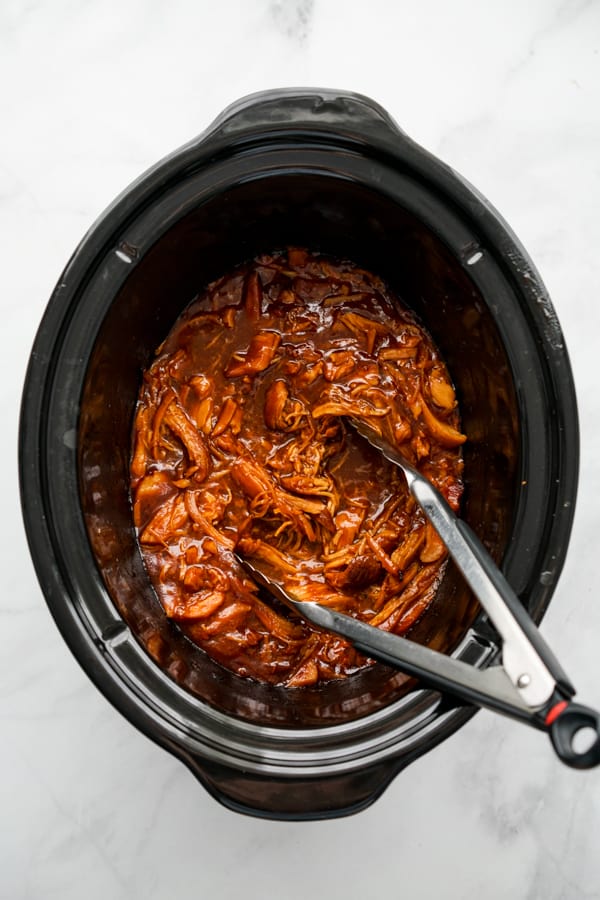 The best part is you spend about five minutes putting everything together and the slow cooker does the rest of the work.
How to bake potatoes in the oven
While chicken is still cooking in the crockpot, I make the potatoes simultaneously.
The good news is, this is also another low touch, cook-it-and-forget-it kind of cooking.
Wash and scrub russet Idaho® potatoes then place them on a baking sheet and bake for about an hour at 425℉.
No need to dry them because the slightly wet potato help retain the moisture and prevents potatoes from drying out.
When potatoes are done baking, cut them lengthwise into half and pile them with shredded BBQ chicken along with garnished such as:
Shredded cheddar cheese, or your favorite cheese!
Sour cream
Chives or green onions
Make ahead!
One of the best things about this meal is that you can absolutely make ahead both the Slow Cooker BBQ Chicken and the baked potatoes.
Store them in the refrigerator, and when you are ready to eat, microwave them and assemble.
You can freeze the BBQ shredded chicken and keep it for longer if you'd like, but avoid freezing the baked potatoes. I tried freezing baked potatoes and while they don't change the flavor, I find that potatoes get super water-y when defrosted.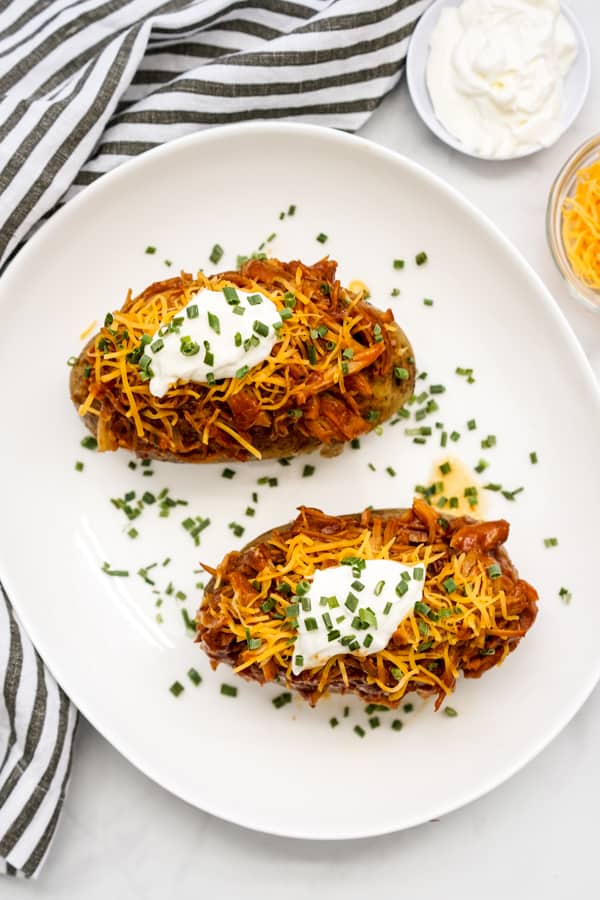 Time to say BUH-BYE to boring lunches (or dinner) and make this today! 💛
DID YOU ENJOY THIS RECIPE? Please comment below and give us a 5-star rating! This will help others find this recipe on Google and Pinterest. We very much appreciate your help! 🤍
More potato recipes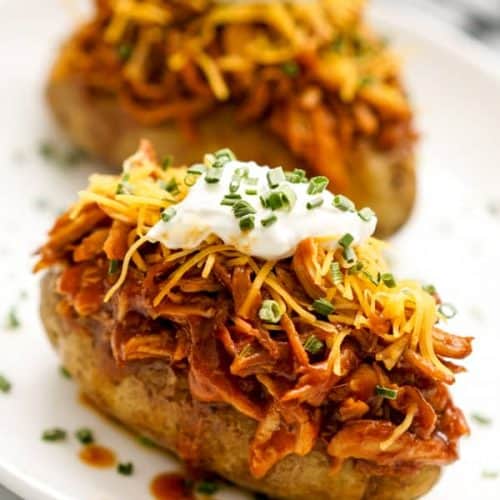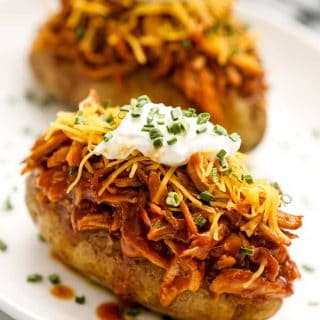 BBQ Chicken Baked Potato (Slow Cooker)
Delicious baked russet Idaho® potatoes topped with slow cooker shredded BBQ chicken, cheddar cheese, sour cream and chives. A quick and easy lunch or dinner that can be made ahead of time!
Print
Pin
Ingredients
3

lbs

chicken breast

2

cups

BBQ sauce

1/3

cup

brown sugar

2

tbsp

apple cider vinegar

2

tsp

garlic powder

2

tsp

liquid smoke

8

large russet Idaho® potatoes

1

cup

cheddar cheese

shredded

1/2

cup

sour cream

1/4

cup

chives

chopped
Instructions
Add chicken breast, BBQ sauce, brown sugar, apple cider vinegar, garlic powder and liquid smoke to the slow cooker.

Cook on high for 3.5 hours, or until chicken can be easily shredded.

Shred chicken using a fork, stir, cover and cook on high for another 10 minutes.

Preheat the oven to 425°F.

Wash potatoes and place them on a baking sheet. Bake for 55-60 minutes, or until potatoes are soft and can be easily pierced with a fork.

Cut potatoes into halves, then top with shredded BBQ chicken, cheddar cheese, sour cream and chives.
Nutrition
Calories:
584
kcal
|
Carbohydrates:
68
g
|
Protein:
48
g
|
Fat:
12
g
|
Saturated Fat:
6
g
|
Cholesterol:
131
mg
|
Sodium:
1428
mg
|
Potassium:
1606
mg
|
Fiber:
3
g
|
Sugar:
27
g
|
Vitamin A:
337
IU
|
Vitamin C:
15
mg
|
Calcium:
161
mg
|
Iron:
3
mg