Pico de Gallo Stuffed Avocado
I have so much LOVE for this delicious and fun creation. Pico de Gallo Stuffed Avocado, a.k.a. summer in food form.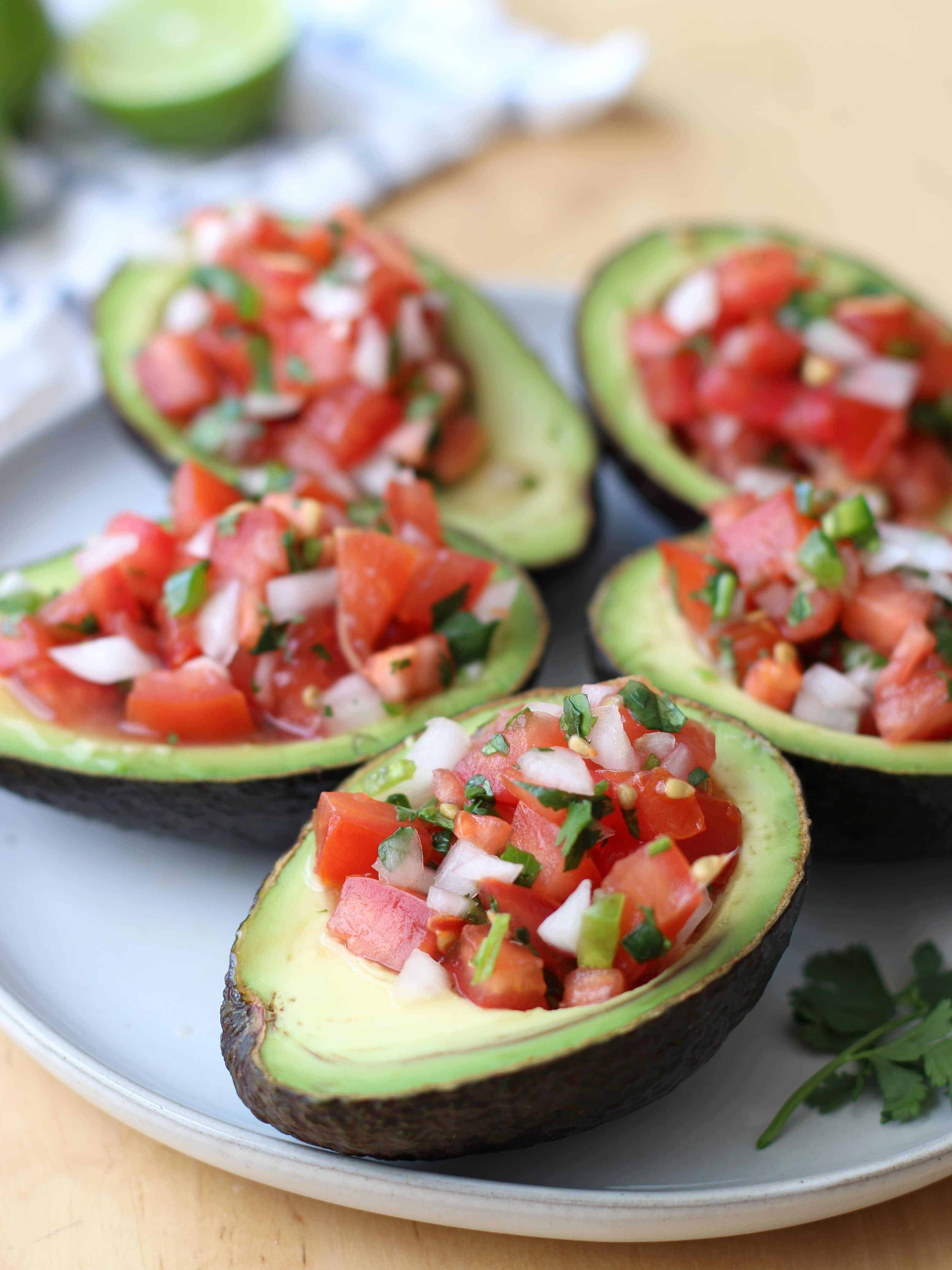 Healthy, flavorful, easy (15 minutes!!), and no cooking required. Because why bring on more heat during the summer?!
The perfect carb-free side or appetizer to your favorite Mexican dishes, burgers, grilled protein etc. A fun party dish as well.
Or grab a spoon and just dig into it whenever. Because it is THAT good.



And did I say healthy? This is vegetarian, vegan, paleo, gluten-free friendly. OH YEAH.
So, if you have been following me for a while, you should know I don't make everything super healthy all the time.
For example, this and this and this. Delish – always; Healthy – sometimes 😉 .
My main goal is to create delicious food, and when it also happens to be healthy, I do a little happy dance because killing two birds (healthy AND delicious) with one stone is also pretty awesome.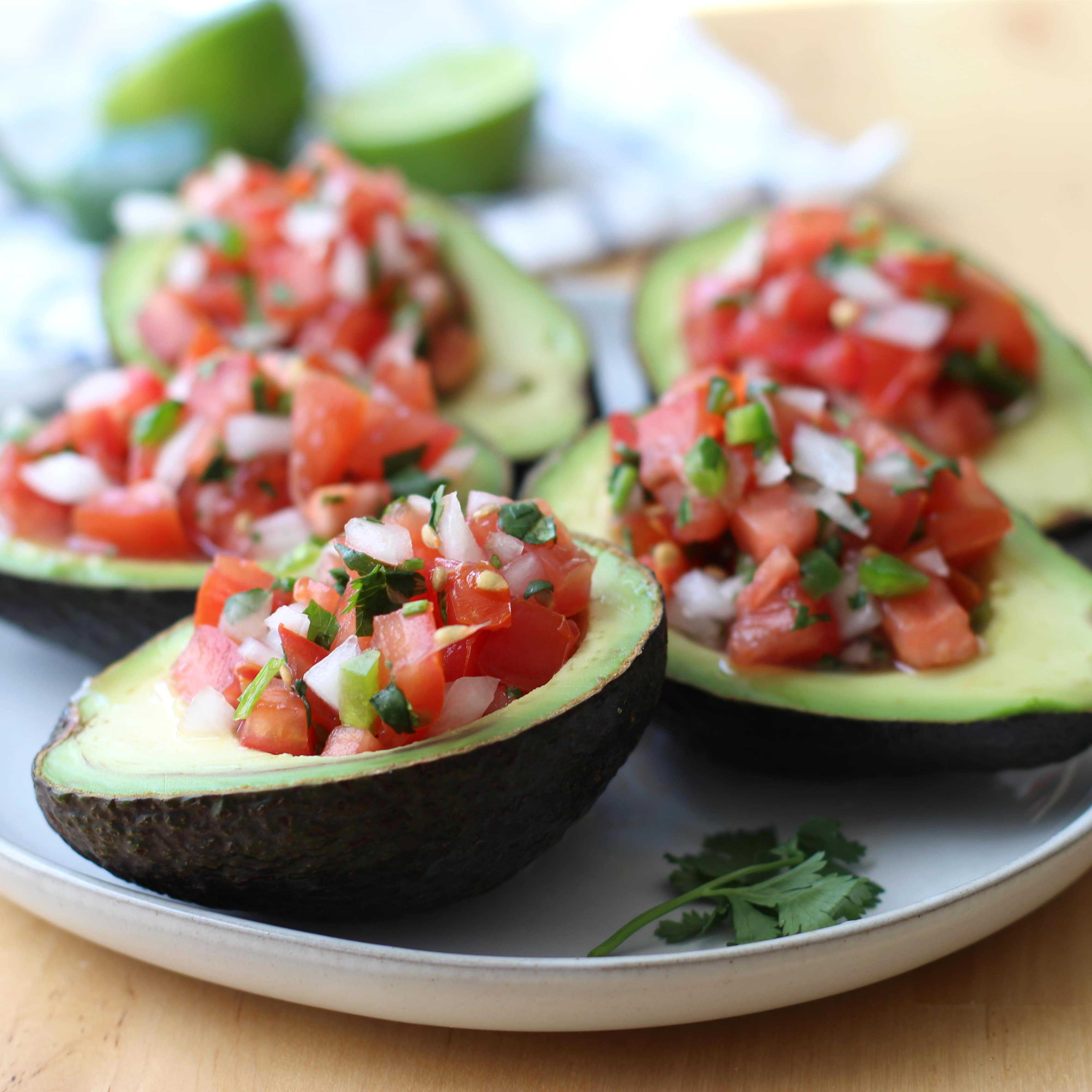 To start, put together the Pico de Gallo by combining diced Roma tomatoes, diced onions, minced cilantro, minced jalapeños (omit if you want it less spicy), freshly squeezed lime juice and a sprinkle of salt. Mix well.
Pro-tip on the tomatoes – I try to drain the juice from the tomatoes as much as I can after dicing it to avoid having too much liquid in the pico.
PICO LOVE right here.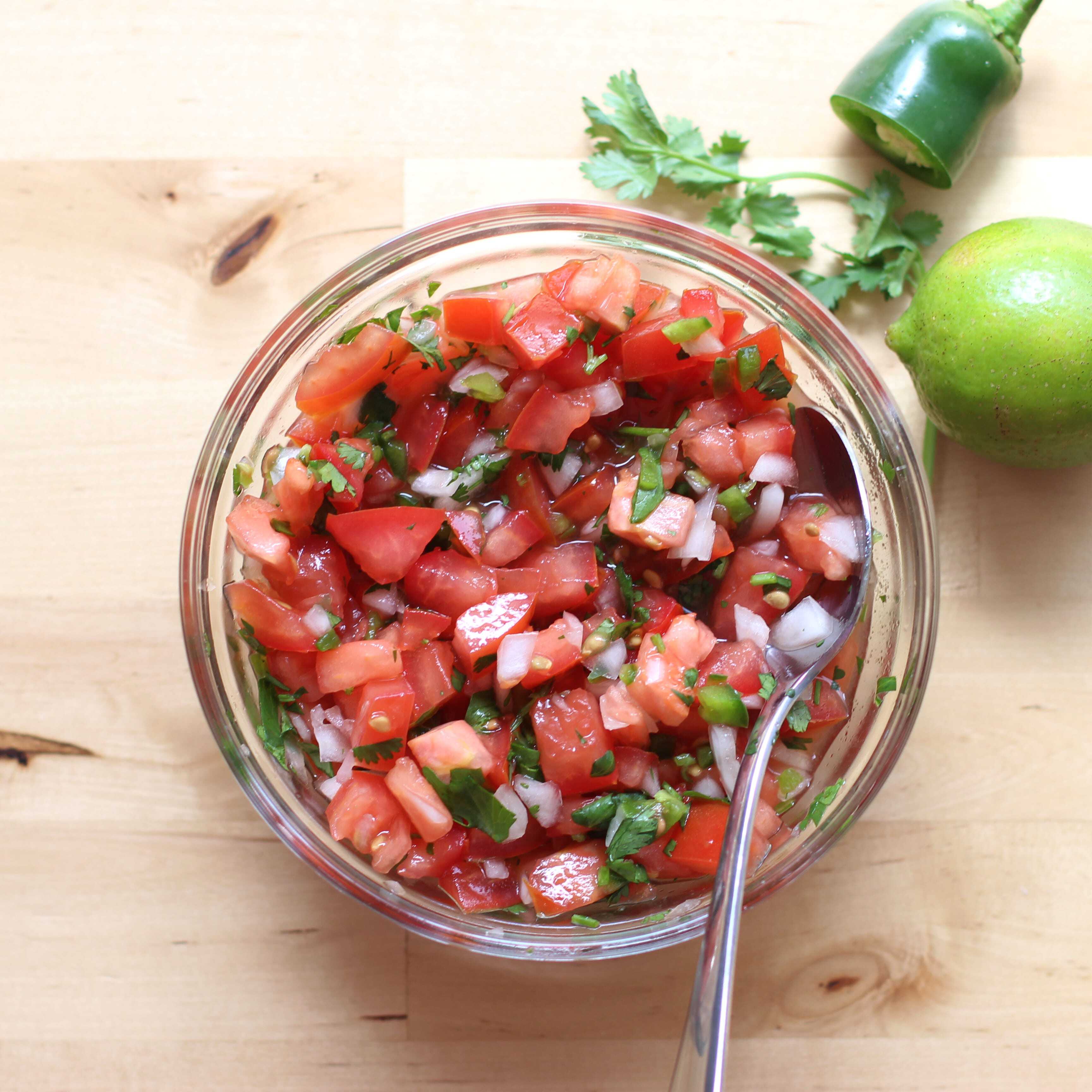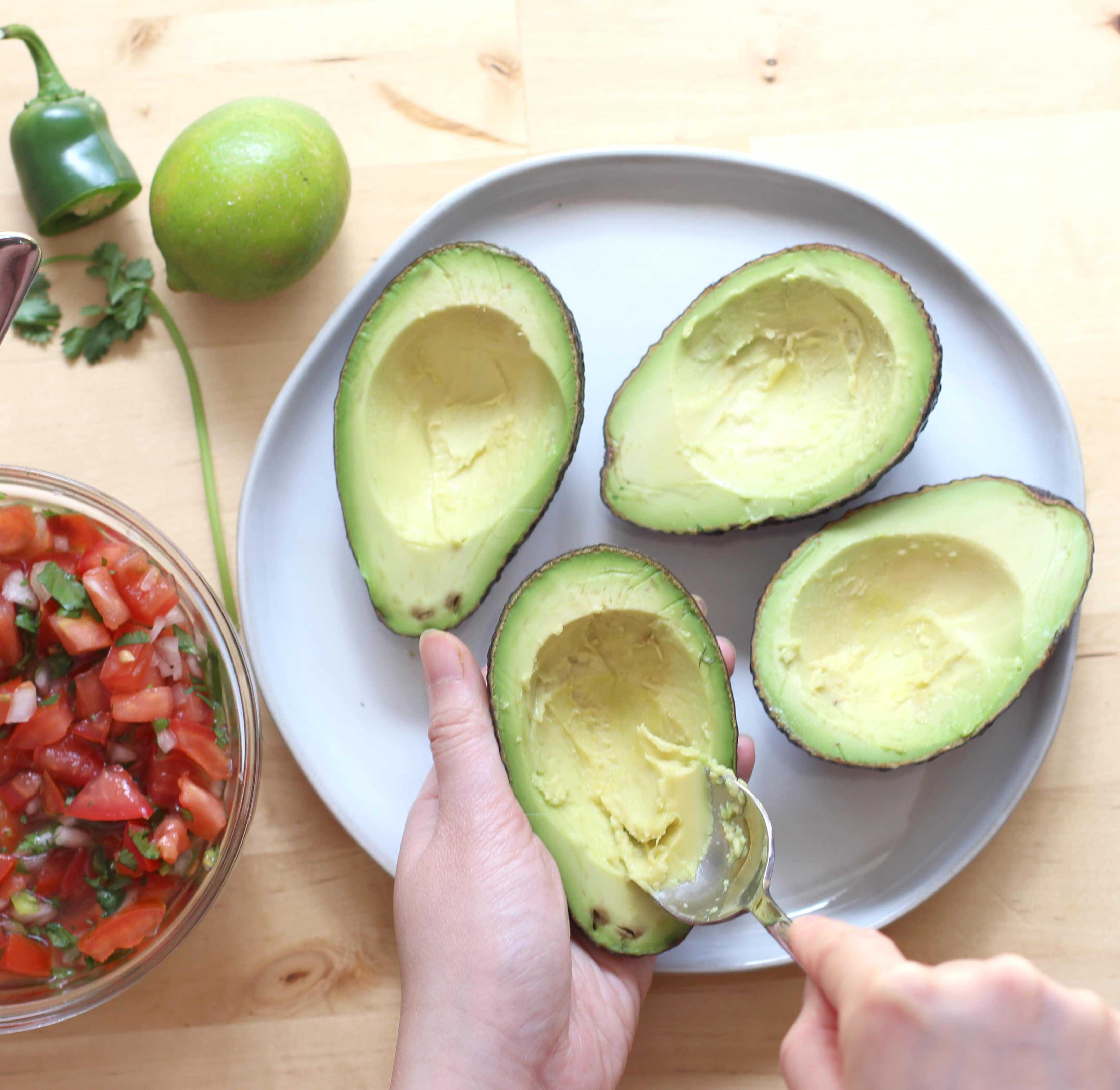 Next, cut the avocados into half and remove the seeds. Using a spoon, gently carve the sides of the oval where the avocado seed resided, to create a wider hole.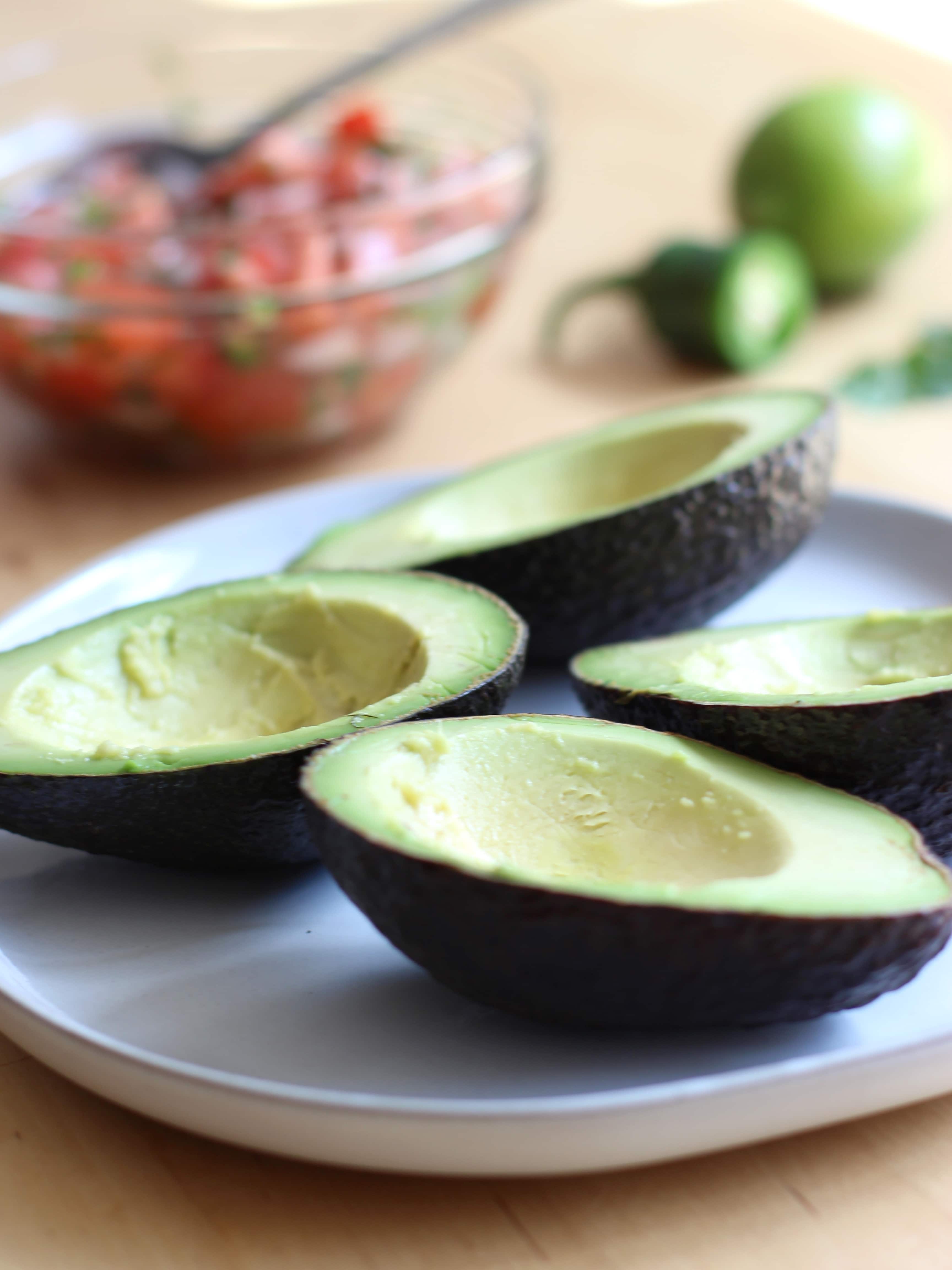 I don't typically dig the hole deeper, but just carve it to make it wider, to stuff more of those yummy Pico de Gallo into it.
Next, fill those beauties up with Pico de Gallo!
There will be some liquid in the pico (lime juice, some of the tomatoes). Don't worry about completely draining the pico before filling up the avocados. I actually like a little bit of the juice from the pico sitting in the avocado to infuse the avocado with some of the lime juice and other flavors.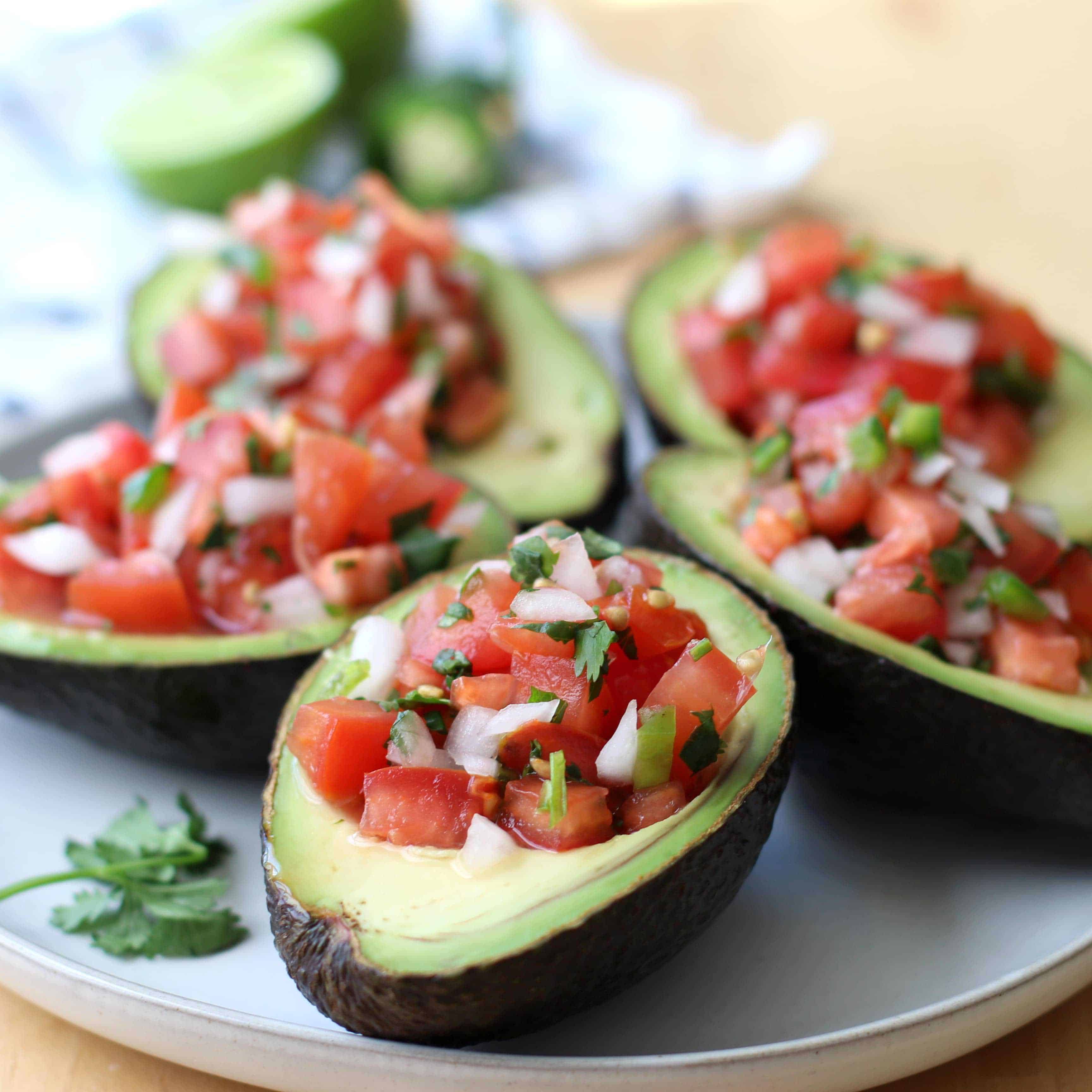 That's it! Super easy, and delicious. I love the crunchy texture of the veggies paired with the smooth texture of the avocados. The flavor palette is also great, with the citrusy lime and the slight kick from the onions and jalapeños.
Grab a spoon and dig in! Or, equally delicious, serve with some tortilla chips!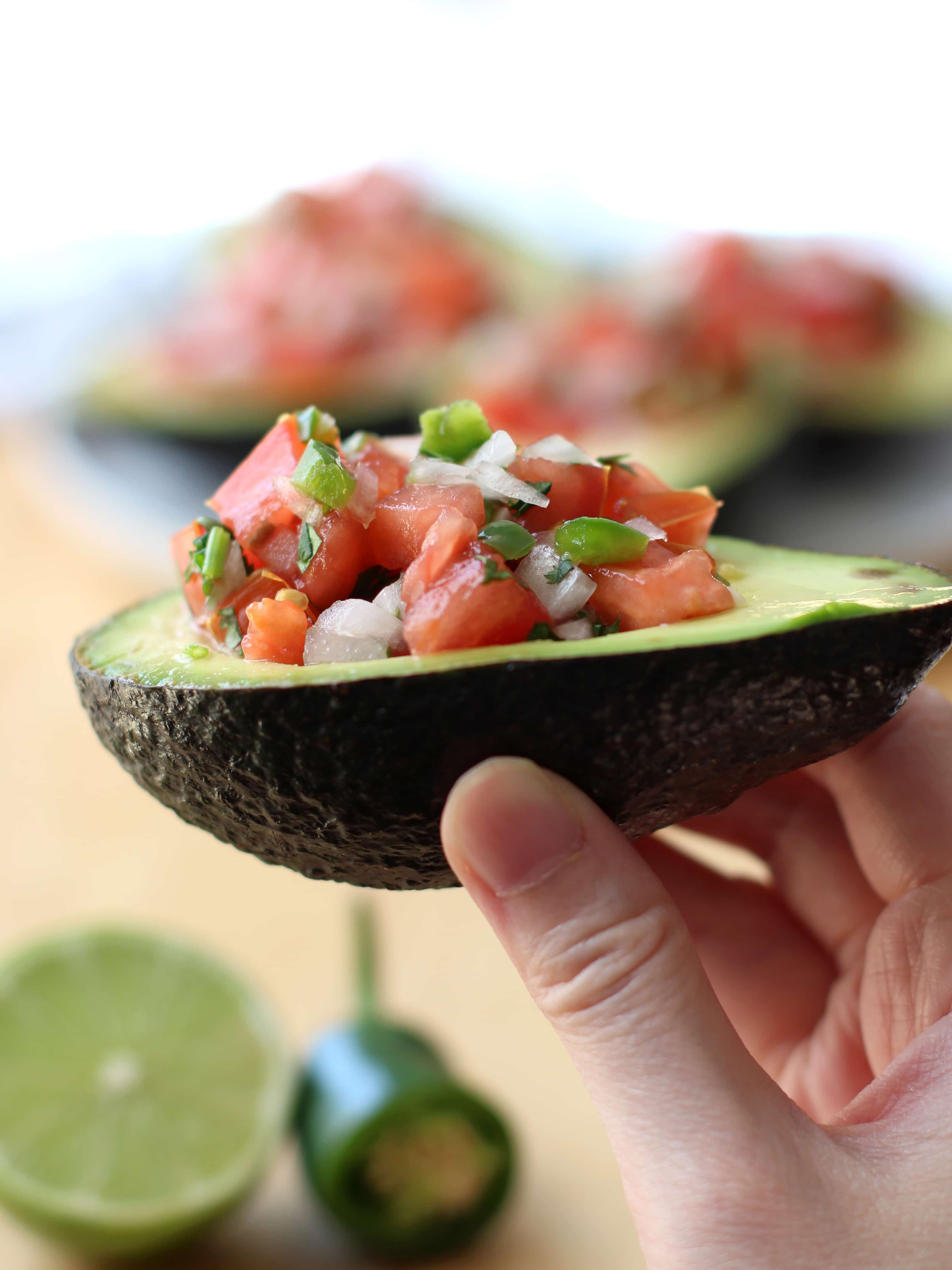 Have fun with this one!
Love a good Avocado Recipe?
We do too! Check out our other favorites!
Other Mexican Inspired Recipes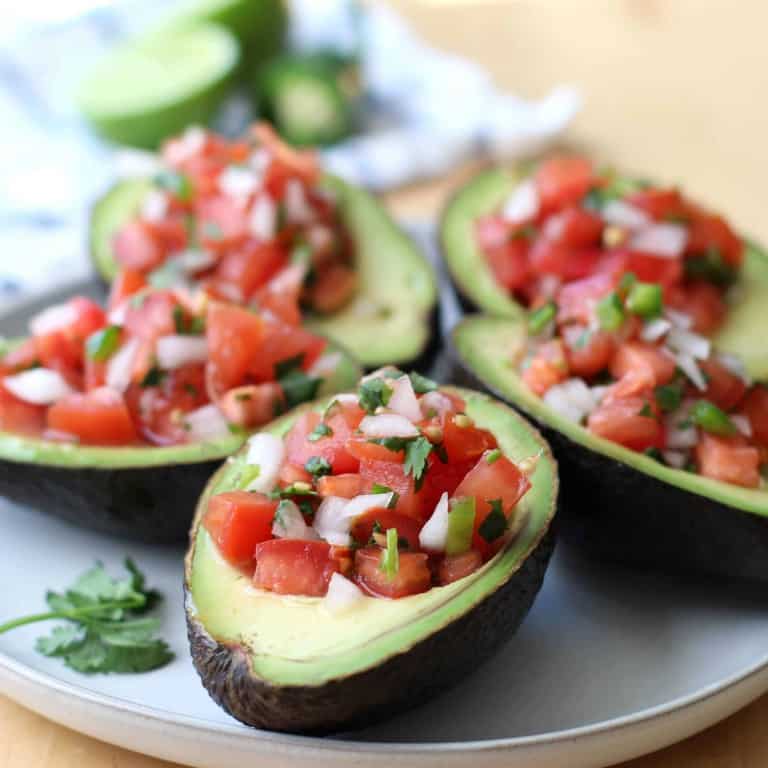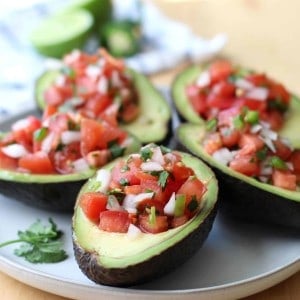 Pico de Gallo Stuffed Avocado
Pico de Gallo, crunchy and full of large flavors, is stuffed into creamy and smooth avocados, making this a delightful healthy side or party dish.
Print
Pin
Ingredients
2

Roma tomatoes

3

tbsp

diced onions

2

tbsp

cilantro

minced

1

tbsp

jalapeno

minced, optional

1

tbsp

lime juice

1/2

tsp

salt

3

avocados
Instructions
Dice tomatos and onions. Drain juice from tomatoes (optional). Mince cilantro and jalapeno.

In a bowl, mix diced tomatoes, diced onions, minced cilantro, and minced jalapeño. Sprinkle with lime juice and salt, and combine.

Cut avocados in half and remove seeds. Using a spoon, gently carve the sides of the oval hole (where the seeds resided) to make the hole larger (wider, not deeper).

Fill the avocados with pico de gallo.

Serve with your favorite main course, or consume by itself as a snack! Enjoy!
Nutrition
Calories:
168
kcal
|
Carbohydrates:
10
g
|
Protein:
2
g
|
Fat:
15
g
|
Saturated Fat:
2
g
|
Polyunsaturated Fat:
2
g
|
Monounsaturated Fat:
10
g
|
Sodium:
202
mg
|
Potassium:
554
mg
|
Fiber:
7
g
|
Sugar:
2
g
|
Vitamin A:
356
IU
|
Vitamin C:
17
mg
|
Calcium:
16
mg
|
Iron:
1
mg