Easy Baked Orange Chicken
This Baked Orange Chicken is an easy, healthier and yummier take on the popular Chinese takeout. Crispy chicken pieces are breaded and oven baked, then coated in a sticky, tangy homemade orange sauce using orange marmalade.
Yes, these baked orange chicken is indeed baked, not fried. But I promise you, it's just as crispy and delicious! Say goodbye to grease takeout dishes!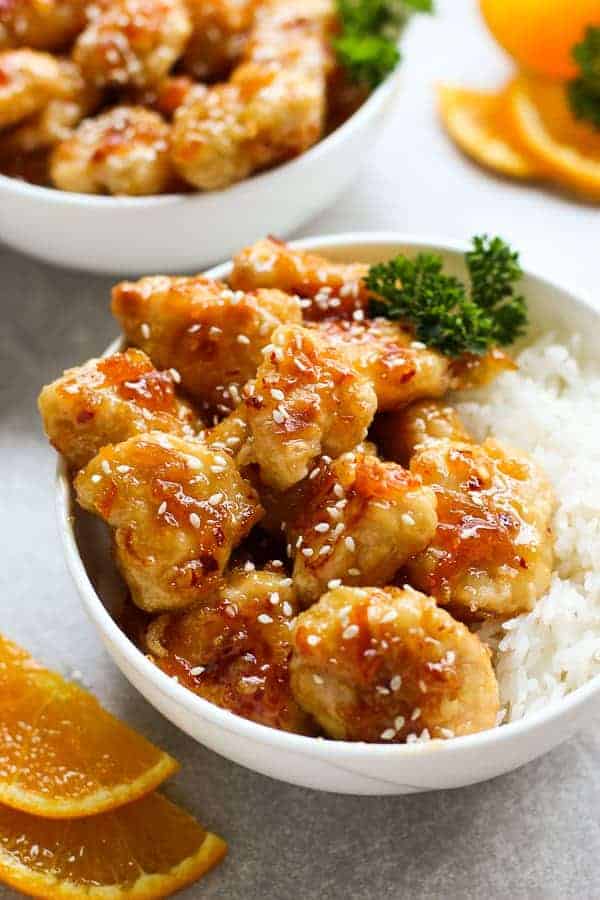 Oven Baked Orange Chicken
Orange chicken is definitely one of those staple dishes that you can find in pretty much any Chinese restaurant in the United States. They may not be an authentic Chinese recipe, but gosh they are good!
I love everything about Orange Chicken, and started making my own baked orange chicken version at home that is healthier and doesn't require deep frying that chicken in a pot of oil.
The inspiration for this Baked Orange Chicken is none other than Trader Joe's famous Orange Chicken. They have a great frozen version that we buy frequently and toss in the oven for quick meals.
When I started baking those yummy baked orange chicken, I knew I could make it at home and make it just as tasty.
These chicken may be baked, but they are juicy on the insides, and truly crunchy on the outsides. They are coated in this tangy sweet orange sauce that uses only a few ingredients and are truly delicious.
And I don't want to brag and all that…but dang, this oven baked orange chicken recipe is so good we rarely get orange chicken takeout anymore. It's much cheaper, healthier and tastier making them at home!
Ingredients
To make these baked orange chicken, here are the ingredients you will need. Good news is: they are easy to find!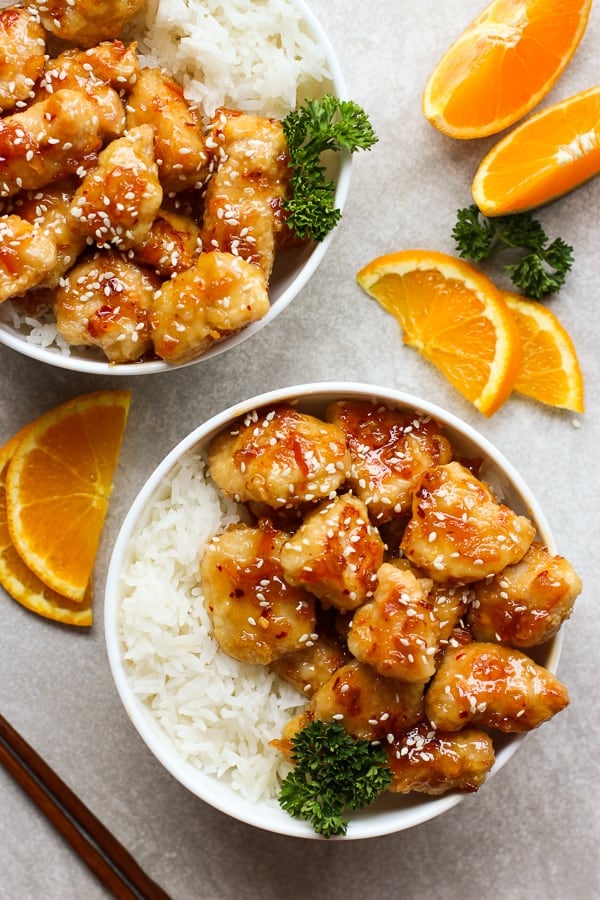 boneless skinless chicken breast – cut into small 1-inch pieces. You can also use chicken tenderloins or chicken thighs.
orange marmalade – I use Smucker's but have used other brands and they work great as well. Using orange marmalade makes making the orange sauce for our baked orange chicken much more straightforward and just as tasty!
egg – used to make sure breading sticks to the chicken pieces
all purpose flour – for breading chicken
cornstarch – for breading chicken
soy sauce – good old regular soy sauce that goes into the orange sauce
garlic – I mince fresh garlic but in a pinch, garlic powder works as well

red pepper flakes

– gives the orange sauce an extra kick
My goal when creating this Baked Orange Chicken is to use minimal ingredients but also just enough to make it very tasty and not lacking in flavor. Trying to keep this simple yet very yummy!
How to make Baked Orange Chicken
Step 1: Bread chicken
To make Baked Orange Chicken, the first thing I do is prepare the coating for the chicken. You will need two separate bowls to bread the chicken.
Grab a flat bowl, add flour, cornstarch and salt, and mix well
Grab another bowl and whisk one egg
Cut a defrosted chicken into smaller cubes. Pat dry chicken to remove all excess water.
Dip cubed chicken into the egg mixture, coat all over, and then coat multiple times in the flour mixture.
I coat it in flour mixture at least 3-4 times to get a nice, thick coat of flour on the chicken.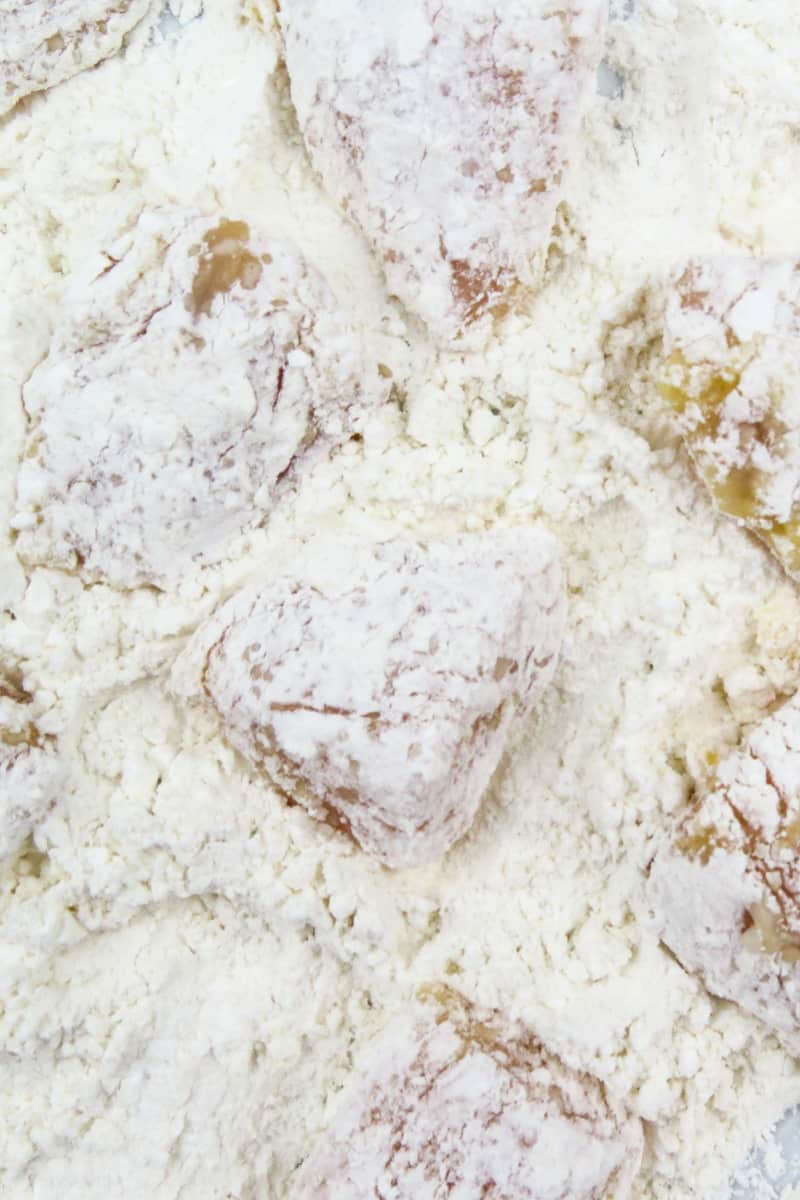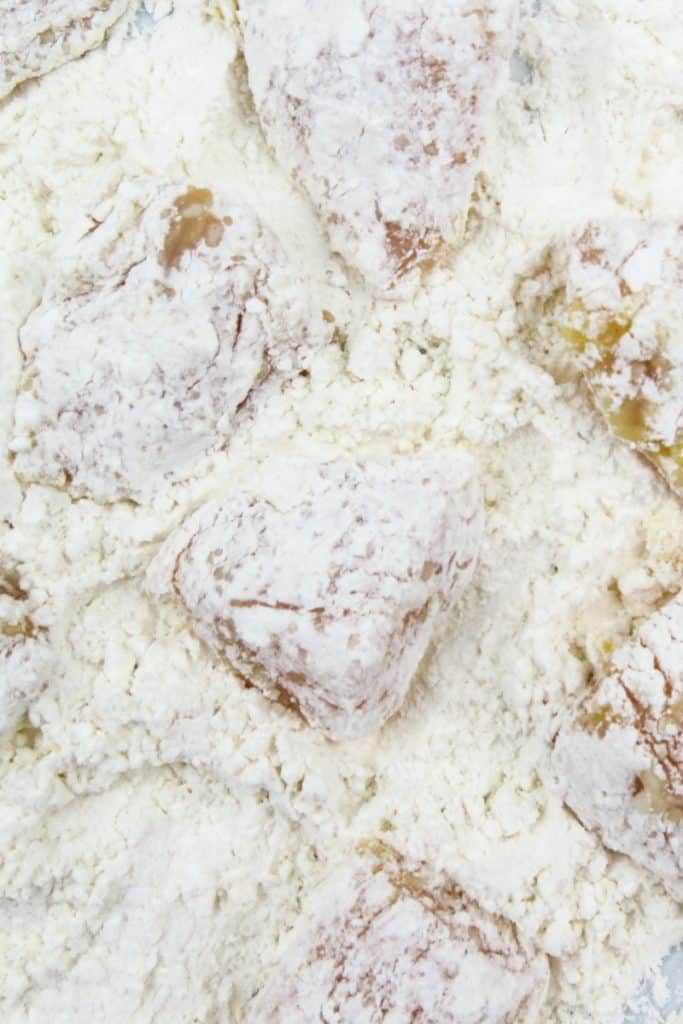 Depending on the size of the bowls you use, you can throw many pieces of chicken into the egg mixture at once instead of doing it one at the time. You do want to make sure each piece of chicken is coated evenly with the flour mixture.
Typically I use one hand to work on the egg mixture and another hand (with a spoon) to work on the flour mixture. This way I keep one hand wet and another dry. Wet hands on flour mixture can be tricky.
Step 2: Bake chicken
Once chicken pieces are breaded, line a large baking sheet with aluminum foil and spoon 2 tablespoons (or more if needed) of vegetable oil onto parchment paper and brush all over evenly. You can use cooking oil spray as well if you have it.
I use aluminum foil for easy cleanup, but you can also place chicken directly on the baking sheet.
From my experience, it can be very challenging removing the chicken pieces from the aluminum foil/baking sheet if you skimp on the oil. So be generous with it!
Bake for 15 minutes at 400℉, remove from oven, use a pair of tongs flip chicken, and bring baking sheet back to oven and cook for another 15 minutes.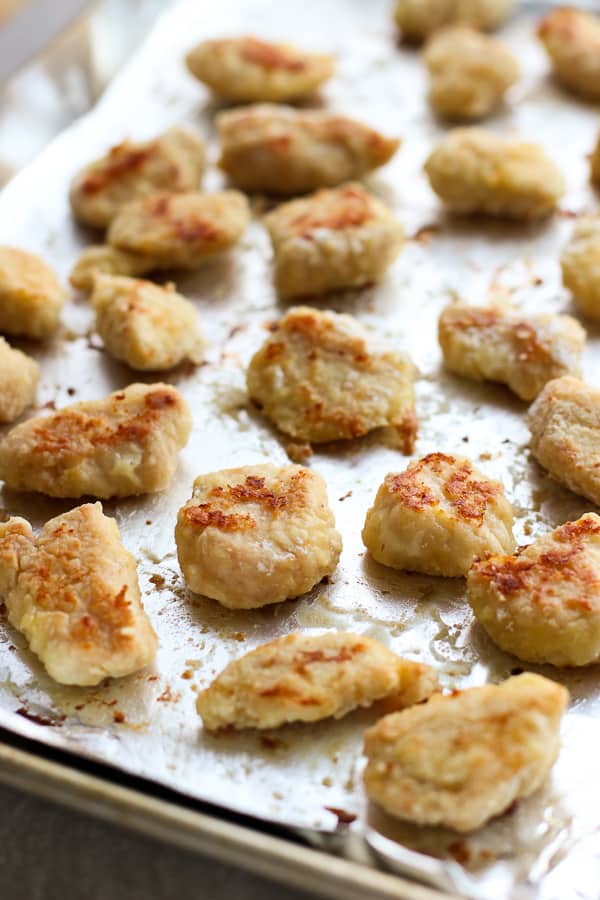 Once chicken is done, it should be slightly golden brown and crispy.
Remove chicken promptly from baking sheet into a large bowl.
Step 3: Make Orange Sauce
While chicken is baking in the oven, I like to start making the orange sauce that will coat the crispy baked chicken.
I love my orange sauce, both how yummy it tastes and also how easy it is to make it. A good sauce is so important and it makes this baked orange chicken what it is!
In a small pot, combine orange marmalade (I used Smucker's brand), soy sauce, minced garlic and a tiny bit of red pepper flakes. If you like it spicier, you can add more red pepper flakes.
Bring to boil under medium low heat.
Once it boils, keep boiling on low heat for 4-5 minutes to slightly thicken sauce. Keep stirring the whole time and keep it under low heat to prevent sauce from burning.
Remove from heat once sauce is done.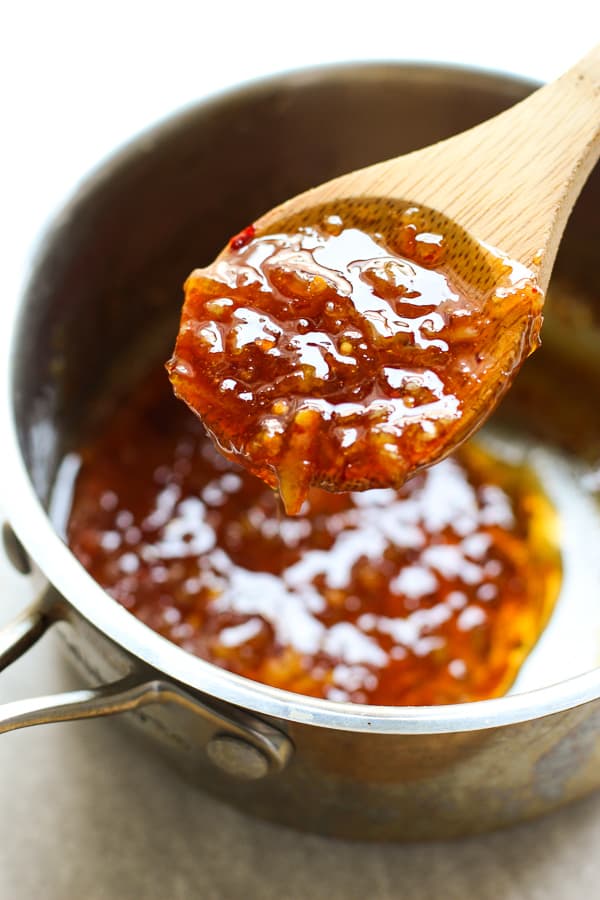 Step 4: Combine and serve!
Add orange sauce to bowl with baked chicken and toss to coat chicken evenly.
And that's all there is to it! Hello, Baked Orange Chicken!
Serve Orange Chicken immediately so it is still nice and crispy while coated in that sauce.
If Baked Orange Chicken sits too long in the sauce, it'll get soggy and less crispy. Now while the texture isn't as great, it's still gonna be super tasty.
How to Serve this
I highly recommend serving Baked Orange Chicken with some white, brown rice or fried rice.
Rice works great with Orange Chicken because it soaks up all that yummy sauce and complements that tangy sweet savory flavors so very well.
Vegetable side dishes, appetizers or soups are also yummy ways to compliment Baked Orange Chicken. Here are some of my favorites: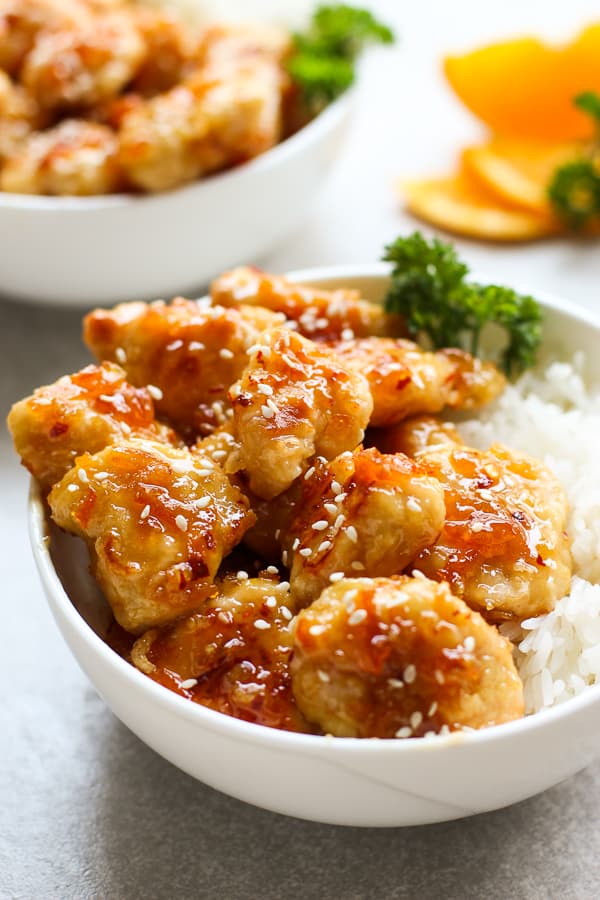 Storage and Reheating
Baked Orange Chicken is best served immediately.
For best taste, store the chicken and orange sauce separately, and then heat chicken in the oven to crisp it up before tossing it in sauce.
Personally, I think it's still yummy if you toss chicken in sauce, store and microwave to reheat. Baked Orange Chicken just won't be as crispy as it would be fresh off the oven.
Frequently Asked Questions
Can I make Baked Orange Chicken with chicken thighs and/or chicken tenderloins?
Yes! As long as they are boneless/skinless, cook temperature and time should be the same.
How do I make my chicken crisper?
1) Make sure chicken is pat dry before coating in breading. Access water can make chicken pieces soggy.
2) Grease baking sheet generously. Whether we like it or not, oil will help crisp up the chicken!
3) Cook at a high temperature for a little bit longer if needed. If you try 1) and 2) and chicken is still not crispy, go ahead and bump the temperature up slightly and cook chicken longer.
DID YOU ENJOY THIS RECIPE? Please comment below and give us a 5-star rating! This will help others find this recipe on Google and Pinterest. We very much appreciate your help! 🤍
More Asian Recipes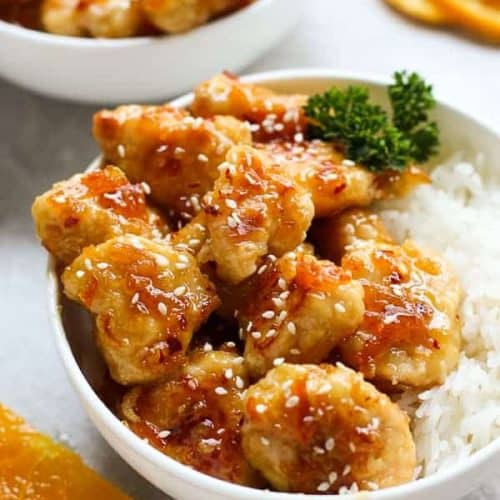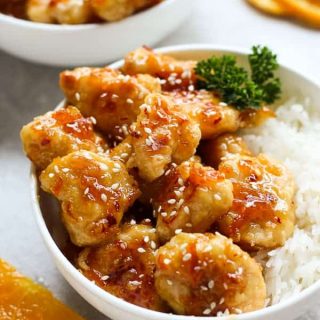 Easy Baked Orange Chicken
Baked, not fried! Crispy on the outside and soft and warm on the inside, these white meat chicken pieces are coated with sweet and tangy orange sauce. Serve with warm rice. So good!
Print
Pin
Ingredients
1

lbs

chicken breast

1

egg

1/3

cup

flour

1/4

cup

cornstarch

1

tsp

salt

1/2

cup

orange marmalade

1

tbsp

soy sauce

2

cloves

garlic

1/4

tsp

red pepper flakes

more if desire

~2

tbsp

vegetable oil

more if desire
Instructions
Pre-heat oven to 400 degrees F

Cut chicken into cubes. Pat dry to remove all excess water.

In a flat bowl, combine flour, cornstarch and salt. Mix well

In another bowl, whisk one egg

Coat chicken pieces with egg mixture and then flour mixture. Coat one by one in flour mixture. Generously coat each piece in flour mixture at least 3-4 times.

Line baking sheet with aluminum foil. Spoon 2 tbsp or more vegetable oil onto aluminum foil and brush evenly all over. Ensure there is a thin layer of vegetable oil all over to help with easy removal of chicken pieces when baking is completed. Place chicken, without overlapping or touching, onto lined baking sheet.

Bake in the oven for 15 minutes, then remove baking sheet from oven, and flip every chicken piece over. Bring back into the oven and bake for another 15 minutes.

While waiting for chicken to bake, add orange marmalade, minced garlic, soy sauce and red pepper flakes into a small pot. Bring it to boil on medium low heat, then cook on low for a few minutes, stirring continuously, until sauce thickens slightly. Remove from heat.

Once chicken is done, move chicken promptly from baking sheet to a large bowl. Add orange sauce to bowl and toss chicken in sauce.

Serve with white or brown rice. Enjoy!