Chicken and Spinach Manicotti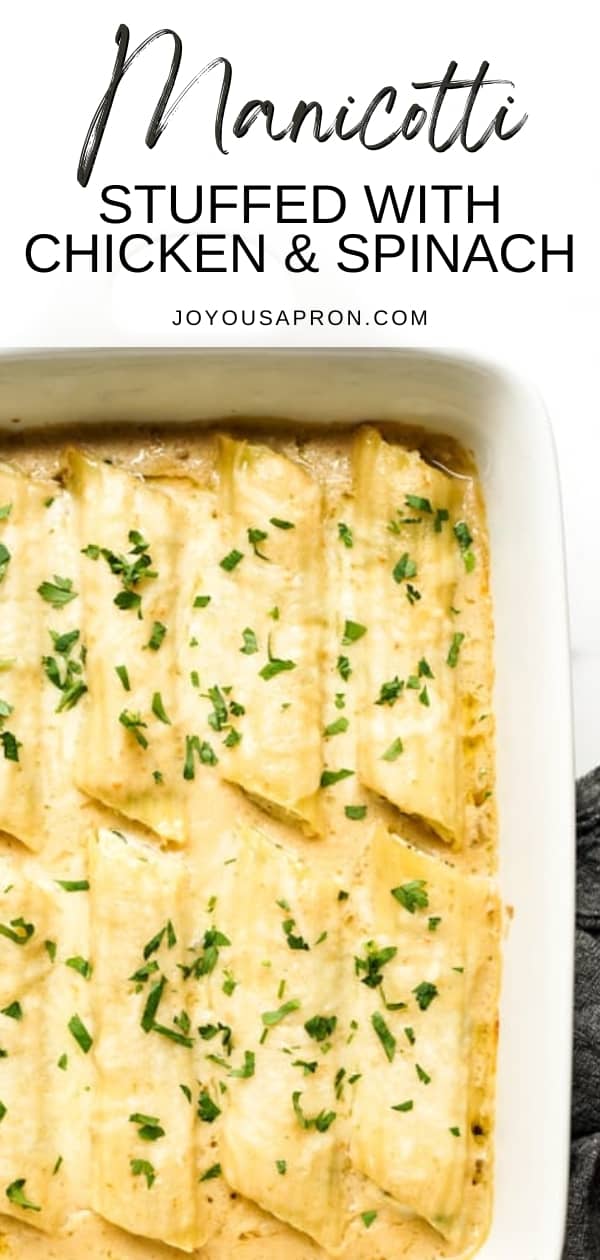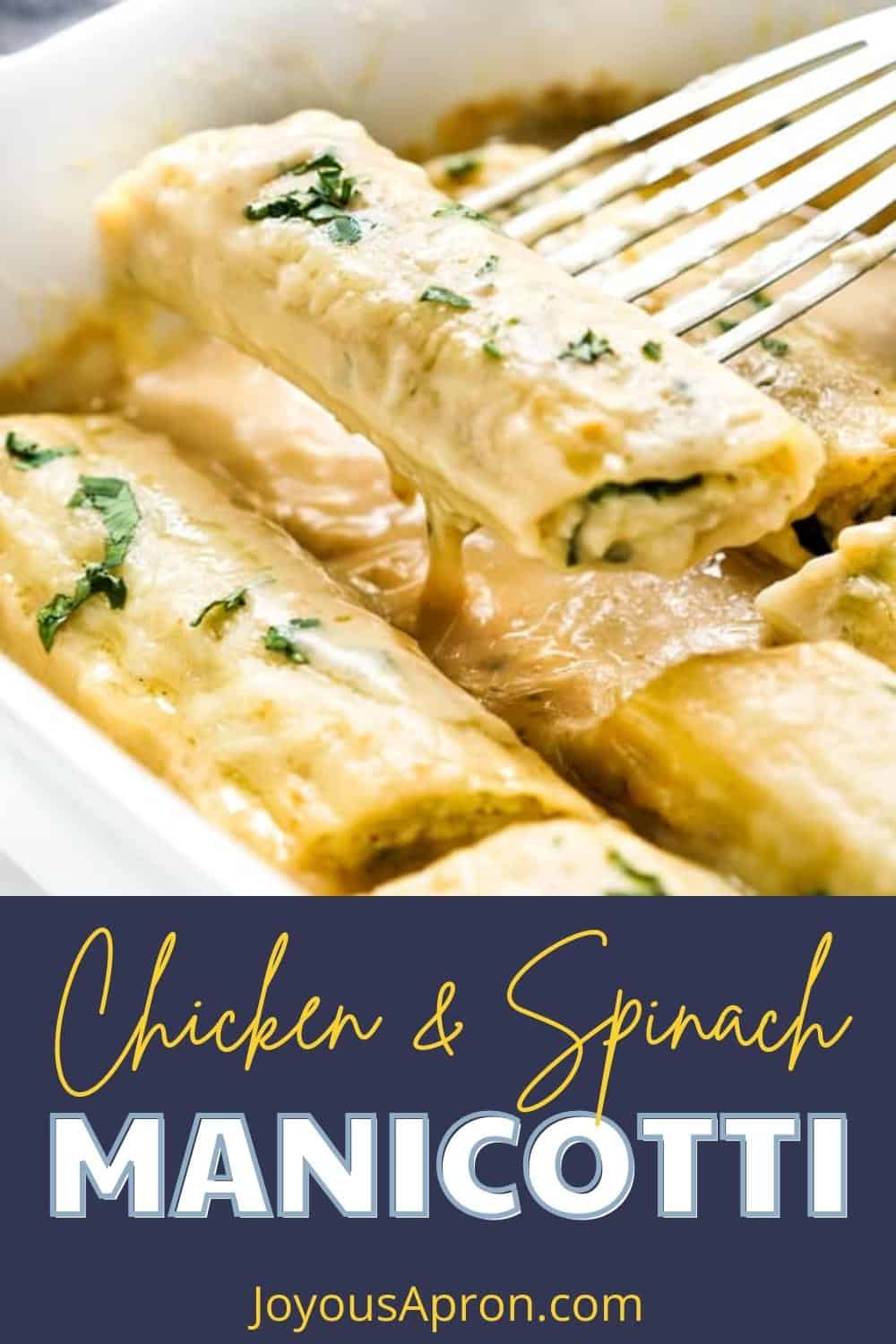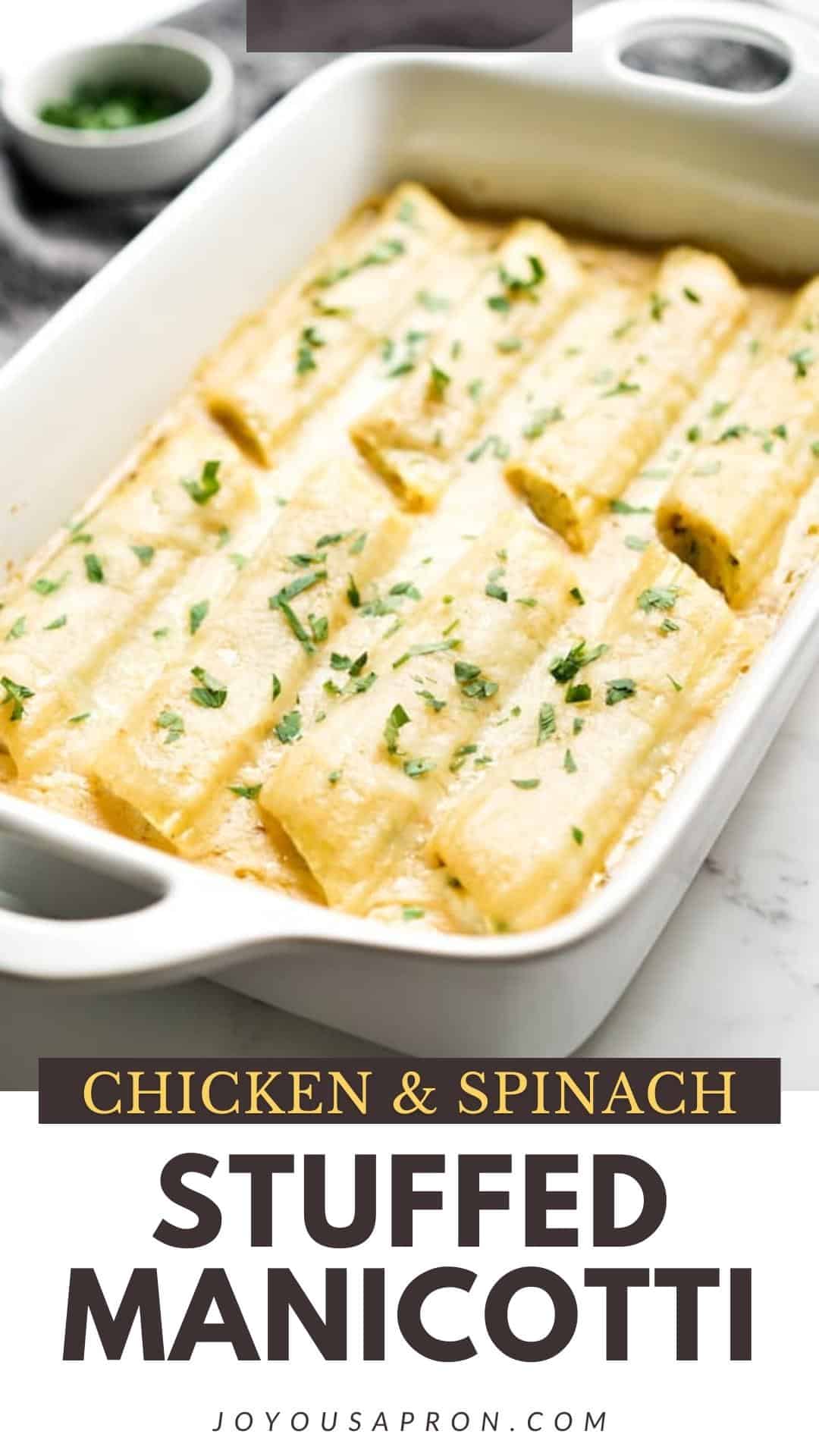 Chicken and Spinach Manicotti is a rich and hearty baked pasta dish loaded with chicken, spinach, ricotta, parmesan, mozzarella cheese and herbs, then smothered with creamy Alfredo sauce and topped with more mozzarella cheese.
This recipe will remind you of Maggiano's and Olive Garden's popular Chicken and Spinach Manicotti dish. It's truly Italian comfort food at its best.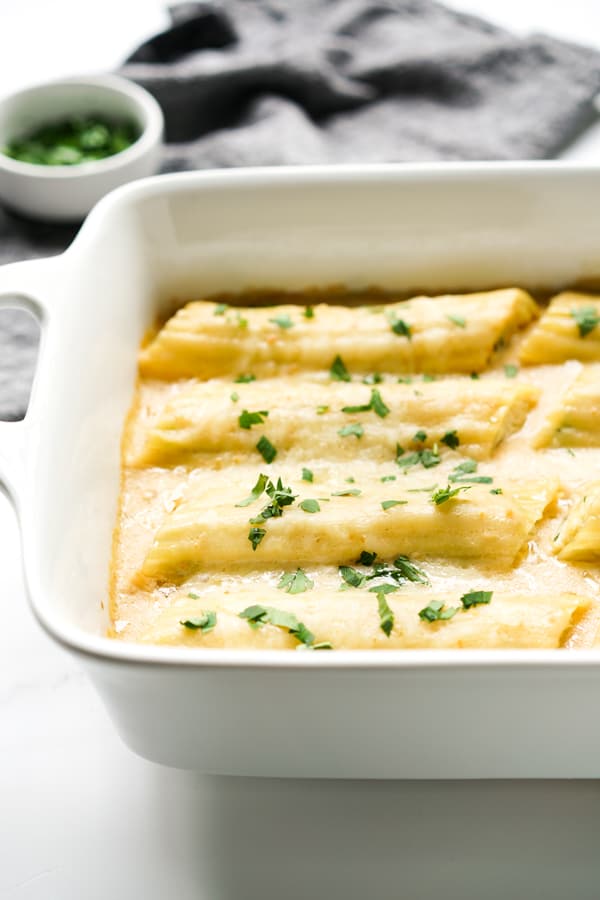 Chicken Spinach and Ricotta Stuffed Manicotti
If you are looking for heart-warming, soul-soothing comfort food, you will love this Chicken and Spinach Manicotti.
Manicotti is such an underrated pasta. It is in a long tube form, and you can stuff all your favorite stuffings in it. Kinda like a stuffed (instead of layered) lasagna.
I love stuffing manicottis with this delicious combination of creamy chicken, spinach, cheese and herbs. This stuffing is rich and creamy, and packed with a ton of flavor.
After stuffing our manicottis, we smother them in white Alfredo sauce, top with even more cheese, and baked it in the oven. In a way, this is kinda like our much loved Creamy Spinach Chicken recipe, in a mashed-up/stuffed-up/pasta form.
This Baked Chicken and Spinach Manicotti is a well loved recipe in our household and among our friends. Everyone who has tried it goes gaga over it!
It's a great dish to make for dinner parties because it looks like fancy, like you actually put in some effort to bring it all together, and yet it's really not that hard to put together. And obviously, it's delicious.
You are about to fall in love with my Chicken Spinach Manicotti. Mark my words! 🙂
Ingredients
You'll be surprised by the short list of ingredients need to make this delicious Chicken and Spinach Manicotti: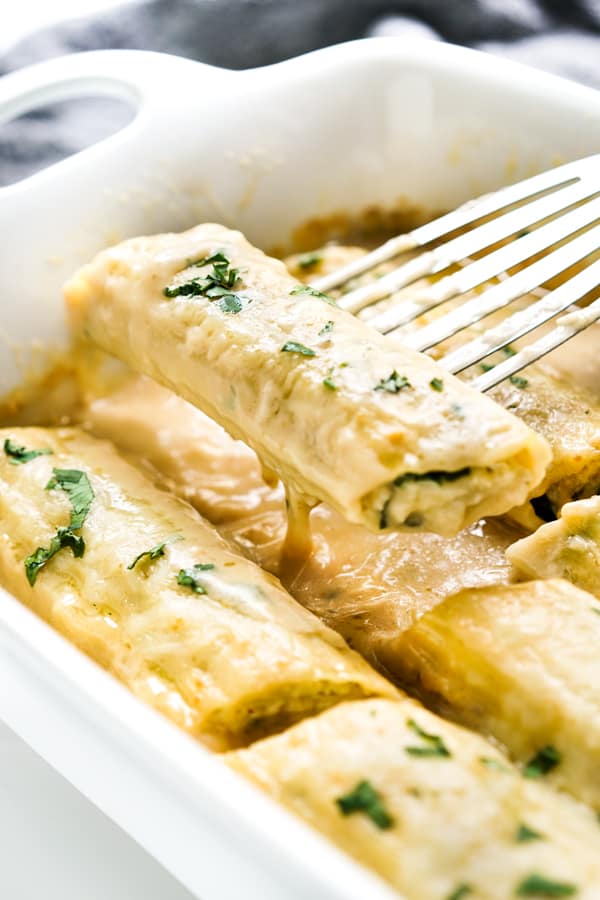 manicotti pasta – comes in tube form
chicken – I love using canned chicken breast in this because the chicken is already broken into pieces and so easy to use, but you can also use shredded rotisserie chicken, leftover chicken, or boil/bake chicken breast and shred it. I get Costco's canned chicken breast and use two cans for this recipe, and it's perfect.
spinach – I like using fresh spinach leaves, but frozen works too. When using fresh spinach, I cut them into smaller pieces. If using frozen spinach, be sure to get rid of all the moisture so you don't add access moisture to your chicken spinach stuffing mixture. In my opinion, fresh spinach is just much easier to use.
ricotta cheese – use fat free ricotta if you prefer your Chicken Spinach Manicotti stuffing lighter.
mozzarella cheese – shredded. Use low fat for a lighter stuffing.
parmesan cheese – grated or shredded
garlic cloves – minced
oregano – dried oregano works great
basil – dried basil works great, but if you happen to have fresh basil at hand, use that!
Alfredo sauce – get good quality Alfredo sauce – it makes a difference! If you have time, make your own homemade Alfredo sauce!
parsley – as garnish
How to make Chicken Spinach Manicotti
Don't be intimidated by making this Chicken Spinach Manicotti! Let's go through it step-by-step instructions and you'll see that it is totally doable, and you are going to thank me later because the end product is so yummy!
Step 1: Boil pasta
I like to boil the manicotti pasta first to let the pasta cool slightly before stuffing them. It's just so much easier to stuff them when manicotti is not fresh out of the boiling water.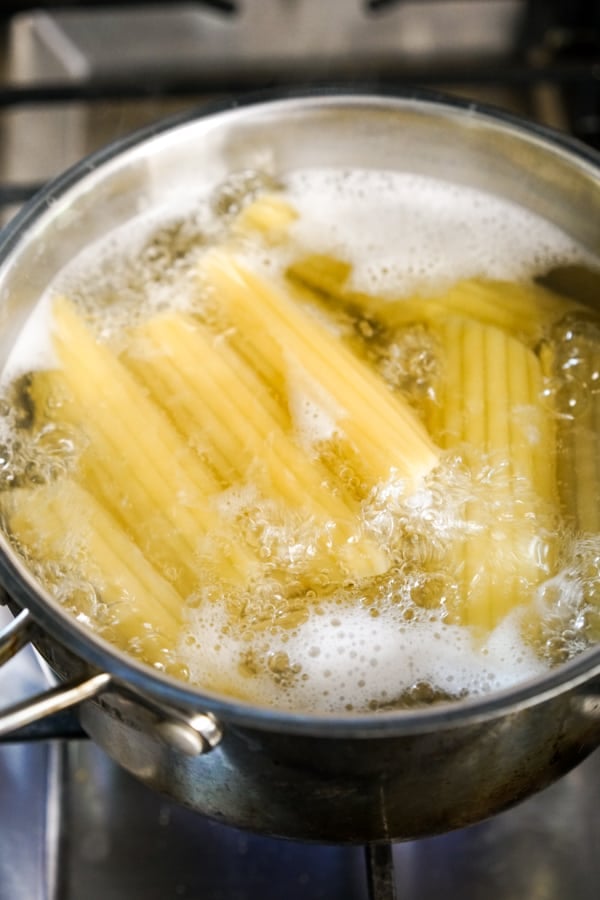 When pasta is done boiling, gentle move them to a large platter or baking sheet lined with wax paper to prevent them from sticking to the bottom. Also make sure they do not overlap and stick to each other.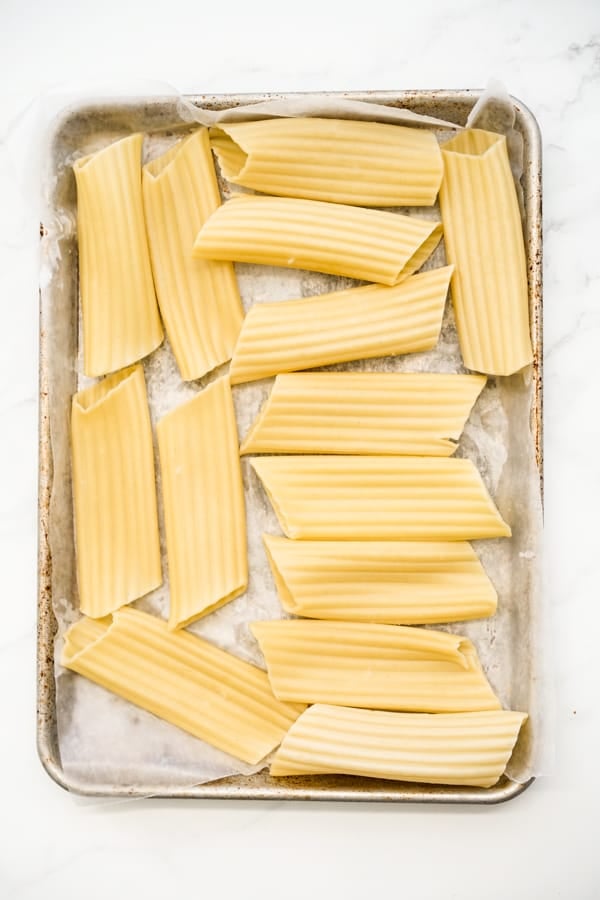 Step 2: Make filling
Next, let's make the filling/stuffing that will go inside the manicotti tube.
In a large mixing bowl, combine canned chicken (make sure to drain), chopped spinach, ricotta cheese, mozzarella cheese, parmesan cheese, minced garlic, oregano, and basil.
Use spatula to mix to combine.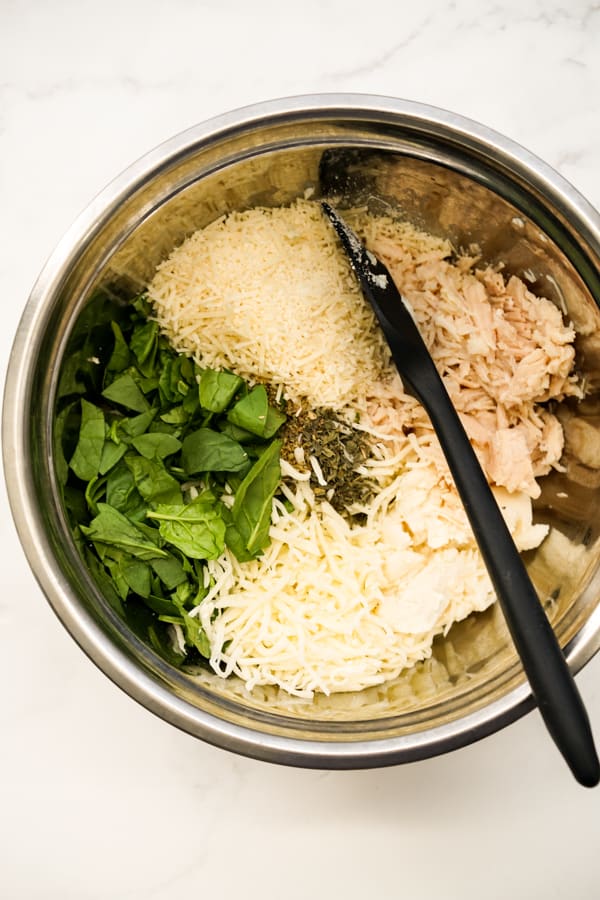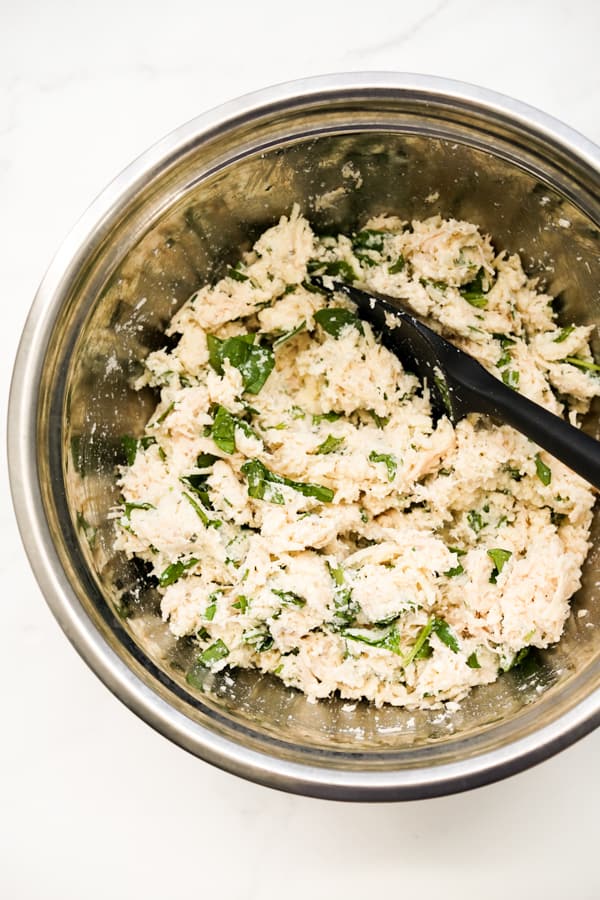 Now that we have the filling for our Chicken Spinach Manicotti, let's stuff those pasta!
Step 3: Fill and assemble chicken spinach manicotti
First, layer a thin layer of Alfredo sauce on a greased 9′ x 13′ rectangular casserole dish.
Filling the manicotti is probably the most labor intensive part of the whole recipe, but I have a few ways that will make this process seamless. In fact, I find it kinda therapeutic.
Use a teaspoon: Using a teaspoon (the silverware, not measuring spoon), gently scoop out the filling and fill the manicotti. Teaspoons should be small enough to insert into the manicotti without tearing it. Be gentle though when inserting the filling into it.
Fill ziplock bag with filling and cut out one of the corners: squeeze the filling out from the opening into the tube to fill it. Make sure the corner you cut out is smaller than the opening of the pasta tube
Once pasta is stuffed, place them on the 9′ x 13′ rectangular casserole dish that is layered with Alfredo sauce.
You should be able to place 8-10 manicottis in the dish (I only did 8 in the photographs because I didn't want to cram 10 in there but you totally can), and you should be able to stuff about 13-14 to use up the mixture.
I typically place the extra few Chicken Spinach Manicotti in a smaller dish and place everything in oven and bake them together.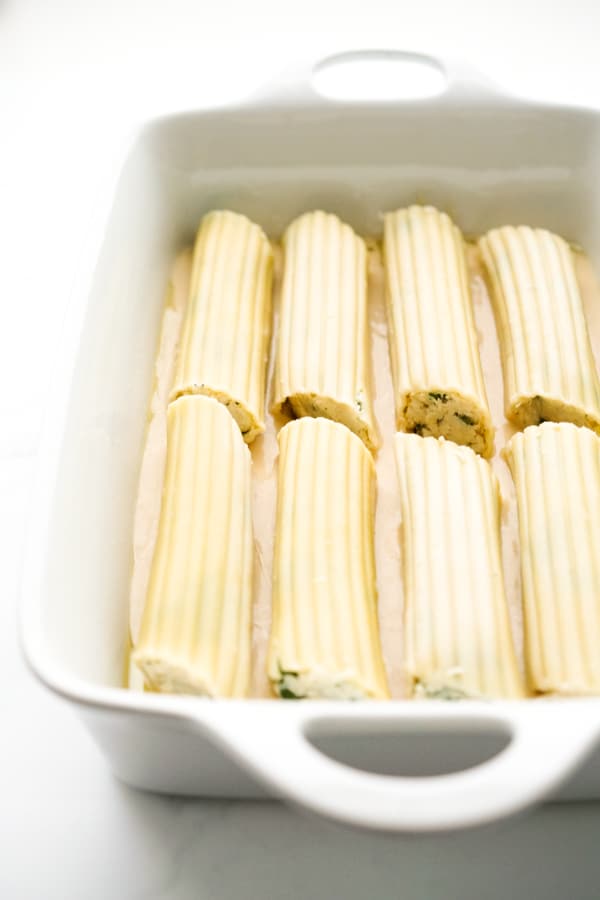 Next, pour more Alfredo sauce to cover the manicotti, and sprinkle the top with cheese.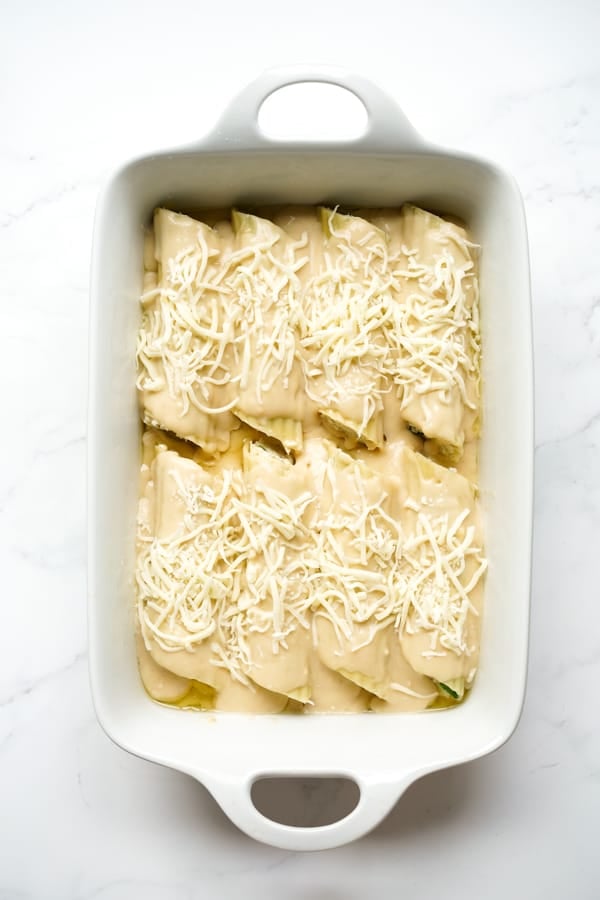 Step 4: Bake
Chicken and Spinach Manicotti bake at 375℉ for 25-30 minutes in the middle rack in the oven.
When it is done, sprinkle with some chopped fresh parsley to top it off!
When Chicken and Spinach Manicotti is done, sauce should be hot and bubbly, and the cheese on top is gooey and completely melted.
Gently lift a tube of pasta off the dish so that it doesn't break apart. I highly recommend a wide spatula to transfer the Chicken Spinach Manicotti. They can be quite delicate to handle.
Pasta tastes soft and chewy, the chicken spinach and cheese filling is flavorful and creamy, and they are covered in rich white Alfredo sauce and gooey cheese.
And everything should just melts in your mouth.
All that to say, expect every bite of this Chicken and Spinach Manicotti to be absolutely delightful.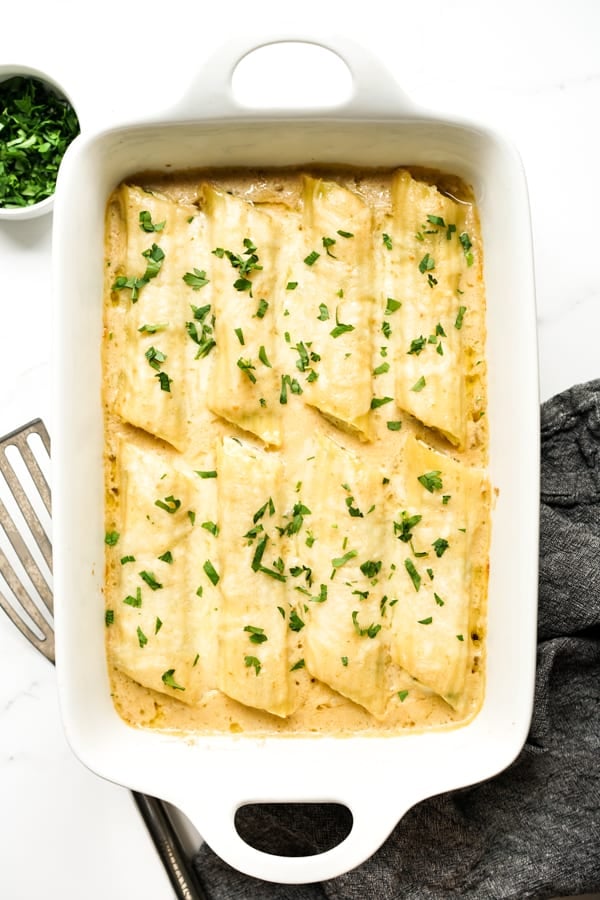 Pro Tips
A couple of tips and tricks when making Chicken Spinach Manicotti:
When cooling manicotti pasta, place them on a wax paper so they don't stick to the bottom. Also, try to space them out as much as you can as they also tend to stick together if you overlap them.
The canned chicken I use has sodium content in it, so I did not add salt to the filling mixture. If you are using rotisserie chicken or baked chicken, taste filing mixture and add a pinch or two of salt if necessary. Do keep in mind that it would also eventually be smothered with Alfredo sauce and cheese, which will bring about some saltiness as well.
When filling the pasta tube, don't worry it it breaks a little bit at the ends. After smothering it with sauce and cheese, and baking it, your Chicken Spinach Manicotti should stay in tact. Besides, a little breakage here and there doesn't change the delicious taste of it! 😉
Overcrowding the manicotti in the casserole dish will cause them to stick together, and it's harder to remove them individually without breaking pasta apart
Dishes to Serve with Baked Manicotti
Here are some of my favorite dishes with serve with Chicken Spinach Manicotti: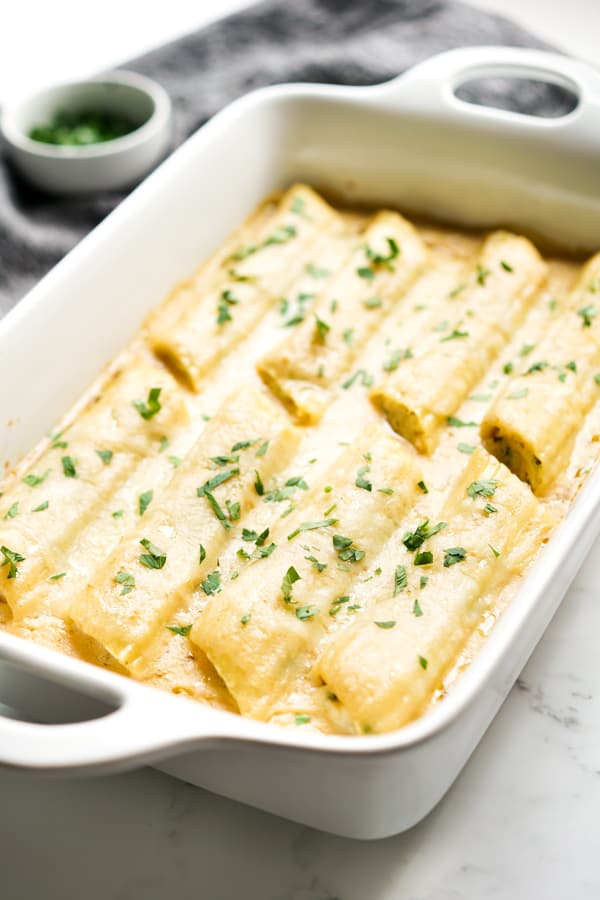 Frequently Asked Questions
If I don't like white Alfredo sauce, can I serve this with red sauce?
Absolutely! I've made this with marinara sauce and it works really well with it too.
Can I freeze this?
Yes! Chicken Spinach Manicotti freezes really well in an airtight container. You can store it for up to 2 months. Bring it to the fridge to defrost overnight before reheating in the microwave.
My manicotti pasta tears after boiling. What should I do?
Avoid boiling the pasta for too long to avoid tearing. Sometimes I boil it a minute or two less than the time suggested to make sure it doesn't tear. Make sure to be gentle when lifting them out of the boiling water as they do tear easily when they are moved around. However, even if manicotti tears a bit, it shouldn't matter. You don't really see the tear and the filling should stayed stuffed well even if it tears a bit.
For us, once we started making out own Chicken Spinach Manicotti, we haven't ordered it at Olive Garden or Maggiano's. This is so good, or dare I say, even much better, than any restaurant's manicottis! And obviously, much more budget friendly.
Give this Chicken Spinach Manicotti a try and I hope you enjoy it as much as we did!
DID YOU ENJOY THIS RECIPE? Please comment below and give us a 5-star rating! This will help others find this recipe on Google and Pinterest. We very much appreciate your help! 🤍
More Delicious Pasta Recipes
We love all kinds of pasta around here, and here are some of our other favorites you don't want to miss!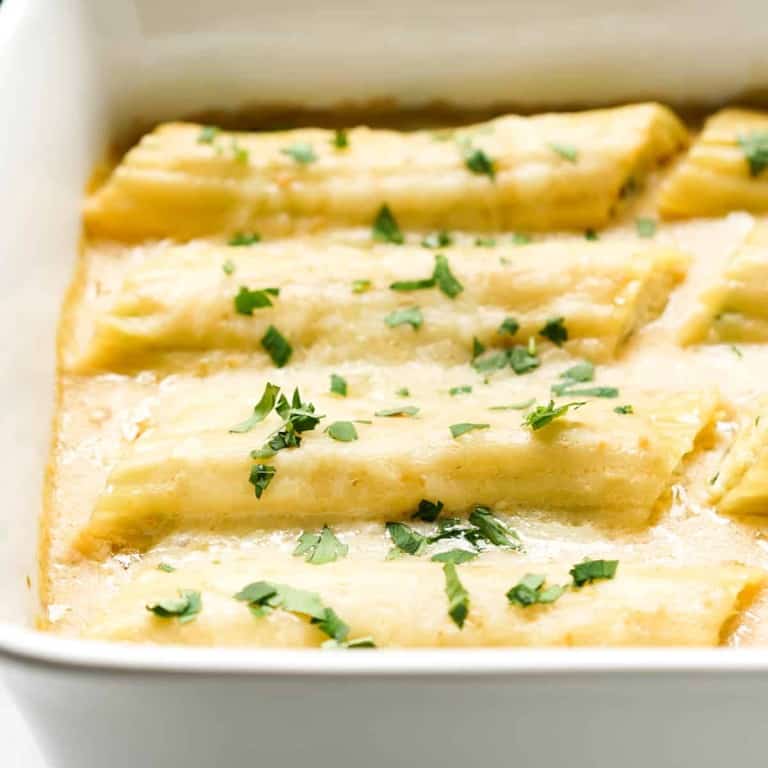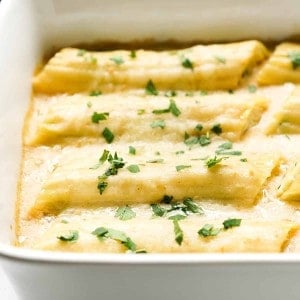 Chicken and Spinach Manicotti
Oven baked Chicken and Spinach Manicotti is a delicious Italian pasta recipe where manicotti is stuffed with a chicken, spinach and cheese filling then topped with creamy Alfredo sauce and more cheese. Such a hearty and yummy comfort food!
Print
Pin
Ingredients
14

manicotti pasta tubes

25

oz

canned chicken

drained, or 3 cups shredded rotisserie chicken or any cooked chicken

2

cups

fresh spinach

chopped in smaller pieces

15

oz

ricotta cheese

1 1/2

cup

mozarella

shredded

1/2

cup

parmesan

grated

3-4

cloves

garlic

minced

1/2

tsp

oregano

1/2

tsp

basil

15

oz

Alfredo sauce

~1 jar

1

tsp

parsley

chopped, garnish
Instructions
Fill a large pot with water and bring to boil. Add manicotti pasta and cook based on package instructions. When done, drain and set pasta on a dish lined with wax paper (See Note 1) to cool. Do not overlap pasta on top of each other.

Grease a 9' x 13' baking dish, then layer with a thin layer of Alfredo sauce.

In a large bowl, combine chicken, spinach, ricotta cheese, 1 cup mozzarella cheese (set 1/2 cup aside as topping), parmesan cheese, garlic, oregano, and basil. Mix to combine.

Stuff manicotti pasta with chicken and spinach mixture (see Note 2), then place on baking dish layered with Alfredo sauce.(See Note 3)

Smother the top of the manicotti with more Alfredo sauce, then top with 1/2 cup of mozzarella cheese.

Bake manicotti in the oven for 25-30 minutes.

Remove from oven and let manicotti rest for 5 minutes before garnishing it with parsley and serving. Enjoy!
Notes
Note 1: Wax paper is used to prevent manicotti from sticking to the dish
Notes 2: Easy ways to stuff manicotti with chicken spinach mixture:
1) Use a teaspoon to gently scoop out the filling and stuff the manicotti. Teaspoons should be small enough to insert into the manicotti without tearing it.
2) Fill ziplock bag with filling and cut out one of the corners. Squeeze the filling out into the tube to stuff it. Make sure the corner you cut out is smaller than the opening of the pasta tube
Note 3: Should be able to fill ~14 manicotti. Only 10-12 can fit into a 9×13 baking dish. The rest can go into a small dish to be baked at the same time. 15 oz Alfredo sauce (~1 jar) should be enough for all 14 manicotti.
Nutrition
Calories:
199
kcal
|
Carbohydrates:
3
g
|
Protein:
16
g
|
Fat:
13
g
|
Saturated Fat:
7
g
|
Polyunsaturated Fat:
1
g
|
Monounsaturated Fat:
3
g
|
Cholesterol:
70
mg
|
Sodium:
553
mg
|
Potassium:
74
mg
|
Fiber:
0.2
g
|
Sugar:
1
g
|
Vitamin A:
648
IU
|
Vitamin C:
1
mg
|
Calcium:
173
mg
|
Iron:
0.4
mg