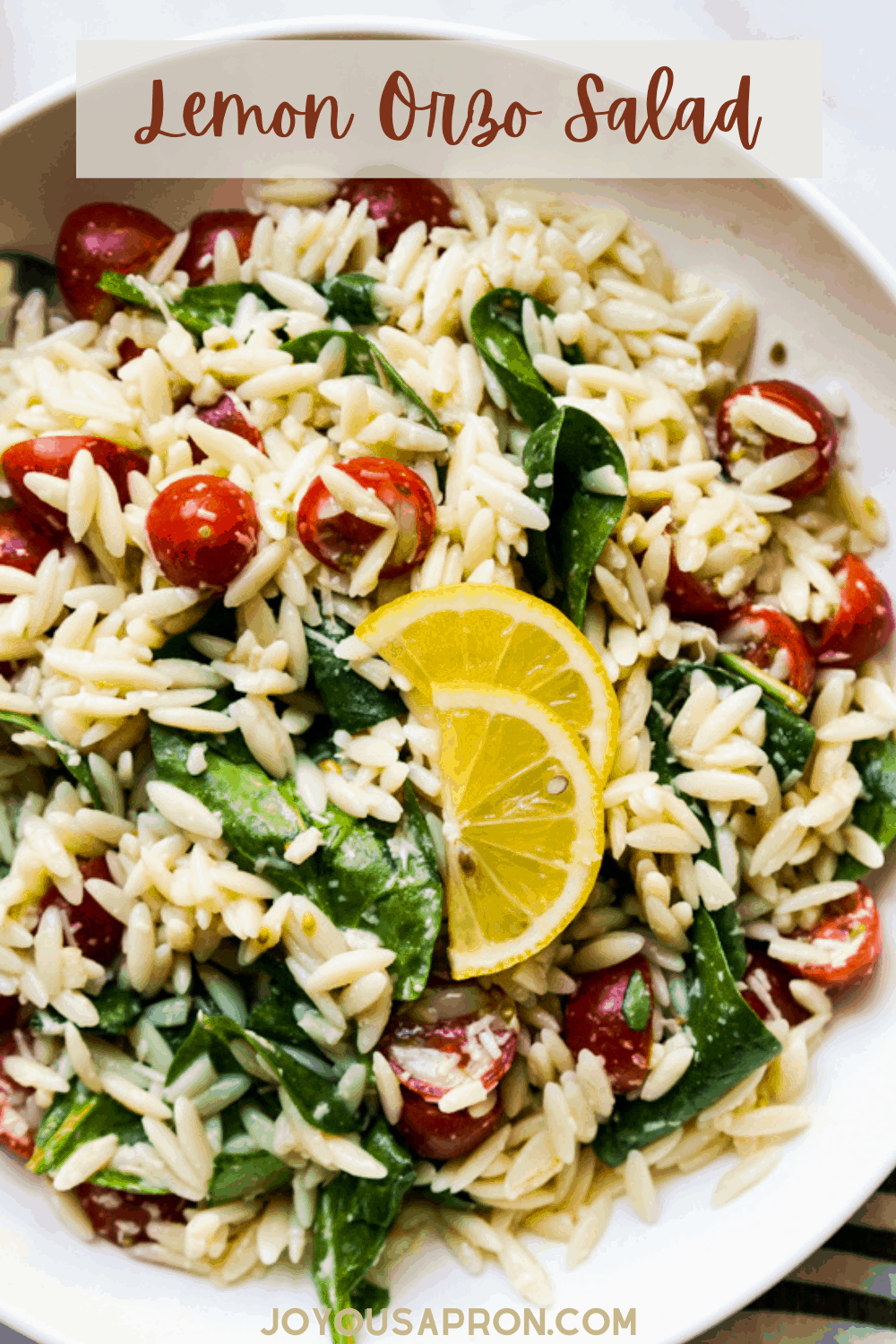 Bright, fresh, zesty Lemon Orzo Salad is the perfect dish to kick off the much anticipated Spring season!
Think chewy orzo pasta tossed with spinach and cherry tomatoes in a zesty, garlicky lemon dressing, sprinkled with as much parmesan as your heart can handle. My personal philosophy on parmesan is this: the more the better!
As the weather gets warmer, I'll be eating this Lemon Orzo Salad for lunch, dinner and everything in between! JOIN ME!!!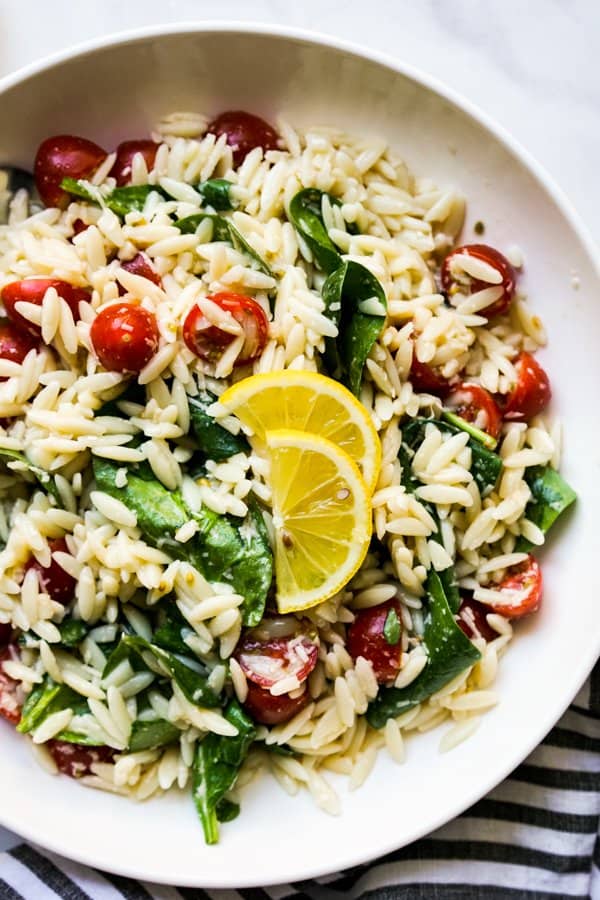 There is something seriously simple yet satisfying about this Orzo Lemon Salad dish.
Perhaps it's the zesty, tangy flavors that keeps you wanting more.
Others love it because it's light and fresh….and who doesn't want something light and fresh dishes during hot and humid summer months?
That gorgeous combination of lemon, garlic, parmesan with that chewy orzo pasta and veggies is unmatched, and also leaves me wanting more and more.
It's the perfect side dish for picnics, cookouts, bbq's or dinner on a Spring and summer weeknight. At the same time, it can also be served by itself as a light meal.
Another yummy option is to add some grilled chicken, shrimp or salmon to it to pack on the protein.
Last, but definitely not the least. It's super easy to make! Ready in 20 minutes and perfect in every way.
Who is ready to take on this Lemony Orzo Salad business with me??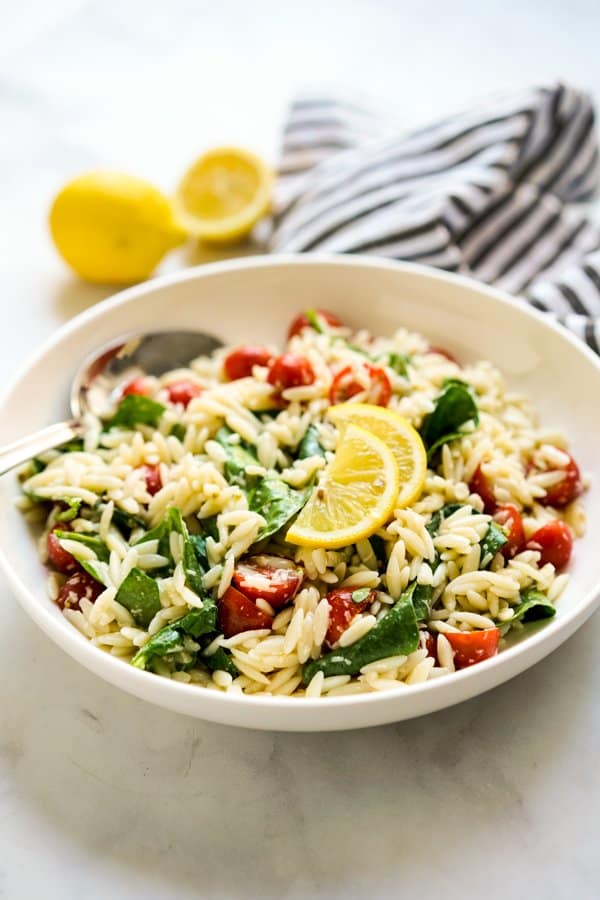 Orzo Salad with Spinach Tomatoes and Lemons
I'm always looking for light and flavorful dishes for the Spring and Summer, and that is how this Lemon Orzo Salad recipe is birthed.
Ingredients
The ingredients list for this orzo pasta salad may be short, but don't underestimate its yumminess:
Orzo pasta – this is a rice-shape pasta. You should be able to find them in the pasta aisle at most regular grocery store.
Cherry tomatoes – you can also use grape tomatoes, or even dice up regular large tomatoes. I do think cherry tomatoes and grape tomatoes pack a lot more flavor!
Spinach – use fresh spinach. Avoid substituting with the frozen kind!
Lemon juice – highly recommend squeezing from fresh lemons. This Lemon & Lime squeezer makes squeezing lemon (or lime) juice so much easier!
Garlic cloves – avoid substituting with garlic powder.
Parmesan cheese – always buy a block and shred it yourself for the best taste. The ready-grated ones are simply not as good and will not bring as much flavors to this dish as the fresh ones!
Salt to taste – salt is use to open up the flavors! If Lemon Orzo Pasta is slightly lacking in flavor, feel free to add an extra pinch or two of salt.
You might find that I keep saying avoid substituting with garlic powder, grated parmesan cheese etc for this recipe.
This is because Lemon Orzo Salad is made with minimal ingredients, and to achieve the best flavor, fresh and good quality ingredients will make a difference in this dish!
How to make it
Start by boiling the orzo pasta using package instruction.
When pasta is boiling, juice lemons and bring lemon juice, minced garlic and a pinch of salt to a bowl or measuring cup. Stir well.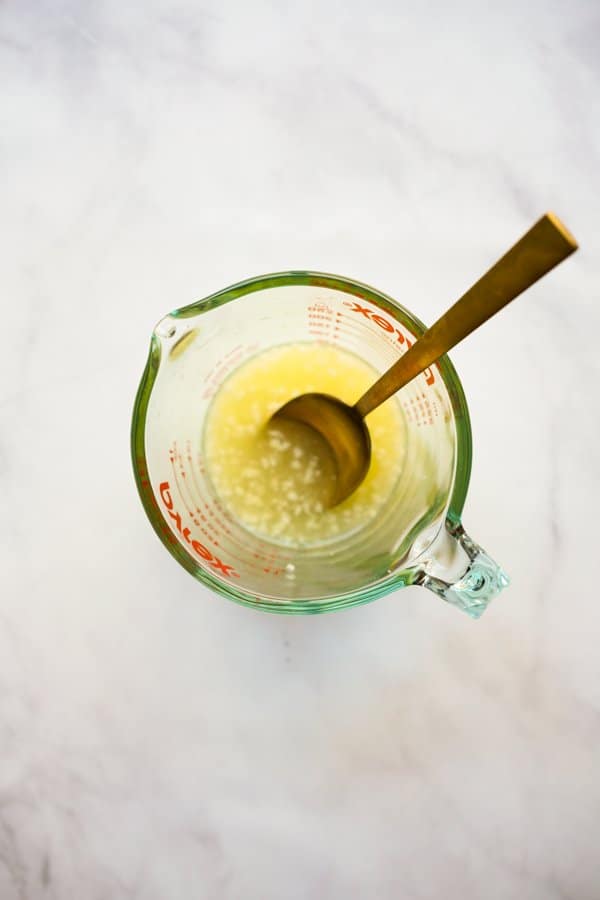 When pasta is done, strain water from pasta and then bring it to a big bowl.
Add the rest of the ingredients to the bowl: spinach, halved cherry tomatoes, and lemon juice mixture.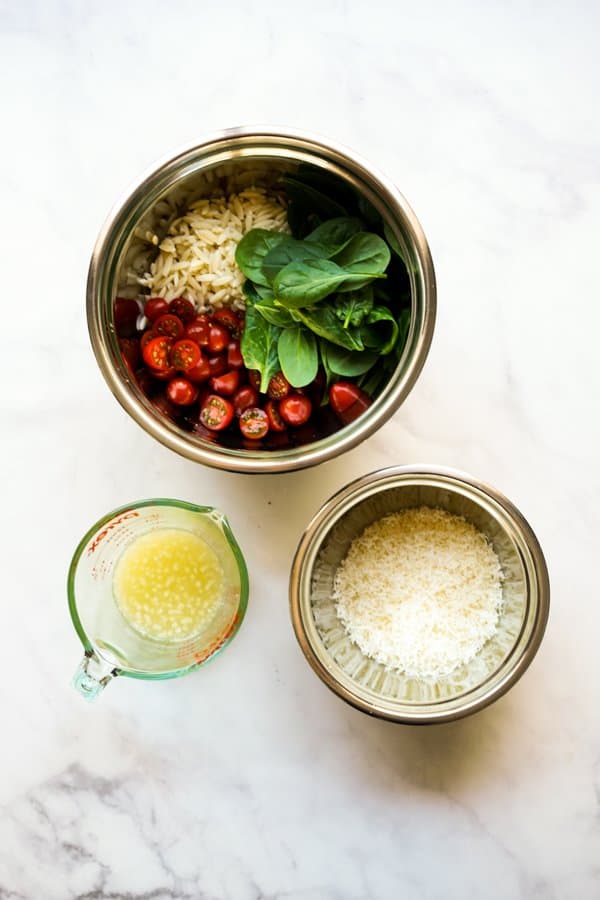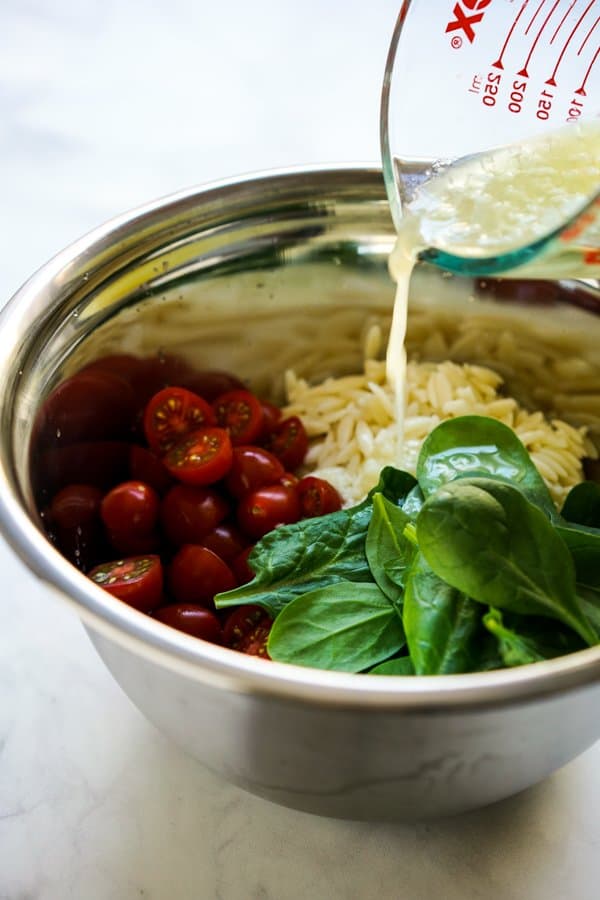 Give it a good stir to combine.
Then add parmesan cheese.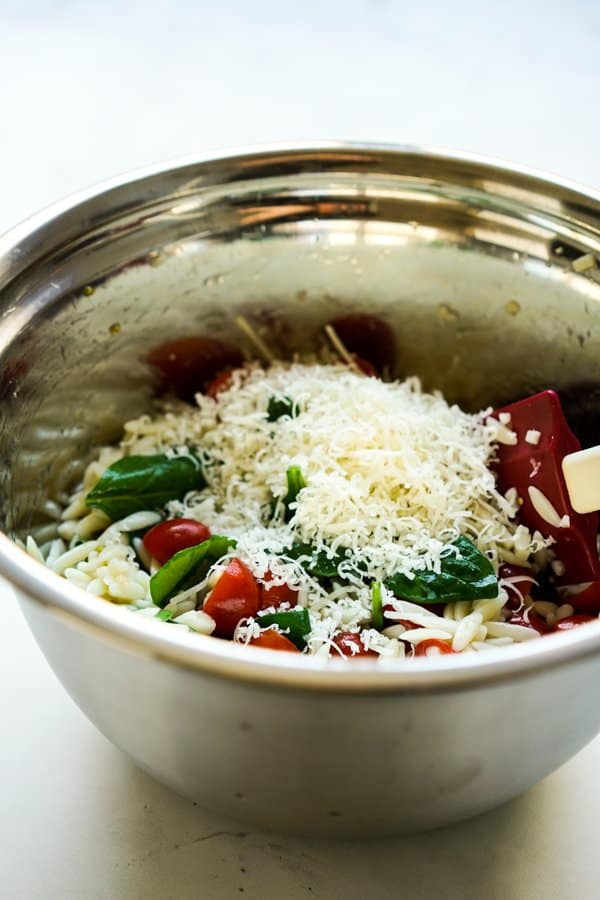 If you are as big of a parmesan fan as I am, feel free to serve and then add more parmesan.
In fact, I sometimes eat this with a little thing of parmesan on the side and just keep adding parm to every bite.
Yes I love parmesan deeply with my whole dang heart. 🤍
And here's the thing: this Lemony Orzo Salad can be served cold, room temperature, warm, etc.
It also keeps very well as leftovers! I like to make it ahead of time and grab them for lunch during the summers.
And yes, I totally add more parm to it when I eat the leftovers! 😉
And remember, buy parmesan in blocks! Not the grated, non-refrigerated kind. And be prepared to fall in love with it and then subsequently add to everything.
Tips and Tricks
A few quick tricks and you are so set to make this lemony pasta dream!
Once orzo pasta is drained, toss it in dressing and veggies immediately. If you are not able to do that, add a few drops of olive oil and stir pasta if it will be set aside for a while so that orzo don't get stuck together. Avoid draining the pasta in cold water because that will remove starch from pasta and makes it harder for sauces and flavors to stay on pasta.
Once tossed together spinach will shrink in size.
Salt and parmesan will open up the flavors of the dish. Before serving, taste salad, and add some salt or parmesan to bring out the flavors if needed.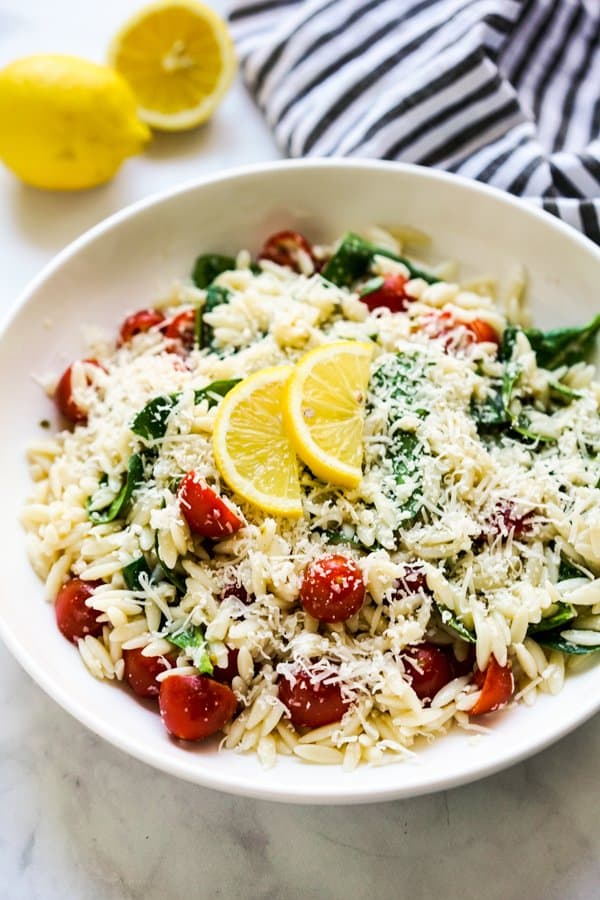 Lemony chewy pasta with parm is my warm-weather diet. This recipe reminds me of this Lemon Garlic Parmesan Pasta and I feasted on that dish for months last summer.
I hope you enjoy this simple and quick Spring and Summer dish! 💛
More more more!
A few of my other favorites that are fresh, light and perfect for Spring and Summer!
DID YOU ENJOY THIS RECIPE? Please comment below and give us a 5-star rating! This will help others find this recipe on Google and Pinterest. We very much appreciate your help! 🤍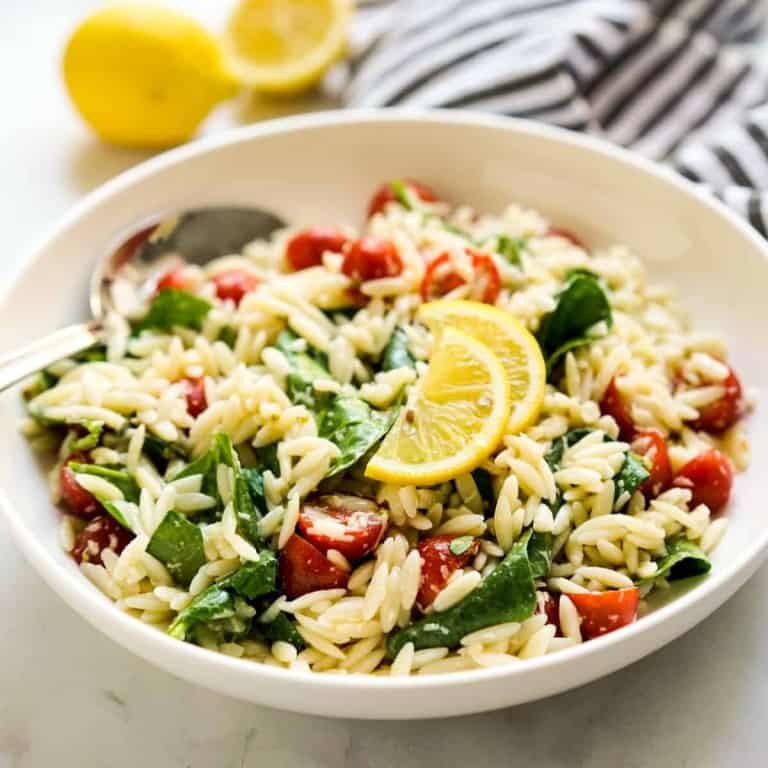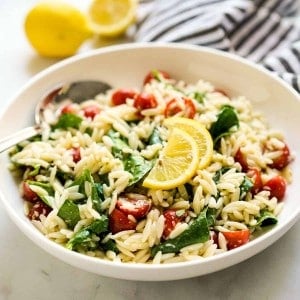 Lemon Orzo Salad
A bright, fresh and healthy side dish or light main dish! Chewy orzo pasta combined with spinach and cherry tomatoes, tossed in a simple zesty garlicky lemon juice dressing, topped with parmesan cheese.
Print
Pin
Ingredients
6

oz

orzo pasta

2

cups

cherry tomatoes

halved

1

cup

spinach

1/3

cup

lemon juice

freshly squeezed

1 1/2

cup

parmesan cheese

shredded

3-4

cloves

garlic

minced

a few

dashes

salt
Instructions
Boil orzo pasta in water according to package instruction. Drain water when done and remove from heat.

While orzo is cooking, prep the rest of the ingredients – half cherry tomatoes, squeeze lemon juice from lemon, shred parmesan cheese etc.

In a small bowl, combine lemon juice with garlic and salt. Stir.

Bring drained orzo to a large bowl, then add cherry tomatoes, spinach, and lemon juice mixture. Stir to combined. Then add parmesan cheese. Continue to stir to combine.

Serve with more parmesan cheese if desired. Enjoy!
Nutrition
Calories:
328
kcal
|
Carbohydrates:
38
g
|
Protein:
20
g
|
Fat:
11
g
|
Saturated Fat:
6
g
|
Cholesterol:
26
mg
|
Sodium:
618
mg
|
Potassium:
364
mg
|
Fiber:
2
g
|
Sugar:
4
g
|
Vitamin A:
1362
IU
|
Vitamin C:
28
mg
|
Calcium:
474
mg
|
Iron:
2
mg