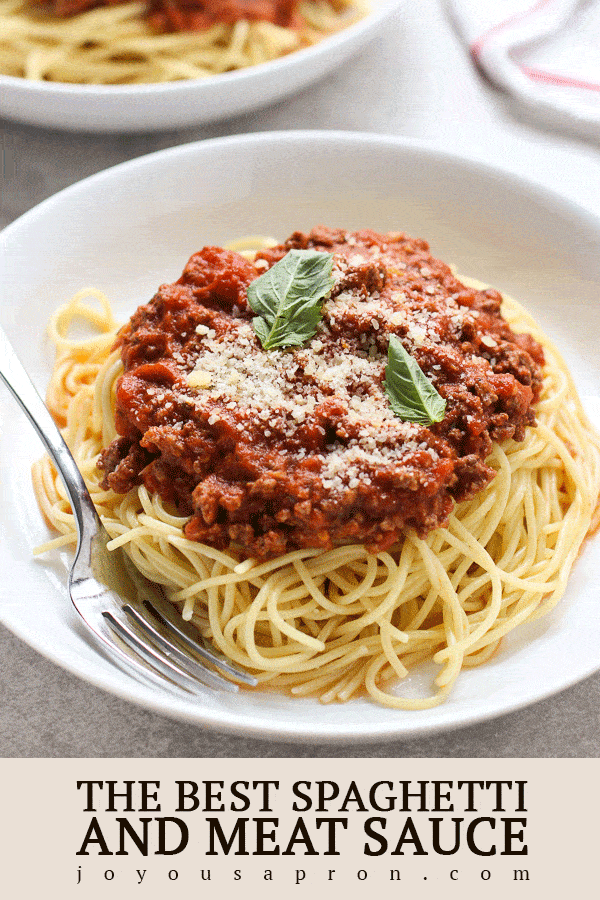 This post may contain Amazon or other affiliate links. As an Amazon Associate I earn from qualifying purchases at no additional cost to you.
The Best Spaghetti and Meat Sauce. Where spaghetti is cooked al dente, topped with tomato-based sauce made with red wine, parmesan cheese, a blend of flavor-bursting herbs, and perfectly seasoned ground beef. Translation: A SAUCE THAT IS TO DIE FOR.
Never will I look at spaghetti sauce the same way again.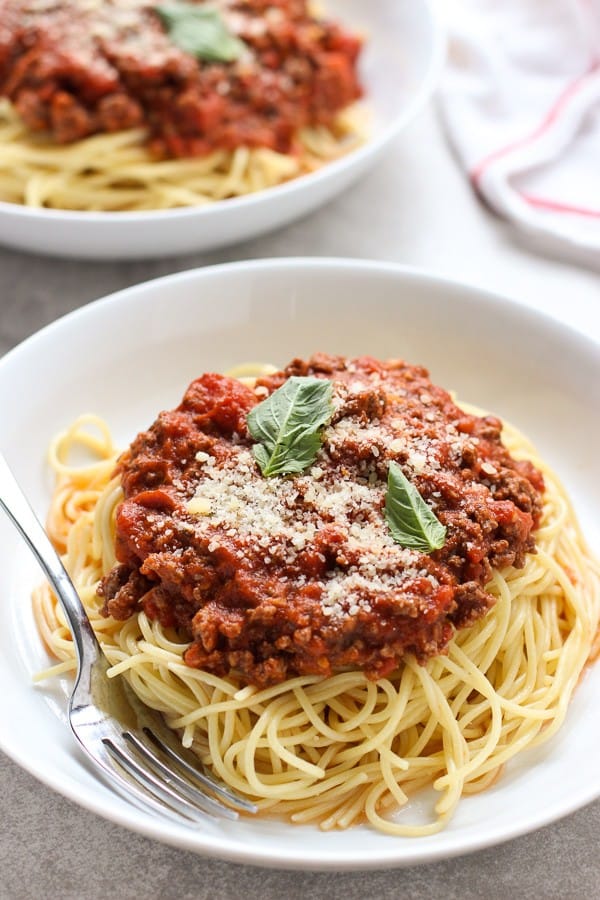 Why I call this The Best Spaghetti and Meat Sauce
This is a tried and true recipe that took a long time to perfect. I actually made this for fun almost a year ago, just because I was craving spaghetti and there was no pre-made sauce in the house.
Over months, I perfected it bit by bit every time I make it again. It became better, and better, and better…to the point where I decided I need to share this with you because it is too good not to share.
I should have known. These are always the best recipes. The ones you weren't looking for. The ones where you patiently make it until it blossom into something that surprises even you.
You need to know this. When I say it is The Best Spaghetti and Meat Sauce, I don't take this naming thing lightly. When I say it is the best, it means the below:
It has become my staple food that I make again and again because there isn't another quite like it in the entire universe. NO NOT KIDDING.
Many people has praised it, loved it, cannot live without either.
It has become my go-to version of that dish, and I don't really want to explore other versions because it has arrived at perfection. OH YESSS.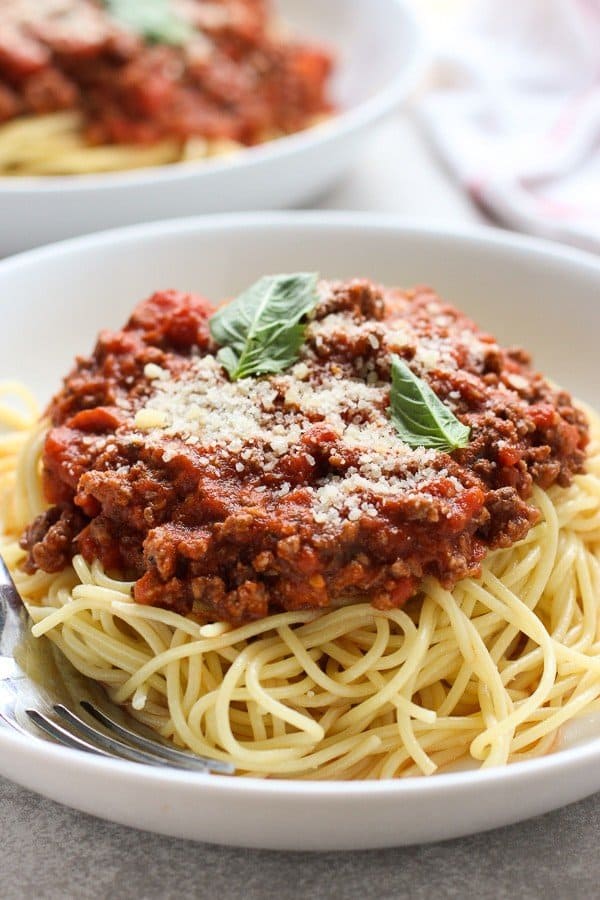 Meat Sauce with Red Wine
The flavor in this spaghetti sauce will blow your mind. What sets this apart from many other spaghetti sauces is this – we infused that sauce with fresh basil, good quality red wine, garlic and parmesan cheese. Four very important ingredients in this sauce.
Wine is one ingredient, but it is so flavorful when cooked it brings on flavors that is typically achieved with a handful of ingredients. It bumps the flavor of a dish up many notches.
If you don't like the taste of alcohol, we are actually cooking down the alcohol so what's left is delicious flavors, without the alcoholic taste.
I LOVE cooking with wine. It's an ingredient that is used very commonly in nice Italian restaurants to give amazing flavors to their pasta dishes.
An important thing to note when cooking with wine: do not cook with bad quality or old wine. We will be able to cook down the alcohol, but cooking will not take away the old and bad flavors. There's no need to get super expensive wine, just use something you do not mind drinking.
Now let's talk about my other favorite ingredient – fresh basil. Fresh herbs make the best food. It has better flavors, thus making the sauce more flavorful. If you really don't have fresh basil, you can use dried ones, but I highly recommend using fresh basil if you can find them!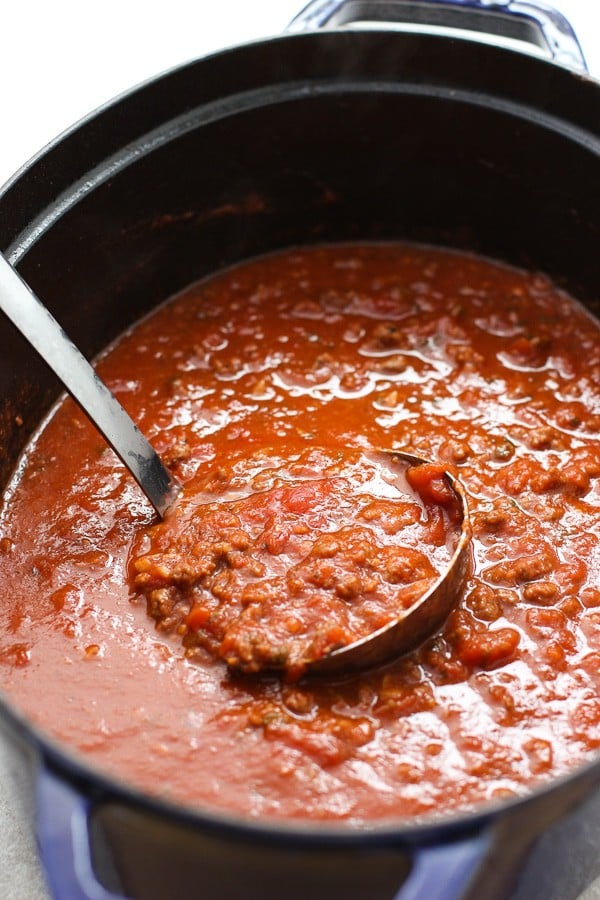 Ah. The Best Spaghetti and Meat Sauce. Elegant, delicious, sophisticated, flavorful, amazing. All the verbs you can find to describe a dish that you love with your whole dang heart.
Yet so doable and simple. It doesn't take much more work than a regular, plainer spaghetti sauce. So my question to you is: WHY SETTLE??
In case you haven't notice. Can you tell I am totally passionate about this Spaghetti and Meat Sauce dish?!?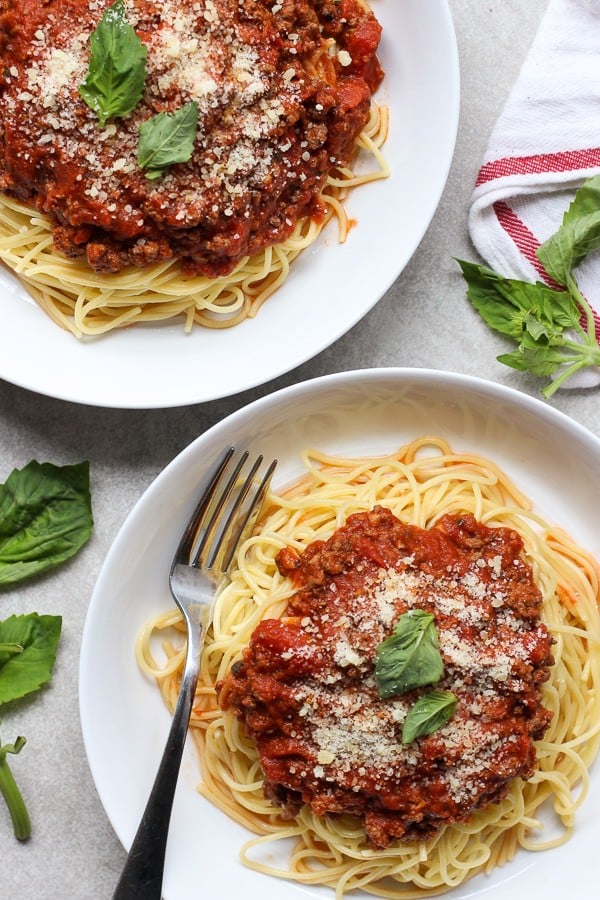 It is NOT just another Spaghetti and Meat Sauce dish. NO NO NO SIREE.
As I finish up this post (it's Friday late afternoon as I'm writing this), I'm plaining on making a grocery list for next week. And I'm plaining on buying the ingredients for this recipe, making them in bulk and then freezing the sauce.
Because not only does it tastes AMAZING, it freezes very well and is perfect for making food ahead.
We are going into another couple of weeks where schedules are crazy busy, and I need to not cook for a few nights, but I still want to eat yummy foods. Because I always do. I know I will be dreaming about eating this on those nights, so I'm preparing ahead. 😉
GRAB A FORK, people! 🙂
More Pasta Dishes
DID YOU ENJOY THIS RECIPE? Please comment below and give us a 5-star rating! This will help others find this recipe on Google and Pinterest! We very much appreciate your help! 🤍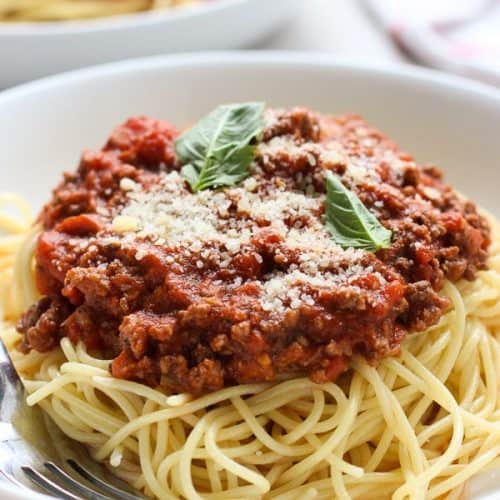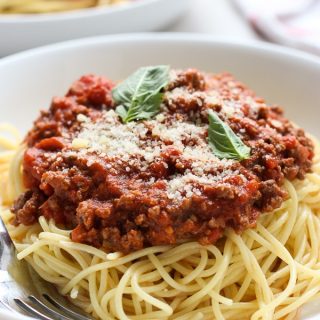 The Best Spaghetti and Meat Sauce
The best and easy spaghetti recipe! Spaghetti is cooked al dente, topped with tomato-based sauce made with red wine, parmesan cheese, a blend of flavor-bursting herbs, and perfectly seasoned ground beef. The perfect dinner. Makes great leftovers as well.
Print
Pin
Ingredients
4-6

cloves

fresh garlic

olive oil

1

lbs

lean ground beef

28

oz

whole peeled canned tomatoes

15

oz

tomato sauce

1/2

cup

red wine

1/4

cup

fresh basil

chopped

1

tsp

dried oregano

1/2

tsp

dried marjoram

1

tbsp

sugar

1/2

tsp

salt

+ more if needed

1/8

cup

parmesan cheese

+ more for garnish

1

lbs

spaghetti
Instructions
Mince garlic and chop fresh basil into small pieces. Gather the rest of the ingredients.

In a large pot or dutch oven, add olive oil and minced garlic, and cook under medium heat. Once garlic is fragrant (do not brown or burn garlic), quickly add ground beef. Break it into small pieces, then season with some salt.

Once ground beef is no longer pink-ish. Add whole peeled canned tomatoes, tomato sauce, red wine, chopped basil, oregano, marjoram, sugar and salt.

Bring to boil, then lower to medium low heat and let it cook for 20-25 minutes, or until sauce thickens (see Note 1) and red wine is cooked down (no longer has that strong alcoholic taste).

While waiting for meat sauce to cook, bring out another pot and cook spaghetti based on package instruction.

When the 20-25 minutes is up, add parmesan cheese to sauce. Stir and taste. If needed, add more salt. Note: Salt is use open up the flavors in addition to adding saltiness. You'll be surprise how much salt open up the other flavors. If the flavors are not coming through, add more salt.

Drain cooked spaghetti and combine with sauce.

Garnish with more parmesan cheese if desire.
Notes
Note 1: Depending on your stove top and pot/dutch oven you use, it may take longer to thicken the sauce.
Nutrition
Calories:
467
kcal
|
Carbohydrates:
69
g
|
Protein:
29
g
|
Fat:
7
g
|
Saturated Fat:
2
g
|
Polyunsaturated Fat:
1
g
|
Monounsaturated Fat:
3
g
|
Trans Fat:
1
g
|
Cholesterol:
48
mg
|
Sodium:
843
mg
|
Potassium:
956
mg
|
Fiber:
5
g
|
Sugar:
10
g
|
Vitamin A:
538
IU
|
Vitamin C:
18
mg
|
Calcium:
110
mg
|
Iron:
5
mg