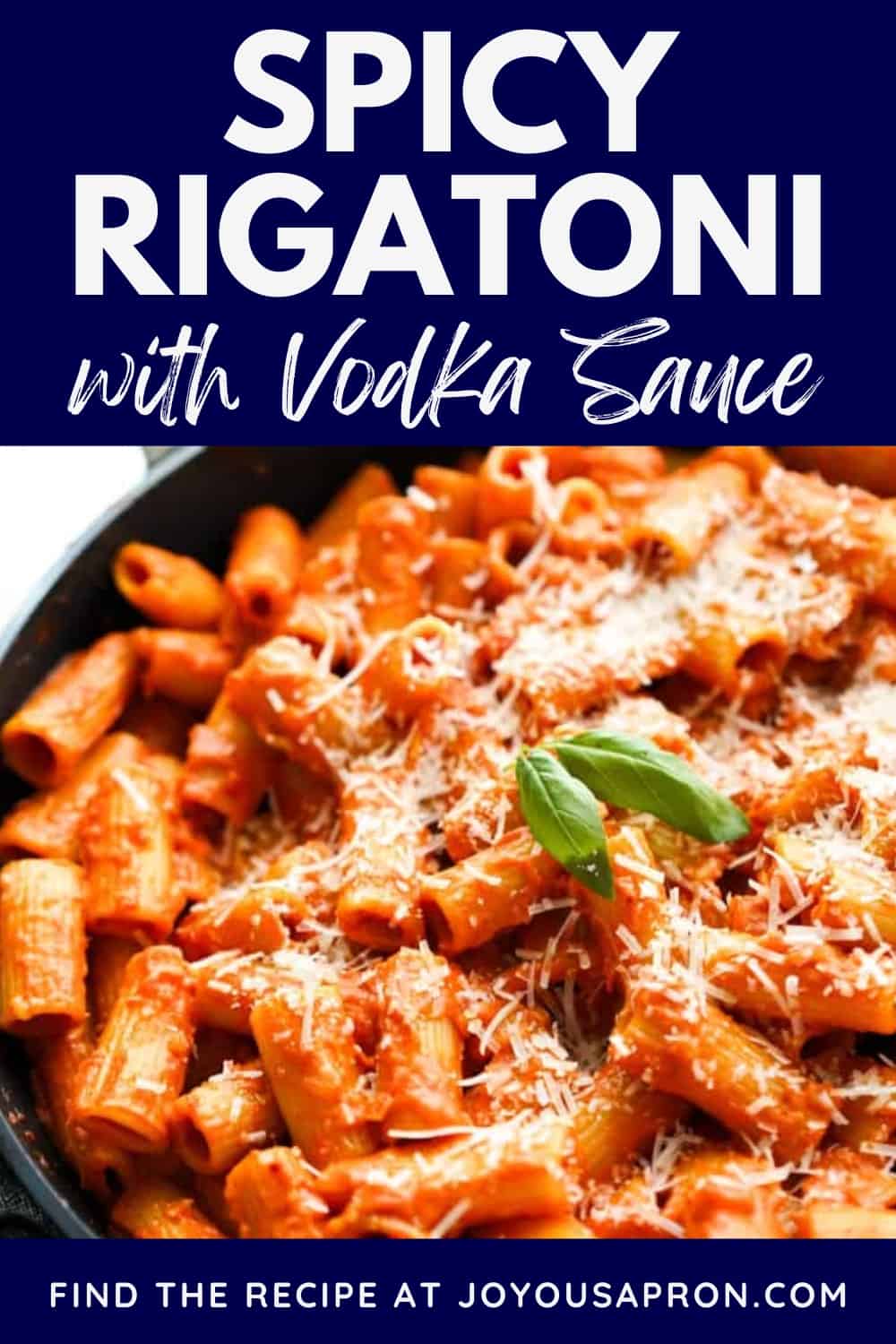 This Spicy Rigatoni recipe with tomato vodka sauce is some of our favorite pasta dinners. Chewy rigatoni pasta is tossed in a thick and creamy tomato sauce made with vodka that is tangy with a hint of sweetness and spiciness.
This decadent pasta recipe is inspired by the famous high end Italian restaurant Carbone's famous spicy rigatoni dish.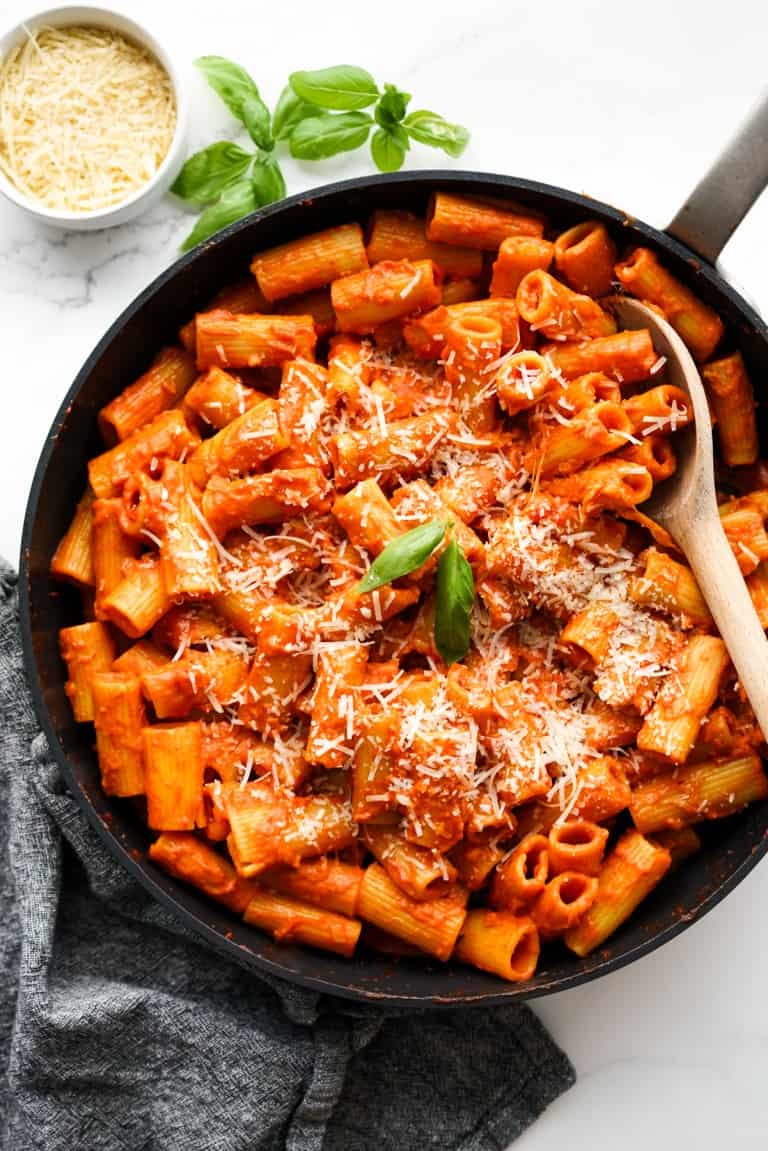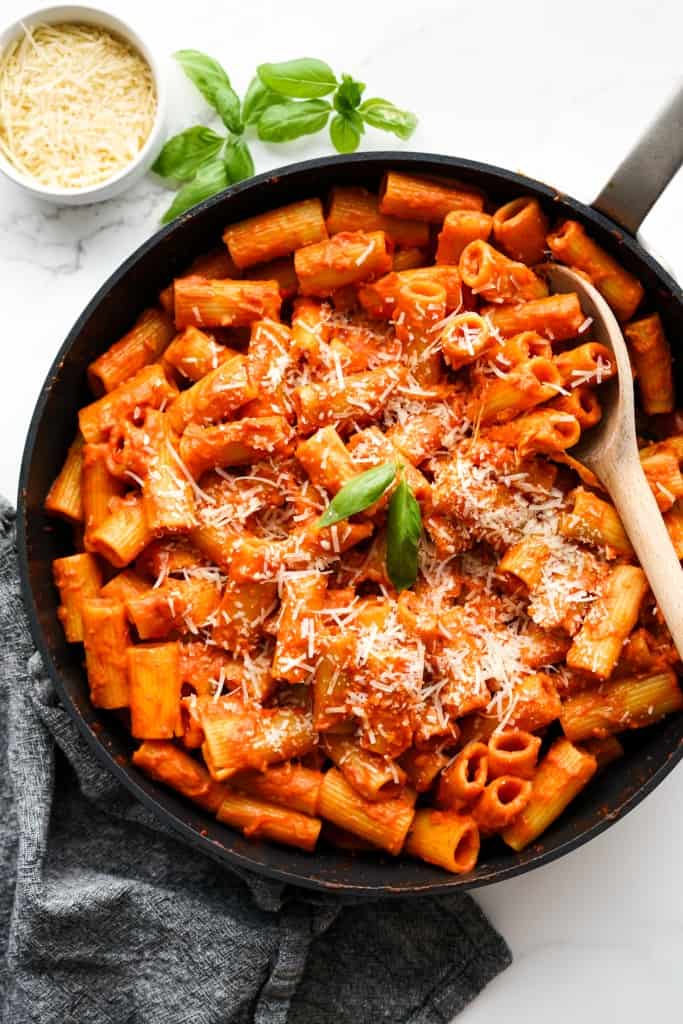 Love Italian food and pasta? Check out some of my other favorites such as Pork Milanese, Lemon Garlic Parmesan Pasta and Cherry Tomato Pasta with Chicken.
Spicy Rigatoni with Vodka Sauce
This dreamy and decadent Carbone copycat spicy rigatoni has quickly become my new pasta obsession.
Something about chewy pasta coated in that flavor-bursting creamy tomato vodka sauce has me coming back for more, and more, and more… I can't stop and it's a problem!
If you are familiar with penne alla vodka, spicy rigatoni is basically the rigatoni version of that. The tomato vodka sauce is very similar to sauce in penne alla vodka, but with a hint of spiciness.
Vodka brings a complex and delicious flavor to the tomato sauce in this spicy rigatoni recipe. The alcohol content would be cooked off completely, leaving behind clean and slightly sweet flavor that makes the creamy tomato sauce incredibly tasty.
Vodka is definitely the secret ingredient in making this the bomb sauce that it is, and brings so much to this incredible spicy rigatoni recipe. So do not, by any means, skip this ingredient!
Carbone makes their spicy rigatoni without meat – just pasta and sauce, but you can definitely add protein to it such as prosciutto, sausage, chicken, shrimp, or even burrata for extra cheese.
Spicy rigatoni is a must try for all pasta lovers out there. It is a simple yet elegant meal that you can prepare in your home under 30 minutes, and save lots of money while enjoying the Carbone specialty in the comforts of your own home.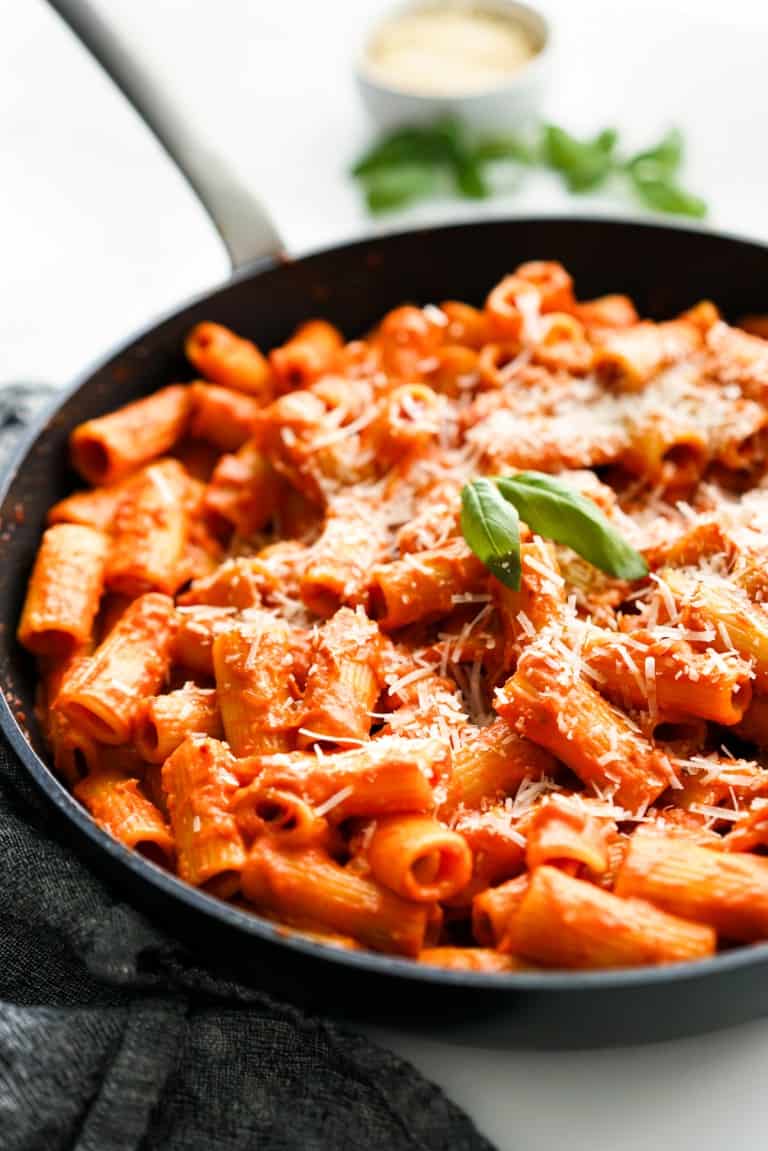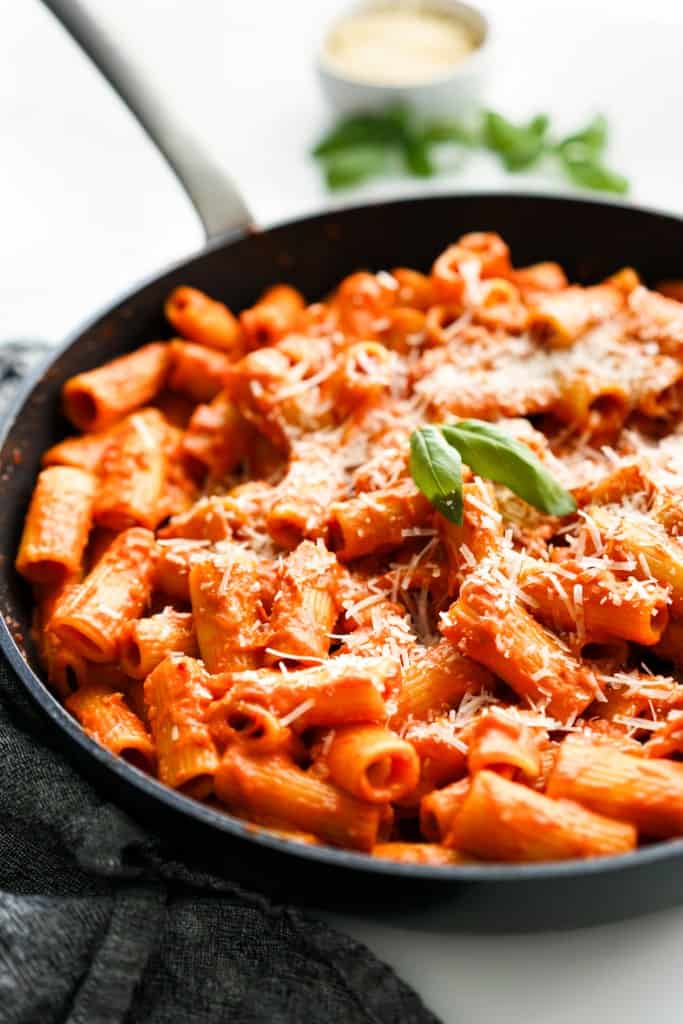 Ingredients
Here are the short list of pantry-friendly ingredients needed to make spicy rigatoni with vodka sauce:
vodka – the most important ingredient that gives this dish its signature flavors. Use decent quality vodka for best taste, but don't overspend on high expensive vodka. Vodka will be cooked down and there should be no to minimal alcoholic content in the sauce. What is left is clean, smooth and sweet flavors that really brings out the tomato cream sauce.
heavy cream – this is what we are using to thicken tomato vodka sauce and give it a smooth and creamy texture. You can substitute with half and half if you want a healthier option for the sauce, but heavy cream is truly the best tasting option because of its high fat and cream content. Yes, it sure comes with a cost!!
tomato puree – comes in canned or bottle form. Tomatoes need to be finely pureed so that the sauce comes out smooth. If using diced tomatoes or whole tomatoes, use an immersion blender to puree pasta sauce once it is fully cooked. Using tomato puree saves time and avoids the extra step.
tomato paste – brings more intense tomato flavors without adding additional liquid.
rigatoni pasta – this pasta shape traps the sauce along its small ridges and creates the perfect sauce to pasta ratio in every bite. Yum!
red pepper flakes – this contributes to the spicy component of the dish. If you want it non-spicy, simply eliminate this. If you want to get fancy, calabrian chilis, an chili pepper grown in southern Italy, can be used.
garlic – fresh mined garlic is key in bringing incredible flavors to this spicy rigatoni dish. Avoid using garlic powder.
onions – sweet, white or yellow onions work best for this. Finely diced it so it cooks down quickly and dissolves into the sauce.
salted butter – brings so much lovely flavors to the dish. You can substitute with other forms of cooking oil for a healthier option, but frankly, they just don't taste as good. Avoid using unsalted butter.
parmesan cheese – use good quality! Parmigiano-Reggiano is the best choice if you can find it! Read about the difference between parmesan and Parmigiano-Reggiano here.
How to Make Spicy Rigatoni
It takes only about 30 minutes to make this restaurant quality rigatoni. This is one of those simple recipes that you won't believe you can actually make happen.
You'll be so impressed with yourself and realize there's not much to it after all!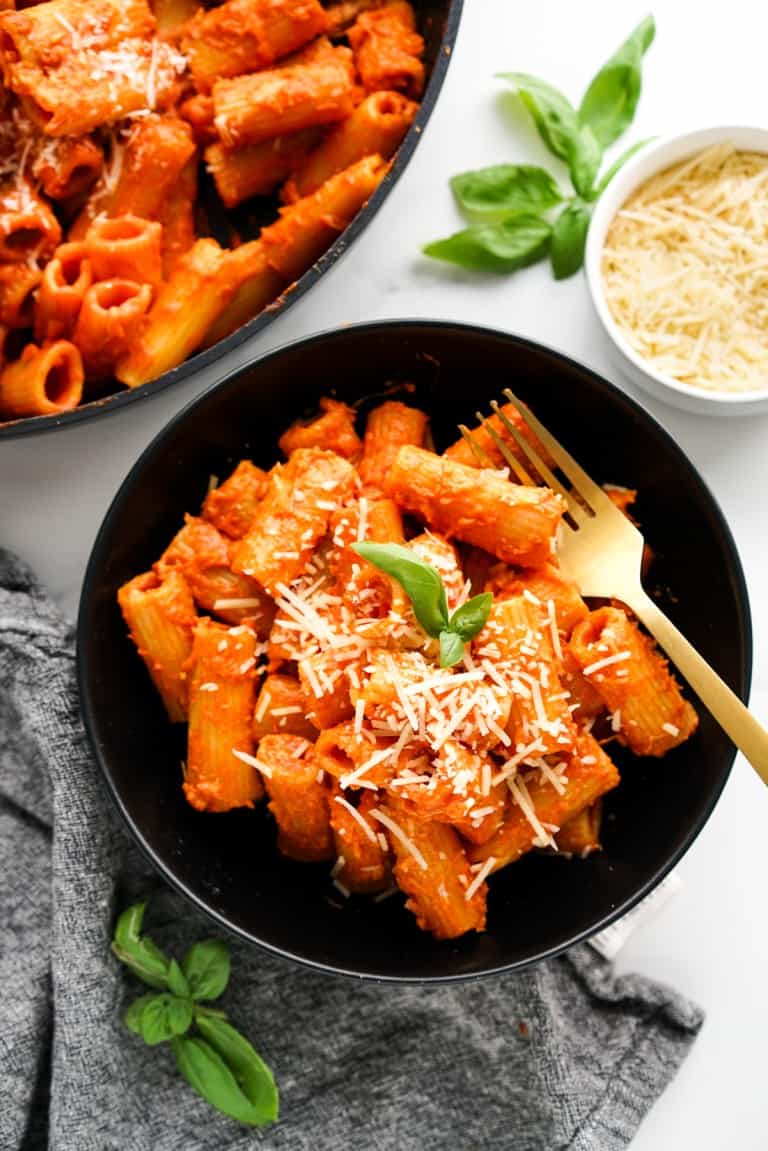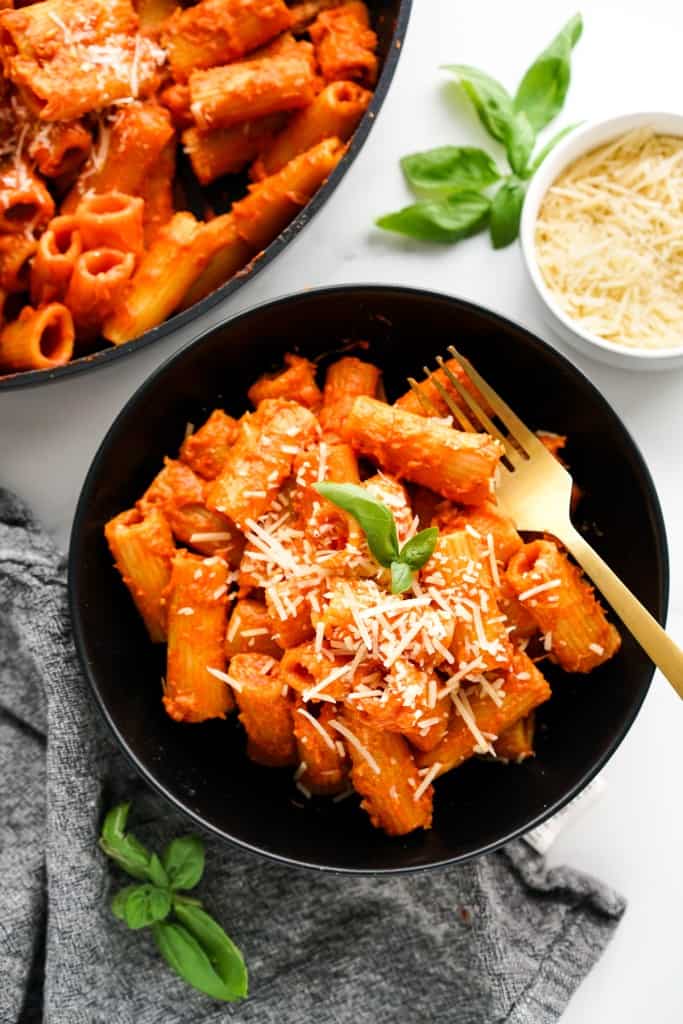 Step 1: Boil Pasta
Bring water to boil in a pot, and cook rigatoni pasta until al dente.
Halfway through cooking, reserve at least 1 cup of pasta water.
I typically bring water to boil, and proceed to Step 2 to make the pasta and the sauce simultaneously to save time.
Step 2: Make Vodka Sauce
To make the delicious vodka sauce for this spicy rigatoni recipe, you'll need a large skillet that will hold both the sauce and the pasta, because we will eventually be tossing pasta in sauce using this skillet.
Start by melting butter in the skillet under medium high heat, then add diced onions and cook for a few minutes. Once onions are fairly translucent, add minced garlic.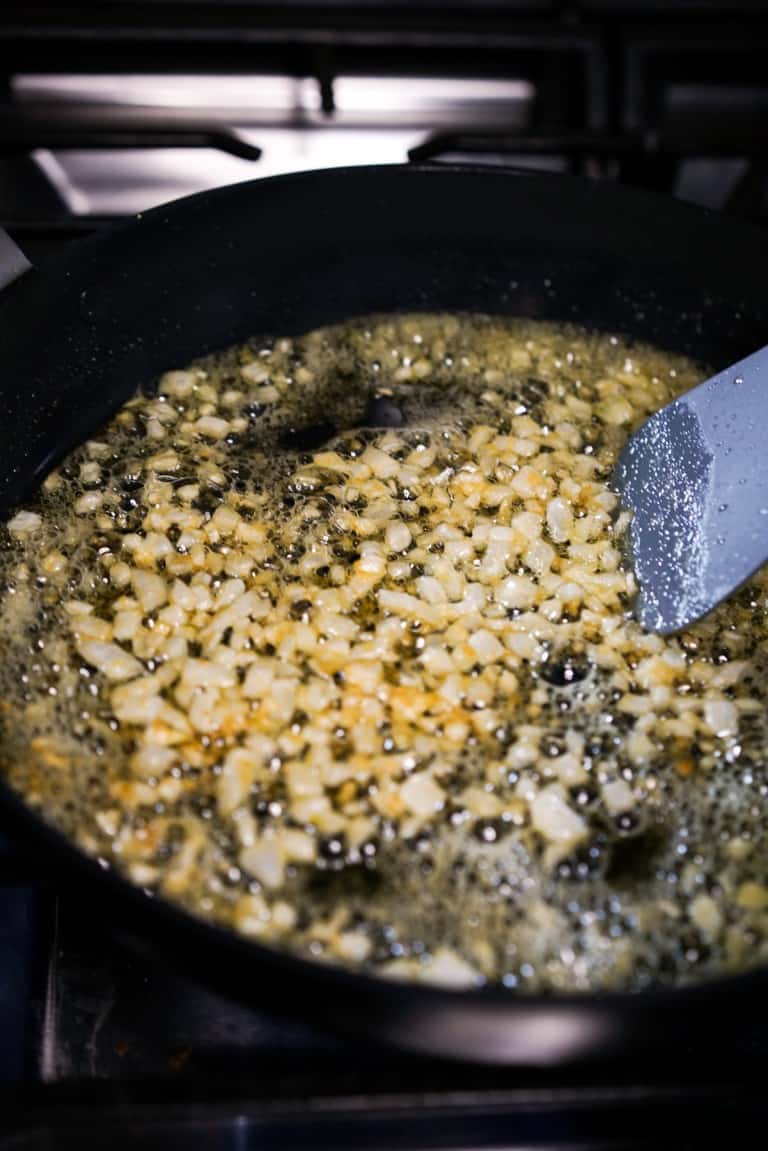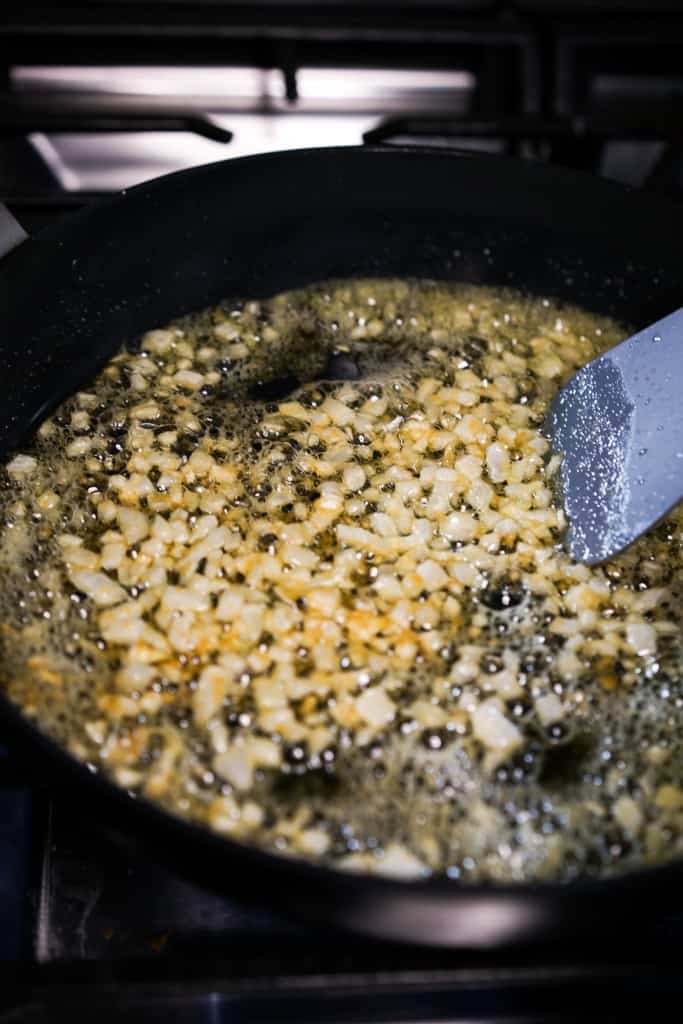 This right here contributes so much flavor the the sauce.
Add tomato puree, tomato paste and red pepper flakes to skillet, and stir to combine.
Make sure you are still on medium high heat, then add vodka and watch it evaporate. Let it cook for a few minutes.
Next, add 1/2 cup of pasta water and heavy cream. Stir to combine, lower to medium heat and cook for 3-5 minutes.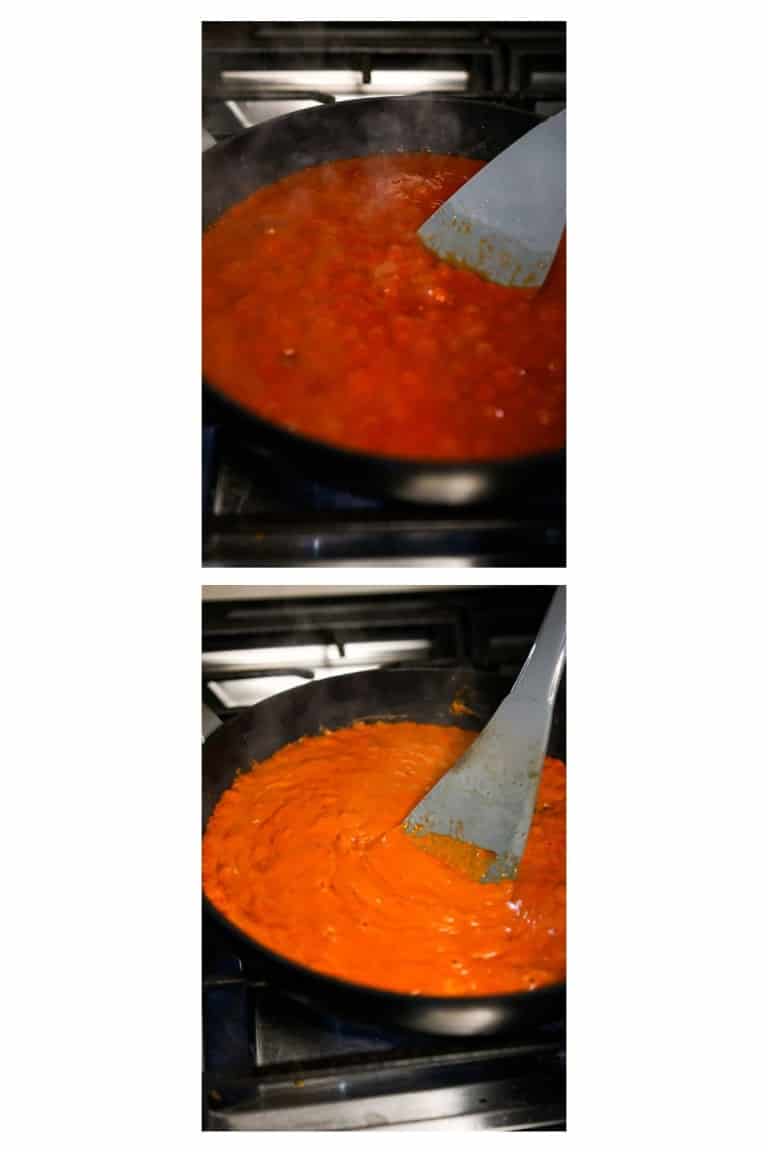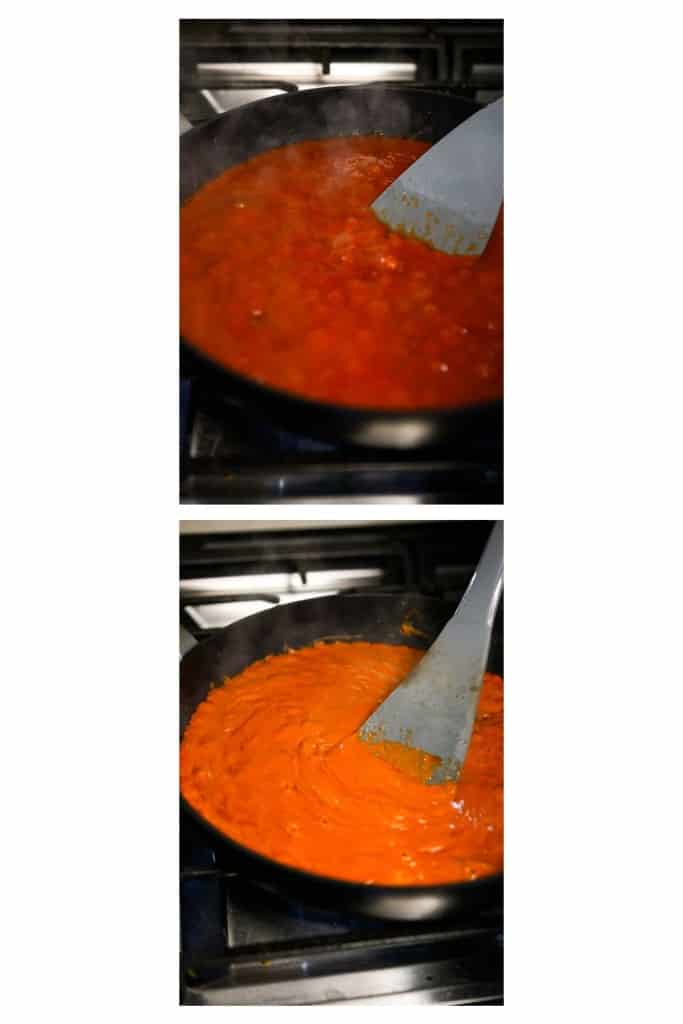 At this point, vodka sauce should have thickened but feel free to add more pasta water to dilute it more if needed.
Remove sauce from heat, and the last step for the tomato vodka sauce is to add salt to open up the flavors.
Give it a taste and adjust accordingly (tip: always taste your food before serving, and while you still have a chance to make changes/adjust!). You'll be surprise how a pinch or two of salt really brings out so much flavors!
Step 3: Combine Rigatoni with Vodka Sauce
Once pasta is done, drain excess water using a strainer. Then bring cooked rigatoni pasta to skillet with tomato vodka sauce.
Toss rigatoni in sauce using a spatula, avoid squishing pasta.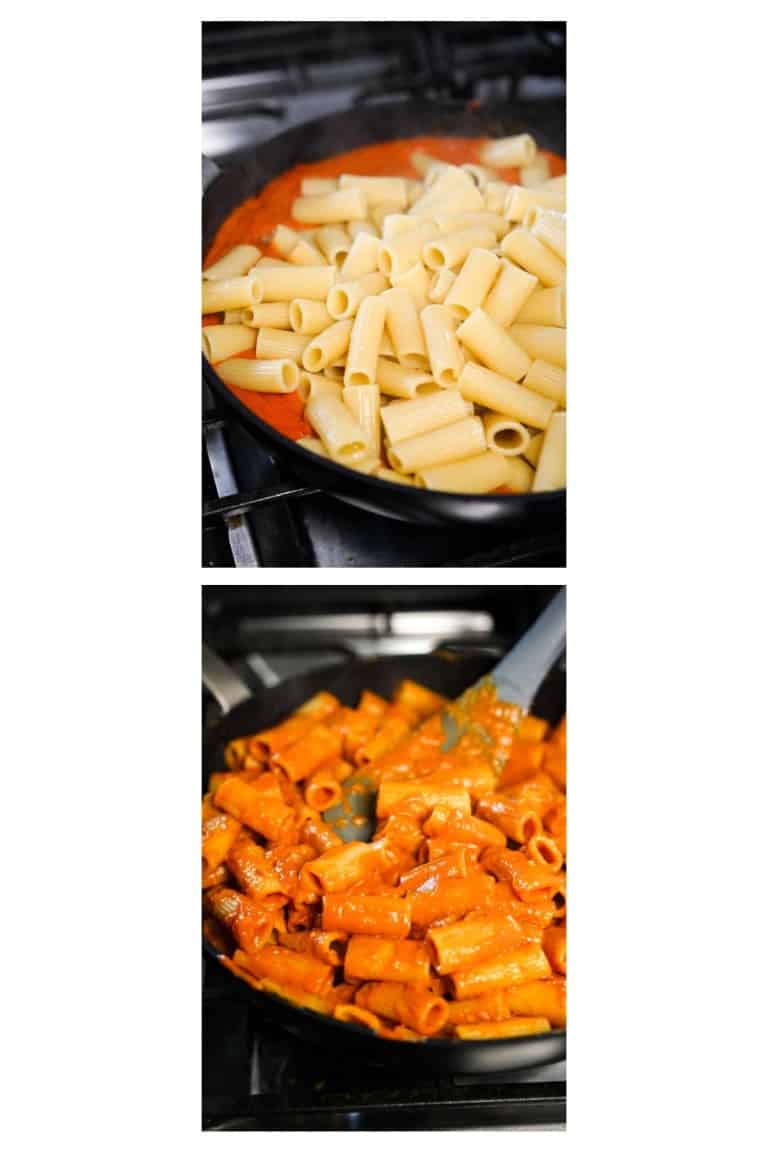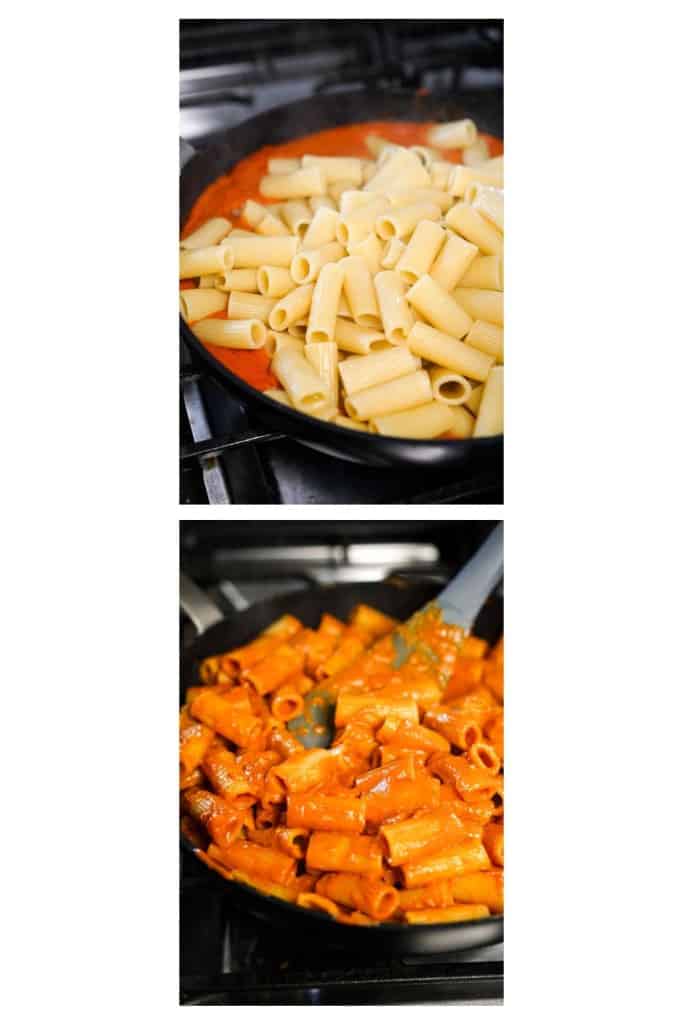 And that's it! So dreamy, so delicious, so ADDICTIVE!
An easy homemade Spicy Rigatoni that will remind you of Carbone's signature dish without spending the money!
I love to serve my spicy rigatoni with some freshly grated parmesan cheese, which gives it another dimension of flavor. But it is not necessary because it sure is already super tasty by itself!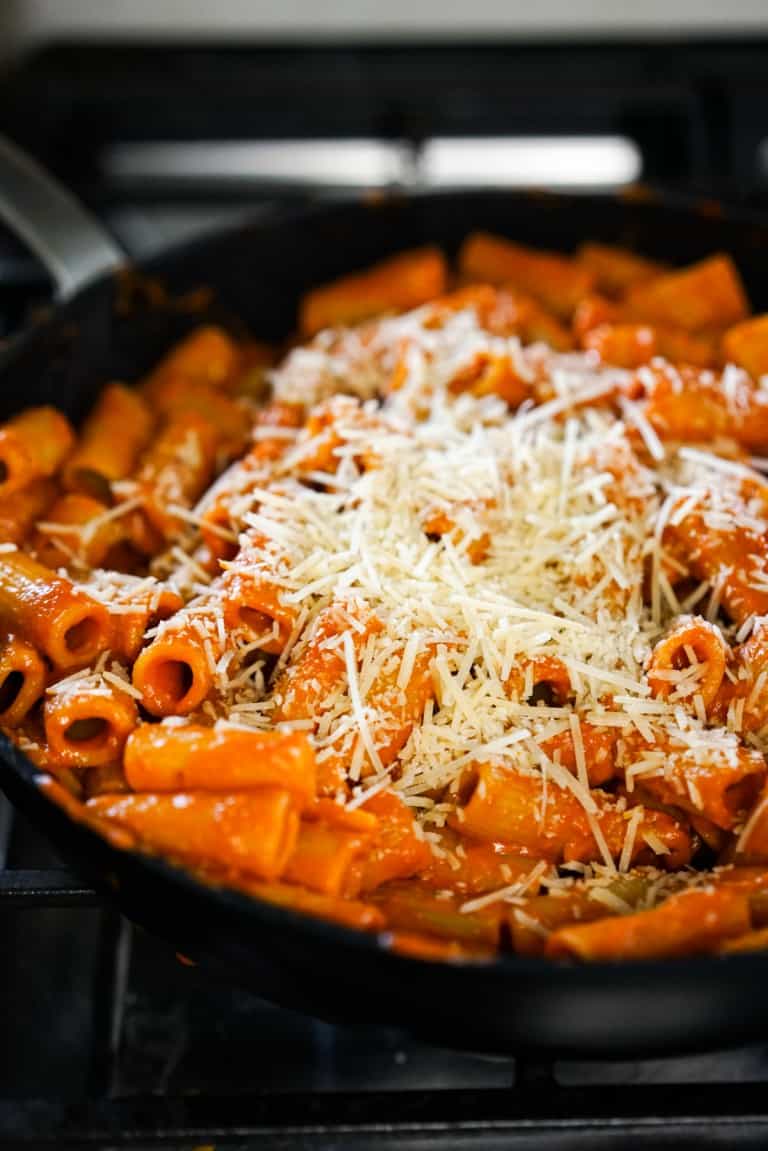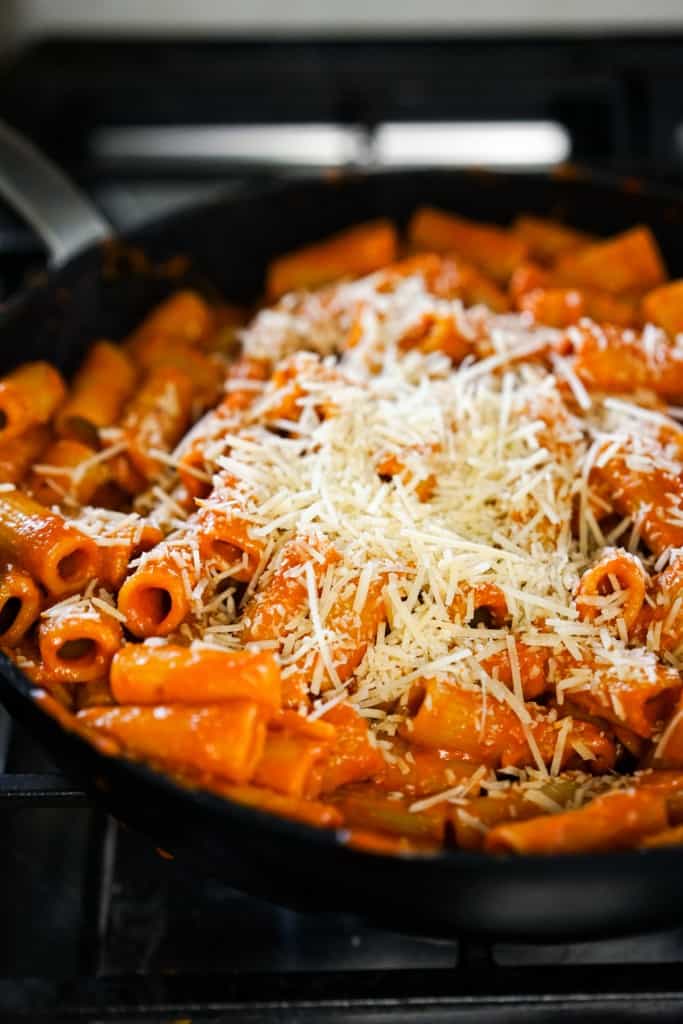 Pro Tips
Using high quality ingredients will significantly improve the taste of this dish. I love using Kerry Gold Butter (or a high quality butter), quality pasta so that the sauce sticks to pasta well, fresh garlic and onions (not powdered please), high quality canned tomato products, good quality vodka, and Parmigiano-Reggiano (best quality parmesan) instead of just regular parmesan.
Do NOT rinse cooked pasta with cold water, this will remove the starch on the pasta and makes it harder for the sauce to cling to the pasta. If you are trying to keep pasta from sticking together after they are cooked, toss with a few drops of olive oil.
How to Serve This
One of my favorite ways to serve Spicy Rigatoni is with warm crusty bread and a side salad. Simple yet so delicious!
If you want to get even fancier, make a simple charcuterie meat and cheese board or bruschetta as an appetizer.
And of course, you can never go wrong serving spicy rigatoni with a glass of red wine. In fact, I highly recommend it! 🙂
Frequently Asked Questions
Can I use half and half or milk instead of heavy cream?
You can and they are definitely healthier option. However, spicy rigatoni will not be as creamy and rich in flavor.
My sauce is coming out too thick/too thin, what should I do?
To thicken sauce, let it cook longer under medium low heat so that more liquid evaporate, or add more heavy cream. To thin out sauce, add more pasta water to sauce.
Can I freeze cooked spicy rigatoni?
Yes! They freeze just fine! After cooking, store in air tight container and bring to cool before freezing up to 1 month.
How do I reheat?
If frozen bring to a complete defrost. Sprinkle a few drops of water or drop a few dollops of butter all over pasta before microwaving to reheat. You might need to stir halfway and continue microwaving so that pasta heats evenly.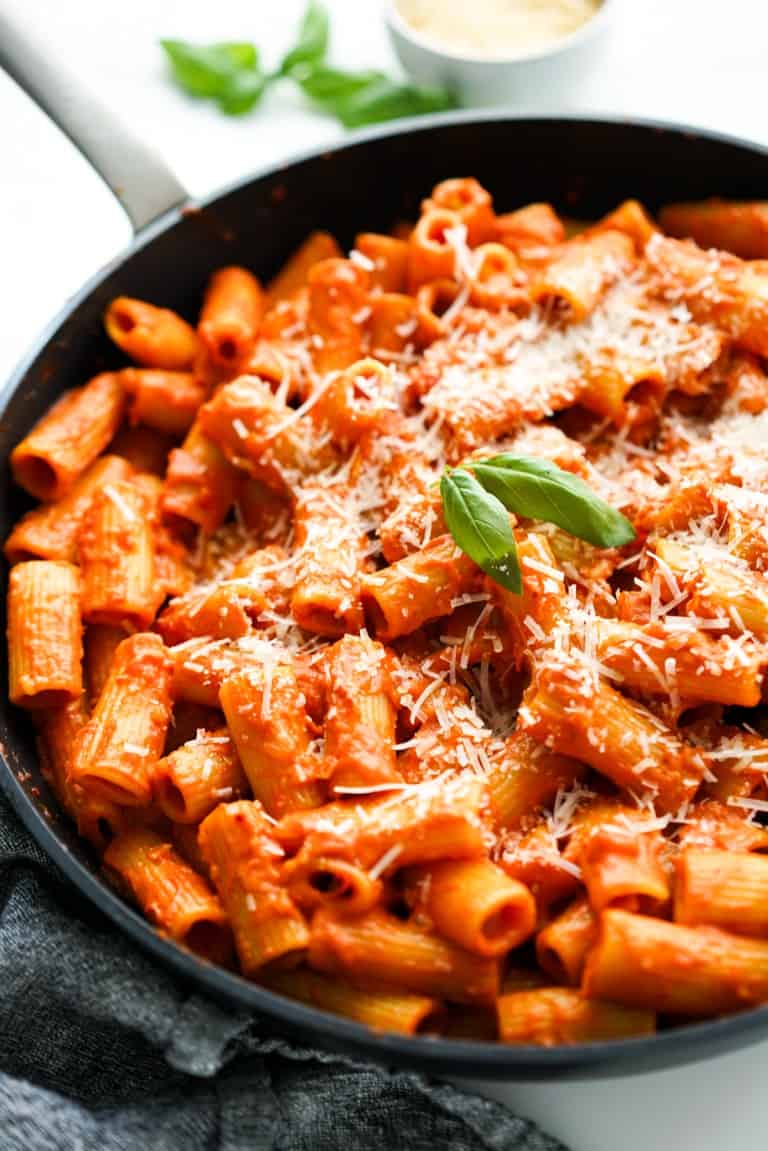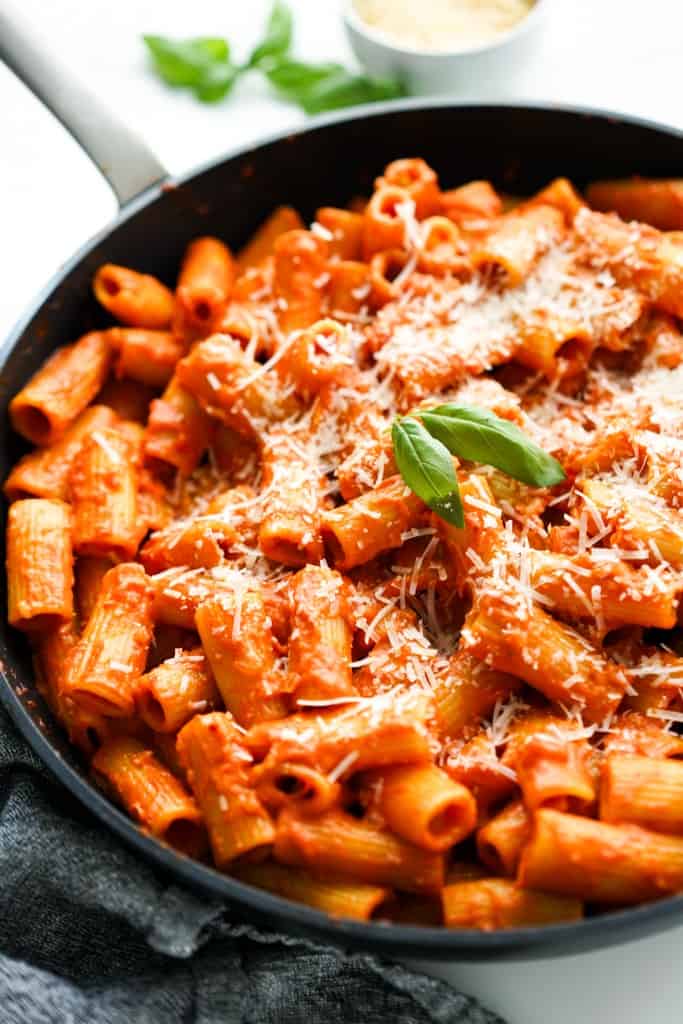 DID YOU ENJOY THIS RECIPE? Please comment below and give us a 5-star rating! This will help others find this recipe on Google and Pinterest. We very much appreciate your help! 🤍
More Pasta Recipes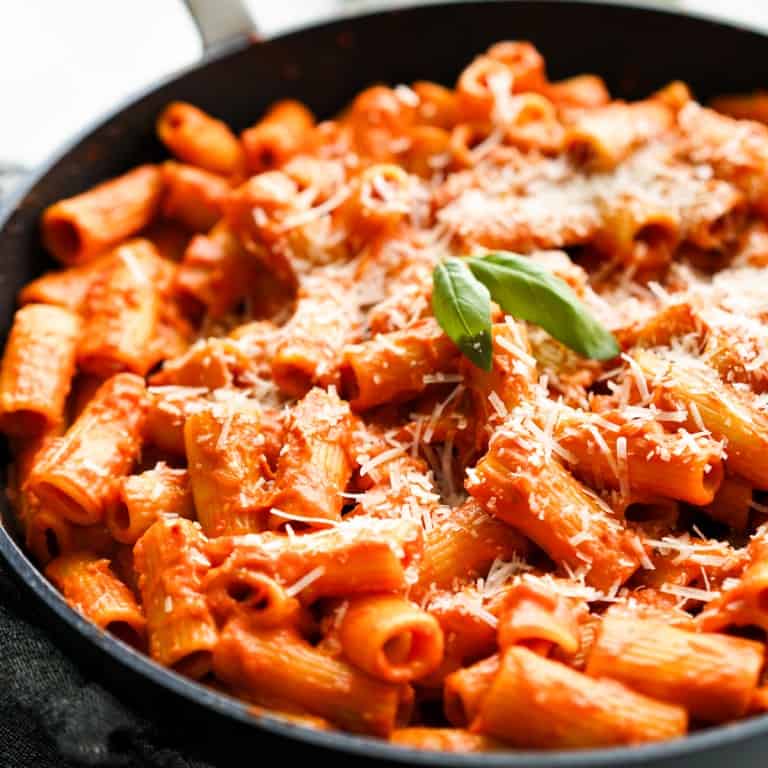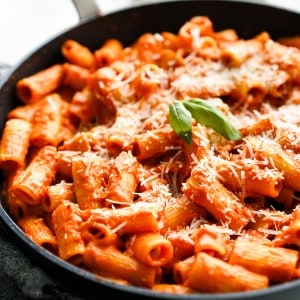 Spicy Rigatoni with Tomato Vodka Sauce
A decadent Carbone copycat pasta recipe! Rigatoni pasta is tossed in spicy and creamy tomato vodka sauce. Ready under 30 minutes, this Italian pasta dinner is incredibly flavorful and delicious!
Print
Pin
Ingredients
1

lbs

rigatoni pasta

1/4

cup

salted butter

1/2

sweet onion

diced

4-6

cloves

garlic

minced

1 1/2

cup

tomato puree

1/3

cup

tomato paste

1/2

tsp

red pepper flakes

1/2

cup

vodka

1/3

cup

heavy cream

1/4

tsp

salt

or to taste

1/2

cup

parmesan cheese

grated
Instructions
In a pot, bring water to boil. Add rigatoni pasta and cook until al dante, according to package instructions. Halfway through, reserve 1 cup of pasta water and set aside for later. When pasta is done cooking, drain and set aside.

In a skillet, melt butter under medium high heat and add diced onions. Cook for 1-2 minutes or until onions are slightly translucent, then add minced garlic, Cook for 30 seconds or until garlic is fragrant.

Add tomato puree, tomato paste and red pepper flakes. Stir to combine and bring to boil.

Make sure heat is still on medium high. Add vodka and it should evaporate quickly. Stir to combine and cook for 4-5 minutes.

Add heavy cream and 1/2 cup of the reserved pasta water. Stir and bring to a boil. Lower to medium heat and let it cook for 5 minutes, stirring frequently. Add more pasta water to dilute sauce if needed.

Switch off heat and add rigatoni pasta to sauce. Toss to combine.

Sprinkle with parmesan cheese. Serve and enjoy!
Notes
use good quality ingredients (butter, pasta, canned tomatoes, vodka) for best taste!
DO NOT rinse pasta with cold water after it is cooked. To prevent pasta from sticking to each other, toss with some olive oil instead.
Nutrition
Calories:
521
kcal
|
Carbohydrates:
69
g
|
Protein:
15
g
|
Fat:
16
g
|
Saturated Fat:
10
g
|
Polyunsaturated Fat:
1
g
|
Monounsaturated Fat:
4
g
|
Trans Fat:
0.3
g
|
Cholesterol:
41
mg
|
Sodium:
438
mg
|
Potassium:
671
mg
|
Fiber:
5
g
|
Sugar:
9
g
|
Vitamin A:
1102
IU
|
Vitamin C:
12
mg
|
Calcium:
152
mg
|
Iron:
3
mg