This Pumpkin Pasta is creamy, flavorful, and so delicious. Made with a simple homemade creamy pumpkin sauce that is rich, savory with a hint of sweetness, and infused with sage, this hearty pasta dish is the perfect Fall dinner.
Pumpkin Pasta is an easy and straight-forward recipe ready under 35 minutes. Additional protein such as sausage, chicken or ground beef can be incorporated as well.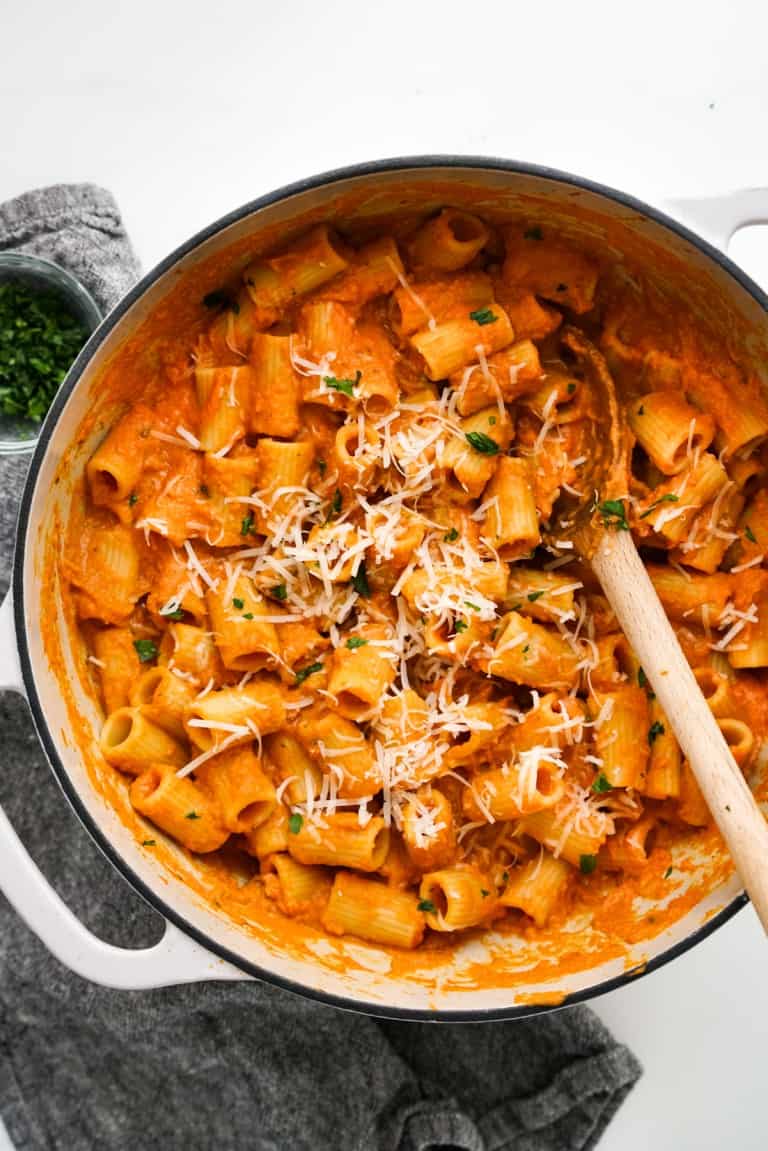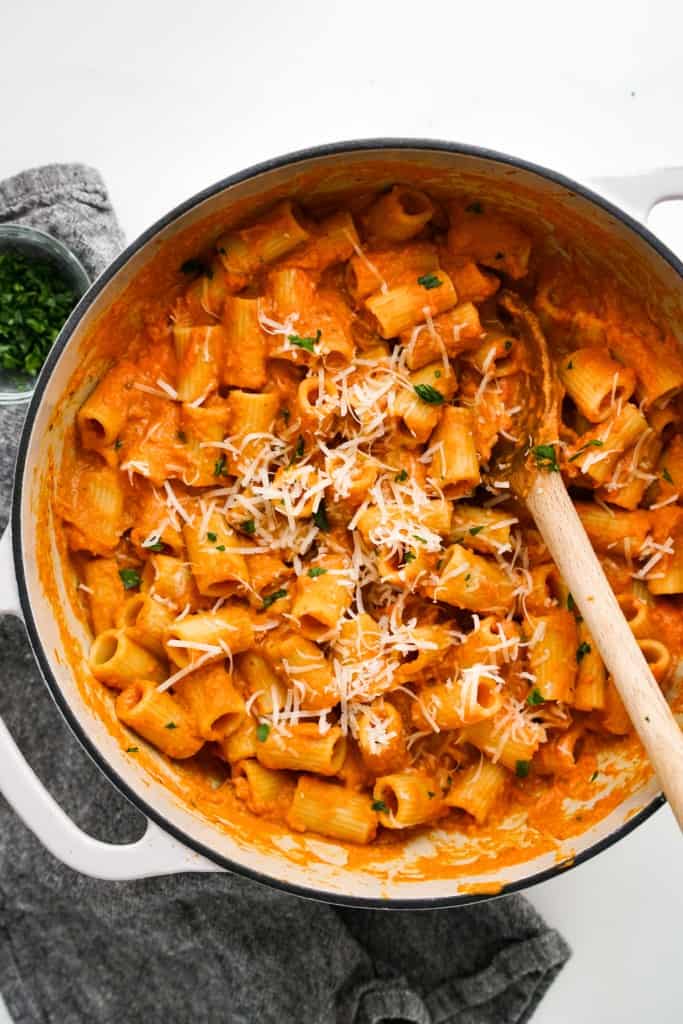 Looking for more pasta dishes? Here are some of my other favorites on the blog: Spicy Rigatoni, Cajun Sausage Alfredo Pasta, Baked Ziti and Cherry Tomato Pasta.
The BEST Pumpkin Pasta
There's nothing quite like a warm bowl of this pumpkin pasta on a cozy Fall day.
Rigatoni pasta is tossed in our homemade creamy pumpkin sauce. This delicious sauce is thick and luscious. The pumpkin flavors is perfectly balanced out with the tartness from tomatoes. It also incorporates cream to add richness to the sauce, and the lovely flavors of fresh sage.
This savory pumpkin pasta recipe is a simple yet an elegant and tasty dish that will keep you coming back for more.
Why you need this pumpkin pasta recipe:
Homemade pumpkin sauce from scratch in under 20 minutes – it is fresh and flavorful…store-bought it just not the same!
Delicious taste and texture – the flavor is perfectly balanced between the pumpkin and tomatoes. It is also creamy, thick, savory, tart with hints of sweetness.
Easy to make – ready under 35 minutes, uses pantry-friendly ingredients.
Save well as leftovers – can be refrigerated, frozen, and heats up well.
Easy to customize – I am sharing the most basic (but yummy!) version of how to make pumpkin pasta, but you can add your favorite protein and veggies to make it your own. Check out 'variations' section below for more ideas.
Ingredients
Here's all the ingredients you will need to make pumpkin pasta:
pumpkin puree – I use Libby's Pumpkin Puree and it is easy and works beautifully for the pumpkin pasta sauce. You can make fresh pumpkin puree if you prefer. Note that pumpkin puree is not the same as pumpkin pie filling.
tomato puree – tomato will balance out the flavors from the pumpkin. Crushed tomatoes work as well. Avoid chunky tomatoes so that the sauce is smoother.
chicken broth – vegetable broth can be used as well
half and half – this is basically a mixture of equal parts whole milk and cream. In the U.S., it is sold as 'half and half'. For a creamier sauce, heavy cream can be used.
fresh sage – I prefer fresh over dried sage for best flavor
garlic – use fresh minced garlic for best taste. Avoid substituting with garlic powder.
white onions – diced into small pieces. Sweet or yellow onions work as well
carrots – chopped into fine pieces. This will bring a subtle sweetness to the pumpkin sauce.
salt – important ingredient to really open up the flavors in the pumpkin pasta sauce
pasta – use your favorite! I love using rigatoni for my pumpkin pasta.
parmesan cheese – as garnish to add some additional salty flavors and punch to our pasta dish.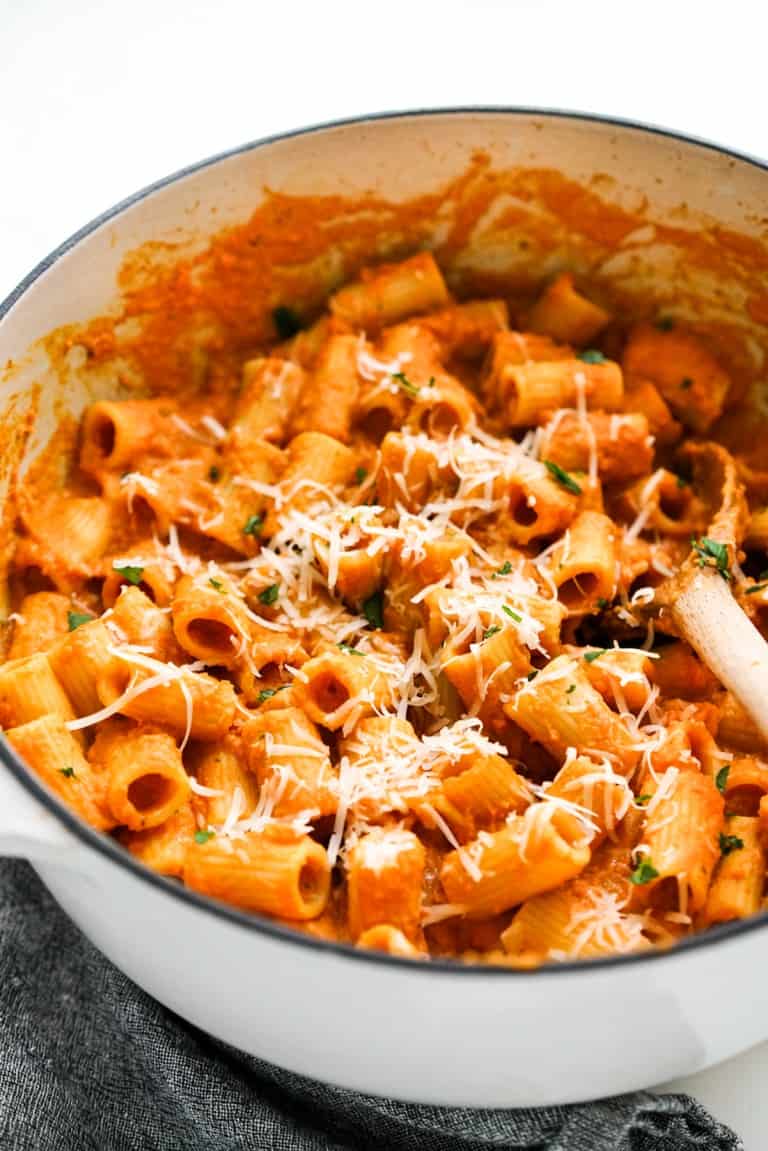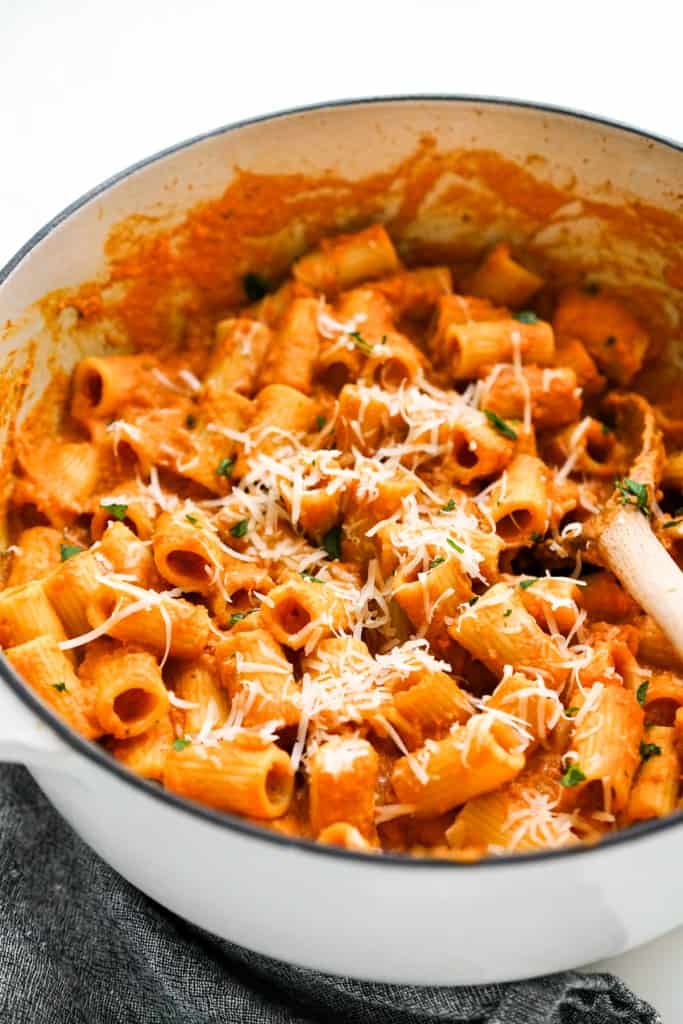 Kitchen Tools
You will need a medium pot and a large pot – medium pot to boil pasta, and a large pot to cook the sauce (pasta will be added into this large pot later).
An immersion blender or blender is optional. I like to blend up my pasta sauce so it is nice and smooth. This is an optional step.
How to make pumpkin pasta
Let's walk through step-by-step instructions on how to make this easy and yummy pumpkin pasta recipe with my crazy delicious creamy pumpkin sauce.
Boil pasta: Bring a medium pot of water to boil on the stovetop, and cook pasta accordingly to package instructions. When pasta is done, drain water, and set pasta aside.
Do not rinse pasta with cold water. To prevent them from sticking together, toss in olive oil instead. Draining pasta in cold water will wash away the starch on the pasta. Sauce will not stick to pasta as well.
Cook creamy pumpkin sauce: I typically start cooking pumpkin cream sauce for our pumpkin pasta once I put the other pot of water to boil.
Melt butter in a large pot. Sauté diced onions and chopped carrots until they are so soft, for about 1-2 minutes. Add minced garlic and sauté for another 30 seconds or until fragrant.
Add pumpkin puree, tomato puree and chicken broth. Stir to combine.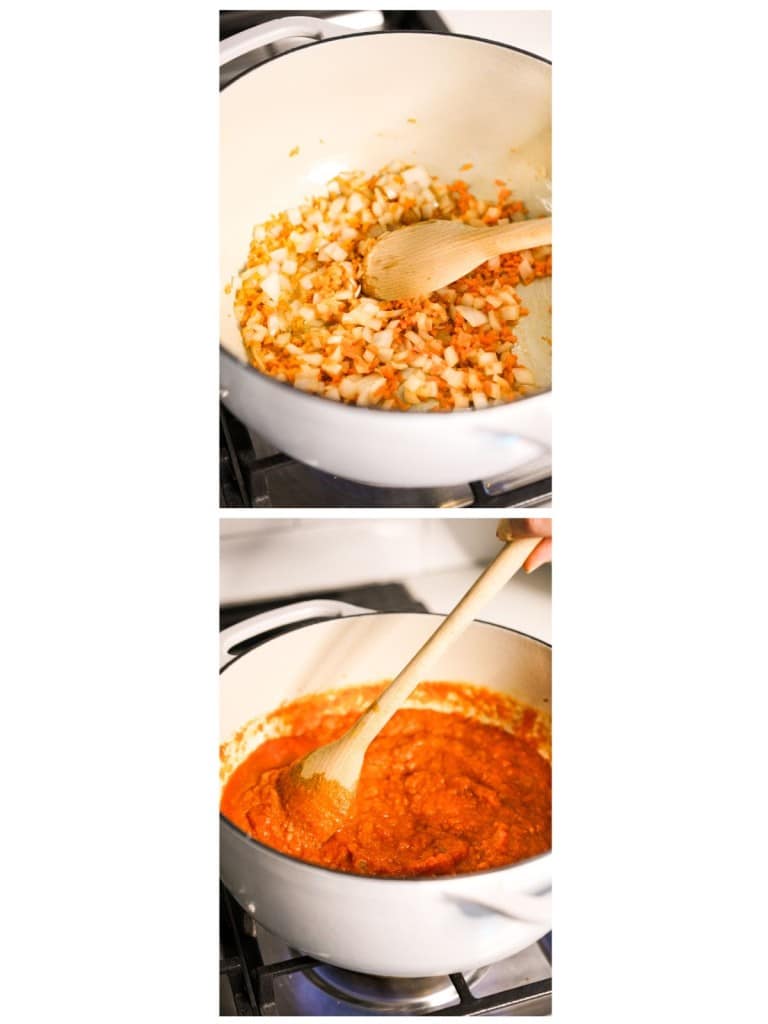 Next, add fresh sage. Bring to a boil and let it cook for 2-3 minutes. Stir continuously.
Optional: use an immersion blender to blend sauce so that it is smooth. Alternatively, you can pour sauce into a blender and blend it up (just a little bit more work).
Personally, I've made this without using a blender and it taste just fine as well!
So if you don't have a blender, or if you are just feeling lazy, skip it! It's totally allowed. 🙂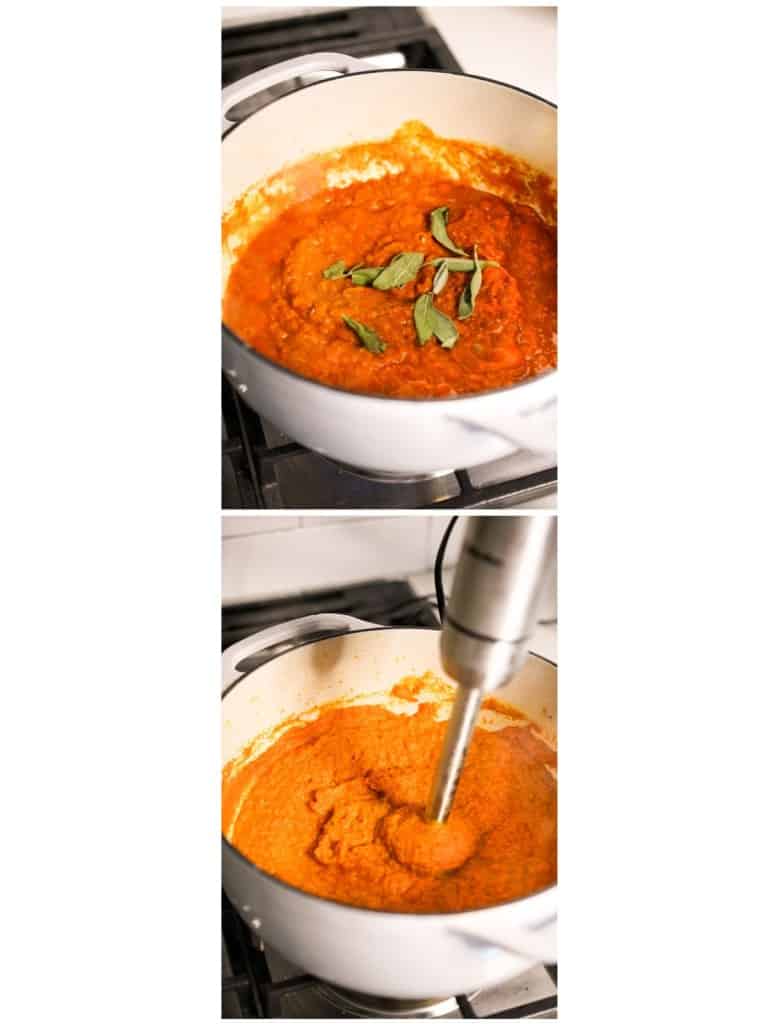 Pumpkin sauce should resemble a paste at this point. It should be thick.
Add half and half to sauce and stir. Bring to a boil, and let it cook for another minute or so.
Season with salt to open up the flavors. Taste the sauce and season with more salt if flavors are still blend. If you like your sauce a littler sweeter, add a teaspoon or two of granulated sugar.
Pumpkin pasta sauce should be creamy and luscious, loaded with incredible pumpkin and tomato flavors. Both flavors balance out each other pretty well, and one should not dominate over the other.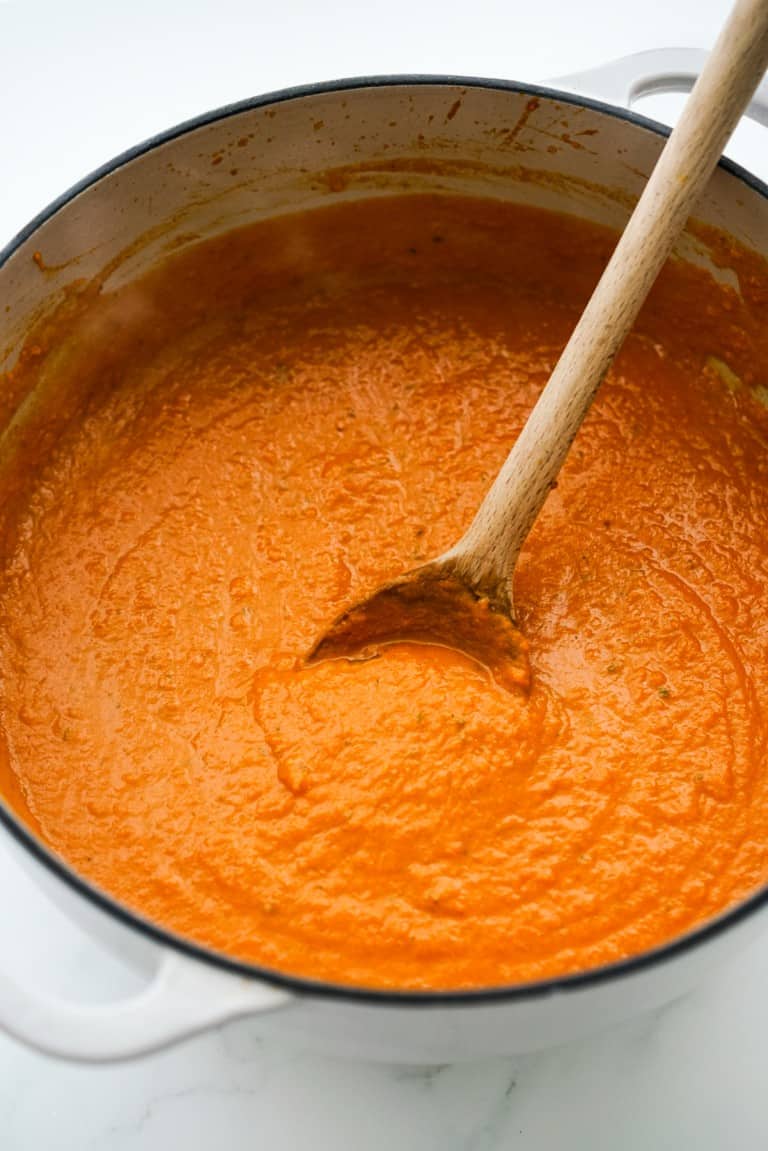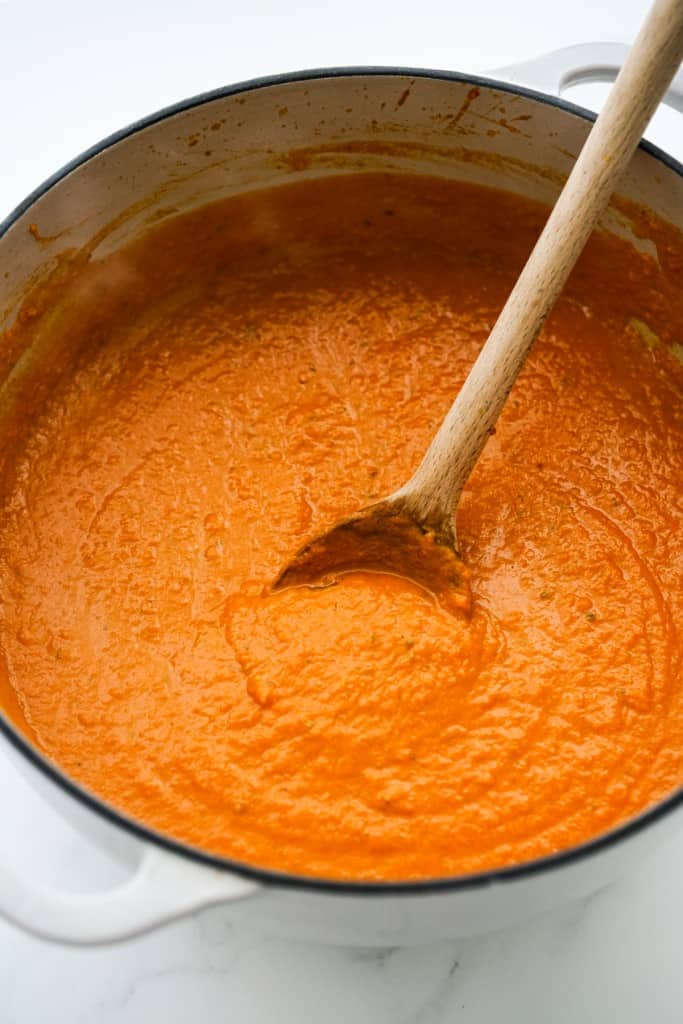 Toss pasta in sauce: Bring rigatoni pasta into the sauce and gently toss pasta in sauce until they are all coated in creamy pumpkin sauce.
Garnish: Top pasta with shredded parmesan cheese.
When pumpkin pasta is done, that rich and creamy pumpkin tomato sauce should perfectly coat each and every one of the chewy rigatoni.
Each bite should be have big pumpkin flavors, savory with a hint of sweetness, tartness from the tomatoes, along with nutty and sharp flavors from the parmesan cheese.
It is sure to make your tastebuds DANCE!
Tips and Tricks
Once pasta is boiling in the pot, go ahead and start making the sauce so that you can work on both simultaneously to save time.
Do NOT drain cooked pasta in cold water! To prevent warm pasta from sticking to each other, toss in olive oil instead. Draining pasta in cold water will wash away its starchy surface which will prevent pasta sauce from coating pasta well.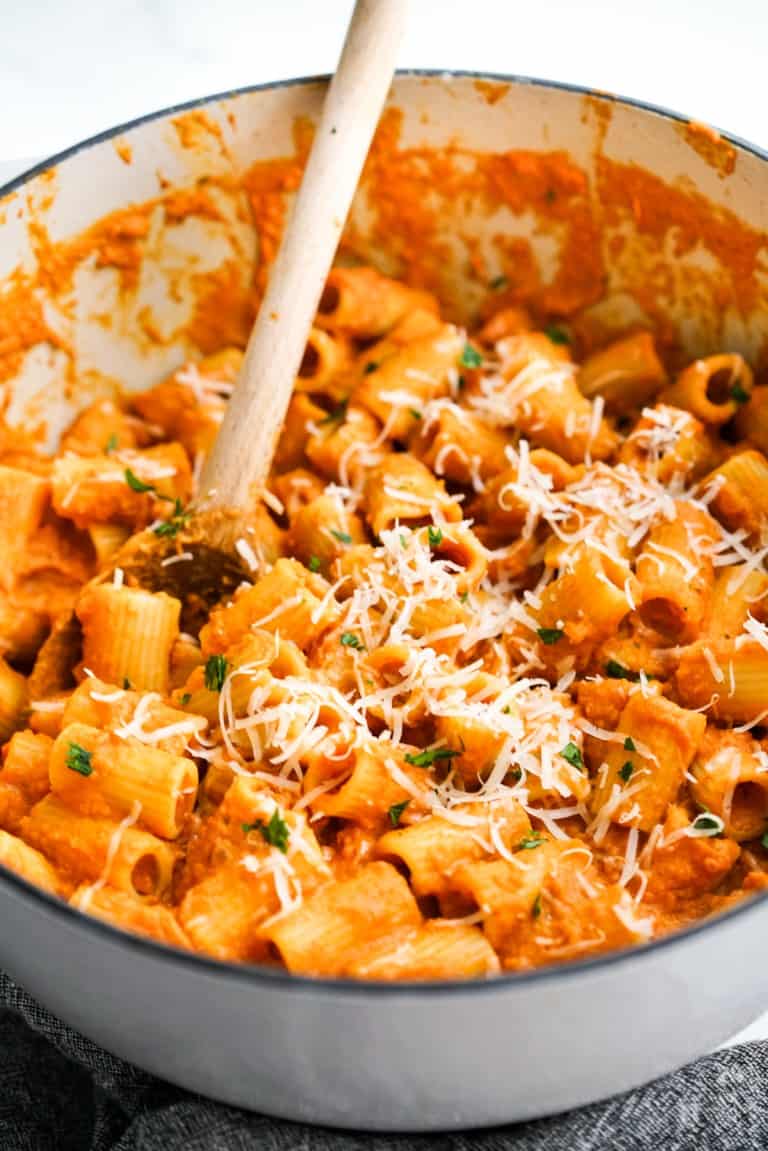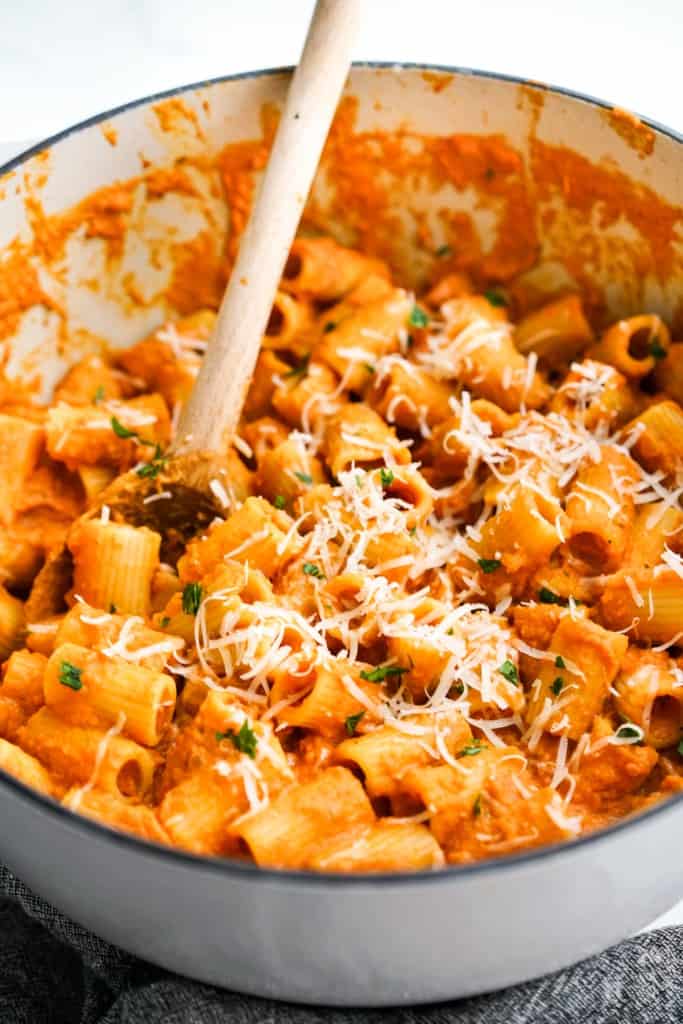 Variations
There are so many ways to jazz up or bulk up your pumpkin pasta. Here are a few suggestions:
Add protein: ground sausage, chicken, ground beef are great protein to tossed into the sauce along with pasta.
Add vegetables: I also love tossing my pumpkin pasta with spinach or kale to get some additional greens into the dish.
Make it creamier: If you like it creamier, use heavy cream instead of half and half.
Use a different pasta: I think rigatoni catches the sauce perfectly but feel free to use other pasta. Other short pasta such as penne, ziti, fusilli, farfalle etc works great as well.
More sweet notes: If you like it sweeter, add 1-2 teaspoon of granulated sugar when you add the salt to open the flavors.
Storage and Reheating Instructions
Pumpkin pasta stores really well in refrigerator or freezer. Make sure to let it cool before storing in airtight container. Refrigerate for up to 5 days and freeze for up to 2 months.
Pasta can be stored after it is tossed with sauce or separately. It truly just stores really well!
I recommend reheating pasta in the microwave. Add a drizzle or two of water to pasta + sauce before reheating.
Frequently Asked Questions
What is the best type of pumpkin puree to use for this recipe?
I have always used Libby's Pumpkin Puree which is available nationwide in the U.S, and I love how it comes out! You can also make your own, but that is a lot more labor intensive.
Can I use milk or heavy cream instead of half and half?
Pumpkin sauce will be much thicker if using heavy cream, and much thinner if using milk. If using milk, I would suggest using whole milk. I find half and half to be the perfect level of richness for me.
If I want to add protein (sausage, chicken etc), when do I add it?
If protein is uncooked, sauté them after sautéing onions, garlic and carrots. Once they are almost fully cooked, add pumpkin puree and tomato puree, and the rest of the directions should be the same. I would use about 1 lbs of uncooked meat of any sort. If meat is already cooked, toss them in the sauce when you toss the pasta into the sauce.
My pumpkin sauce tastes a bit blend, what should I do?
Add salt to open up the flavors. Salt doesn't just add saltiness, it can really bring out the flavors. You can also add 1 or 2 tsp of granulated sugar to open up the flavors even more, or if you like your sauce a bit sweeter.
DID YOU ENJOY THIS RECIPE? Please comment below and give us a 5-star rating! This will help others find this recipe on Google and Pinterest. We very much appreciate your help! 🤍
More Pumpkin Recipes
If you love pumpkin recipes, don't forget to check these out as well!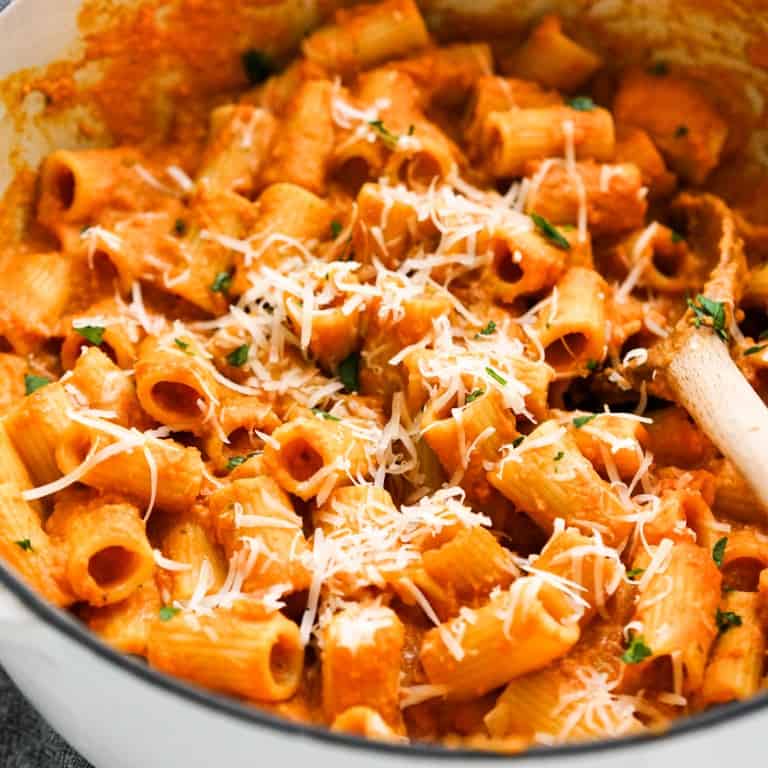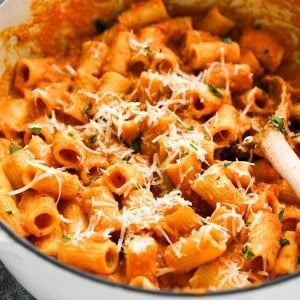 Pumpkin Pasta
Easy Pumpkin Pasta recipe where rigatoni pasta is tossed in a creamy and rich pumpkin cream sauce infused with sage. A delicious Fall pasta dinner recipe ready under 35 minutes!
Print
Pin
Ingredients
1

lbs

rigatoni pasta

3

tbsp

salted butter

1

small onion

diced

1

cup

carrots

chopped finely

5-6

cloves

garlic

minced

16

oz

pumpkin puree

15

oz

tomato puree

1/2

cup

chicken broth

or vegetable broth

6-8

fresh sage leaves

1 1/2

cup

half and half

2

tsp

salt

or to taste

1/4

cup

parmesan cheese

shredded
Instructions
In a medium pot, bring water to boil. Add pasta, cook using package instructions. When pasta is done, drain water and set aside.

In a separate large pot, melt butter under medium heat. Add onions and carrots. Sauté until tender, about 1-2 minutes. Add garlic, sauté for another 30 seconds.

Add pumpkin puree, tomato puree and chicken broth. Stir to combine. Add sage leaves, bring to a boil. Cook for 2-3 minutes, stir continuously.

Optional: Using an immersion blender, blend sauce.

Add half and half. Stir to combine. Bring to a boil, then add salt.

Bring cooked pasta into the sauce. Toss to combine.

Garnish with parmesan cheese. Serve and enjoy!
Nutrition
Calories:
500
kcal
|
Carbohydrates:
76
g
|
Protein:
16
g
|
Fat:
15
g
|
Saturated Fat:
9
g
|
Polyunsaturated Fat:
1
g
|
Monounsaturated Fat:
4
g
|
Trans Fat:
0.2
g
|
Cholesterol:
39
mg
|
Sodium:
1041
mg
|
Potassium:
830
mg
|
Fiber:
7
g
|
Sugar:
12
g
|
Vitamin A:
16113
IU
|
Vitamin C:
15
mg
|
Calcium:
181
mg
|
Iron:
4
mg